Today, one of the most original ways of wall decoration is impressive textured stucco. This material is a heterogeneous granular mass with the addition of small stones, cotton, flax or wooden fibers, ground brick, mica, fine sand, inert gypsum and other additives. This achieves a variety of reliefs, colors (any color is possible) and effects (e.g., watercolor paintings, velvet, sandy wind, stone or precious wood imitation and much more). Let's review main types of textured plaster in more detail.


Scope of the textured plaster is rather wide: residential spaces, offices, restaurants, and virtually any other room. The material not only gives a beautiful appearance, but also hides well all the unevenness and wall defects. Yet the main task of the stucco is to create a textured embossed decorative coating both inside and outside the premises. It should be noted that the material may be applied to virtually any type of surfaces.
Main advantages:
ease of care: during the operation, textured plaster is easy to clean and wash;
resistance to mechanical damage;
moisture resistance (perfect for bathrooms and bathroom);
It does not fade in the sun;
have good heat and sound insulation;
environmentally friendly: textured plaster does not emit toxic substances;
are not readily flammable finishing materials.
Let's review the main types of textured plaster depending on the binder
The mineral (cement). Sold as a dry powder that is diluted with water before application. Fire-resistant and have high vapor permeability. Mainly used for surface treatment of mineral based materials.
Acrylic (acrylic resin based). It sold in the form of the finished water-dispersed composition. This type is used for almost all mineral substrates, including old disperse coatings. Advantages: does not require pre-treatment, more economical in consumption, dries quickly and does not require additional painting, more durable.
Silicate (based on liquid glass). Sold as a ready to use composition. Also applied to all kinds of mineral substrates, and also suitable for old silicate coatings. However, they are limited in color and are not cheap.
Silicone (silicone resin) – also available in the form of a ready mix. Suitable for all types of mineral bases, perfect for old dispersion surfaces. It differs high vapor permeability has good dirt-repellent properties and at the same time will be able to serve you for a long time.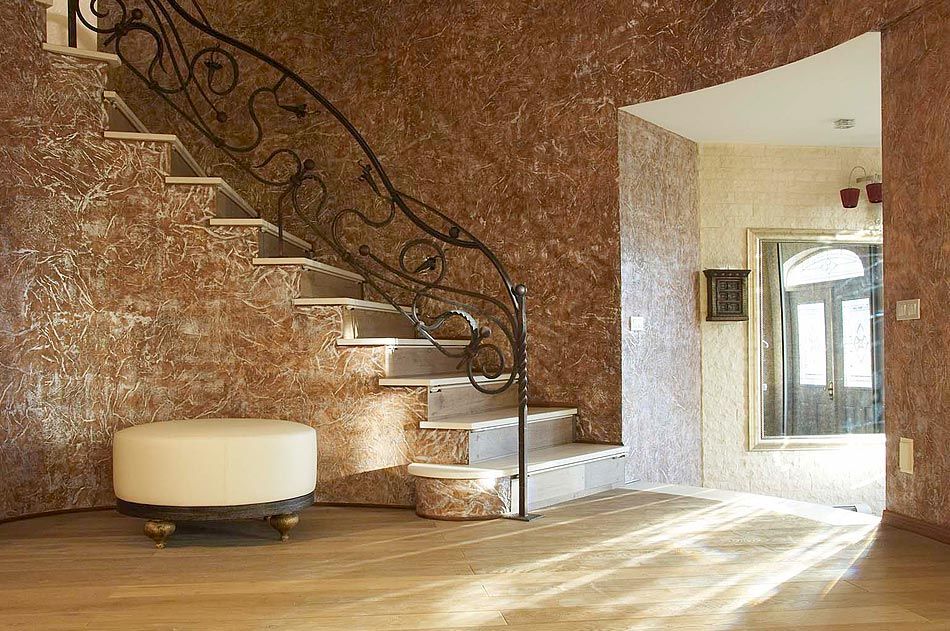 Silicone and silicate types, by the way, are used in the restoration of buildings and painting of facades in "severe" conditions: dirt, damp climate, etc. Decorating the walls with textured plaster is quite complicated task. No, the process does not require special skills, but all the complexity of the work lies in the artistic decoration. First go the preparatory work: the surface must be clean, dry, smooth and primed. After the primer is dry, you can apply the plaster with a spatula. Then you need to give the desired relief to the surface: it is best to use textured roller, trowel or stencil. It is also possible to apply to a special dispenser.