You don't have to settle for mediocre decor due to a lack of space. Spruce up your small bedroom with these 10 room ideas that are big in style.
Contents: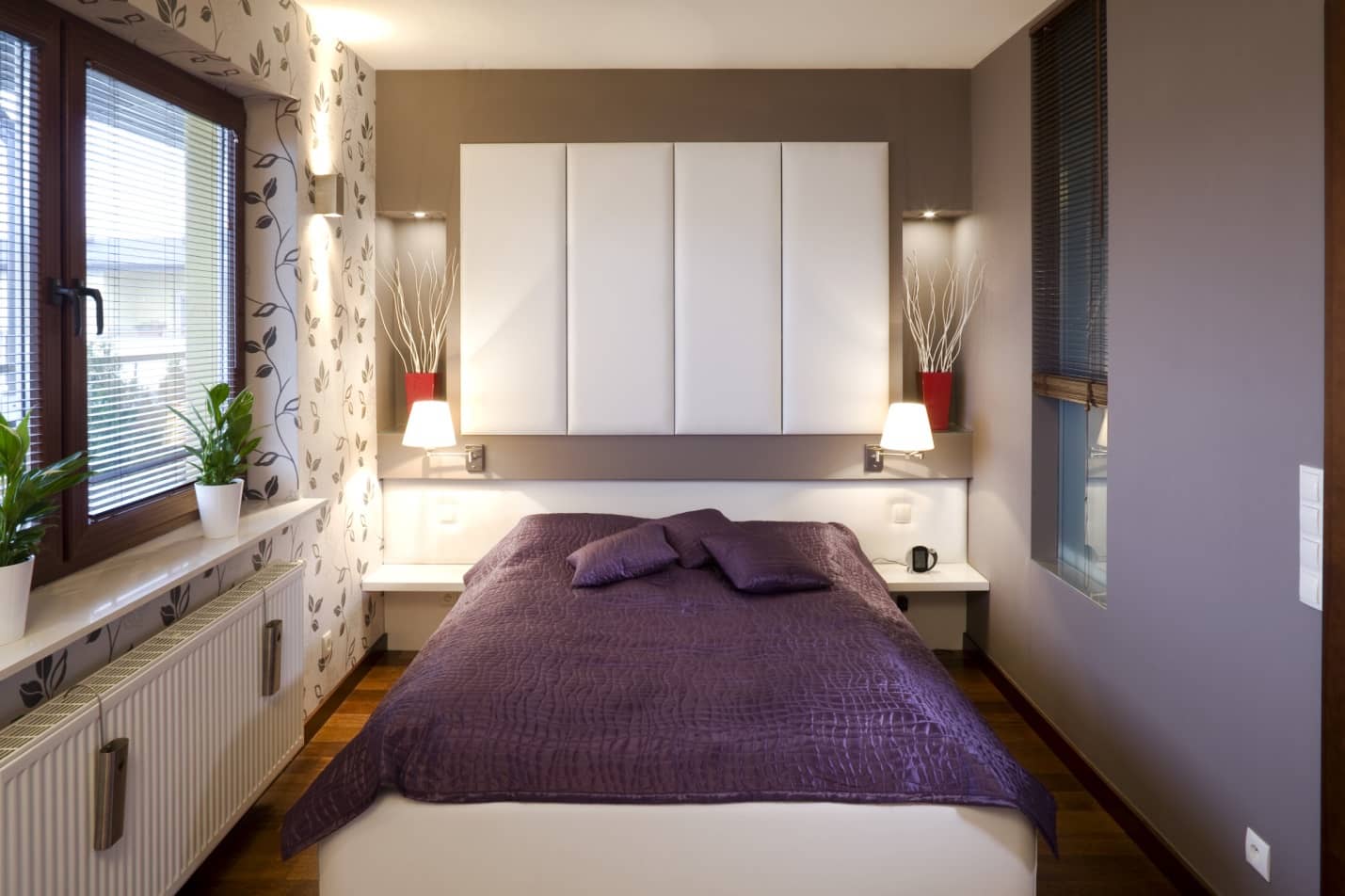 Does size really matter? When it comes to interior design, it doesn't take a huge bedroom to show off your style and make your space comfortable.
With the rise of big-city apartments, vintage homes, and modern tiny houses, small spaces have become a new design trend. But with the wrong design choices, your small bedroom could end up feeling cramped and claustrophobic.
If you're creative with texture, color, and furniture choices, you can make your small space feel like home.
Here are 10 small room ideas and design tips to prove that small bedrooms can be just as big in style.
To keep the space from looking too cramped, make good use of the color white.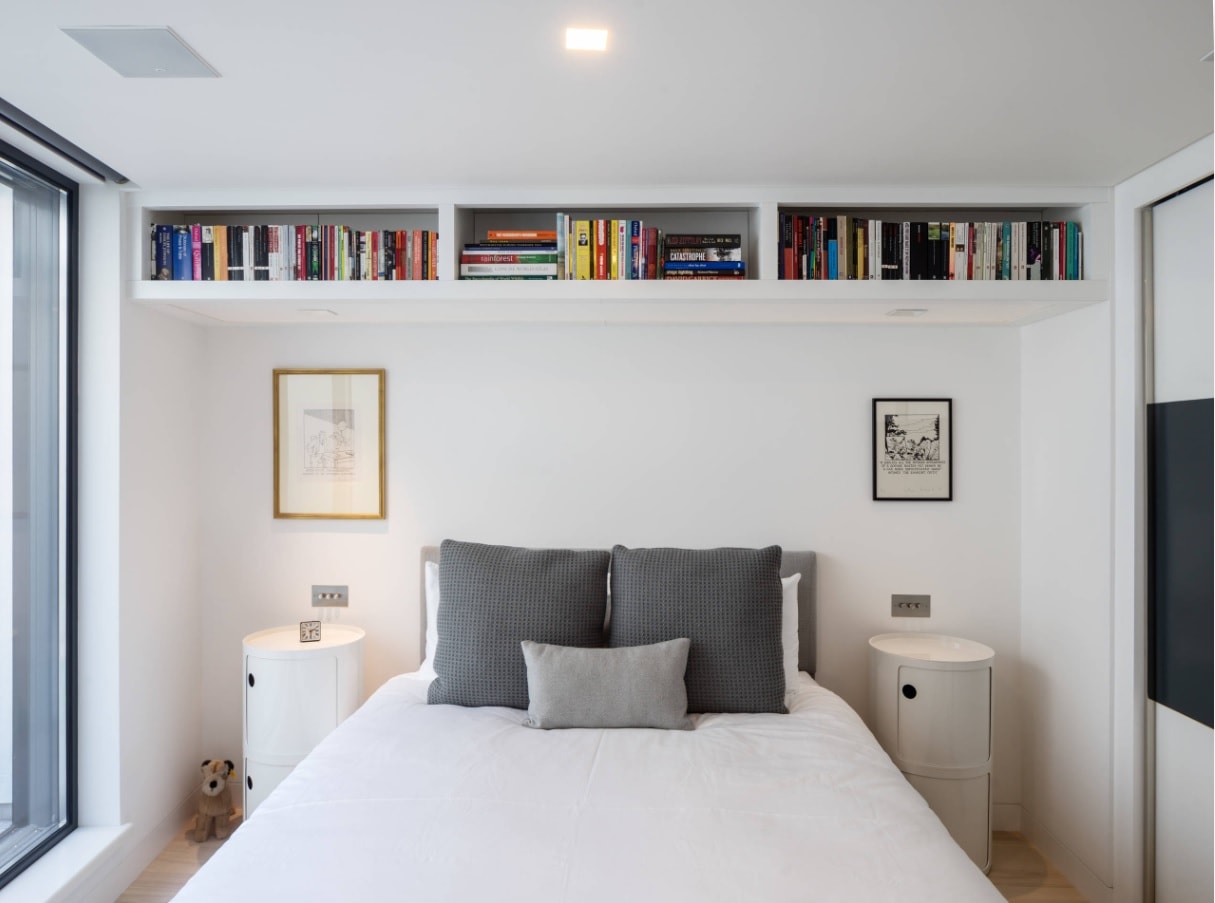 Because you won't have big windows or a lot of wall space, white walls will help make the space look more spacious and bright.
If you're worried about the space looking too stark or boring, look for other bright colors. Try warmer or cooler shades of white or other light colors like brown, beige, green, and blue.
In addition to wall colors, look for cool-toned, bright white lighting to help space feel bigger.
Rather than doing everything you can to make space look bigger, it's best to embrace the best qualities of a small space.
Try your best to make the room feel cozy and inviting. Consider hanging a sheer curtain around the bed. You can also layer on warm throw blankets and fuzzy pillows to make the bed extra intimate and cozy.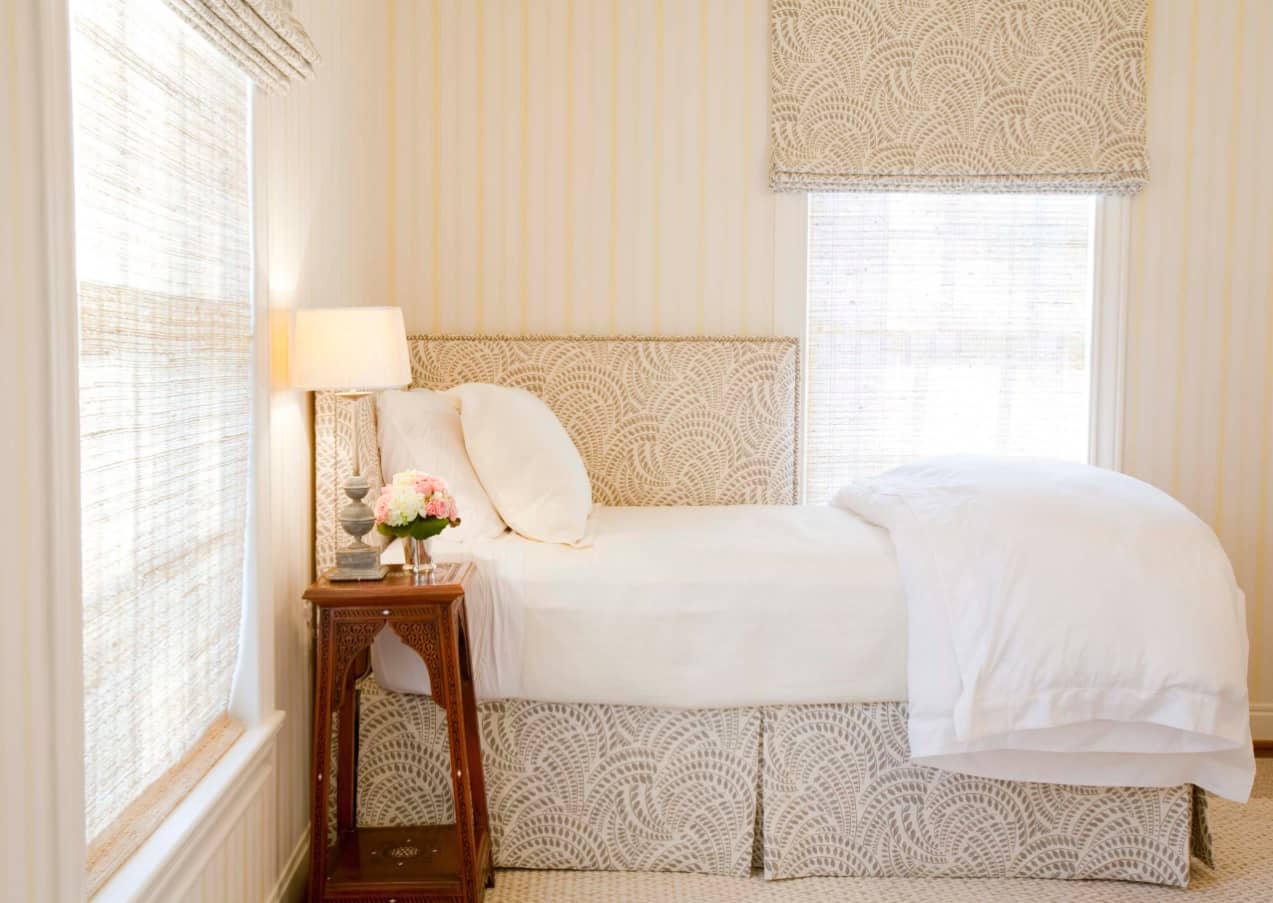 Other ways to make a room cozy include putting down an area rug, bean bag, tapestry, or fuzzy seat cushion.
In many modern bedrooms, the bed is centered in the room with the headboard pressed against the wall.
But with a small room, putting it in the center of the room will only take up more free space. It'll make the room feel cramped instead of cozy.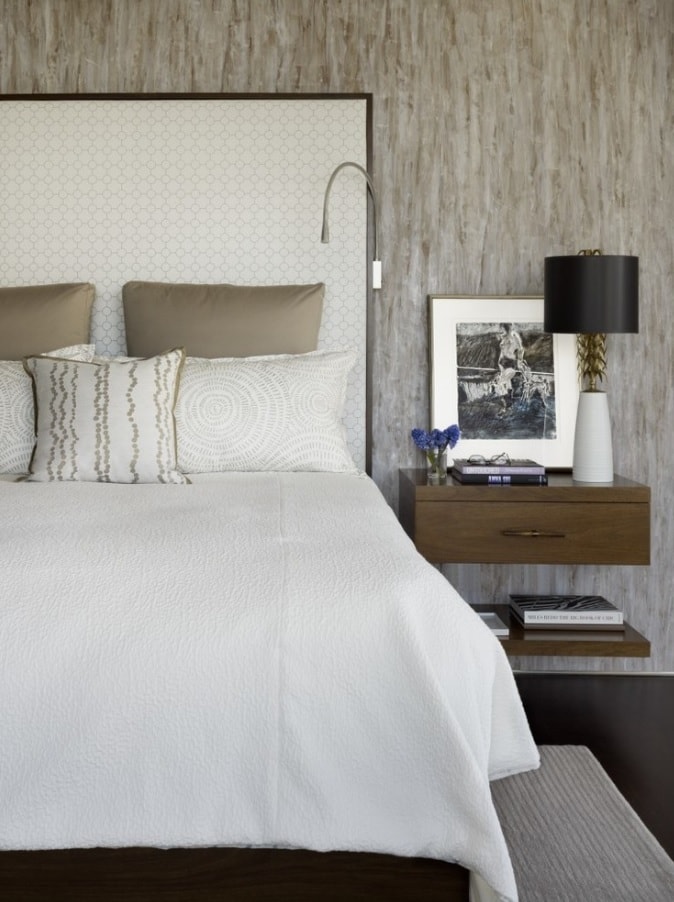 Instead, maximize floor space by tucking your bed against the wall or in a corner. Not only will the room feel bigger, but you can create a sleeping area that feels cozy and protected.
Add more free space to your bedroom by keeping things simple. Pare down your furniture to the essentials.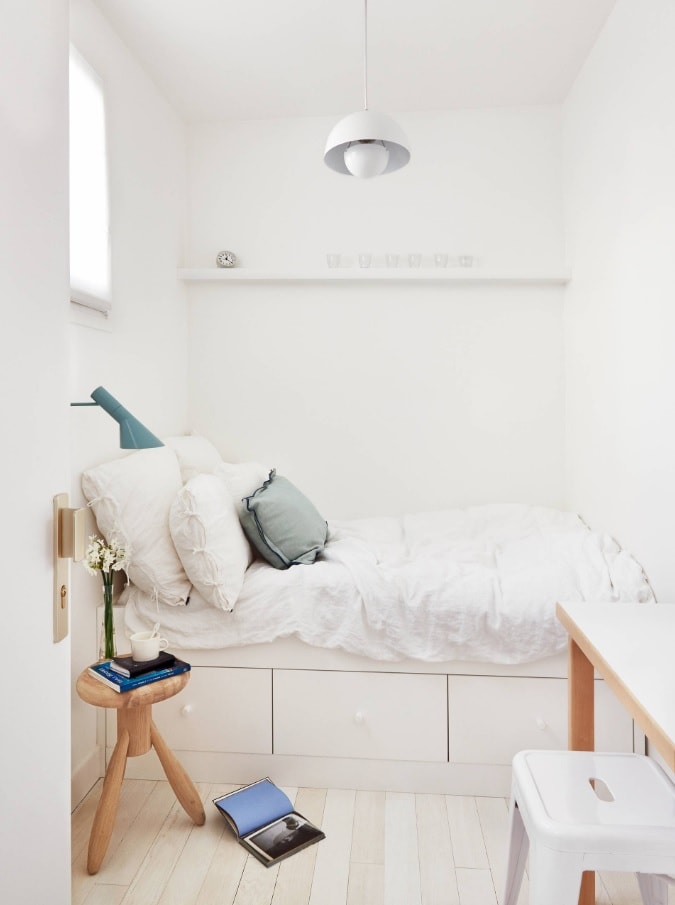 Look for furniture that is simple, contemporary, and sleek. To make even better use of your space, look for furniture that doubles as a storage space. Built-in drawers and storage cubes help you pack away all your stuff discreetly.
If there's one simple design tip to help open up a small space, it's that you should be utilizing mirrors.
Mirrors can help create the illusion of a bigger room. Try positioning a mirror to better reflect the natural light from your window or your indoor lighting.
The easiest way to incorporate a full-length mirror in your space is just to lean it up against the wall—no hooks or tools needed.
Since your floor space is limited, you'll have to look to vertical space to add more accessories
Consider making your sleeping area into a loft or a platform to allow for more space underneath. When selecting furniture, look for tall dressers, desks with lots of drawers, and shelves that you can stack high on the wall.
This rule about vertical space applies to lighting too. Look for tall lamps that will illuminate the room without taking up too much space, like these lamps for the floor.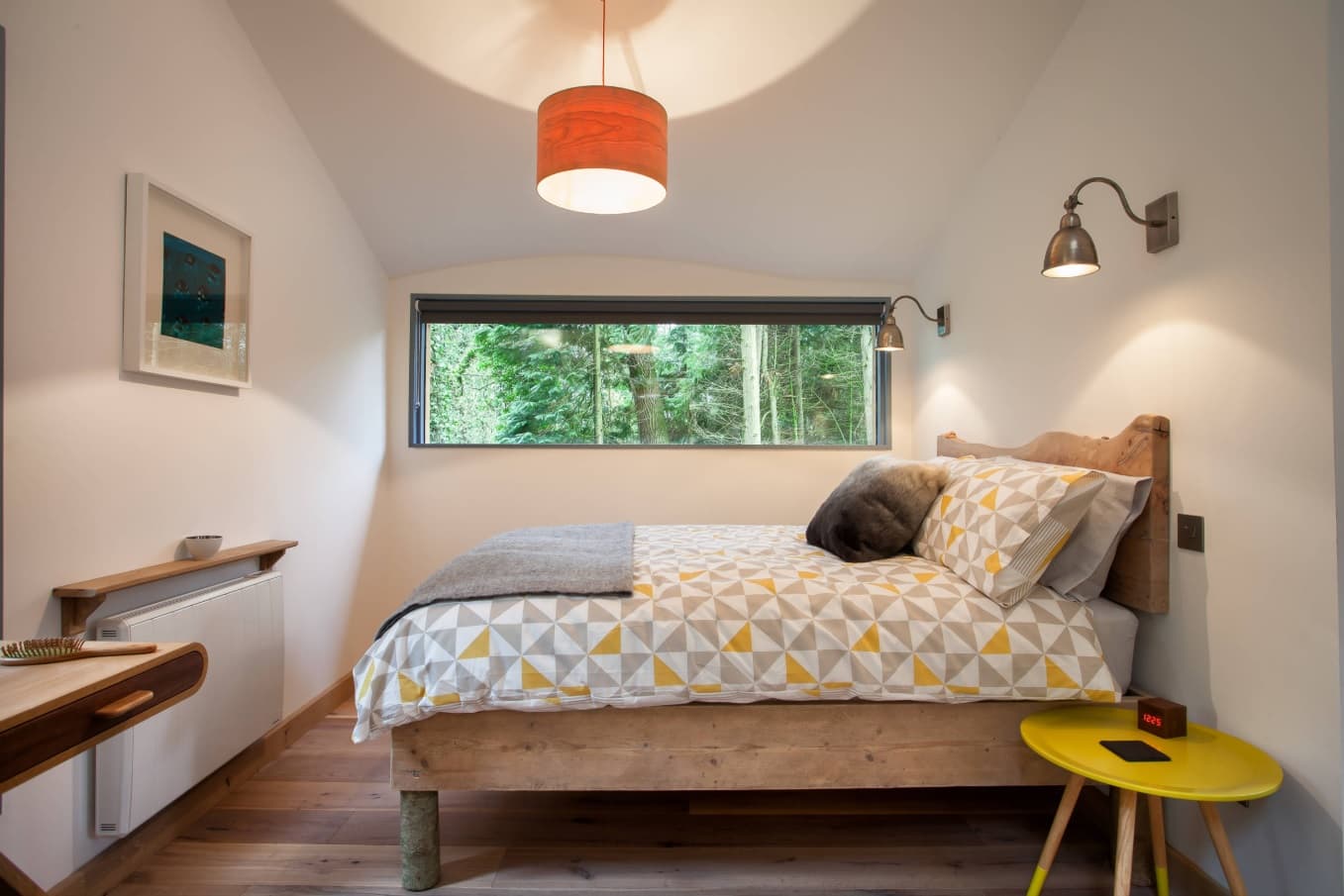 Don't have any room for more furniture? No problem.
When it comes to small bedrooms, less is more. Try stacking your items directly on the floor—no dresser or bookshelf needed.
For example, you can get a free-standing clothing rack without needing a closet or dresser. You can also stack items like books, plants, and decorative items on the floor for a simple, streamlined look.
Just because your room is small doesn't mean it has to be boring. Go for a bold wallpaper pattern to liven things up.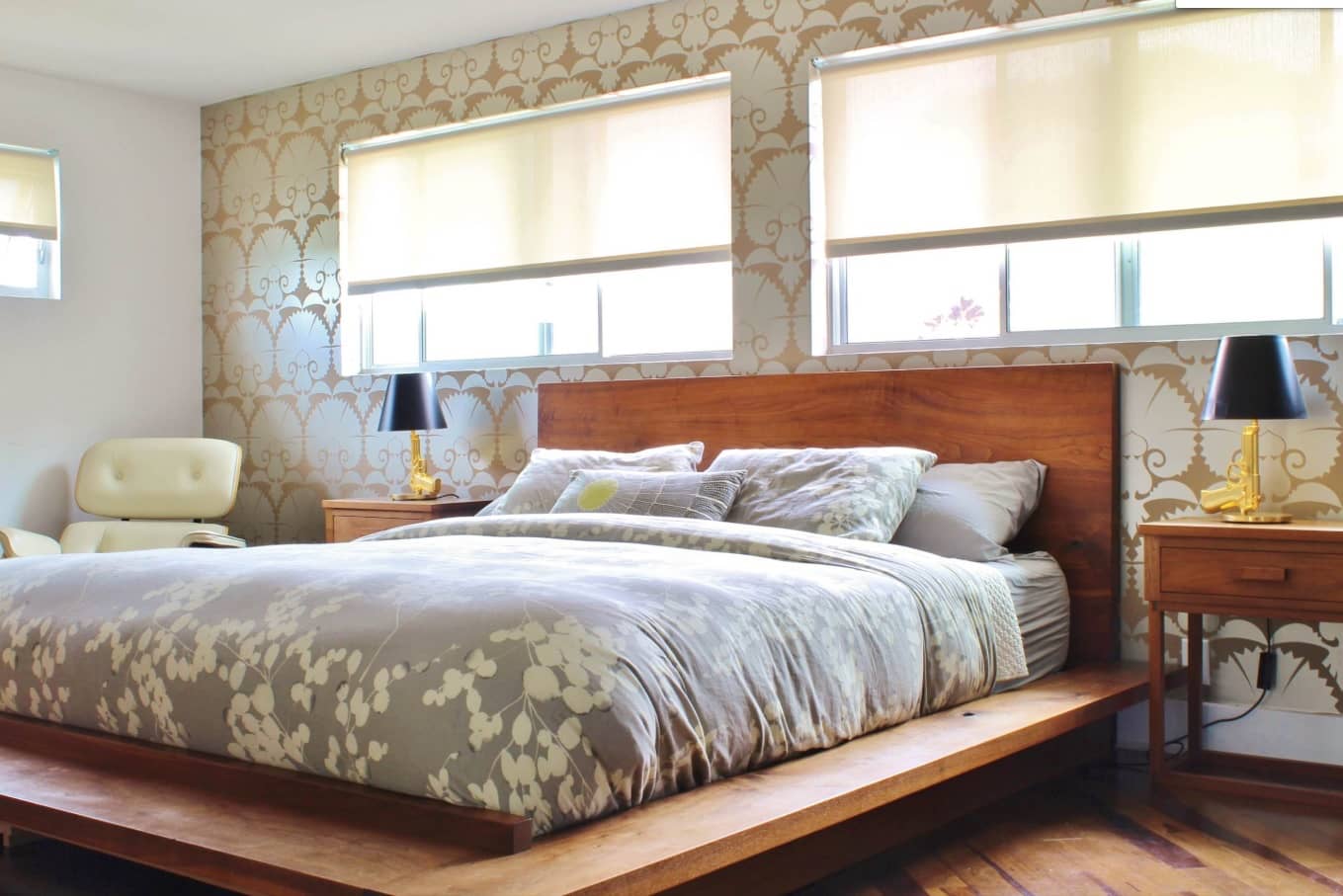 When used incorrectly, wallpaper can make a room look more cluttered. But try using wallpaper only on select areas, like your headboard wall or the wall above your desk.
Using small sections of wallpaper with a simple, minimalistic pattern can add a pop of color and life into your room without making the design look busy.
A large, over-the-top headboard, can help make a statement in your bedroom. But in a small room, you might not be able to afford the space.
Opting for a smaller, simpler headboard doesn't mean you can't make a statement. Pick a shorter headboard that still adds a layer of color to your room.
Plus, a smaller headboard will leave you more room above your bed to put wall art, tapestries, or other decors.
To go along with your bright walls, you can go for light, neutral colors on your carpet to further expand the room.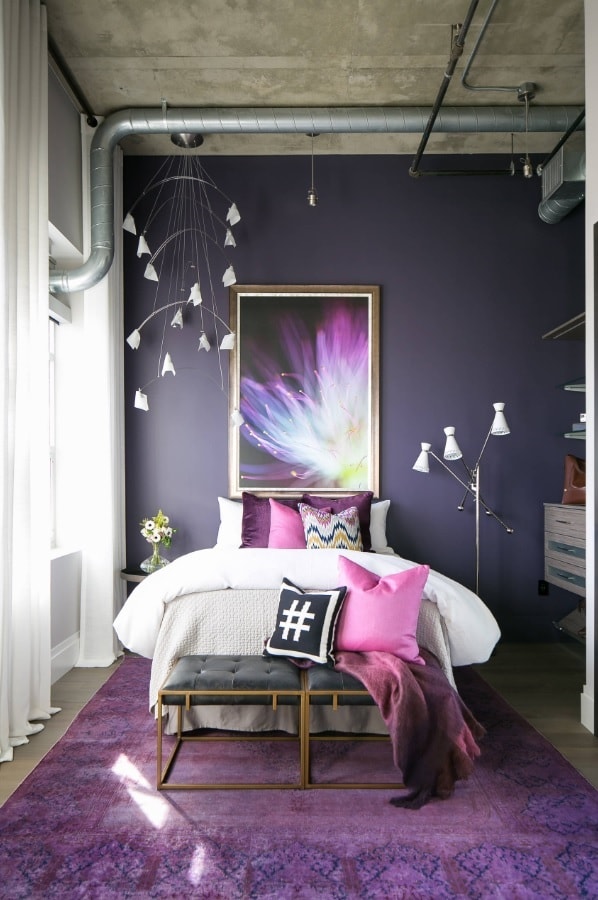 Cream, beige, and off-white colors are timeless when it comes to carpet. Just be sure that your carpet still offers a contrast to the wall.
For example, don't pick a white carpet and white walls. Try adding a hue that aligns with your color palette while still adding something new to the room.
Room Ideas to Make the Best of Your Small Space
Whether you're taking up tiny house living or you've just found yourself in a bedroom that's smaller than usual, you don't have to feel confined in your small bedroom.
With a little creative styling and organization, you can create a bedroom that feels just like home.
Looking for more game-changing room ideas to take your style to the next level? Keep browsing our blog for more interior decorating tips.