Colour psychology plays a pivotal role when deciding on your bedroom interior. Colour influences things like your mood and emotion – it's a powerful tool that can be utilised to create a bedroom sanctuary you desire and incorporates Feng-Shui elements.
Your feelings about colour are often deeply personal and rooted in your own experience or culture. Whilst perceptions of colour are somewhat subjective, there are certain colour schemes that have a universal meaning according to science.
Whether you want to boost your morning inspiration or create an inviting space to come home to at night, colours and hues should be considered to achieve what you want from your bedroom interior.
The Calming Colour Combination – Fresh White and Blue
When we think of clean, calm and tranquil environments, our minds gravitate towards muted blues and variations of white. With elements that take inspiration from the ocean, you can almost envision the waves rolling in from the shore at the foot of your bed.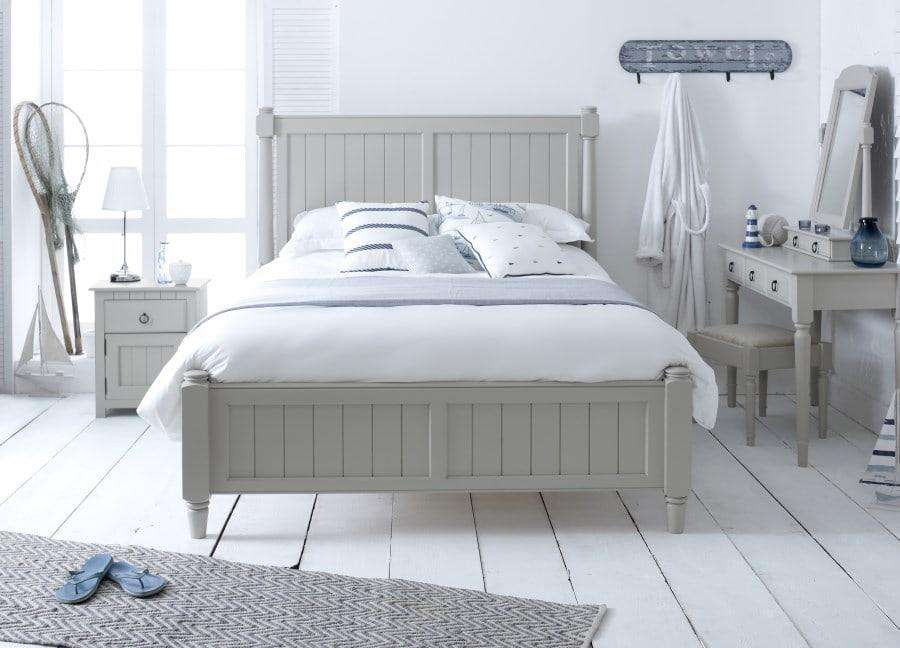 Besides feeling like you're at a seaside getaway, these soft blue shades are considered the most conducive to sleep. With a painted New England bed inspired by the fresh coastal look, it brings versatility into the space and a guaranteed good night's rest.
Alternatively, blue can be substituted for lilac or blushed pink. This maintains the light and airy feel while the existing wood furniture pieces can be upscaled with white paint.
The Warm Embrace – Subdued Orange Tones
Although considered quite retro, orange is a great colour palette to experiment with. It may seem like a bold suggestion, but shades like tangerine and apricot are subdued and can rejuvenate a space.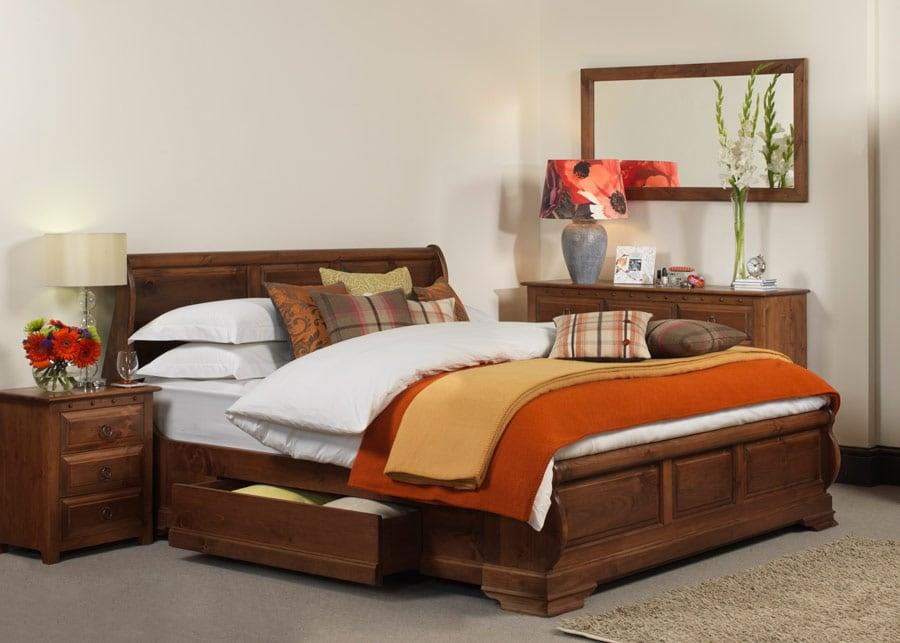 Warm colours create an inviting atmosphere and can be the perfect place to wind down after a long day.
Contrast elements of this lively shade, like plush pillows and soft fabrics, then balance it out with dark European oak to create a Mediterranean summer vibe that inspires energy and enthusiasm.
Promote Positivity – Stay Mellow with Yellow
When the minimalist Scandinavian trend took over, yellow was often used as an accent colour to break up the simplicity of the space. The palette is fairly neutral but balances earth tones to create a cosy yet extremely versatile base.
Yellow can be bright and intense. However, it can also be visually fatiguing if used in this way. Opt for yellow sparingly to encourage happiness and draw attention to sections in your decor that are understated.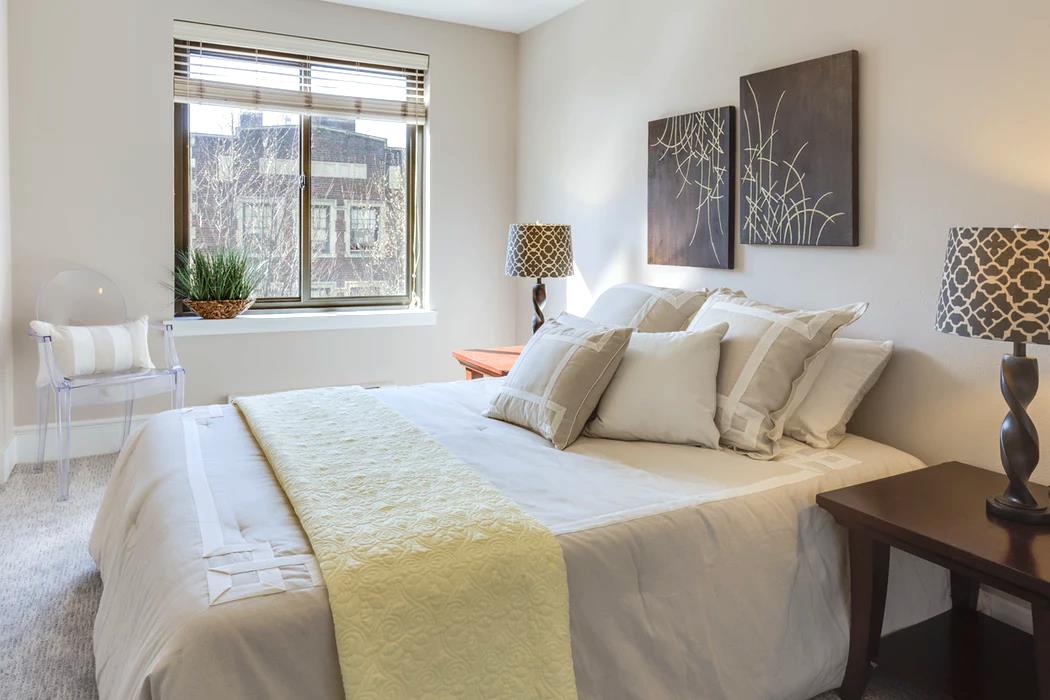 If you want to achieve that clutter-free style that's prominent in Scandi interiors, you can opt for a bed with storage.
Connect with Nature – Serene Green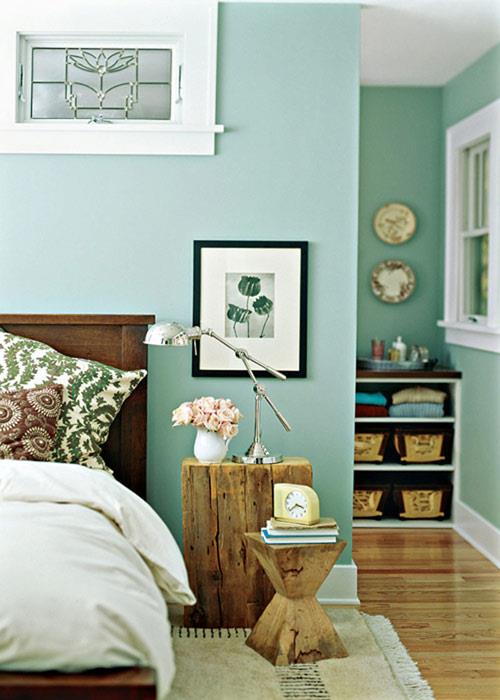 *images via Country home
For many, the colour green evokes visions of lush overgrown forests and meadows that stretch as far as the eye can see. Green is heavily associated with nature so often has connotations of freshness and healthy well-being. Similarly to blue, it has calming properties.
Pair with premium wood furniture to add depth and finish off your restful retreat by tying your nature-based colour palette together with earthy fabrics and decor.
Incorporate a Premium Wooden Bed Into Your Colour Scheme
It's not just about the colour scheme in your bedroom – though it can help to design an enjoyable space – certain pieces of furniture can evoke feelings too.
We sleep in our bed for more than a third of our lives, so whilst creating a tranquil space using colour is useful, having a bed that is well made and comfortable is essential.
Author bio
Revival Beds has extensive knowledge when it comes to handcrafting premium wooden beds. Our values reflect our craftsmanship and dedication to providing high-quality furniture. Invest in a bed that is made from sustainable solid wood and has had focused, undivided attention to create the very best for your bedroom.