There are many products for house exterior, imitating wood, but made of artificial, more durable materials on the market. Thanks to them, you can beautifully decorate the front of the house a-la wooden beam, but avoid the problems of wearing out of natural material. See how the imitation of timber cladding house looks impressive in the photos presented.
Contents:
Timber Cladding Imitation Outside: the Main Features
The imitation of timber was created to avoid the drawbacks of natural material. First of all, the artificial analogs of wood are low-absorbing. They do not absorb water and, as a result, do not shrink, swell or twist under the influence of humidity. Insects will not damage your timber frame house, and the facade will not become moldy and will not be covered with moss. Artificial analogs of timber are made of stable materials that will not be deformed under the influence of temperature drops. Wood-polymer composite boards are non-combustible, fire-resistant, and self-extinguishing. Resistant pigments are used for staining logs, and boards are protected from ultraviolet radiation, so they are discolored in an extremely small intensity.
Timber Cladding: Photos of Houses Outside
Artificial wood is actively used for the decoration of the house fronts to imitate natural wood. The innovation of finishing materials has reached such a quality level that it is difficult to distinguish natural material from its artificial counterpart for a non-professional. Quite often, it is not easy to obtain the desired result from natural raw materials for exterior home cladding. Types of timber imitation are designed so that they are compatible with the latest trends in design. The disadvantage may be only the repeatability of patterns. Each item is identical. To avoid unnatural effects, some elements can be placed upside down or facing the terrace and the house with a slight displacement of elements in relation to each other.
Imitation Timber: the Cost of the Project
In contrary to its appearance, imitation wood is not always cheap, but rather, more economical than natural wood. If we compare the cost of the WPC (wood-plastic composites) with the price of boards from ordinary pine, it may turn out that many types of artificial lumber will be more expensive. So, the natural wood of precious or exotic species costs much more. Everything is relative, but buying boards that mimic wood often indicates a much simpler, cheaper assembly and easy maintenance.
Composite Wooden Panels – Ideal for Exterior Decoration
Artificial wood planks are formed from a mixture of cellulosic fibers and plastics, such as polyvinyl chloride, polypropylene, or solid polyethylene. The content of natural material is 30-70%. The addition of plastic provides durability, moisture resistance, and the possibility of dying in many colors. The composite material will not deform under the influence of moisture, it does not rot in contact with water. The surface of the boards has a texture that mimics wood grain. The timber designed for terraces is covered with a contact surface, which provides resistance to sliding.
Imitation of Timber Outside: Photo of Residential Architecture in Classic and Modern Style
Thanks to modern finishing materials, you can have an exterior that looks like wood, but it is easier to maintain in excellent condition. Wood is a natural and noble raw material that most clients like. Possible disadvantages relate not to its appearance, but to its durability and necessary maintenance, especially when wood should be used to finish the façade. However, this is the place exposed to the constant effects of harmful weather conditions. High-quality imitation of timber cladding is an alternative to those who love wood but are afraid of problems with exploitation.
Classic Style of the House Exterior
A wooden house in the country is often built of wood. However, the high cost of material does not always allow the project of your dreams. Today, imitation timber allows you to build a beautiful cottage or a timber frame house for permanent residence, which is visually identical to a wooden building. Color and structure do not differ at all from natural raw materials, and durability exceeds its counterparts many times.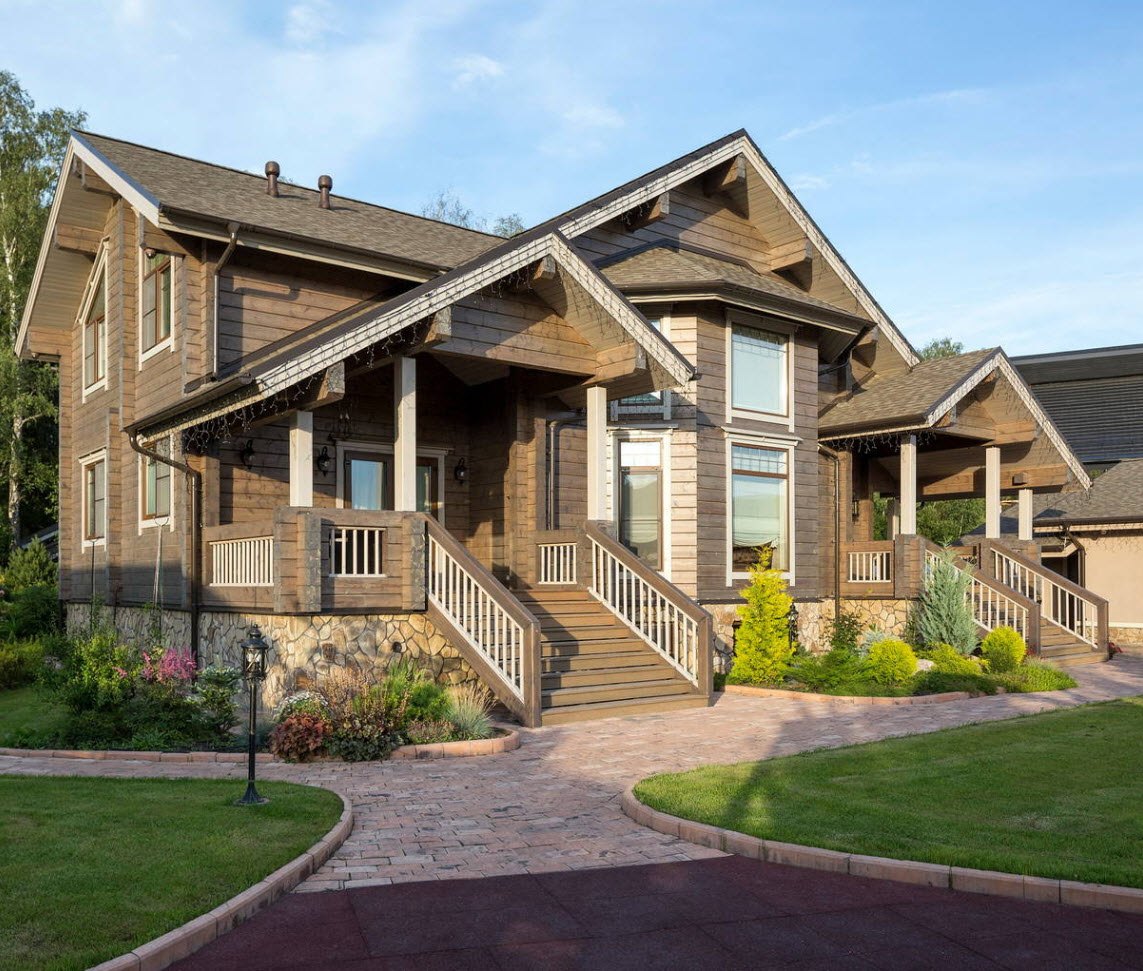 Modernized Houses: a Combination of Different Materials
Many people today choose modern timber frame house designs that have an unusual appearance that is radically different from classic buildings. Timber imitation can fill the entire outer surface of the house or elegantly combined it with other building materials, such as concrete slabs, metal fittings, and huge windowpanes.
Today, the imitation of timber is available in various sizes: from small elements similar to boards to very large-scale planes more than 3 m wide. Material for exterior decoration of a house that imitates timber cladding can be found for every taste. The main thing is to choose the construction project that you enjoy the most.