The kitchen is the most "inhabited" space in the house thus its flooring must be chosen carefully. The floor must withstand high humidity, oil spray, hot water, detergents, hits of falling dishes. And the kitchen floor is being cleaned more often than in other areas, so the floor covering should be practical, durable, and aesthetic. So, here the top modern kitchen floor materials hit parade to define the most universal way to design your space for eating and cooking.
Contents: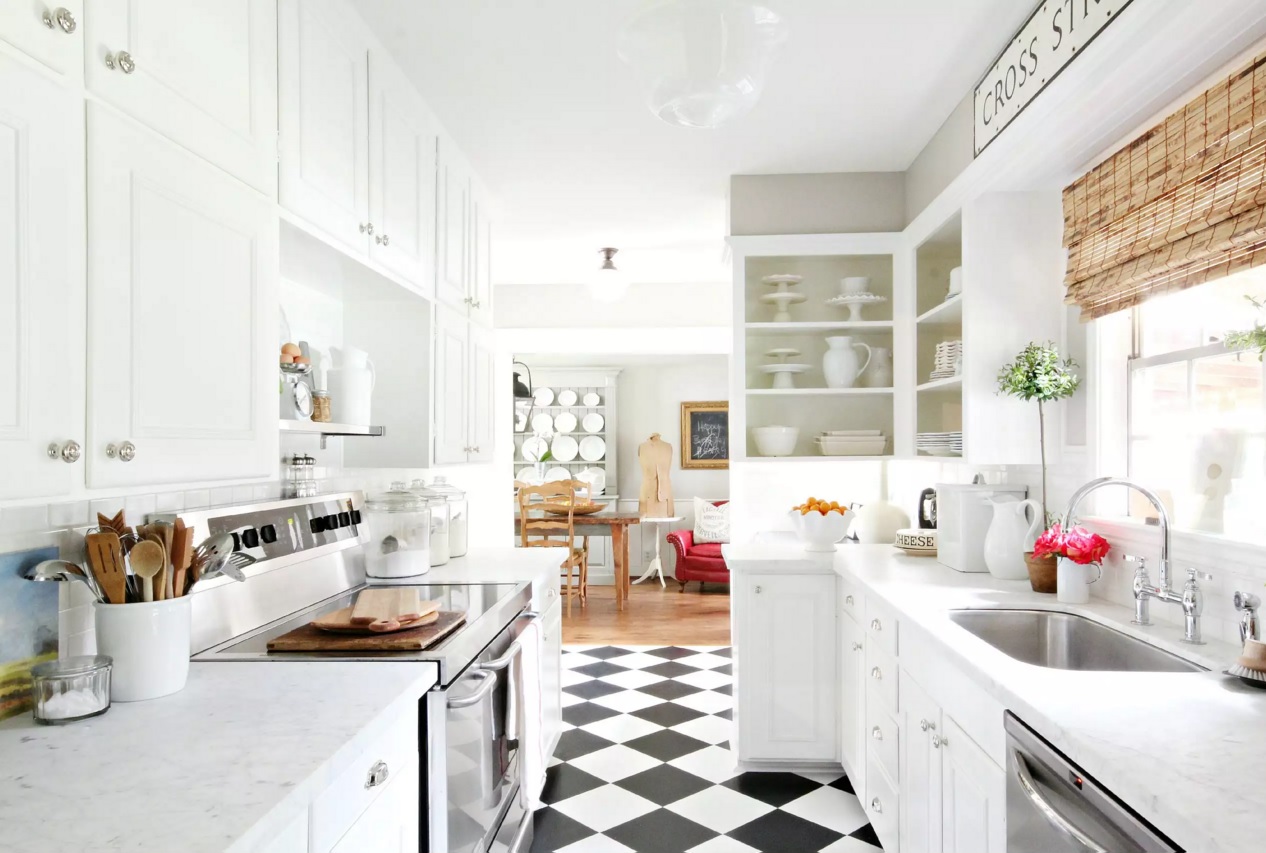 Top Modern Kitchen Floor Materials Hit Parade
Today, the building materials market offers a wide range of flooring from the most unusual design options to simple, low-cost solutions. Each of them has unique properties but, unfortunately, not all of them are practical in the kitchen. Let's briefly review the most demanded flooring for the kitchen, its features, advantages, disadvantages, usability, and other nuances.
Kitchen Parquet. 7th Place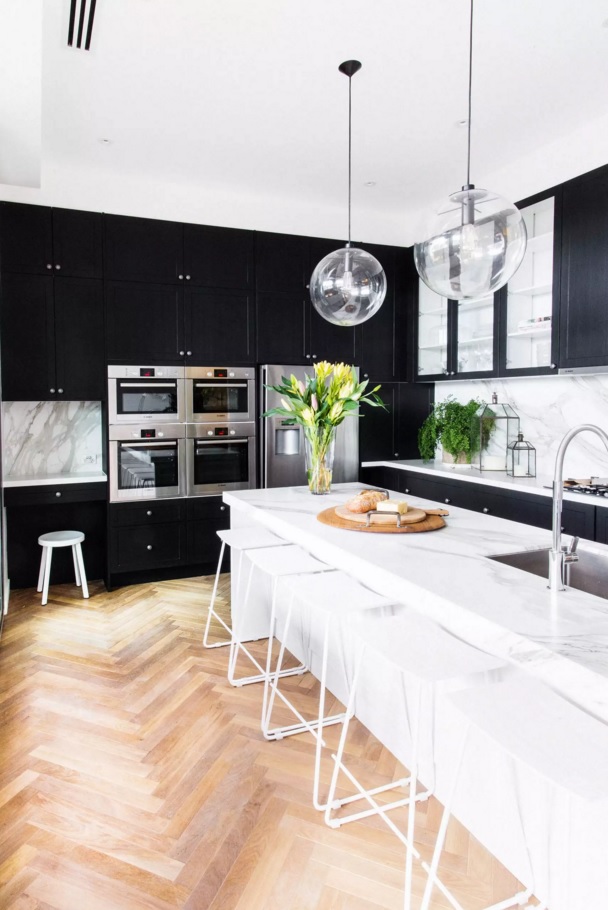 Of course, the parquet floor is considered as one of the nicest and environmentally friendly materials among its "classmates". Thanks to its unique and inimitable texture it is able to transform the room beyond recognition, give it elegance and status. Every guest in the house will be able to fully appreciate such an interior. But parquet is perhaps the most worst-case option for the kitchen flooring. As we know, the tree does not like moisture. Spilled water, constant wet cleaning, soot, detergents, and other ills are not the best things to affect the appearance of the material. Besides, parquet flooring is expensive, it requires special care and specific skills for laying.
Pros: beautiful appearance, environmental friendliness.
Cons: afraid of humidity, requires special care, high cost, the complexity of installation.
6th Place: Natural Stone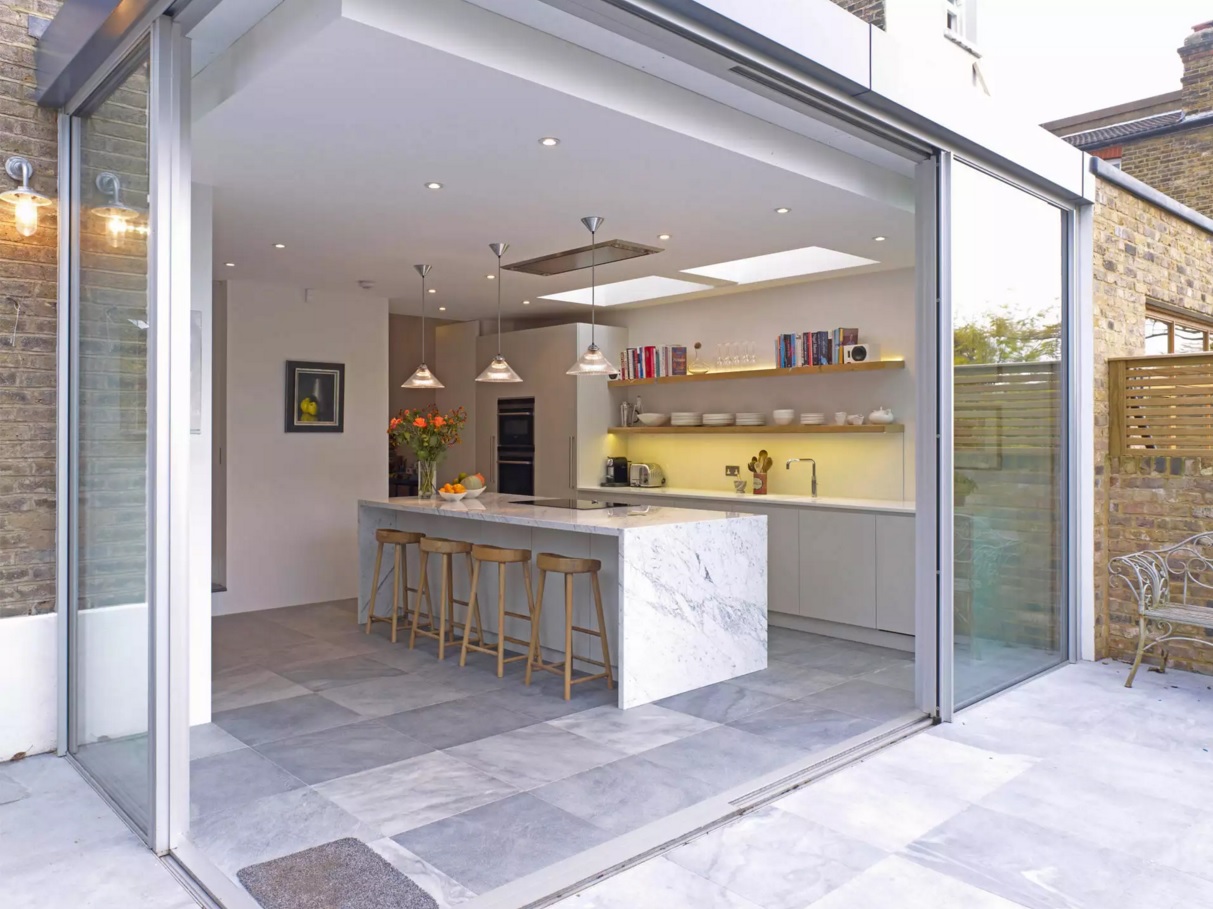 Natural stone is wear-resistant, durable, does not lose the aesthetic properties during operation. A marble, granite, or sandstone floor would be most suitable for the kitchen. Granite is very hard, and sandstone would be eventually covered with a natural patina of gray. The marble looks simply gorgeous in the kitchen, but it requires special care. Such a coating requires anti-oil impregnation. Otherwise, oil stains will soak into the structure of the material and will stand out visually. Moreover, dents and scratches remain on the surface of the marble.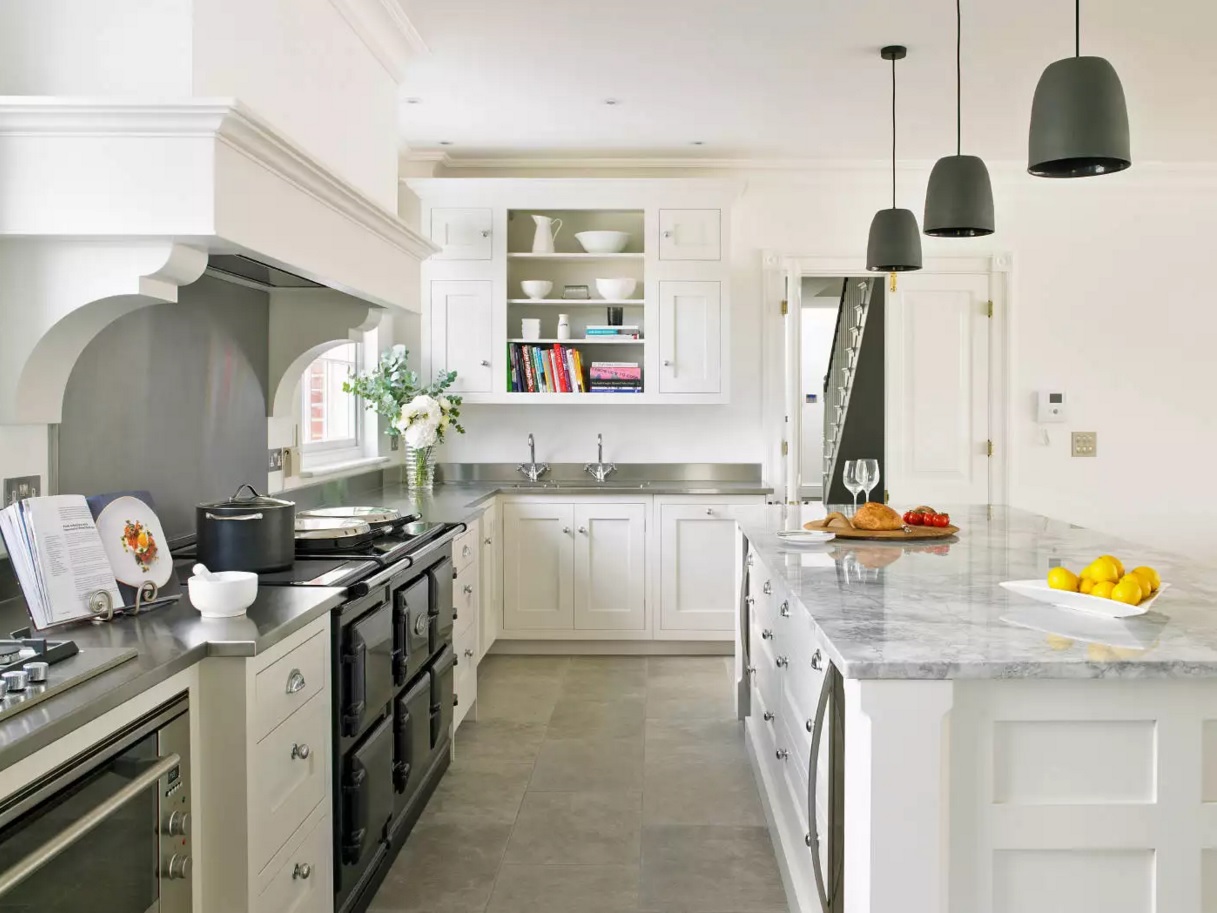 The natural stone floor is non-abrasive, resists high temperatures, fits seamlessly to create a uniform surface, allows to create various patterns and composition, it is durable. But there are drawbacks – lower shock-absorbing qualities, this material is demanding to clean, it is cold (requires underfloor heating), expensive and you'll have to involve a specialist to lay it.
Pros: attractive appearance, durability.
Cons: requires special care because of the porous structure. The high cost and complexity of installation.
5th Place: Self-Leveling Floor
This is a kind of self-leveling screed with a minimum thickness of 3.5 mm. The self-leveling floors have become popular now. They are made of polymeric material and have a perfectly smooth surface.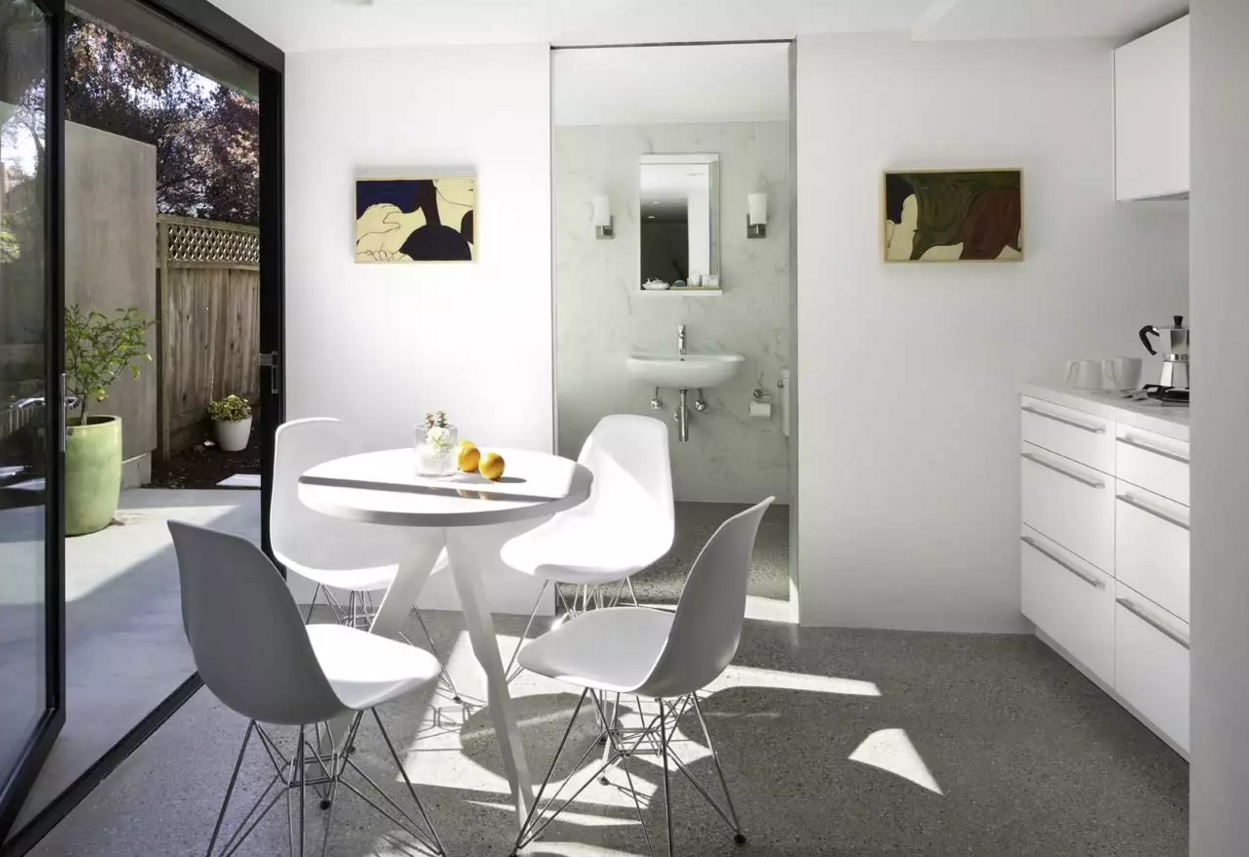 The self-leveling floor is an alternative to tile, laminate, or linoleum. The materials to apply this method are relatively expensive and installation is time-consuming. But the consumption of materials is small. The price of these floors depends on the material used as a filler. The self-leveling floor is elastic, has no seams, tight, resistant to moisture and chemicals, is safe and easy to clean. But there is no material without drawbacks: it has a uniform design, requires careful preparation of the base before filling, it is difficult to remove. Some materials fade when exposed to sunlight.
4th Place: Cork Flooring
Cork is a natural and environmentally friendly coating. Moreover, the material is very soft. For example, if you accidentally slip the dish on the floor, there is a high probability that it will not suffer. Walking on this coating is a pleasure too. More details of the cork flooring in the kitchen here.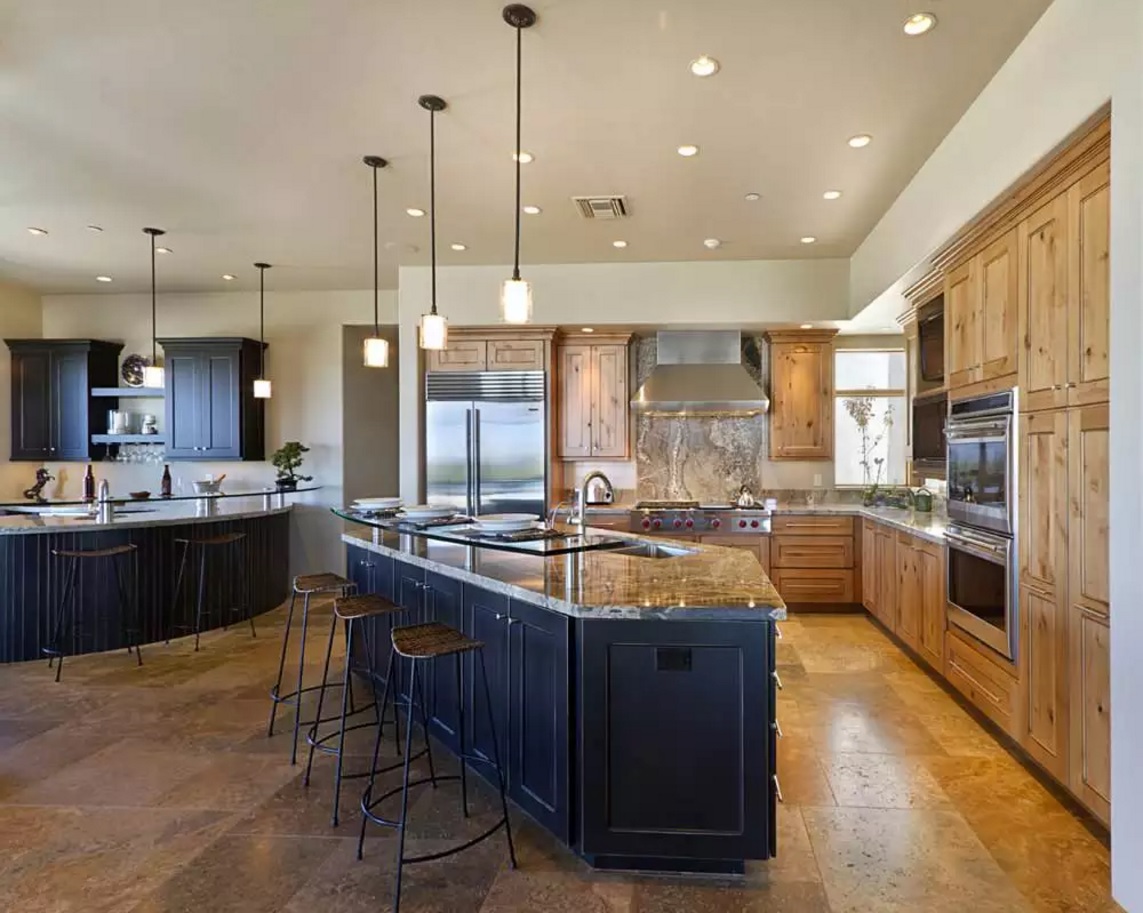 Pros: easy to clean, soft, warm, environmentally friendly material. It does not rot and is waterproof.
Cons: high cost, can be scratched by the legs of furniture, pets, etc.
3rd Place: Laminated Panels
The laminated panel is good flooring for the kitchen. The panel can imitate any material – oak, beech, pine, walnut, pear, olive wood, stone, ceramics … The texture of the tiles can be smooth or similar to the parquet.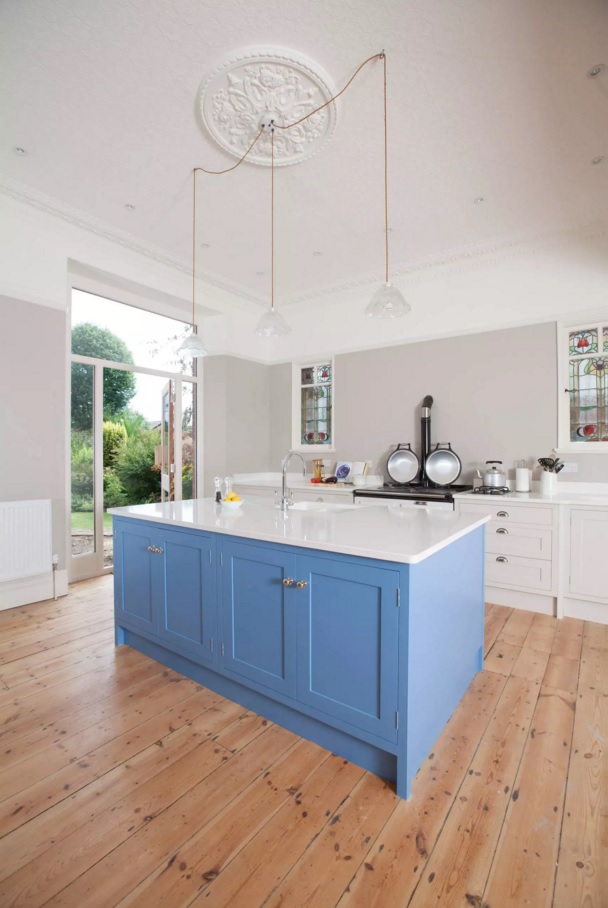 The owner should select MDF or HDF panels for the kitchen, having higher values ​​of resistance to moisture. This is a relatively inexpensive material, it is possible to be laid on your own. It is also resistant to chemical and mechanical influences, has good shock absorption.
The disadvantages are artificiality, the possibility of allocating smell, bad sound absorption, the difficulty of recovery.
2nd place: Linoleum
It is familiar and time-tested material. It can be in the form of wood, parquet, stone, and is much cheaper than all of them. Linoleum does not lose form, it is resistant to chemicals, easy to clean, does not attract dust. Linoleum is much warmer than ceramic tile, easy to install. But in practicality, durability, and ecological properties, this material yields a ceramic tile. In addition, the original appearance will change for the worse over time.
Pros: low cost, ease of installation and maintenance, good practicality.
Cons: a small lifetime, not natural.
The market offers a natural linoleum as well as PVC. The natural one is preferable, of course, it is environmentally friendly. But PVC is cheaper. If you prefer the latter, then try to find one with a natural base.
1st Place: Ceramic Tile
Ceramic tile is the best flooring for the kitchen and number one of our today's nominations. It is practical, durable, cannot be deformed by mechanical impact, easy to clean, resistant to chemicals, and does not fade. Herewith it has an affordable price and a wide range of types, shapes, and colors. Steam, various fats, and alkalis do not scare it. The kitchen floor tiles can be cleaned every day and they will not lose their original appearance. The only negative moment – the material is cold. So it is better to take care of the floor heating beforehand.