It is this room where each of us begins the morning, prepares for a new day by performing a traditional ritual. It is this location where our day ends too, when we need to relax, refresh and get ready for bed after labor feats. It is difficult to overestimate the importance of developing competent, practical, functional and beautiful bathroom interior. As it is most often we need to plan the location of plumbing, storage systems and accessories based on a small bathroom area in a standard apartment, it will be very expedient to take a closer look on bathroom design trends & decoration ideas 2017 with photos. And the fact all the designers' tips visually expand the space will be useful for most of us.


But any owner of an apartment or private house wants to see its own bathroom not only comfortable, convenient and practical in terms of care, but also stylish, modern, relevant according all current trends in fashion of interior design. And this fashion does not stand still – plumbing manufacturers offer us new, original models from their collections; finishing materials are improved and become more practical, safe and easy to install and maintain. Modern bathroom accessories are not only able to facilitate all water and sanitation procedures, but also to transform the design space, to bring originality, accent or emphasize selected stylistic line with their appearance.


Many of the trends in the design of bathrooms overlap in the coming season with existing motifs of modern style. This is due to practicality, convenience and beauty will never go out of fashion. But there is also completely new version of the mainstream, with which we would like to acquaint you with the help of impressive collection of design projects, collected all over the world.
Recent trends in bathroom design
All of us want to be surrounded with furnishings that will help to relax and unwind at the end of the working day in the bathroom, and will stimulate to action in the morning. The proximity to nature, the search for harmony and balance, energy saving and the use of modern innovations – these are the main trends in the design of utilitarian premises. Modern designers are able to combine aesthetics, ecology and technology at the few square meters and to create truly comfortable, functional and safe interior.
Bathroom, along with the kitchen space, is one of the most "popular" rooms in any home. All family members spend a lot of time in the bathroom during the day. Here we consume the main amount of water (at the last count – about 100 liters per day per household), and therefore the correct planning of space and energy savings are the key aspects in preparation of to-do list before remodeling or redesign of sanitary facilities.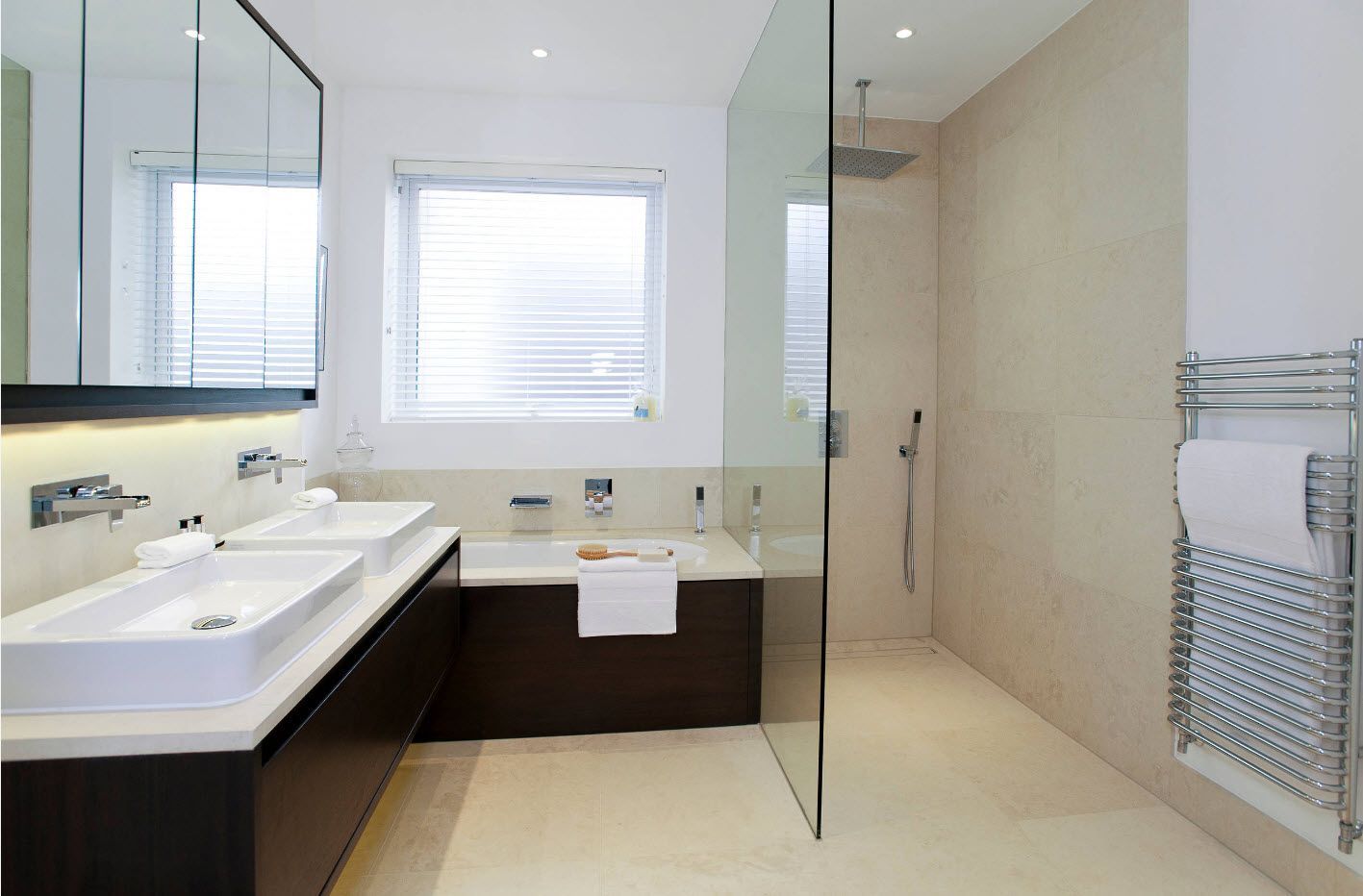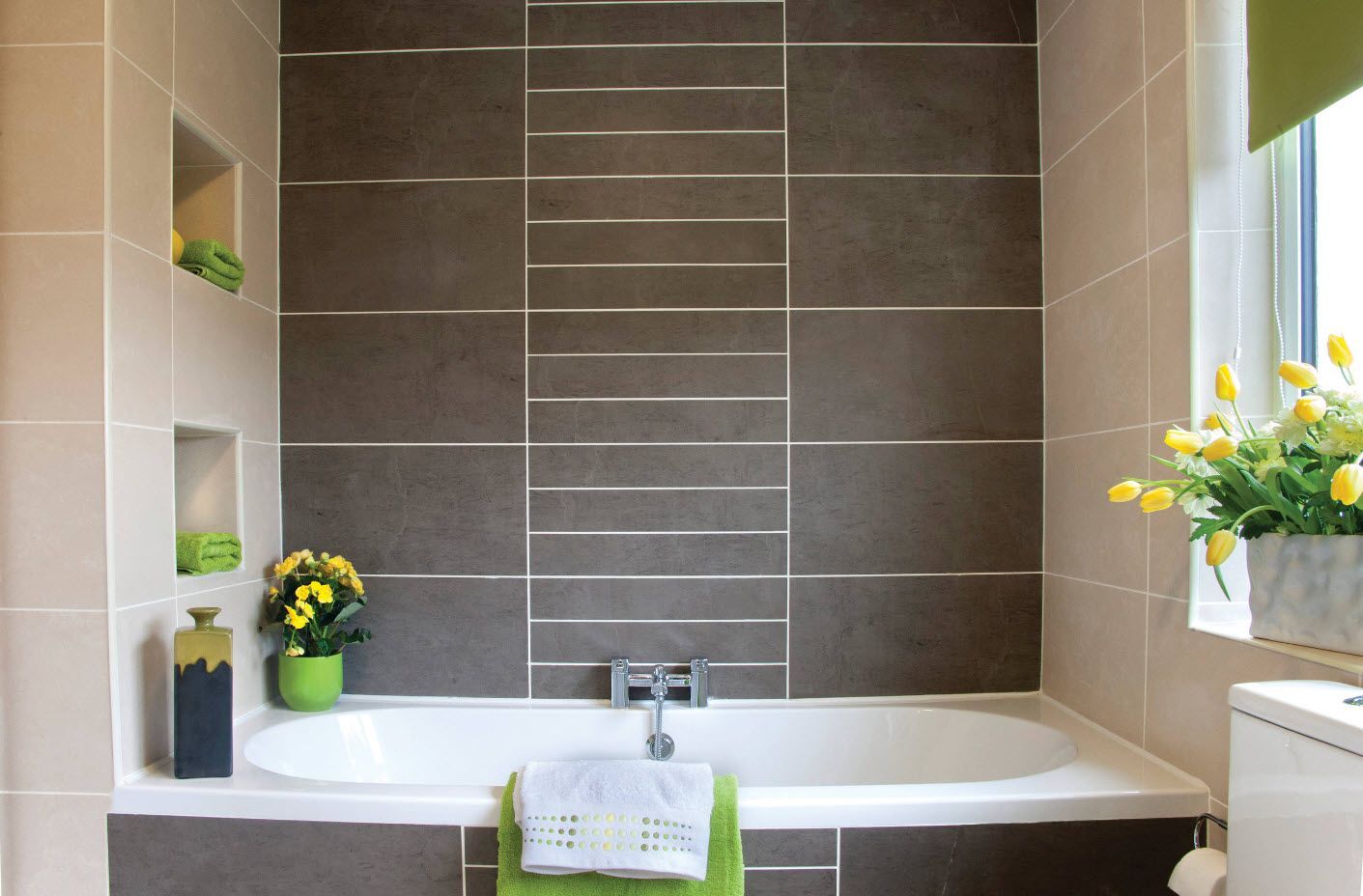 Modern style tends to use minimalist mood in the formation of the interior space. The whole situation in the bathroom boils down to the traditional set of plumbing devices, storage systems and amendments thereto. Nothing superfluous, but herewith everything you need to carry out water and sanitation procedures. Minimum decorating allows you to create concise and fresh images even in small rooms.
Bathroom Design Trends & Decoration Ideas 2017. Finishing
Modern materials (mostly) do not adversely impact on the environment and human health. The market is constantly being fulfilled with innovative materials produced on modern technologies. Such products can not only create original interior decoration, but also simplify the process of cleaning the room with a special microclimate.
The most fashionable trend in the decoration of bathrooms is becoming a combination of materials. And it's not only in conjunction of a large tile with mosaic decoration, but in principled neighborhood of concrete and plastered walls, glossy ceramic and textured wooden surfaces, 'pebble' floor and mirror inserts. The combination of materials allows you to create not only interesting options for design of surfaces, but also to find the best options to protect planes from such noxious agents as high humidity, temperature changes and different kinds of mechanical influences.
The ability to combine concrete, stone, wood and metal with traditional bathroom ceramics allows you to create truly original finishes. Wooden or tree-like surface with a beautiful natural pattern and matte texture looks great in combination with light glossy surface finish. Natural wood or its qualitative analogues you can bring notes of the natural warmth and homeliness to the modern interior.
Experts recommend the use of ceramic (or stone) tiles of medium and large size for creating a modern and stylish design. You can used mosaic or textured tile of small size to dilute the surfaces decorated with the help of large ceramic products.
In the list of original ideas for creating of a bathroom finishing designers continue a theme of using 3D-surfaces. It is possible to create your own unique style with the help of 3D-ceramic tiles. Such surfaces can be the only subject of the decor in a minimalist bathroom interior and serve as an excellent background for plumbing and furniture.
There is a lot of glass and mirror surfaces in modern design projects of the bathrooms. The ability to multiply light emission using mirrors to reflect rays contributes to visual broadening the boundaries of the room, creating an easy and relaxing image of space. In their turn, the glass surfaces perfectly reflect light and seem to dissolve in the interior, while being the excellent protection against moisture and space zoning element. Glass and mirrors often become part of the decoration in the bathrooms of most different configurations, sizes and shapes.
Modern style 2017. Plumbing
Bathroom of today has in common not only modern design with innovative technology, but also the functionality of the art. After the creation both ergonomic, comfortable and also aesthetic interior is "aerobatics" in terms of the design of living spaces. Modern design projects are full of original features, creative design solutions. And non-trivial design of bathrooms' basic idea aimed at creating practical, safe, comfortable, but apparently original plumbing.
Great design is always the result of bold decision-making and use of the latest innovations. Modern plumbing so as its additions (faucets and taps) is a combination of environmentally friendly solutions with creative design ideas. The advent of new materials and processing technologies allows you to create more durable, resistant to various types of loads and impacts plumbing device. Ceramics has become more pliable, "flexible". As a result – each new collection of sanitary equipment from leading manufacturers becomes a real work of art, full of innovative solutions.
Designers of modern plumbing devices are inspired by two opposite tendencies – on the one hand we see the smooth of lines and absolute harmony with such natural phenomenon as water, and on the other – the rigor and clarity of forms, even some aggressiveness of geometric solutions, which are accented in either the design of utilitarian space.
Hanging plumbing designs continue to be popular among modern designers and their customers. Console toilet, bidet and washbasin have a very stylish look. All engineering systems and cistern are "hidden" behind false panels. It is very easy to clean the room and installation of such sanitary ware saves precious centimeters of useful bathroom space.
Actual colors
Colors allowing to create close to nature designs do not go out of fashion. Natural shades are relevant as never. If we talk about the choice of colors to create a bathroom finishes, the absolute favorites have become all shades of white, pastel colors, which allow not only to create the perfect background for plumbing and furniture, but also to visually increase the volume of the room. In the scope of small space visual extension of the boundaries of the room becomes of paramount importance. And its main "instruments" is the color, light and form.
Bright bathroom will always be in trend. The use of white shades for finishing utilitarian space helps to create a clean, simple and fresh image, which is the most authentic to idea of many people of what should be the premise for water and sanitation procedures. But experts warn against the use of light colors for the decoration of all surfaces of the bathroom. Apply a darker color for the finishing of floors, at least. Absolutely white space looks "shapeless", dissolves in space and does not give a clue about the boundaries of surfaces, which can lead to emotional disorientation instead of the expected relaxation and recreation.
Following colors will be relevant for execution of storage systems that often have simple forms and sleek design:
smoky shades;
graphite and other shades of gray;
earthy;
beige shades with lots of options;
"cappuccino";
"bitter chocolate";
"truffle".
Gray was one of the undisputed favorites with the design of rooms of absolutely different purposes. The bathrooms are no exception. Different shades of gray are able to create not only a perfect neutral background for the snow-white sanitary ware, and perfectly match with the brilliance of plumbing accessories, mirror and glass surfaces. The gray has much of nobility and serene, peaceful luxury. You can get a truly modern and stylish design of utilitarian premises by diluting the gray palette of wood surfaces (or its qualitative analogue) and white sanitary ware.
Imitation of marble with gray streaks on white texture never goes out of fashion. Traditional surface can imitate ceramics and artificial stone. In the result, we achieve current modern trends in design, but with a bias to the classics.
Anyone who does not like the "boring" light design projects bathrooms, can safely bid on the modern trend in decoration of rooms – black-and-white contrasts. The combination of white and dark (usually graphite or glossy black) surfaces allows you to create an original dynamic design, where it is easy to feel the rush of vitality and strength.
For those who seem even contrasting bathroom design variations not colorful enough, we can offer a metered use of bright colors. Will it be the use of accentual surface or the integration of bright plumbing (piece of furniture) – it is necessary to stop on the choice of a bright spot in an alliance with the light or neutral main background in any case.
Bathroom Accessories. Finishing touch
Despite the desire of modern stylistics to minimalistic situation, we can't do without accessories in the bathroom. Especially that we attribute to additional elements such necessary things as faucets, taps, shower heads, handles for bath, mats, kits for hygiene procedures, towels, shower curtains and more.
Modern additional elements for plumbing consist of not just taps and valves. These are innovative devices which can save water consumption thanks to the spraying jet into tiny droplets, create lighting for chromotherapy, and even to heat and to clean water. But in addition to functional qualities, bathroom accessories are able to decorate the interior, to become its accents and to bring originality into the design of the space.
Lighting system plays a crucial role in modern design projects bathrooms. In addition to their primary function, lighting fixtures and composition of them become decorative elements. You can use point light sources or built-in lighting strips, but it is important to get not just a well-lit room, but a visual extension of its area and the creation of interesting optical effects as a result.
The combination of styles. The balance of Classics and Modernity
Contemporary style is the mixing of elements inherent in different stylistic directions. We can see both minimalism and a loft, Scandinavian style and eclectic, classical and industrial motifs. The harmonious combination of trends in a variety of styles allows you to create simple (in appearance, but not in terms of construction) but interesting interiors, where everyone feels himself convenient and comfortable.
The spacious bathrooms can afford the integration of classical motifs into a modern design style. Storage systems with classic decor and execution or luxurious frame for a mirror, lighting fixtures with a touch of Baroque – all these elements of the interior will not only dilute enough sleek design of the bathroom, but will also raise the degree of uniqueness.
When looking through modern bathroom projects, we can often find motives borrowed from Country and eco-style. The easiest way to reflect proximity to nature is using materials such as stone and wood. So much contradictory in their aesthetic and technological properties materials can create a harmonious union in the framework of the design project of the premises. Even use of some rustic materials is allowed in the design of the bathroom.