Designing your new house can be both exciting and challenging, especially for first-time homebuyers. In the absence of proper organization and planning, the whole process will be more stressful than it needs to be. So, if you do not want to stress yourself out after you move in, it is better to design your new home in advance. Here are some tips to help you eliminate your anxiety in decorating your house before moving in.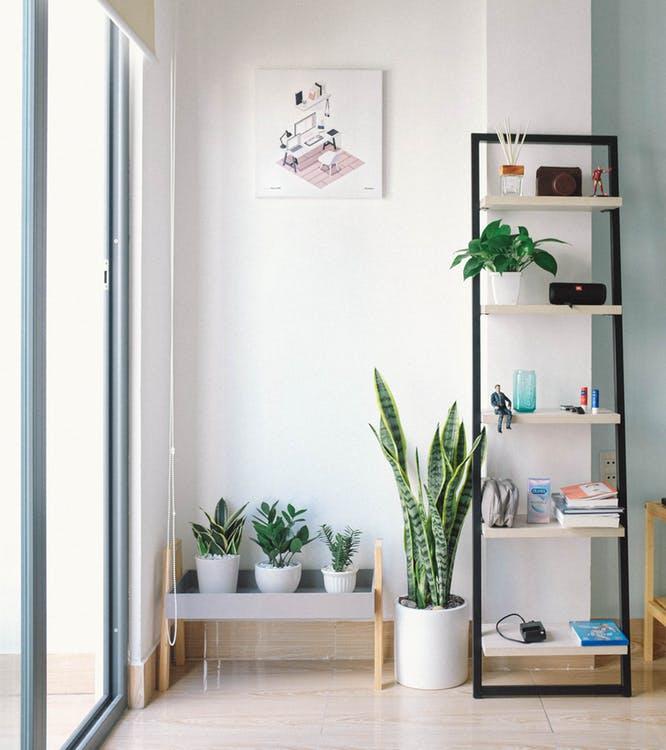 Photo credit: https://www.pexels.com/photo/rectangular-white-and-black-wooden-display-rack-beside-green-snake-plant-2826787/
Get Your New House Cleaned
Before moving in furniture and putting up decorations, you will want to make sure that your new house is clean from top to bottom. You won't be able to decorate effectively if your new home is still dirty. If you are doing the cleaning all by yourself, you need to prepare all the supplies and tools that you will be using to accomplish your task. Go through every nook and cranny of your house and clean everything. Wash your carpeting, flooring, cabinets, and countertops well. If you don't have enough time, consider hiring a cleaning service for your new home.
Paint Walls and Ceilings
A fresh coat of paint is what you can give to your home to promote a cozy feeling. Through painting, you will be able to conceal holes, cracks, and other defects. In choosing a color for your new home, always consider the amount of light that goes through it. Light colors brighten and uplift a dark room. Keep white paint as one of your options, especially if your goal is to add colorful art and other touches to the walls and ceilings.
Utilize what You Have as Home Décor
Check all the items you have before moving. That's because you will be able to find stuff that you can use as home décor in your new house. Use your existing materials and tools rather than buy new décor at the store. For example, unique wall art can be created out of old plates. Hang art from the children's books that your kids no longer read. Don't forget to pack these items carefully to keep them safe during your move. You can hire a reliable moving service like movewithrainbow.com to transport your items quickly and efficiently to your new home.
Install Closet Organizers
Closet organizers make your new house more convenient to live. These items can be used for the organization and accommodation of your stuff once unpacked. Closet organizers are also one way to transform your dull house into a comfortable, safe, and warm home for the whole family. Through closet organizers, you can also make it easier to settle into your new home. A well-organized shelf for all your items is necessary for your home to achieve an orderly design.
Maximize Space
Before relocation, figure out whether your usable areas can be maximized through the use of corners. Each space should serve a specific purpose in your new home. For instance, a spot can be reserved for a desk area or small bookshelf for studying or writing. Your home will be more inviting when you maximize your space.
Add Plants
One aspect to consider in designing your home is going green. Indoor plants can be added so that every room in your new home has a rejuvenating and relaxing atmosphere. Indoor plants are also considered one of the most affordable ways to design your home. Plants around the house help in filtering the air from unnecessary toxins and pollutants.
In general, there are a lot of things that you have to consider before moving. Aside from the usual tasks required for a move, you need to prioritize designing your new home ahead of time. Through the tips mentioned above, you can look forward to a new beginning in your new house.