The modern era imposes modern requirements to every interior detail. Materials and forms of contemporary furniture are able to satisfy even the most demanding taste. For those customers who are not found acceptable design among the represented standard models, almost any manufacturer can propose highly individual pieces of furniture. People refer to such unusual solutions when the ready-made kitchen sets don't fit their kitchen's complicated geometry, they want to have an extra storage space or just emphasize their individuality. We've gathered some most widespread designs in these 10 custom kitchen cabinets for unique functional interior collection.
Contents:
You see, it is not always we need to style our future kitchen furniture as the most powerful and optimal designs already exist. Trying to have the most exciting and unrepeatable design we are risking achieving something very unpredictable or failed. This can be attributed both to materials of facades but equally to the material and forms of the cabinet's body. You should opt among the most popular materials and forms, but choose unusual internal shelving and racks.
For example, the lower angular cabinet can be chosen in a couple of forms: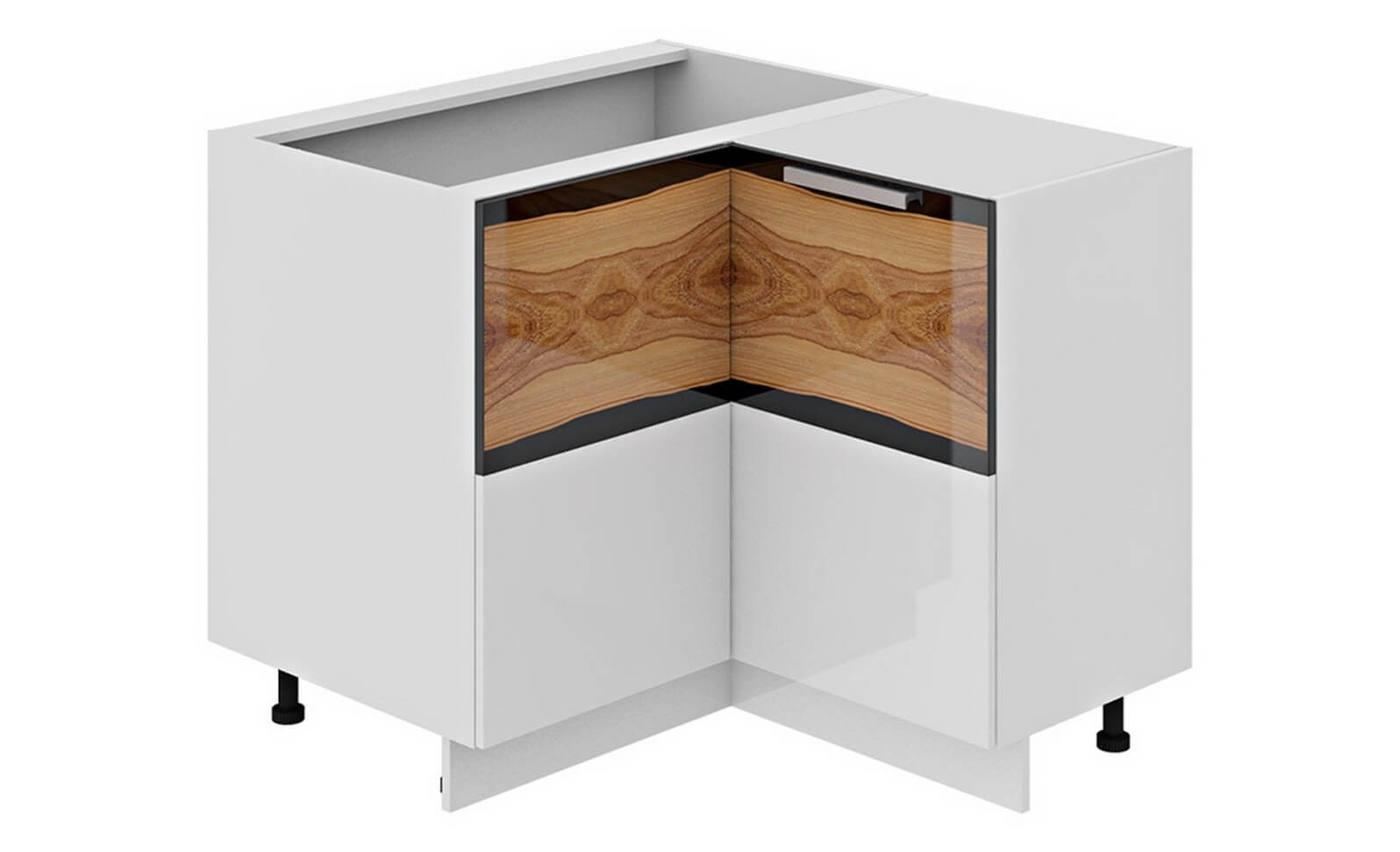 Trapezoid. It lets you utilize the corner with maximum usability but takes more space in the kitchen.
A trapezoid with rounded front.
As you can see from the photos above, the kitchens are made with plastic facades but differ in used handles, legs, cabinets arrangement, and color of course.
But the real magic can be implemented to the inner contents of the kitchen set.
Use Your Kitchen Working Space Wisely
Below you can see not the new but very effective design of the folding rack of the corner cabinet to utilize the maximum amount of inner space. It is very useful to store dishes, crockery, or liquids of everyday use.
The very same furniture set contains another useful solution. Trash bin fixed to the door with folding lit uncloses when you open the door of the cabinet. It takes a small area and frees your hands of organic and other waste.
Pneumatic gas spring openers for horizontally opening top cabinets became popular at the beginning of the 21st century. But there is opening construction that can additionally save your space and impress even the most demanding connoisseur.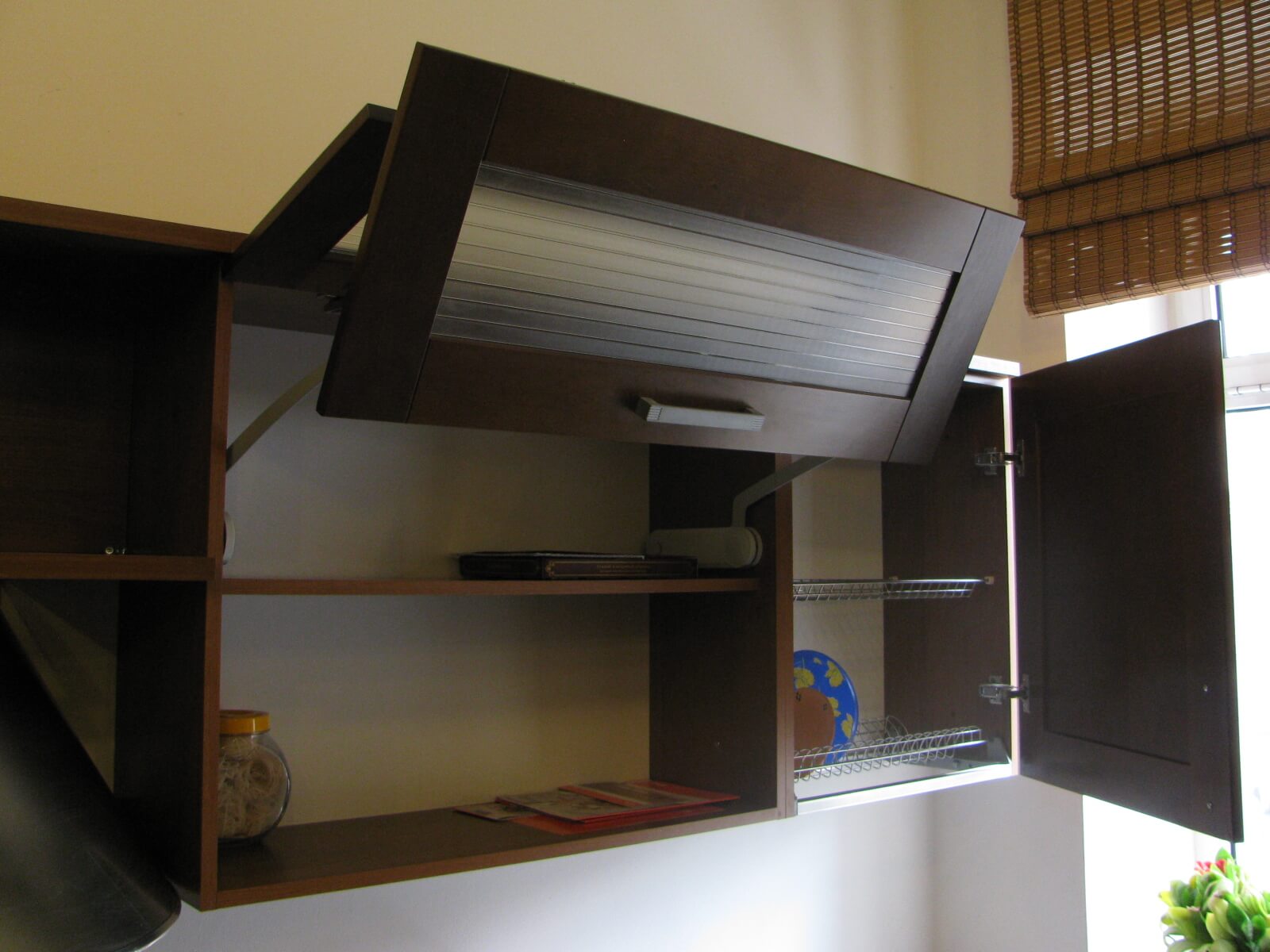 If you want to have a piece of Provence or classic in the more wide sense, you should probably opt for the glass back walls of the furniture. It will help to visually increase the inner size of the cabinet, add antiquity to the whole image. The artificial lighting in the cabinets, of course, is a superb feature.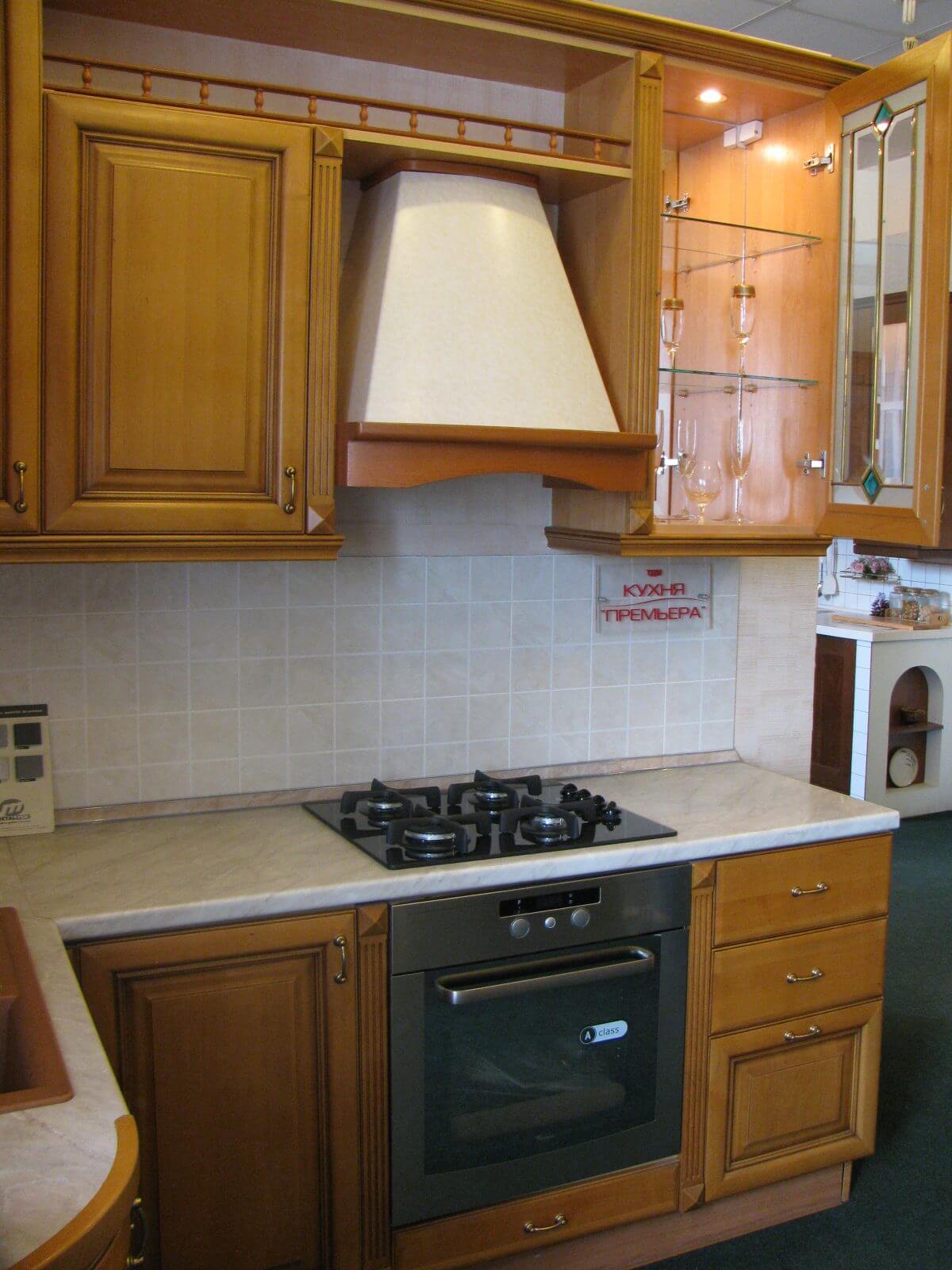 Pneumatic closers are no surprise nowadays, but this is a very convenient detail to make your kitchen cabinet a really better place.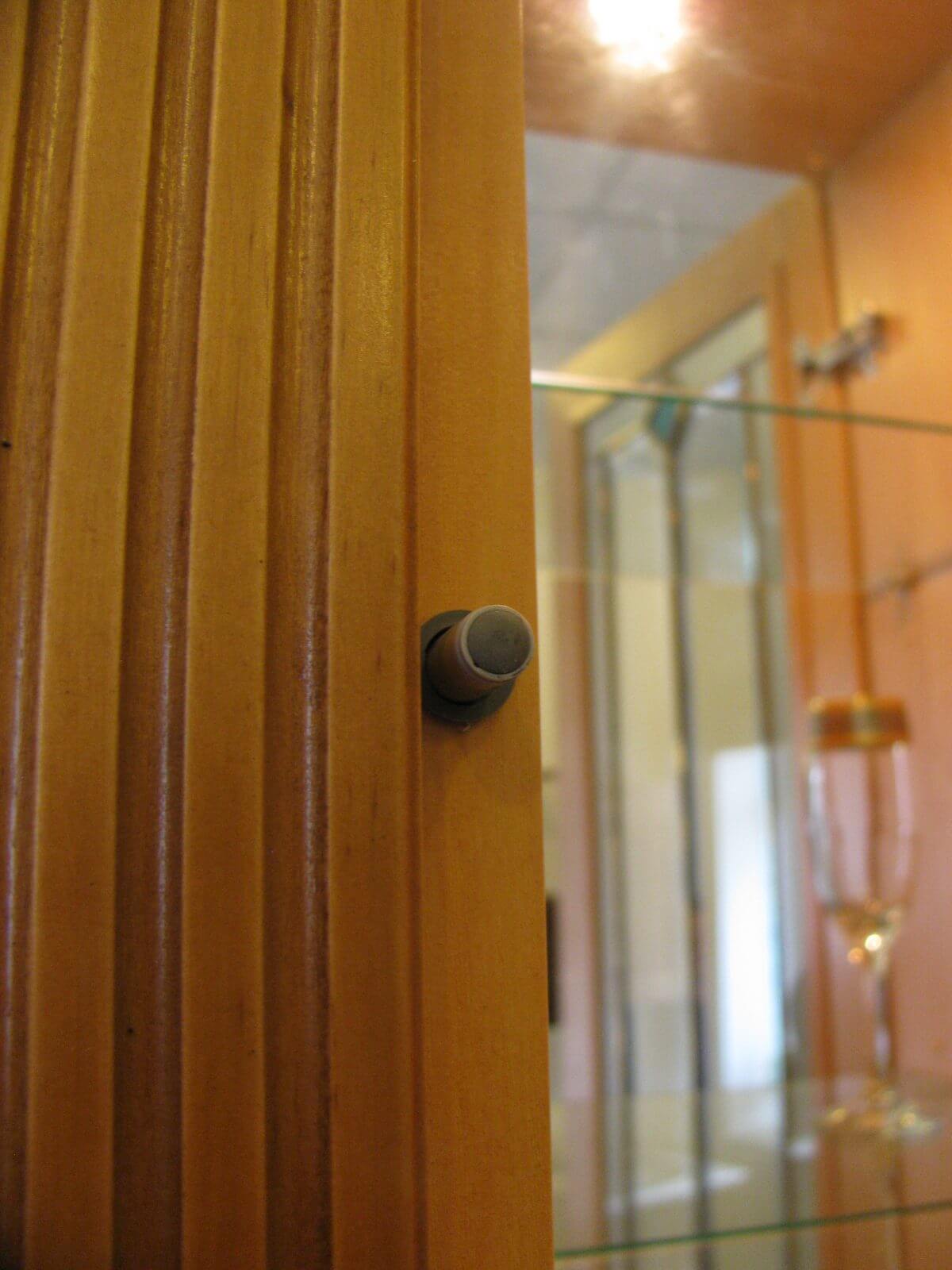 The built-in gas oven or other household appliance which can complement and functionally improve your kitchen is welcome. Especially if it can create a monolith with the cabinets.
Many people would say that open shelves are obsolete, unhygienic, and have a too primitive a look. But it is a nice way to variegate your kitchen consist of garish facades only.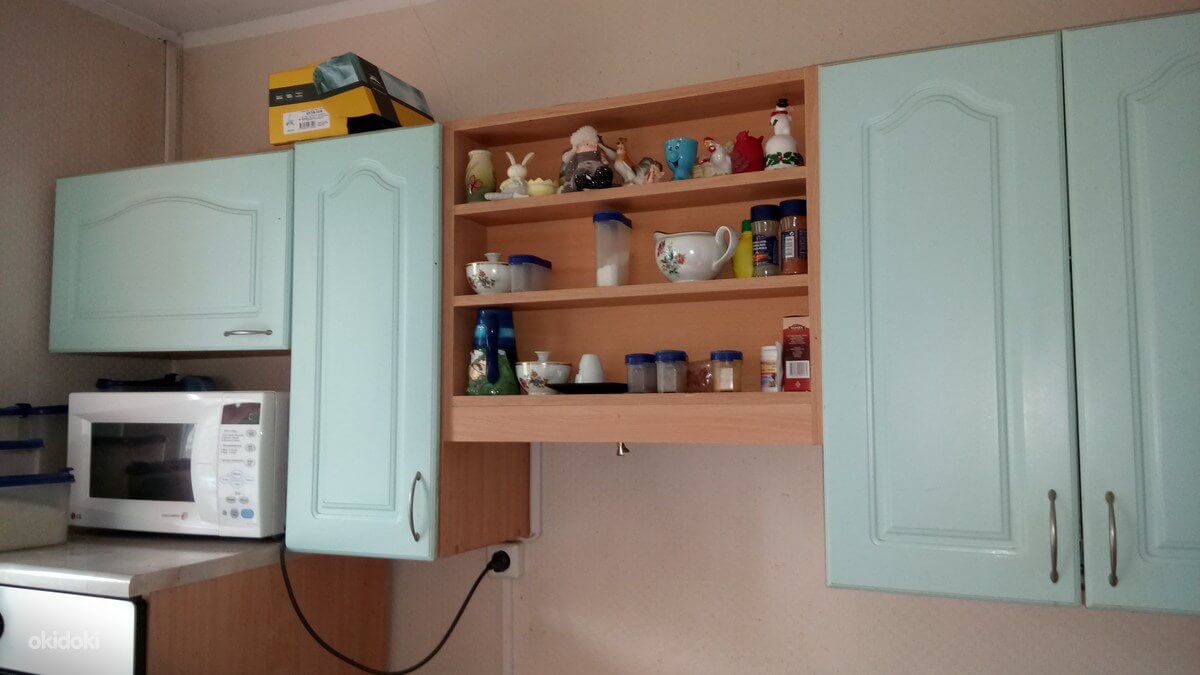 Pull out Shelves and Boxes in the Kitchen. A Spectacular Way to Style Your Home
It may look too bold but it is a good decision for a big family to have such a large telescopic shelve. Take a look, it seems that every cabinet is pullout in the kitchen below.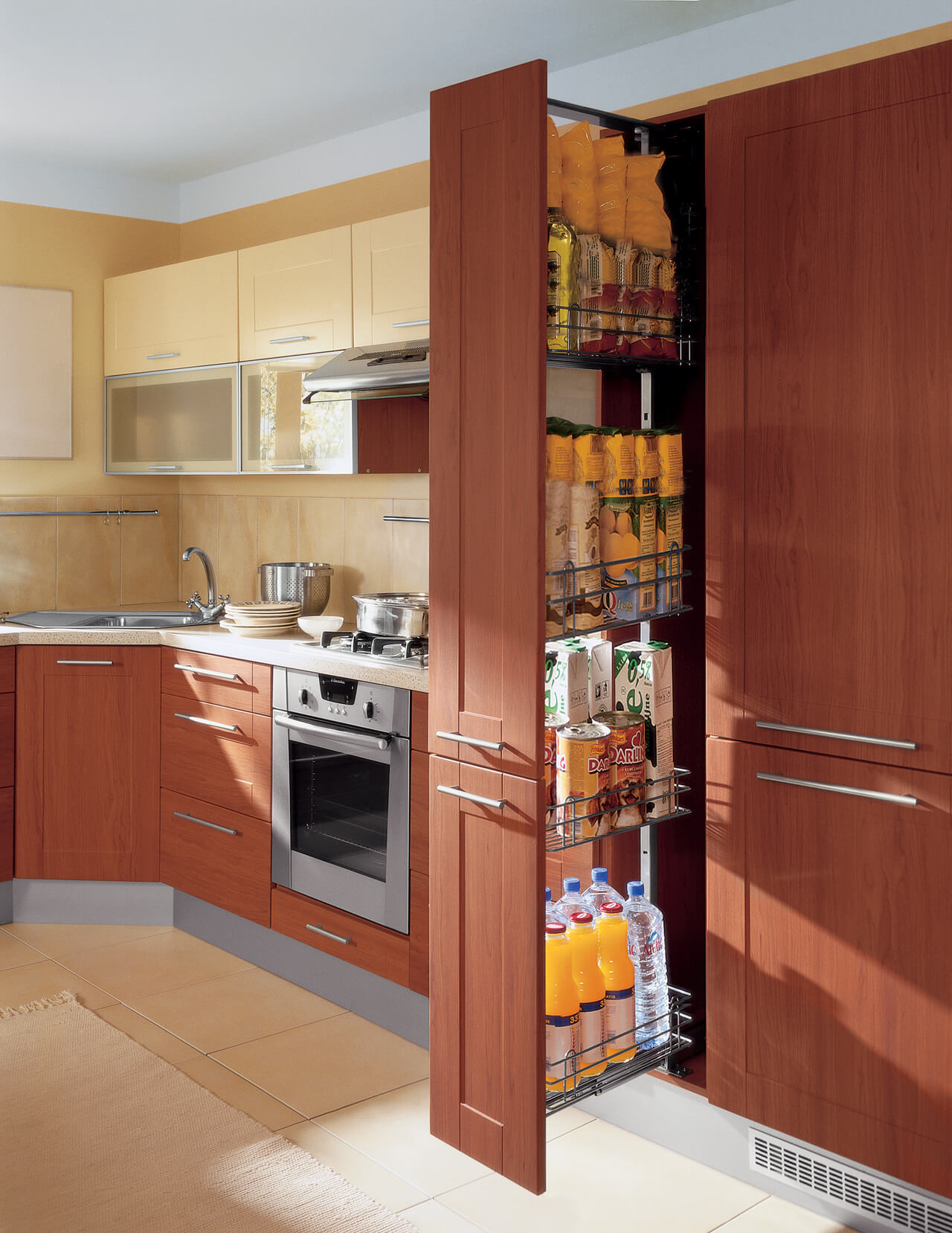 Rounded side shelves always look effective. And if they are nicely covered with semicircular wooden doors – that's twice as steeper. The pullout boxes with shelves for liquids and food are just topping the overall look.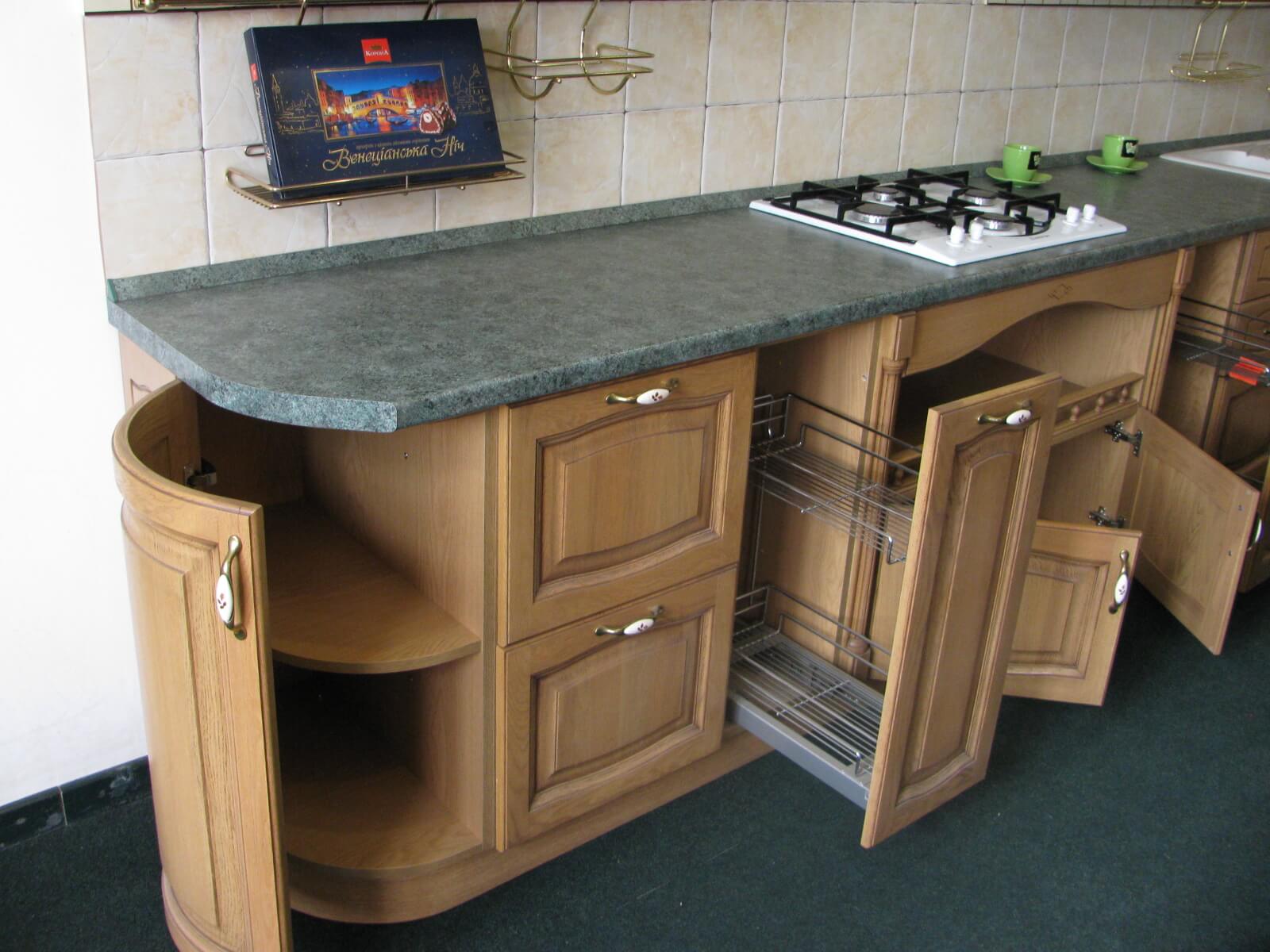 Not only shelves, boxes, or cabinets can be telescopic. What about the real table folding out from your kitchen furniture?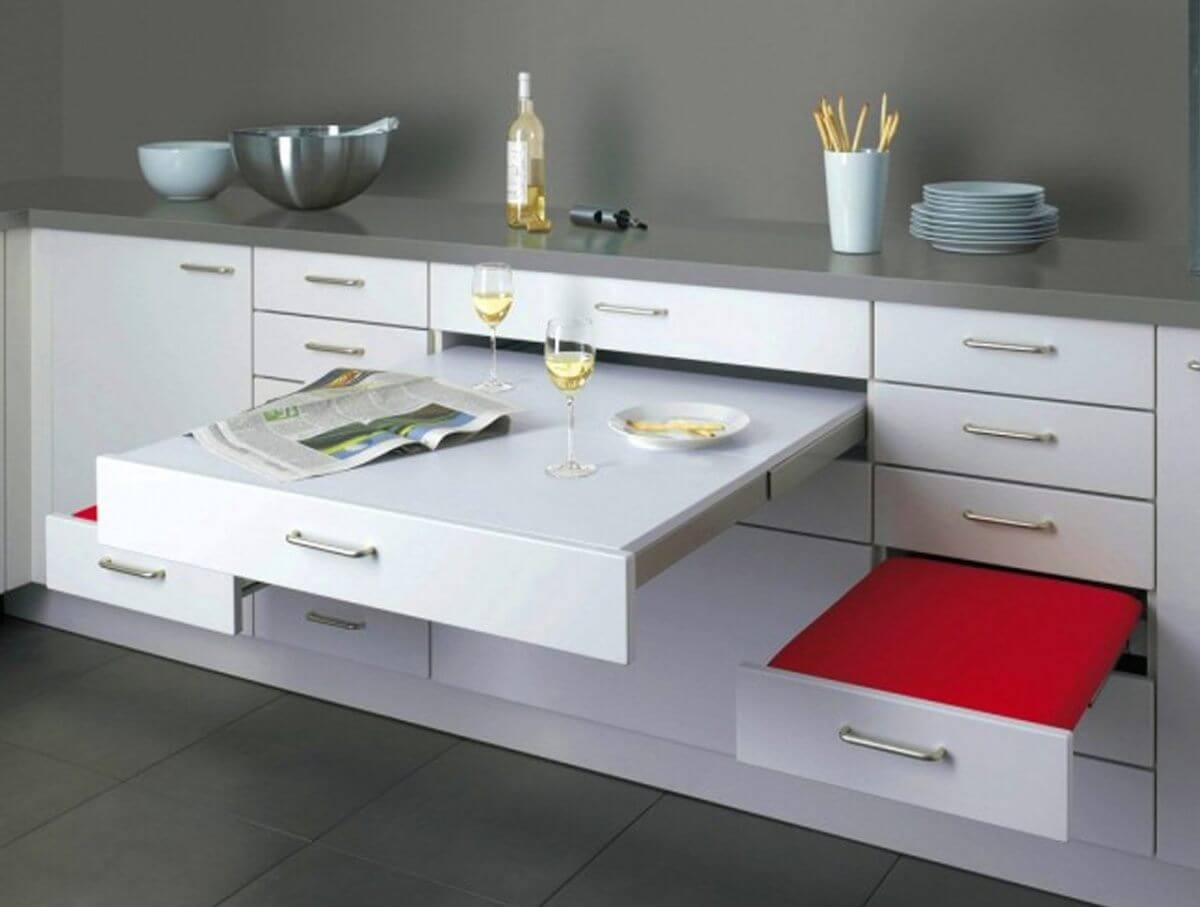 And not only the table. You can expect even the real full-sized operating working surface can be folded and unfolded from the top of your kitchen tabletop.