Model, equipment and kitchen design largely depend on the area of ​​the room, on your lifestyle and, of course, on financial possibilities. Below are represented some of the most topical 170 square feet kitchen design ideas with photos for people who want to decorate theur cooking space from scratch or renovate an existing interior.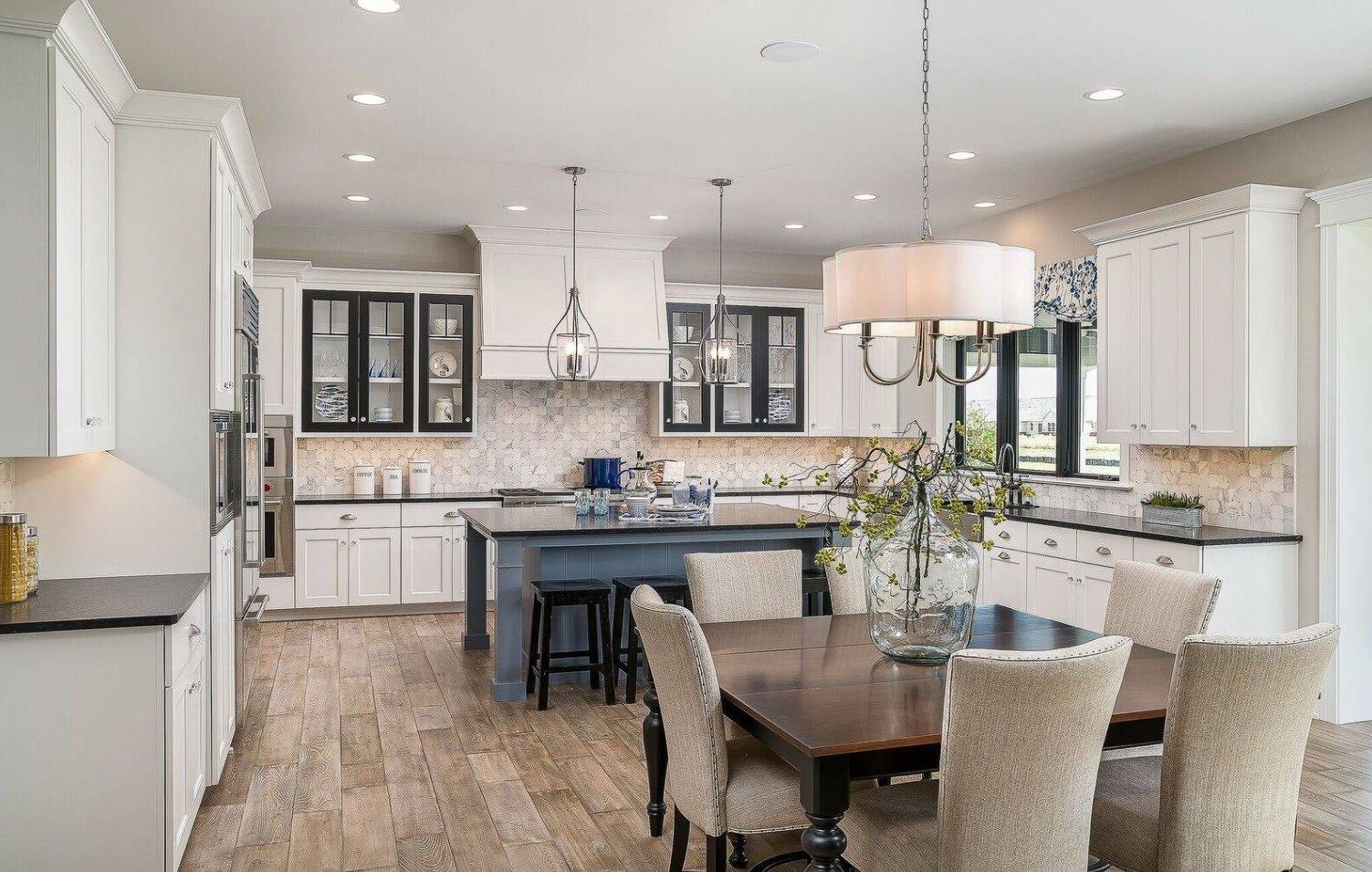 170 Square Feet Kitchen: Design of Open and Closed Rooms
In the case of an open layout kitchen, the interior design should harmonize with the location of the adjacent room. In a variant of a closed space, you should pay attention to whether the apartment offers the possibility of change, if you decide to create a studio.
Open Kitchen
Open kitchens are still trendy. One of their advantages is the visual expansion of the apartment. This kitchen will work well for people who do not want to lose eye contact with relatives and guests at home while cooking. Parents of young children emphasize that such a kitchen scheme allows them to do their homework and at the same time observe what the child is doing.
Closed Kitchen 170 Square Feet
As for the advantages of a closed kitchen, it allows for greater freedom in choosing furniture and household appliances. You can focus on completely different styles than in other rooms. In addition, it is easier to organize the space in an ergonomic way, for example, to install equipment on the basis of a "working triangle" or to place a longer worktop. A closed kitchen does not impose a lot of requirements on a person in order to make the overall interior of a studio apartment harmonious, and also to ensure constant cleanliness. If you do not have time or desire to wash the dishes immediately after a meal, you can close the door and guests will not have to watch the mess. You can also afford to leave small items on the tabletop. However, the disadvantage of a closed kitchen, especially when exiting the corridor, is more difficult communication with other spaces. Usually you need to go a considerable distance when removing hot or dirty dishes from the living room. Closed kitchen also requires a spacious area, but an area of ​​170 square feet fits perfectly!
Kitchen-Living room of 170 square feet: Good Compromise
Solutions presented above have both advantages and disadvantages. But compromise is always possible. The kitchen can be partially open, but is separated from the room by furniture, partition or wall. A practical solution that works in the kitchen of approximately 16 square meters is a kitchen island. Separate rooms with a straight passage, for example, with sliding doors which allow you to change the space are considered as another option. Thus, if necessary, the kitchen can be both open and closed. The possibility of remodeling, that is, dismantling or installation of partitions should be also considered.
Kitchen Projects 170 Square Feet: Most Suitable Equipment
Many of us still remember the times when kitchen furniture sets were very similar to each other. The limited choice of furniture and equipment forced to buy the typical store variant, and not what was pleasant and satisfy personal needs. Fortunately, now a modern person has a choice of various options for kitchen furniture and household appliances that can be adapted to almost any space according to personal taste.
Kitchen Furniture
When it comes to furniture, you can choose between ready-made sets of cabinets or order designs to size, individually selected for your 16 square meters kitchen. Prefab furniture is usually cheaper and works best in large rooms with a typical shape. There are also self-assembly kits that can be easily disassembled and moved to another plane when rearranged. These sets offer some changes, but these are not unlimited possibilities. Therefore, if our kitchen of 170 square feet has unusual shape, it is better to choose furniture in size. Kitchen cabinet fronts can also be made from many materials with different appearance and properties. The most common facades are MDF, covered with foil, melamine or paint. Another popular and inexpensive material is chipboard. Wooden facades are effective and durable. Their price, appearance and properties depend on the type of wood, so it is recommended to choose more hard and moisture resistant species that will not be deformed. Glass facades are becoming increasingly popular, but rather only in the upper cabinets. They look impressive and fit almost any style.
Kitchen Countertops
Kitchen countertops can be made of various materials, differing in properties and price. The working surface is exposed to various factors that can damage it. It is important to choose resistant to high temperatures, scratches and warping material to easily keep the tabletop clean. The options exist:
Laminated countertops are very popular, mainly because of the affordable prices. They exist in a huge range of finishes, so everyone will find something for themselves.
Wooden countertops that give the kitchen a warm atmosphere. They are easy to repair. If necessary, they can be sanded, varnished and painted. However, such surfaces are not resistant to discoloration and scratches, and some types of wood can`t tolerate moisture.
Stone (especially granite) countertops are almost unbreakable. They are resistant to moisture, scratches and high temperatures, and also heat up slowly, so they can be placed near the stoves. Their disadvantage is the high price. Countertops made of stone require special assembly.
Concrete countertops. They possess all the advantages of stone countertops and can propose much less price. However, such a countertop appears as custom project. They are very convenient and popular for outdoor use.
Kitchen Color Trends 2019
The color of the kitchen should be well thought out to highlight the beauty of the room. This may not be a random choice. Fashion trends indicate a palette in the range of natural colors, but this palette is still wide. They say that gray will dominate in the near future. This does not mean, however, the mass abandonment of white kitchens that prevailed in previous seasons. White will continue to be a noble addition to the interior. However, black should be chosen more as an additional color, for example, in the form of household appliances. It is also fashionable to use blue, pink or saturated red.
This article presents only the best and reasonable offers for kitchens of 170 square feet in accordance with the trends that dominate today.