If you want to get a non-trivial and bright interior design for living room, if you are not one of those who impressed by neutral and tranquil colors, if you want to add richness to the housing, – this collection of colorful rooms is just for you. We have gathered an impressive photo gallery of painted living rooms to suit every taste and style. We hope that the bright colors, unusual bold design moves and techniques in modern interiors of family rooms will inspire you to great feats and changes in your own homes. Let the bright and juicy summer be in your living room all year round and charge with a positive and a festive mood all households.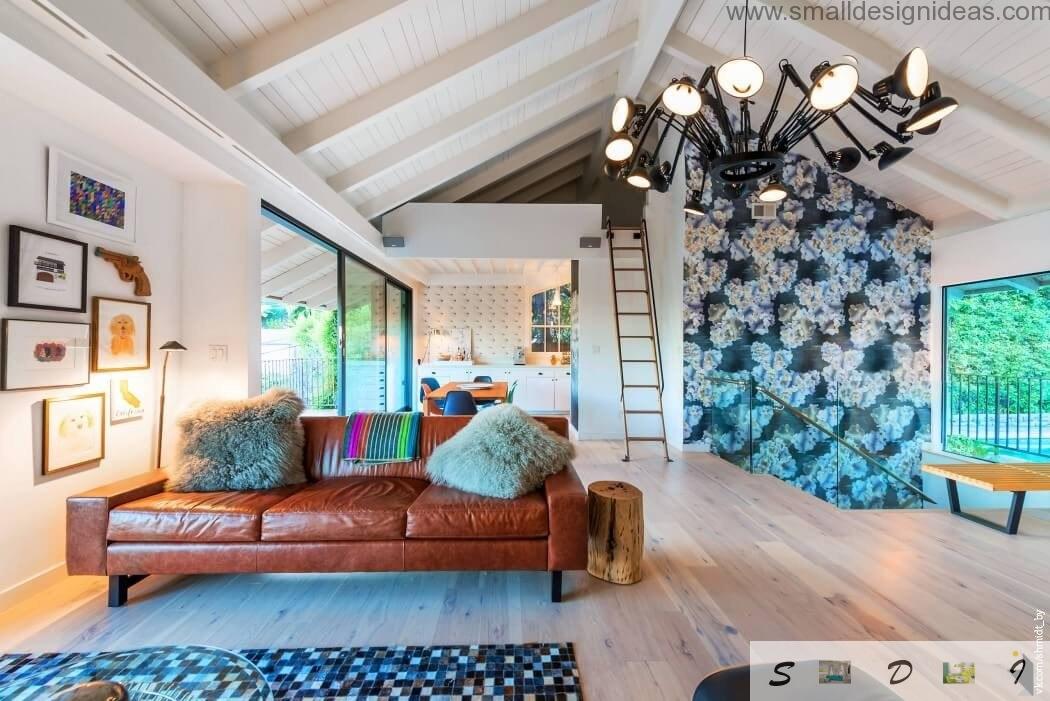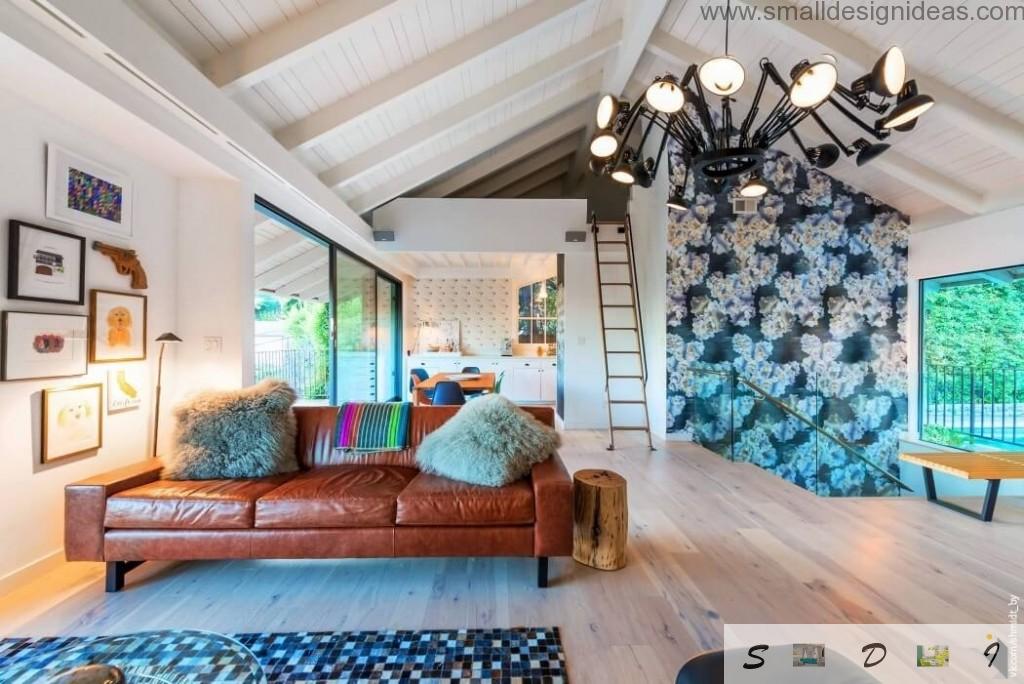 Bright furniture in the living room is the key to the colorful decor
How do I add the brightness of the living room without making remodeling? Change upholstery. Even the room with light walls in pastel colors will be bright and attractive, if you use rich shades for furniture textiles. Another way is painting or wrapping furniture with PVC film of bright colors, storage or additional furniture – tables, cabinets and stands.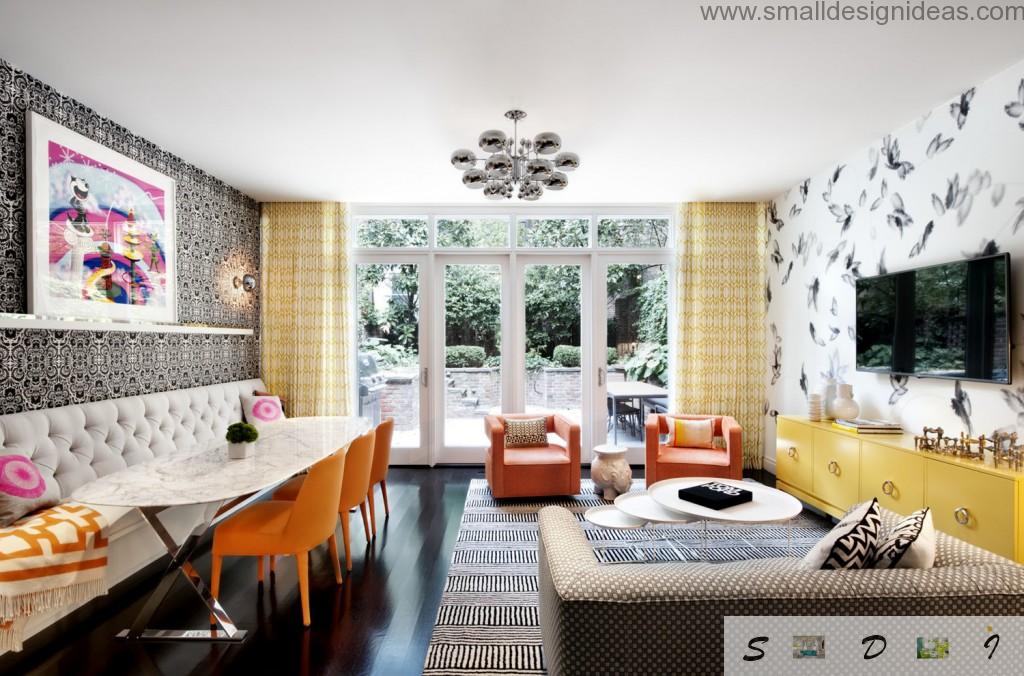 And how about not just the bright upholstery, but utilization of a truly explosive prints? Motives of Mexican handmade ponchos in the original upholstery chairs fabric on the background of bright monochrome walls have created an amazing, unique image.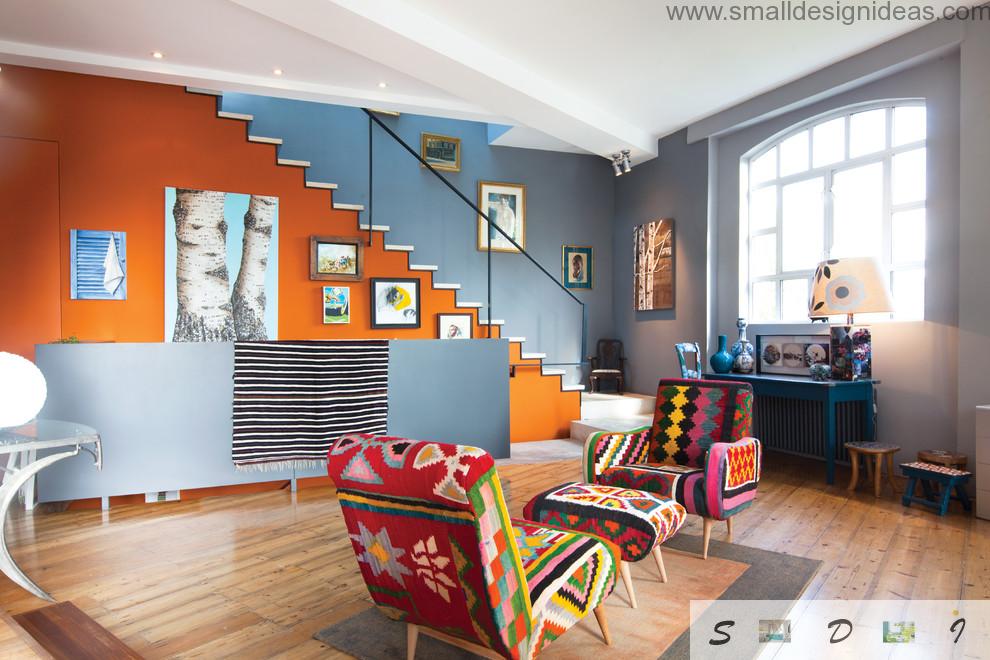 All shades of red, heavily used in the design of furniture, look great on a background of white and blue ornament wallpaper, curtains and carpeting. Colorful image is completed by cushions in different colors, shapes and sizes.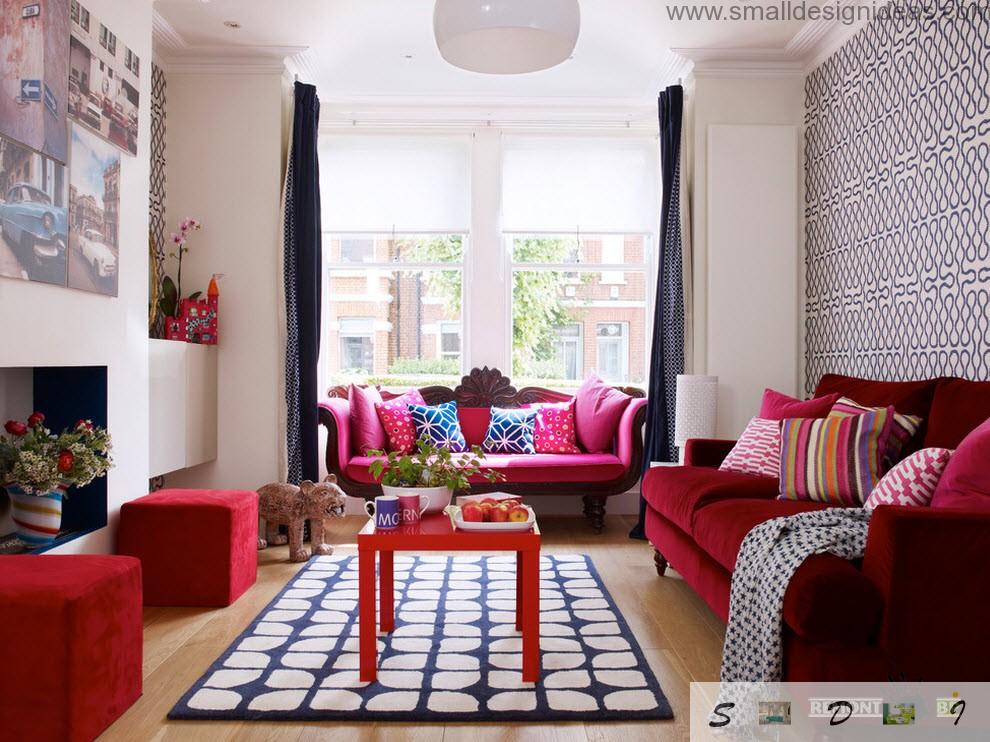 Bright mustard color of armchairs in the living room is definitely accentual. Perhaps only the orange-red shade of the mat can compete with it for the leadership. But the image of the common room would not have been so great without the wall clock, original floor lamp, an old bureau or designer stands.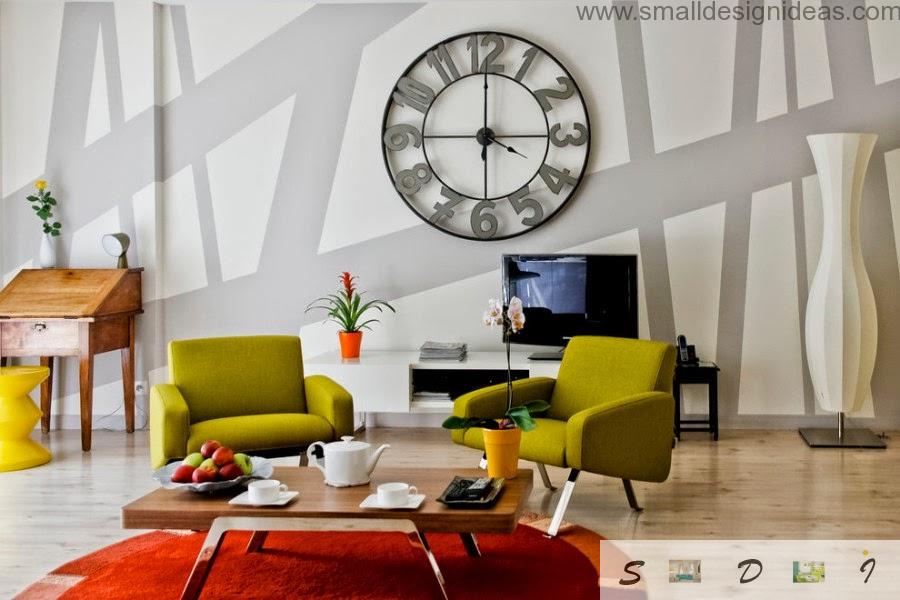 Colorful textiles and decor
Even more simple and democratic way regarding price to transform the living, add holiday to its interior is the use of motley textiles for curtains, cushions, bedspreads and carpet flooring. Add to this set of bright picture (perhaps his own work), and the original room with memorable interior is ready.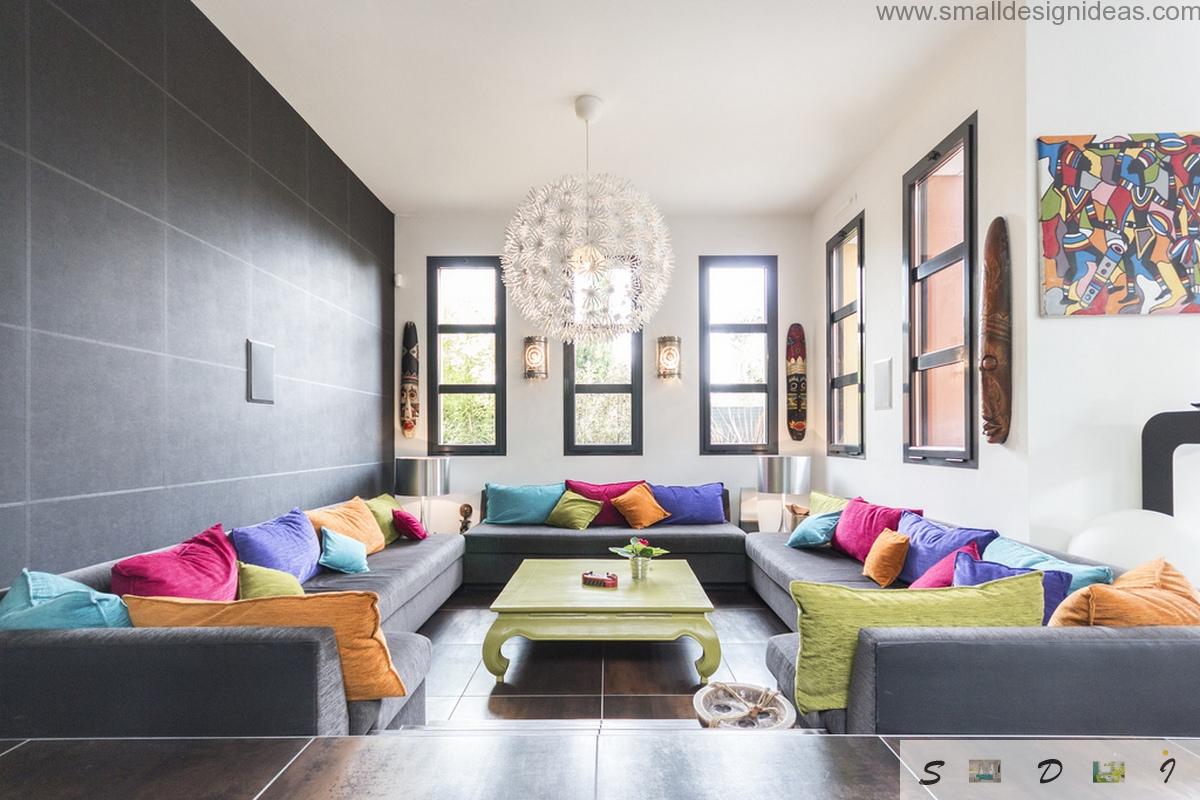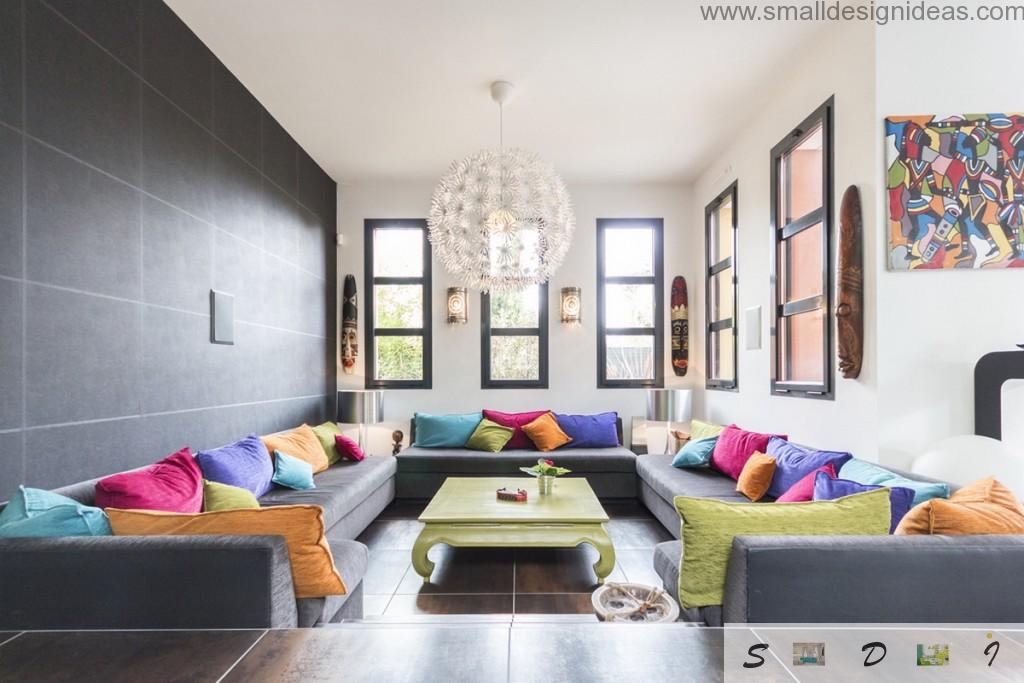 For the living room with large panoramic windows in the center of the city, where the main colors outside the home made up of compositions of glass and concrete, the need for a bright interior is particularly acute. Saturated shades of blue, yellow and turquoise, are able to quench the thirst in any regard. Bright upholstery and textile cushions create a harmonious and rich image of the rest zone.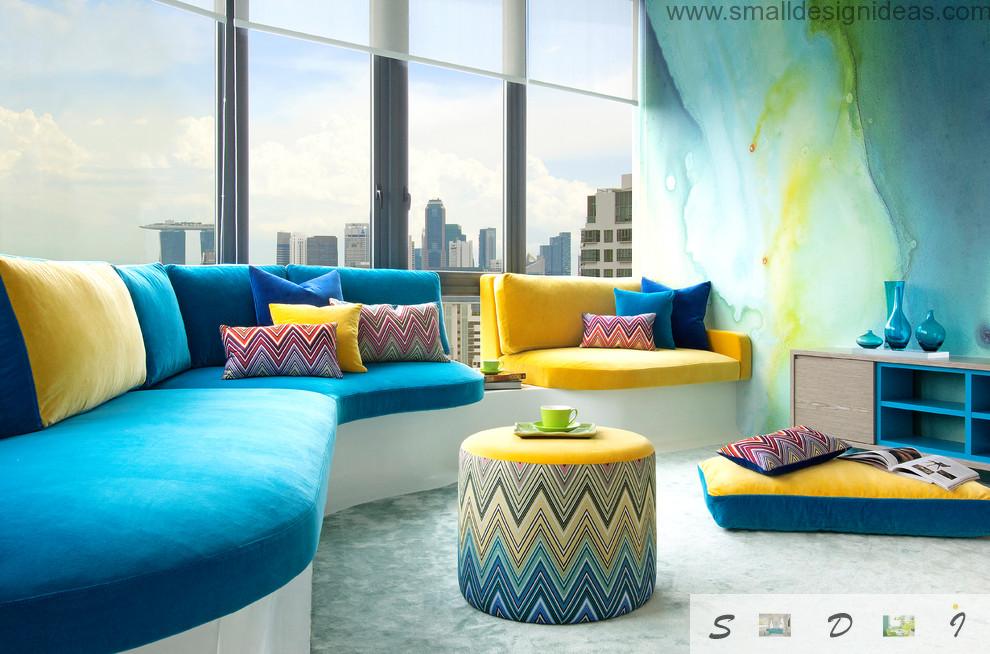 Use stripes to create an interesting image
Here are some living rooms, the design of which was used striped wallpaper and more. Print with strips is contrasting itself, and if also choose bright colors for stripes, you`ll not be able to avoid the tide of colorfulness in the room. Even modest surroundings with gray furniture, for example, can be transformed with the help of the placement of bright strips on the walls. Do not be afraid to give the interior a geometricity, make order with the help of concise picture.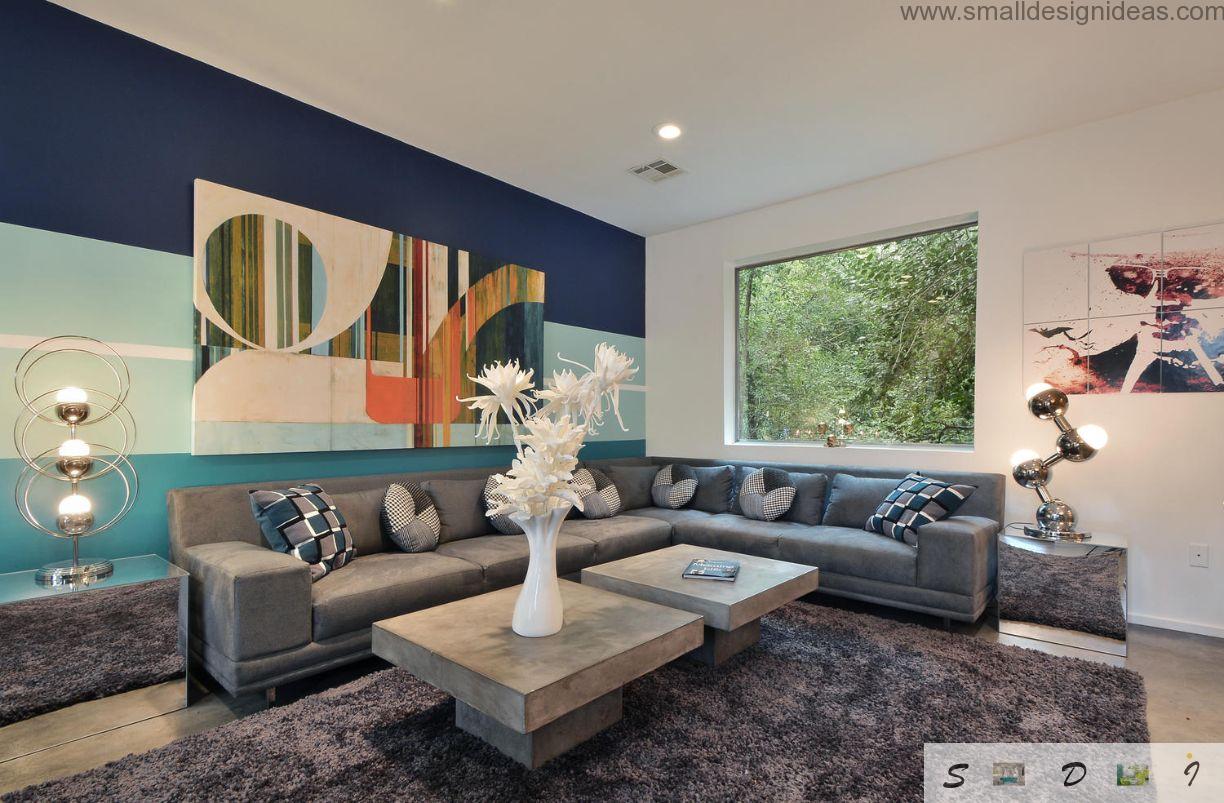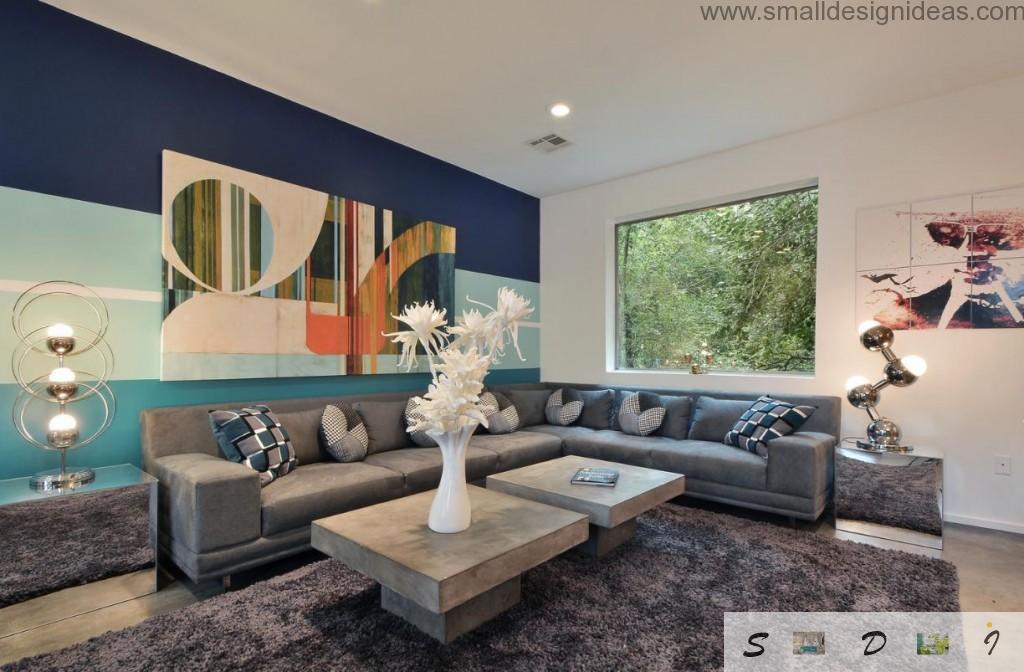 Stripes of even pastel tones can transform a living room, giving some drama to the background of wall decor. But in this living room practical decoration are responsible for the coloring. When you see the ocean outside, it would be desirable to use marine motifs in setting up facilities – yellow submarine as a decoration or a treasure hunt map instead of the usual pattern.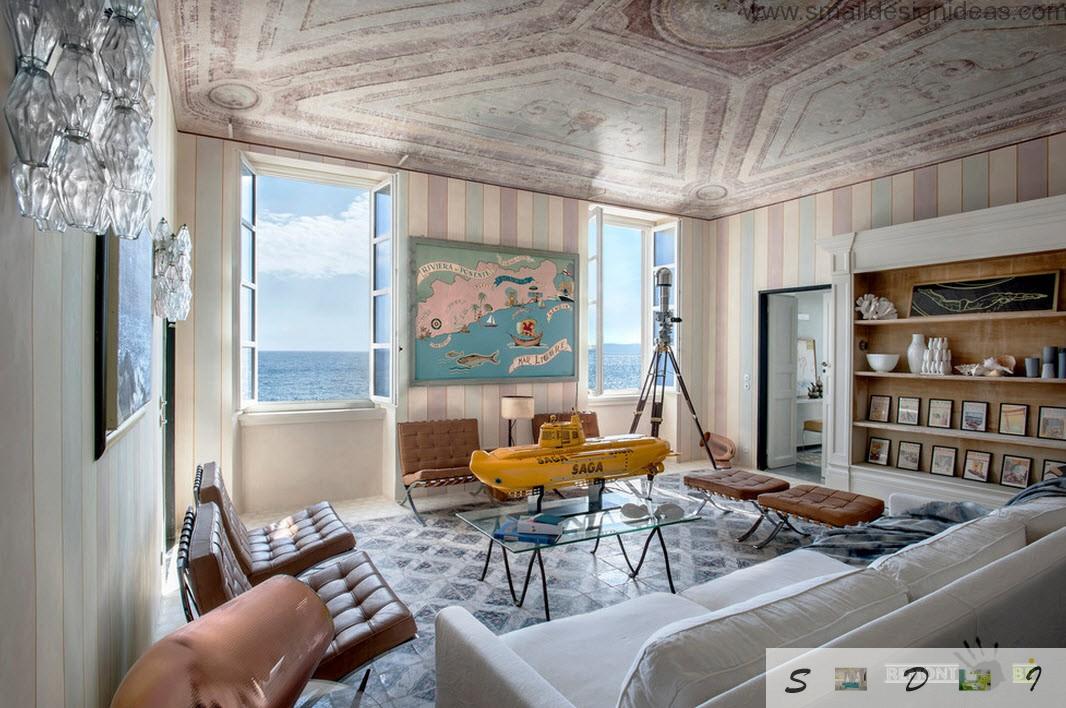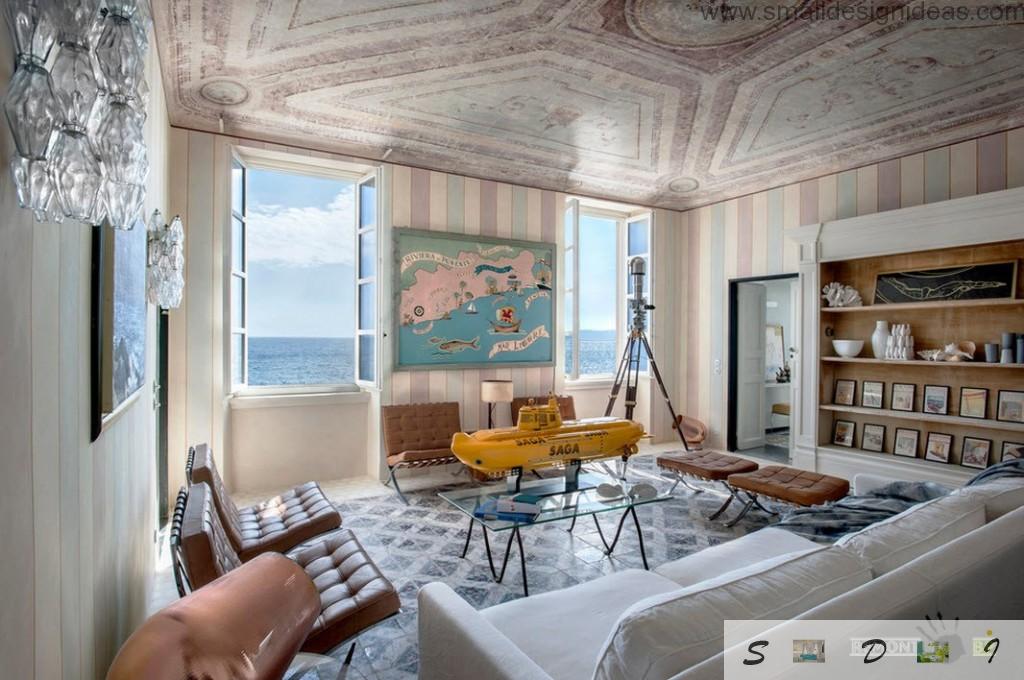 Striped wallpaper, floral pattern on the curtains, colorful upholstery, colorful ornament at the carpet – if you think it is too much for a single room, take a look at this living room with a stunning interior. It will never be boring in the room. Whatever the weather is outside, in the room you will always have its own micro-climate of celebration and joy. Vibrant, eclectic and yet incredibly homey interior is able to give warmth and comfort to households with different tastes, preferences and interests.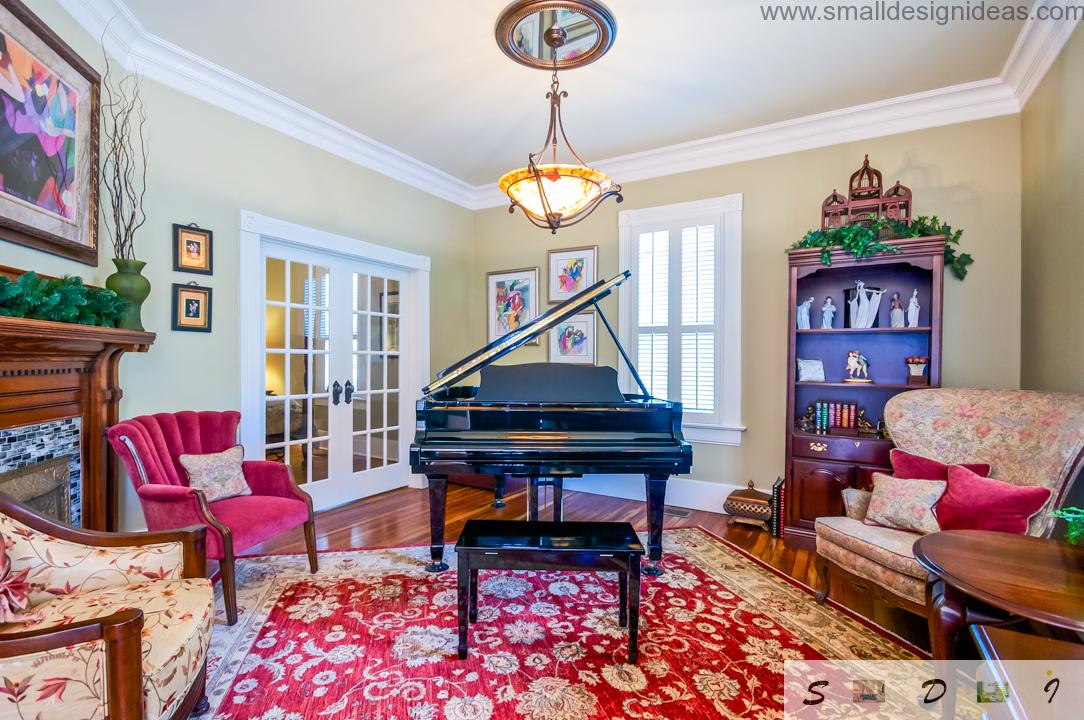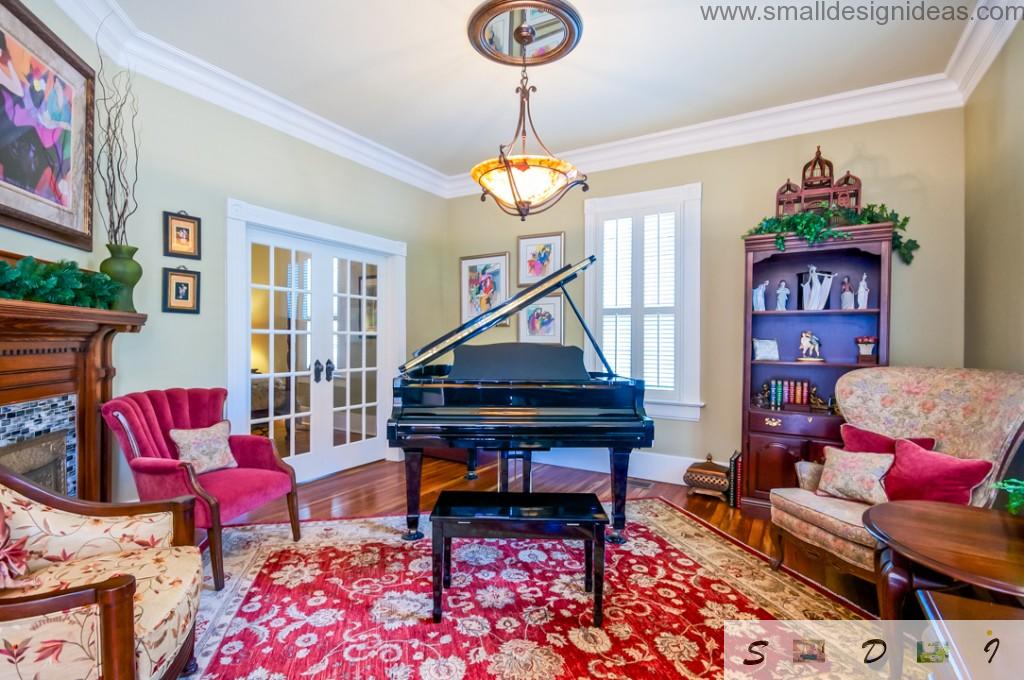 Only one accent wall with stripes, a few small bright pictures and colorful textiles are able to turn a boring living room interior to an interesting image of facility for the whole family.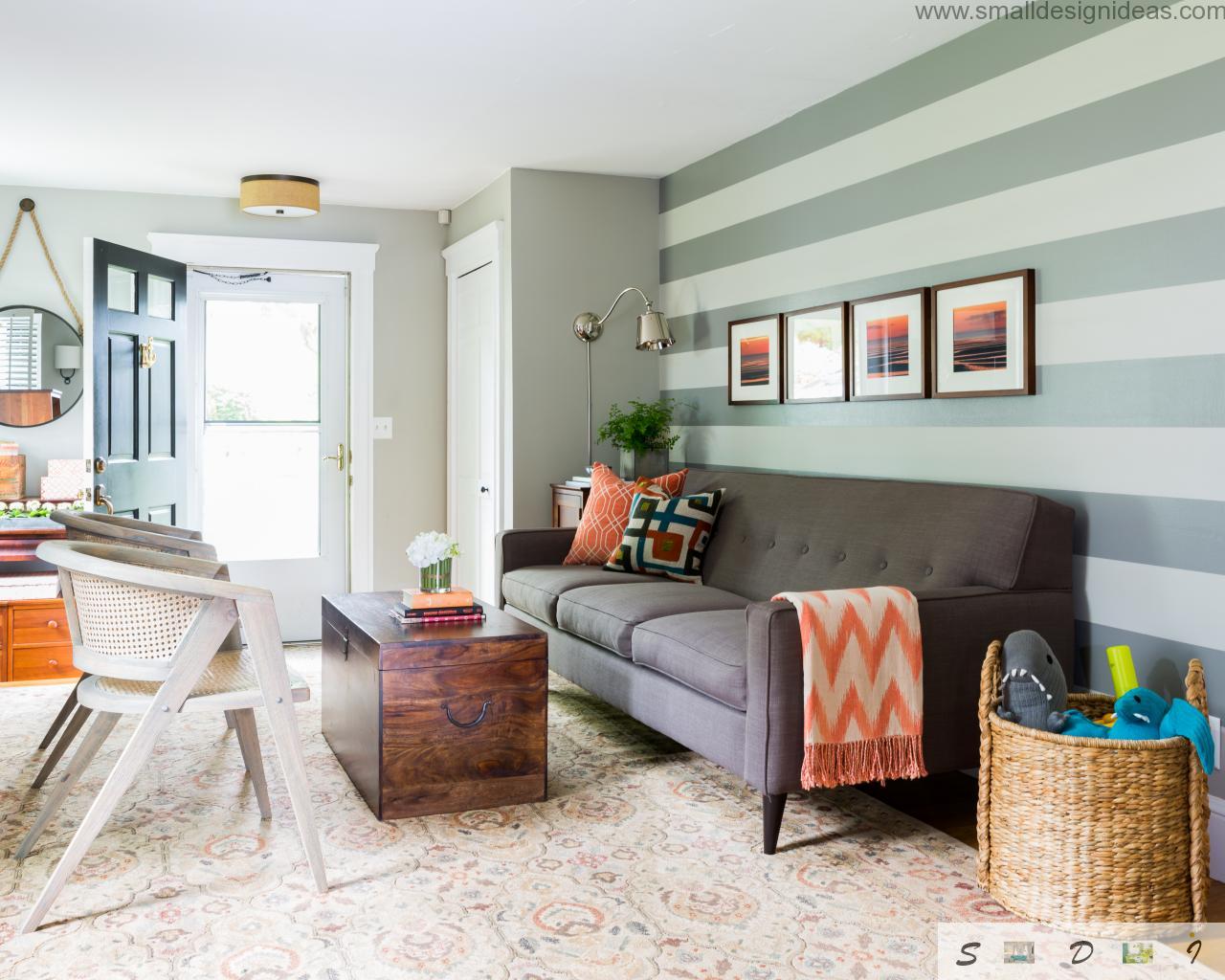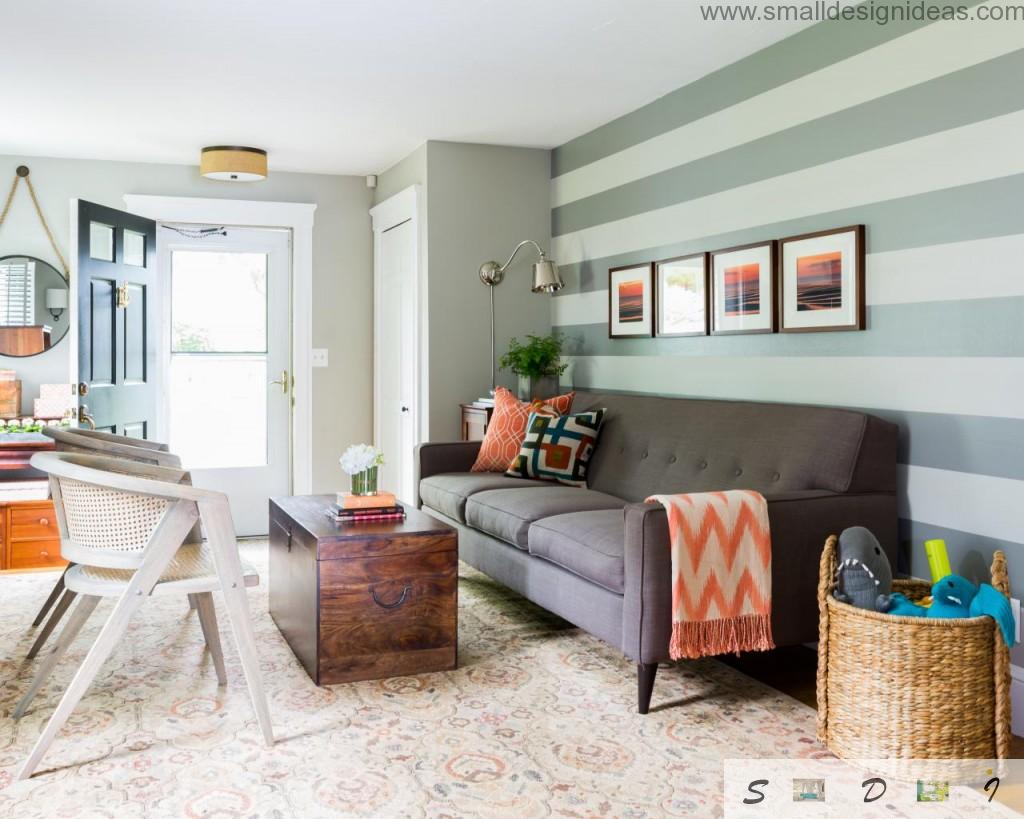 In any other living room such black-and-white striped sofa would have surely rush into the eyes, but not in a room with bright yellow and green walls. These are incredibly positive, summer colors bring to the character of the room so much joy and positive attitude that the situation itself seems to be able to change thoughts and emotions of its occupants.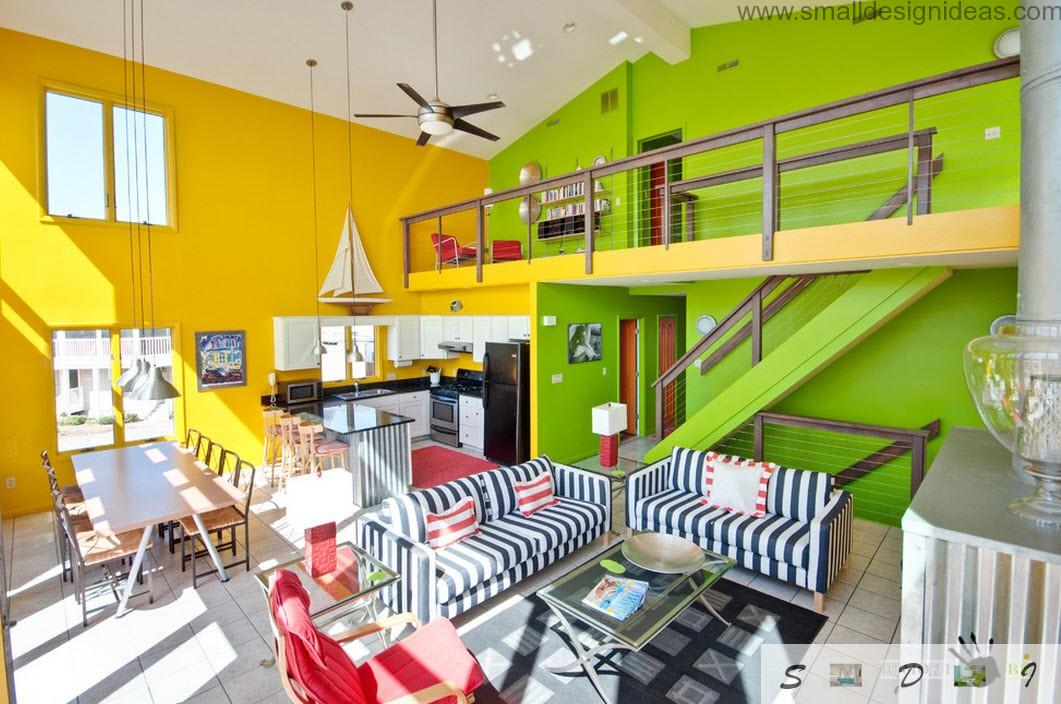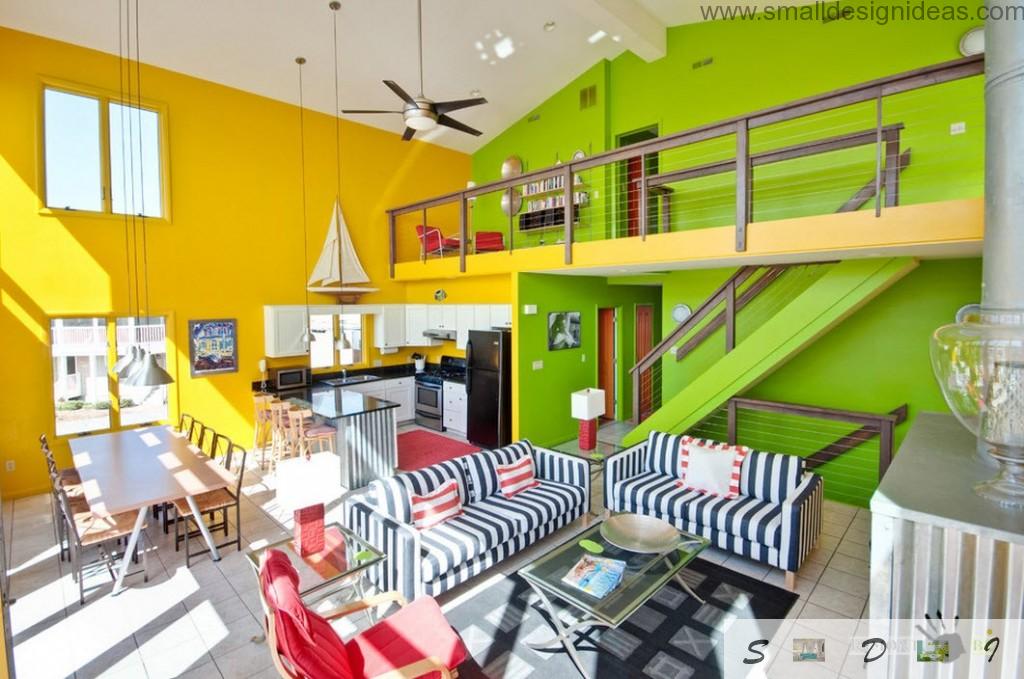 Game of contrasts
It's amazing how bright colorful living room paint ideas you can embody, using black and white shades as the base colors. Colourful wallpaper with non-trivial pattern, contrasting original chair, shelving and mirror surfaces of tables, stands, bright textiles and live plants – together  composed the very unusual room interior. A lot of bright and interesting items on open shelves only enhance the effect of kaleidoscopic image of the family room.
Black ceiling pendants on a white background decoration is the first thing that catches your eye when you look at this original living room. Later, we see a nice green leather upholstery huge corner sofa and unusual design of the piano. In the search for these objects interior combines the highest functionality and the status of the art object. It will take a lot of time and money, but it's worth it.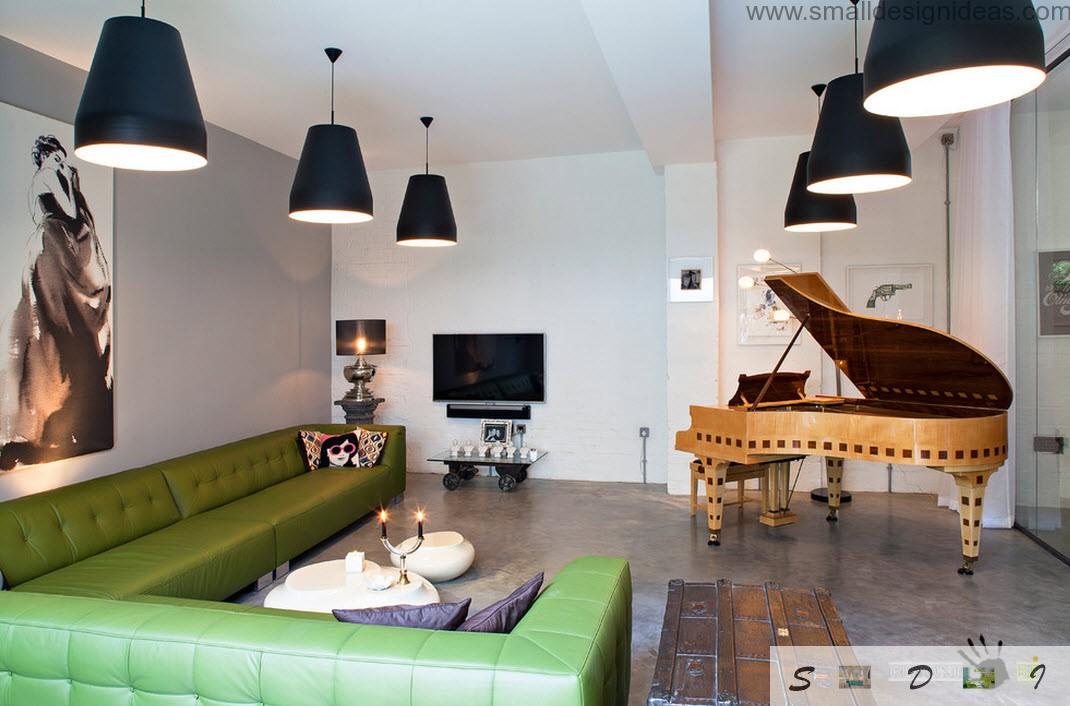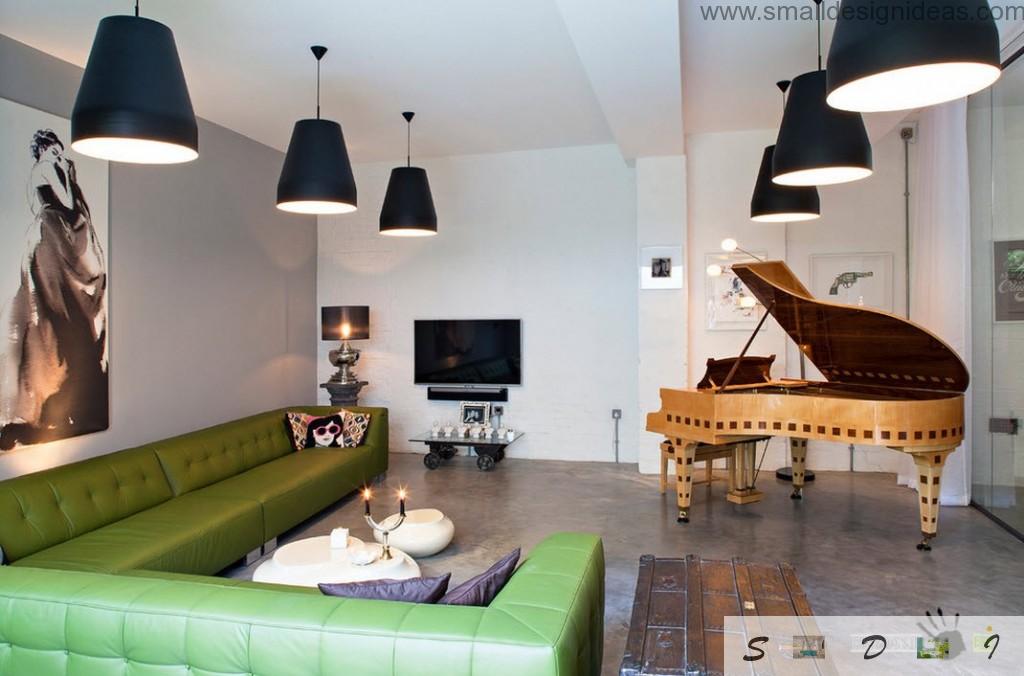 The dark wood beamed ceilings and floors on a white background, using different shades of black color in the furnishings in finishing and decor have not done living room boring. Integration of the original paint ideas composition of the mirror pendant lampshades and bright ultramarine upholstery of chairs from dining group have played their role, transforming a spacious living room with an incredibly great functionality.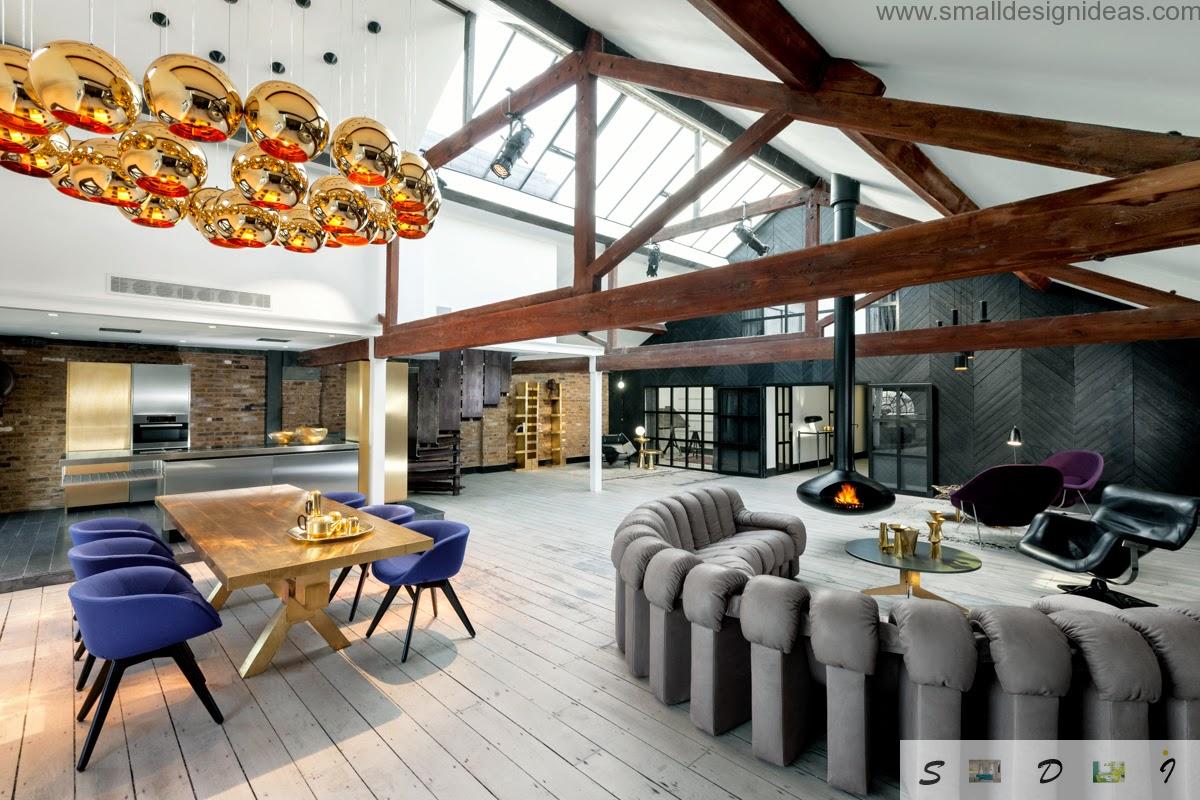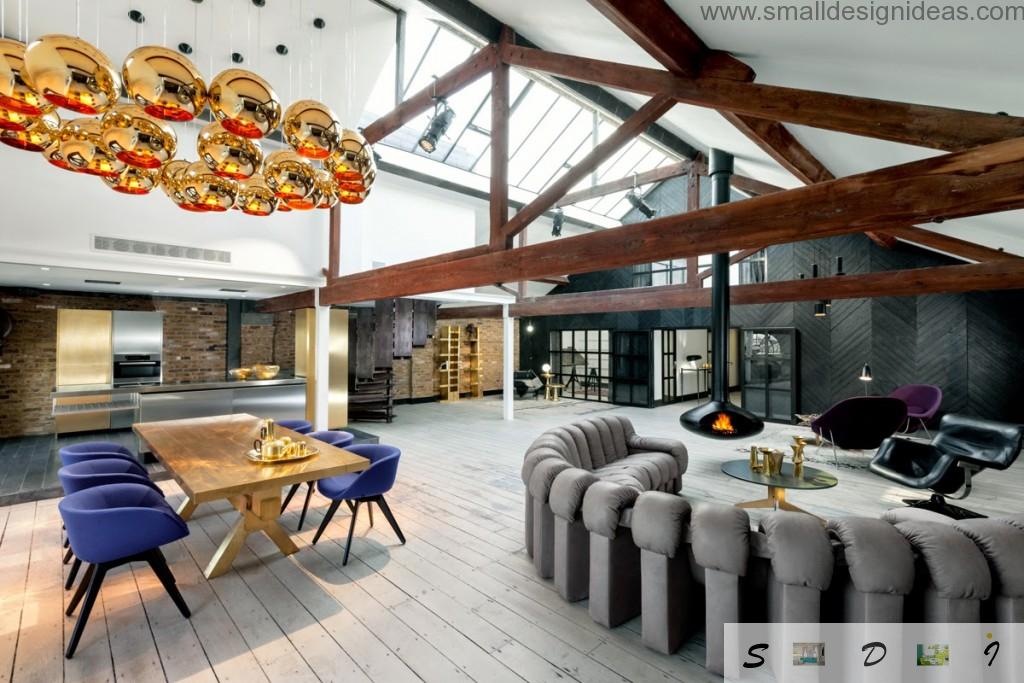 Only one wide black stripe on a white background, and what a transformation of the finish! Add original mirrors to the walls contrast, unusual lighting and non-trivial approach to the selection of furniture for the living room and a colorful room for the whole family and get-togethers is ready. If in addition to it live plants and flowers add to the final image of the living room, you get a truly unique look of the room.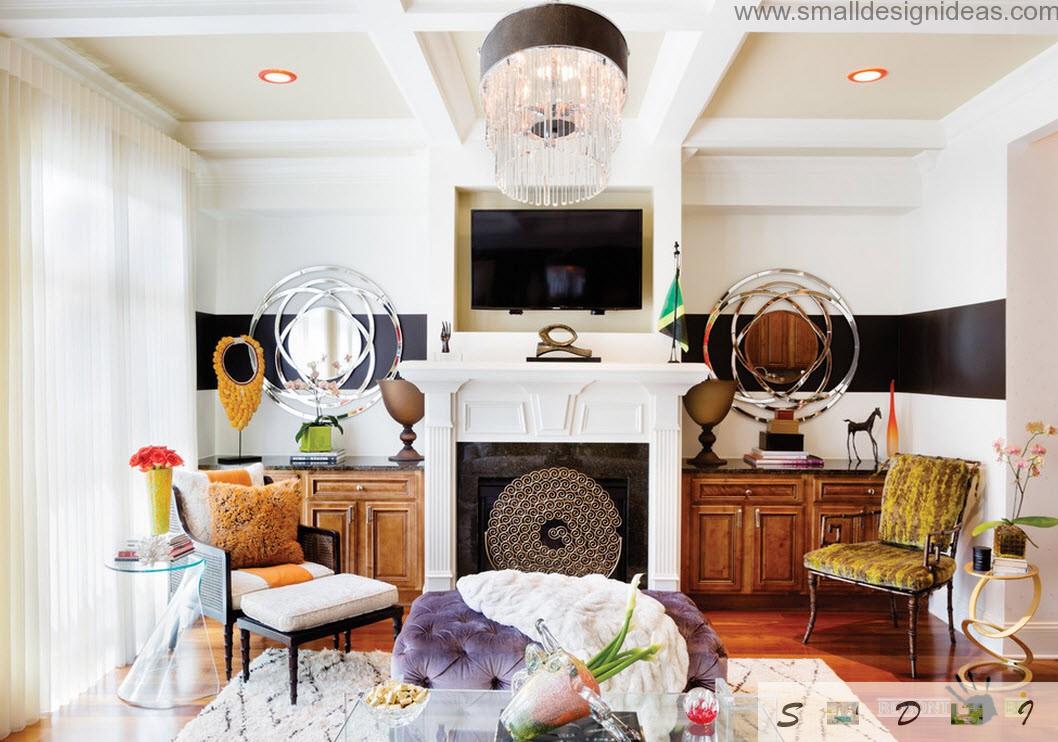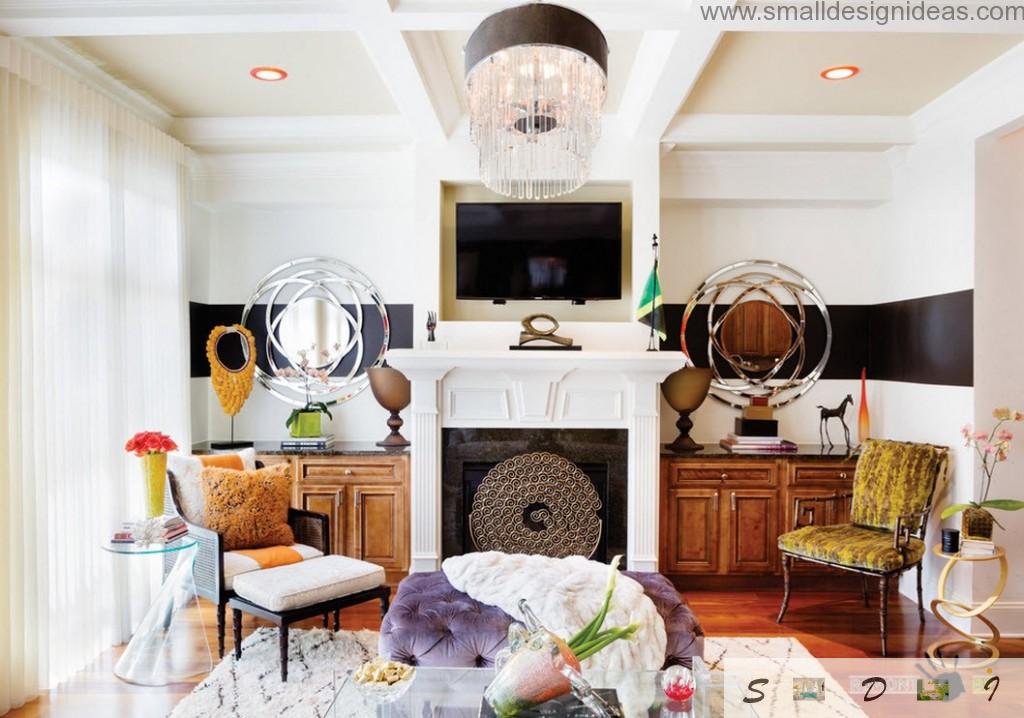 Can black and white photos on the walls make the interior of the room brighter? The answer to this question very eloquently illustrates the design of the living room with unusual photo wallpapers. Add a few bright accentual stains to your black-and-white alliance and colorful, unique interior room is ready.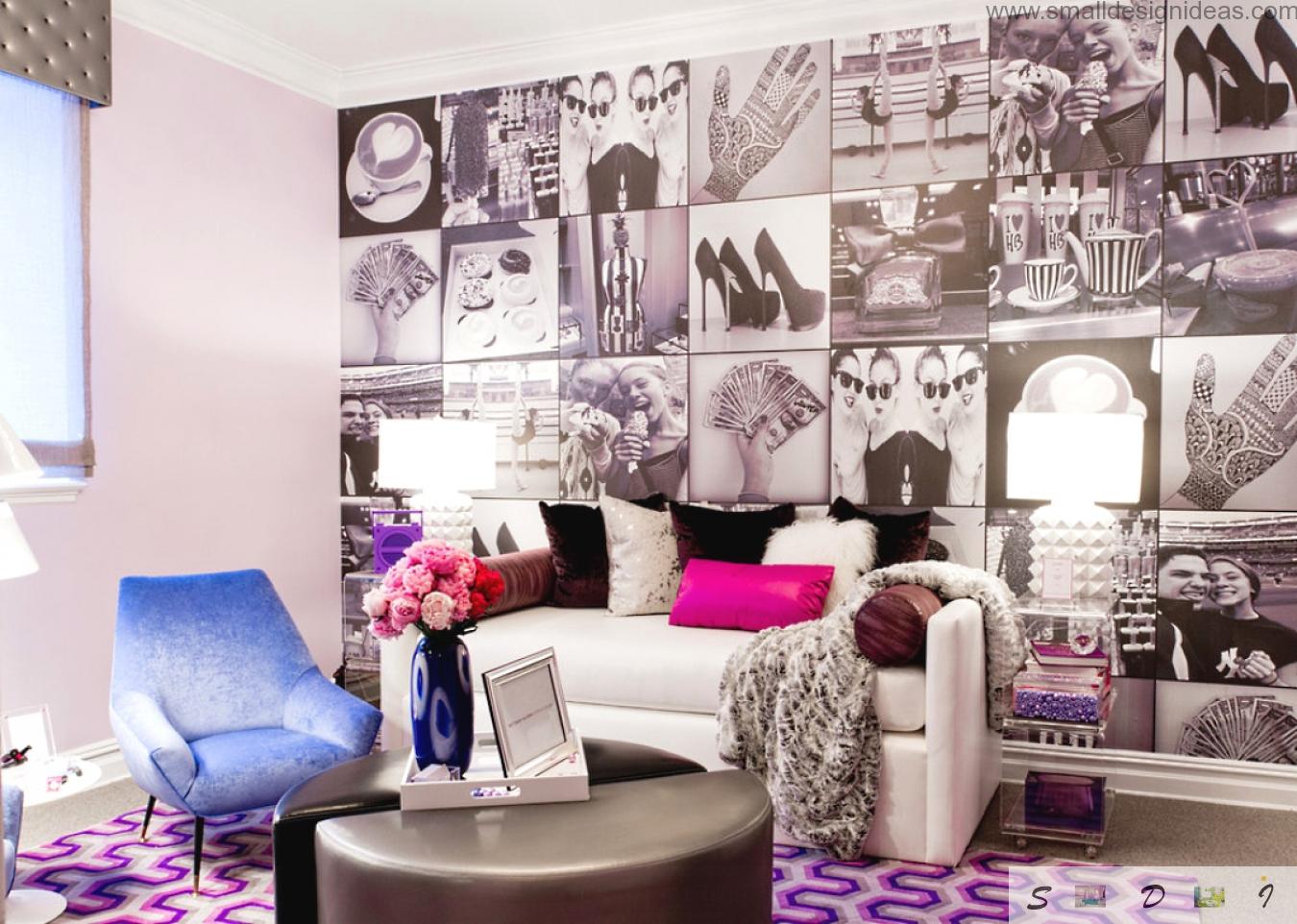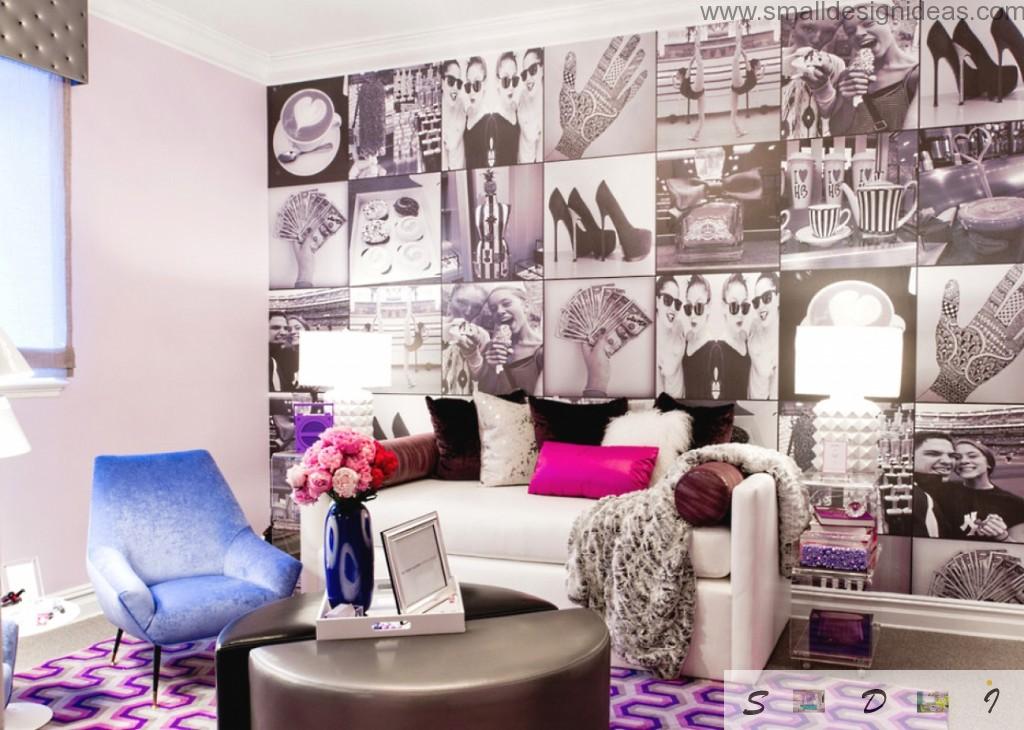 The bright colorful living room paint ideas and wallpaper for the walls
It's no secret that on the wallpaper print depends almost half of the image, which is formed when you look at the room. A bright, saturated drawing wall decoration can be crucial factor in the design of the whole room. There is an unwritten rule – if the wallpaper is motley and splashy, the interior furniture and decor of windows should be monotonous. But the rules are there to be broken. Experienced designers are able to create the image of a non-trivial family room, refuting all the canons and rules. Why should not we take advantage of their ideas for inspiration?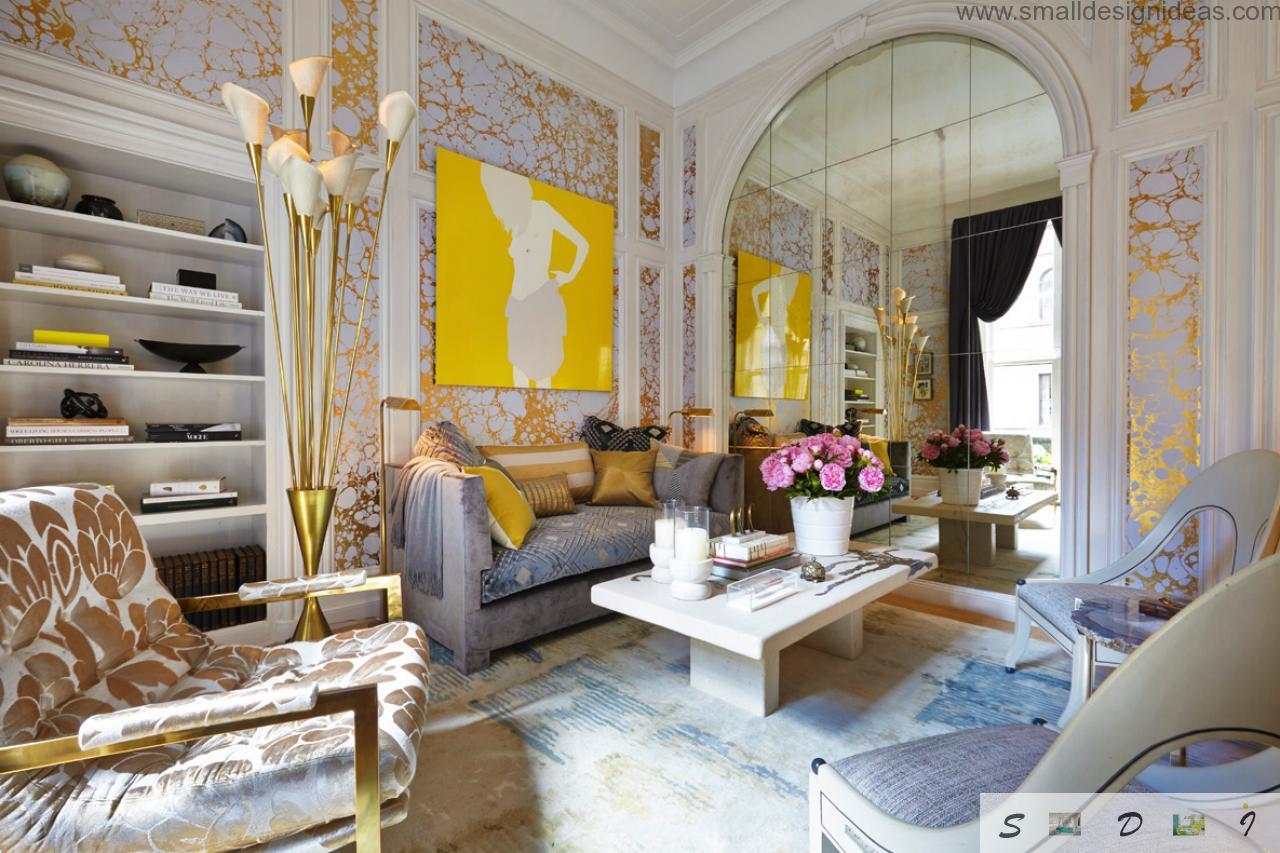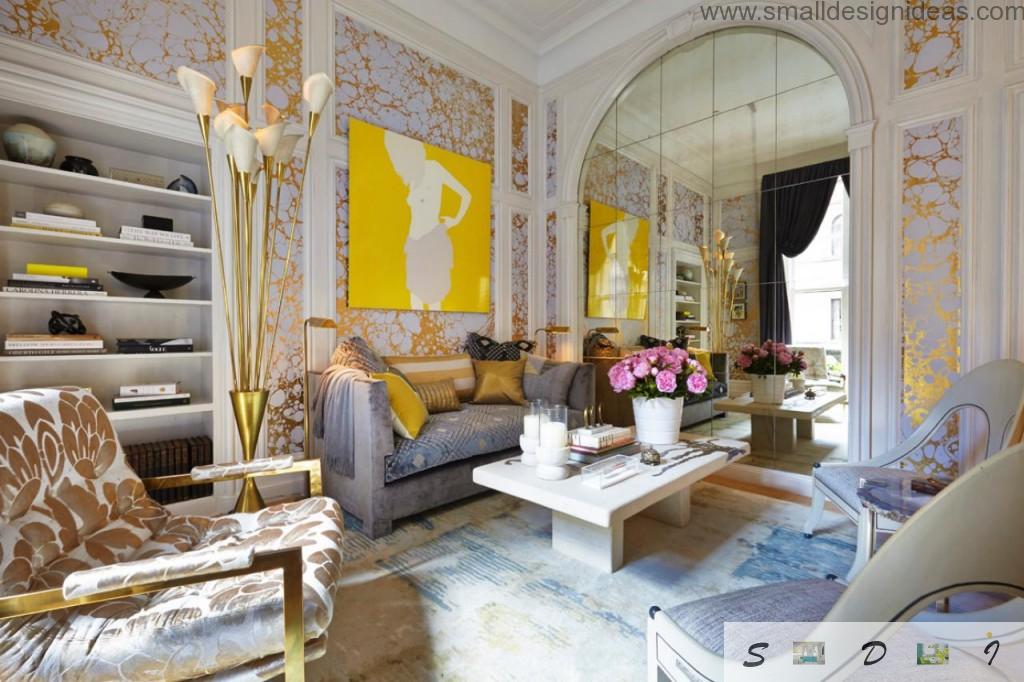 In this room everything is in harmony – a motley pattern of wallpaper, neutral shades of curtains and upholstery. Really bright color is used only for cushions and rolls, but the whole room looks colorful and interesting.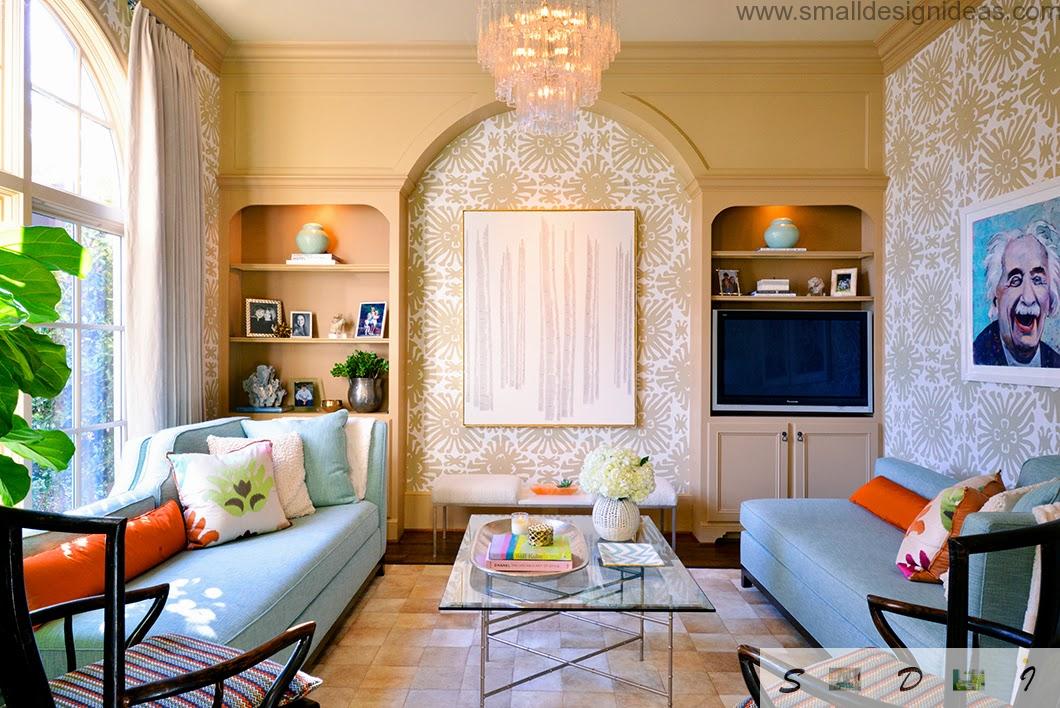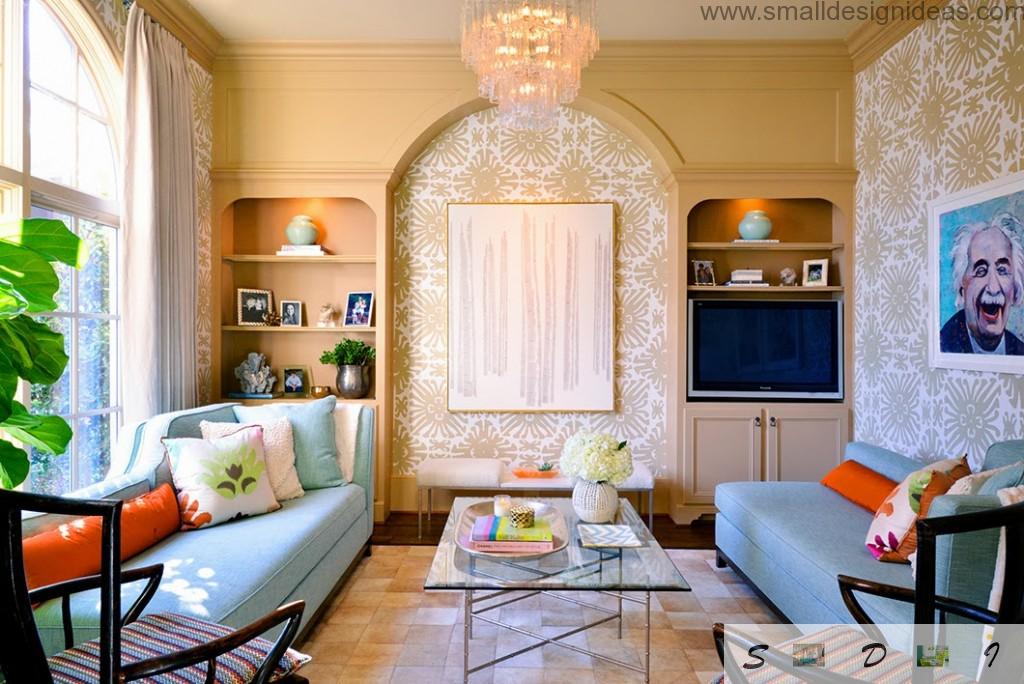 Metallized wallpaper with gilded lettering is a bold choice for modern living. To make the finish of the walls a center of attention, all around the room appropriate surroundings is established – snow-white furniture, similar color decoration fireplace, window and door openings, and even a carpet. cornices with gilding and the brilliant luster of the original design are rounding out the image of an elegant living room.
Who would have thought that living with gray glossy storage facades, neutral shades and dark furniture can be so bright and colorful only by an unusual pattern of wallpaper. With the help of illumination on several levels it was possible to competently illuminate not only functional sitting area, but also create a warm, cozy atmosphere in the room.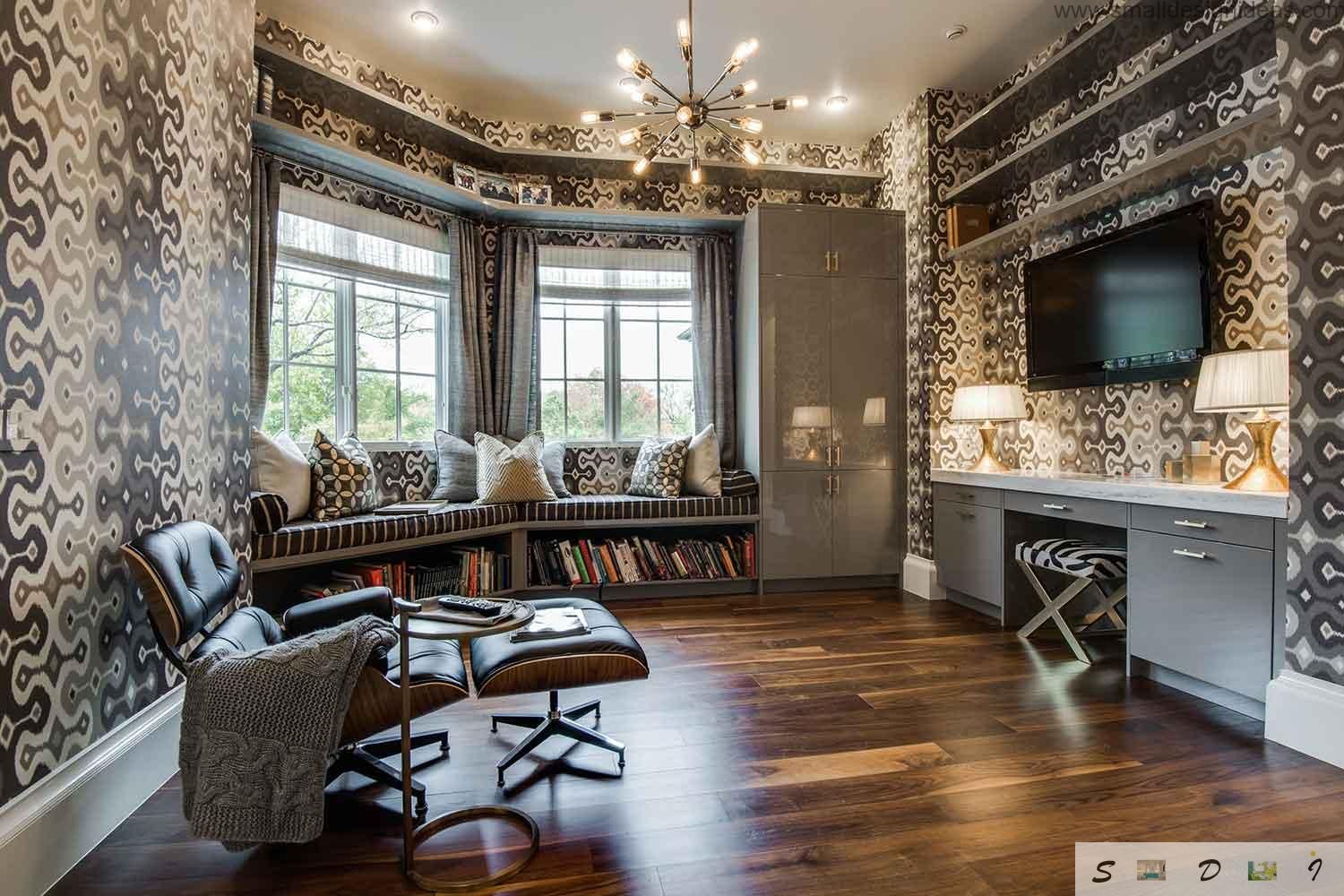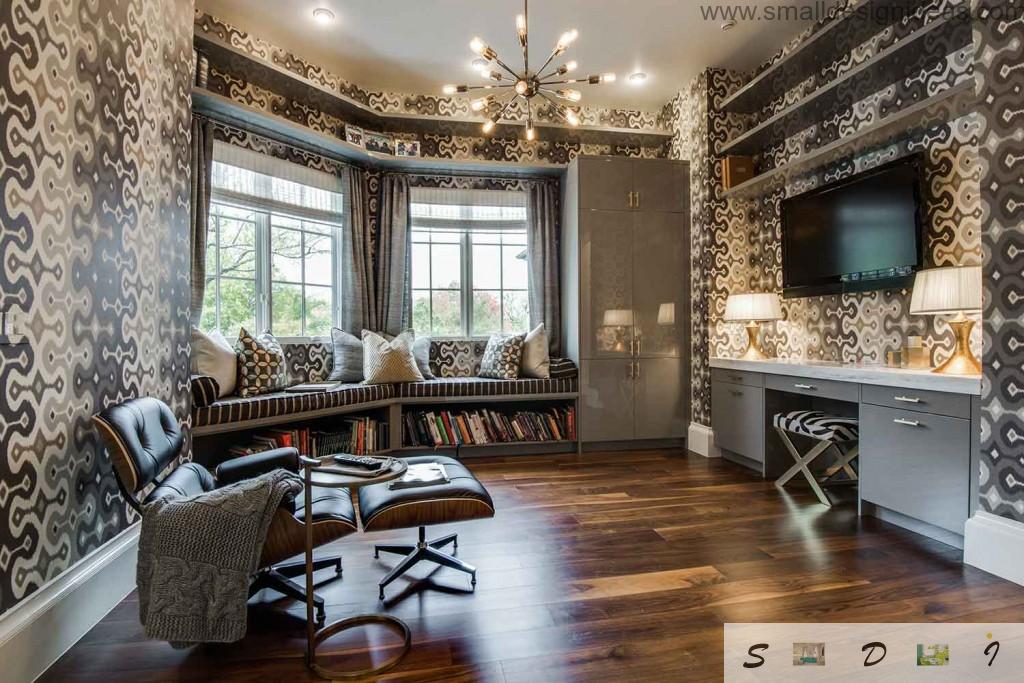 If you do not like living design projects in neutral light colors, if it seems that you could not live a day in the minimalist setting, if you like to violate standards and to create your own characters and combinations, so take a look at the interior of the living room below. Motley wallpapers, "zebra" print as upholstery of chairs, colorful artworks in different styles, gilded frames, mirrors and tables on the bent legs, a carpet with floral prints and bright pillows – all in one room. And it turns out the image is not only rich and interesting, it is unforgettable and incredibly personalized. Do not be afraid to experiment with colors, shapes and textures, using only a tenth of the courage of famous designers, you can achieve the interior of the living room, which your friends will be coming to watch as inspiration.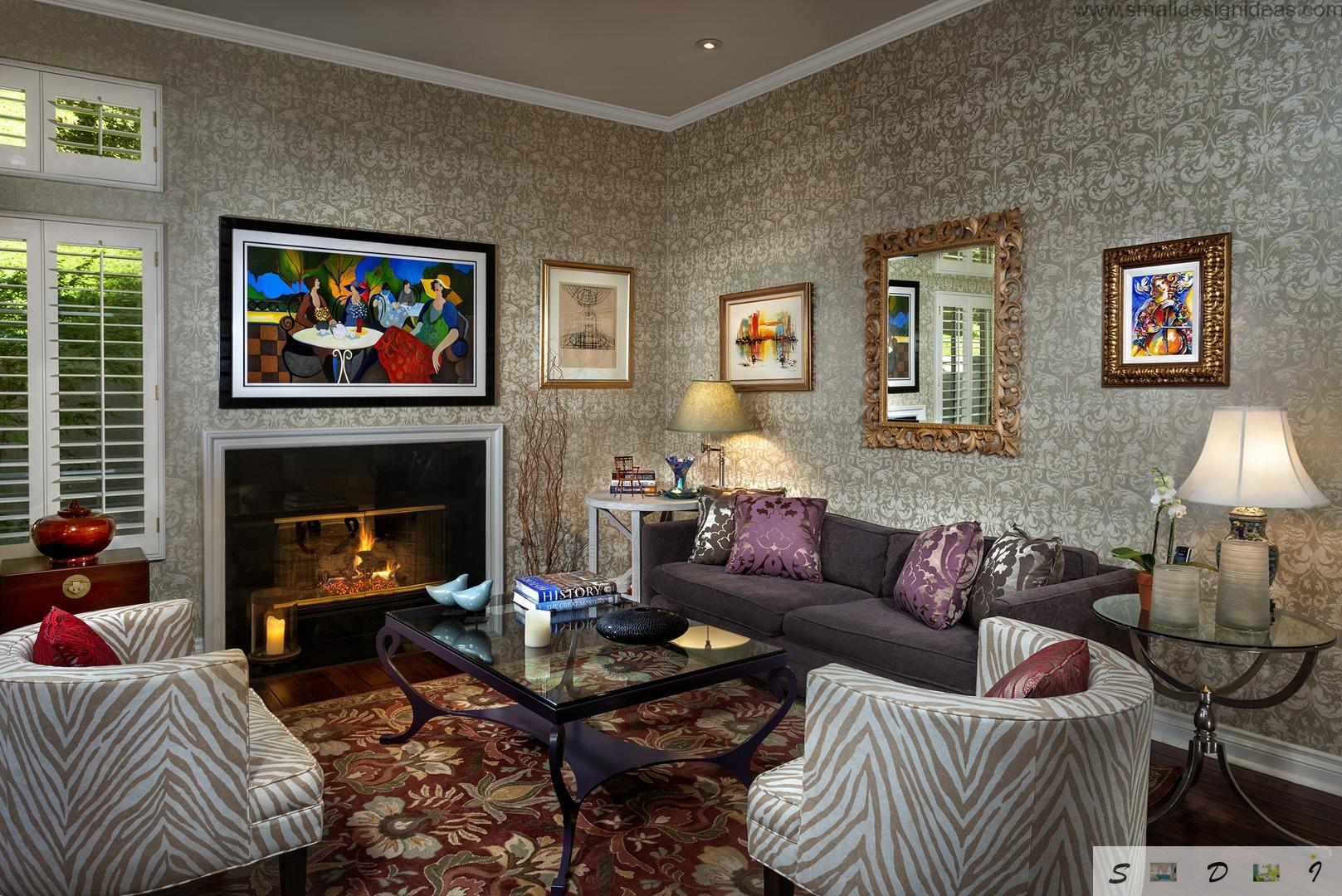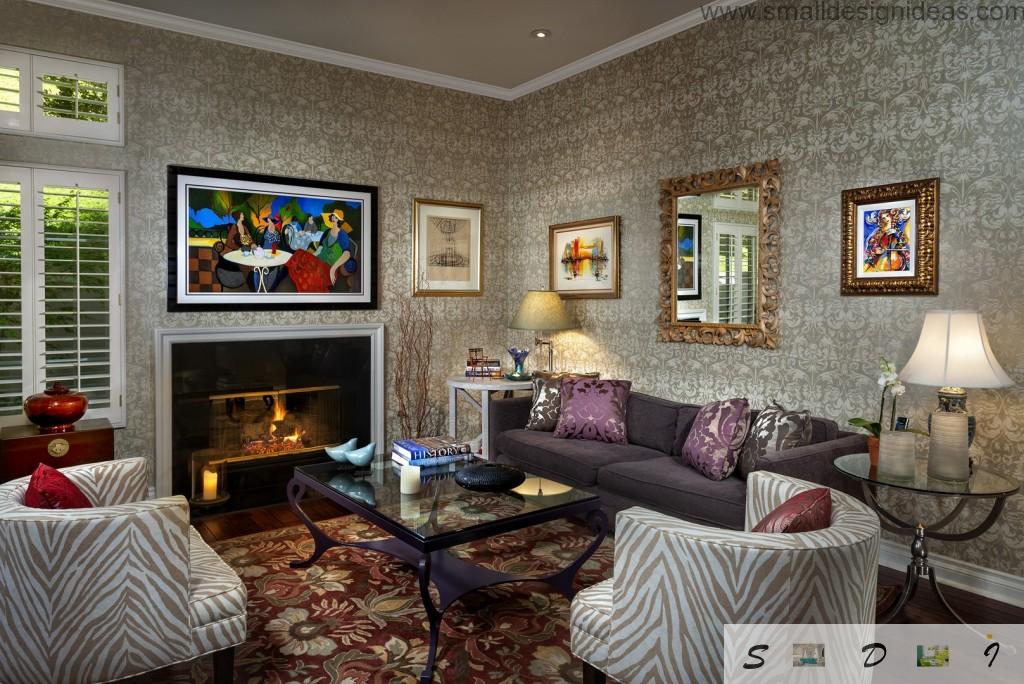 Wallpapers with photo printing can transform any room. For a spacious living room with high ceilings and bright finishes, such an option of focusing on one of the walls is a good design course.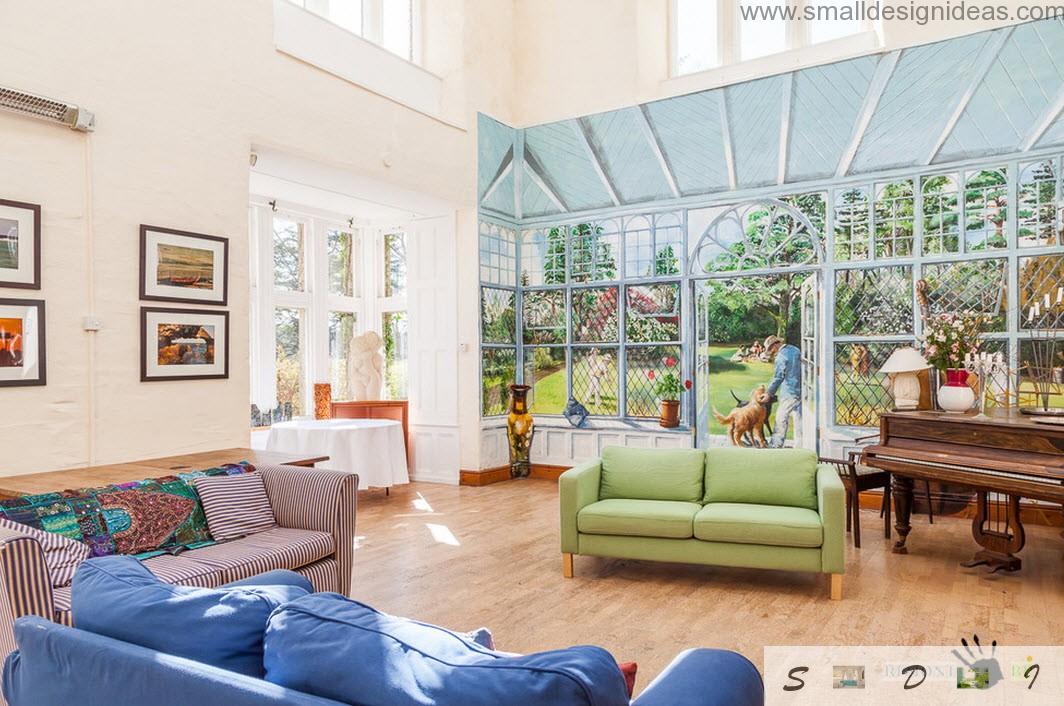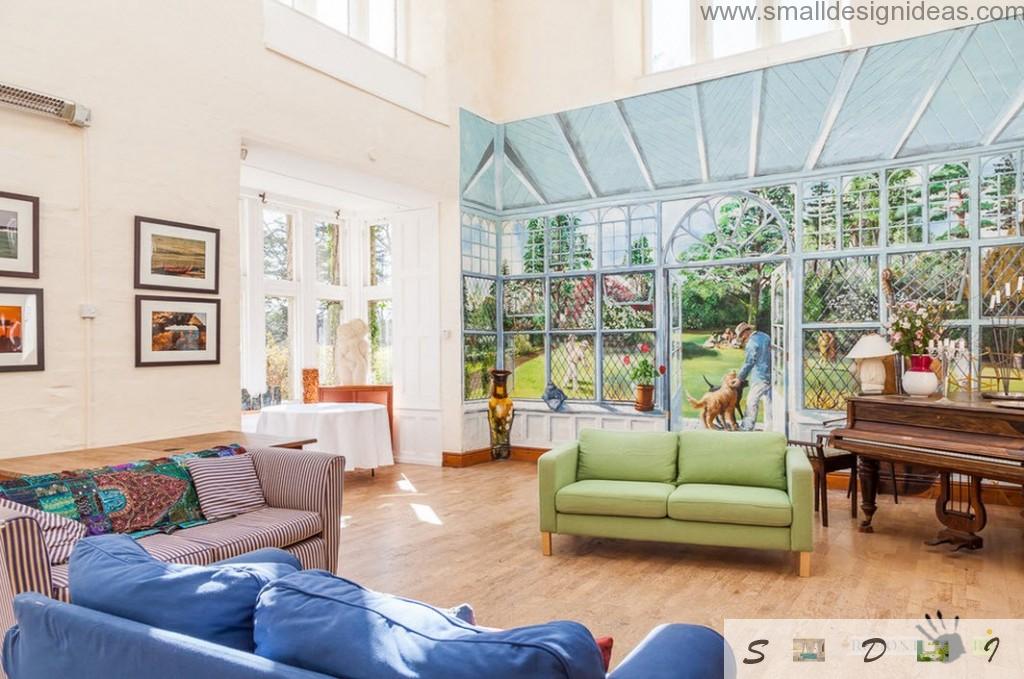 And finally, some of the original pics of livings that are difficult to fit into the existing framework of stylistic trends and possible color solutions for the designing of space. For example, the classic decoration of the walls and ceiling with moldings, and cornices becoming a modern trend in the painting in the style of Ombre, and the ceiling is transforming into a playground for the light installation at the well-organized illumination. Even the classic style of the fireplace can be converted with the help of the same original coloring. By adding an unusual image of the original furniture, you can get a completely unique, colorful and unforgettable room.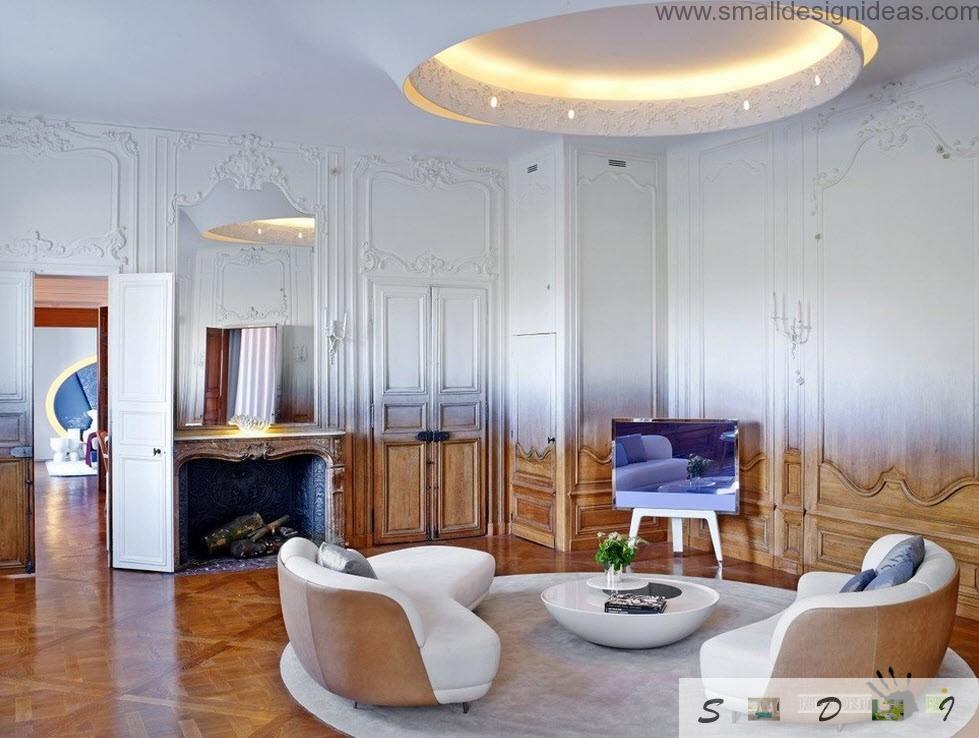 Only one accent wall with a bright, colorful picture fundamentally changes the interior of quite calm and even dull living room. Combining relaxation area with a game segment brings to the room bright colors and its own accents.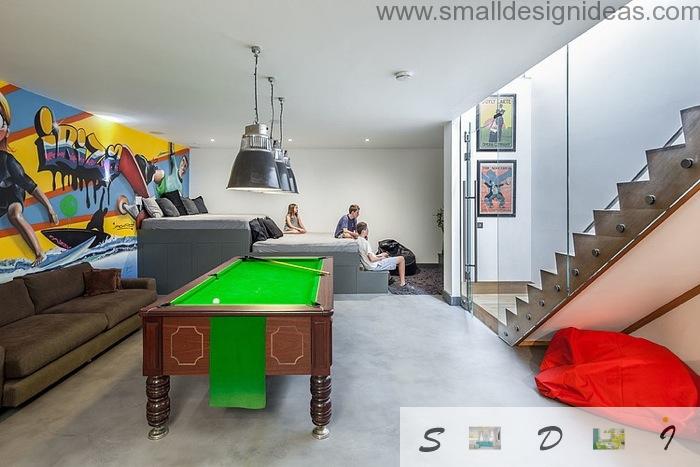 Livings with a really large scale can afford not just a large and voluminous decor but bright, colorful large color of big interior elements. The large living room with some industrial finish if the sofa, it is huge and with velor upholstery; if chandeliers, – necessarily the bright and large; if the accent color – is deep and rich.