The walk-through living room is a non-standard room, which is not so easy to equip to make it comfortable and pleasant to use. How to deal with it? How to arrange a walk-in living room so that it really becomes a room in which you like to be? Check out a few ideas and photo examples.
Content: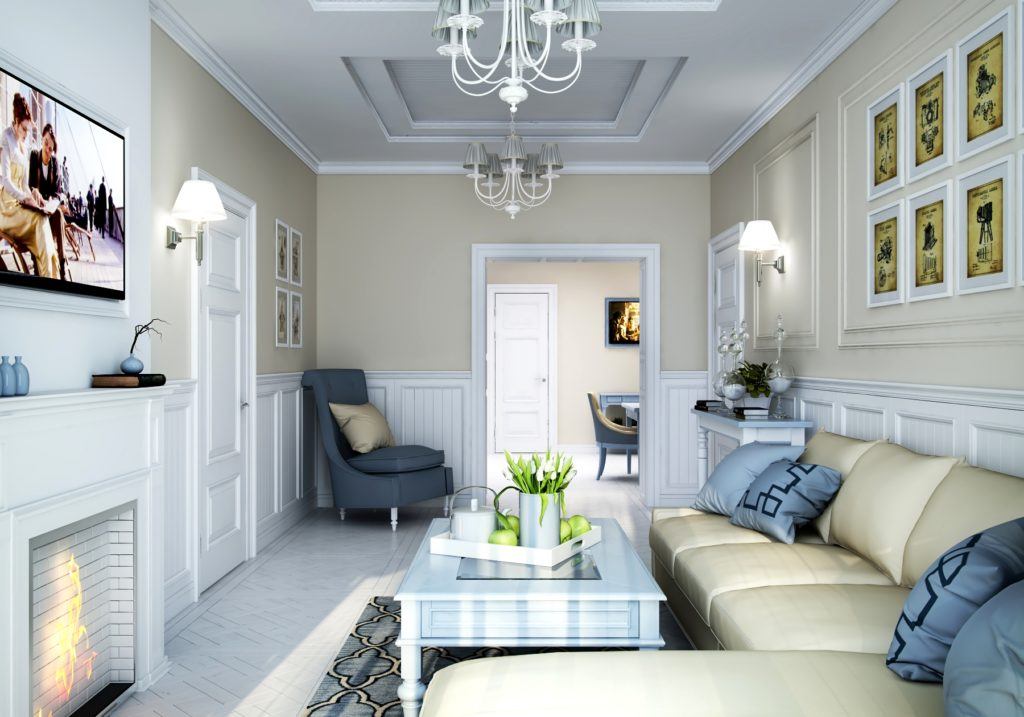 The Interior of the Living Room: does the Room have any Advantages?
Contrary to appearance, adjoining rooms are not necessarily problematic in terms of design. This can be a pretty useful part of the apartment. As the name implies, other rooms pass through the adjoining living room, such as a bedroom, kitchen, or bathroom. Thanks to this, you can separate the night zone from the day zone or the recreation area from the working one.
Depending on the location and function of the walk-through living room, you can get:
more tranquility;
a convenient place to work;
plenty of storage space;
the best conditions for receiving guests, as the adjoining room serves as a living room;
increased property value because adjoining rooms can give the apartment a more designer or even a prestigious look.
As you can see, the pass-through hall can have many advantages, so be sure to consider them before demolishing the walls and expanding the room with "unnecessary" housing. Of course, it is not easy to master such a space. But you will find some tips below on how to equip a walk-through living room in such a way as to make the most of it.
Design of the Walk-in Living Room: the Original Layout of Irregularly Shaped Room
The challenge is to arrange not only a small interior but also an irregularly shaped room, which at first glance seems unsuitable for creating a harmonious design. Nevertheless, nothing is impossible for lovers of the Scandinavian, classical, or modern style directions of space designing. See how you can arrange a living room and create a very functional place to live every day. The living room is a passage because it is not enough to enter it from the hallway, it also leads to the kitchen and bedroom. Such a number of doors in addition to a very irregular shape are a real challenge for homeowners. First of all, in order not to overload the interior, it is worth deciding to make the white main color. To diversify such a light and somewhat "crude" space, you can use single dark accessories. Flowers in a vase and rug or fluffy blanket bring a pleasant warm aura and blend perfectly with the natural style.
Photo of the Living Room with Dining Room
If the adjacent living room is located between the kitchen and bedroom, it is better to organize a mini-dining room in it. Even in an interior with several doors, a table and chairs are suitable. Additionally, a separate place for a meal is a great opportunity to spend time together. Moreover, thanks to the dining room located in the living room, your guests can comfortably sit while you will cook the dinner and set the table.
Walk-Through Living Room in the House – an Ideal Place for a Library
The walk-in room is ideal for a home library. If you have a large collection of books, you can fill the entire wall of the living room with open shelves, and put a small stool next to them, which will help you to spend a fun time in the world of literature. Is there a large window in the pass-through living room? In this case, place a chair with a footrest and a small table on which you can put a book. If you care about a cozy atmosphere, decorate the living room with a fireplace and lamps with a lampshade.
Walk-Through Living Room as a Game Room
How to equip a passage room if you have two, three, or more children? If your children have a common bedroom and there is not enough free space, then the living room with passage will be most appropriate for spending leisure time. Install a bookcase and a chest of drawers for art supplies. Furniture should stand against the wall so that there is as much room for games as possible on the floor. Cleaning toys will not be tedious if you use drawers, baskets, boxes, and containers. For older children, allocate a place for a table with a computer and a chair.
Small Walk-in living Room or Study
If you often work at home, you need a free corner in which you can put a computer and a comfortable chair. A small living room can replace a small study. Put a bookcase and a desk with shelves here, and you get a personal workplace.
Walk-through kitchen-living room
The living room connected with the kitchen is a controversial thing. There are those who say that the kitchenette is an expression of modernity. At the same time, for most investors, this type of interior solution is nothing more than a way for designers to save money, and even more so in passage rooms.
Fashionable Design Walk-through Kitchen Living Room
A walk-in living room with a kitchenette is often found in offers for studio apartments. This solution is ideal for small areas if you are not indifferent to the optical increasing of space. Very often there are situations when the owners of one-room apartments decide to open a small kitchen for the living room. As a result, the boundaries between the rooms are aligned, which creates the impression of spaciousness.
Since the kitchenette is usually small, that is, it is only a wall, it will not be a convenient solution for people who like culinary experiments. The combination with the walk-in living room also requires that the owners keep the room clean without cluttering work surfaces.
A pass-through living room can be a practical zone of entertainment, relaxation, preparation, and reception. The only thing is to correctly plan the space, taking personal interests into account.