When you stop to really think about it, there are dozens of different restaurant themes and styles you can opt for when you are starting your own restaurant. It can be hard to decide because it won't just be about the type of food you serve (although that is, of course, important). It is also about the décor and the type of patrons you want to attract.
Before you settle on your theme, it's important to consider a number of different elements that may sway you one way or another. Make sure you know what you want before you start spending money on your restaurant, as if you change your mind or you have chosen a concept that isn't going to work in the long term, you will lose money.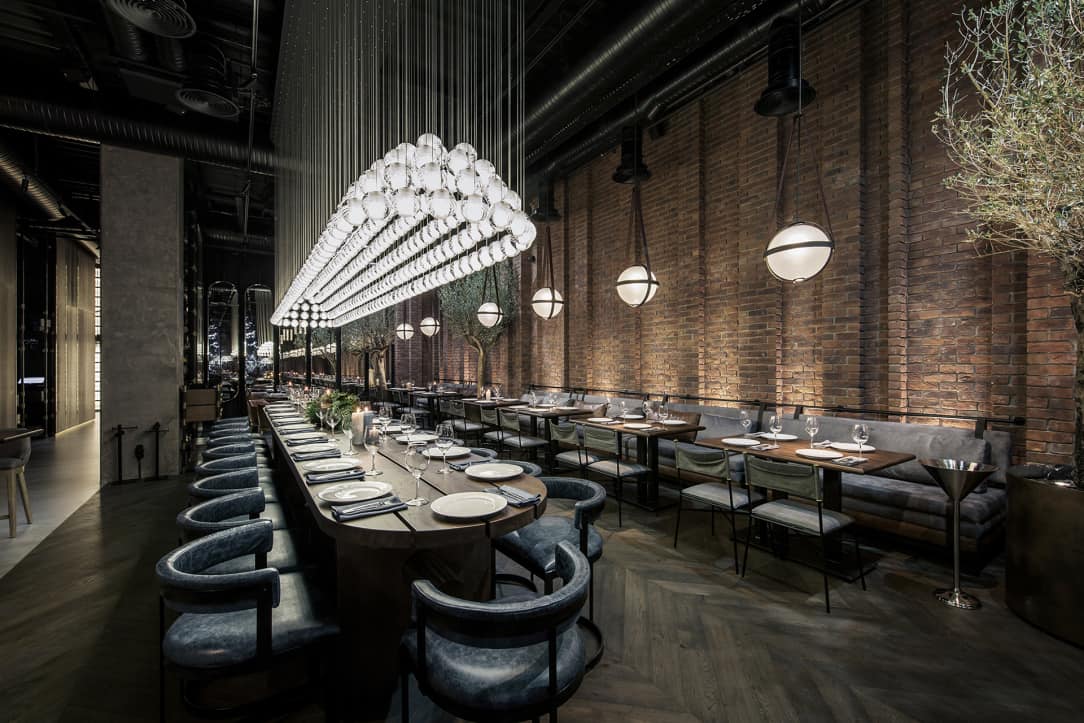 On the photo: Catch restaurant/La Famiglia/Kiev, Ukraine
Here are some ideas to think about:
Casual or Formal?
Perhaps the first thing you need to think about is whether you want to have a casual restaurant or a more formal one. The difference can be quite stark, and trying to have a space that is open for everyone is difficult, and more often than not, it is confusing.
A formal restaurant means that you can charge higher prices (it is what people expect), but it also means that you might have fewer people coming through the door. After all, not everyone is going to want to have to dress up and book their table in advance! A casual restaurant will mean charging less, but more people will come as they can decide to visit on a whim and their clothing won't matter.
Whichever you choose, make sure the décor suits your style. When choosing restaurant chairs, tables, flooring, and wall coverings, as well as crockery and cutlery, the type of restaurant will need to play a part in your decision making.
Patrons
Once you have your dining style decided, you will need to consider which types of patrons you most want to serve – again, this will help to determine the look and feel of your restaurant. For more formal restaurants, you might want to focus on business people, for example, or perhaps couples are a market you want to look into and cater for.
If you choose to be a casual eatery, then families with children or larger groups of friends could be ideal. Once you know who you want to focus on you can adapt your marketing to that market to ensure your restaurant attracts the patrons you want.
Cuisine
Of course, the type of food you serve is always going to be hugely important. Some of this will depend on whether you have a particular affinity with any particular type of cuisine; if you are great at cooking Indian food or Italian cuisine, then it is wise to stick to this rather than attempting something new. However, if it's not you doing the cooking and you are going to manage the restaurant and hire a chef in the kitchen, then you can choose from a wider field.
Look around the area you have picked for your restaurant to see what other restaurants are there and try to choose something different.