You have found your dream home but the only problem is, the kitchen is tiny. And there's nothing worse than a kitchen that feels messy and cluttered. After all, the kitchen is the heart of the home and it's meant to be a place where we can relax and unwind after a busy day and make ourselves a nice meal, rather than a place that feels disorganized. You want to be able to stand at the stove and cook your favorite meals without worrying about searching for ingredients in packed cupboards or tripping over things on your way to get utensils.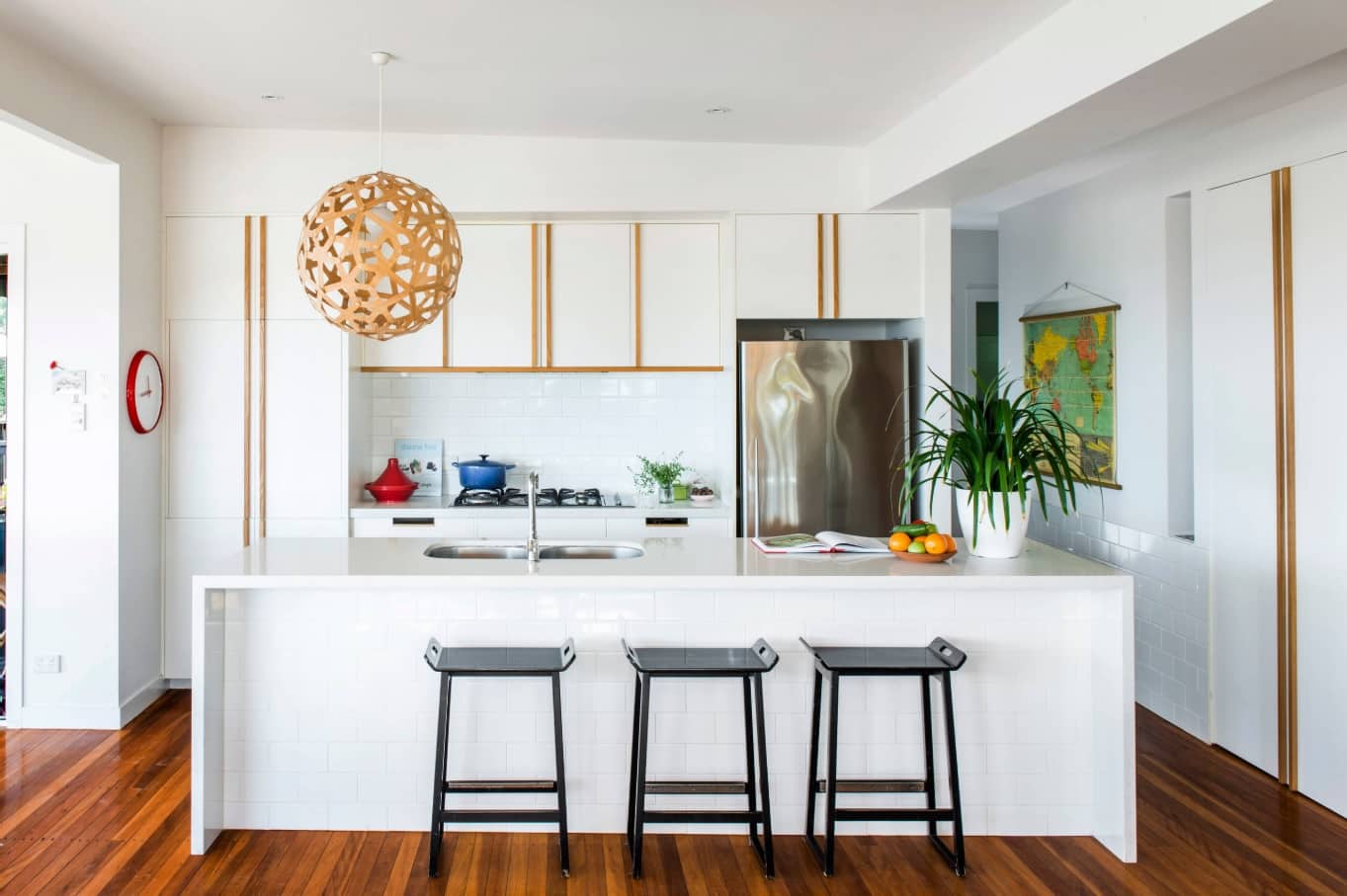 The good news is that a small kitchen shouldn't have to prevent you from enjoying your dream home. There are several things that you can do to make your small kitchen space work better for you and utilize the space that you do have to the maximum.
Have it Remodelled
Some kitchens might be small, but it's made worse by the fact that the space that is available isn't being put to use in the best ways. You can easily add more storage space to a kitchen that does not have a lot of floor space by adding in larger cabinets, deeper drawers, and strategically placed shelves, for example. A good professional kitchen designer will be able to work with you to help you make the most of the space that is available and utilize it all with smart storage solutions that leave you feeling like you have much more room even in the smallest of kitchens.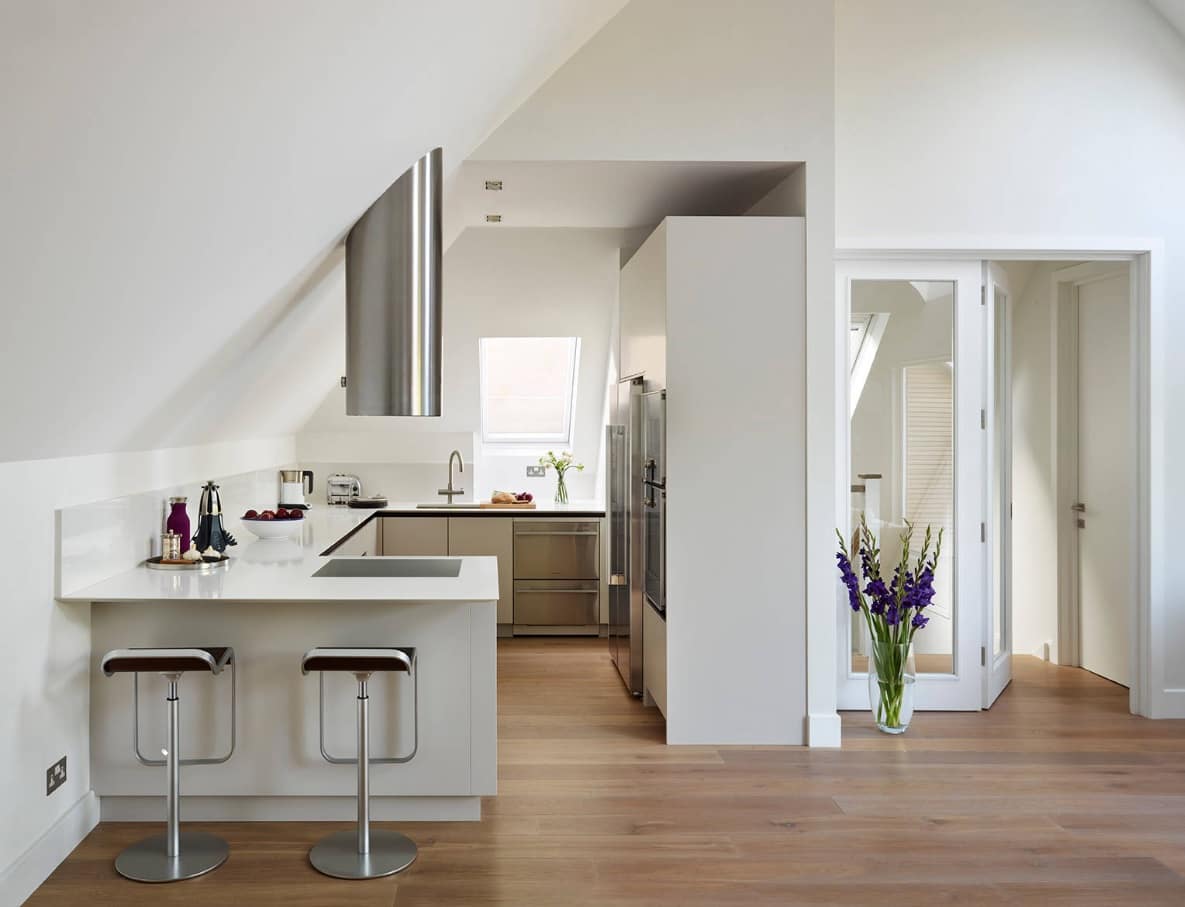 Sometimes, simply having somewhere suitable to put everything can make all the difference that you need. Kitchen Capital offers a range of kitchen renovations options and can help you redesign your small kitchen to work better for you. If you are looking for a company designing small kitchens in Perth, you can find more information here.
Hang it Up
If you don't have a lot of cabinet space and your small kitchen is surrounded by empty walls, take advantage of the vertical storage space available. Stainless steel kitchen wall systems are available from homeware stores like IKEA and are designed to help you make the most of your kitchen's wall space. You can use the system to hang anything that you like, from pots, pans and utensils to tea towels and oven gloves, saving your surface space and keeping everything neat, tidy and organised.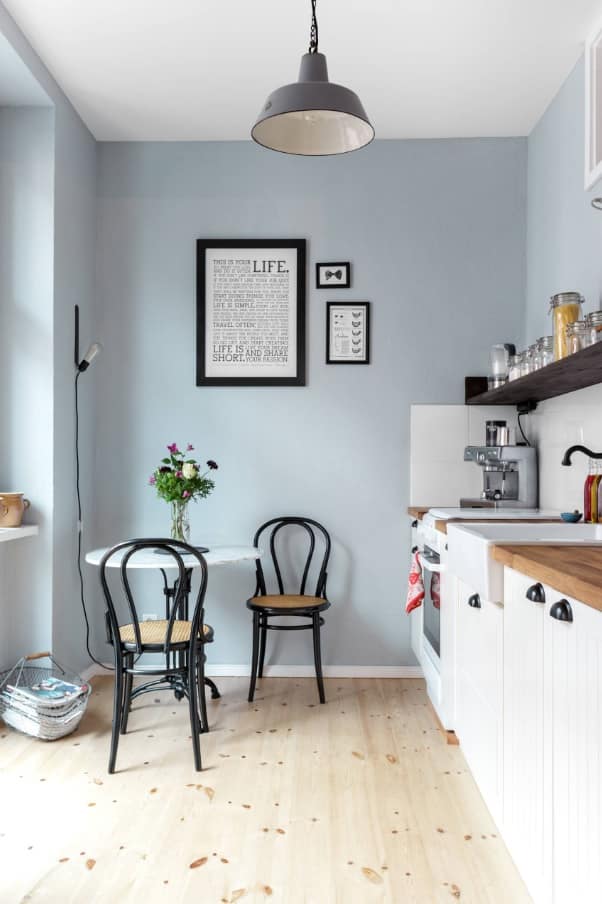 Pegboard Backsplash
Upgrading your backsplash to a pegboard option where you can hang everything you need is a great solution to adding more storage solutions to your small kitchen. This is a great option for anybody on a budget as all you need is a stainless-steel pegboard that you can attach to your existing backsplash and you're good to go. You can usually find them easily at most home improvement stores and they are fairly easy to install. Another option that you may want to consider is installing rails at the top of your backsplash where you can hang hooks for storing utensils, pots, pans and more.
Utilise Another Room
If you've got a tiny kitchen but your neighbouring dining room is of a decent size, there's nothing stopping you from relocating some kitchen items into there instead. You can create a recessed niche in your dining room to store pantry items or kitchen tools that you don't use regularly, with a curtain or cupboard doors to keep them out of sight. Freestanding shelving units can also double up nicely as a pantry option outside of your kitchen and you can find shelving units with doors if you want to keep your extra kitchen storage hidden away.
Make the Most of Corners
In many homes, it's not uncommon to see corner space seriously underutilised. In a small kitchen, making use of the space in the four corners of the room can make a huge amount of difference. Corner shelving can provide you with somewhere to store a wide range of items and is usually a quick and easy job to complete. You can make your own shelves from wood that are designed to fit your kitchen corners perfectly or you can buy ready-made corner shelves or drawers from most hardware stores that just need to be attached to the wall.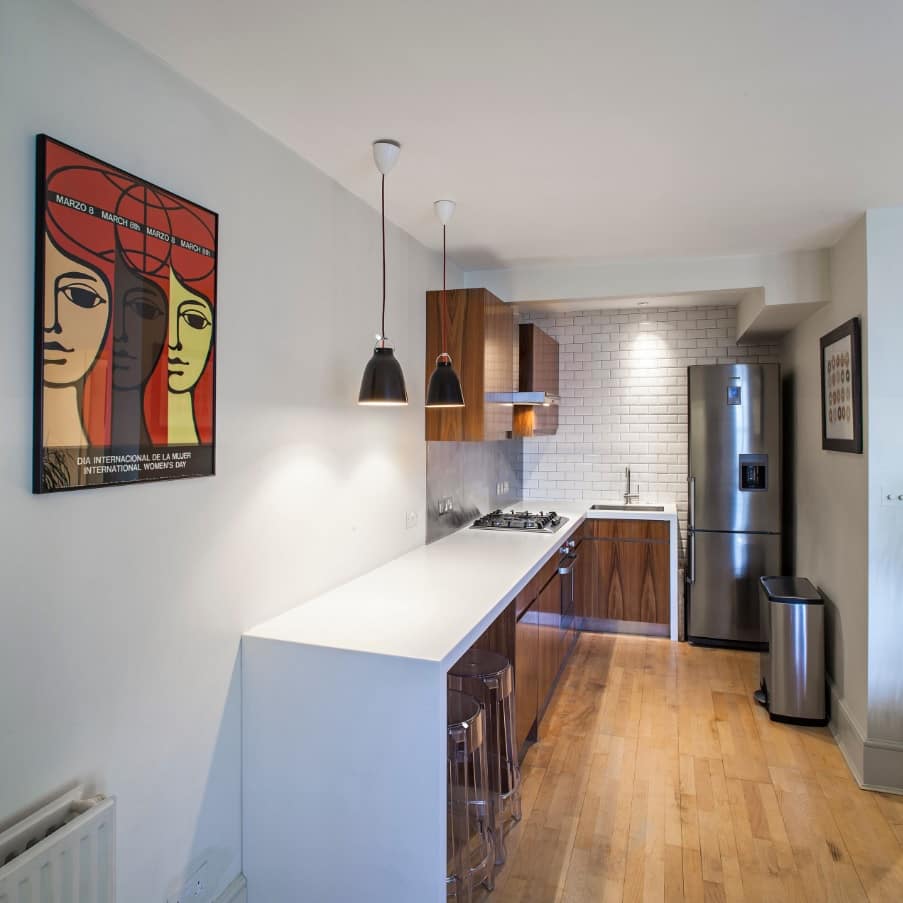 Under-Cabinet Drawers
If you're designing a new small kitchen, consider utilising that often-wasted space behind the baseboards of kitchen cabinets by adding in toe-kick drawers. These bottom drawers can be used to store items that need to stay in your kitchen but aren't often brought out and used, allowing you to free up the rest of the space in your cabinets for the items that you need to get out on a regular basis.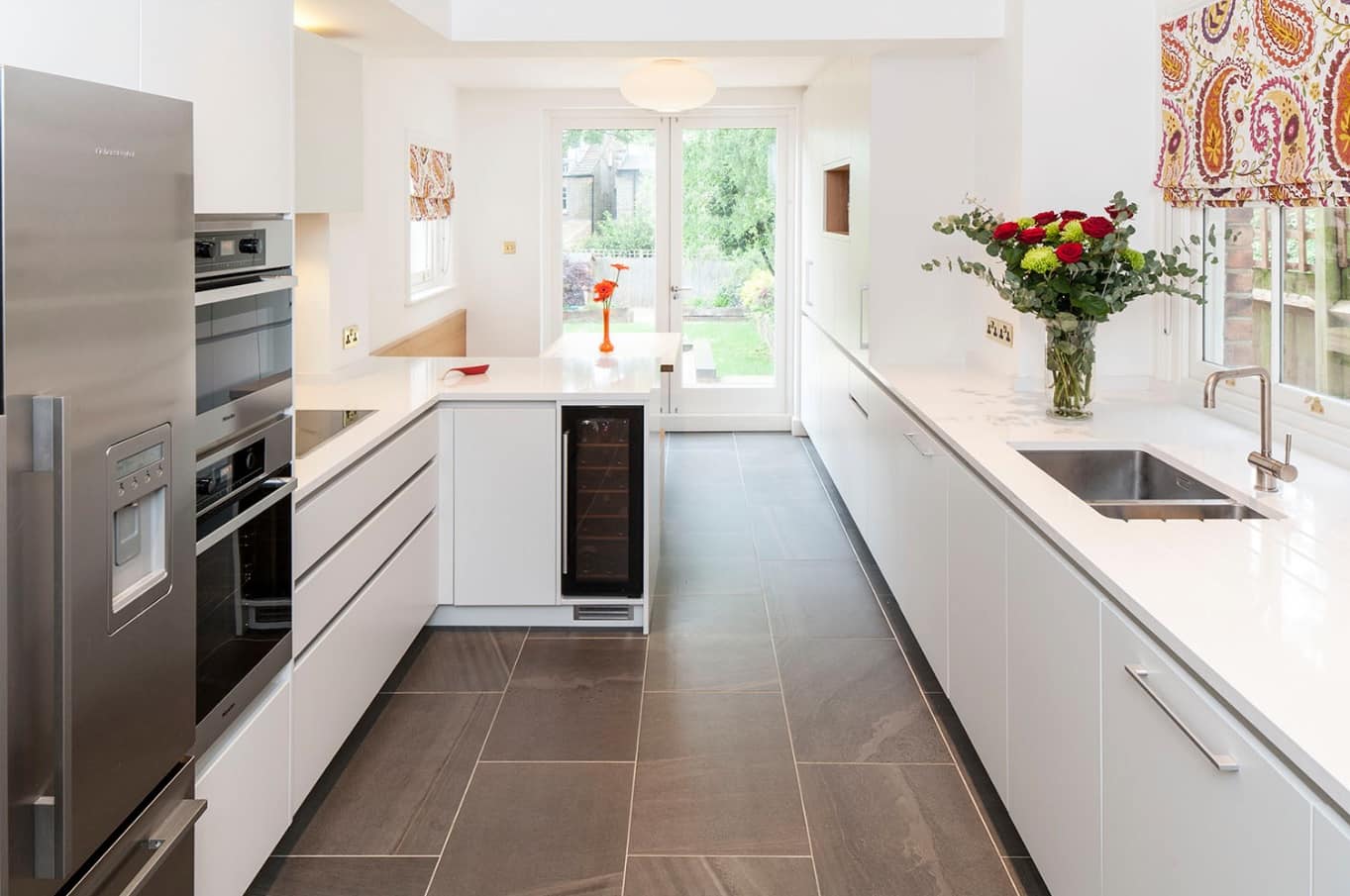 Folding Table
If your small kitchen also doubles up as a dining area, you're dealing with even more of a cluttered space. A folding table can be a fantastic solution to this problem as it can double up as both a dining area and an area for food preparation, without taking up too much valuable floor space. Once you've finished cooking and eating your food, you can simply fold the table back against the wall to open up the floor space once again. Plus, if you work from home or simply want a kitchen table to sit at while you get things done, it can easily double up as a desk area outside of mealtimes.
Use the Space Next to Your Fridge
If you have a small amount of space between your fridge and the wall in your kitchen, you can utilize this space with a hidden rolling pantry. Depending on how much space you have, you will typically either have to make this yourself or have it made for you so that it fits as it should, as these are not often available to buy ready-made. A pantry that's next to the fridge can easily be pulled out to reveal even more hidden storage space and is an ideal option for storing canned goods or smaller kitchen essentials.
Ditch the Junk Drawer
Everybody has that one drawer in their kitchen that's full of random bits and pieces, but do you actually need that stuff? If you do, does it need to be stored in your kitchen? Chances are the answer is no to either of these, so consider ditching your junk drawer and putting the space to better use for kitchen essentials. You can use your junk drawer to store items like tea towels or even turn it into a spice rack to create more space in your pantry.
Over-Door Hooks
Over-door hooks can be a really handy little tool for your small kitchen and they are quite cheap and easy to obtain, too. You simply slot the hooks over the top of your kitchen cabinet doors and you have somewhere to hang tea towels and oven gloves neatly, allowing you to free up space in your kitchen cabinets and drawers for other kitchen essentials. Get some hooks for the main kitchen door to hang your aprons.
A small kitchen doesn't have to be a nightmare to prepare and cook food in. With these storage tips and hacks, you can make the most of the space that you have easily.