Finding the perfect home decor can be a challenge on its own, but add a small apartment to the mix and you suddenly have a lot more to consider. Small homes require extra care when it comes to the decor since it is all too easy to make them feel cluttered and cramped. Plus, most apartments also have restrictions regarding what you can change, which can make the process all the more difficult. However, even with these challenges considered, that certainly doesn't mean your home has to feel bare or bland to create the illusion of space. A wow-worthy small apartment is obtainable for any decor style or budget when you have the right know-how.
1. Embrace Open Shelving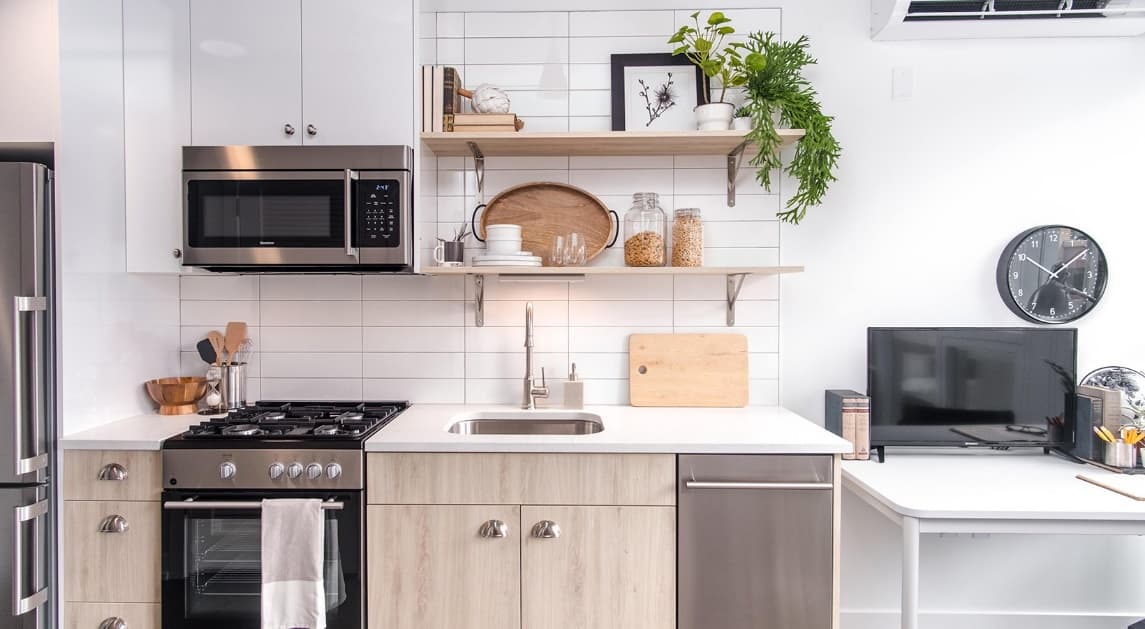 Source: FLATS
Open shelving is a multi-tasker for compact spaces since it provides storage, as well as an area to show off your style through accessories. In the case of the Bush Temple apartment shown above, shelving is used in the kitchen for display-worthy essentials like dishware, cookbooks, and food jars. It makes excellent use of vertical space that would otherwise be wasted and draws the viewer's eye upward—instantly making the room feel more expansive.
To embrace shelving in your small space, try styling it with a mix of essentials and accessories. Why essentials? Open shelving makes these items easily accessible and they can save you money since you won't have to buy as many accessories—if any.
2. Hang a Mirror
Hanging a mirror is a tried-and-true way to make any room feel more spacious since it adds the illusion of depth and makes a room feel brighter by bouncing light around. To cultivate a light and airy aesthetic, opt for a mirror with a thin or reflective frame. Alternatively, go for a chunkier frame in a contrasting color if you want to create a focal point.
3. Go with The Rule of 3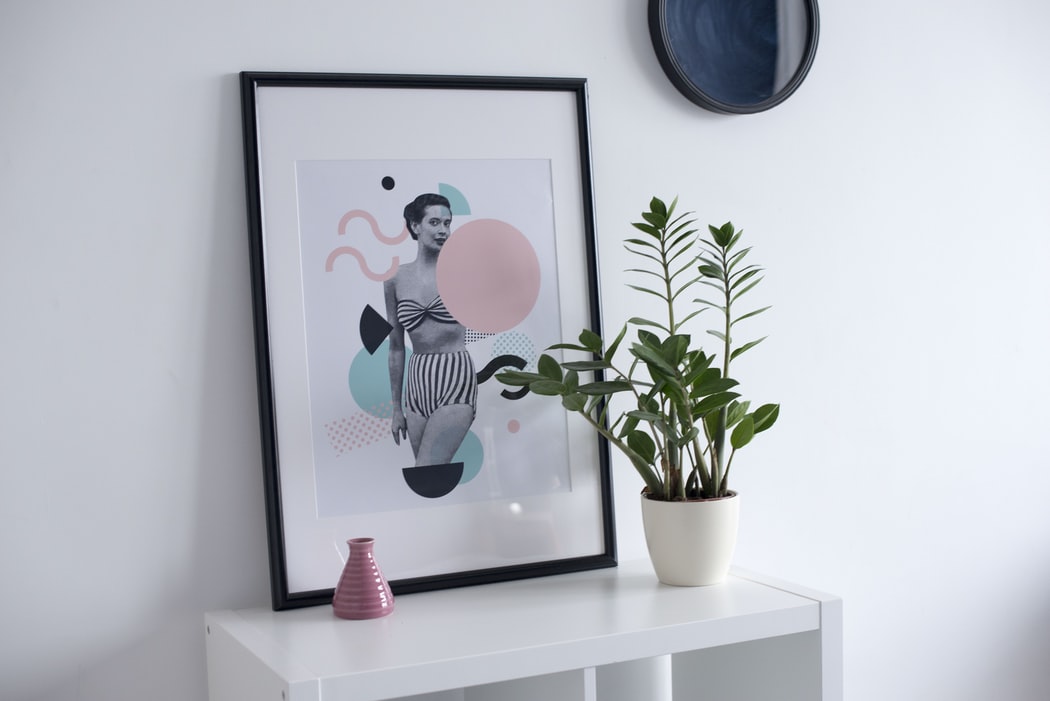 Source: Unsplash
When in doubt, The Rule of 3 is a good place to turn, especially if you are worried about overcrowding a space. You can use this concept for both color schemes and accessories.
Color: Choose a color scheme that uses no more than three colors to keep a room looking cohesive and ensure visual flow. You can exclude white and black, or your primary neutral, if you have a hard time narrowing it down to three colors. However, remember that the three colors you choose are just your main colors—you can use other shades, but ideally, you want to do so sparingly.
Accessories: Group your accessories in threes. Try using a range of sizes in these groupings, with larger items to the back so they don't get lost.
4. Use Temporary Embellishments
If your rental contract forbids you from painting or damaging the walls, you can still add some flair with removable options. Removable options are fantastic for small spaces since they update what is currently there, offering a fresh look without adding bulk to your layout. Plus, they can easily be removed before moving out without causing any damage.
Contact Paper: Contact paper is affordable on almost any budget and it can temporarily reface cupboards, appliances, counters, and furniture. Use an old credit card or a gift card to smooth out the surface when applying to prevent bubbles.
Peel-and-Stick Tiles: If your kitchen is looking a bit drab, then pick up some stick-on tiles to make a temporary backsplash. This is a great way to add color or texture to your kitchen without making permanent changes, and the addition of a backsplash can be absolutely transformative. Have a floor that you can't stand? They also make removable flooring planks and tiles.
Removable Wallpaper: Make an instant focal point in any room using removable wallpaper. This sticky paper is easy to apply and remove. Plus, it comes in an assortment of patterns and colors. You can even find some that mimics the tone and texture of brick or stone.
5. Go Big with Art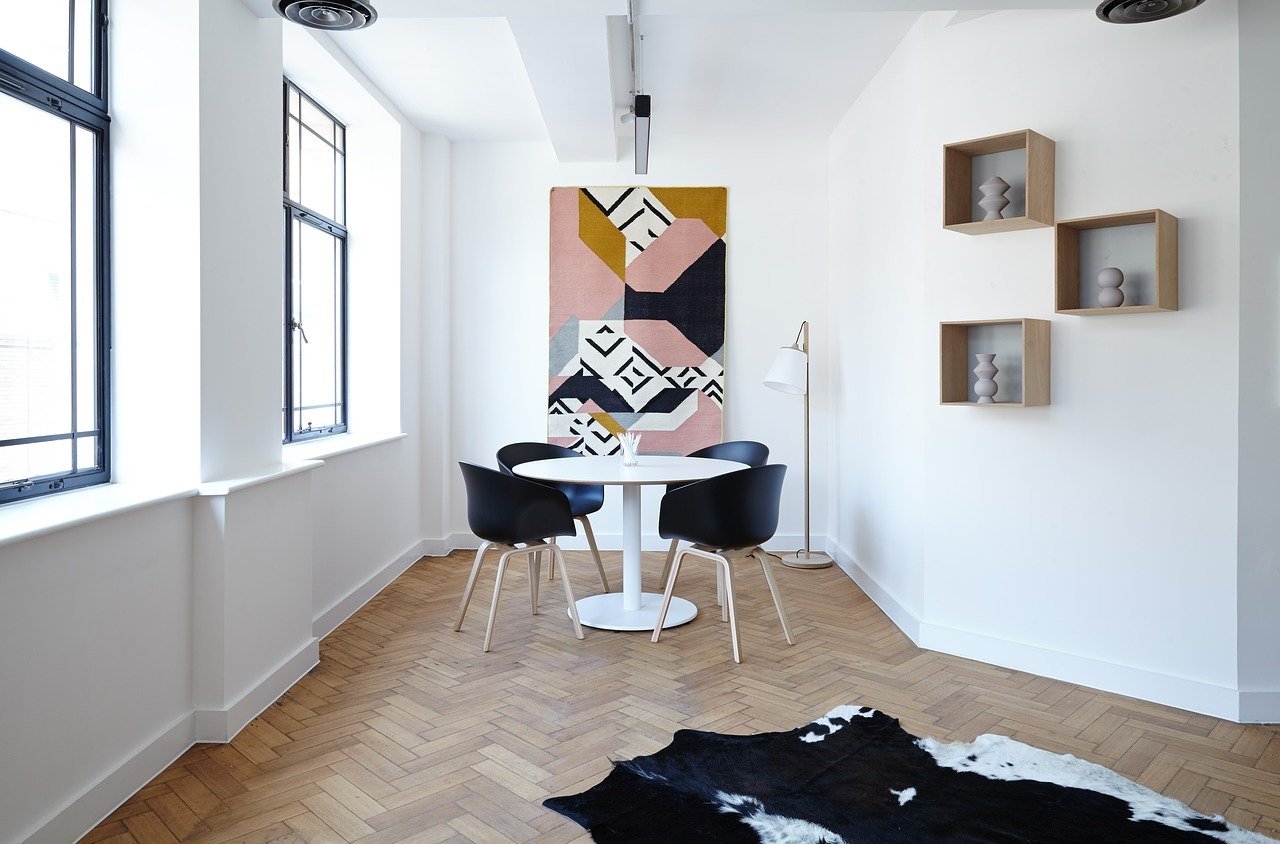 Source: Pixabay
It can be tempting to use smaller wall art to try to make a room appear spacious, but often this has the opposite effect. Instead, look for an oversized, vertical piece that grabs attention with its size and draws the eye upward. Beyond this benefit, a large piece of art can also anchor your color scheme, show off your style, and set the room's tone. For example, if you want something that feels cottage chic, hang a landscape with soft and neutral hues in a wooden frame. Going for contemporary? Try frameless abstract art on deep gallery canvas, as shown above.
6. Decorate with Plants
Plants are not only a timeless accessory, but their lush greenery can make a room feel more expansive, youthful, and vibrant. And incase their potent aesthetic isn't a big enough selling point, plants also improve indoor air quality by filtering pollutants—which can be extra beneficial in compact areas. To incorporate plants into your home, try adding a tall plant to create the illusion of height. Or, if you're short on floor space, you can suspend a few from the ceiling using hanging planters or add a potted plant to a tabletop, shelving, or a windowsill. However, ensure you don't go overboard with plants on a windowsill since it can look cluttery and block light from coming into your space. This is less of an issue for larger picture windows but can pose a problem with smaller ones.
7. Layer Textures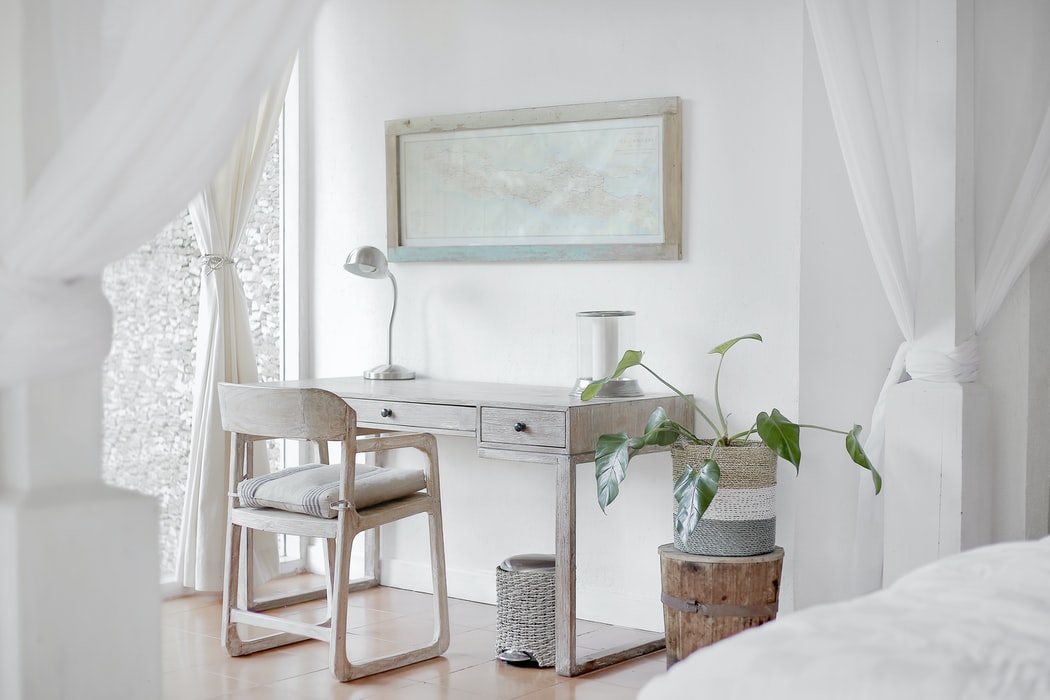 Source: Unsplash
It is entirely possible to design a magazine-worthy apartment without the use of bold colors. The secret is layering texture. For example, the small home office shown above uses an array of textures to keep things interesting—wood, rattan, stainless steel, glass, linen, etc. This is an especially great method if you are going for a softer look with neutrals or a minimal aesthetic.
Embracing small apartment living doesn't mean that your decor has to suffer! There are plenty of ways to create a wow-worthy apartment without sacrificing space or style. Whether that means updating a few surfaces with contact paper or creating a focal point with a large piece of art, there are small space decor solutions for every apartment—no matter their style goals or budget!