It is difficult to say when the first decorative plate appeared to decorate the walls of the homes. If the first porcelain plate, we can surely say, appeared at the 7th century in China, there are no available data about the dishes as wall decor. There is an assumption that the tradition of using the plates as a decoration appeared in the times of awarding of especially devoted to sovereign patrials with rare and expensive exemplars of painted plates. Not surprisingly, the honorable product of china was given to the best place in the house of these nationals. But in the late 19th century, collecting of plates (rare, vintage, original ones) became fashionable. But the most popular living room wall plates decoration appears in white and blue colors.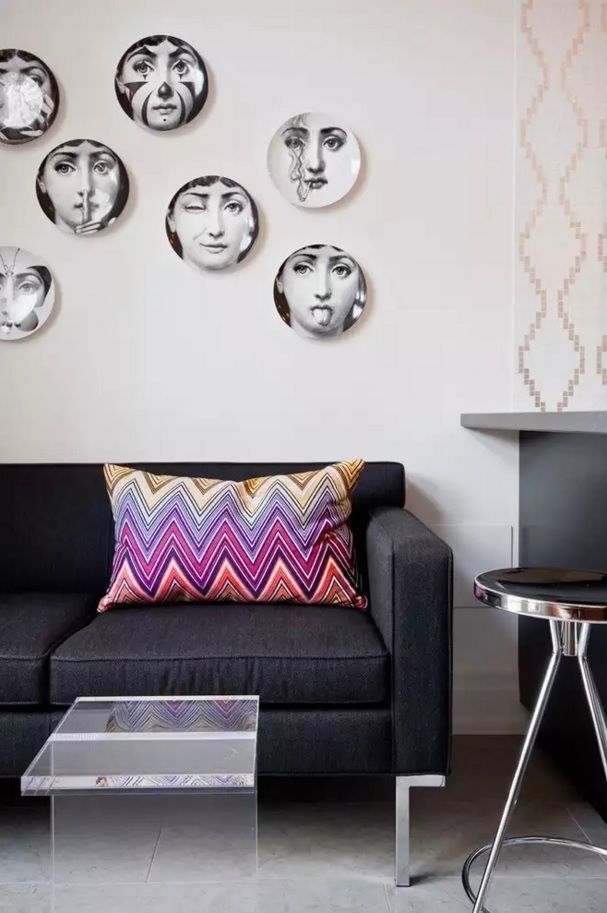 In the mid-20th century, one famous company has released a collection of plates designed exclusively for decoration. Created precedent became an impetus for other manufacturers. To this day, many designers and homeowners prefer using pictures or photos within the original plates as wall decor. Collectible items, souvenirs brought back from travels or specially purchased plates for wall decoration are able to shift your imagination of ​​how to decorate room creatively and originally.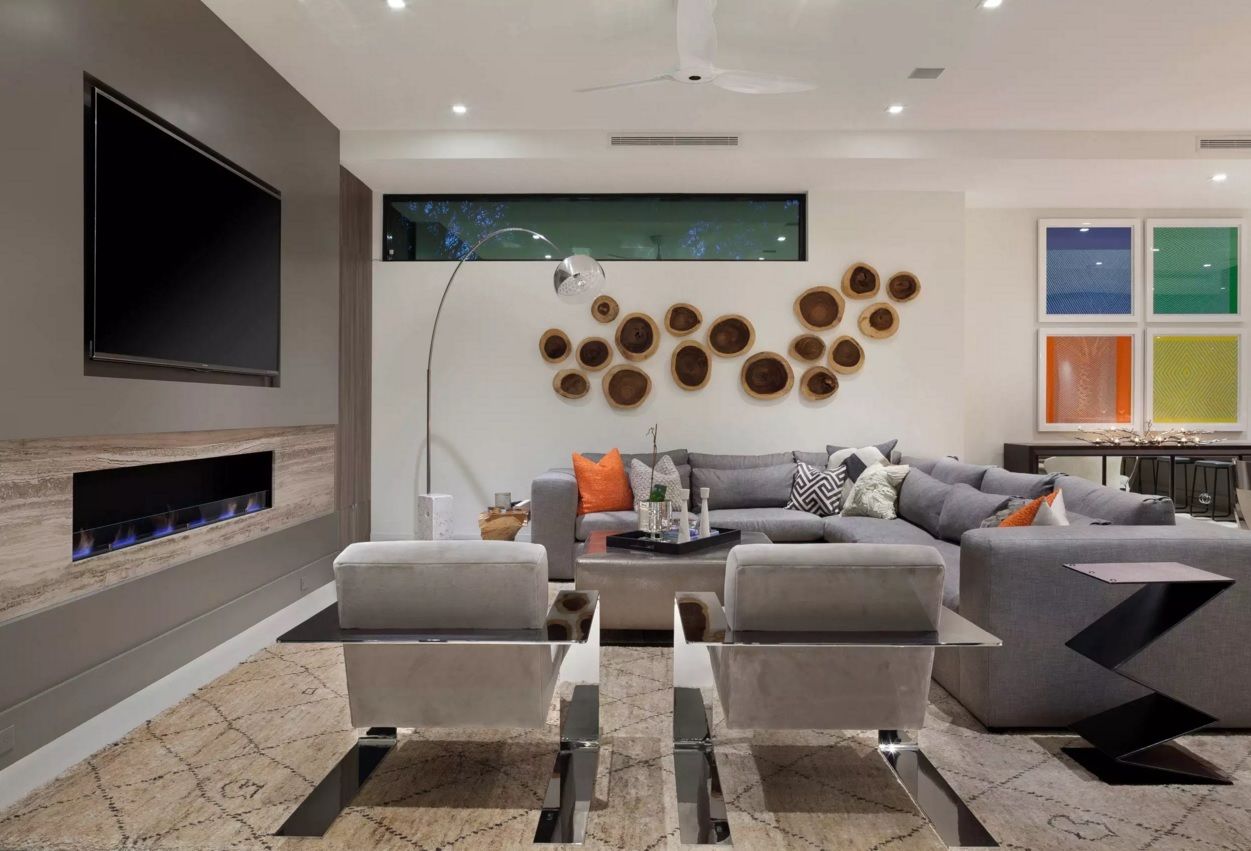 Do you want to create a composition of your dishes or buy items specifically for wall decor – it is better to get acquainted with the design projects of famous professionals and successful attempts to homeowners in self-decoration of their homes. Original and classic, simple and intricate, patterned and plain, round and of fanciful forms – there are lots of plate's execution variants. And options to use this kitchenware for wall decoration are even more. We hope that our original selection of photos will be useful to you, and you'll be inspired to your own exploits in the decoration of your home.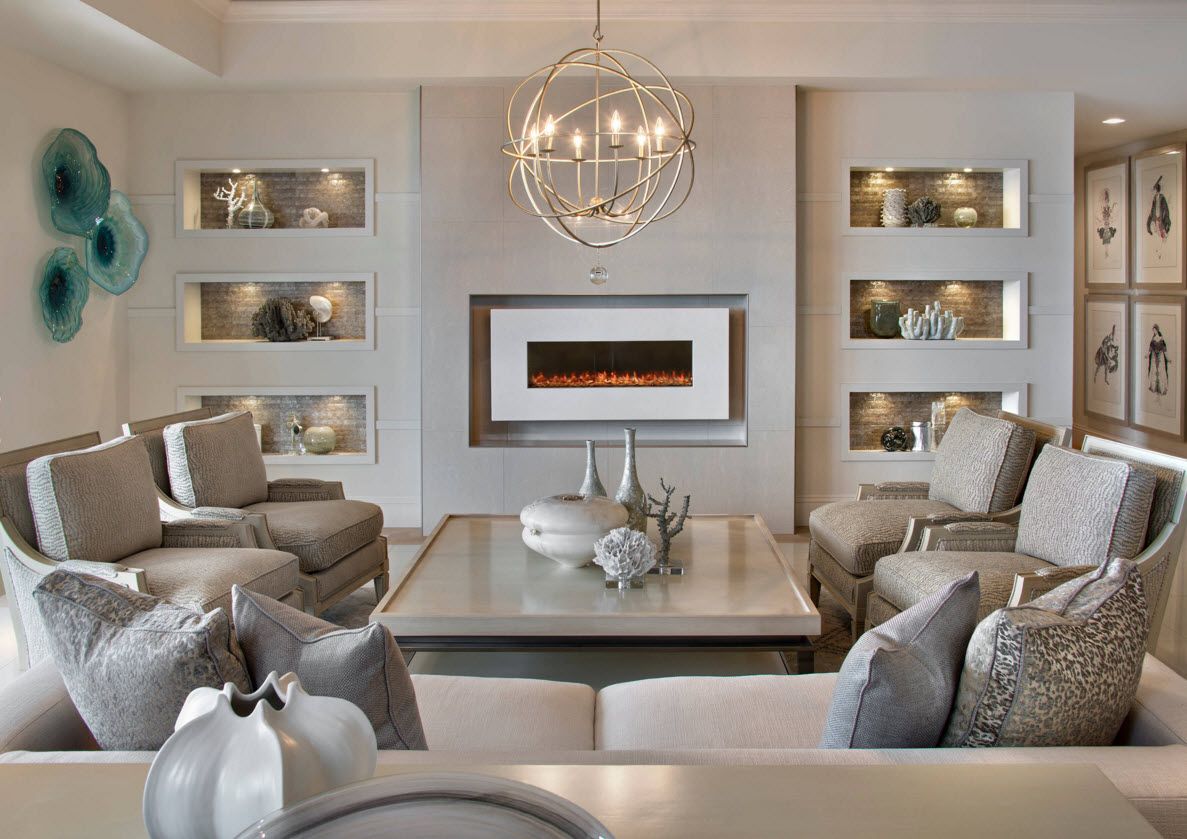 Living Room Wall Plates Decoration. Creative design
Many people believe that decorative plates are possible fit into the interior of the living room only within a certain stylistic direction. For example, Traditional style or Shabby Chic. But when choosing wall décor, you can be guided by only the color and texture combinations, by your preferences and you`ll get incredibly attractive and original result in renovation of a living in any stylistic direction.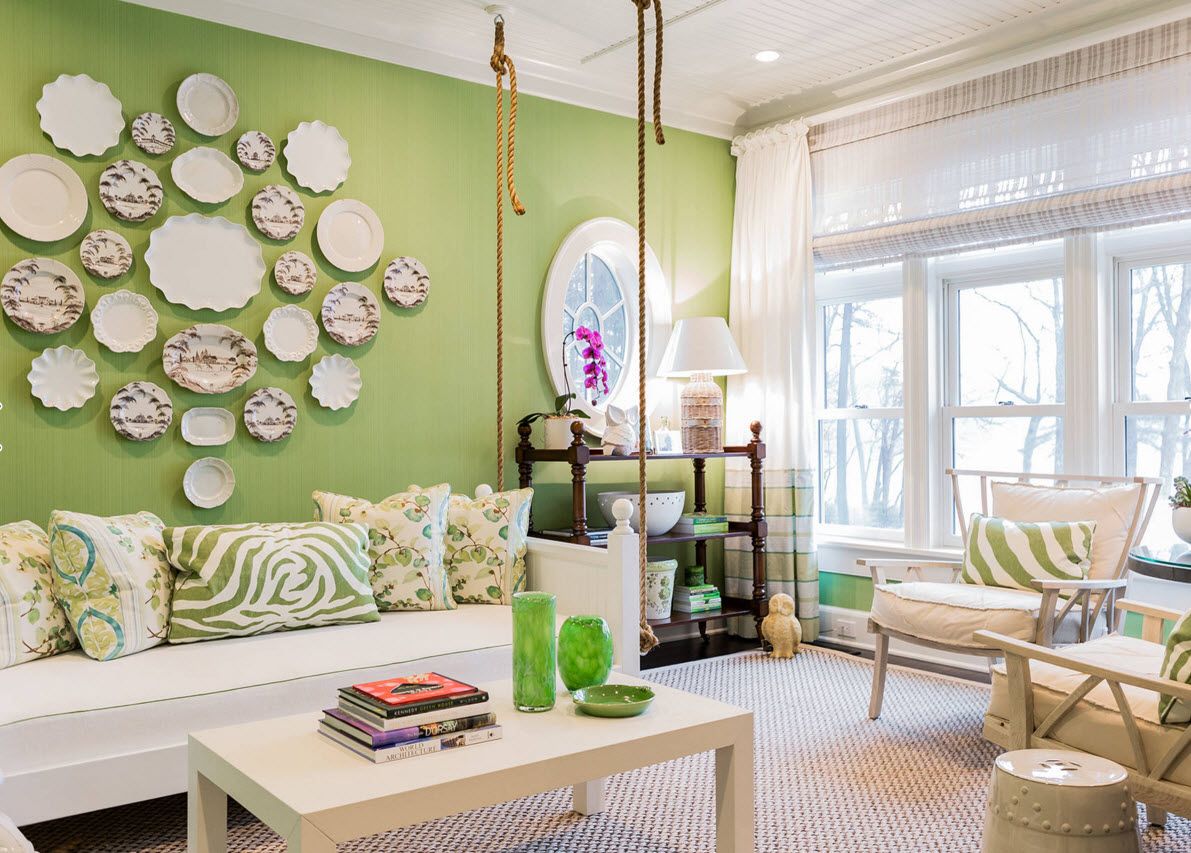 If your living room has a real or artificial fireplace, the space above it just needs decorating. Typically, this zone is very broad and can take very large ones or a whole wall decor composition of plates of different sizes and shapes. Glass decorating objects of elaborate forms look luxuriously and bring originality to the traditional room interior.
You can hang plates above a dresser or any other low storage in the living room. Such decor will also look organically in the space between the windows or on both sides of the doorway.
Bright glass plates of different sizes will bring true summer mood to the interior. Placed on special tripods of varying lengths, some colorful plates make up the original voluminous composition.
Decorative plates are perfect to combine with other pieces of wall decor – paintings, pictures or photos within. The main thing, you must follow symmetry and stylistic unity of execution in the preparation of compositions of assorted wall decor.
Making a living room in a nautical style, we often use textiles in baby blue, navy or blue and white stripes. Decorative Gzhel painted plates will look organic in this interior. Delicate patterns can soften the straightforwardness of textile colors.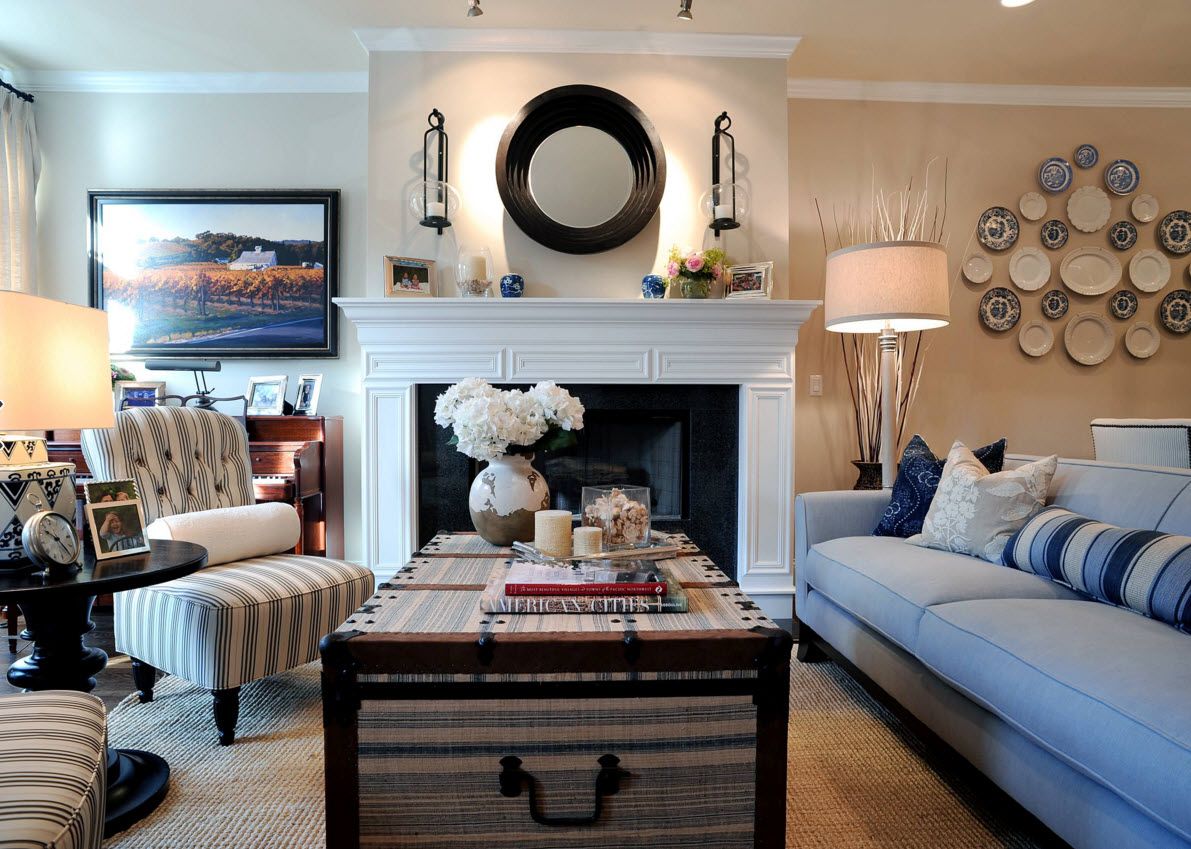 Even in the living room decorated in a contemporary style, inclined to minimalism, decorative plates would find their place on the walls. The composition of the plain plates of contrasting colors and different sizes looks accentual, bringing color diversity in a rather austere living room interior.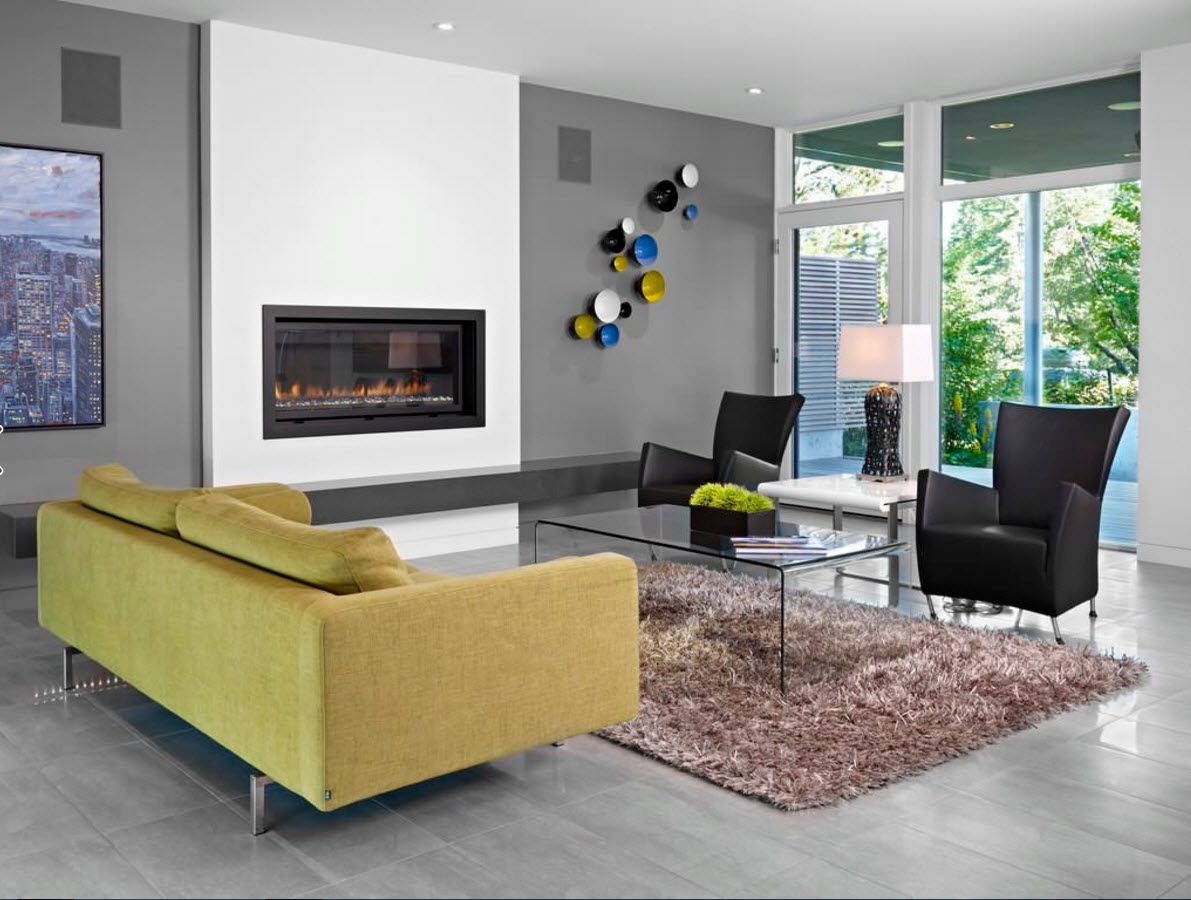 Plates woven of threads and ropes, carved from a single piece of wood, deep and not very, of bright and wooden colors, plain and patterned have made an unusual composition in the living room, decorated in white tones.