As we reflect on the reconstruction or remodeling of a living room from scratch, we often can not decide what style of interior to prefer. Many people gravitate to timeless classics, but most of people want their room to be dynamic and modern. Virtually any modern living room contains a certain technological innovations, all kinds of gadgets and their presence must also be taken into account and be harmoniously integrated into the living environment. But not everyone agrees with the room in the style of Hi-tech. Designers have found a simple and logical way out. By combining in a single space such styles as minimalism, modern, hi-tech and classic, they called it a modern touch.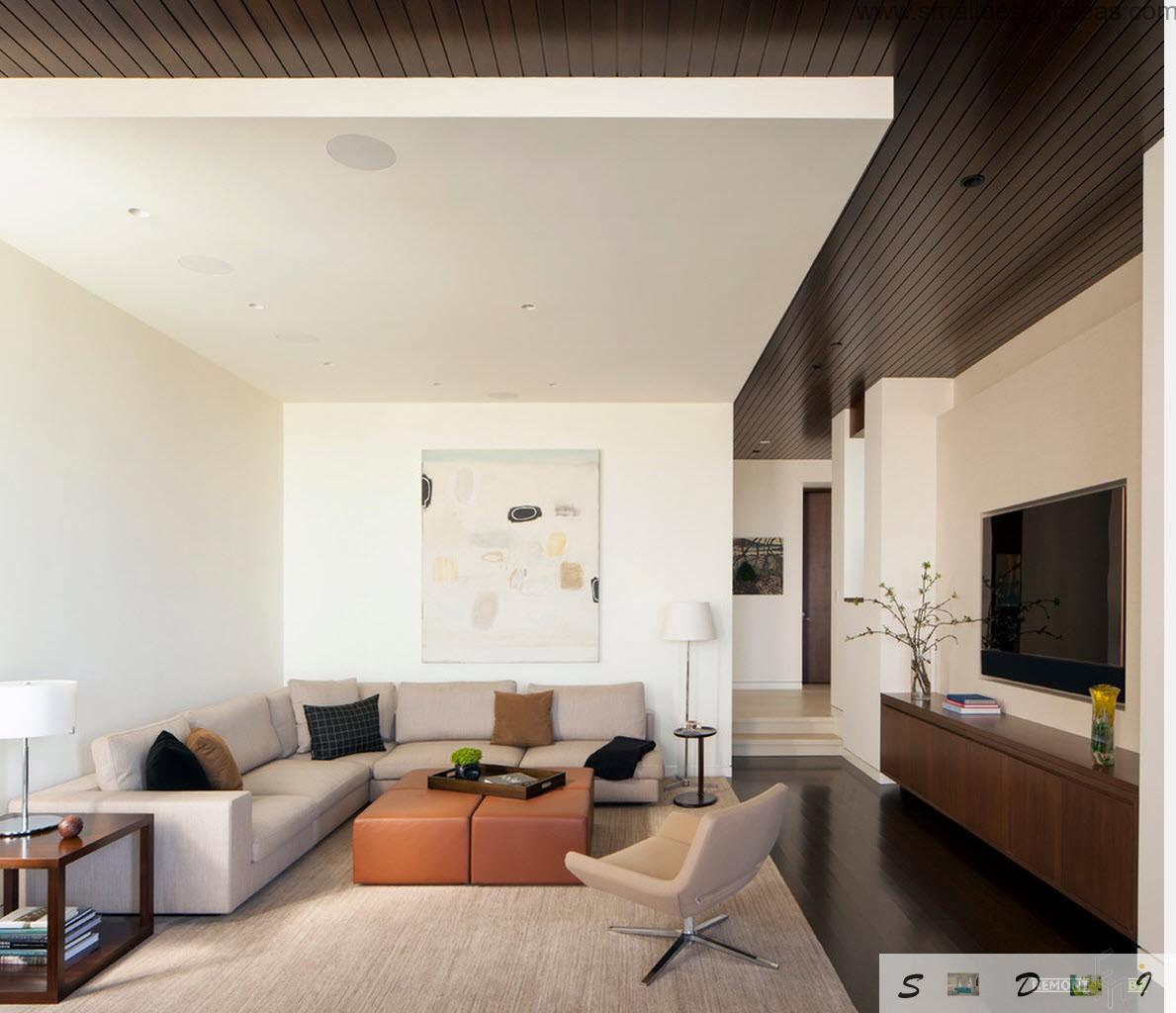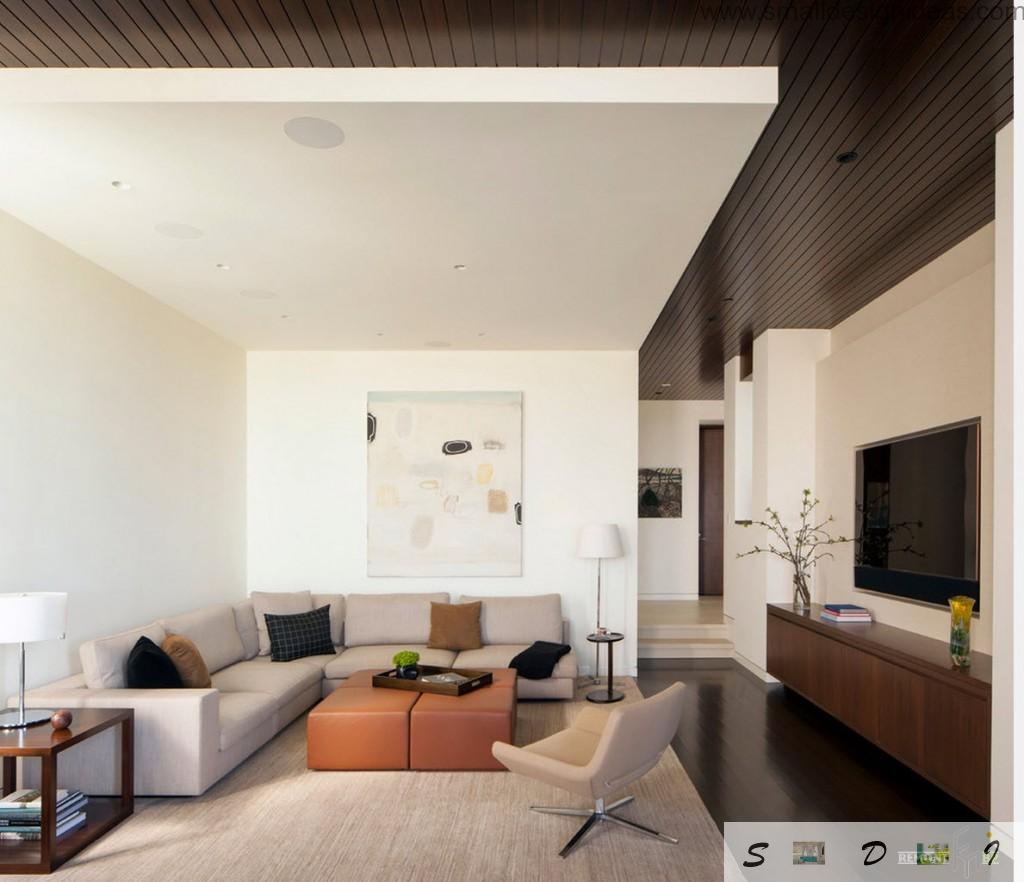 It does not mean that the design of the living room should certainly contain elements from all styles. We can take the most attractive style for the homeowner and develop it by adding notes from another stylistic directions.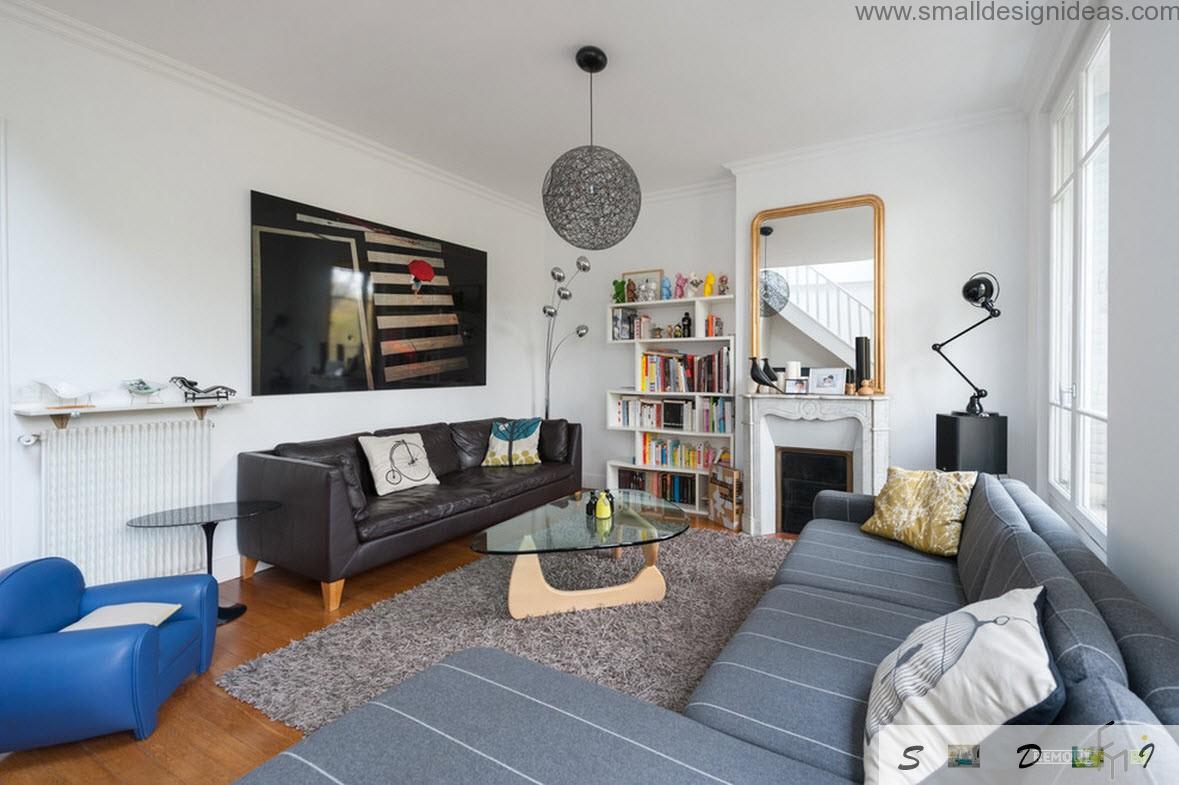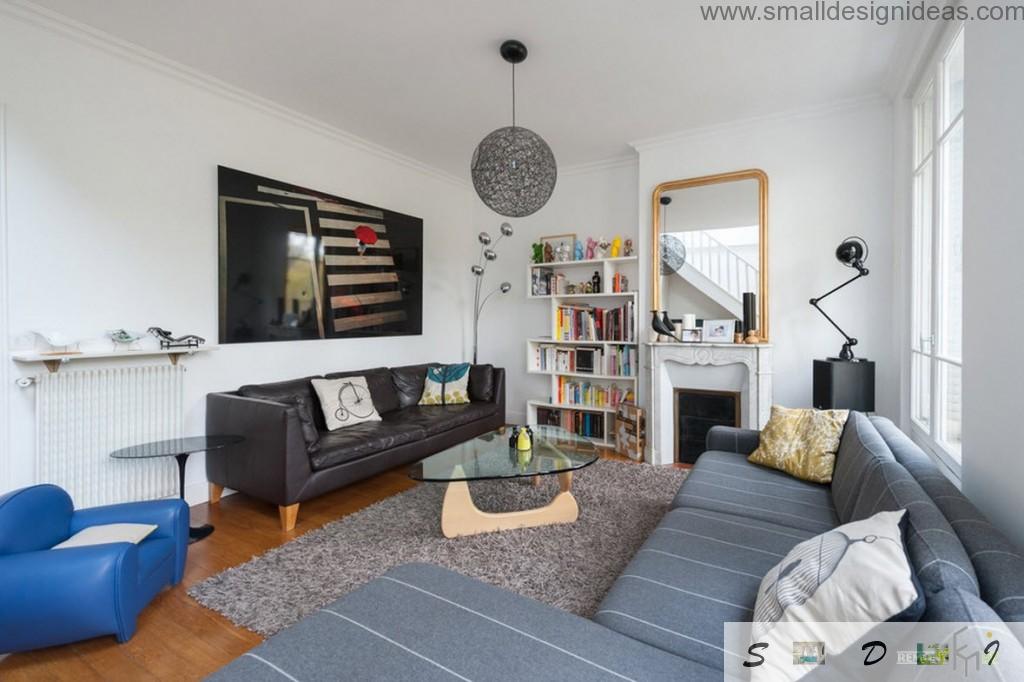 There is no strict canons, everything is limited only with flight of fancy, your ideas or design solutions, professional assistant and, definitely, the budget. Before you begin to develop a design project of living room, you need to assess some features of households and lifestyle preferences of your domestic partners. For some people it is important to organize a reading area within the living room, someone needs a place to put the playing area, and for someone you`ll have to find a space for a piano.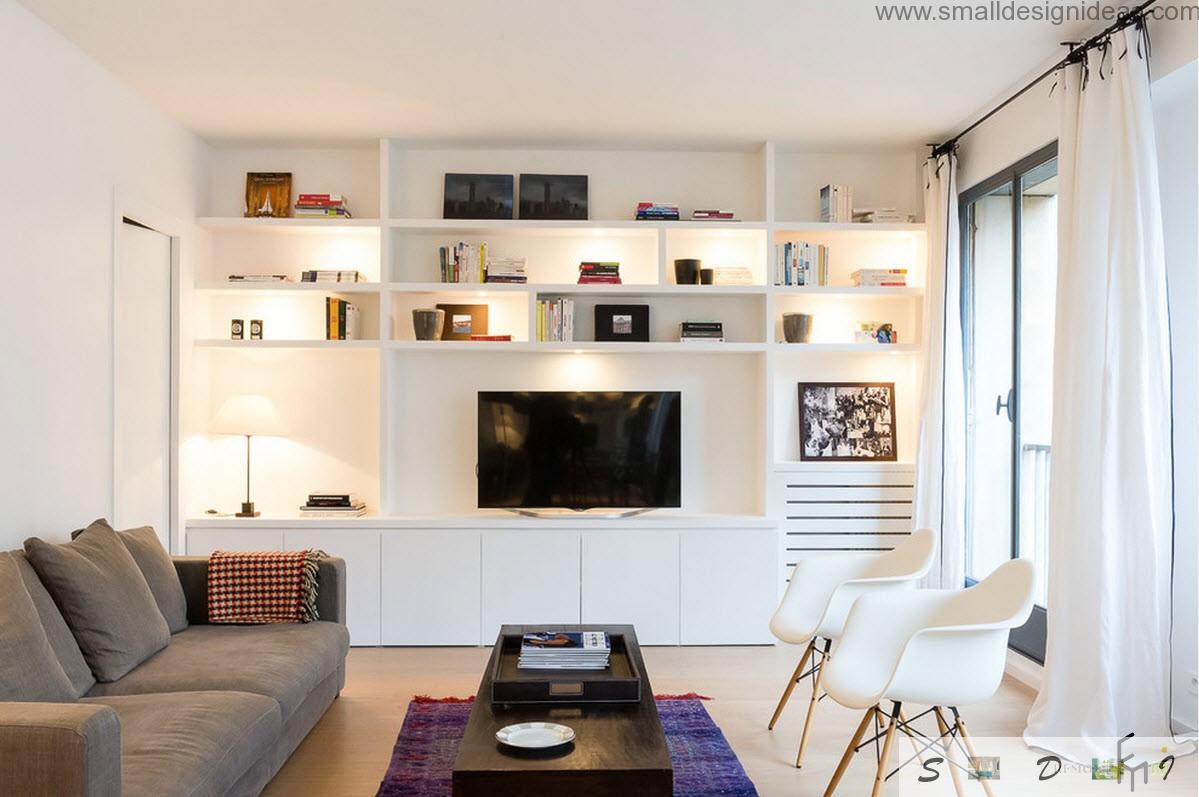 We offer you a selection of design projects of modern living to suit every taste, which are used for completely different purposes and meet all kinds of requirements.
Fireplace in modern living room. A tribute to tradition with a progressive trim
Imaging a living room with a fireplace, we often associate this room with a classic style, with traditional furnishings, discreet luxury. Here are several variants of modern living, which appearance and the functionality proves that the interior can be of any kind. The main condition – all inhabitants of the apartment should be convenient and comfortable in the family room.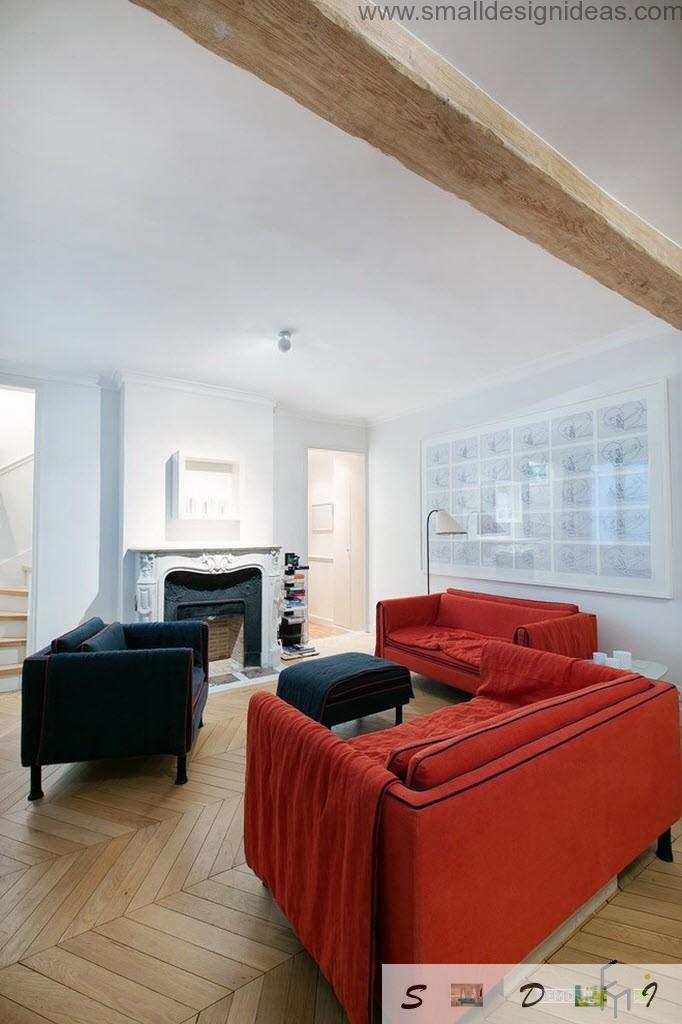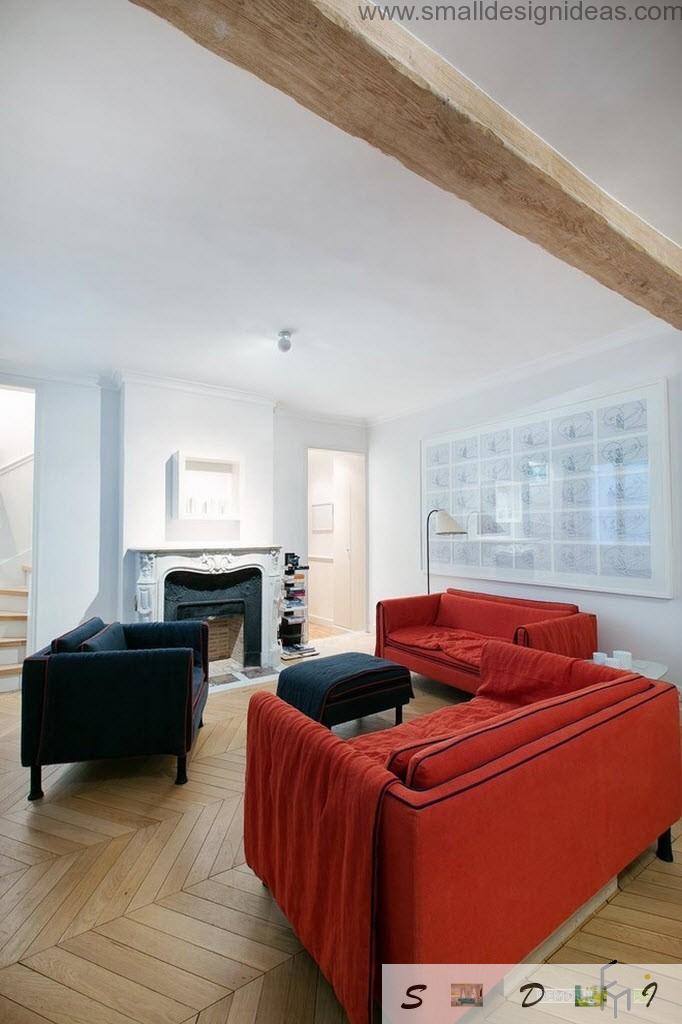 The space near the fireplace is made with some pomp and glamour, but the whole atmosphere of the room is more like a contrasting minimalist with bright furniture spots. Bright finish of the premises perfectly coexists with a rich upholstery color, creating a fun and festive mood of the living room.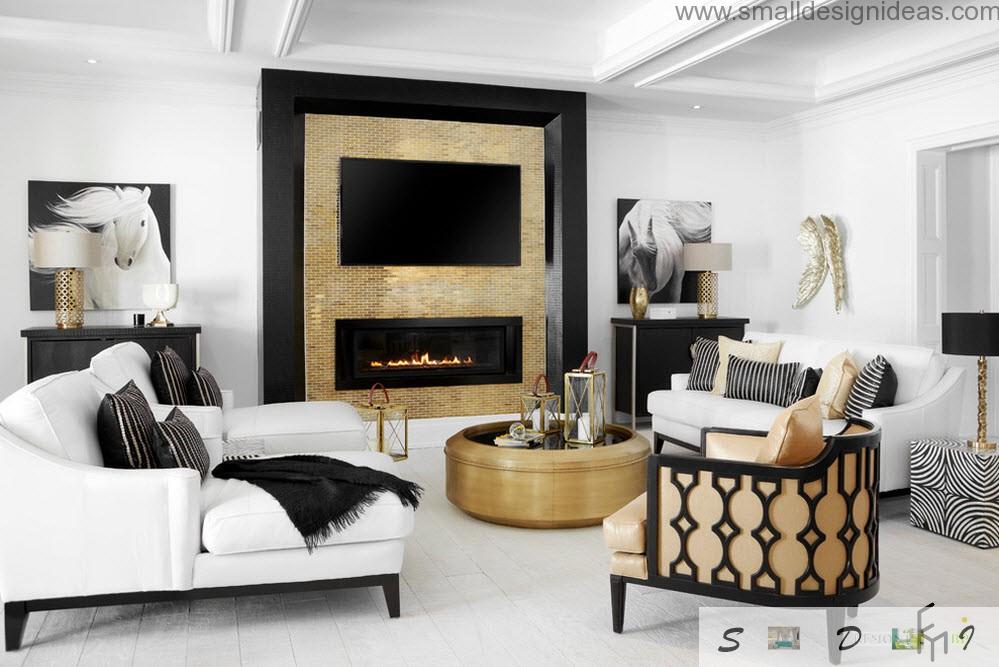 This luxury living in a modern style with active elements of Modernism is a vivid example of how using only three colors, you can create a harmonious, comfortable and elegant atmosphere. Modern fireplace perfectly fits into the atmosphere of luxury and designer decor items.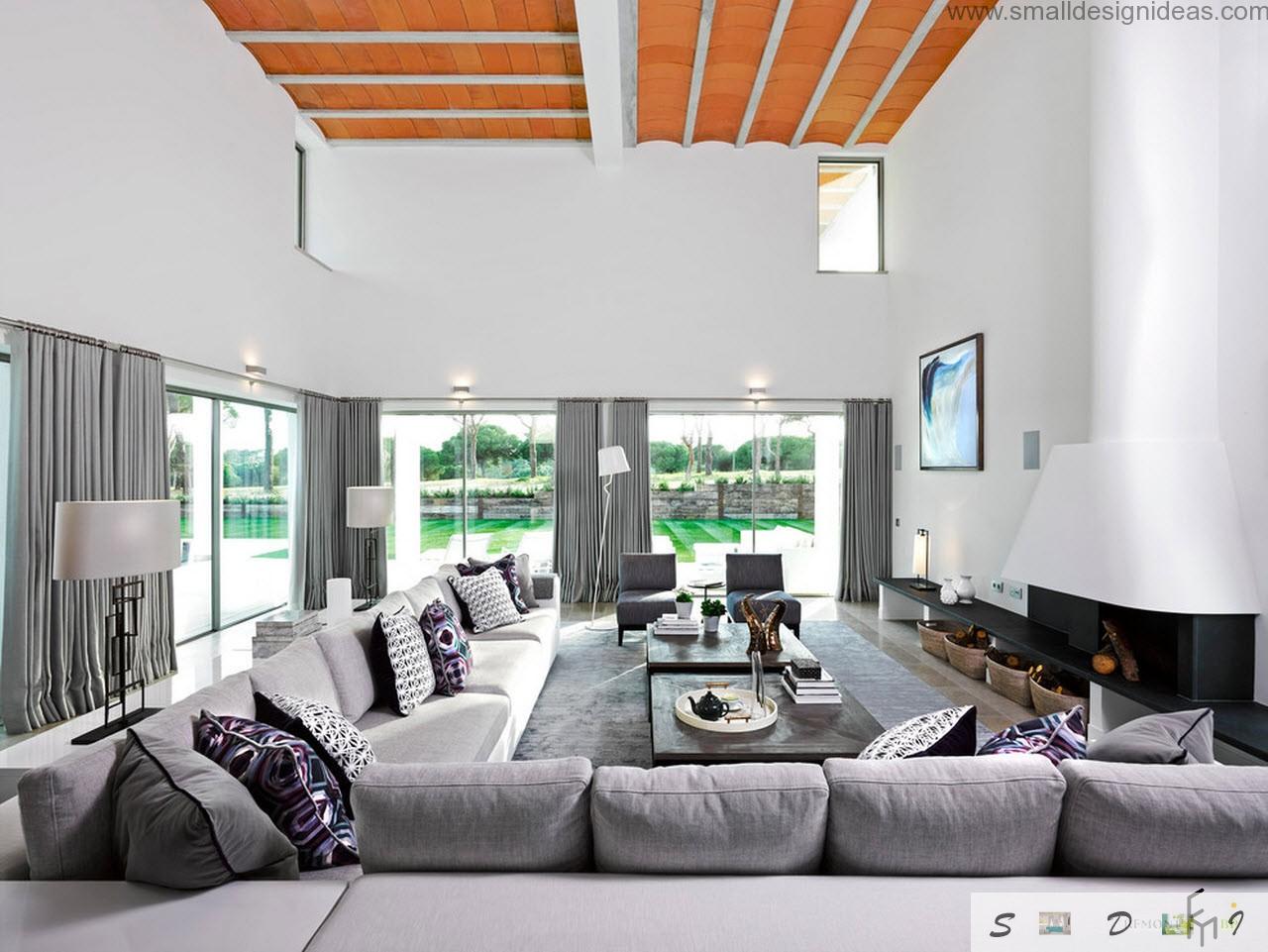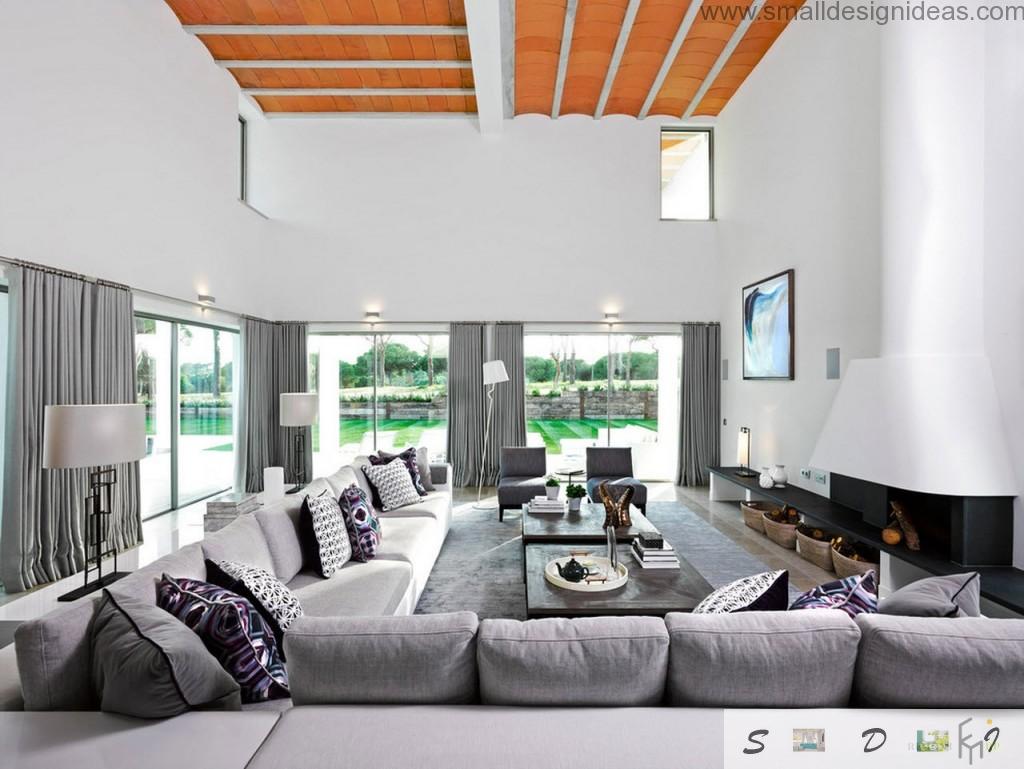 In this impossibly large living room fireplace is presented in the form of a huge oven, with an incredibly high up chimney. The whole range of shades from snow-white to deep black is represented in the interior of the living room. Only warm wood tones in the decoration of the ceiling are "warming up" the atmosphere.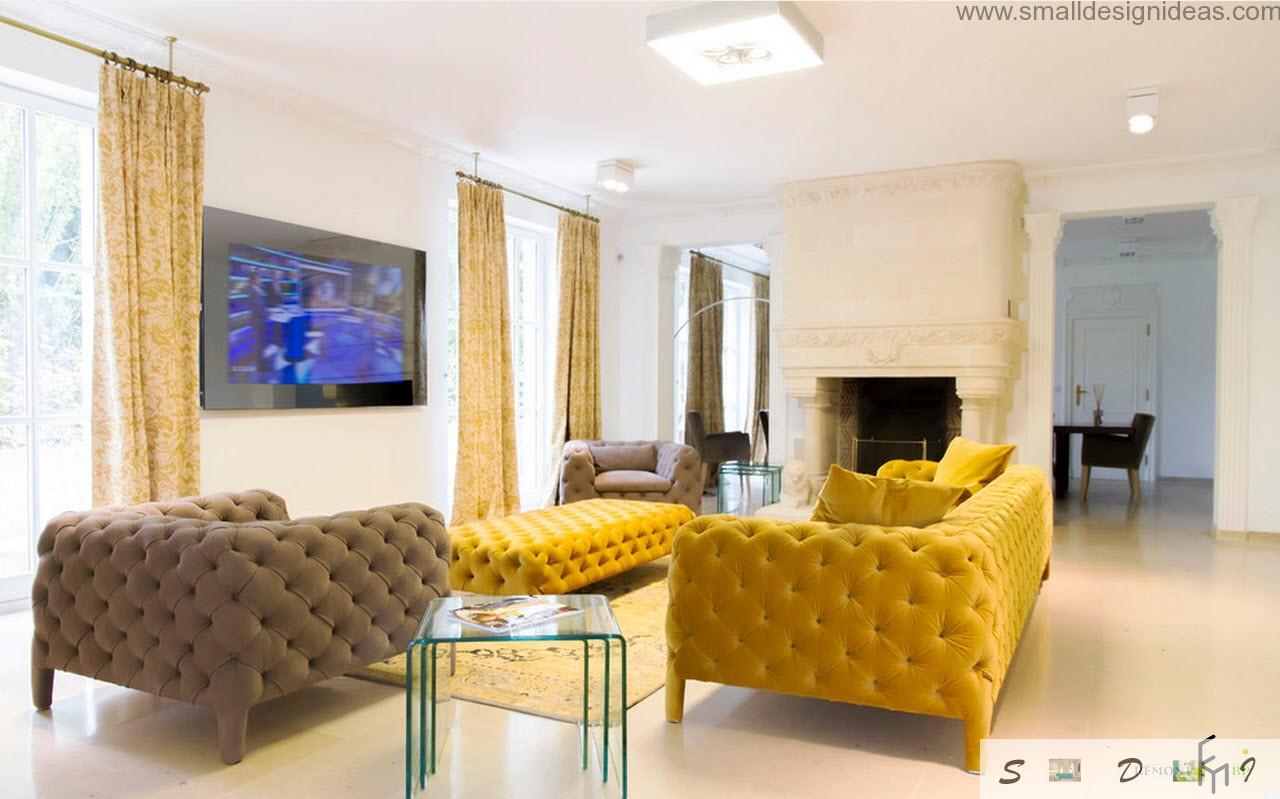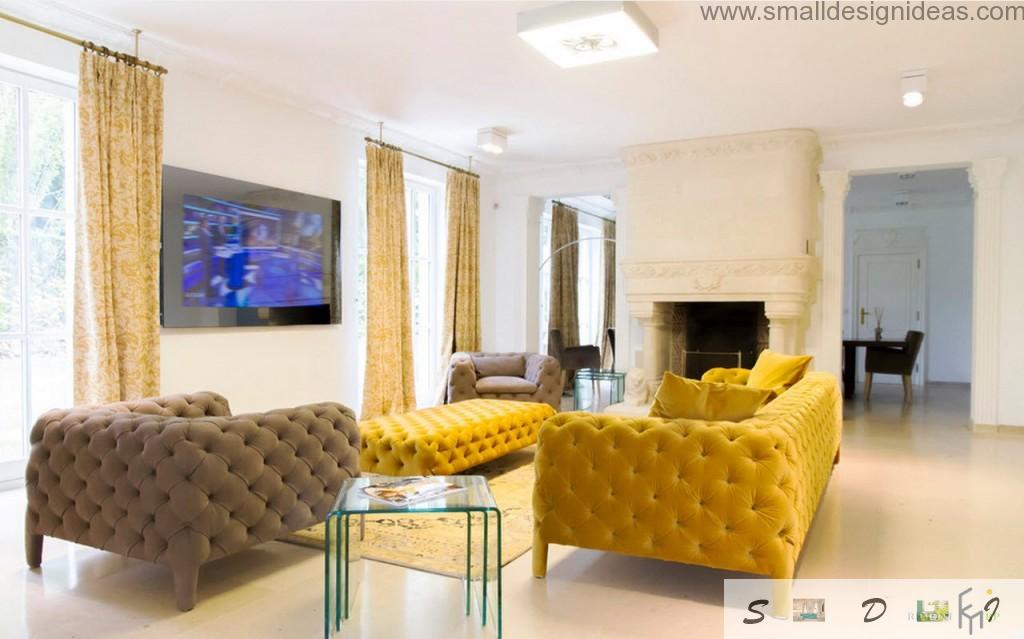 Soft in every sense furnishings of the living room with a bright light furniture on a neutral background is diluted by luxury of antique design of the space near fireplace.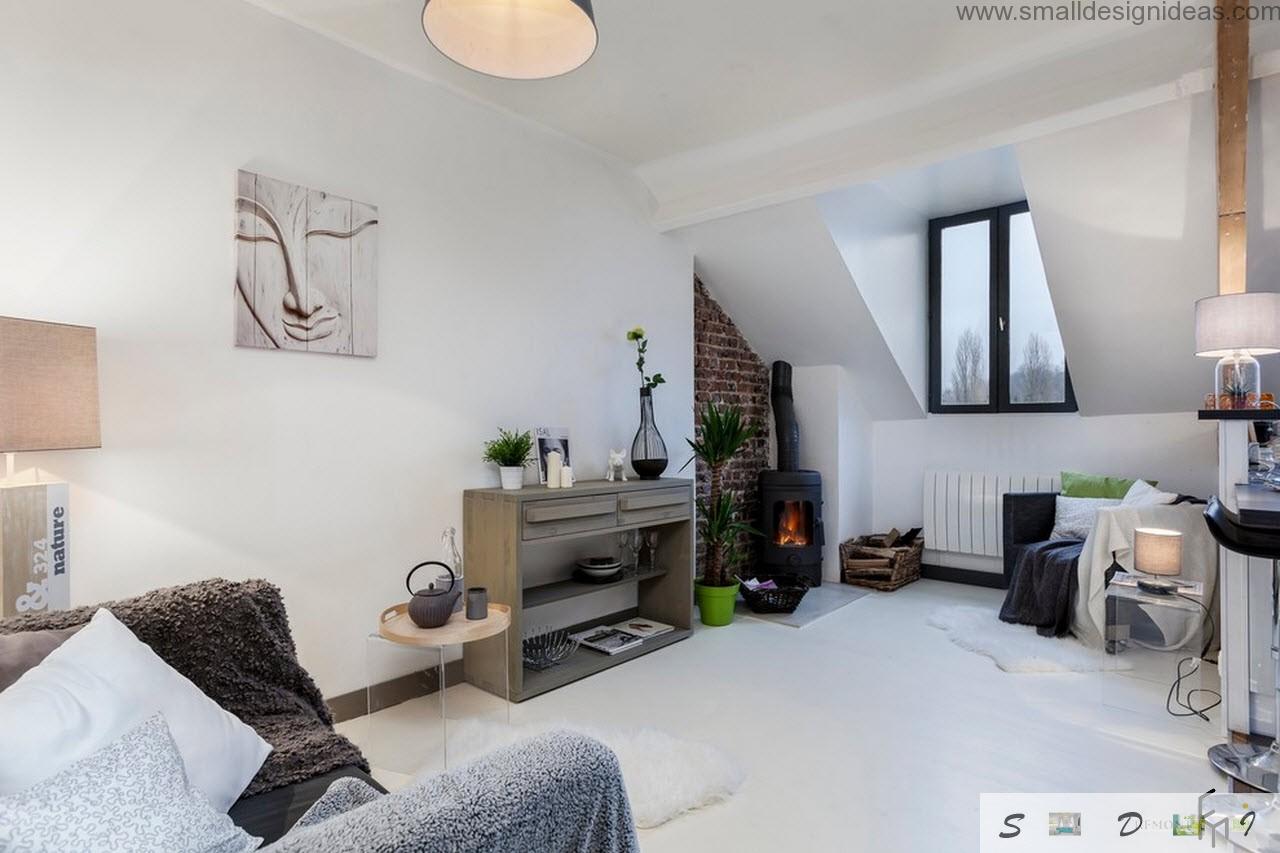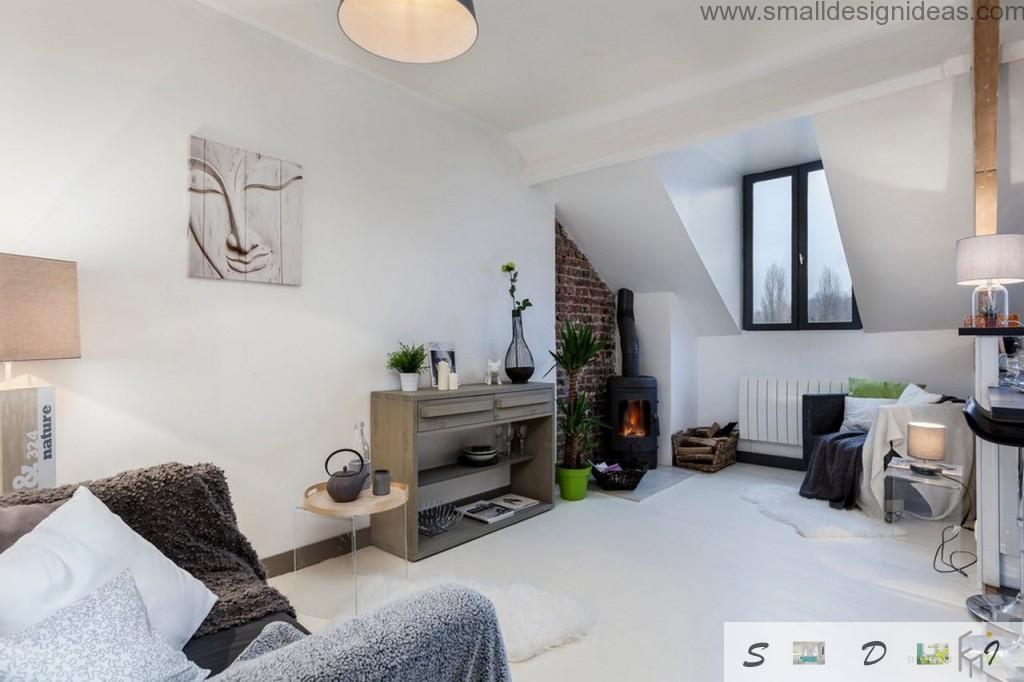 It is difficult to call the device in a dark corner of the room a fireplace, but it gives a feeling of the fire and its informal design supports the overall concept of the living. The relaxed and friendly atmosphere of the room, deprived of any pathos, tunes to rest and the home comfort.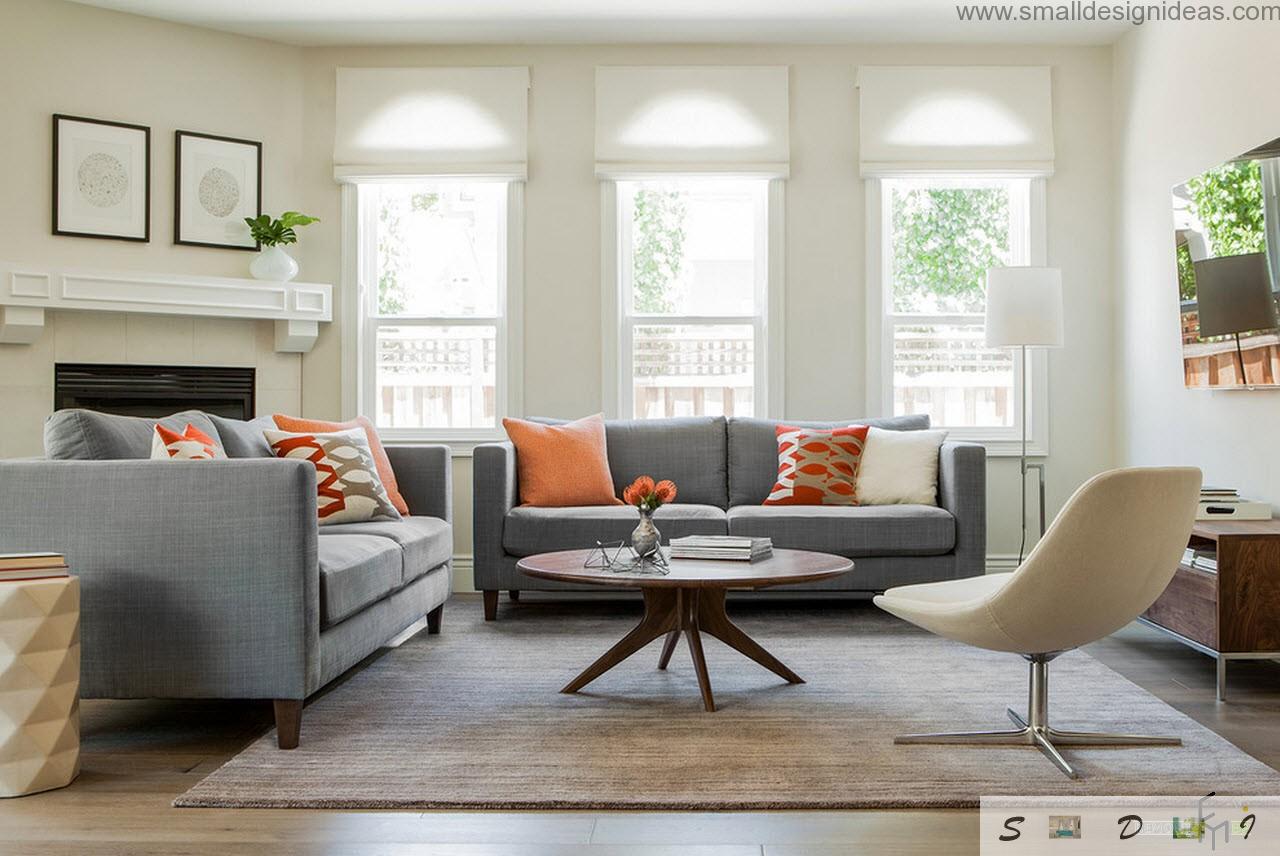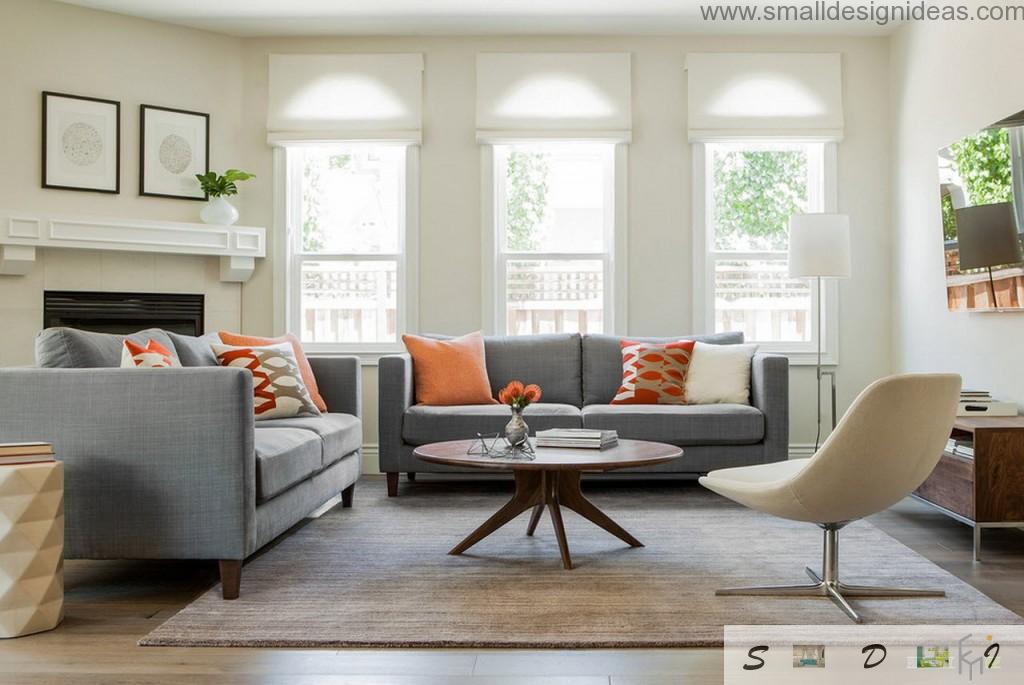 Traditional and neutral interior of this common room is entirely aimed on relaxation and rest. Nothing will distract or irritate you, all the colors are harmoniously flowing from one to another, creating a nice looking calm alliance.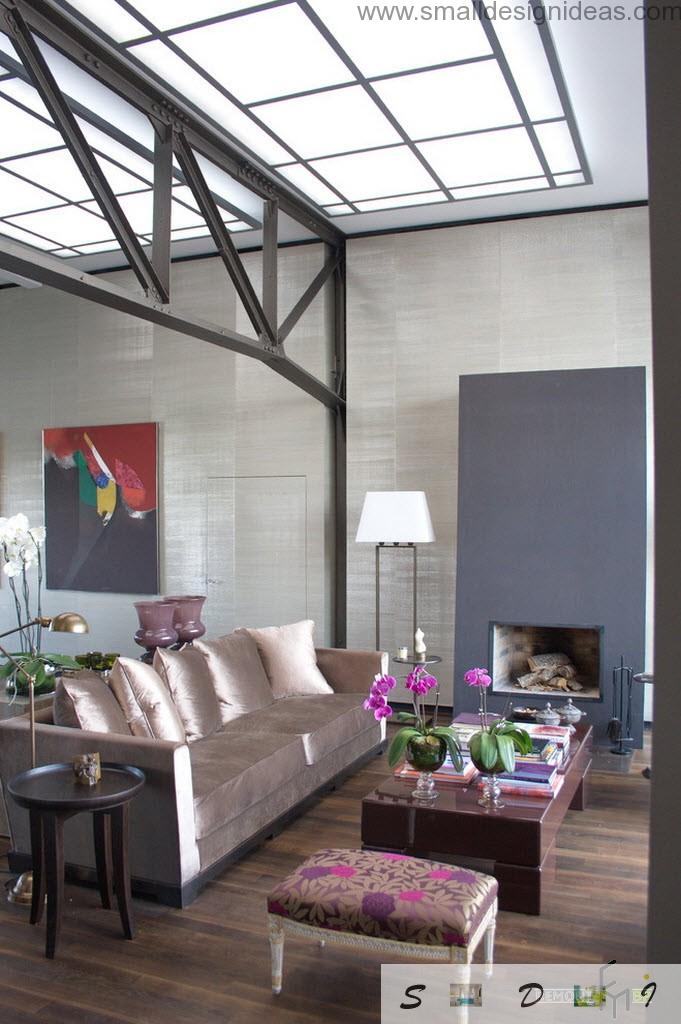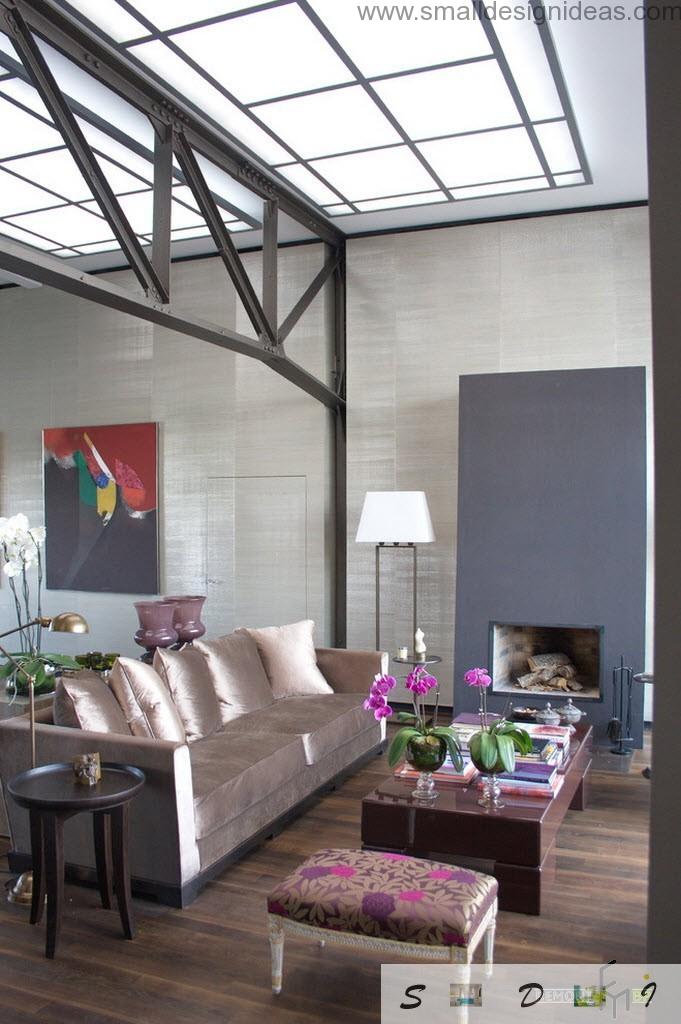 The interior of this eclectic living room contains, inter alia, the elements of industrialization, but the warmth and comfort of the room do not suffer. They rather acquire a personality and flavor instead.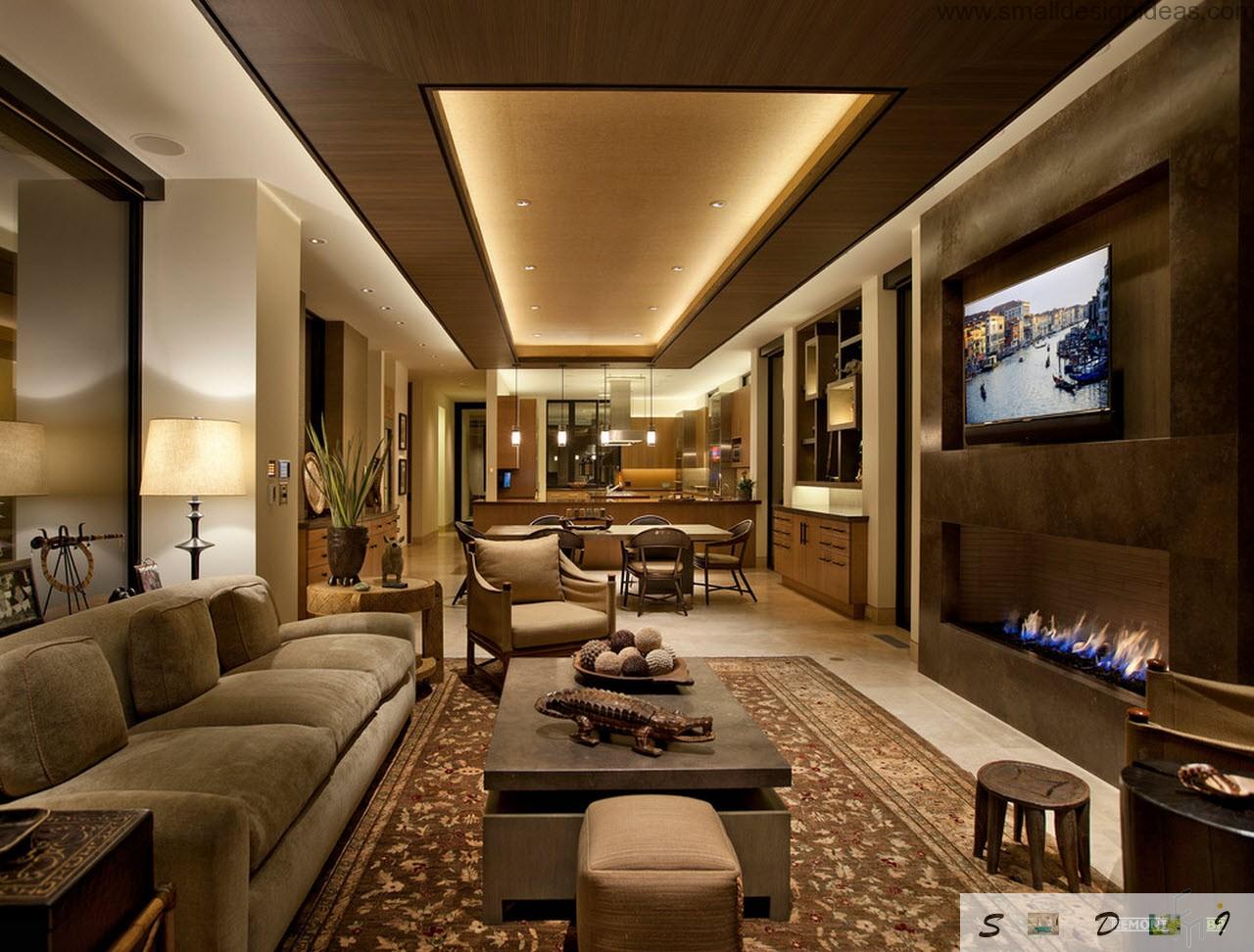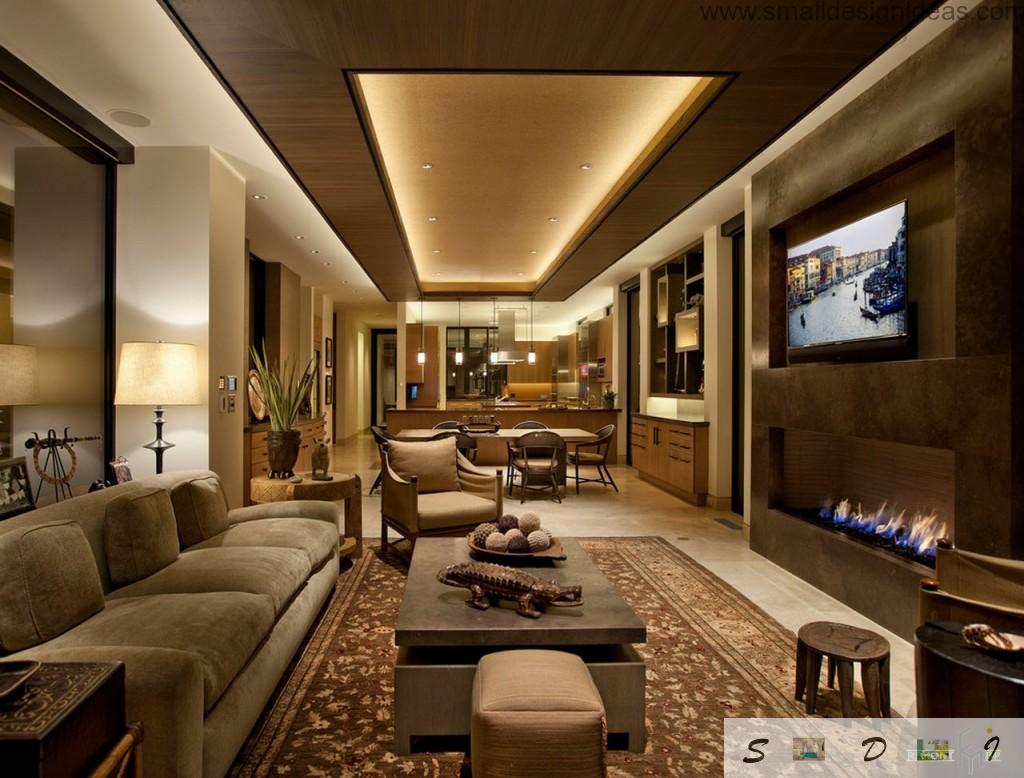 Living room design with warm colors is more like the ambience in the suite five-star hotel number. Thought-out to detail interior of the living room, which includes a dining area, warms not only with fire  of the modern fireplace, but also with the warmth of the selected color palette and texture of used materials.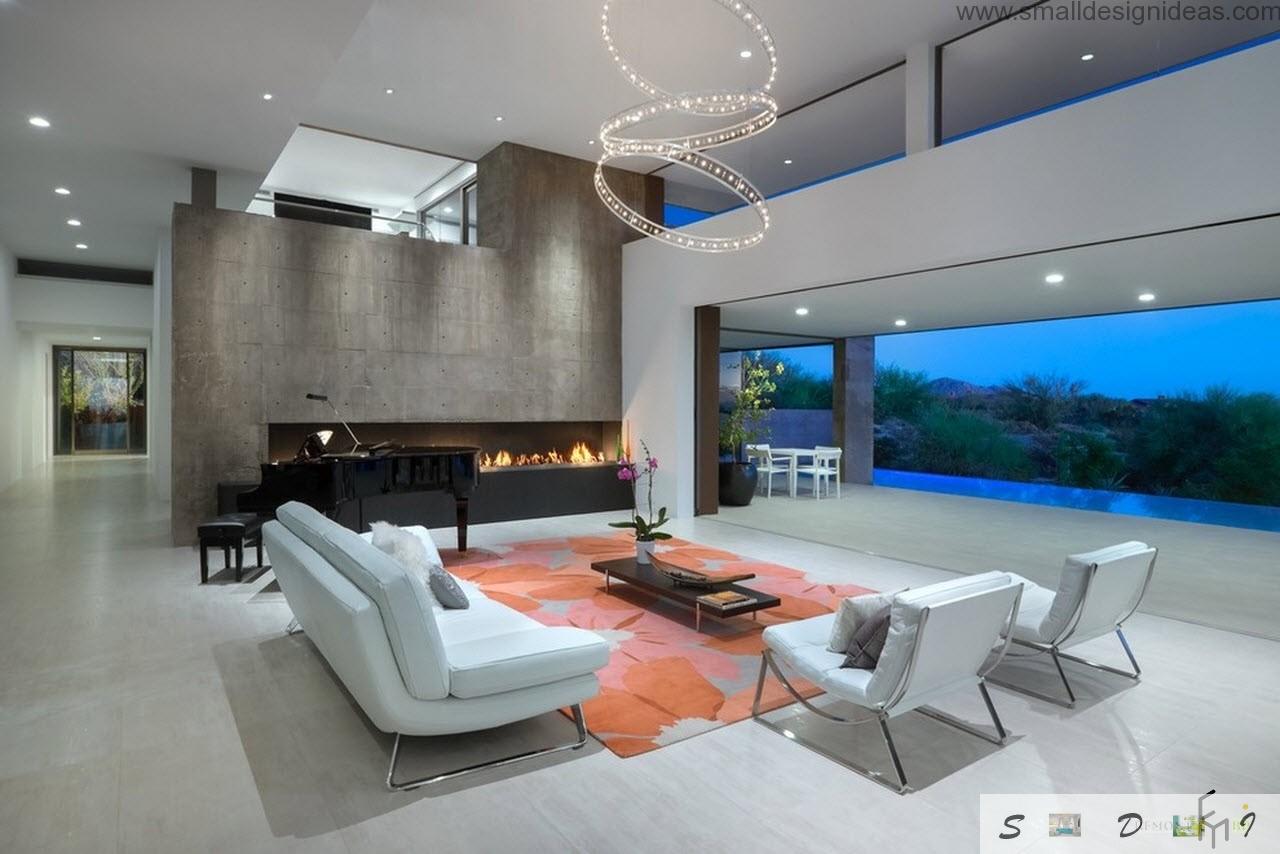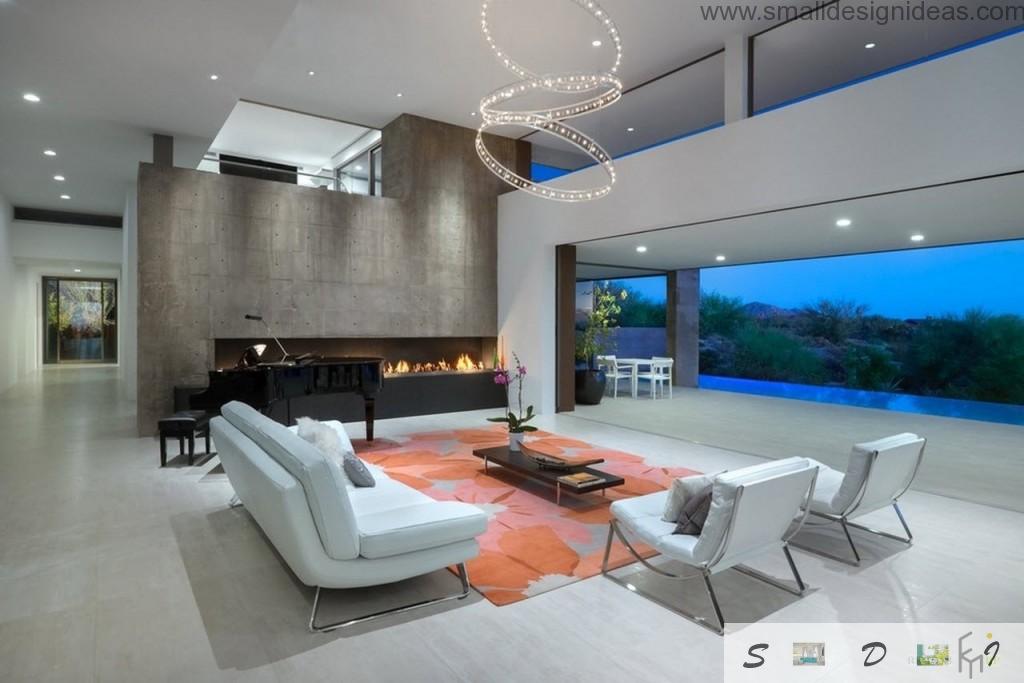 For a such a huge living room and fireplace, of course a large area is needed. And a great view of the huge panoramic windows, doors, and the fire in the hearth. And the ultra-modern furniture and a piano`s black gloss, and an unusual lighting system – all together is creating an incredibly festive and even a chamber atmosphere in the living room, where you can not only relax but also meet dignitaries.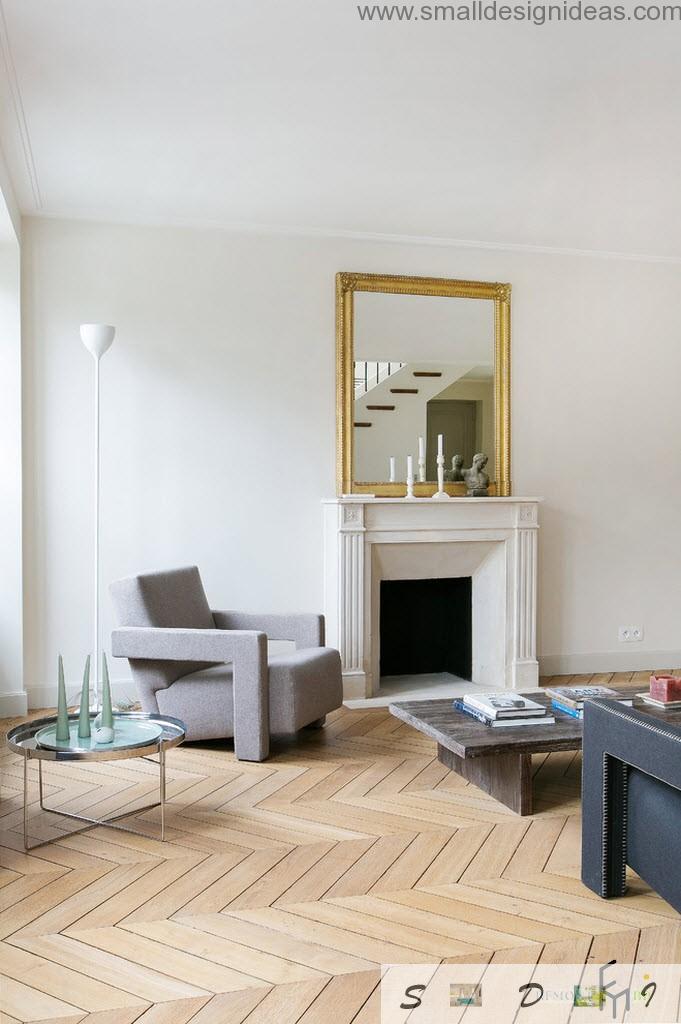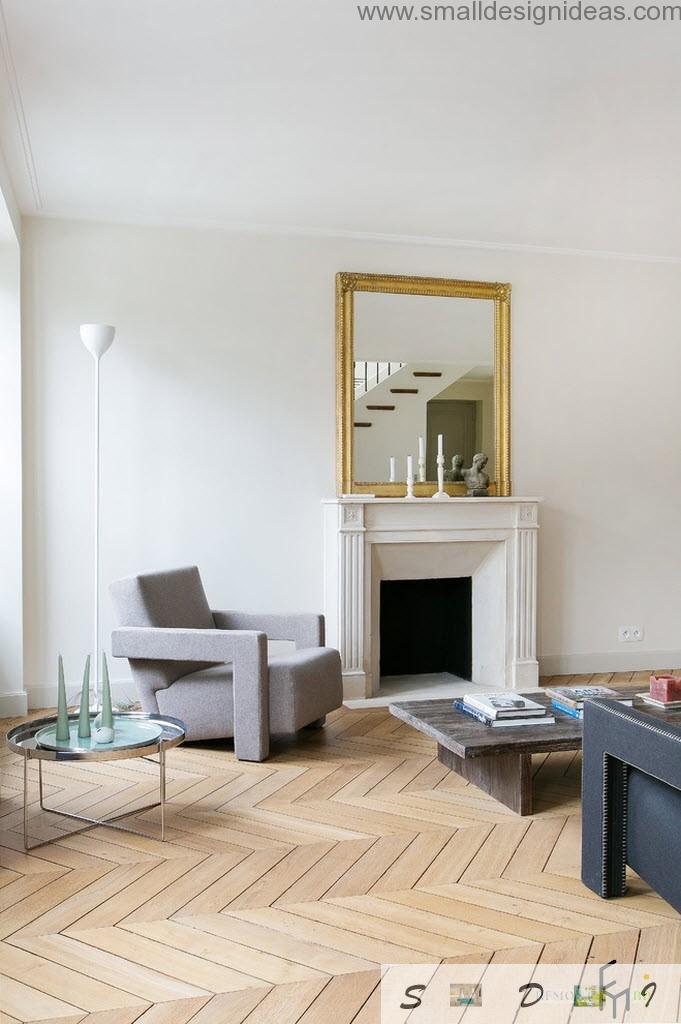 In this living room of modern minimalism style nothing is superfluous. Modest furnishings, neutral color palette – everything`s for lovers of elegant simplicity.
Organization of the playing area and a reading area within the modern living room
For many homeowners living room is the space where it is possible to implement the required functionality for a family leisure. Some people like to read a book while sitting in a comfortable chair, for someone is necessary to have access to board games, and some just need a large space for active interaction with children.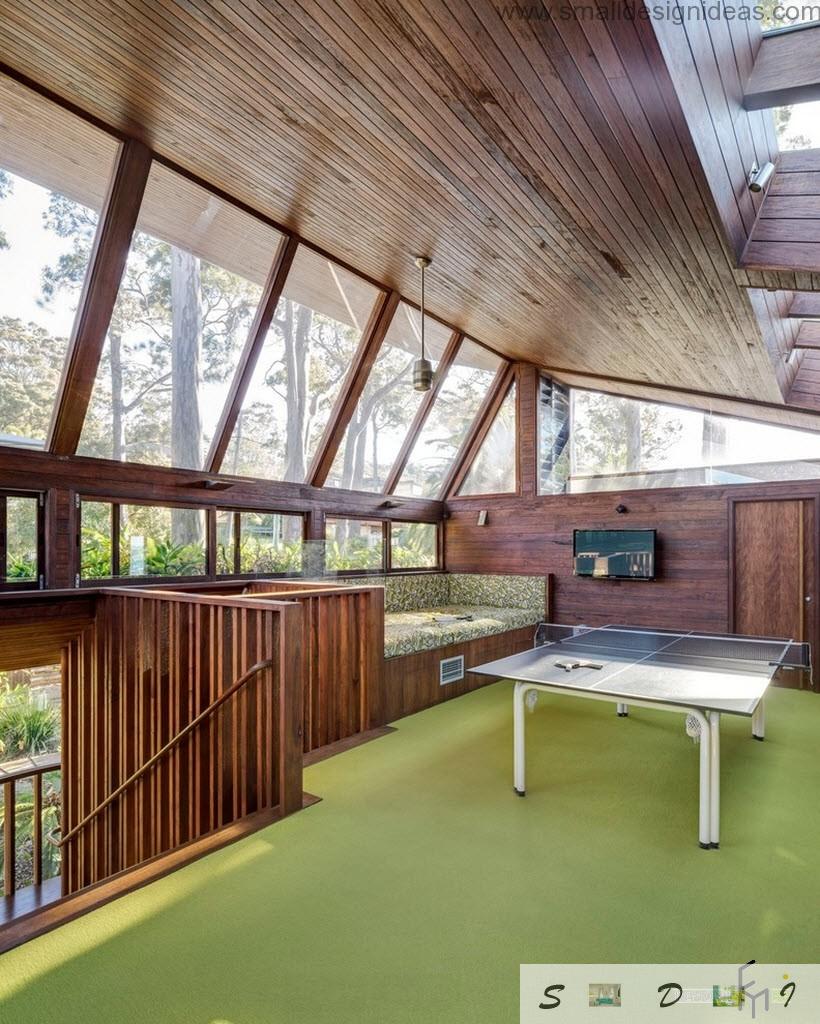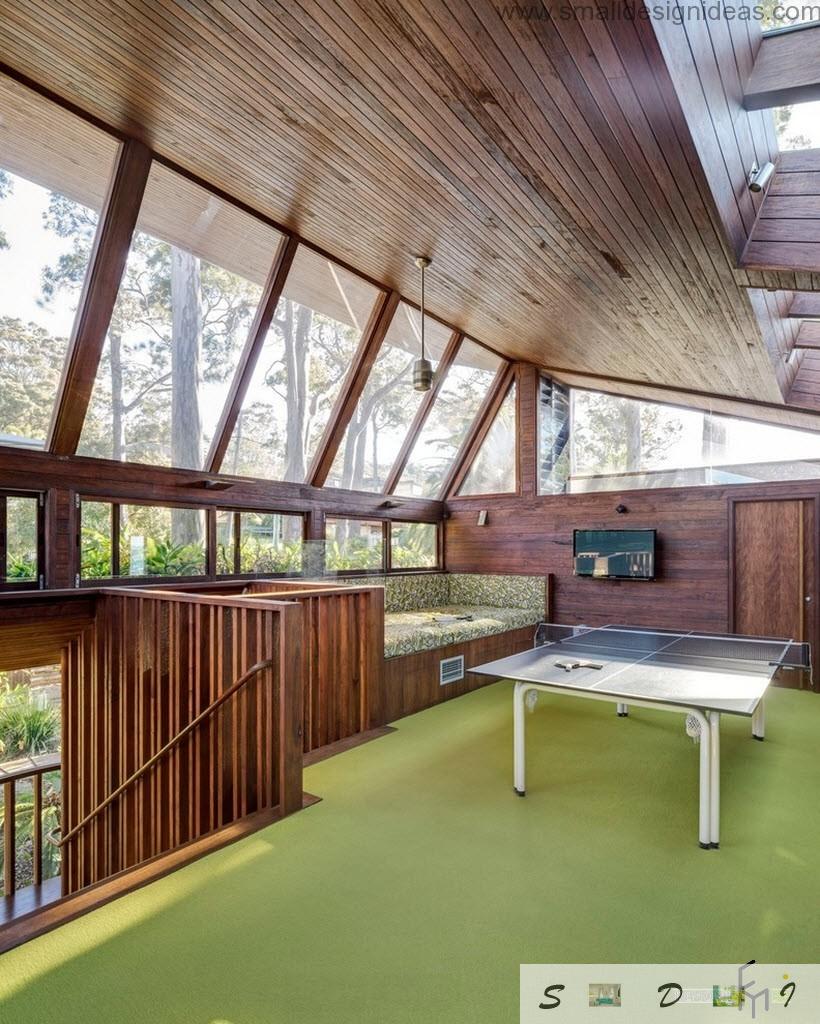 Often the playing area is organized the at the attic space. This is due to the fact that the game area, as opposed to living rooms, is not in use every day, and nobody want to lose precious square footage at the top-level for storage room or closet. But who says you can not build living within there?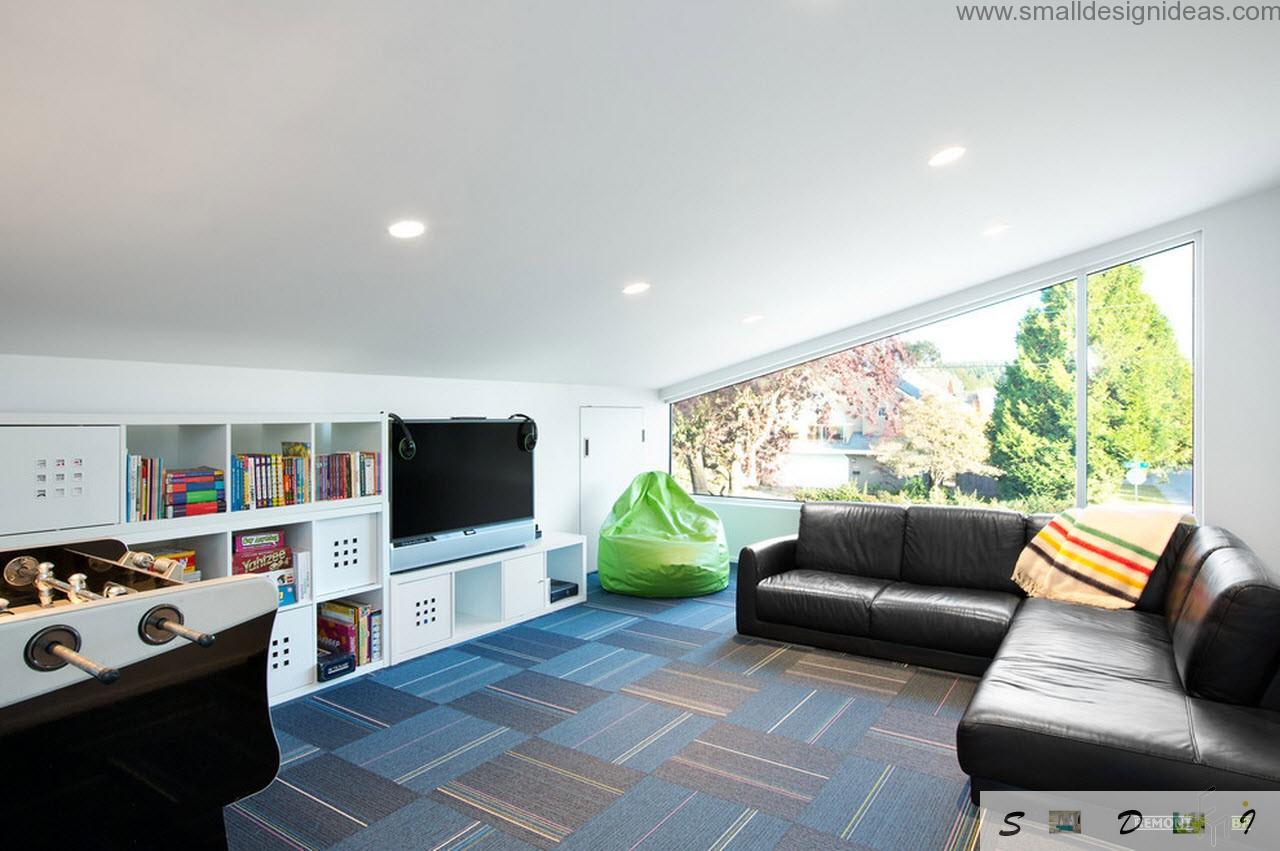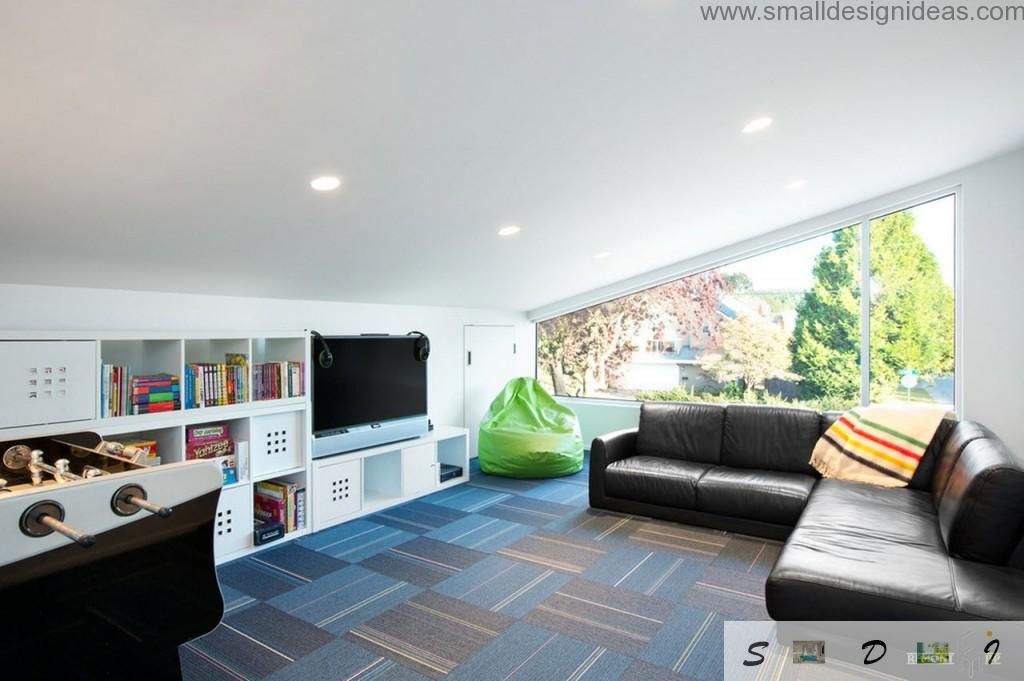 For example, the living room, which combine the functions of the playing area, just needed of a light surface finishing, and a few bright elements, to take the family members and their guests.
Big gaming polygon within a living space can virtually displace all the rest of the functional areas, focusing on the preferences of the homeowners.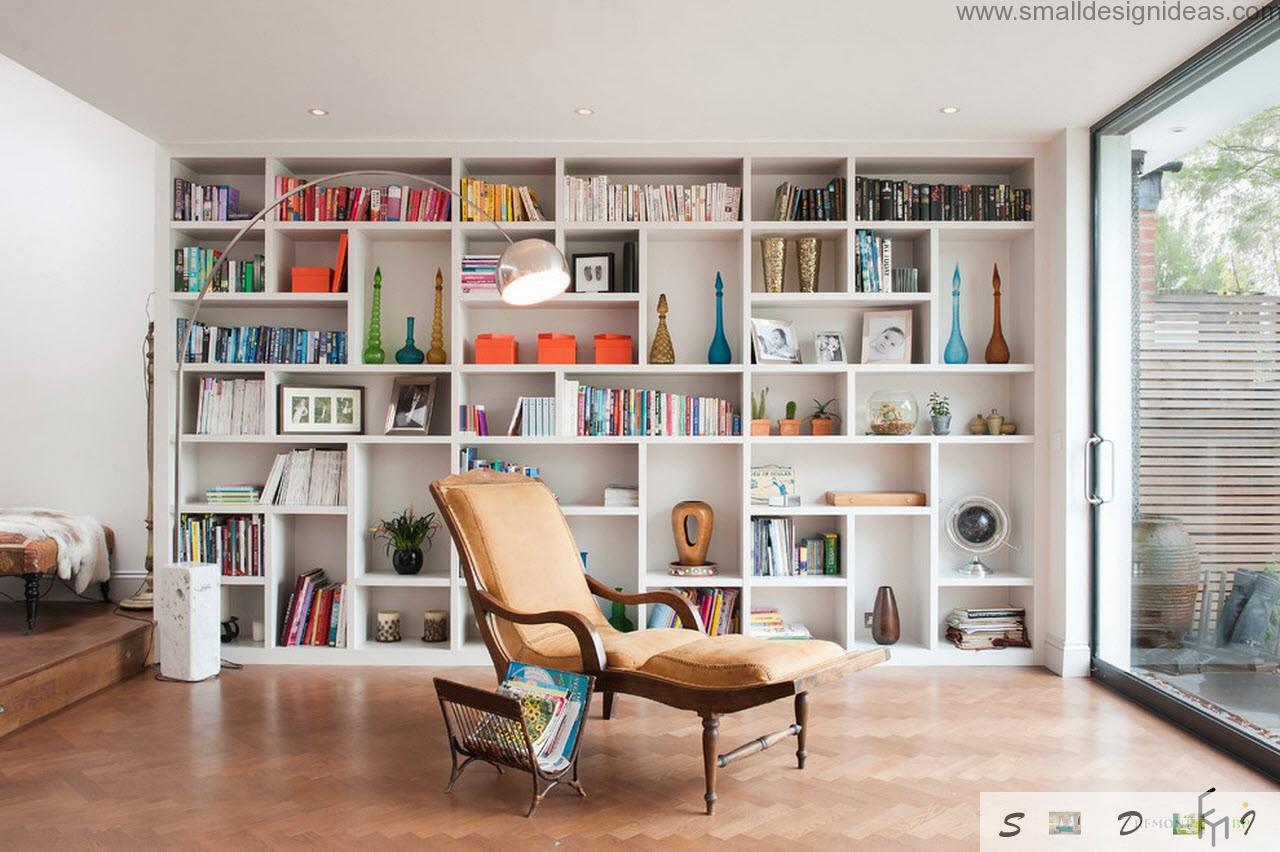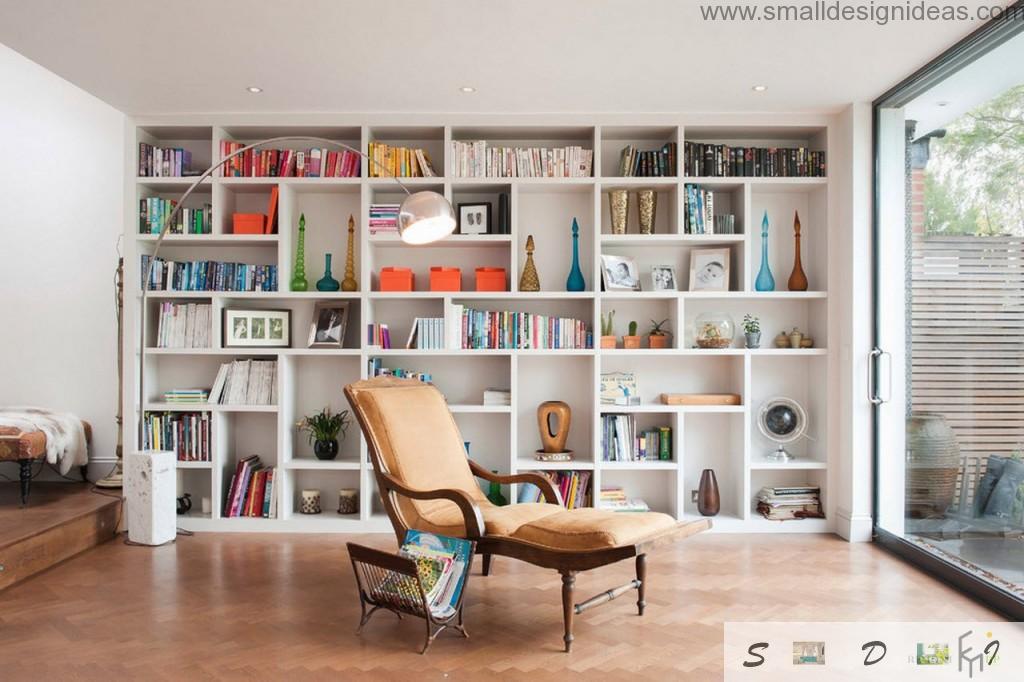 For somebody, living room is a mini-library, decorated with admirable minimalism, taking into account, however, everything you need for a comfortable reading. A comfortable chair, plenty of natural light in the daytime and the lamp or lamps for the evening twilight.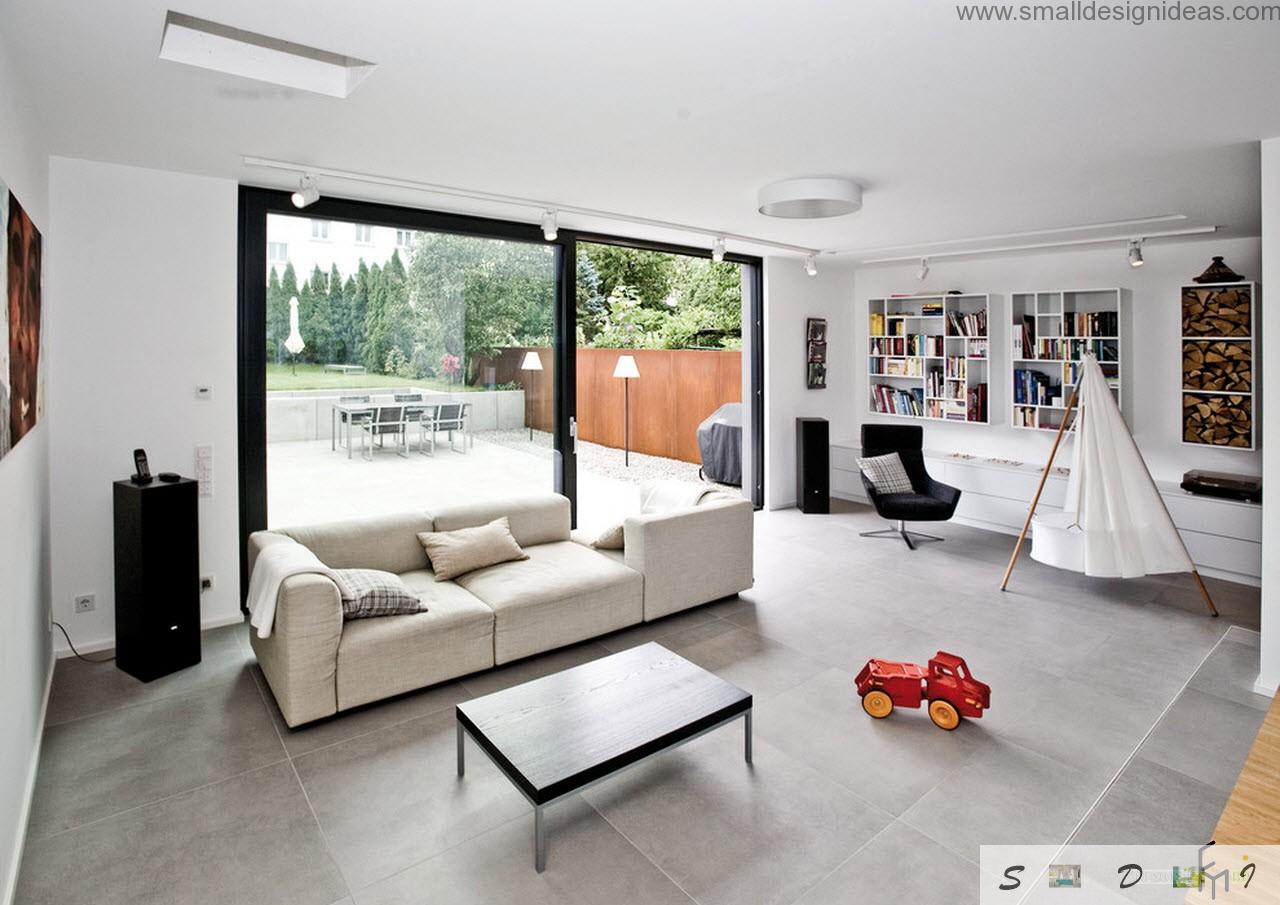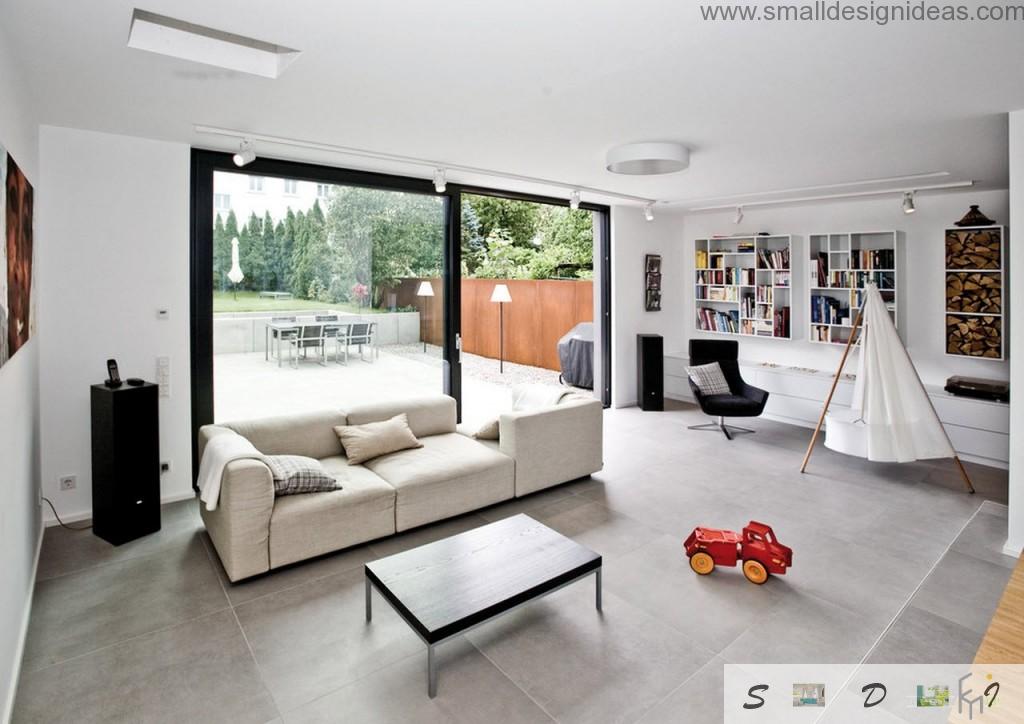 To organize a reading corner in the living room, it`s enough to put an armchair near the shelves with books – and the cozy seating for bibliophiles is ready.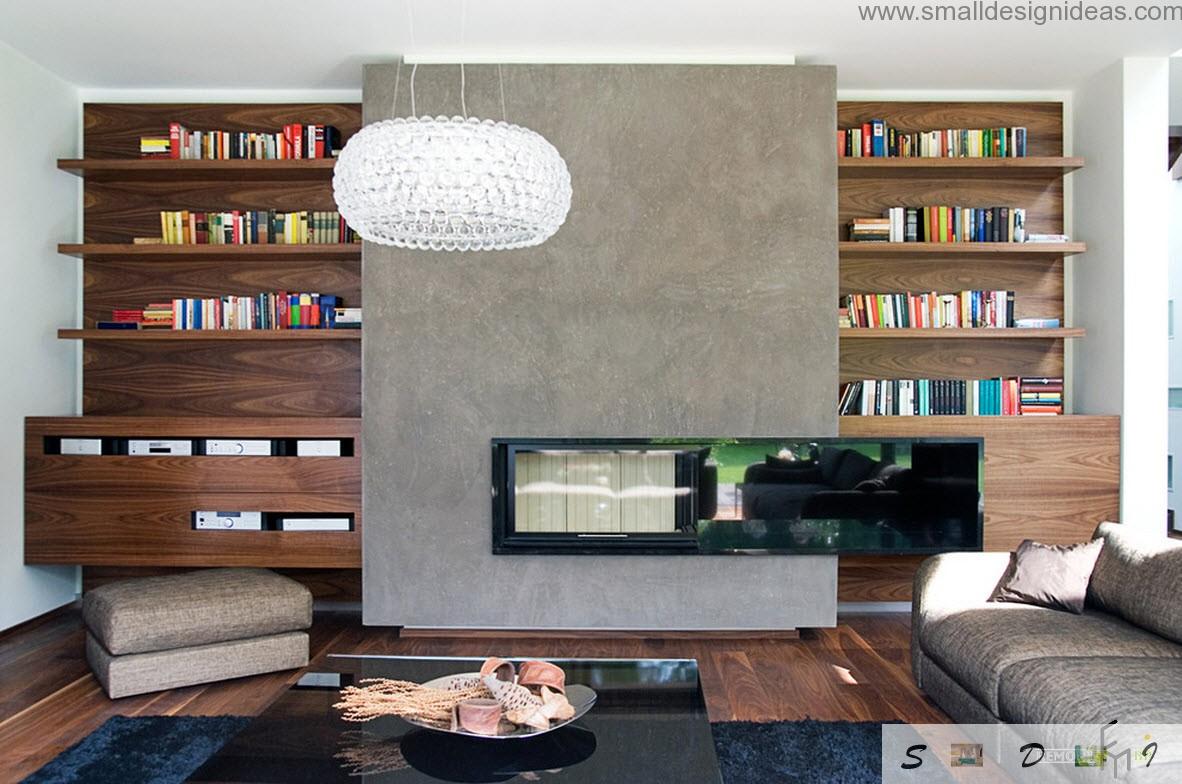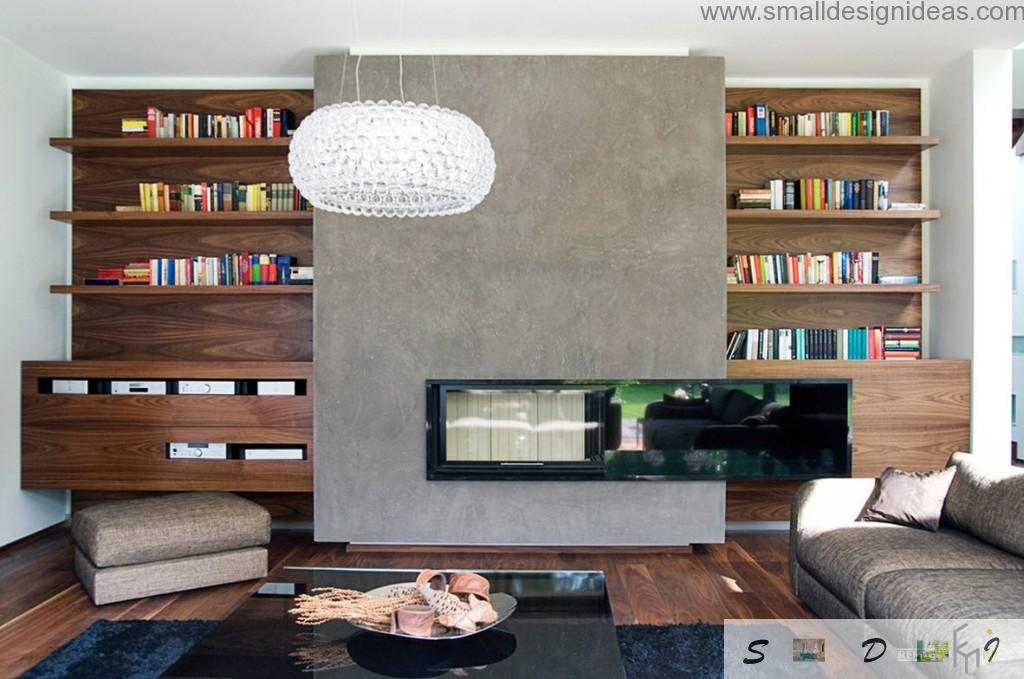 Not just open shelves for books made of natural wood are eye-catchers in the living room, but also ultra-modern technology and designer chandelier, and lowered furniture.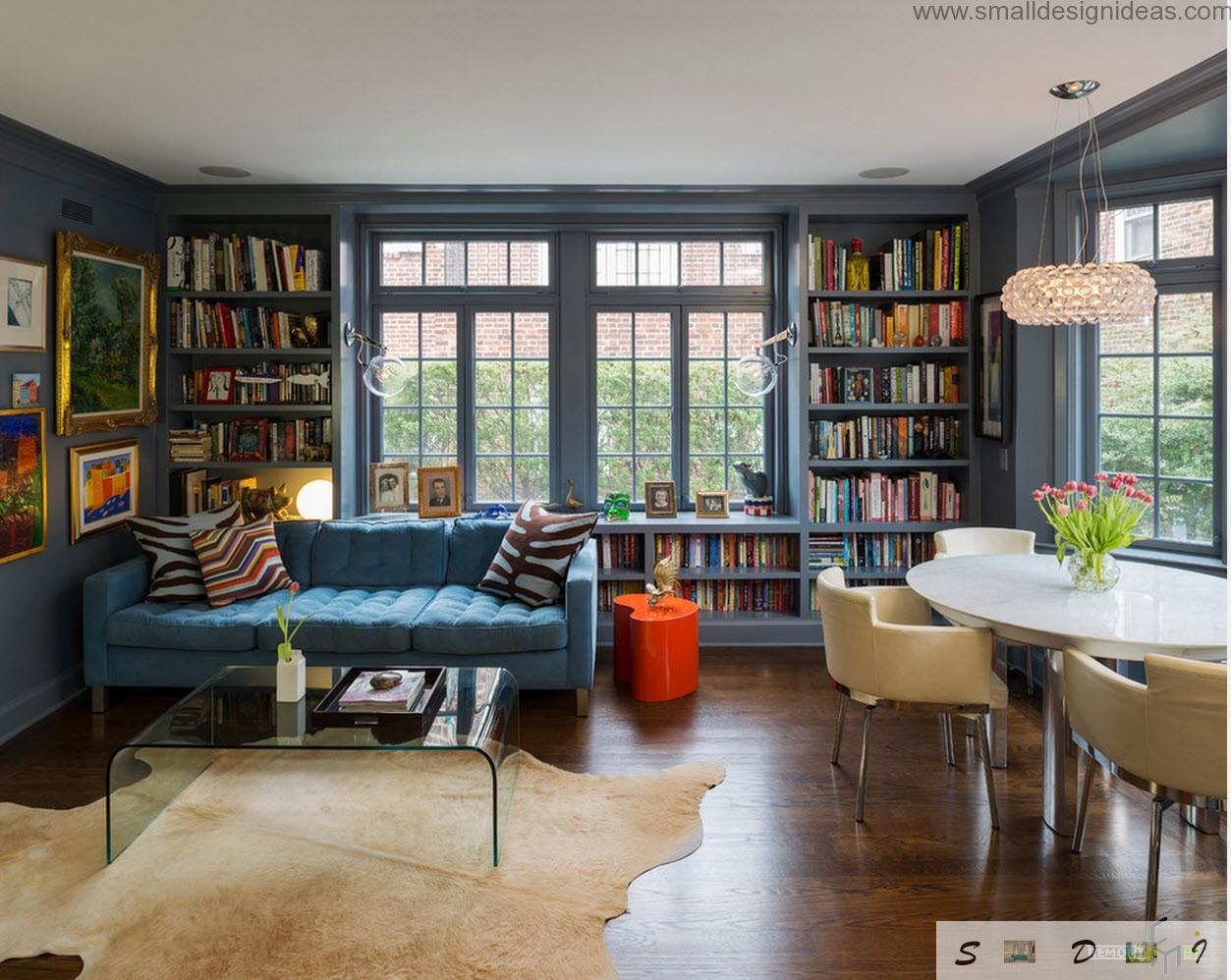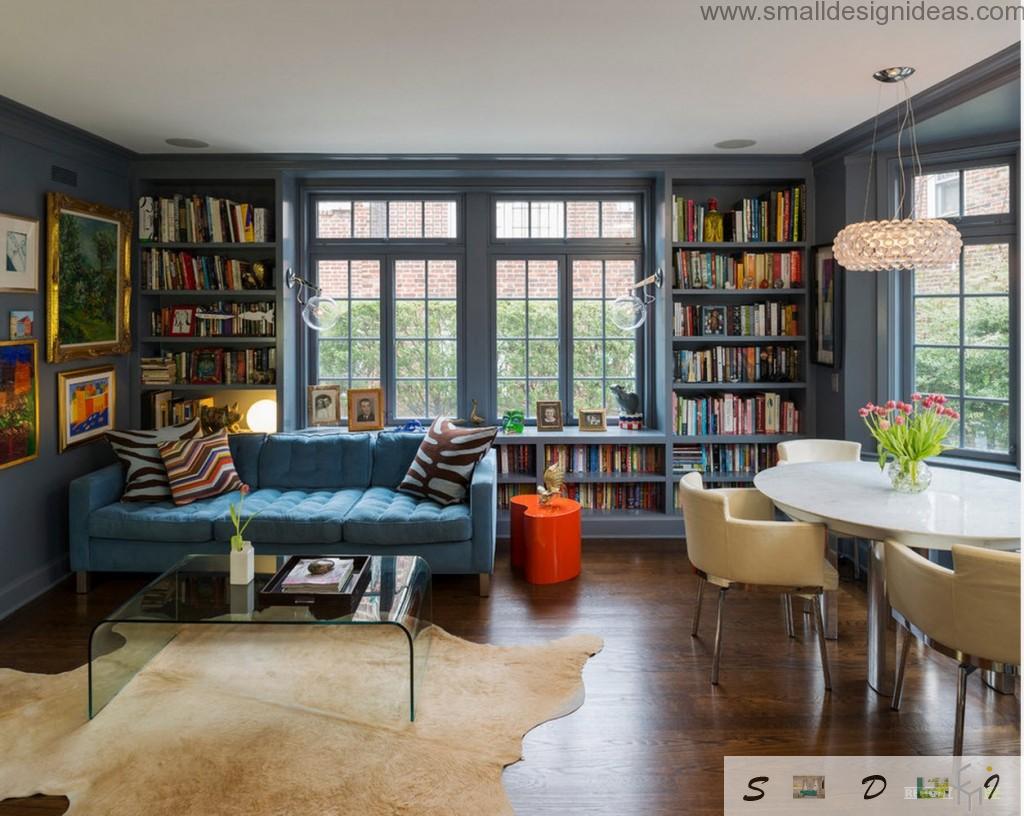 Bright and non-trivial design of this living room can tell us a lot about the hosts of the room. And not only that they love to read books, but also boldly dare to experiment in setting up their own interior, not afraid of bold colors and bright decoration.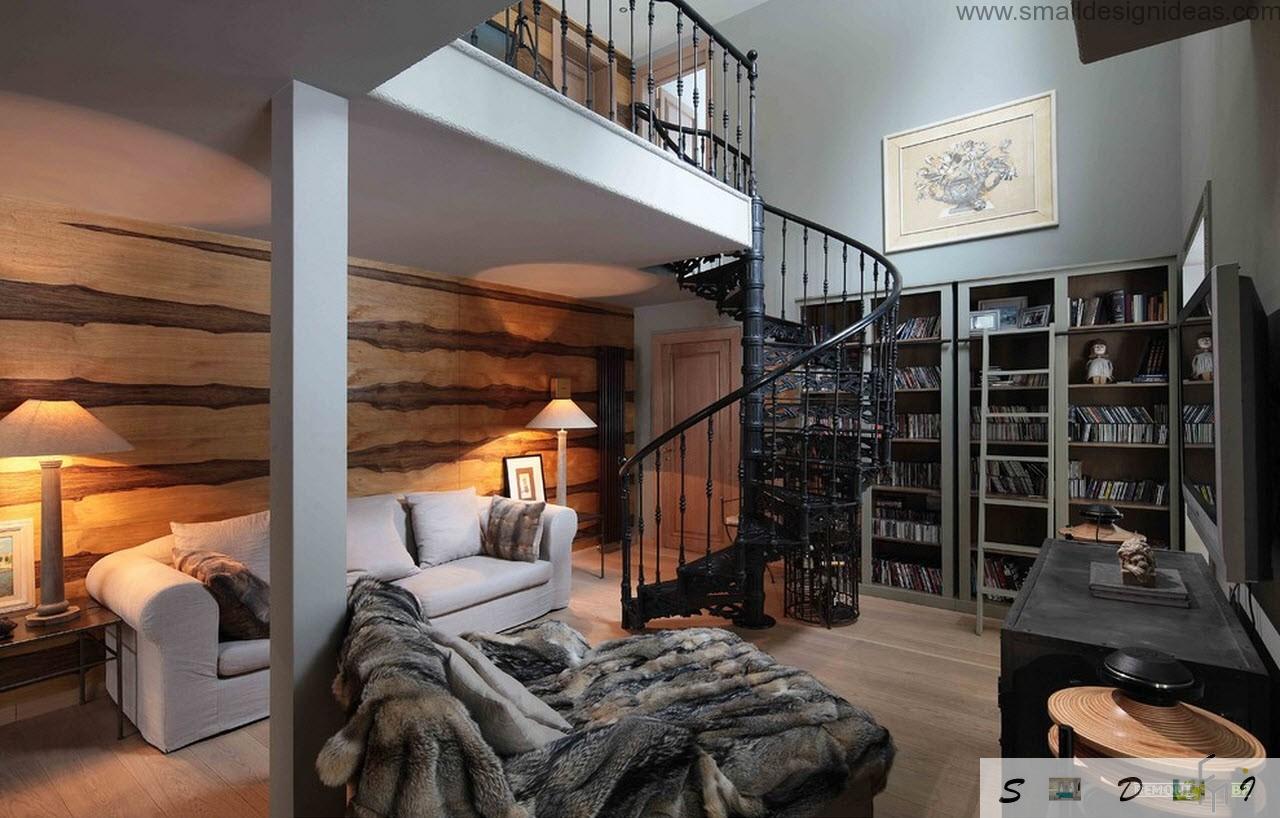 Cool palette of pale gray living is diluted with warm shades of the walls, stylized as wood imitation. Open shelves with books and twisted wrought-iron staircase are adding luxury and chic comfort to the room.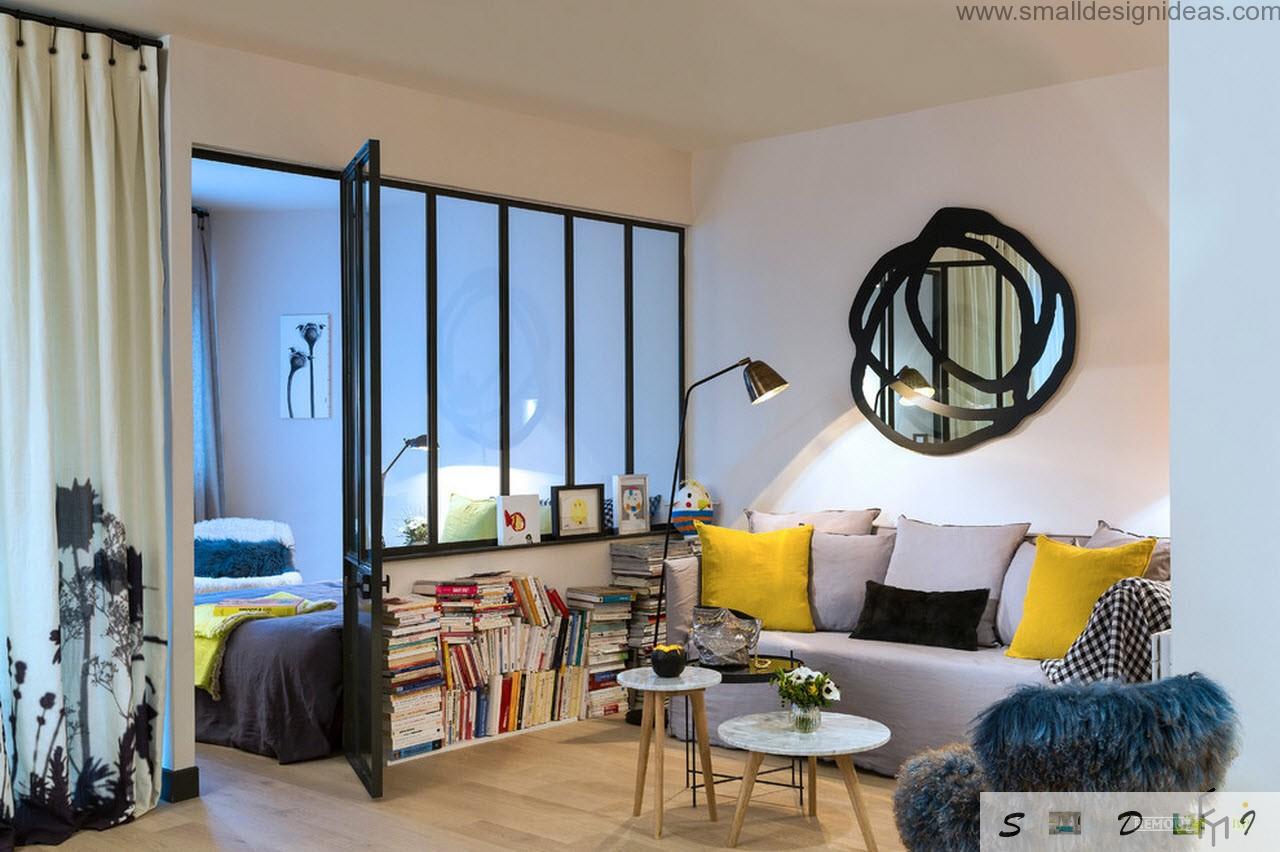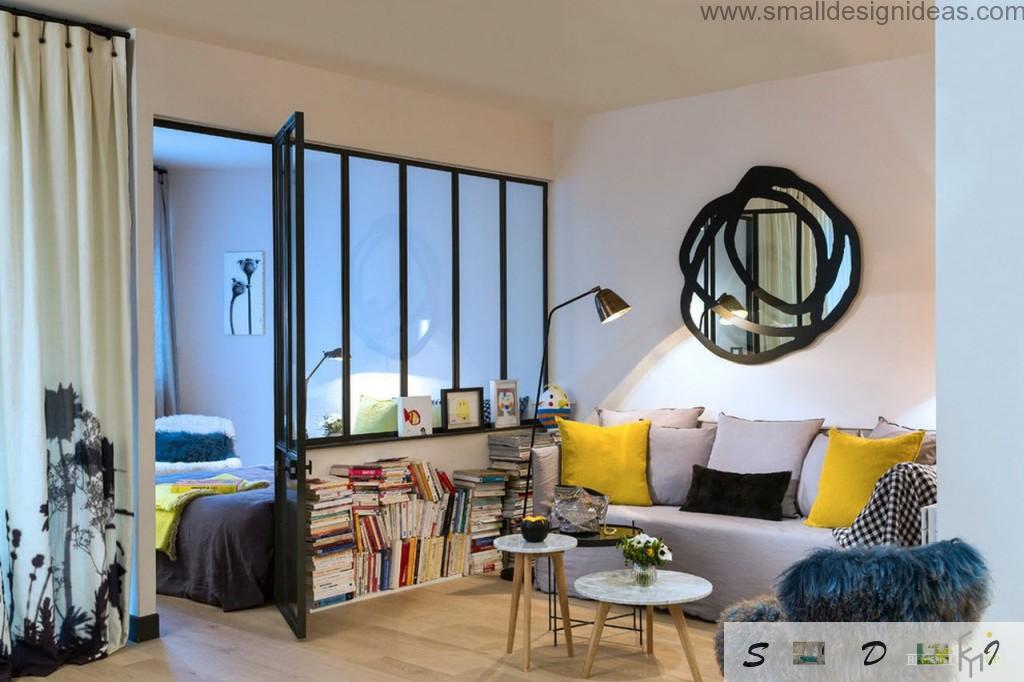 Even within a very small space, you can arrange a comfortable and practical living room full of contrasting elements and bright objects.
Modern living room design ideas in bright colors. Ode to freshness and comfort
It's no secret that the bright colors chosen to furnish the room, visually expand the space. But not only for small areas designers choose bright and even snow-white tone.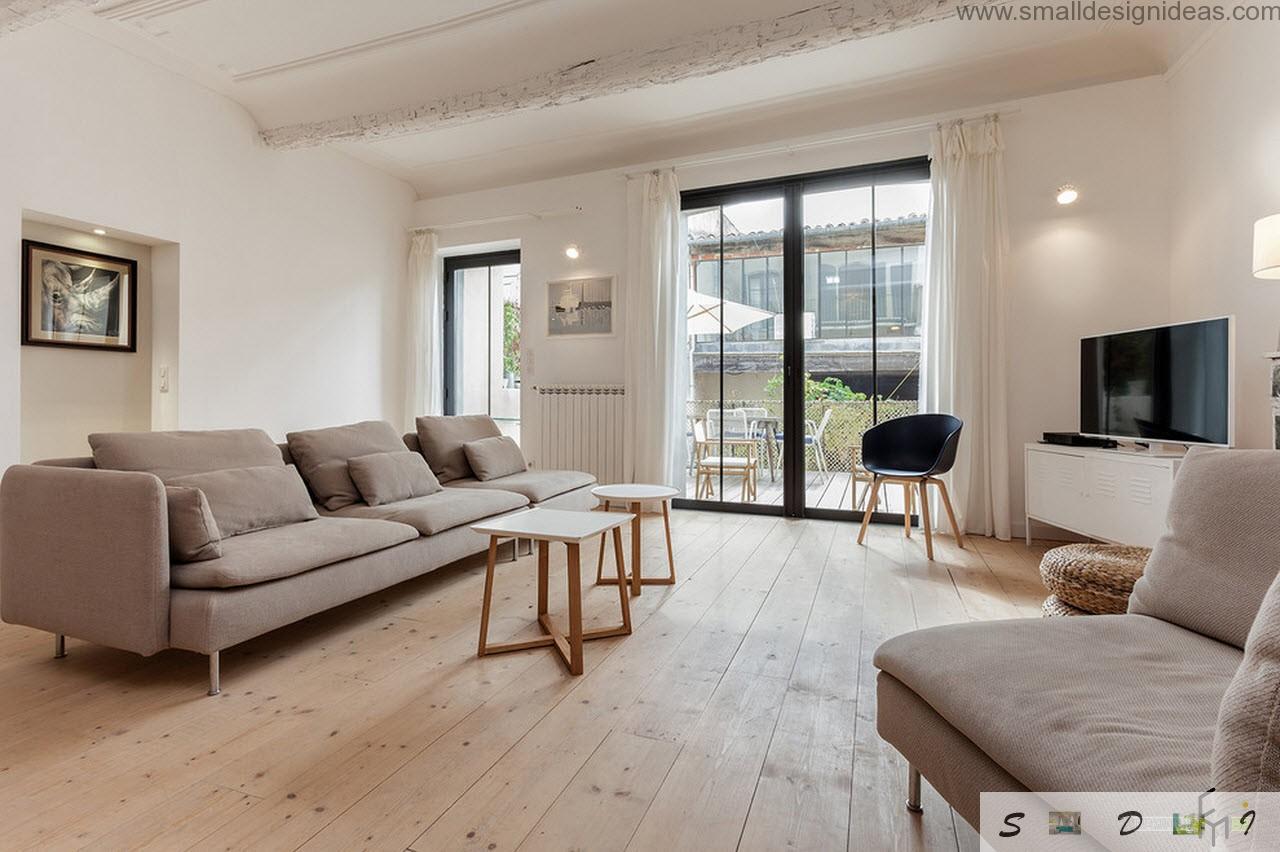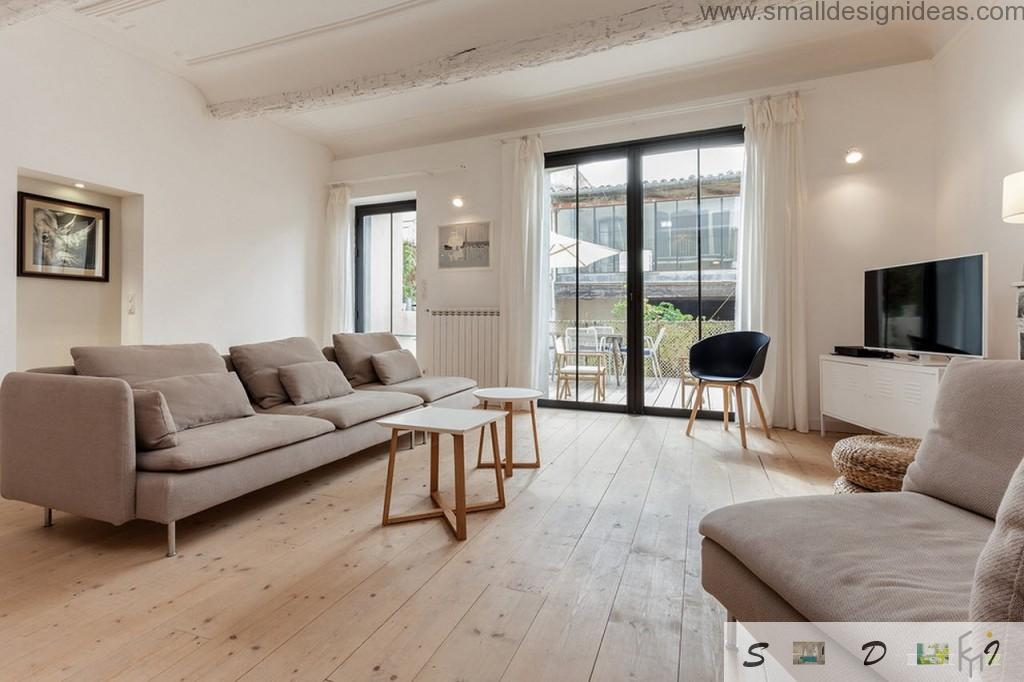 The neutral light palette is perfect for living with close to the minimalist interior. The freshness and soulful ease of the furnishings only occasionally is diluted by dark spots of electronics of decorations.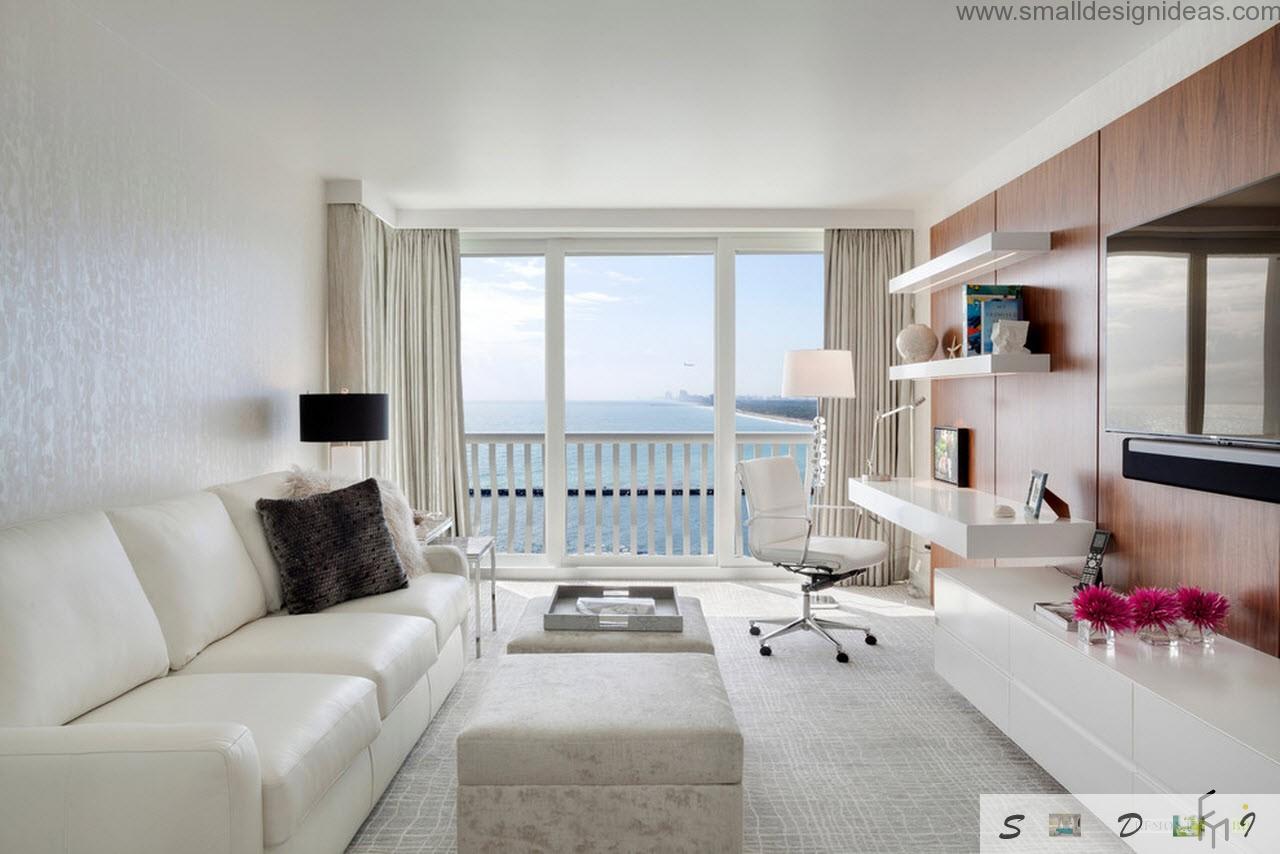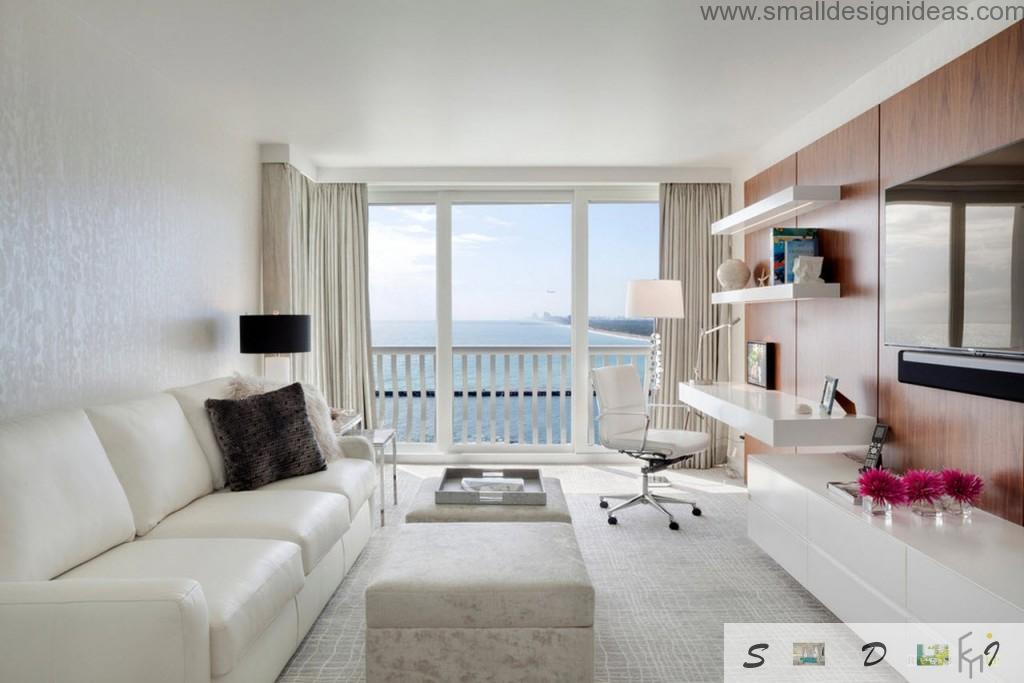 For the living room of modest size snow-white decoration and light colors in textiles and furnishings is one of the most common options, due to limited square area.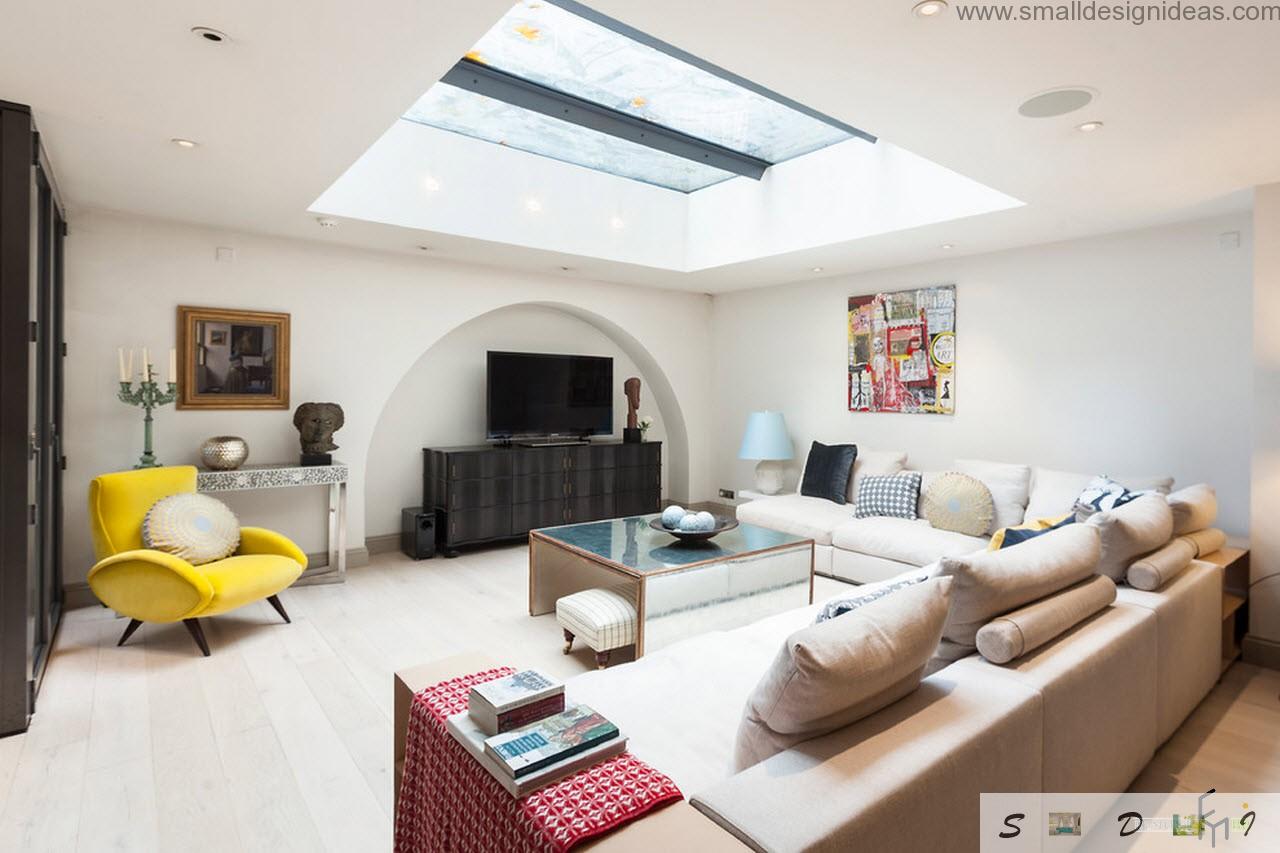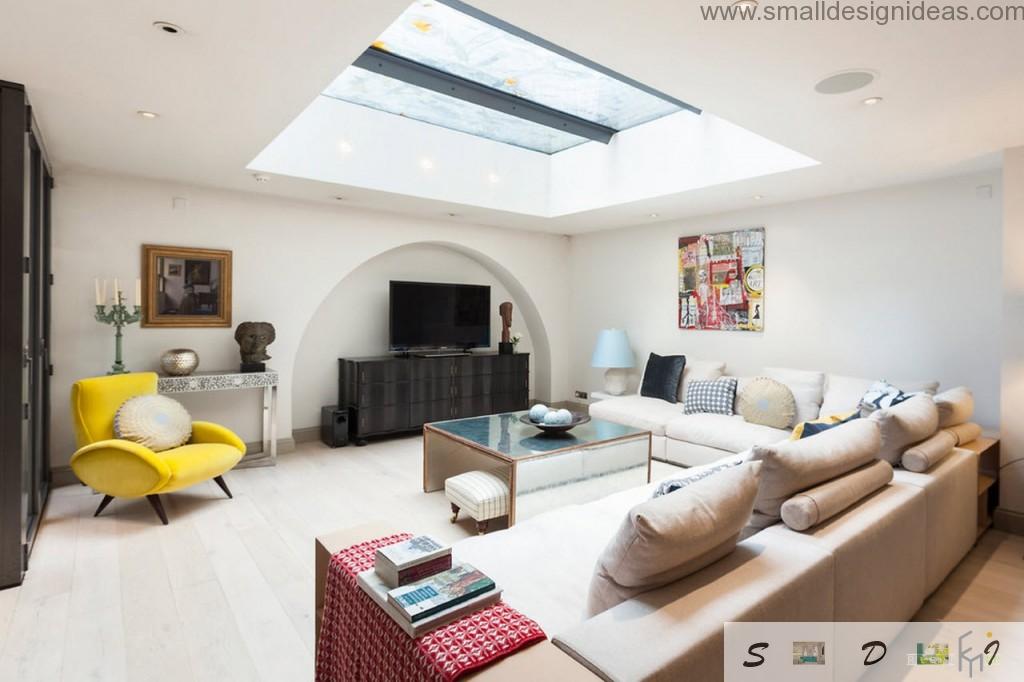 Sunlit living room, whose decoration is almost entirely composed of bright colors, diluted with bright décor and furniture. Two or three deep, colorful hue can enliven the room, adding unexpected positive and supportive atmosphere to it.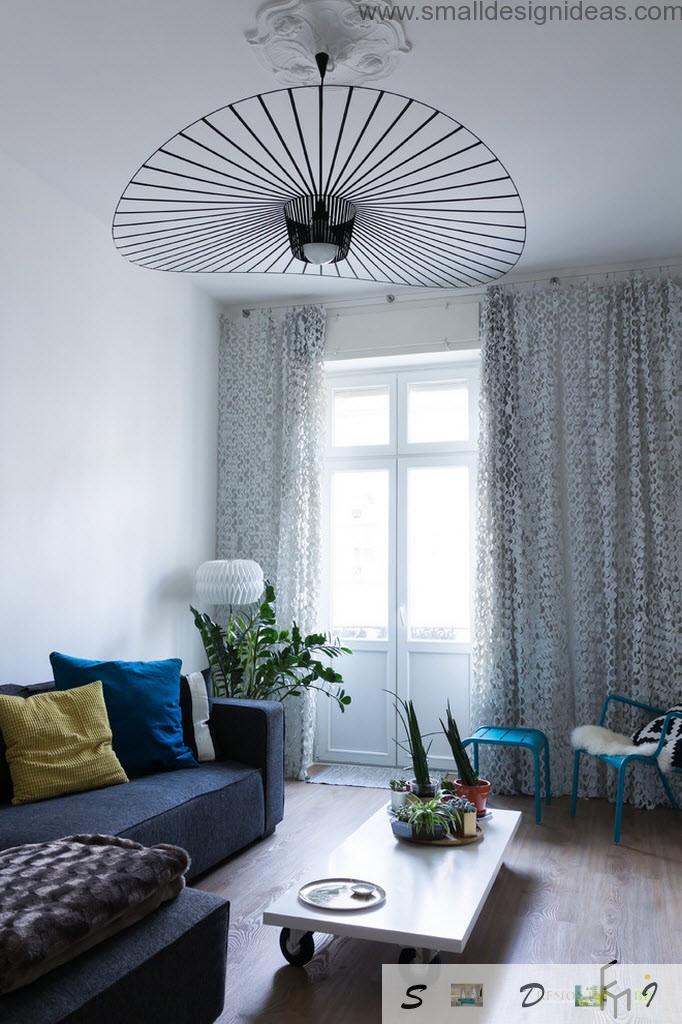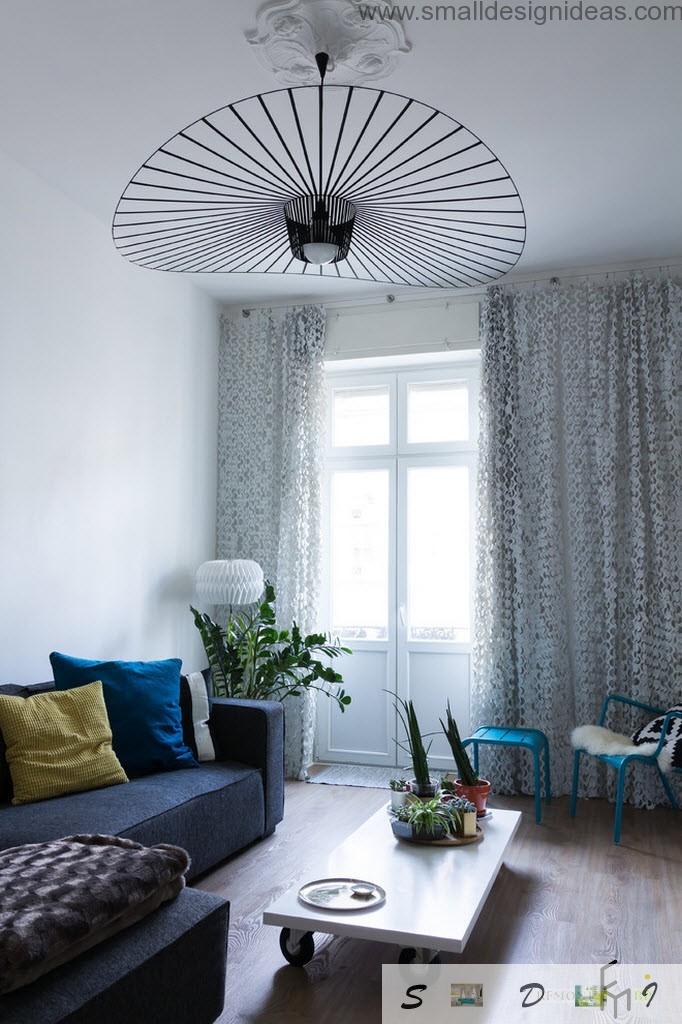 This living room is not devoid of designer finds. Unusual lamps, curtains nontrivial design, originally selected furniture – all works on the individual character of the room for the whole family.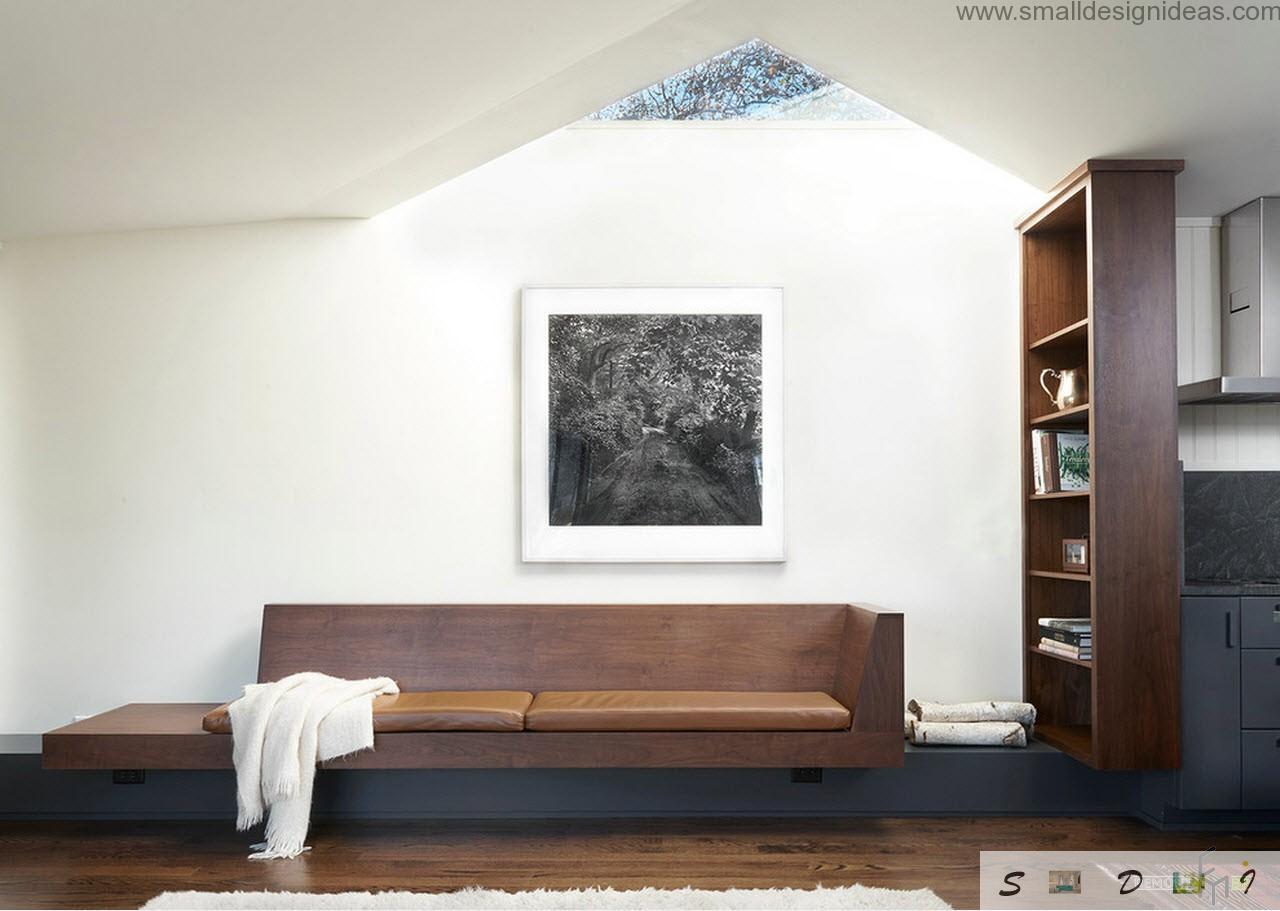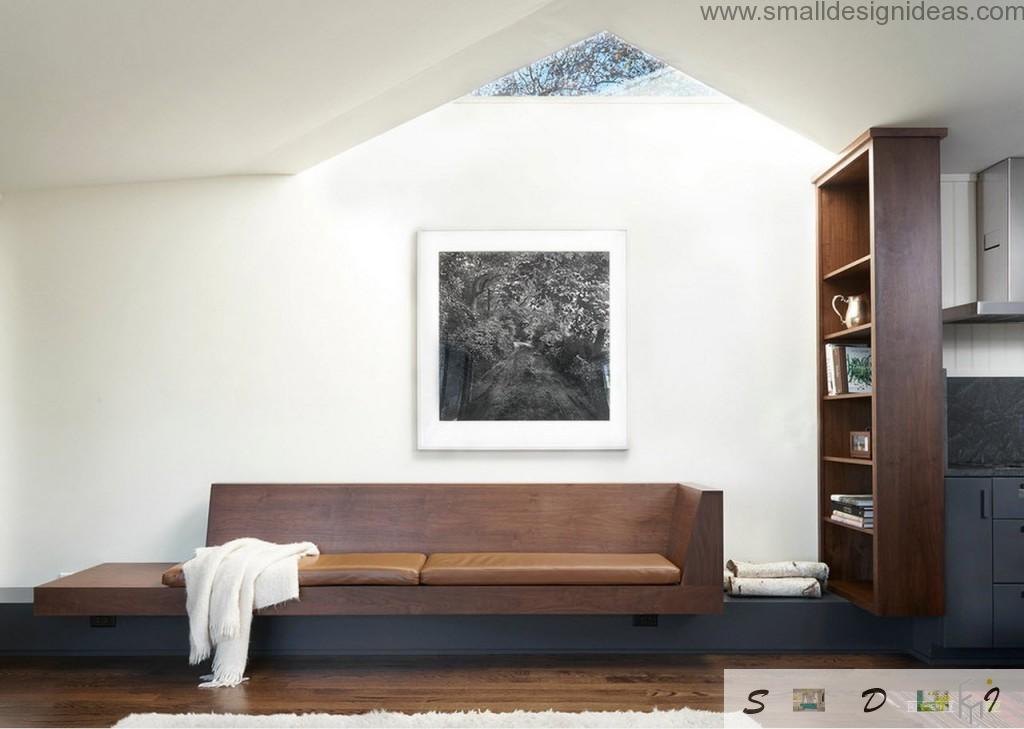 The recreation area in this modest living room have just needed a snow-white walls and ceilings. Only the bright palette of top-tier level of the premises afford to sustain such a depth and darkness of the lower plan.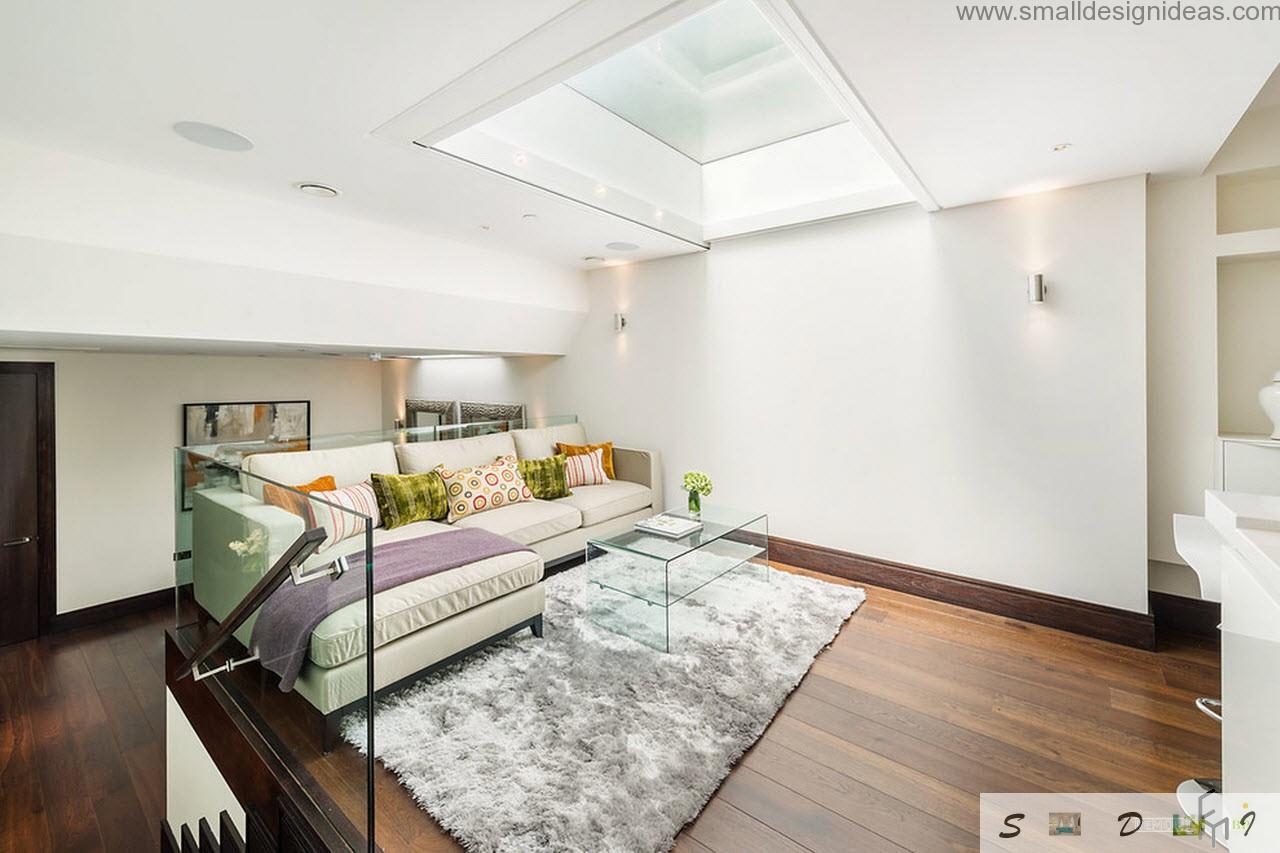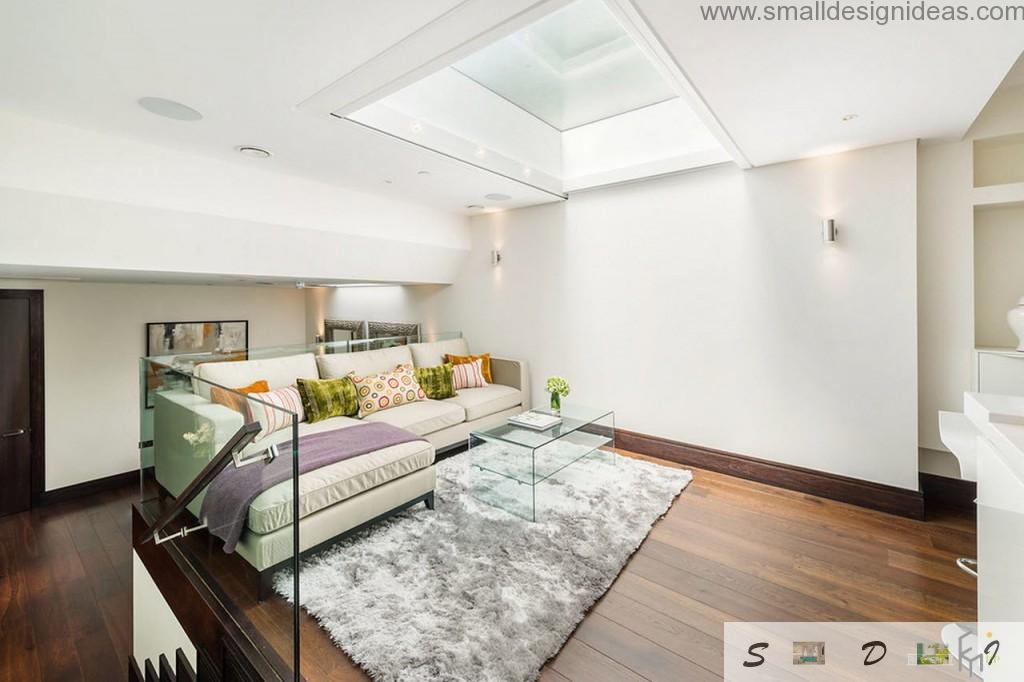 Soft zone in the bright living room under the roof of the transparent ceiling lures into its comfortable and cozy embrace.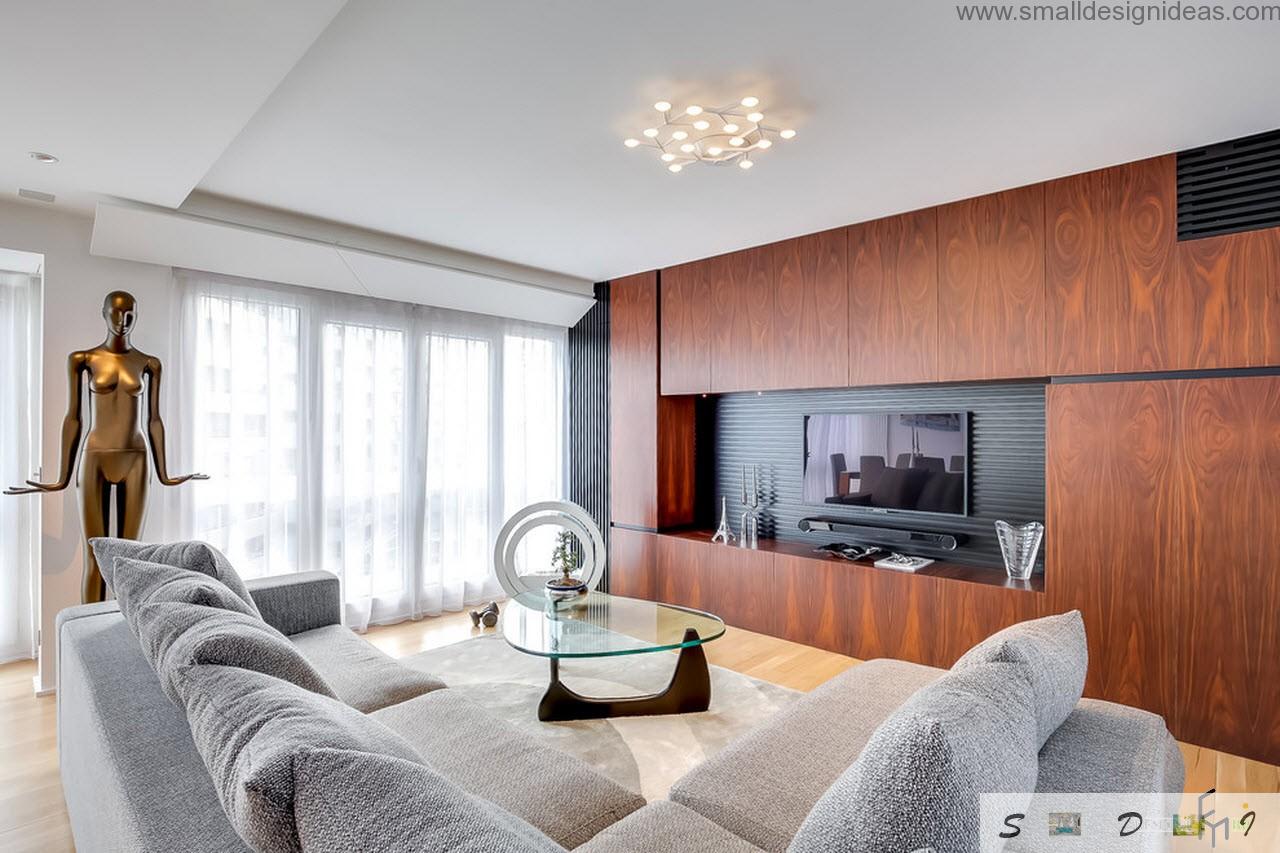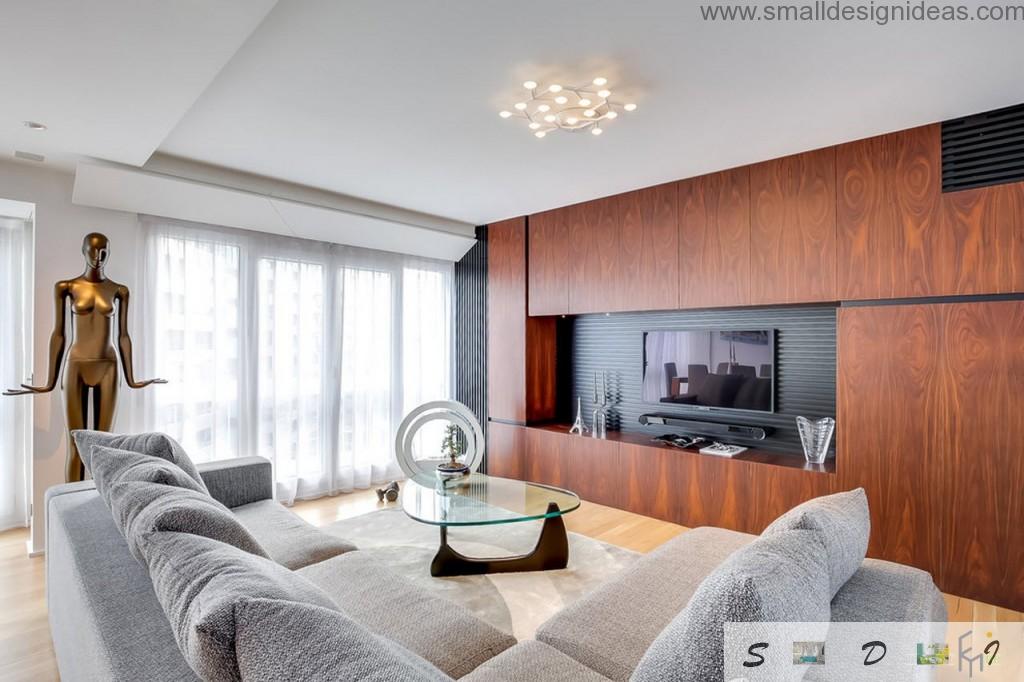 Bright finish of the living harmoniously neighboring with woody storage, shiny decorations and lighting. The room is not full of details, but its interior is unforgettable.
A cozy sitting area in a minimalist style with elements of country is difficult to call even a living room. Simplicity and comfort on the background of white space is a dream for many homeowners.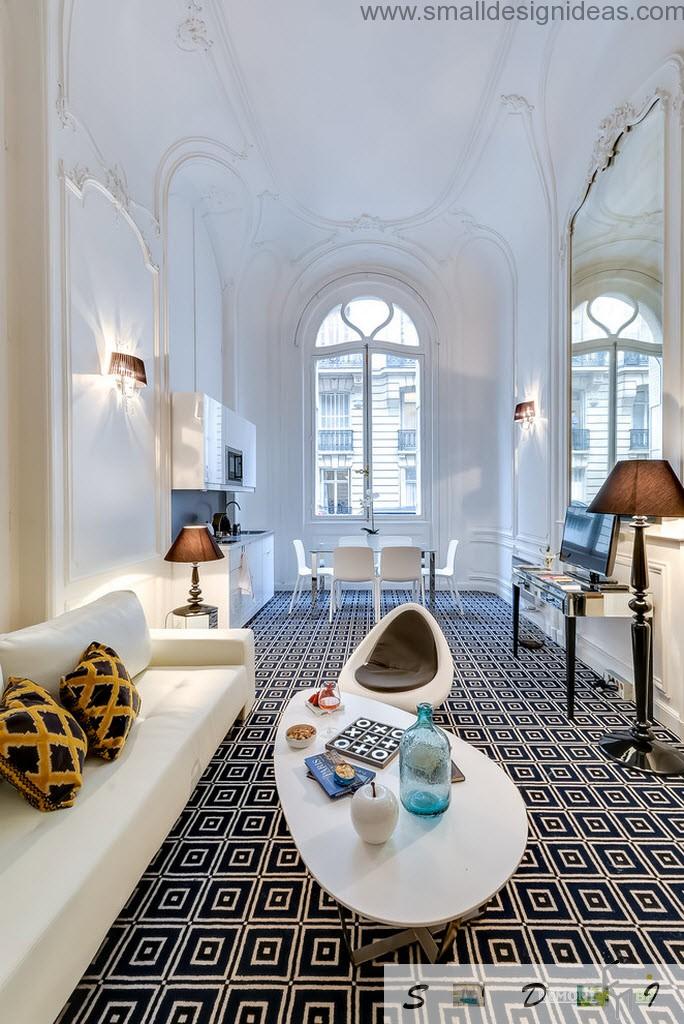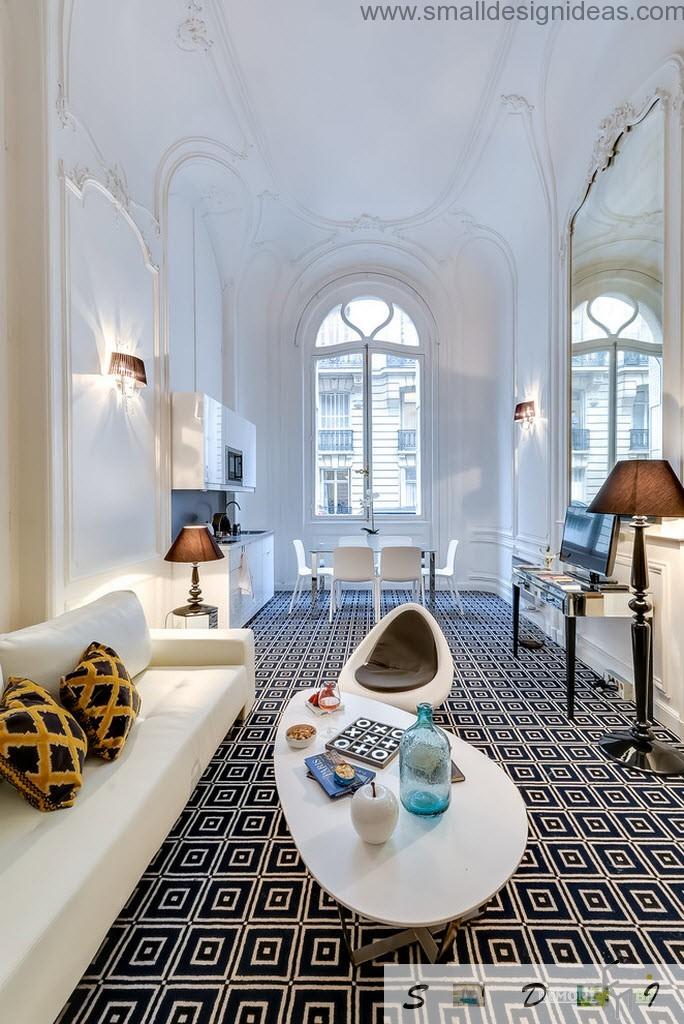 Snow-white living room design of this living cannot be called peaceful. Bright decorative flooring, an abundance of glass surfaces and ornate decoration create an atmosphere of luxury and elegant charm.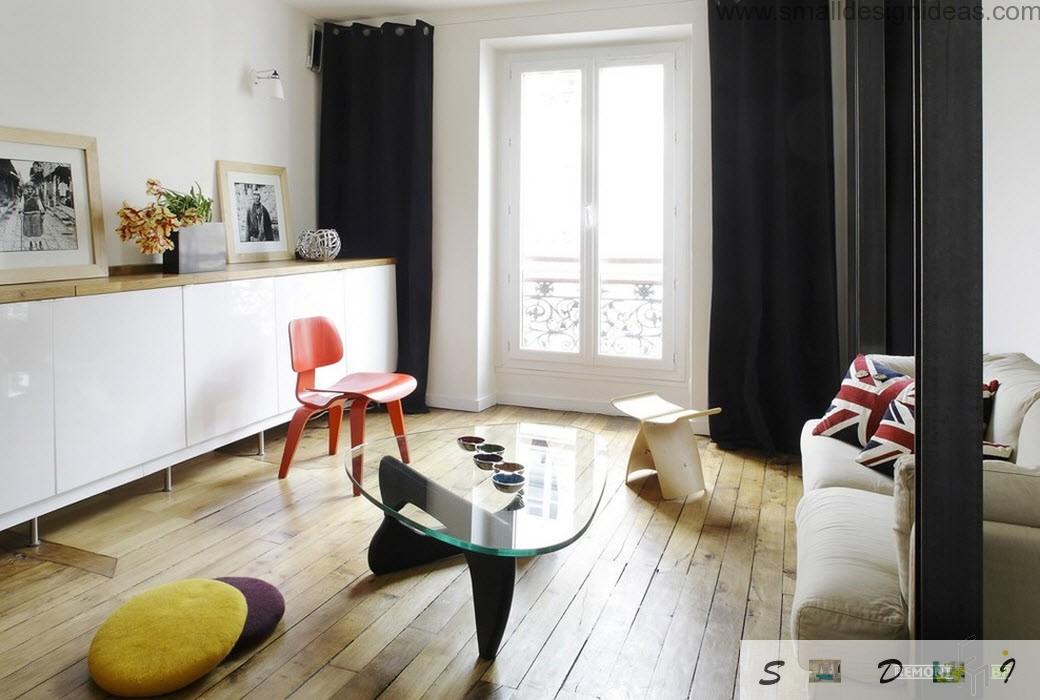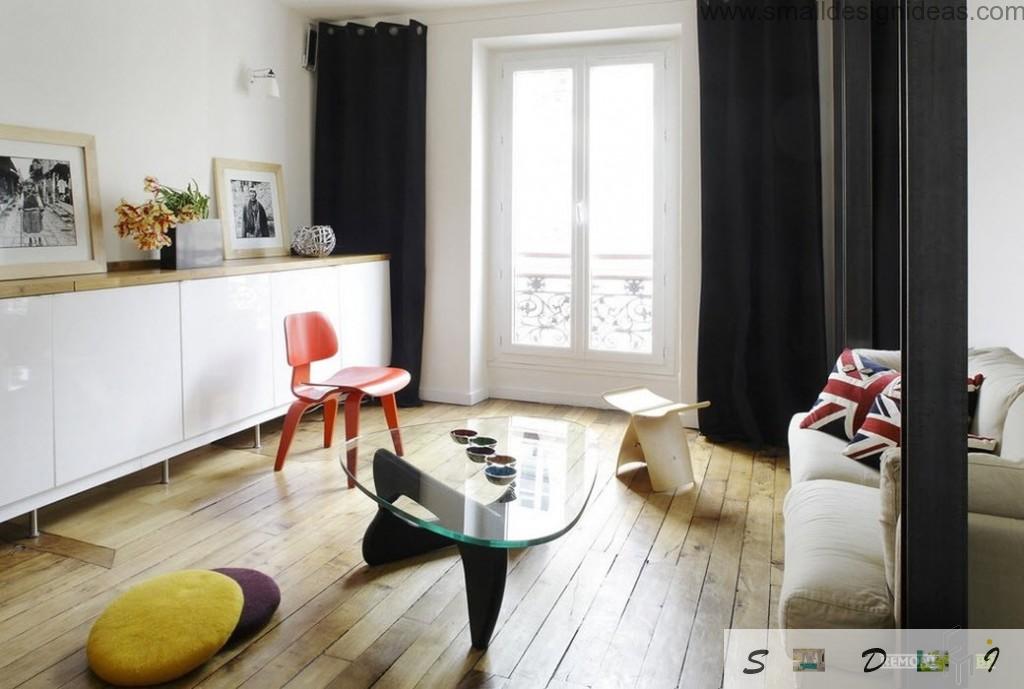 Only the decoration of the walls and ceiling, light wood for flooring, can blend almost black curtains and the similar support beams. Several of the bright colorful items are diluting this monochrome.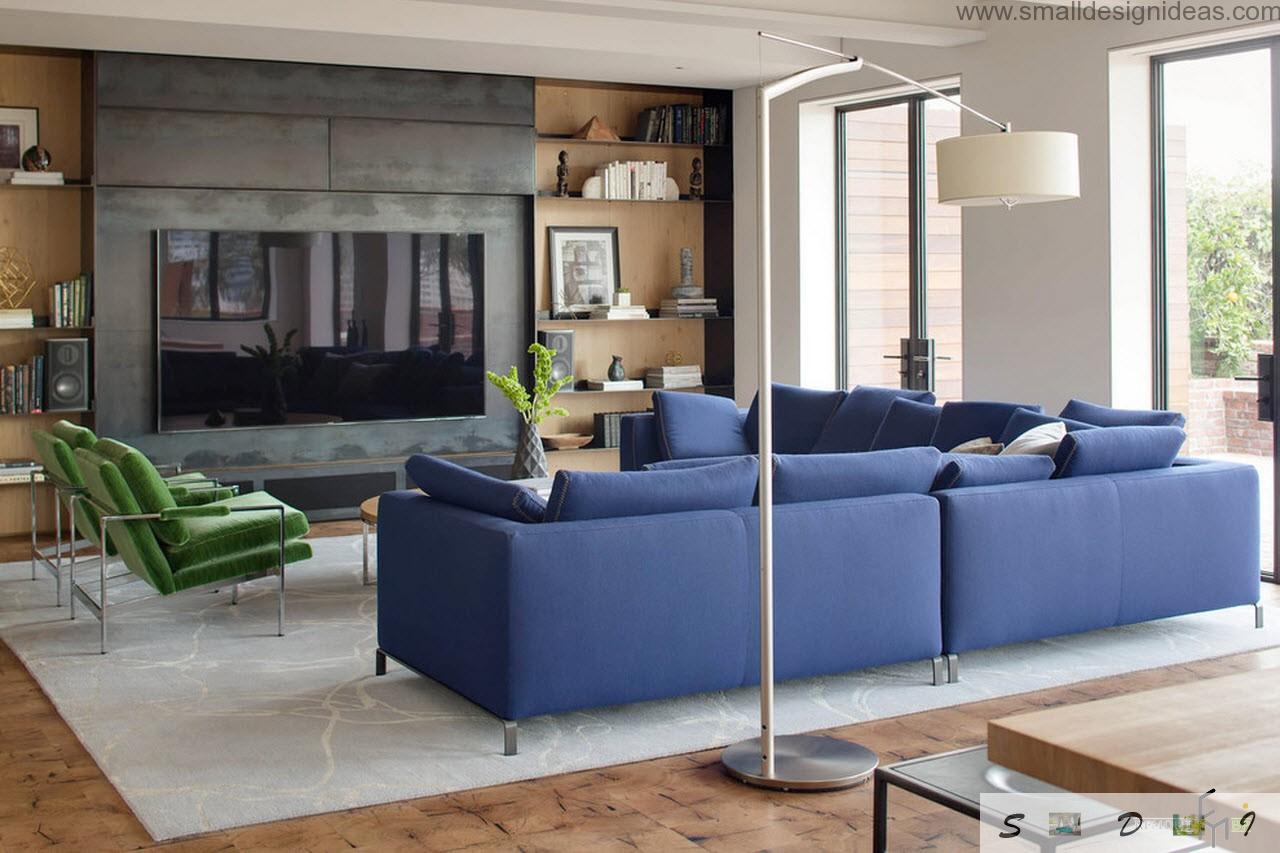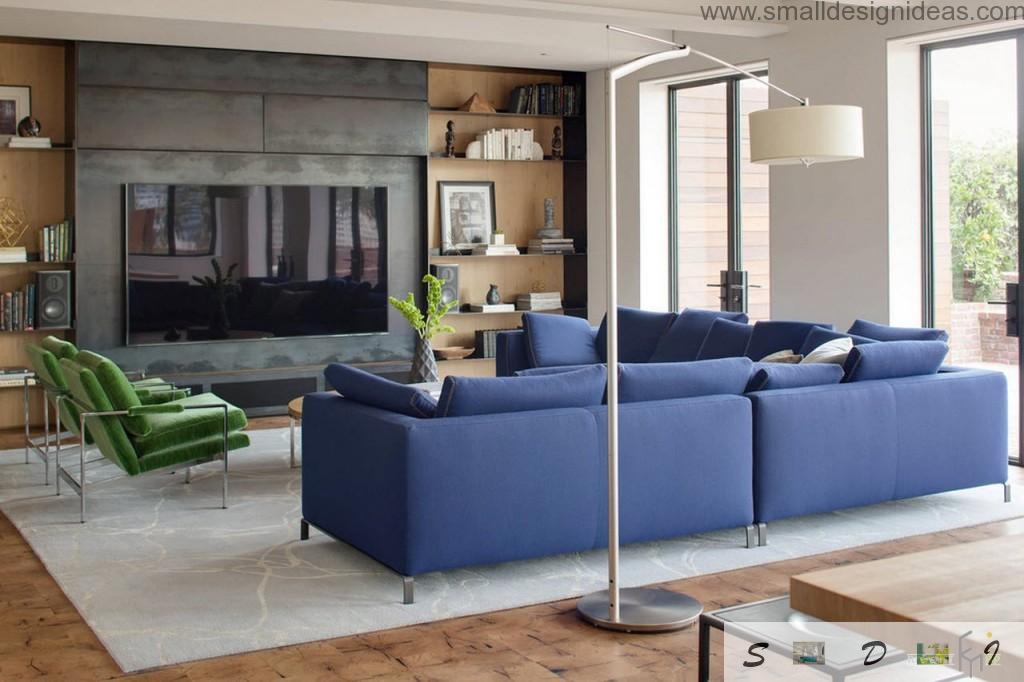 In spite of pastel colors in the decoration of almost all surfaces in this living, active soft colors of furniture and decor creates a very festive and elegant atmosphere of the room.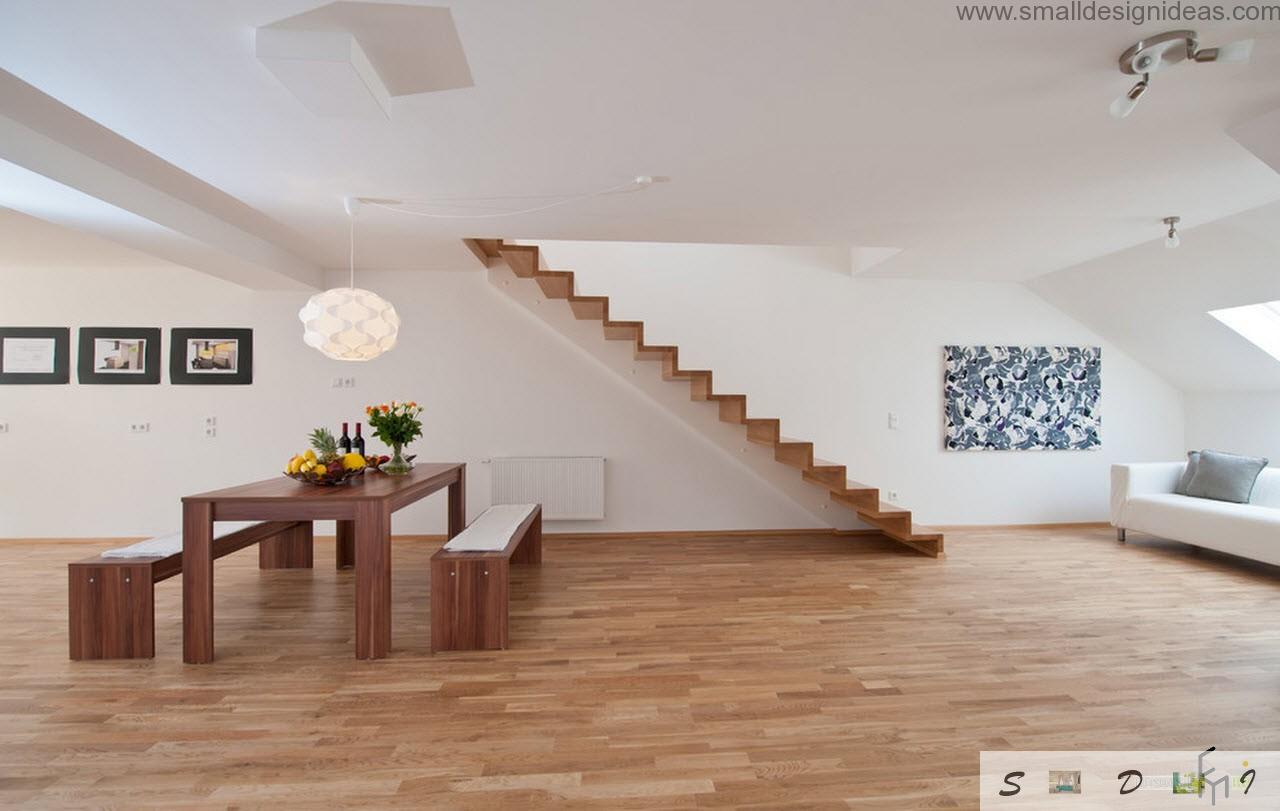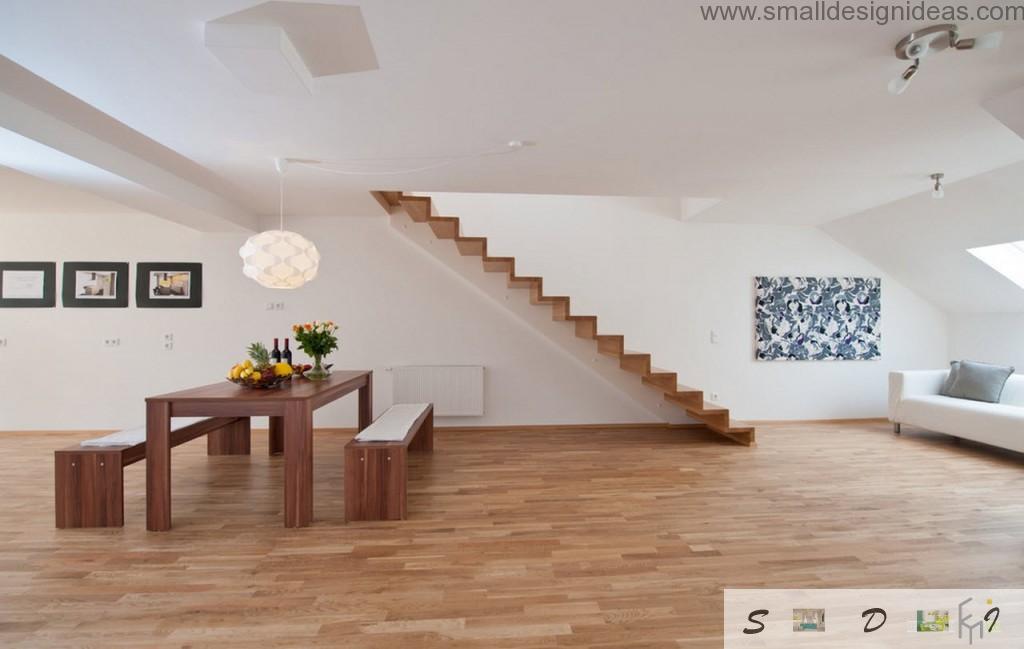 Not once in this spacious and extremely bright room, you can find a living room with a dining area. Minimalism, conciseness and simplicity composing a design concept of this room.
Bright living room design ideas. Cheerfulness and creative energy
There  are many homeowners who do not like boring neutral design for common room. Homeowners, who are inclined to use eclectic techniques in the design of the space, will be able to learn a lot of interesting ideas from the next collections of images of bright and creative living.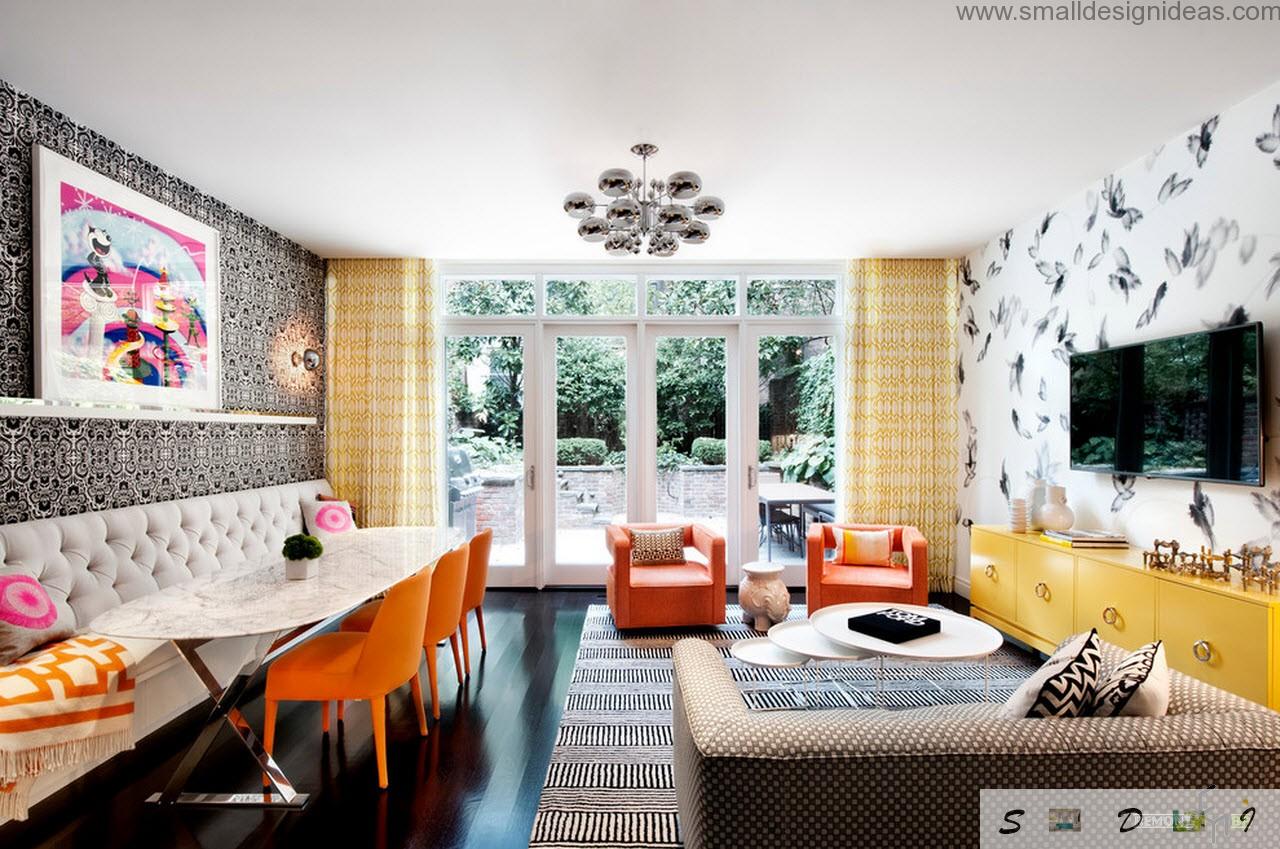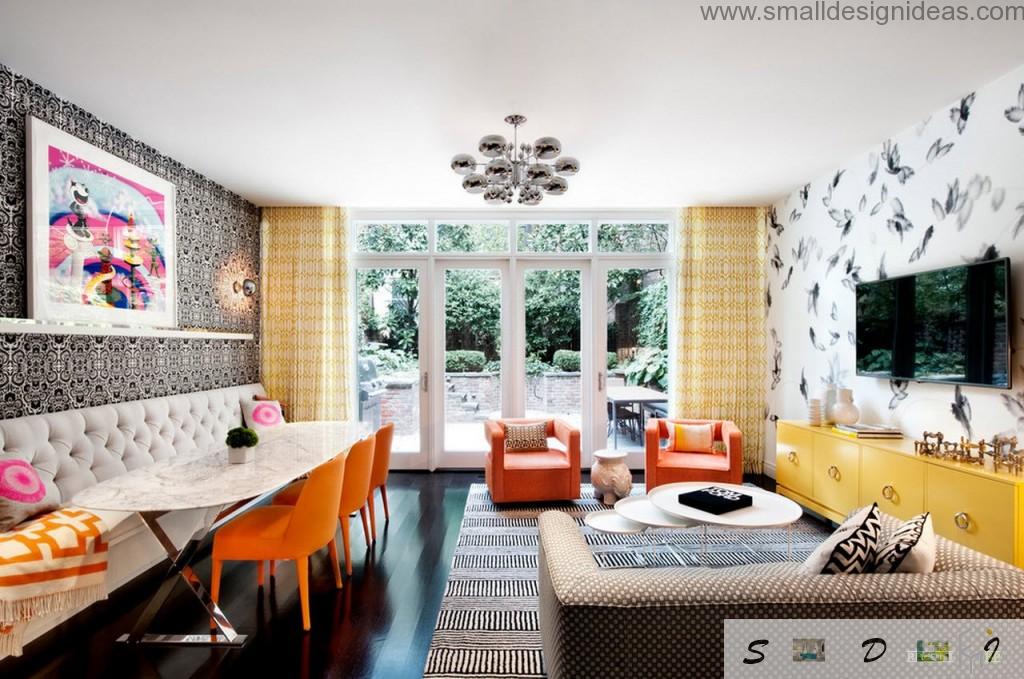 The game of contrasts, bright saturated colors, mirrored surface, a variety of textures and sizes. It's just a celebration of the designer of some kind. But at the same time unsuited living room looks incredibly comfortable, you will never want to miss in such interior.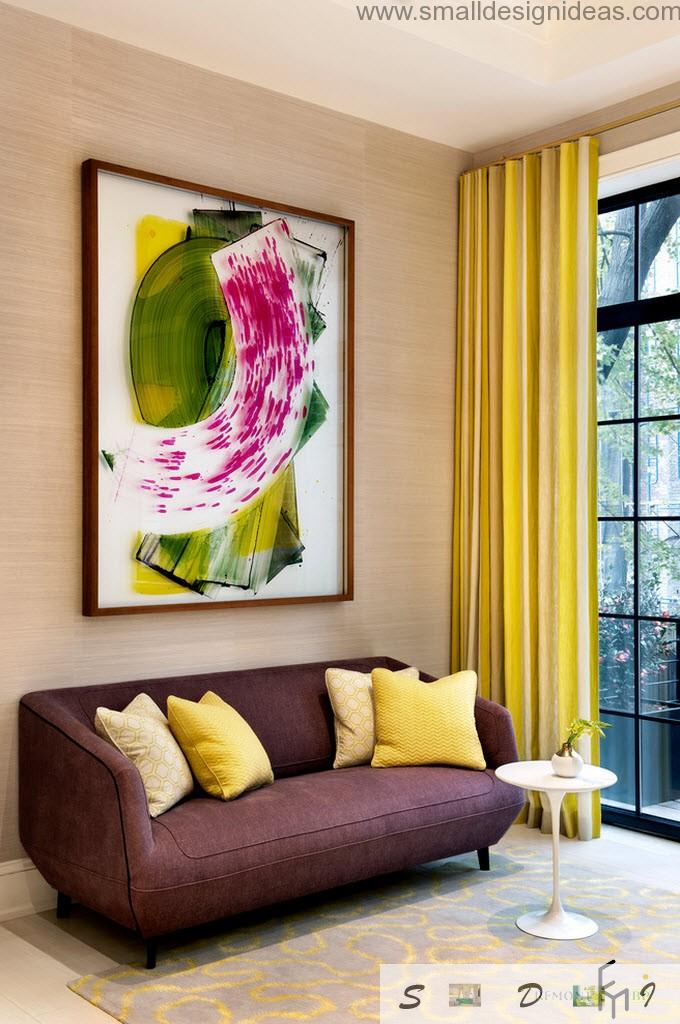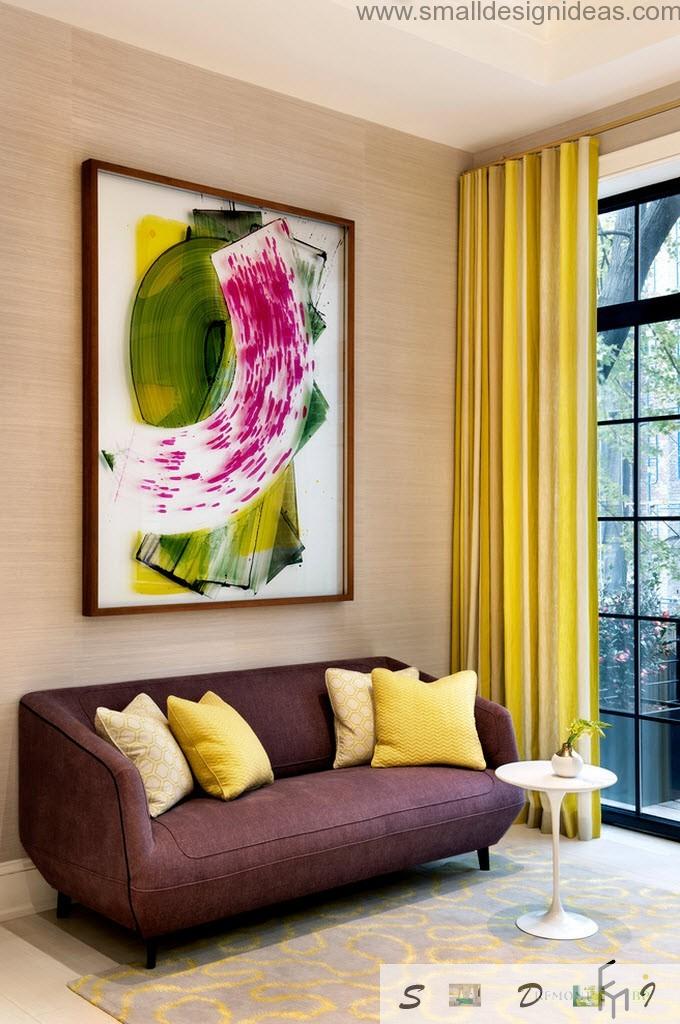 Juicy, vivid colors on the background of monochromatic finishes is a wonderful way to create a festive interior room.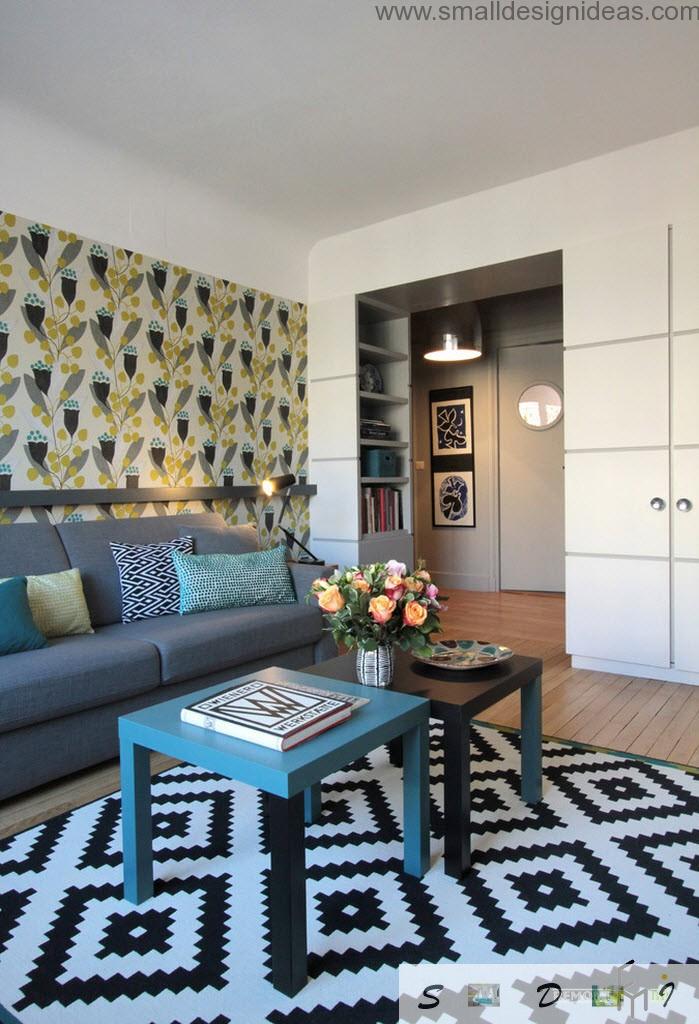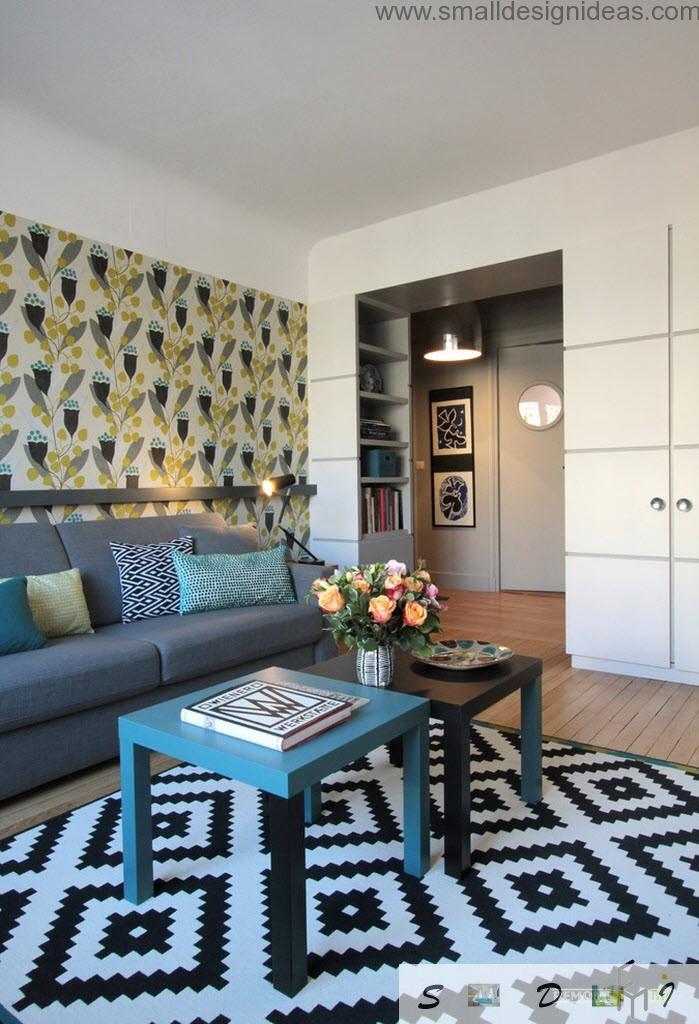 This interior will be an unforgettable event for all who saw it once at least. A variety of colorful brush strokes on a neutral background decoration is the key to a bright and nontrivial design.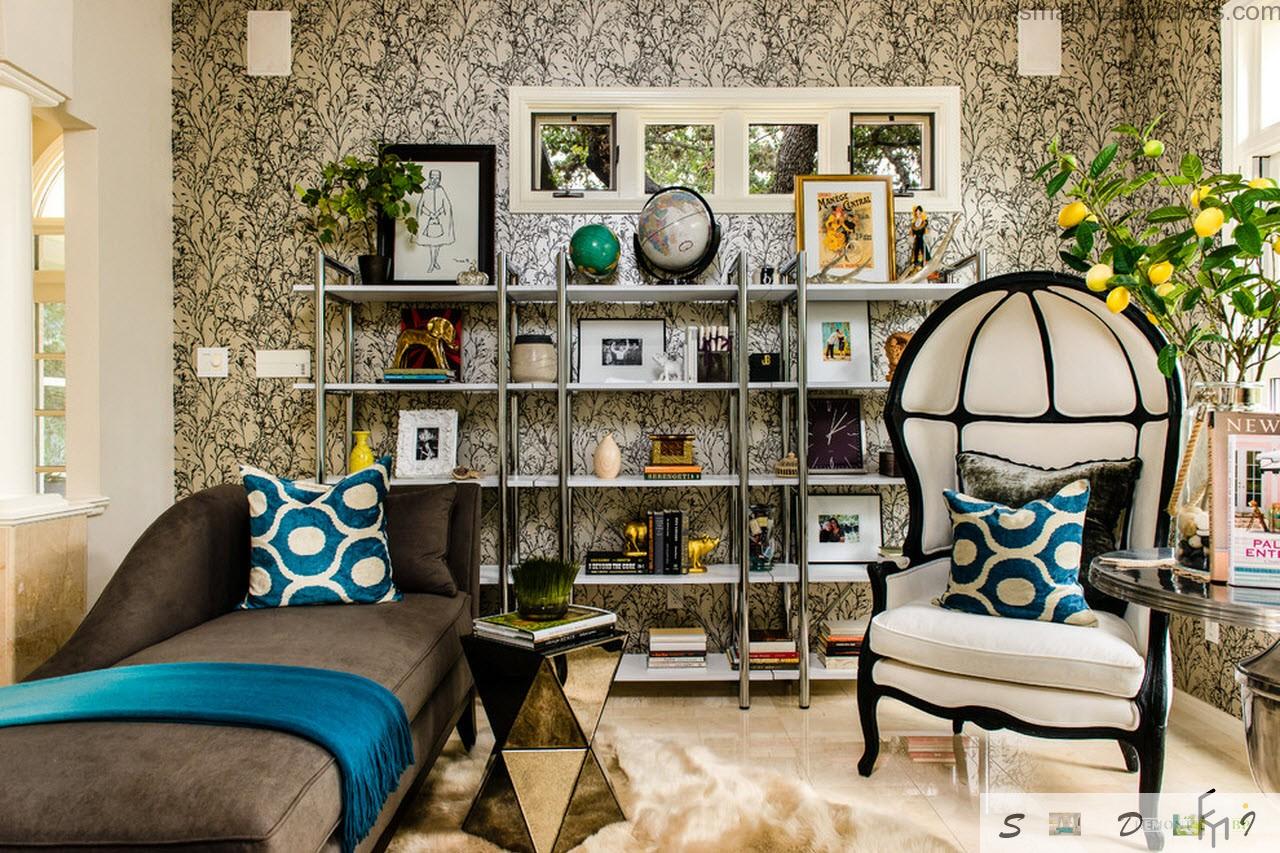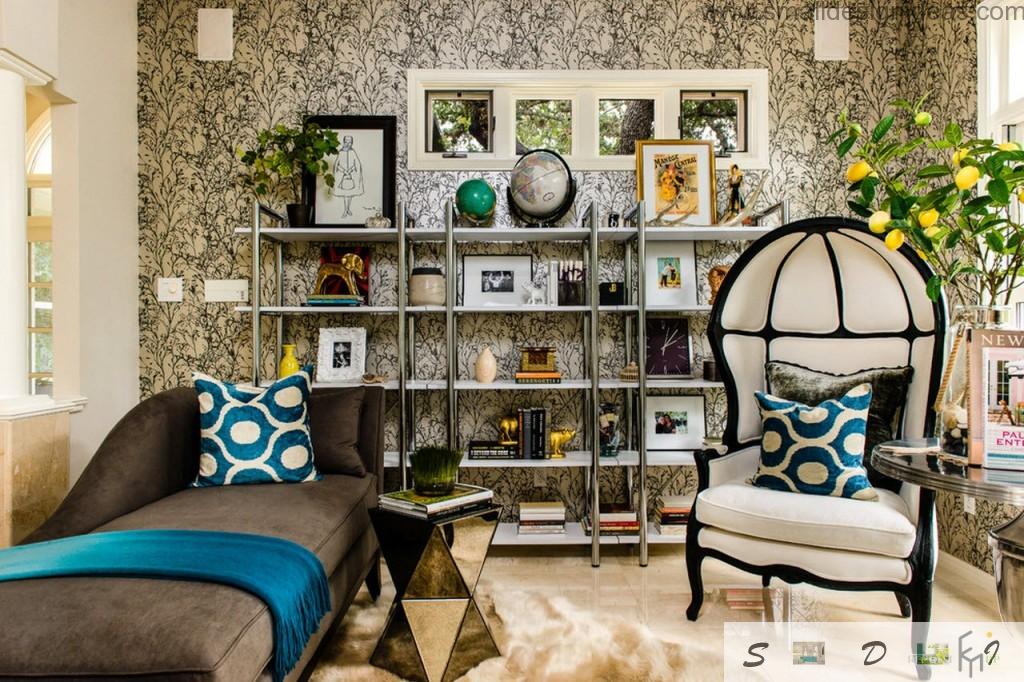 The design of this room wants to be considered very carefully. An incredible number of interesting elements and items collected in a single room is a non-trivial solution of resettlement living space.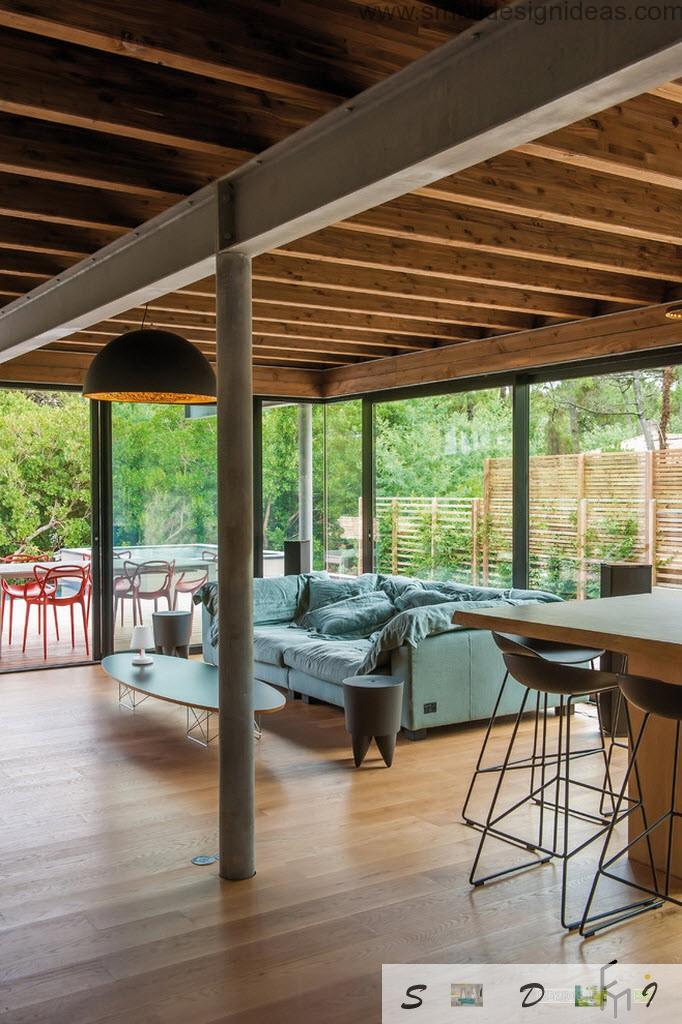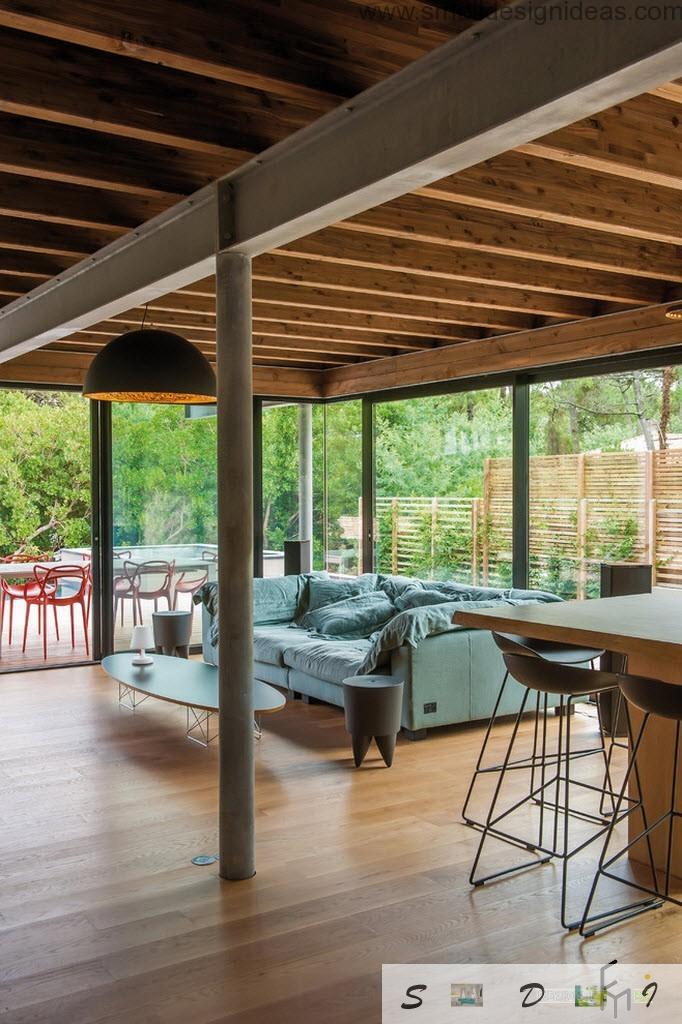 And sometimes the living area can be successfully placed on the glazed terrace providing stunning views for the residents, which can be enjoyed while relaxing and getaway. Complex and elaborate environment is not required, seating and a coffee table would suffice.