Bedroom is one of the most intimate domestic spaces. It is not intended for visits and group gatherings. This is the place for a romantic and relaxing pastime, filling the necessary energy to meet the next morning in a good mood. And every design tool is subordinated to complete these tasks: color, decoration premises, furniture and a variety of precisely chosen accessories.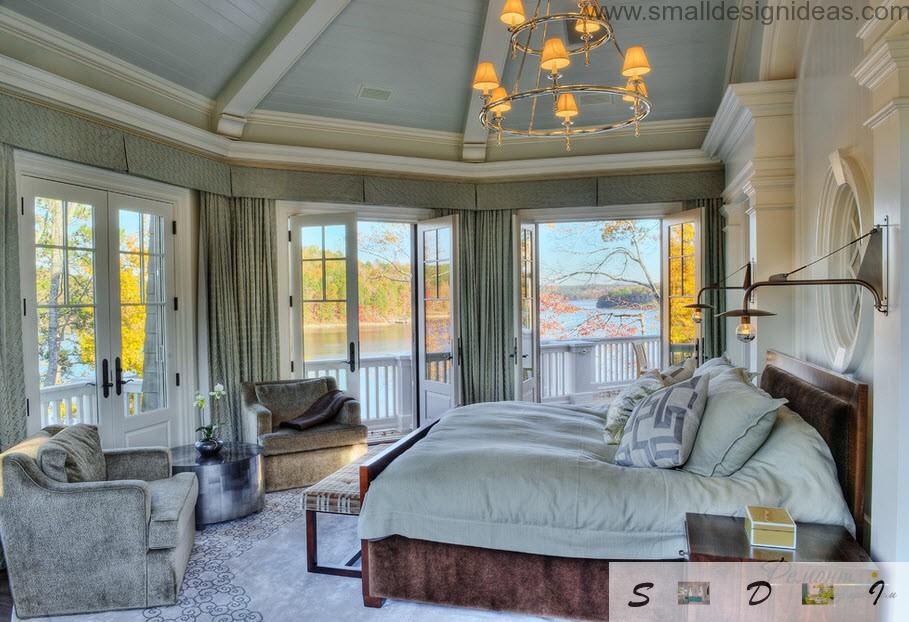 Provence is a certain artistic standard, whose roots go back to the medieval countryside of southern France. Sometimes the term is interpreted as a mixture of classic and rustic style. Provencal style is characterized by soft chromatic palette dominated by neutral, as they were burnt in the hot sun, colors – white, cream, gold, beige, green, blue, red and lavender, olive oil and ivory. The presence of the gray tone is not only desirable, but necessary.
In arranging you should give preference to your favorite shades: but do not overdo, combine them in such a way not to get tasteless composition but a Mediterranean freshness, elegance and classicism. Instead of relaxing effect motley  garish color combination will have an irritant effect. To create a calm and balanced atmosphere, intrinsic to this cheerful style, it would be ideal if most of the rooms in the house will be sustained in the same colors.
Finishing Provence style bedroom design
It is not superfluous to think about whether it would be matching style of bedroom with a common theme of the home, or it will be of a kind of art "island", created solely for your convenience and peace of mind.
Ceiling. Wooden or plastered, necessarily white. Large wooden beams of dark or light wood, except for the carrier, which perform expressive decorative function.
Walls. For their finishes gypsum plaster, molding, stylized brick or masonry is applied to make created image more accurate. The walls are painted in cool shade of white or pastel shades to make the kind of elegance and old look of French farmhouses or castles.
Flooring. Provence style is characterized by the coating with ceramic terracotta tiles, which is easy to clean and it perfectly supports the coolness on a hot summer day. Ideal floors are of rough or polished stone.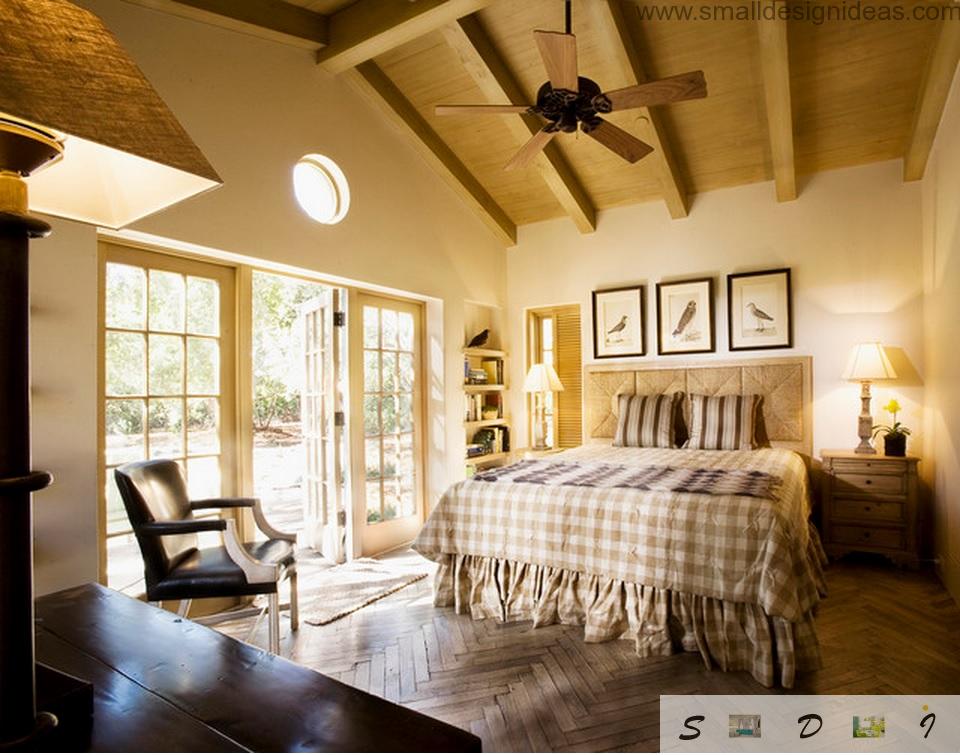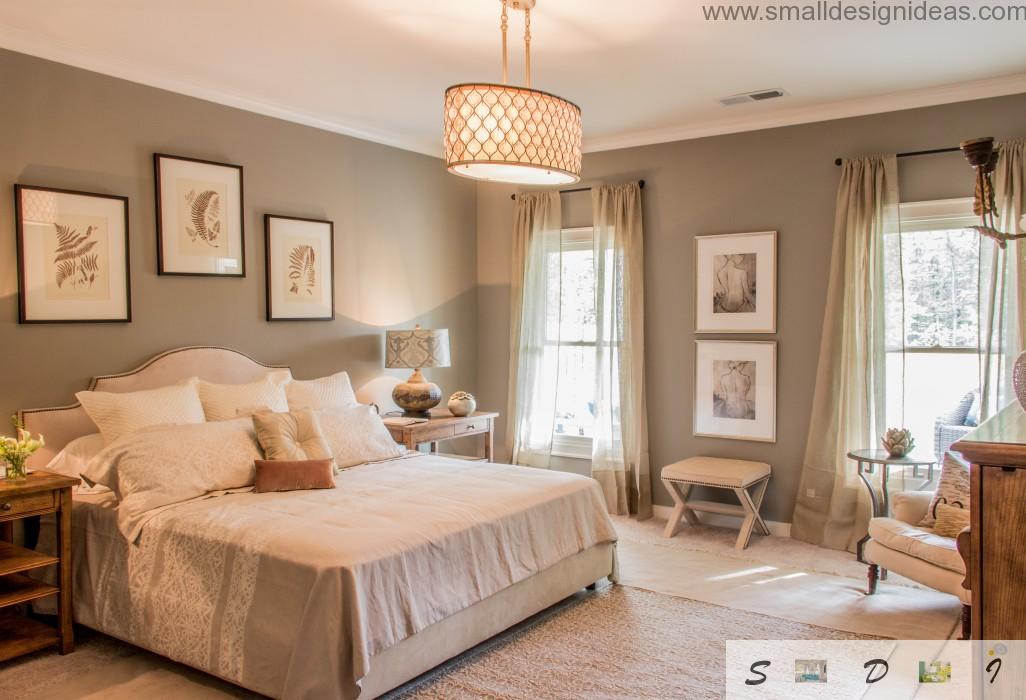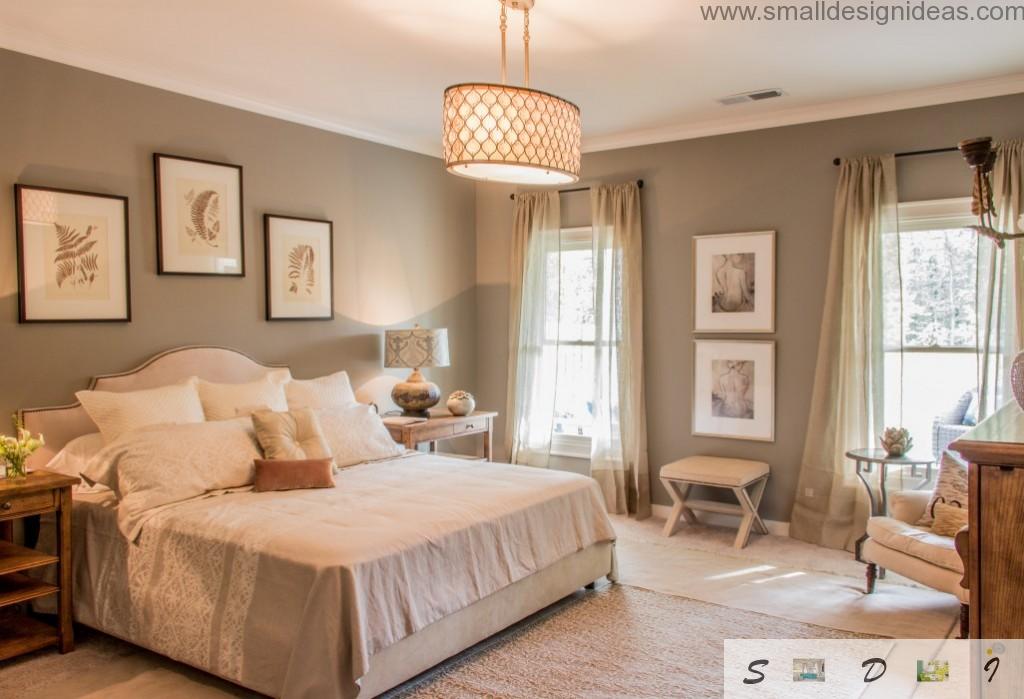 Furniture
At the beginning we should measure the dimensions of the room. This will determine the number and selection of suitable dimensions for the furniture, which is supposed to furnish the bedroom. Not always a large room is at our disposal. Although the space is perfect way to realize all the expressive possibilities of Provence style. If, however, you are an ardent admirer or fan of Provence, the limited square footage is not a reason to give up your dream. Details are creating the interior, and maybe it will be enough just a few means of expression, so that even in a compact "beddy" subtle charm of a provincial style would have been settled.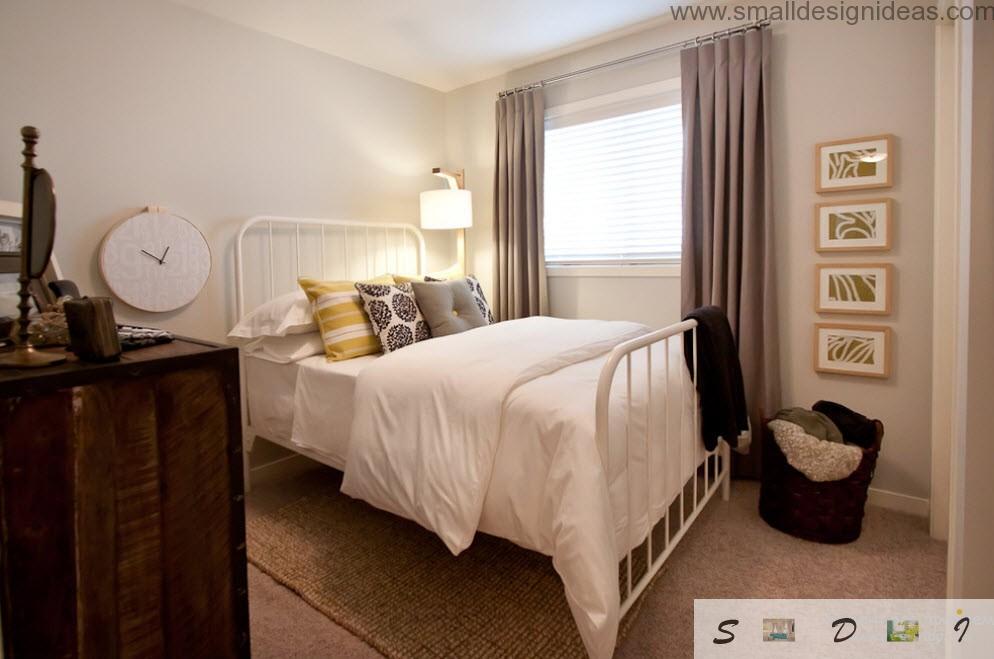 Furniture should be made of solid wood with preservation of natural color or painted white. The massive and rough rustic furnishings are not suitable for fine elegant style of Provence, but we should not forget that some makeshift and aged look distinguishes charming French art style from the others.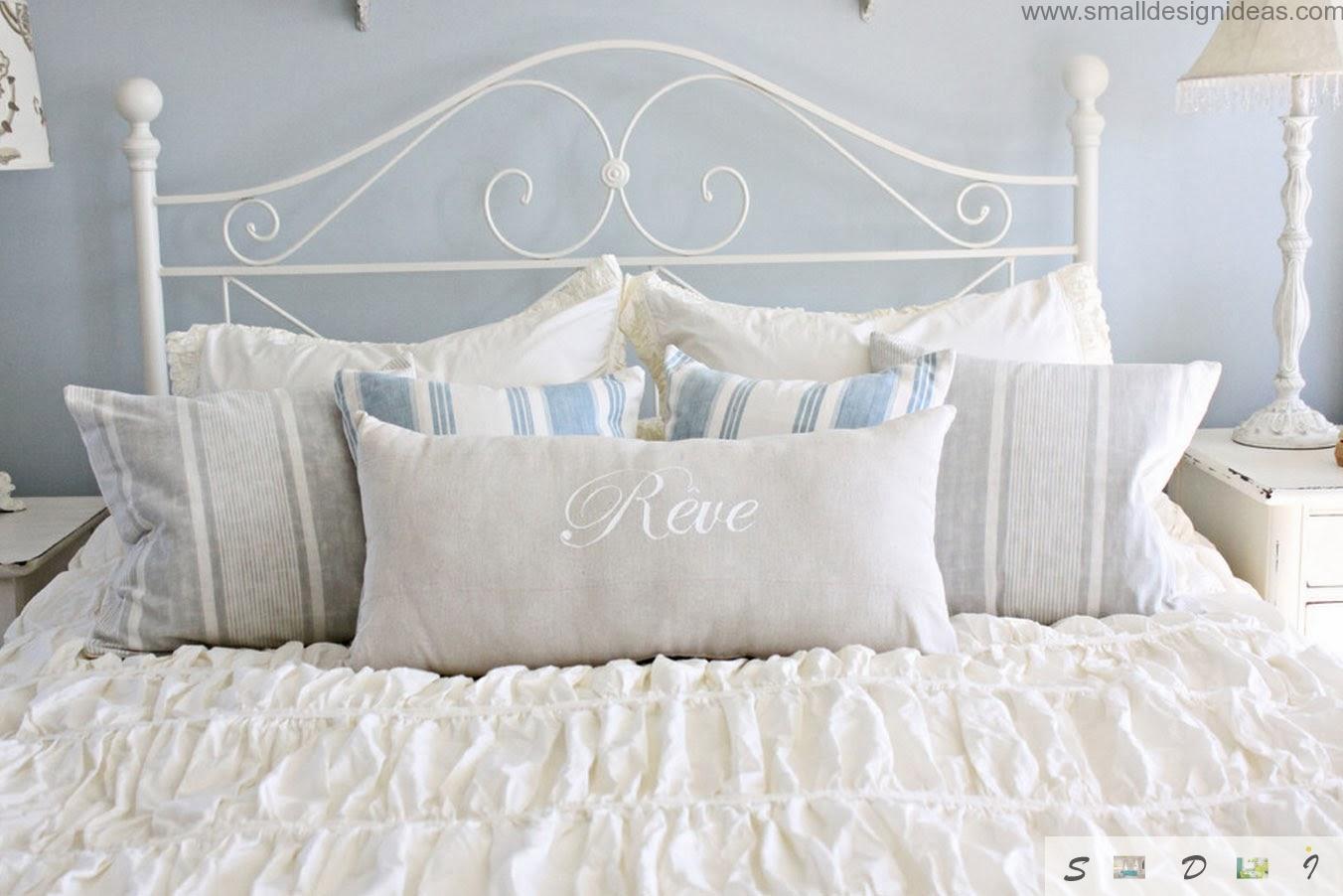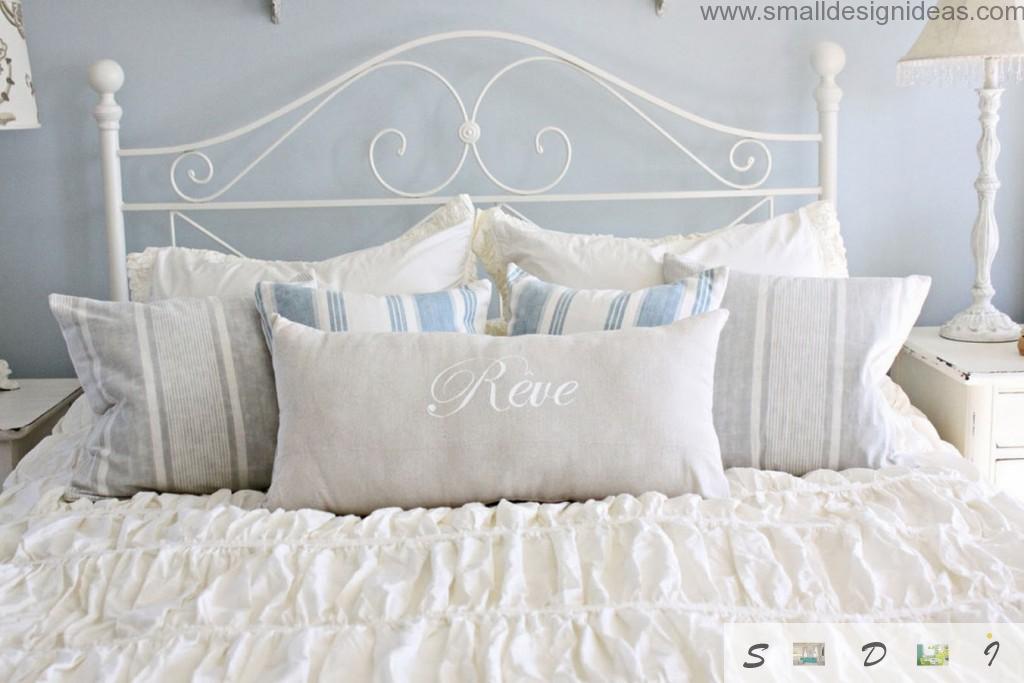 Bed is the compositional center of the bedroom. It is made of wood with preservation of its natural coloring under a protective layer of clear varnish. Canopy is an element that can be used for successful creation of complete bedroom` artistic image.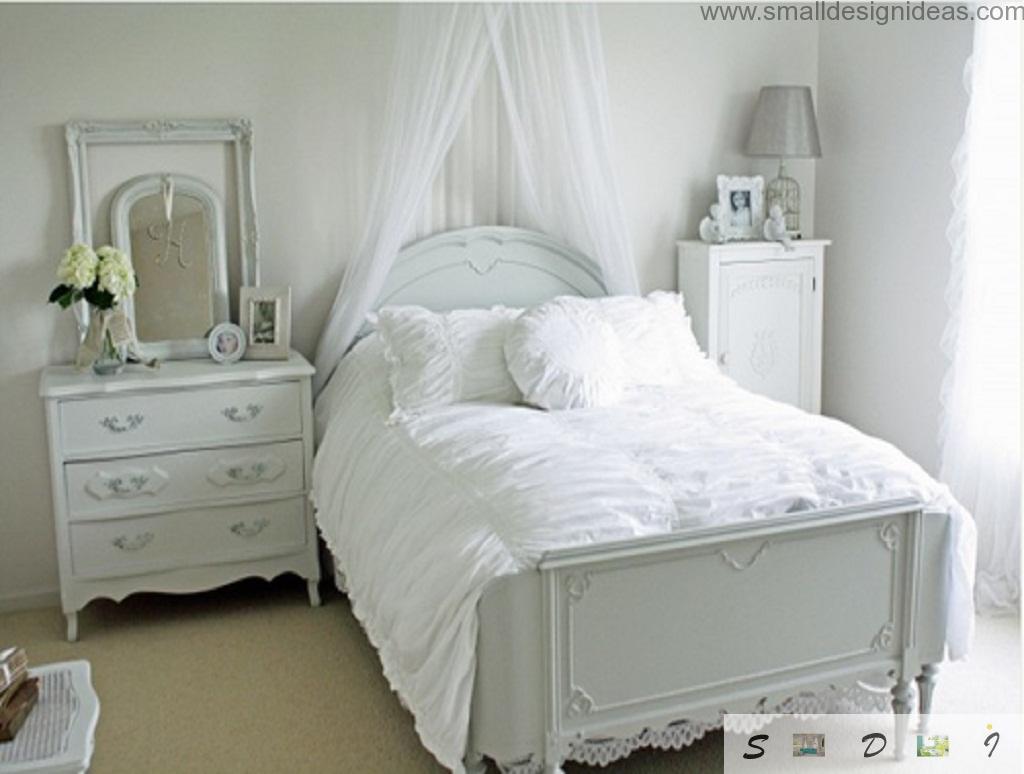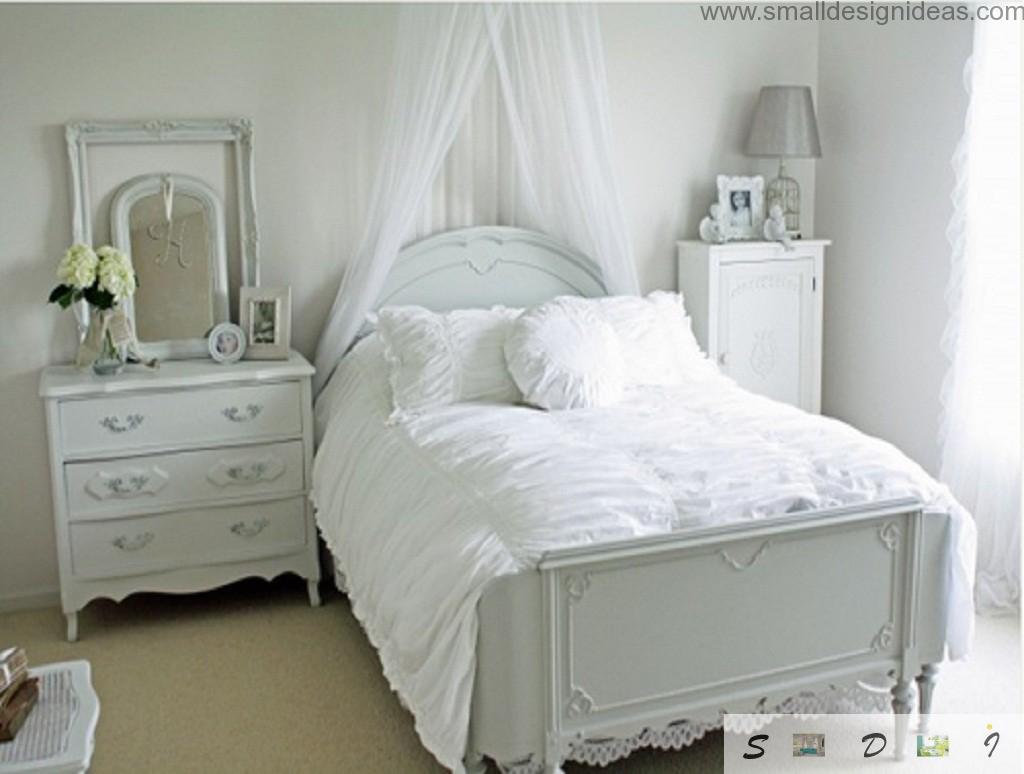 For the style of Provence iron or bronze wrought iron bed with a simple smooth curved lines is also appropriate.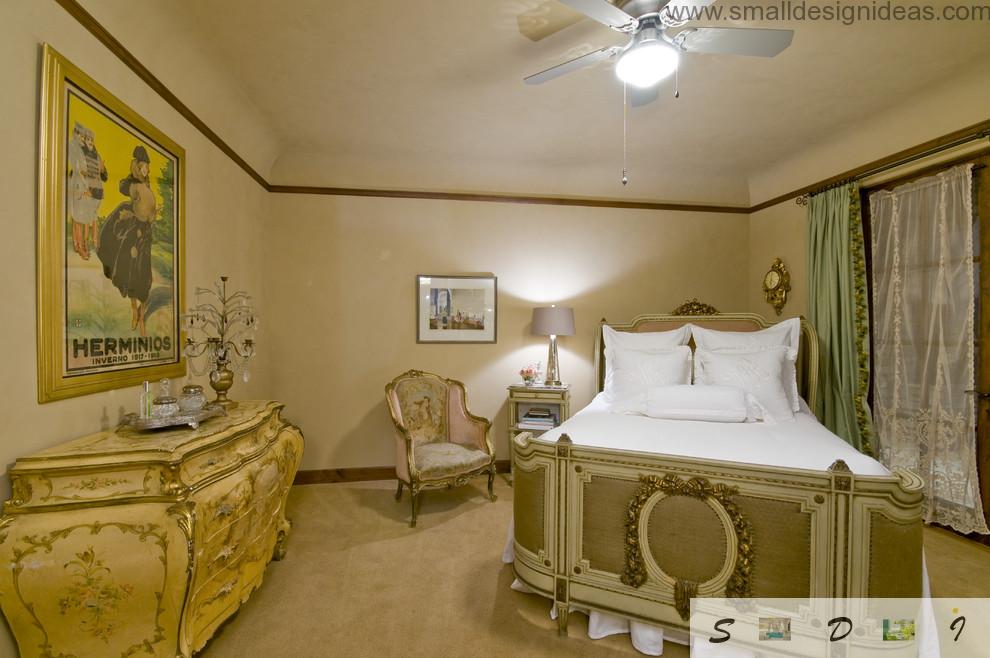 Bedside tables on thin straight or bent legs, light rattan seat with a thin slightly curved surround fence have original look next to the large and sturdy bed.
Antique chests "from great-grandmother, who were holding her clothes here," dark cherry wood chest of drawers, which drawers store natural linens, arranged with stalks of dried lavender would perfectly suit the situation.
Armchair or rocking chair with a blanket thrown over will create the mood of warm comfort. Rustic wooden bench and wrought metal seat would actively participate in the creation of the old-town atmosphere.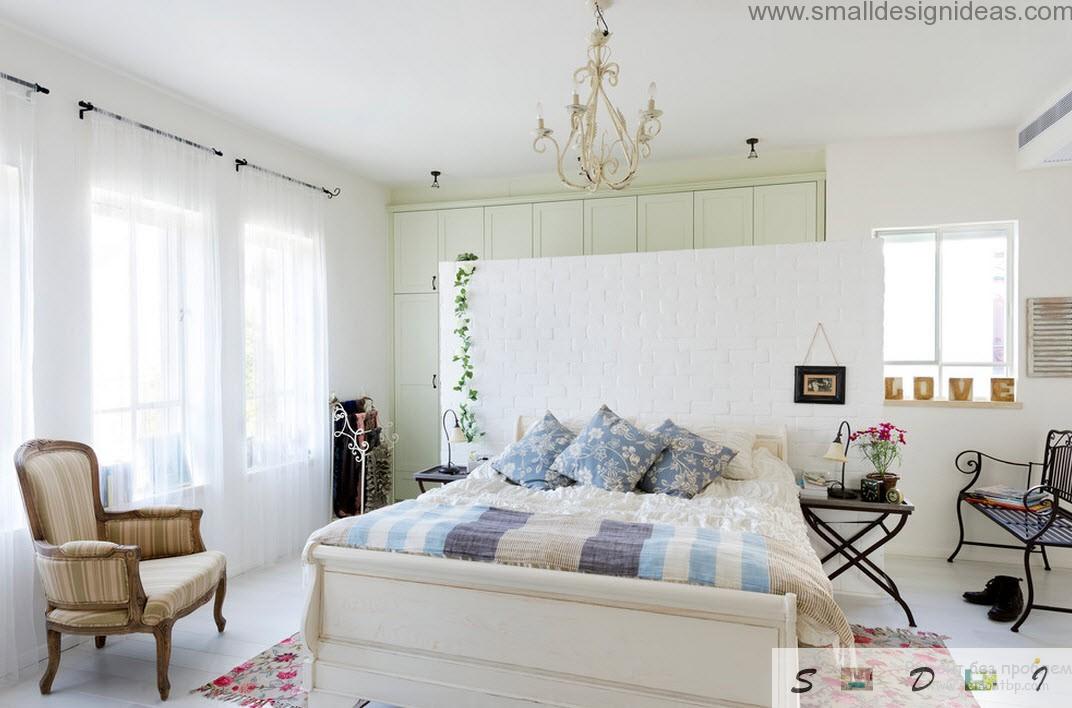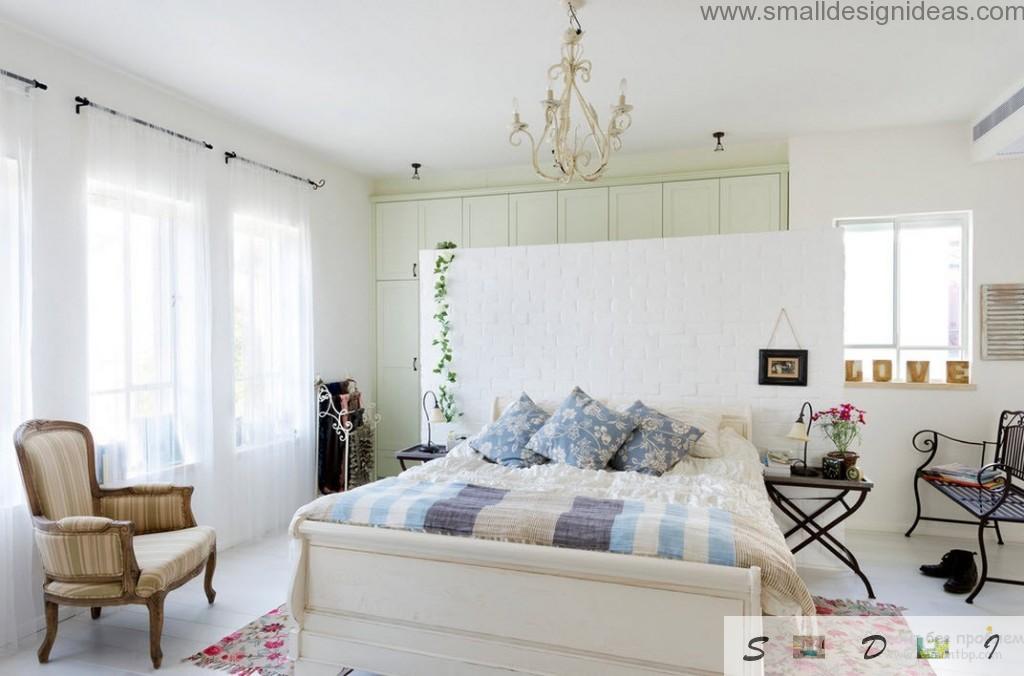 When filling the space, consider that perhaps the working area would be good here, sort of a mini-vintage office.
The upholstery of sofas, chairs and armchairs should be of printed, rough to the touch, cloth or cashmere. Figure draperies – a combination of small and large floral arrangements, large cell, strip.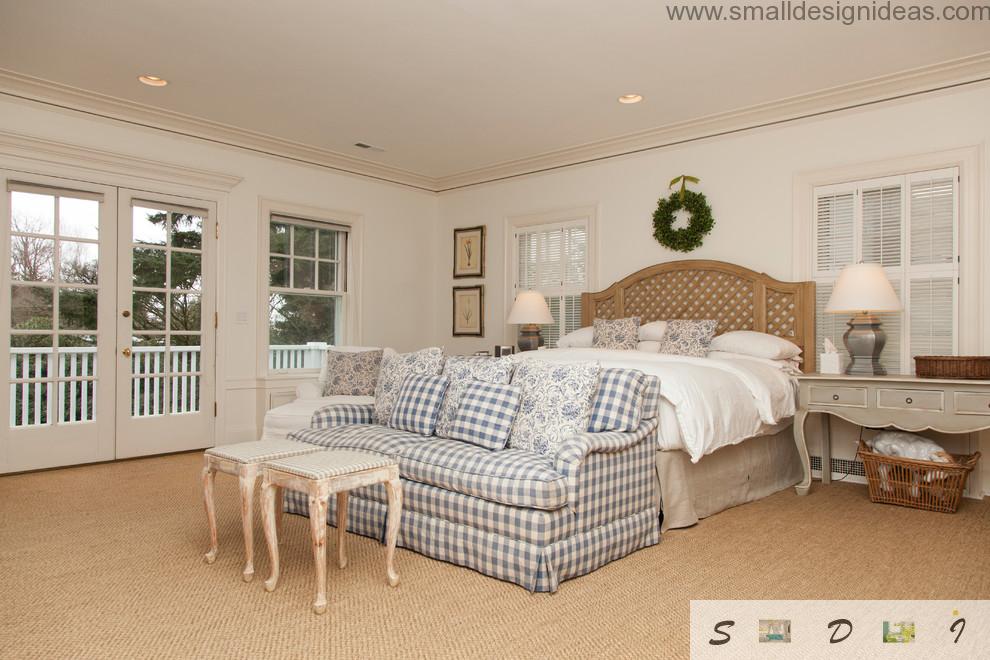 Windows
Most important in creating a style of Provence is filling the room with streams of light that visually expands the space. Natural light, especially in the morning, easily penetrates the premise through the filter of peculiar weave of window frames and thin coffee curtains with a narrow lace.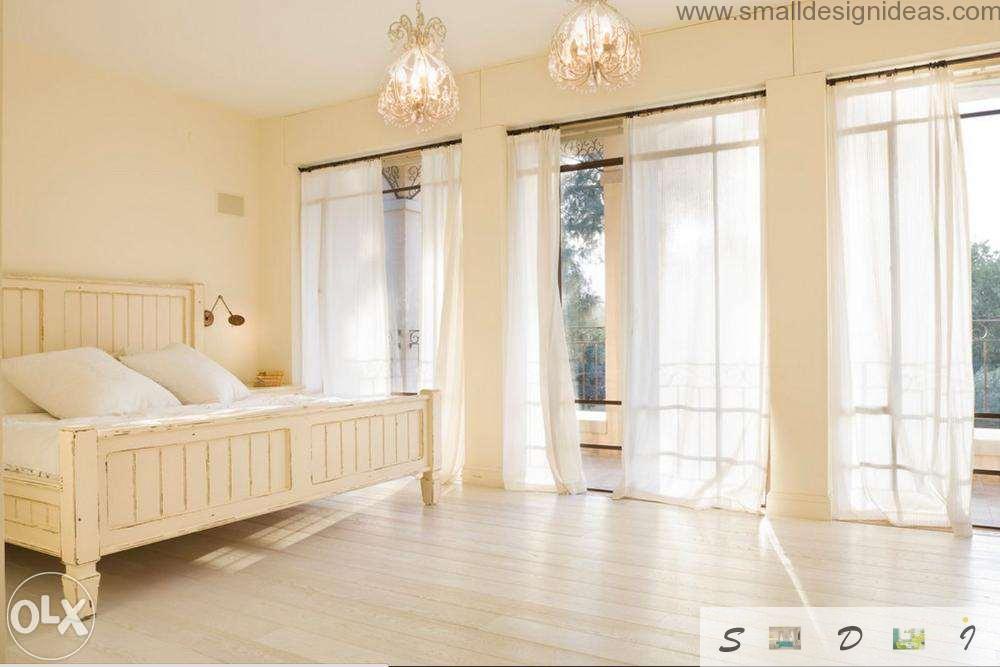 The intensity of the incoming light can be controlled by curtains, wooden blinds, shutters. Wooden shutters that can be shut from the inside on a hot day, give the room comfort of past eras.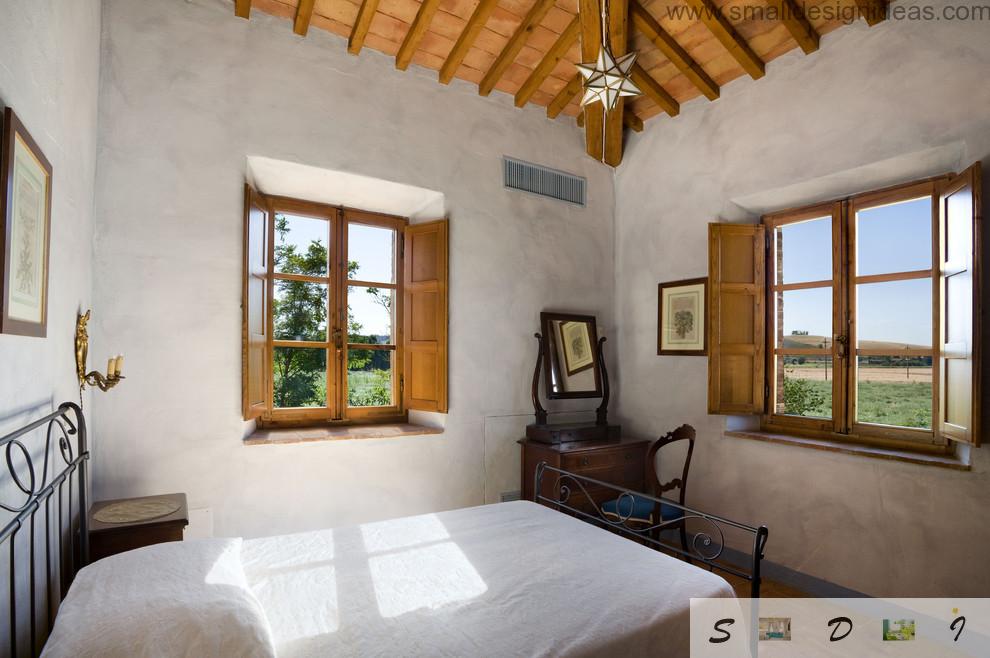 Accessories and decorations
The impression of softness and fluffy bedroom, as though it is waiting to take you on a vacation with open arms, creates with the help of accessories. To achieve this effect try collection of pillows, rugs, blanket, beautiful linens, the color of which corresponds to the main Provencal style colors – green apple, purple lavender.
Decorative elements should be varied, and the more of them the better. They add individual features of the room and emphasize the idea of ​​transferring heirlooms from generation to generation. They make the room more warm and cozy.
Curtains, bedding are abound of various floral patterns, creating the impression of the garden outside the window is partially moved into your bedroom. Handicrafts fit good to the interior: embroidered or crocheted capes, napkins, tablecloths. Colorful homespun mats at the legs of the bed or seat would complete design flooring. Curtains are long , made of traditional printed fabrics with floral or geometric pattern. Instead of elaborate curtain holders you could prefer simple, wrought iron or wood, ones.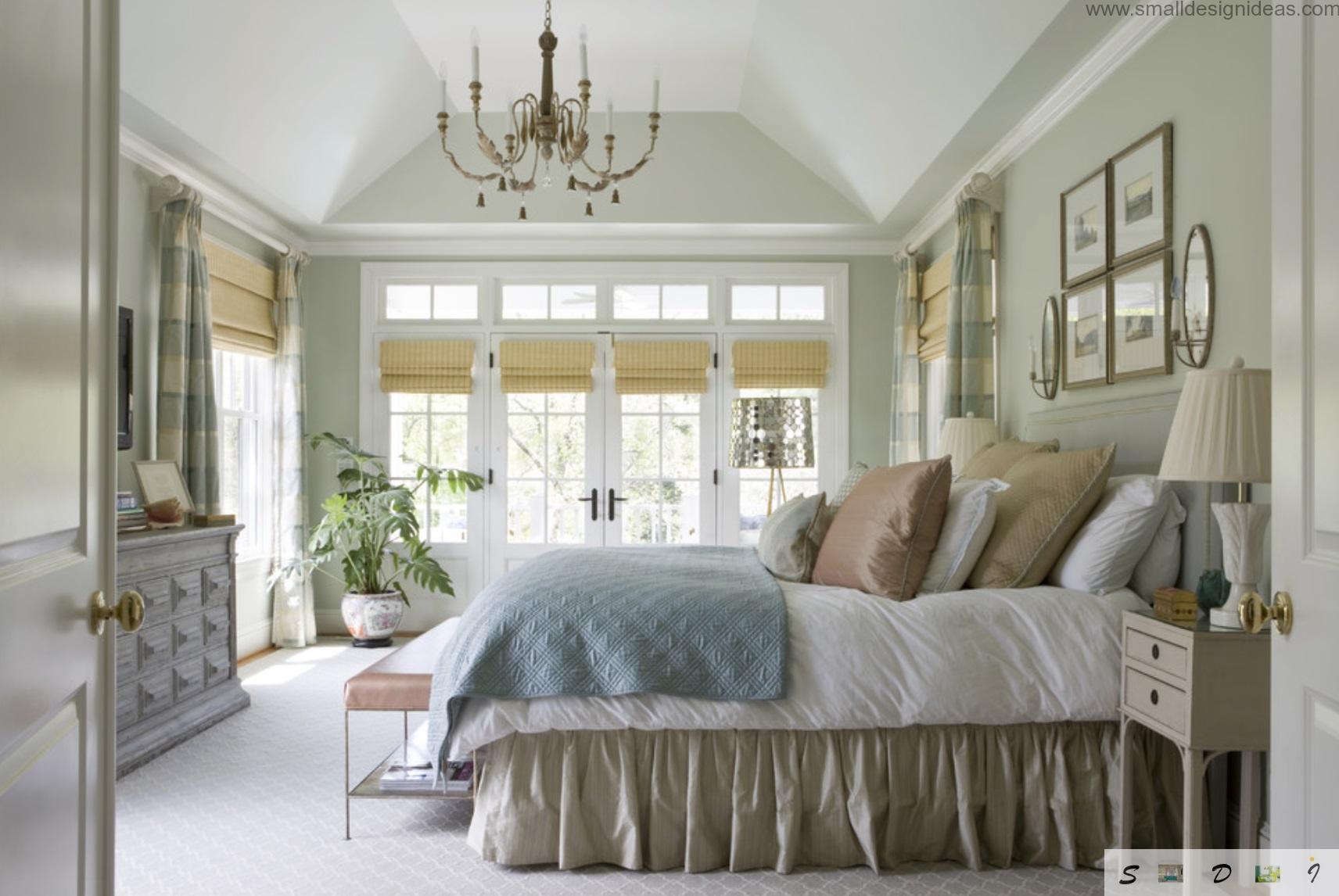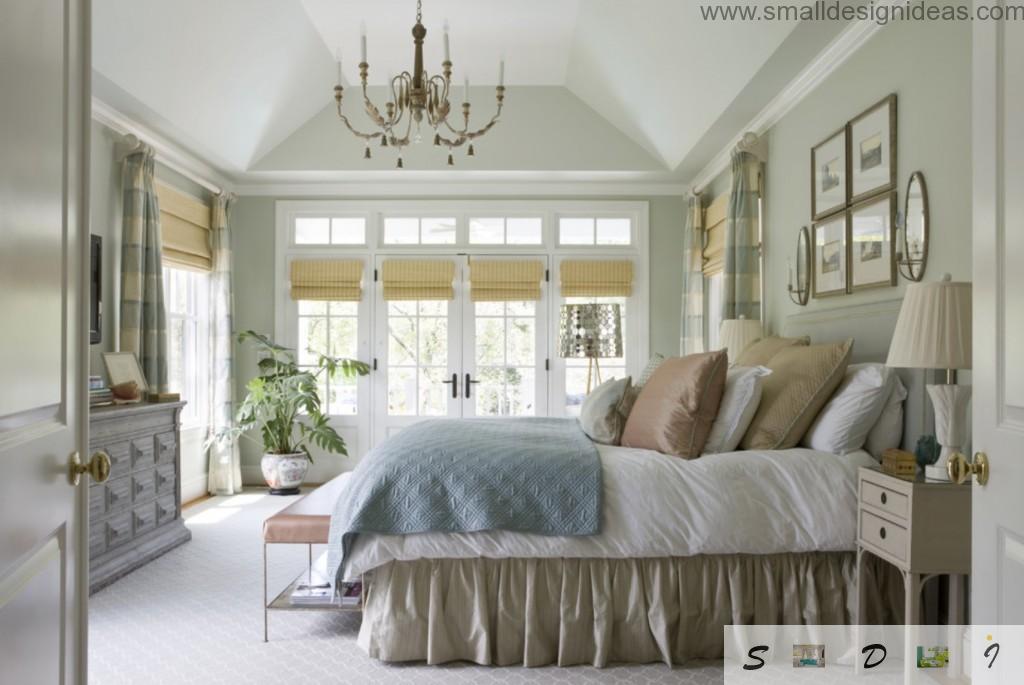 A special place in the decor is given to mirrors framed by intricate aged frames.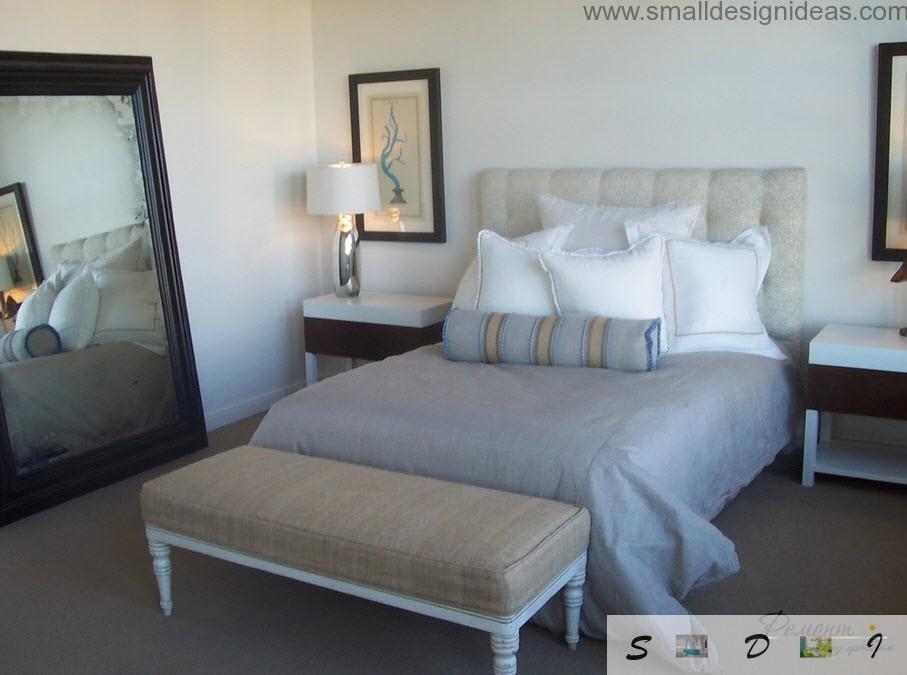 Fixtures of different allocation are needed for lighting of every corner of the room, and ideally they should also be designed in the light spectrum.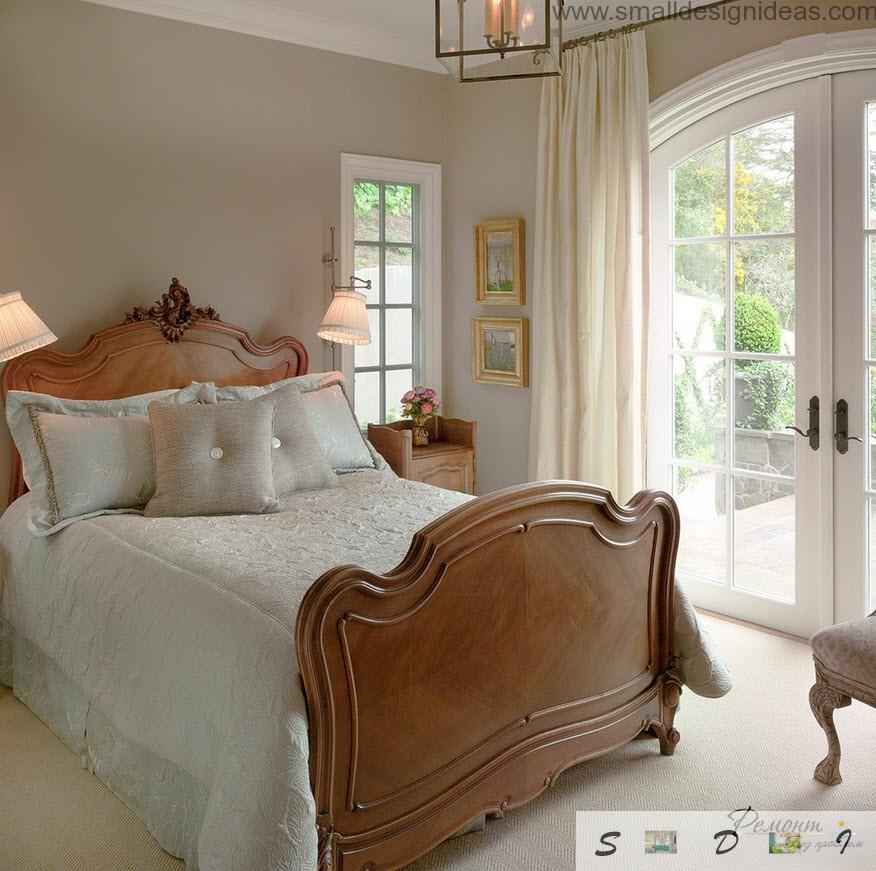 Frequent decorative element are the iron horseshoes. Forged or porcelain animal figurines are relevant elements of decor, as well as ceramic vases with bouquets of dried or fresh flowers.
Pictures of landscapes and still lifes, old and new family photos in frames would complete the creating composition and give an atmosphere easy coquetry inherent to the Provence style.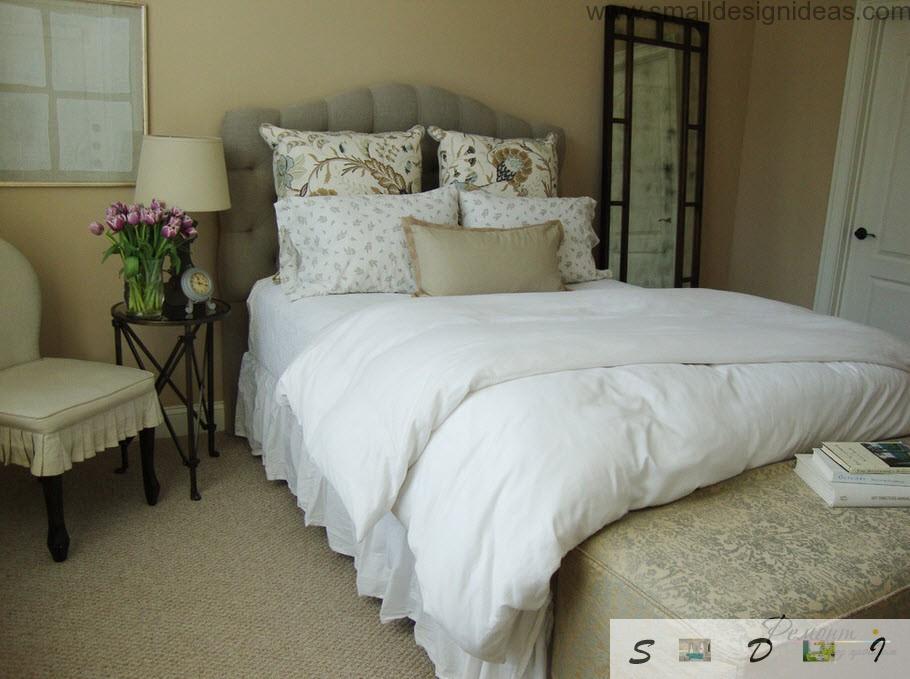 Provence style is appropriate to decorate suburban and country houses for permanent or temporary residence. It fits the city apartments in lesser extent, although you can apply some specific techniques and stylistic elements.