The kitchen is the most crucial department of the home; it is the compartment where we prepare our nutrient-filled meals; and so, a lot of effort should be invested in making sure that the kitchen is in a perfect fit. One of the ways to keep the kitchen in good fit is by using the perfect material for the kitchen countertops – Quartz is a perfect choice. The usage of quartz for your countertops imprints the perfect aesthetic to your kitchen as well as enabling your kitchen to serve the purpose to which it was meant to carry out.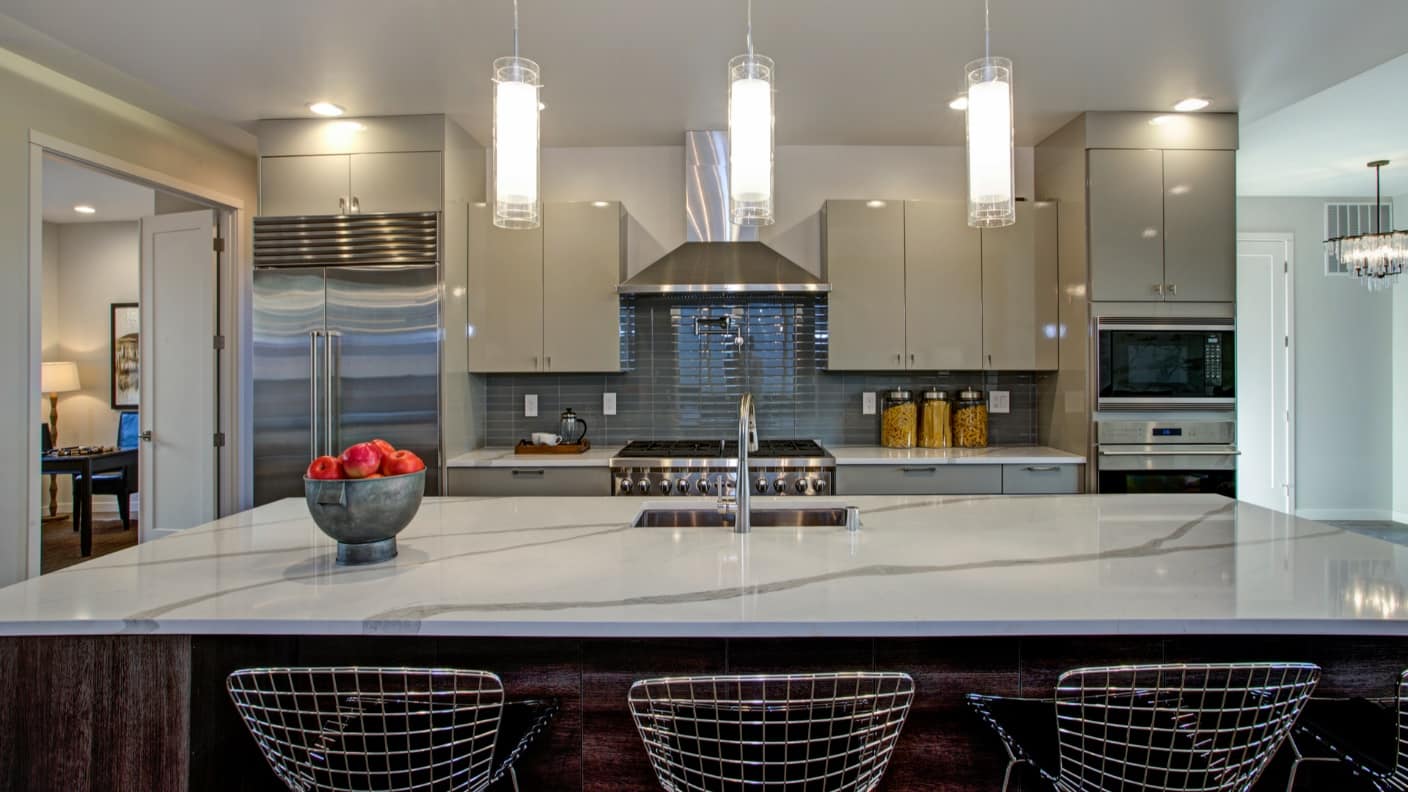 Quartz countertops are exquisite products that are manufactured by crushing natural, mineral quartz, then molding it into slabs, which is then cohered with polymer resin. Quartz countertops are made from 90% ground quartz and 10% polymer resin and other materials such as the pigments that are used to impact the color variability of quartz. The manufacturing process of quartz creates an extremely durable countertop that leaves it almost indestructible. The durability of quartz is as a result of the mineral quartz used in its production.
Quartz is a grand countertop material, and is known to proffer the following benefits:
DURABILITY: Quartz has an indisputable, lasting strength, and this makes it a perfect fit for your busy kitchen. The durability of quartz is a reliable quality that will allow your kitchen to stand the test of time while it's being used. Its strength is likened to that of granite and concrete. The outstanding quality of this quartz stone ensures that your kitchen countertop is resistant to flaws such as cracks and fissures. This non-porous material is tolerant towards stains induced by juice, coffee, tomato, wine, oil and other sources of stains that may arise in the kitchen. Another tremendous benefit that the quartz's durability can proffer to your kitchen countertop is its heat-resistance. In addition, there is no need to worry about the hygiene of your kitchen because quartz is allergic to mold, bacteria, and viruses. Homeowners would never be disappointed if they decide to employ quartz as their kitchen countertop because aside from all these advantages, quartz comes with a 10-year warranty.
AESTHETIC: One of the qualities that homeowners look out for when searching for the perfect material to employ for their kitchen countertop is beauty. No one wants their kitchen to look displeasing to the eyes—Quartz is the best choice to give the required aesthetic to your kitchen space that will cause witnesses to be enthralled. Quartz will give your kitchen space—the stylish and modern view that you desire. Thus, it comes in different brands of varied colors and patterns. Quartz provides a wide selection from which every homeowner can make a choice, and this usually includes the combination of the best style, pattern, and color for that perfect dream kitchen that you're willing to actualize. Be rest assured of the exceptional impression that quartz will give to your kitchen space if it is employed.
LOW-MAINTENANCE: Every adult—at one point in time—undergoes stress on a daily basis coupled with the energy utilized in preparing the everyday meals, no homeowner would want to employ a countertop material that will sap the little energy left when it comes to maintenance. Hence, quartz is a highly recommended material with little or no-maintenance, yet still has a lot to offer to its users in terms of quality and beauty. Quartz countertops are almost indestructible due to the manufacturing process. Quartz requires a low-maintenance as a result of its great strength and non-porosity. The engineered quartz countertop does not require sealing unlike other natural stones: this is because quartz is nonporous, and the polymeric resin was used during its manufacturing process. The non-porous nature of quartz makes it easy to clean; just warm water and a mild soapy solution with a soft spongy material can be used to regularly clean the quartz countertop. It is important to note that quartz is so durable that it is one of the few countertop materials that come with a 10-year warranty.
For the clueless homeowners who are unsure of the particular brand of quartz they should employ for their kitchen countertop, the following brands are the top-notch and highly recognized brands you don't want to miss out on:
Caesarstone: Caesarstone quartz is the number one brand with over 40 colors and it is readily available in many design stores worldwide. Caesarstone is available in different styles ranging from the traditional style to modern styles.
Silestone: It is one of the most popular brands among homeowners which is available in over 60 colors and styles.
Cambria quartz: Cambria is the only high-end brand that is manufactured in the United States. It is available in over 100 colors and styles through superior specialty stores and distributors.
Santa Margherita Quartz: Santa Margherita is available from the Verona Marble Company in some collections from the unusual glitter line to the more traditional design. The company also offers a dynamic surface alternative including a striking line called the "Textured Wave''.
Viatera: The Viatera quartz brand is manufactured by the popular consumer electronics and appliance company, LG. The Viatera line is created in Italy by LG and is available in 50 natural colors and styles.
Below is the cost that could possibly be incurred in the purchasing, fabrication, and installation of the quartz countertop in the kitchen of homeowners:
COST
Averagely, the cost for obtaining a quartz countertop without installation fees considered is about $75 per square foot. Although the price is dependent on the brand and manufacturer, here are some of the average costs based on quality, Low-quality: $50 – $65 per square foot, Medium quality: $65 – $70 per square foot, and High quality: $70 – $75 per square foot. The price incurred for purchasing, fabricating, and installing a quartz countertop in an average-sized kitchen falls within the range of $115 – $200 per square foot. A lot of factors could influence the prices, and they include the brand of the quartz stone you purchase and the kind of expert you hire to install the quartz stone.
In general, quartz is an affordable and a perfect fit to apply as your kitchen countertop material. You just can't go wrong with using it as your preferred choice. It has a lot of offer and you almost can't get enough of it.