The miniature kitchen in the apartment can be stylish and attractive, but it also requires a thorough approach to the arrangement. A thoughtful design is necessary for the organizing of space in a 50 square feet kitchen. Practical ideas of design and renovation can help in making affordable and time saving planning. Quite often the kitchen has 5 square meter of area in old blocks of flats. And if you try, it will become more interesting and original than those which space do not create problems for the designer. The proofs are collected in the following photo gallery.
Kitchen design on 5 sq. m (50 square feet)
The kitchen in old apartment is often not very comfortable and small. Its renovation requires good thorough planning. In the tiny kitchen of 5 sq. m furniture should not occupy the entire space. Even large, but cluttered rooms look smaller than they really are. That is why it is so important that the room in a confined space is maximally freed. The most difficult part is to come up with a good layout of the space and size of appliances, which should be functional and convenient. When organizing a small kitchen interior on 50 sq. feet, choose light colors of finishing materials which optically increase the space. It is worth considering the white, light shades of gray, warm colors of the wood.
Tiny kitchen of 5 square meters: important design rules
Avoid filling a small kitchen with cupboards from top to bottom.
Apply shelves hanging on the walls and organizers with hooks. They allow the use of walls and freeing of the working surface, so that we will have more room at our disposal.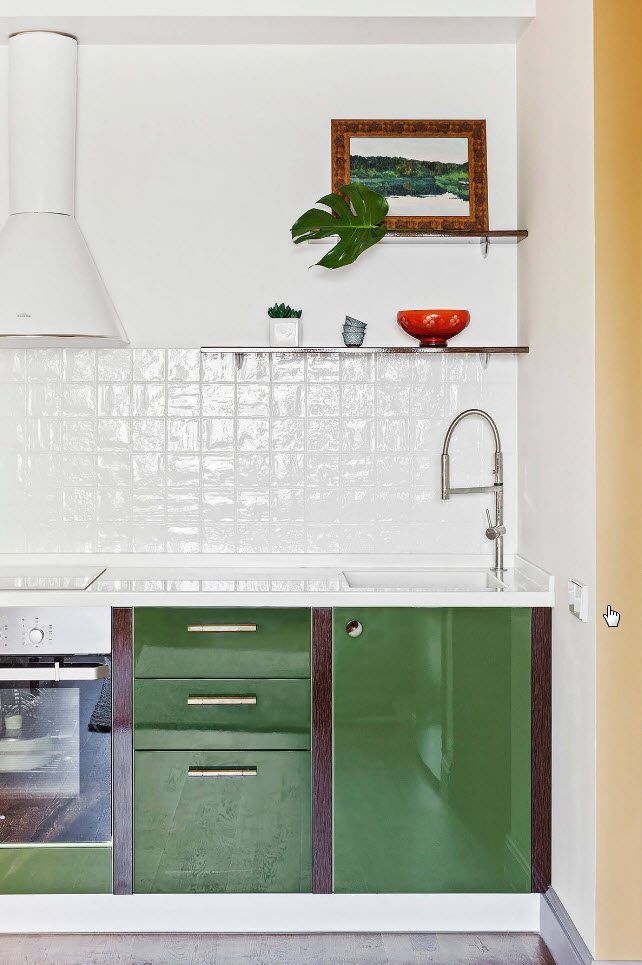 If you opt for white or beige closets, then you'll make the kitchen more voluminous. Smooth shiny facades also reflect light, improving the sense of space.
Combined Kitchen and Living Room: Photos of Interesting Ideas
If the kitchen in the apartment is very small, it is worth considering its combining with the dining room or living. Blurring the boundary between the adjacent room(s) to the miniature cooking place is the most obvious way to expand its space. Install furniture utilizing the width of the kitchen. In a very narrow room, place one row of cabinets or go for L-shaped kitchen set. If you want to have two rows of cabinets in a small kitchen, remember that the distance between them (the passage) should be at least 120 cm.
Kitchenette in the Apartment
If the kitchen of 5 square meters is open to the living room, then you can plan its location more freely, because the walls are now not a tight restriction. An additional advantage of a combined kitchen is the ability to maintain eye contact with people in the living room, which is especially important when there are small children at home. When organizing a room for cooking in combination with the living room, you must choose the furniture accordingly. The fronts of the kitchen cabinets should be adapted to the living room furniture, so that the entire territory is consistent. Also it is necessary to introduce the traditional border between the kitchen and the hall, for example, in the form of different floor coverings.
Small Kitchen in Apartment. Good Design
When you can not combine 50-feet-sized kitchen with the living room, or this solution does not suit you for various reasons, we can still have a fashionable and functional cooking room. Particular attention should be paid to the choice and placement of furniture. Kitchen cabinets with light, smooth facades will suit best. High construction will provide a large amount of storage space, and open shelves will give ease. In a small closed kitchen, you should minimize all elements of purely decorative meaning. The design of the kitchen should be well thought out. Regardless of whether it is a miniature or large, narrow or spatial room, you need to know a few universal principles that will protect you from serious mistakes when planning an interior.
Small Kitchen 5 sq. m. Practicality and beauty 2 in 1
If you want to make the most of the space of a very small kitchen, remember that every room where the furniture is floor-to-ceiling sized seems even more compact than it really is. And this is especially noticeable in a small kitchen of 50 square feet. It is better to choose cabinets in different levels.
Kitchen furniture and doors
In a very small kitchen, you need to choose a non-standard sliding door. Low cabinets with glazed facades and illuminated from the inside, are recommended in accordance with the current fashion, not only for small kitchens. They are more and more often used in kitchens which are open to the living room. If someone already decides to install the top cabinets in a small kitchen, then it would be nice if their facades are made of frosted glass or translucent plastic. Transparent kitchen furniture, located at eye level, creates the illusion of space and a sense of depth. Sliding doors are especially recommended for small 5 sq. m kitchens, which occupy very little space.
Wide Countertop is an Excellent Choice for a Kitchen of 50 square feet
A practical solution in a miniature kitchen is to increase the width of the countertop to 80 cm. Thanks to this, you can place compartments for storage of convenient working tools under the wall: knives, spoons and other kitchen utensils necessary for cooking and consuming dishes. Expanding the area of ​​the work surface, you will get more space under the cabinet, which can now be a depth of 60 cm. Added 20 cm is also a place to store the necessary items. Thanks to the extension of the lower cabinets, you can store more kitchen utensils in them. And functional, drawers and boxes allow maximum use of space.
The kitchen for the family should be spacious, but not always our desires coincide with the possibilities, so it should be as comfortable and practical as possible to equip available area. Even the kitchen of 5 sq. m can play with new colors, if you think about its design, pick up suitable finishing materials and furniture. The room can easily become comfortable, functional and safe. The advantage of the 50 square feet kitchen is not its size for sure, but even in such a miniature area you can create an excellent room for use, which will be the decoration of the entire apartment. Check this by reviewing the photo gallery of this article.