It is difficult to imagine modern home without a refrigerator. Thus, this device should be in every kitchen, even the smallest one of 6 square meters. How to choose the ideal model of household appliances, which, besides being able to fit into the space of a small room, will also justify personal expectations regarding the volume and quality of products stored in it? First of all, read the offer of the market, and then analyze your needs and opportunities. The arrangement of a small kitchen always begins with the choice of home appliances, which takes up most of the space, since you can not give it up surely. If you are interested in harmonious interiors of the kitchen 65 square feet with a refrigerator, then use photos with a beautiful and functional design.
65 Square Feet Kitchen with Refrigerator. Beautiful and Functional Design
Which refrigerator is best for a space organizing in small kitchen? Free-standing or built-in one? What should you consider when buying such equipment? In apartments with small kitchen it can be a problem. Many of people living in condos or small apartments have a room of about 6-12 square meters (up to 130 sq. feet), so it is not difficult to find suitable modern furniture and equipment for a small kitchen. One of the most difficult dilemmas is related to refrigerator. You should choose it so that even a small room looks good and functional.
Free standing or built-in refrigerator in the kitchen 65 sq. feet (6 sq. m)?
Fashion for a well-equipped kitchen, where each element fits perfectly, have become a standard in the modern world. Modern equipment allows you to enjoy a beautiful interior, harmoniously blending in colors, which also works perfectly. In the kitchen of 6 sq. m (65 square feet) in size both freestanding, and built-in refrigerator can be installed. In the first version the unit will be in sight, but for the room where food is prepared it is quite a relevant piece of furniture.
You can put the refrigerator in the closet. The equipment will be perfectly integrated, which will also slightly increase the space optically. In a small kitchen, it will be especially important to use tricks that make the room larger:
mirror surfaces;
use of shiny materials (for example, tiles);
bright colors of walls and furniture;
large patterns;
furniture without handles;
When it comes to embedded models, you should know that they usually have a slightly smaller capacity, which may be inadequate for a family with children. It should also be taken into account that you should not install the first available refrigerator found in the store. Fortunately, the choice of such devices is so great that there is no problem with the choice.
The layout of the kitchen on 65 square feet. How to choose the optimum dimensions of the refrigerator?
The refrigerator should be an element that facilitates the preparation of dishes, rather than a large piece of furniture that prevents access to cabinets or other devices in the room. Owners of kitchens with 6 square meters in size should pay special attention to this problem, planning design competently.
Classic refrigerators
Excellent fit in the kitchen is standard model of the retro refrigerator, the parameter of which is about 55-60 cm, but there are smaller units. The width is also important. Medium cooling devices, which are about 170 cm in height, have a width of 60 cm, and these dimensions can vary. Today in the market you will find devices with a width of even less than 50 cm.
Two-compartment refrigerators
Owners of small kitchens are unlikely to think about double models of refrigerators, because they are often too broad. Such designs are distinguished by the fact that the cooling and freezing part are next to each other. Do not completely exclude this option, especially with a large family and daily cooking. Such models often have additional functions, for example, a maker of ice cubes or a water dispenser and, therefore, many additional functions. First of all, you need to evaluate how much such a refrigerator is important in your daily use.
Refrigerator under the counter top
Since you have a small kitchen, placing a large and high refrigerator in a visible place is not always possible. In this situation, you can choose a device that fits under the countertop. Thus, you can choose from different models with a height of not more than 85 cm. If the refrigerator should be located next to the kitchen cabinets, then its width should not exceed the standard 60 cm. In such models, there is often a small freezer compartment.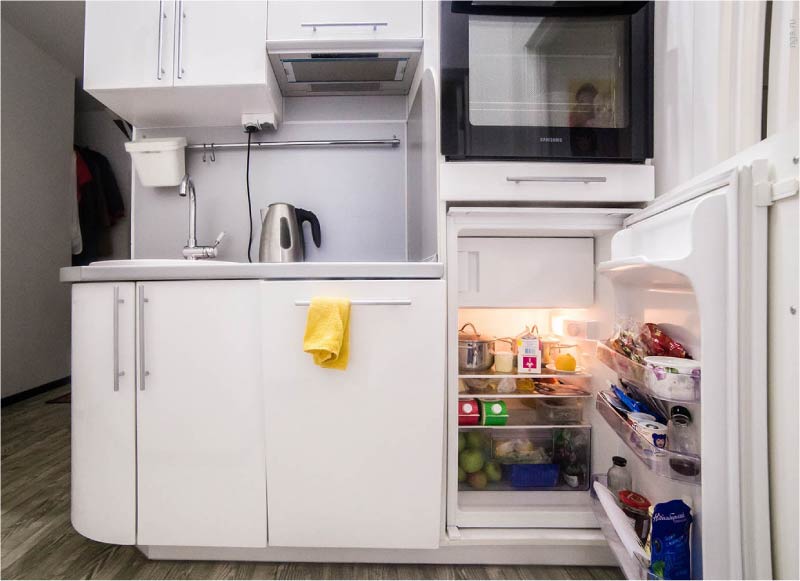 Refrigerator in a small kitchen 6 sq. m: which capacity?
The capacity of the refrigerator is chosen according to the number of people who will use the equipment. For example, for a family of 4 people the most preferred is a device with a capacity of about 210 liters. First of all, it is necessary to stop the choice on the most simple models that do not have modern systems taken from other devices, for example, LCD monitor, ice production system or water filtration. You should concentrate on a typical refrigerator or an extended version with a freezer if you store frozen food at home. However, you do not need to give up the functions of No-Frost, high-energy class (A+ and above), freshness technology (the so-called BioFresh) and antibacterial protection. When you think about the refrigerator, you must take into account all the pros and cons. People who do not cook at all and live alone will probably be more satisfied with a smaller refrigerator without a freezer, for example, with a total capacity of 50-75 liters.
Choosing the right refrigerator is not an easy task. The less you have a kitchen, the modest are the possibilities of organizing an interior and choosing appropriate household appliances, and consequently – the purchase of specific models of refrigerators. Today you can choose the size of household appliances for any room parameters. Even the kitchen of 6 sq. m looks chic with all the necessary furniture items, making it easier for you to cook every day.