No one wants burglars or thieves to be able to come into their home. Click here for some security tips on how to burglar proof your home.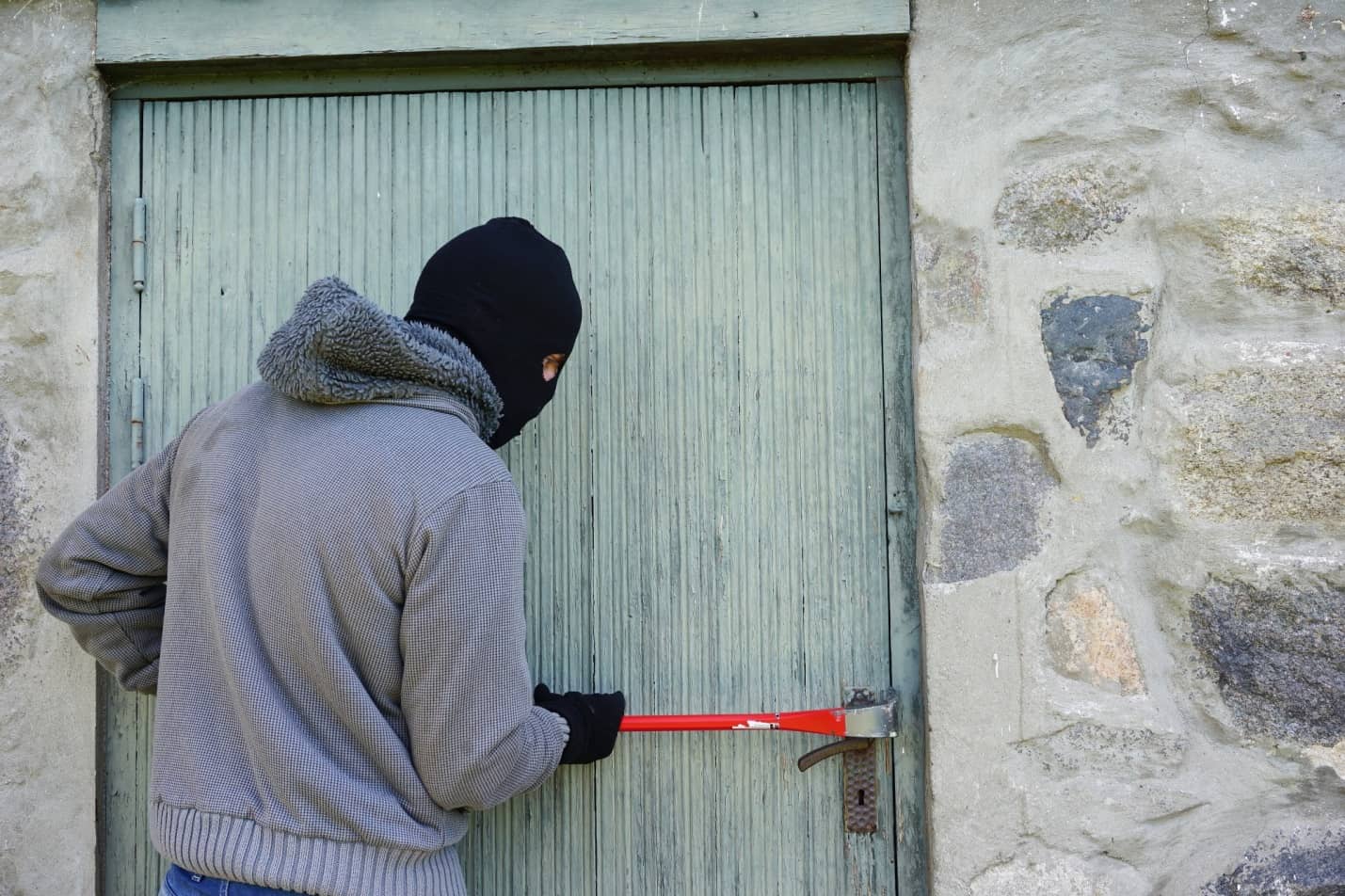 There are almost 5000 home burglaries in the United States every day. This breaks down to one every 18 seconds. With three home invasions happening every minute, have you done all you can to secure your home?
Here you will learn how to burglar proof your home the right way and keep you and your family safe.
How to Burglar Proof Your Home
Have you ever wondered about how to protect your home from invasion? If you're doing enough. If you're safe? It's important to consider your entire property.
Keeping your home safe means keeping your whole property safe. The only way to do that is to start from the outside in. Let's start with securing the perimeter.
Start With Your Property Line
The absolute best way to secure your home is never allowing a thief near it in the first place. A secure perimeter around your property is your first line of defense against home burglary.
There are many different methods for securing the perimeter. You can invest in a high, strong fence with a security gate. A security gate with a camera lets you find out more about anyone requesting access to your home. You can ask for identification and other information. You can do all this without ever letting them anywhere near your front door.
There are other options for smaller properties. You could use a video doorbell. The video gets triggered when anyone is within a certain amount of feet from the unit. Also, there are invisible fencing options. These trigger a silent alarm if anyone crosses them.
Secure All Entry Points
Now that you've taken care of the outside of the home it's time to take a look at the home itself. Securing any potential access point is critical to home security.
You'll want to invest in a good security system. Make sure there are video cameras pointing at every access point in your home. It's proven that homes with security systems are less likely to be robbed.
Now that you know you'll have footage let's move onto securing those entries.
Lock Your Windows
There's nothing more important than keeping your family safe. That's why you need to make it as difficult as possible for intruders to break into your home.
Let's start with the basics. Always lock your windows.
This one might sound obvious, but you'd be shocked at the number of people who don't lock their windows.
Take the time to inspect the windows in your home.
Look at the quality of the locks. Many locks on cheap windows are made of plastic and are flimsy. This won't provide much of a defense against intruders, but it's better than nothing.
Consider upgrading your window locks, or buy higher-quality windows, so that it will be more difficult for someone to enter from outside.
Secure Your Doors
Next, take a look at your outside doors. This will be the first entry-point intruders will target when attempting to break inside.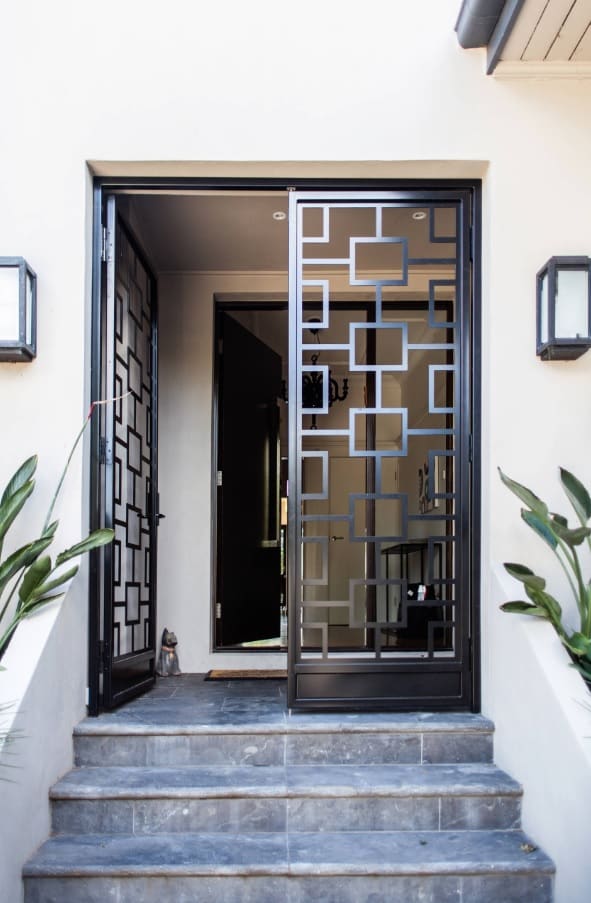 Again, check the locks. If they appear flimsy, go ahead and replace them as soon as possible. Good solid locks are relatively inexpensive, especially in comparison to being burglarized, and they can be installed with a few tools and minimal skills.
Also, consider replacing any doors that could be easily bashed in by someone. For outside doors, it's recommended that homeowners replace cheap hollow-core doors with solid doors fitted with quality locks that will more effectively keep intruders out.
Install Good Outdoor Lighting
Believe it or not, one of the most effective forms of home security is to simply make sure you have adequate outdoor lighting.
After all, intruders prefer to approach homes where they can't be easily seen. Many homes are burglarized at night when the bad guys can hide in the shadows.
Good outdoor lighting as LED wall pack is great for reducing the number of hiding places around your home. Light up the backyard, the driveway, as well as any spaces around the sides of your home where burglars might be tempted to enter through first-floor windows.
Keep in mind that good lighting might not prevent all intruders from approaching your home, but it will at least make them think twice about victimizing you.
Invest in a Quality Security System
It's hard to overstate the importance of a quality home security system. As technology has improved and prices have steadily decreased, there's never been a better time to invest in this form of security.
You'd be amazed at the impressive home security systems currently on the market. You can hire a professional home security company to install and monitor your home, or invest in a DIY system that you install and monitor yourself.
Keep in mind when choosing a security system, you don't have to spend a fortune. Many systems are relatively inexpensive and require minimal setup.
Most systems now link to your smartphone, allowing you to effortlessly change the settings and monitor your home remotely from any location.
There's really no longer any excuse not to invest in this type of inexpensive and reliable home security technology.
Install Security Cameras With Motion Detectors
When choosing a home security system, don't forget to include security cameras with built-in motion detectors.
Again, you don't have to drain your bank account to invest in quality security cameras. Current technology is pretty amazing. In fact, many security cameras are wireless, so all you have to do is pick a spot, mount the camera with a bracket and a couple of screws, then periodically change the battery.
Most even feature apps for your smartphone that allow you to monitor security camera footage from any location, day and night.
Buy a Safe
This is an important recommendation for anyone with valuables such as jewelry or cash that you keep at home. Invest in a sturdy safe that is heavy and can be bolted to the floor. Install it in the back of a closet or beneath a desk where it is obscured from view.
A quality safe will feature a digital pad that requires a combination or fingerprint in order to gain access to whatever you hide inside.
Make Sure Your Garage is Secure
Many people overlook the garage when securing their home. Make sure the door is solid and cannot be easily forced open without first being unlocked. Outdated garage doors are vulnerable, providing intruders with unobstructed access to your home.
Eliminate Hiding Places Around Your Landscaping
Take a look at your landscaping. It might be beautiful, but it also might provide great hiding places for intruders. Consider eliminating or trimming back bushes and shrubs that create cover for bad guys.
If you've been thinking about landscaping your home, take the time to assess the look you want compared to what will best meet your home security needs. After all, making smart landscaping decisions can go a long way toward making your home as safe as possible.
Tips for How to Burglar-Proof Your Home
When it comes to learning how to burglar-proof your home, even the smallest details are important. You can invest a fortune in the most expensive security system, and yet the best thing you can do is make sure your doors and windows are locked.
The tips contained in this article will help keep your family safe, and it's hard to put a price on that. If you found this article informative, be sure to check out our website for more home improvement ideas.
Securing Cellars
Padlock cellars and basement access doors from the outside. Make sure your cellar doors are in good shape and aren't suffering from wood rot. Consider investing in higher quality doors, as well.
The safety of your family is worth the added expense. The sturdier doors will also keep anything stored in your cellar safe from the weather.
Consider Getting A Dog
Homes with dogs, large or small, are at less risk of a break-in. Thieves are not keen on barking dogs alerting the neighbors to their activities.
A dog can give you added peace of mind in the night and when you're not at home.
But, What if Someone Still Gets In?
Always maintain proper use and testing of your security system. Make sure you set the security system and arm it anytime you leave.
Most systems also have a "home" setting that will keep the system armed even when everyone is in the house. This feature keeps the entries alarmed but turns the interior sensors off.
Make sure everyone in the family knows your pin code and safety phrase you've set for the security system. Every once in a while test the system by tripping the alarm. Be ready to answer the call from your security company and provide the safe phrase so the police don't show up.
All these steps will give you the peace of mind that your security system is in working order and will protect you.
Your Home is Your Safe Haven, Keep It Protected
We hope this gave you a good idea of how to burglar proof your home. Start from the outside in with perimeter protection. Move on to secure all entryways around the entire home. Check windows and cellars to make sure they are in good working order and aren't easy to break.
Lock your doors. Maintain a good security system. Place sensors at every entry point which will alert you if it's been open or closed. Place the sign for your security company in a few different places on your lawn.
Taking these precautions will help keep you and your family from becoming a target. A few simple steps to avoid the heartbreak and loss of a home burglary. This seems like it's worth the cost and sweat equity to me.
Have you done anything to make your home safer? Been a victim of a home invasion? Think we missed a great idea on keeping your home safe and protected? Please share your experiences in the comments below.