Many homeowners are interesting in the possibilities of turning their loft area into all-round living space. Fortunately, it turns out that this place is highly transformable. Yes, the range of potential roles that can play your attic is slightly different from those for basement, and we will try to explore which functional spaces are better to be relocated upstairs and why so. But one thing can be said right now: architectural peculiarity of attic rooms can become the advantage and main zest of the finished premises. Additionally, we can also utilize the closeness to the roof. For example, sunroom or greenhouse are also among most in-demand scenarios for this space. We already fantasized a lot on the subject, now we are ready to review some of the very best organizing comfortable and functional attic room advice with photos. Let's follow the best design practices and make the attic room really amazing.
Bedroom at the Attic
The most widespread function of the loft premises is to become a bedroom. And this is not without a reason. The place under the roof is the most silent and secluded space where you can easily stay undisturbed. Moreover, if you sleep here, you will never bother any of your family members from below floors.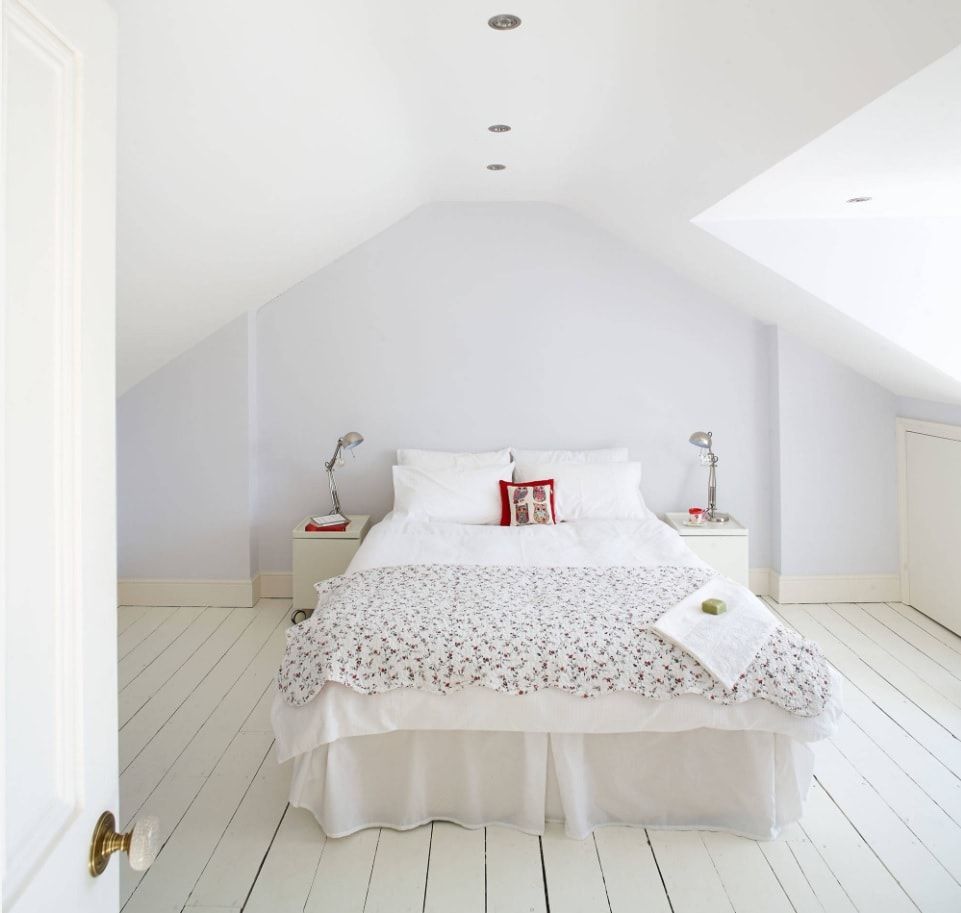 The main advantage of such bedroom location is easy light shading. Many roofs have small windows which can be easily shut. In addition, we should admit that the oblique location of windows on slanted walls make the natural lighting easier. So even the small windows will be enough to let proper level of light in. If you want to arrange additional light, think about complex system of illumination and white color of decoration.
Attic room is the ideal place to arrange guest bedroom in your house. The space in many cases allows you to organize small bathroom, relaxing zone and wardrobe here under the roof.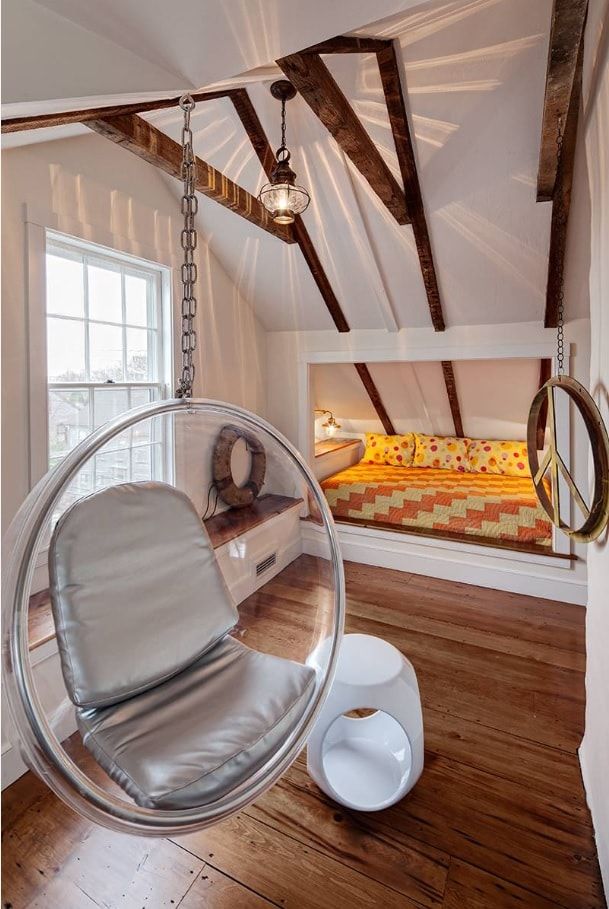 Also, the attic bedroom is up to almost any design style. At the photos above we usually saw Modern and Casual styled spaces. This is logical as modern styles can hide flaws and irregularities of mansard architecture perfectly. We can't forget about the Loft styled bedroom of course. As it is the most relevant concept for attic premise beyond all doubt. But what about Classic variants? It turns out, classics is also relevant for such bedrooms. Moreover, you can make this space really chic and functional.
The presence of fireplace, though artificial one, can improve the visual grade of status and aesthetic taste in the bedroom.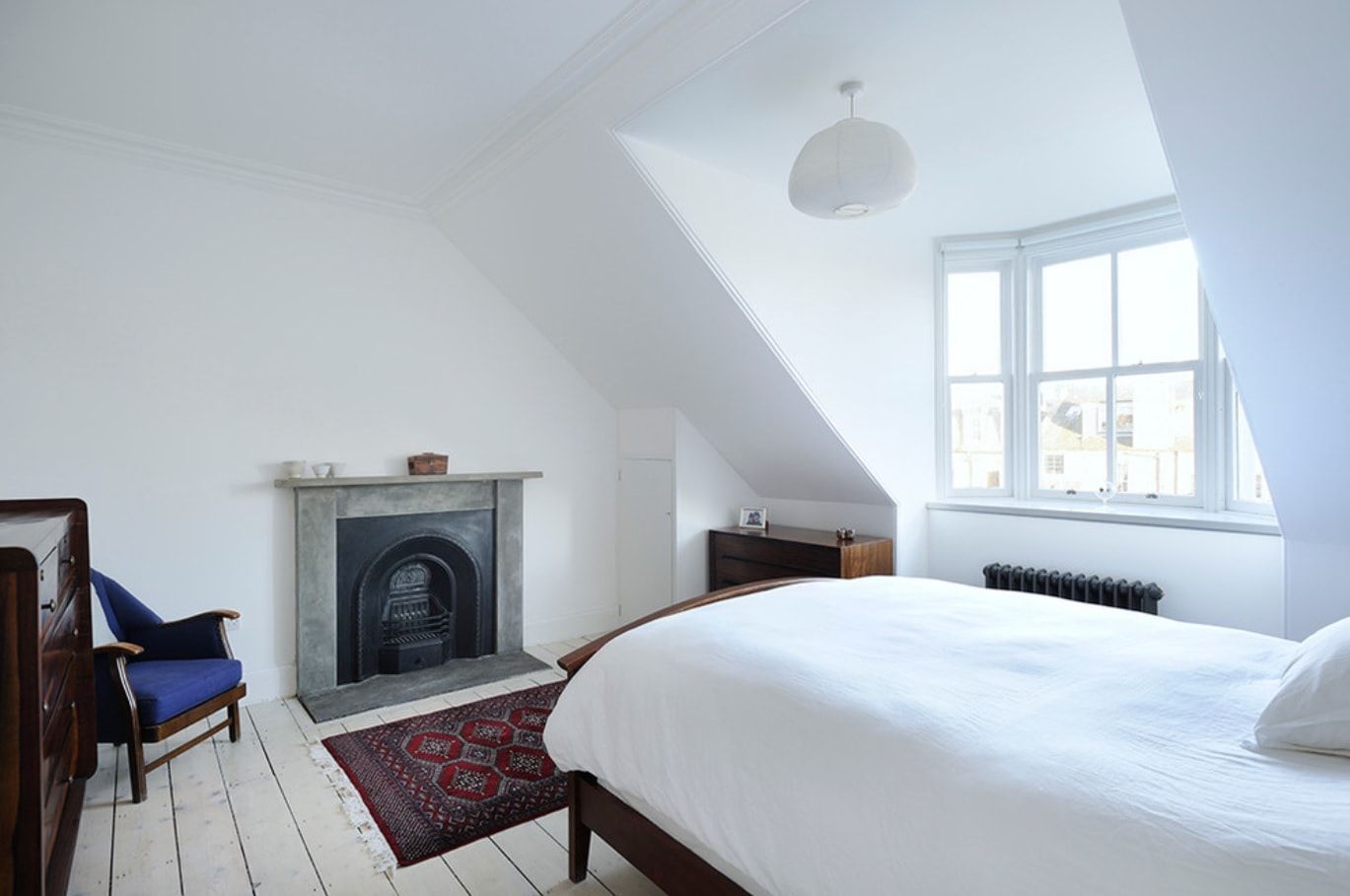 Home Office at the Attic
Another striking idea is to organize a really universal home office under the roof. First thing that comes to mind: attic is the ideal place for solitary work, skype calls, brainstorms etc. The majority of coworking spaces are located at the upper levels of office buildings. This has its reasons.

But why don't we make the full-fledged working space for you at home? It can contain its own bed for rest, table for eating, library and some leisure zone. In the most extreme variants, it can accommodate even a real kitchen as well. This is to eliminate any need to go downstairs at all. Some kind of fully autonomous life at the attic. Ok, just joking 🙂

Kids' Room
This idea can be regarded as experimental. If you need to allocate the space for kids, but out of space in the house, attic can save you. However, we should say, it is not the ideal place for children's room by many reasons. First of all, the sharp edges of walls. It is almost impossible to find the attic with sharp and angular architectural forms. This is bad for safety of the child. Second thing is the noise of kids' games and activity. But the proper acoustic and vibro insulation can solve the problem.

Living Room
If you prefer of extra space for parties or gatherings, opt for living room at the attic. It can be perfect choice for small houses with multiple rooms and large common space under the roof. Modern furniture of modular form, architecural irregularities and other can become accents in such living.
 

If space allows, it is also possible to consider organizing the home theater, bar or a real playground in addition to the living. It can be arranged right here as an open layout. And it is no matter of what style you will choose for design. Everything depends on your budget and taste.

Such extravagant options as arranging a kitchen at the attic room we will attribute to barely used in modern houses. The main reason against such organization is the height of the house. You will need to conduct sewage and water supply from the bottom to the top of the building. This is really hard and complex work. But, however, it is doable when there is a will or need to do so.