It is for a reason the pavilions are the most popular and functional decoration of the garden and backyard for many centuries. Under the roof of a garden gazebo, you can hide from the scorching sun or a little rain, retire, read a book or do some work, drink soft drinks, etc. And you can collect the whole family for dinner or invite your friends to a party in the fresh air. Any rest becomes more pleasant under the twitter of birds and chirping of insects, surrounded by a beautiful landscape filled with the scents of nature. Let's review some of the popular types of backyard and garden gazebo: design, form, use, and practical advice for house or summer cottage owners.
Contents: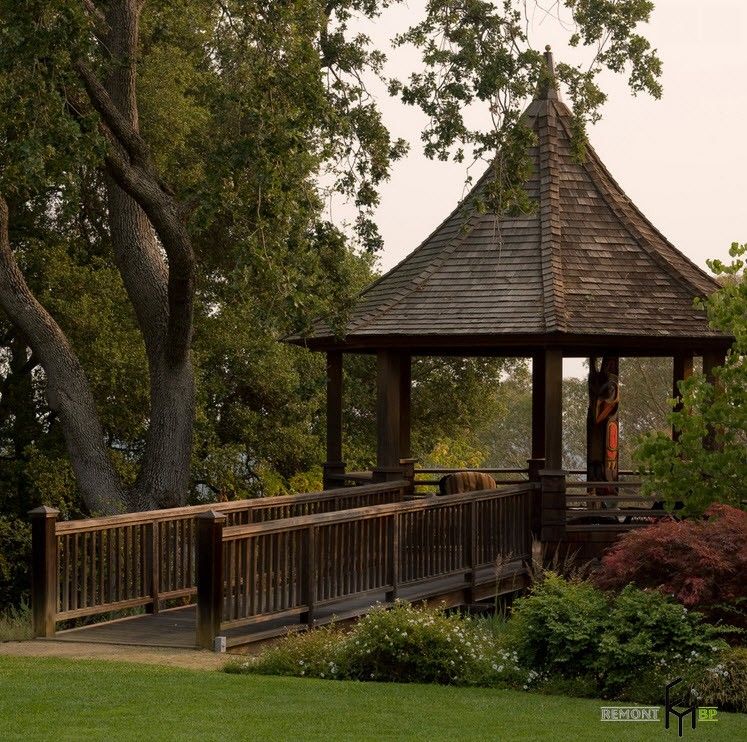 Currently, gazebos for the infield have ceased to be just light buildings designed to protect people from the sun or rain, but have become real miniature works of architectural art.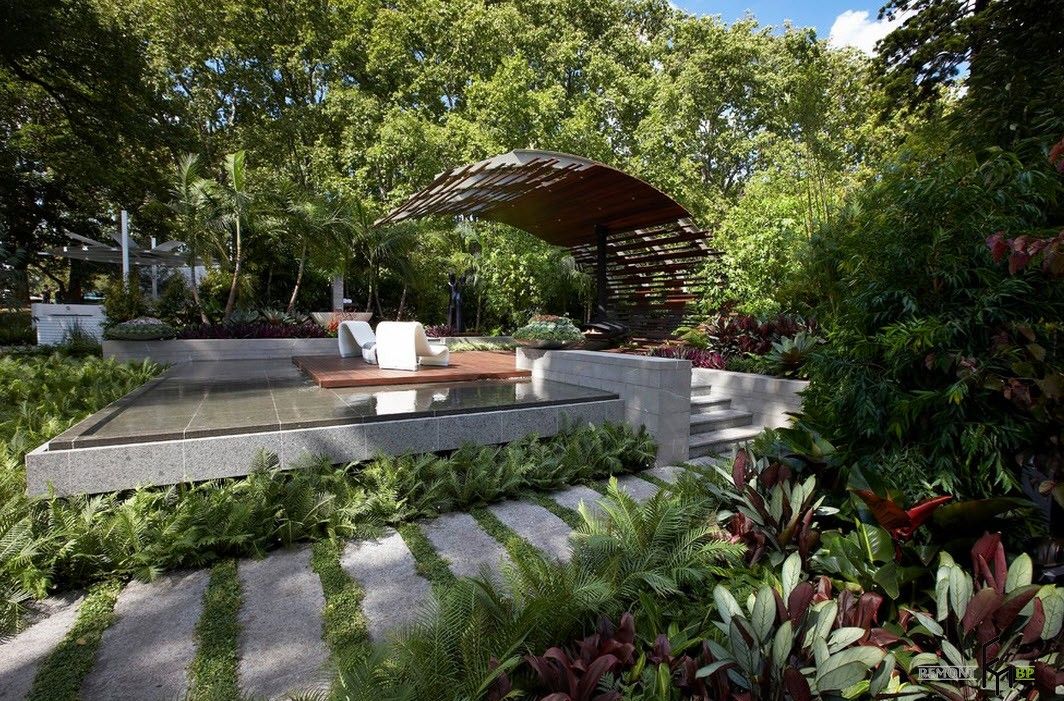 A competently and carefully selected gazebo model will transform any landscape design and become its main decoration. When designing an open building project, it is important to take into account the material and style of execution of the main building as well as the design of the landscape of your garden, backyard, or infield. If the gazebo is maintained in a common design style with the house, combined with other buildings on the area, then you can achieve the effect of a single architectural ensemble.
Pavilions with a Stone Oven
Homeowners pursue different goals by installing a gazebo in a holiday village or even on the roof of a city house, but often in addition to hiding from the weather, many want to organize a place for cooking on the fire. Having installed a stone stove or a fireplace under the roof, you can protect yourself from the vagaries of nature and enjoy delicacies at the dinner table directly in the fresh air.
The use of stone and wood to create masterpieces at the summer house plot, backyard or garden has been a favorite option of all designers for many years. This alliance will faithfully serve homeowners for a long time.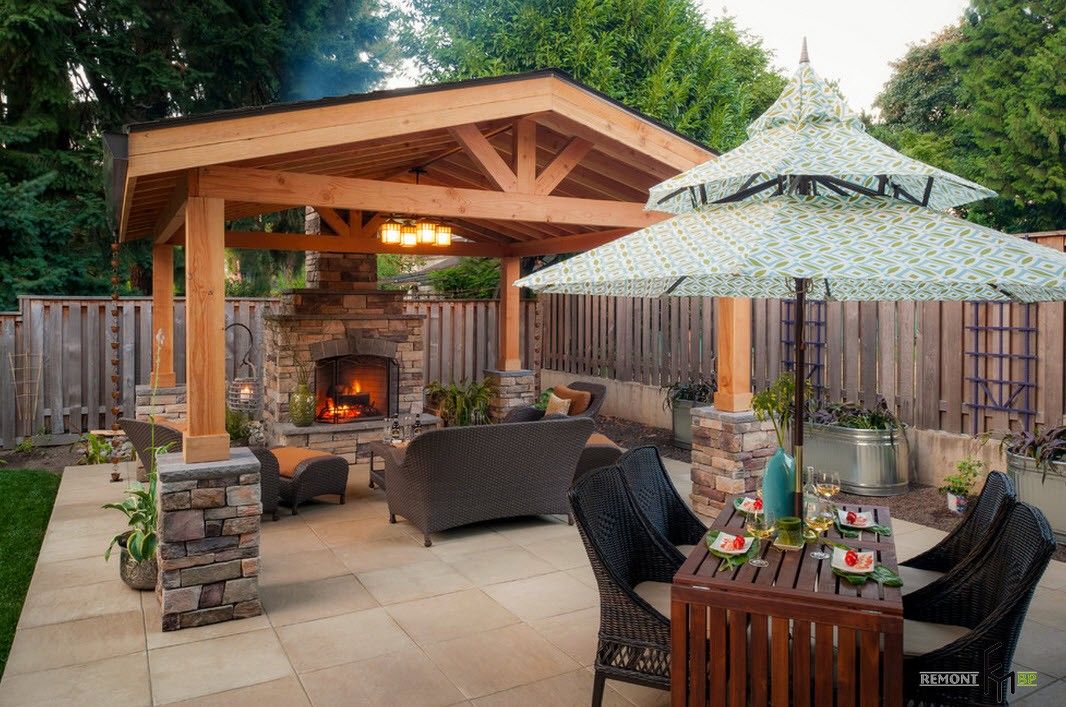 The warm and cozy atmosphere of the gazebo is created not only thanks to the natural materials used in the construction but also comfortable wicker furniture with cushions and soft light of suspended street lamps.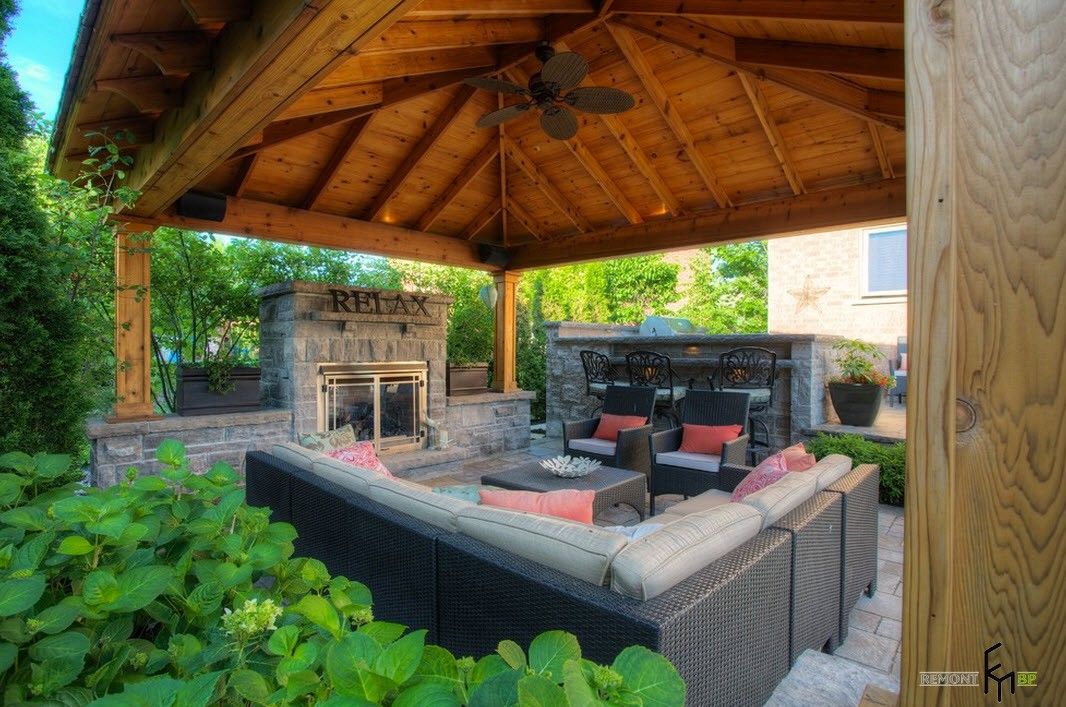 This wooden spacious gazebo is literally created for relaxation, as evidenced by the inscription on the stone stove. It is a cozy soft corner and a small bar with high stools. Such a set would be suitable for family gatherings during the day and for a party with friends at a later time.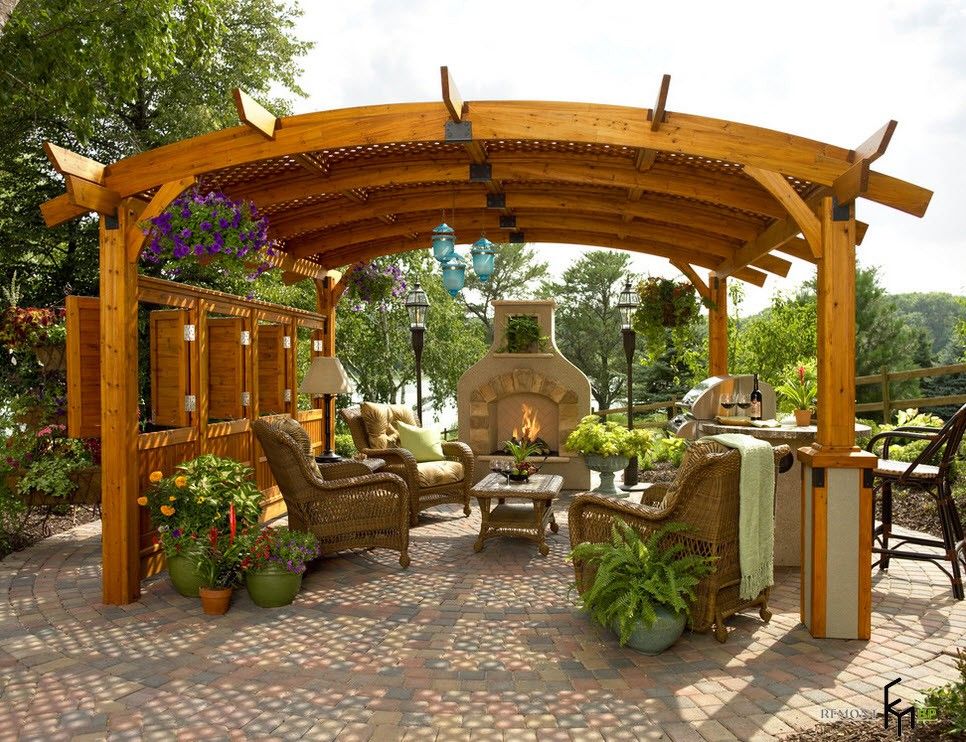 The unique design of this arbor from wood has a very harmonious look with an oven of unusual shape, street carved lanterns, comfortable wicker chairs creating a homely atmosphere of comfort.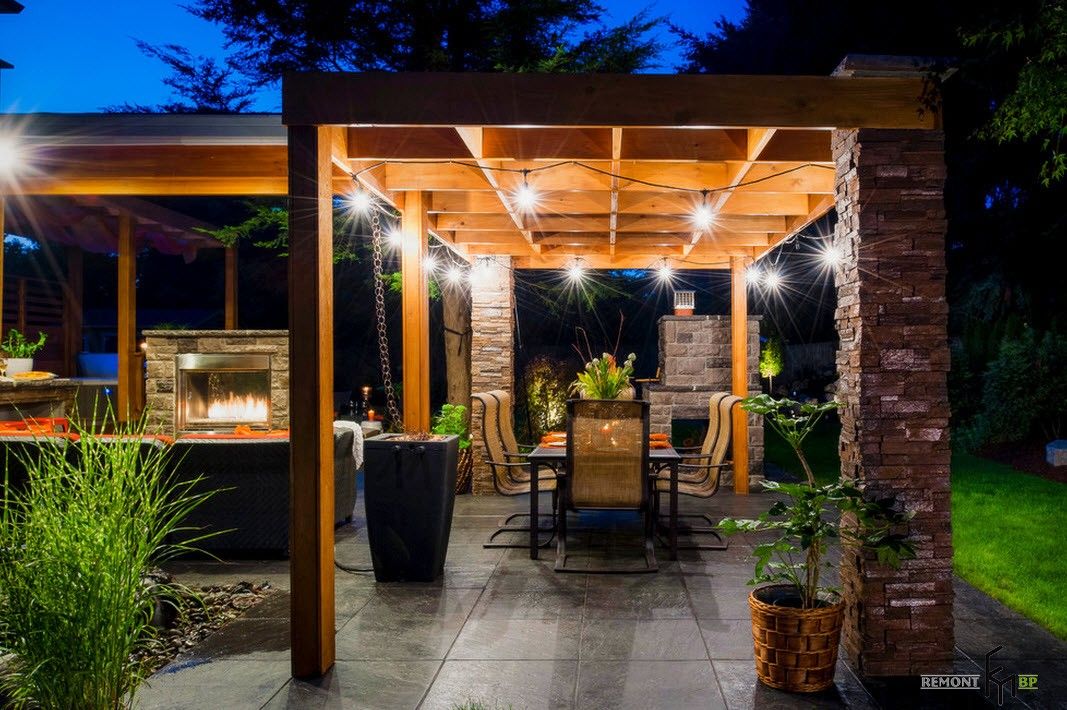 Street lighting of the gazebo is an important detail, which is better to think about at the design stage of the structure. Whether it will be a large chandelier, a lamp or a few hanging lamps, or maybe an imitation of a garland – there are many options. It all depends on the breadth of your ideas, the budget, the size of the gazebo, and the space surrounding it.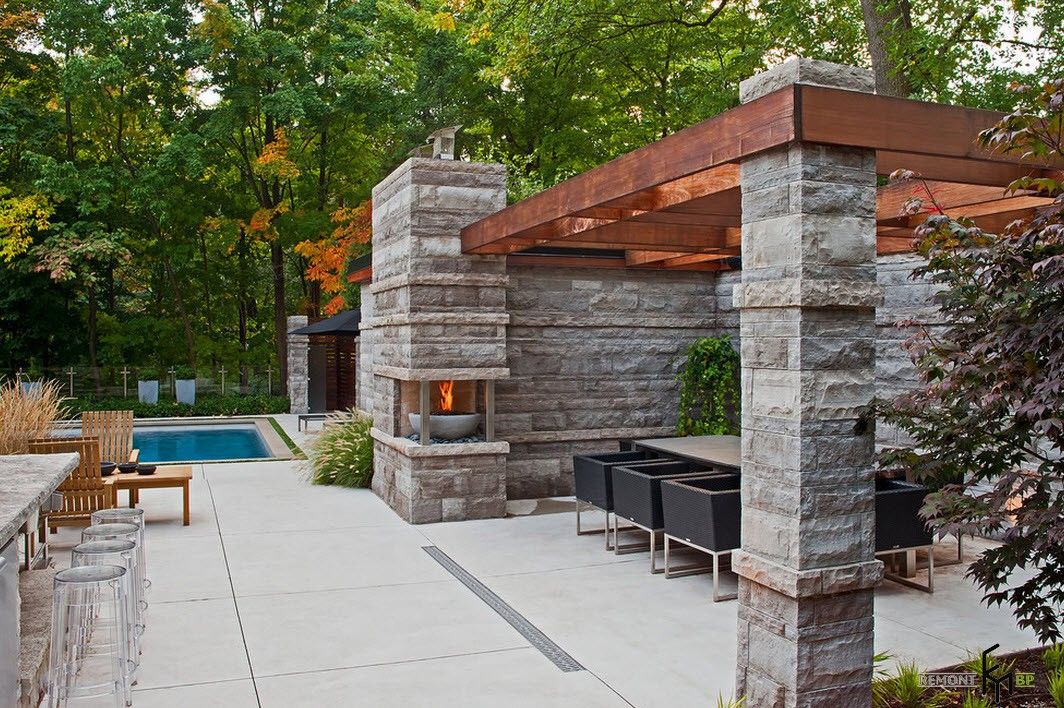 The design of this gazebo is unusual in everything – the building is almost entirely made of stone, only the ceiling beams are made of wood. The oven is also unusual. It represents an open bowl with a high chimney. The originality of the ensemble is also enhanced by interesting outdoor furniture of a strict geometric shape.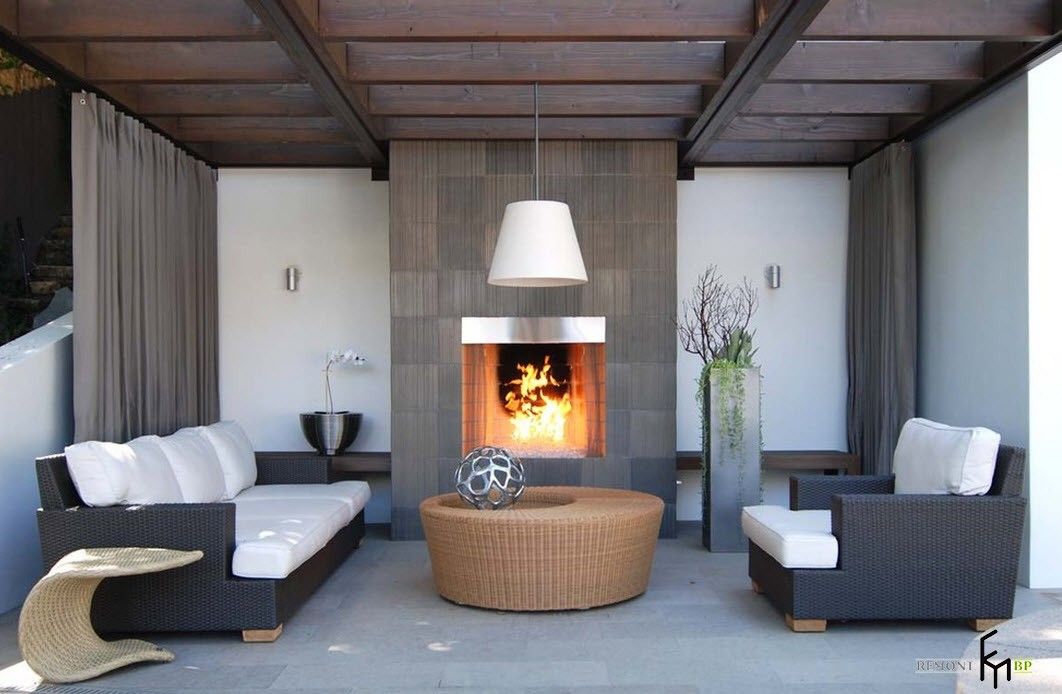 This chic space is difficult to take for a summer residence. Being inside creates a sense of presence in a respectable living room with a fireplace, comfortable sofas, a creative coffee table, and decor elements. Only the material of furniture: woven designs instead of wooden ones returns you to reality.
The game of contrasts in this garden gazebo looking more like a chic snow-white tent is literally breathtaking. Light shades of a cover and an oven, a soft part of the furniture, and flower beds are in harmony with dark shades of wicker furniture and forged decor elements.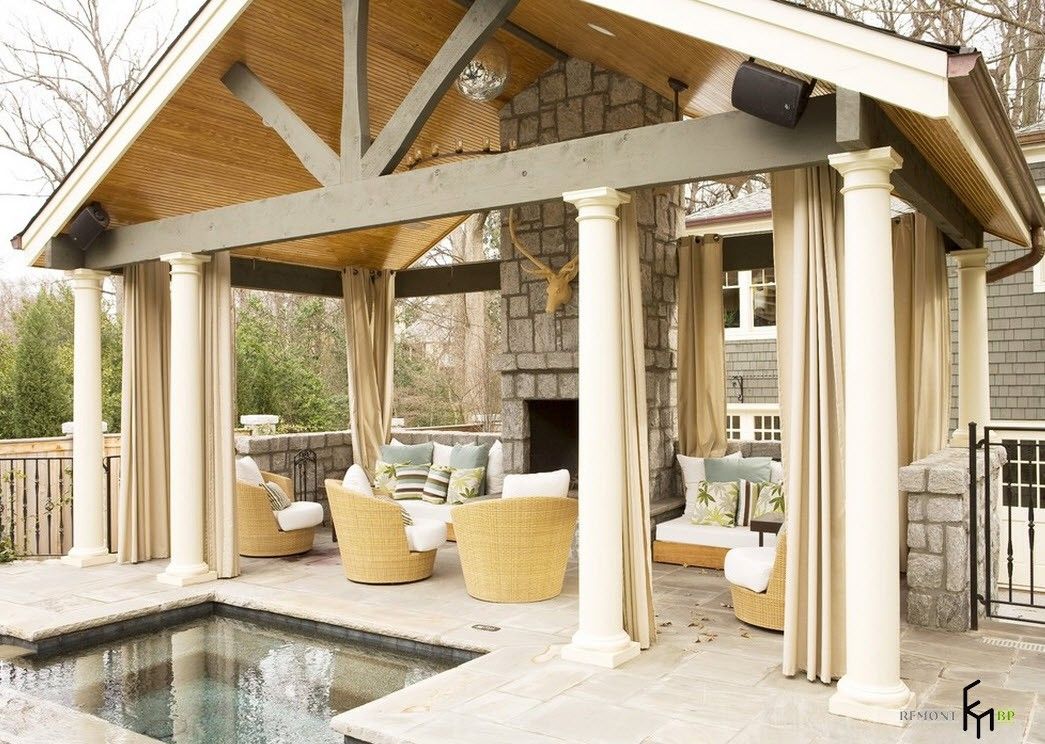 This open structure with antique columns, light, pastel shades of which creates an incredibly refined atmosphere of elegant comfort is difficult to call a gazebo. A small pond next door, a large stove, light wicker furniture with soft pillows – everything here works to create the elegance of a street structure for recreation.
Backyard Gazebo: Comfortable Dining in the Open Air
Not surprisingly, when developing a plan for building a pavilion on a plot of land, homeowners are considering the possibility of organizing a place to eat at any time of the day. We picked up some interesting design options for the gazebo, for those who plan to use this open-air summer residence or garden construction specifically for the purpose of arranging a dining area.
Opened from all sides gazebo near a small pond became an excellent place to organize a dining area. It also housed equipment for barbecue.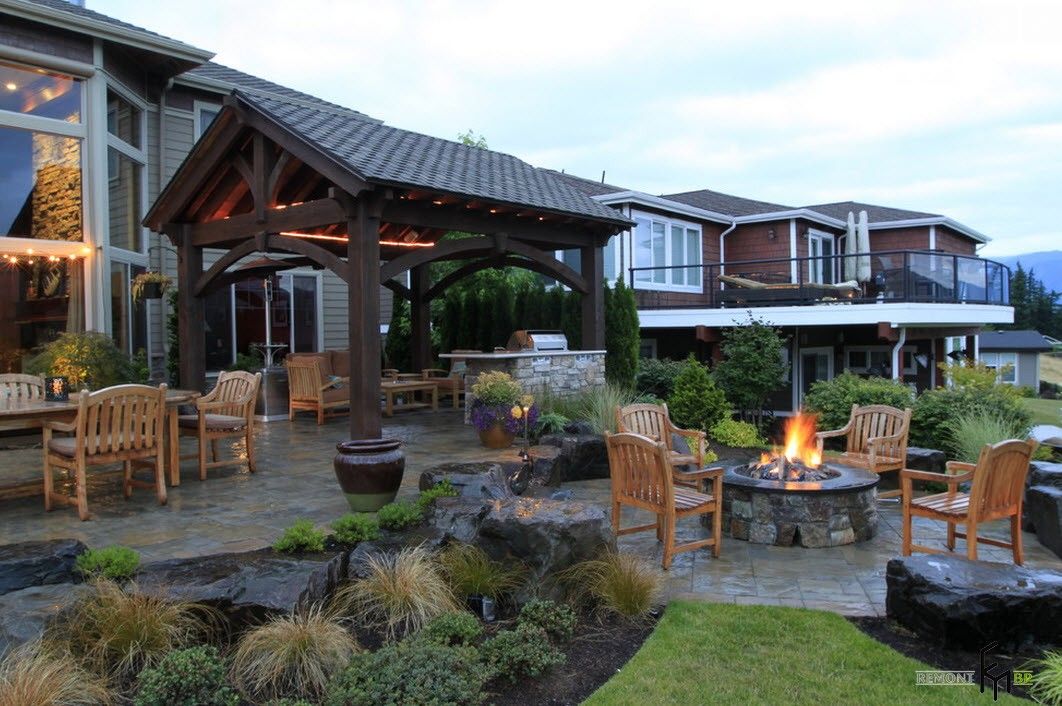 Stone and wood are everywhere in this cozy corner for rest and eating. A large group of guests can be accommodated at any time of the day.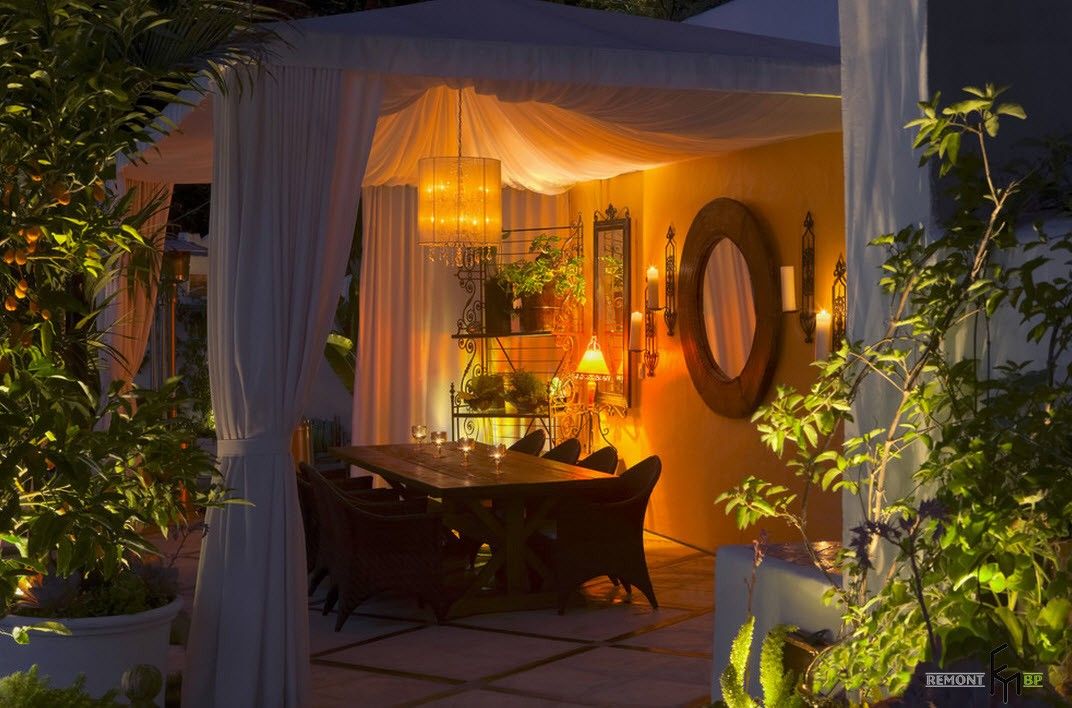 The atmosphere of a cozy living room is recreated in a small gazebo thanks to a variety of lighting. A suspended chandelier, wall lamps, and floor sconces create a romantic mood.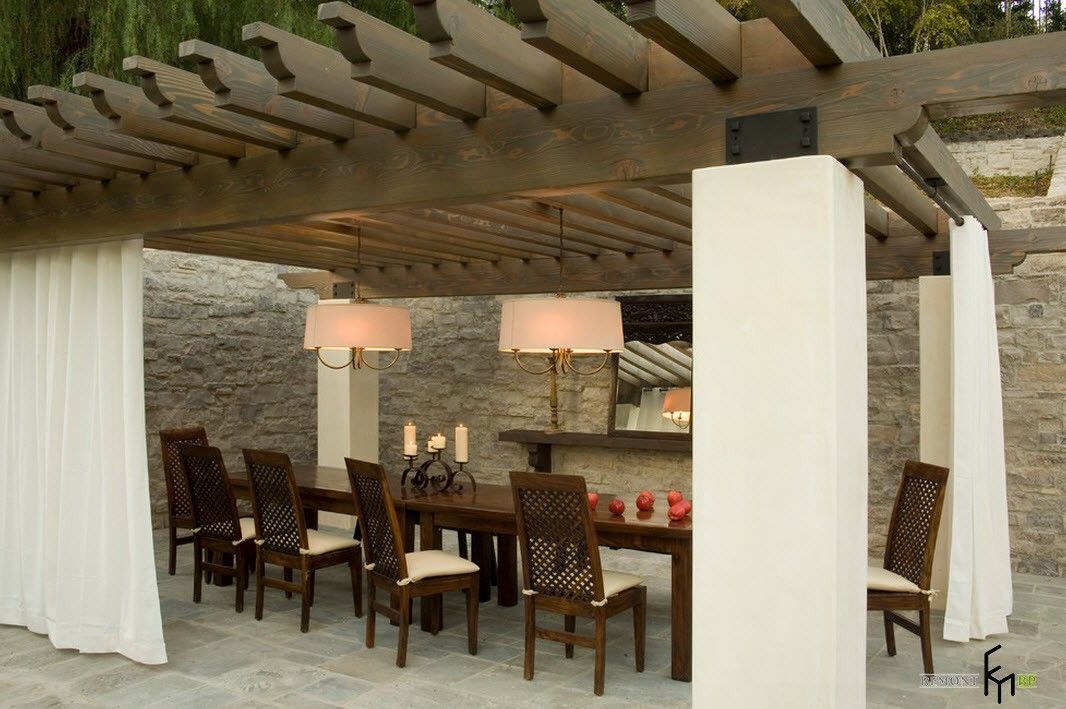 This wooden beam gazebo on concrete supports was located in the corner of a high fence, which made it possible to create a cozy place for the dining area, protected from the wind. If desired, you can shut light street curtains and protect yourself from the sun or create an intimate atmosphere.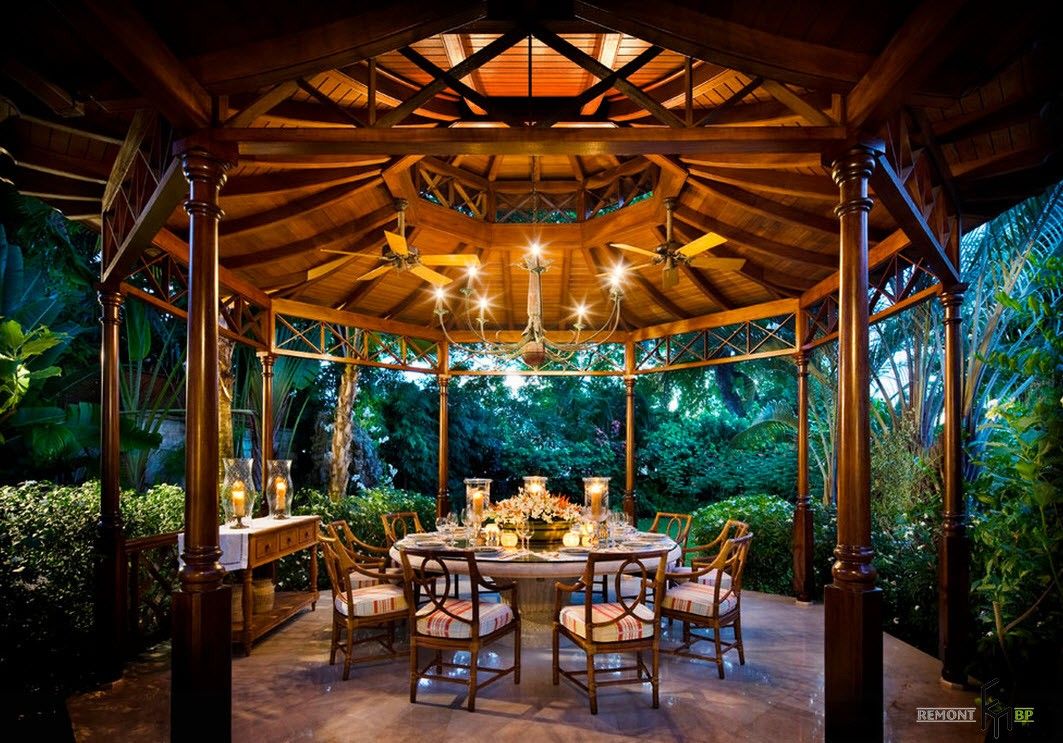 The domed roof of this wooden pergola with carved columns simply needed a round dining table and a traditional chandelier above it. Such a table can accommodate a considerable number of guests for a pleasant dinner among the greenery of many plants.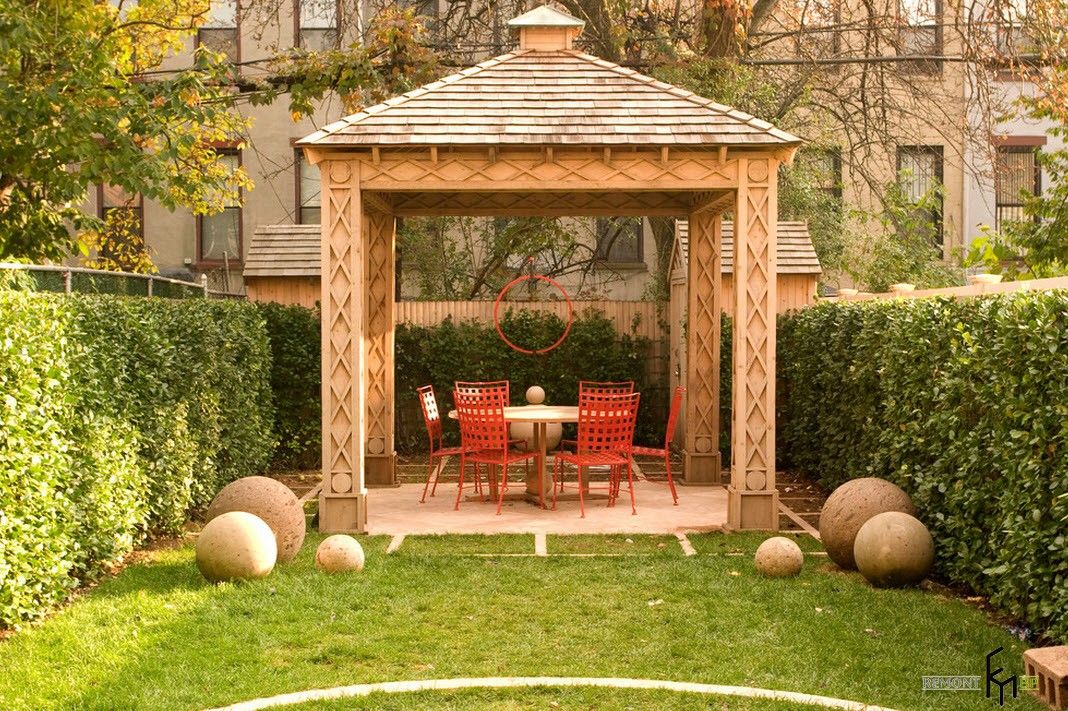 A small dining area is located in a wooden gazebo, designed in an oriental style. Bright metal chairs look contrasted to warm shades of wood. A hedge creates the mood of a small, cozy corner for relaxation.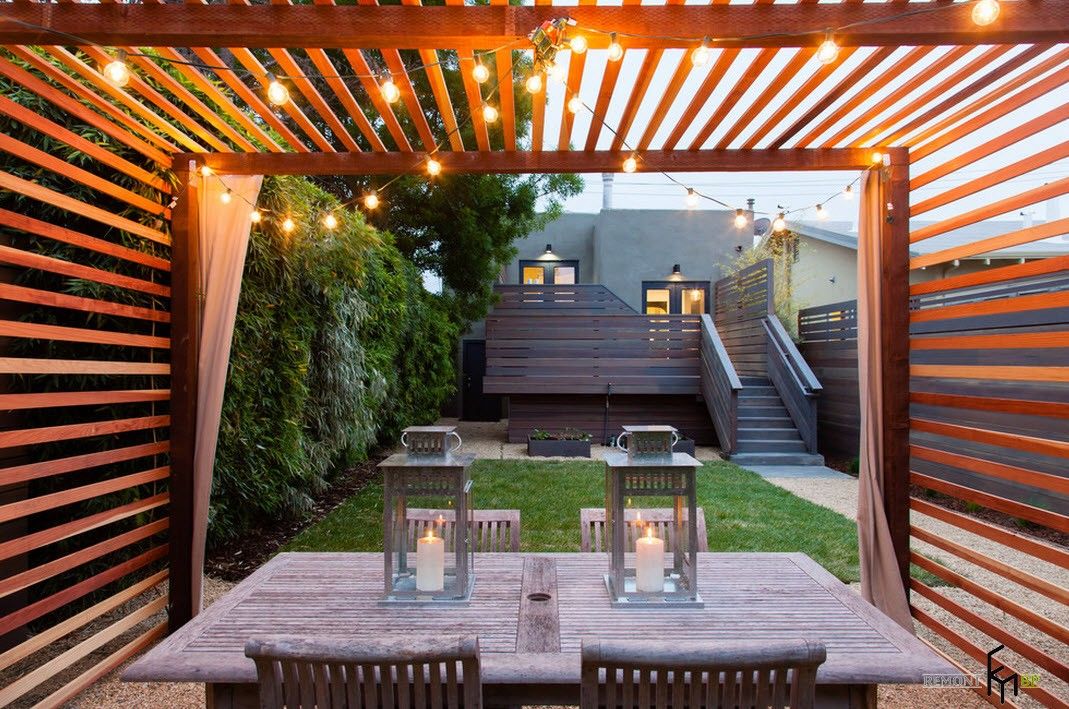 Let's review another example of creating a comfortable place for lunches and dinners with the help of walls from living plants. The arbor, which is created from wooden slats, is equipped with a cover to protect people from the sun in the daytime.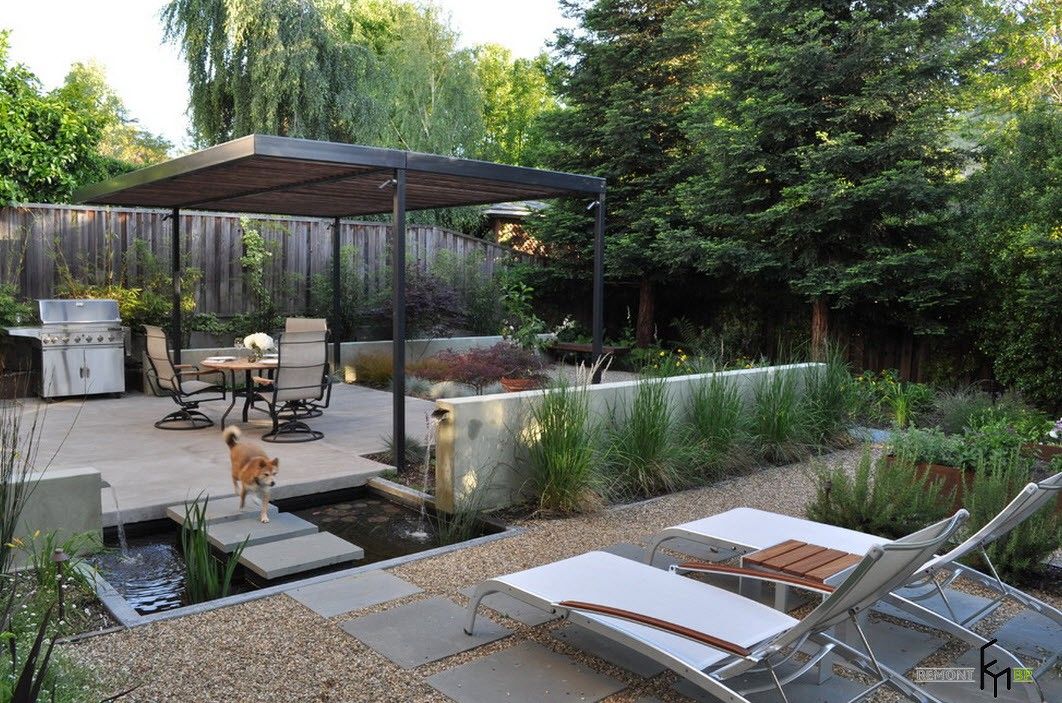 This summerhouse in the form of a wooden canopy can be used as a place for dinners and a place for rest, as well as a base for having barbecue.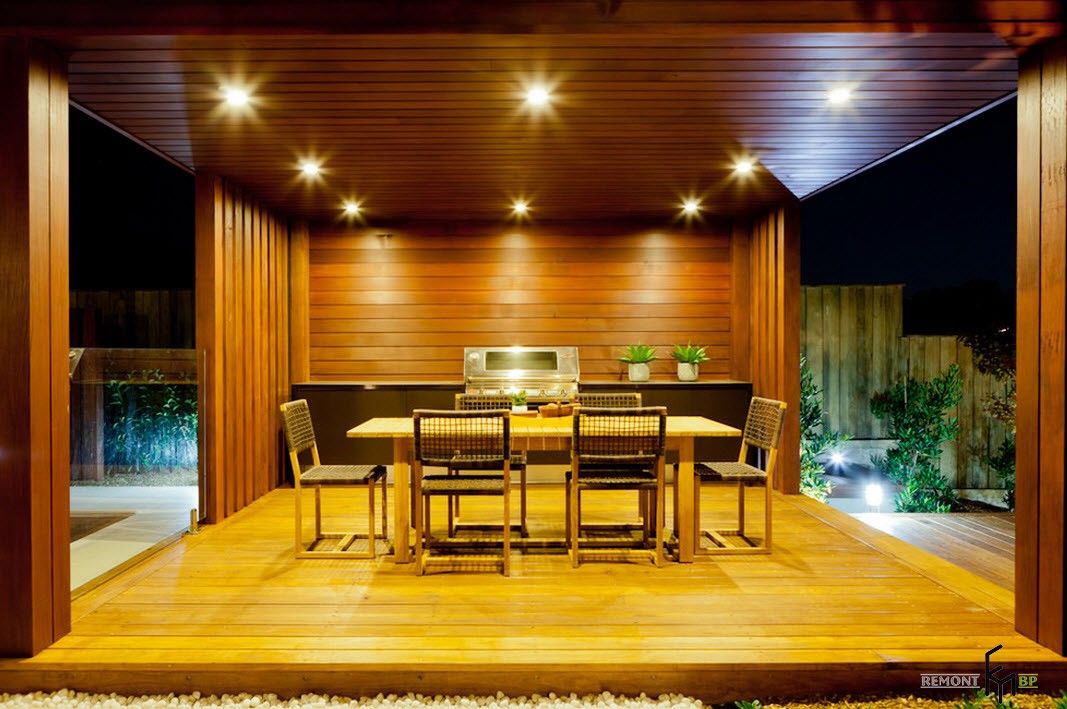 A fully wood-framed gazebo, with a built-in ceiling luminaire system, is a great place to organize a dinner or a party in the dark.
A simple and concise design of such arbors will look organically in the landscape design of any infield.
Arbor on the Roof of a Multi-Storey Building. Elegant Rest in the City
The absence of a country house or the opportunity to visit it often is not an excuse to deprive yourself of the pleasure of relaxing in the fresh air. The organization of small arbors is a reviving trend of large cities. A small paradise with living plants, a recreation area, and even small ponds is not a luxury, but an objective reality of the present time.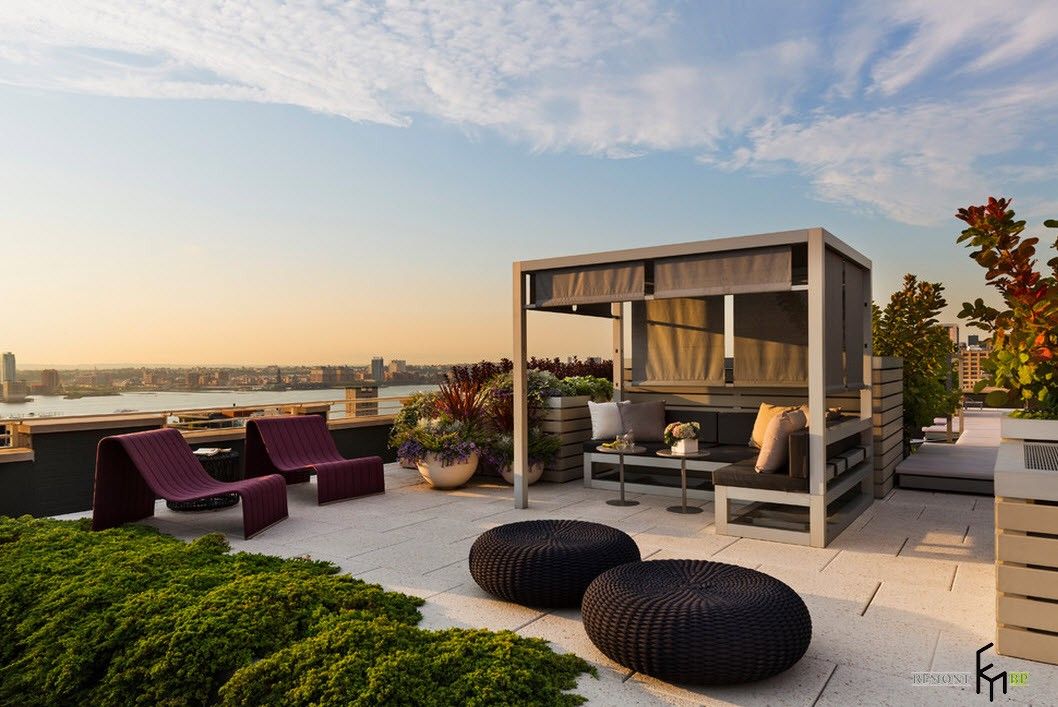 Among the realm of concrete, such a steel gray gazebo looks incredibly organic. Bright wicker furniture and flowering plants in tubs create the atmosphere of a holiday in the open air.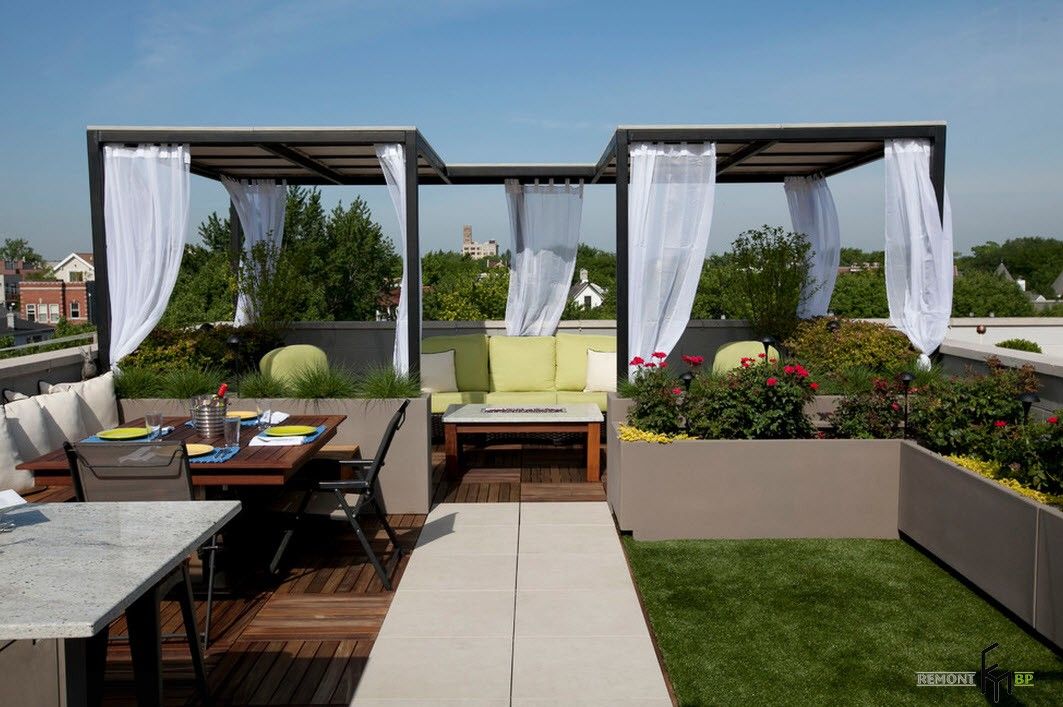 Even with an artificial lawn and a lightweight gazebo design, this relaxing and cozy place looks luxurious. Light textiles and bright spots of fresh flowers bring a positive attitude to the overall mood of the ensemble.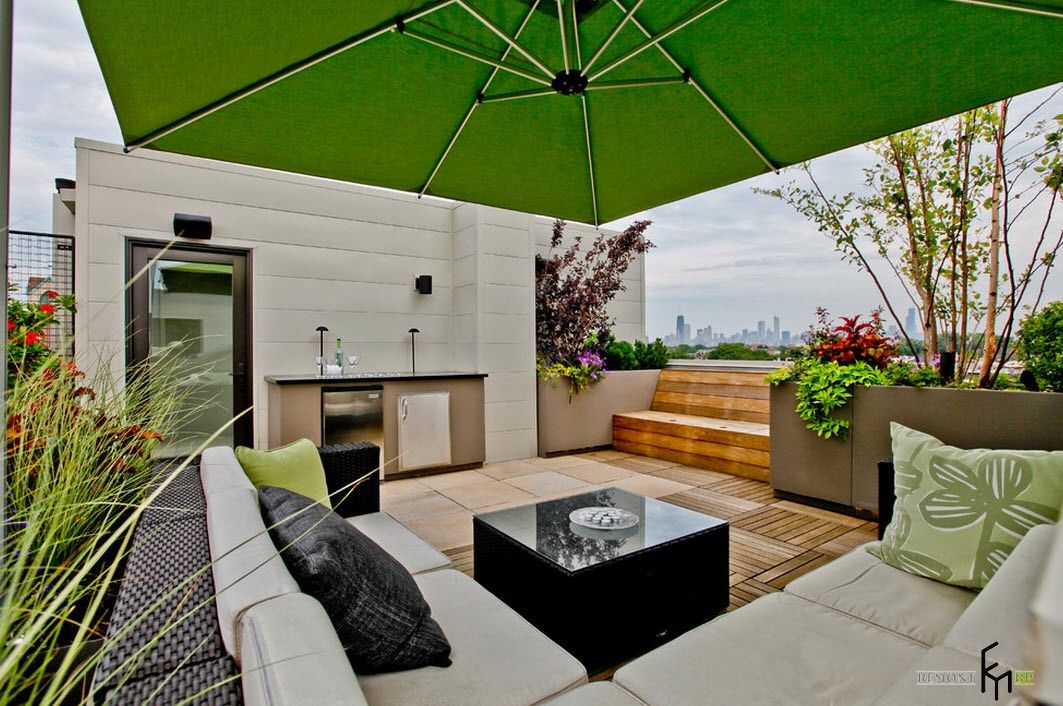 Arbor in this case is a folding awning in the form of a huge, bright umbrella. The presence of wood trim and the presence of living plants dilutes the industrial atmosphere of the soft corner for relaxation.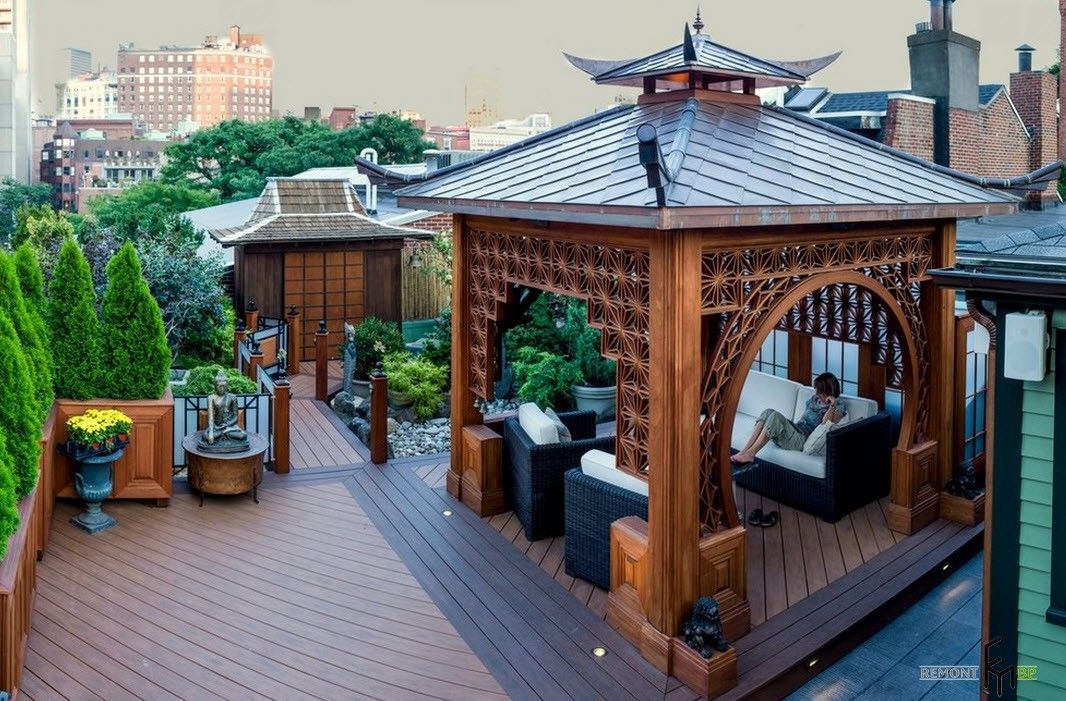 Wooden carved arbor stylized as a Chinese pagoda has become a cozy place on the roof to accommodate a few people. Wooden flooring acts as a backdrop for unique elements of street decor and evergreen plants.
Gazebo as an Ideal Place for Recreation: in Harmony with the Environment
The primary purpose of any gazebo (or tent) is to give homeowners the opportunity to relax in its shade. We offer you a selection of original versions of arbors for every taste.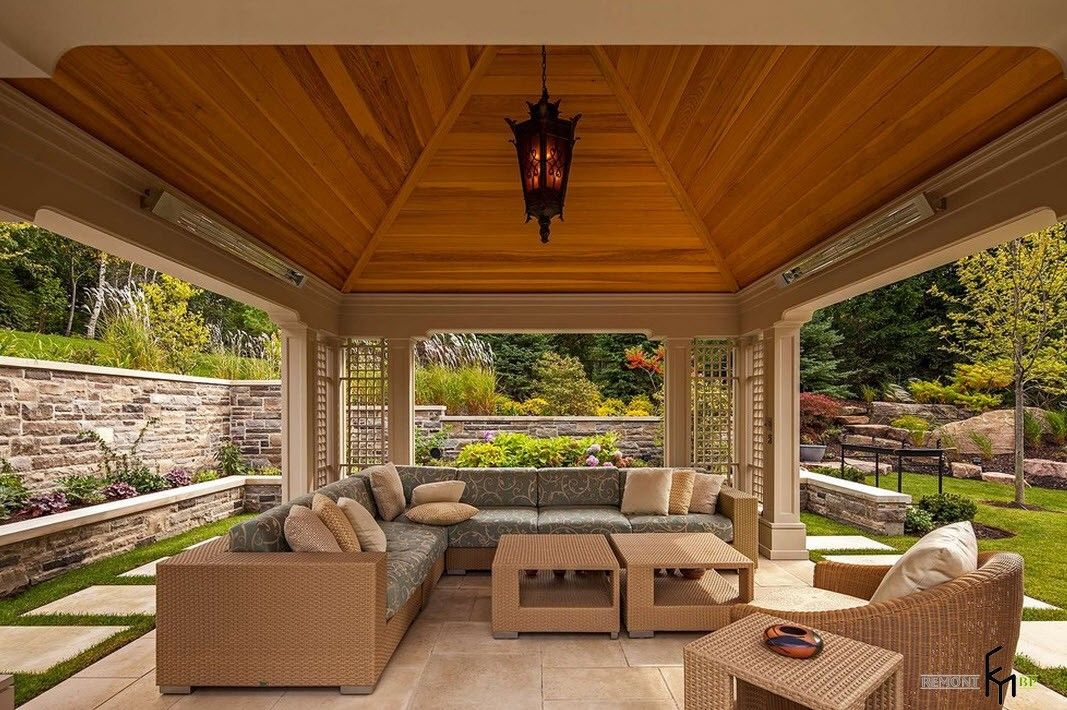 To choose an inspiring option, you need to consider only the functionality and the external appeal which corresponds exactly to your taste preferences and concepts of a harmonious and comfortable structure.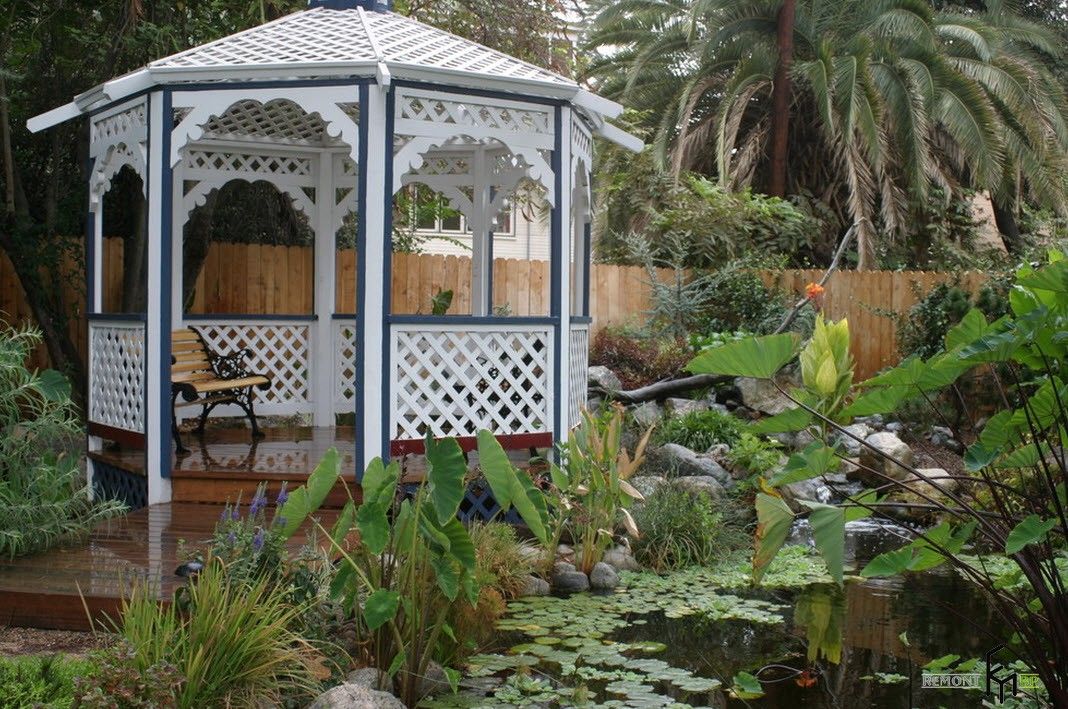 This gazebo is as if created from snow-white wooden laces. The classical form of the octagon is compactly fit even into the smallest nook oа your garden and will beautify its appearance.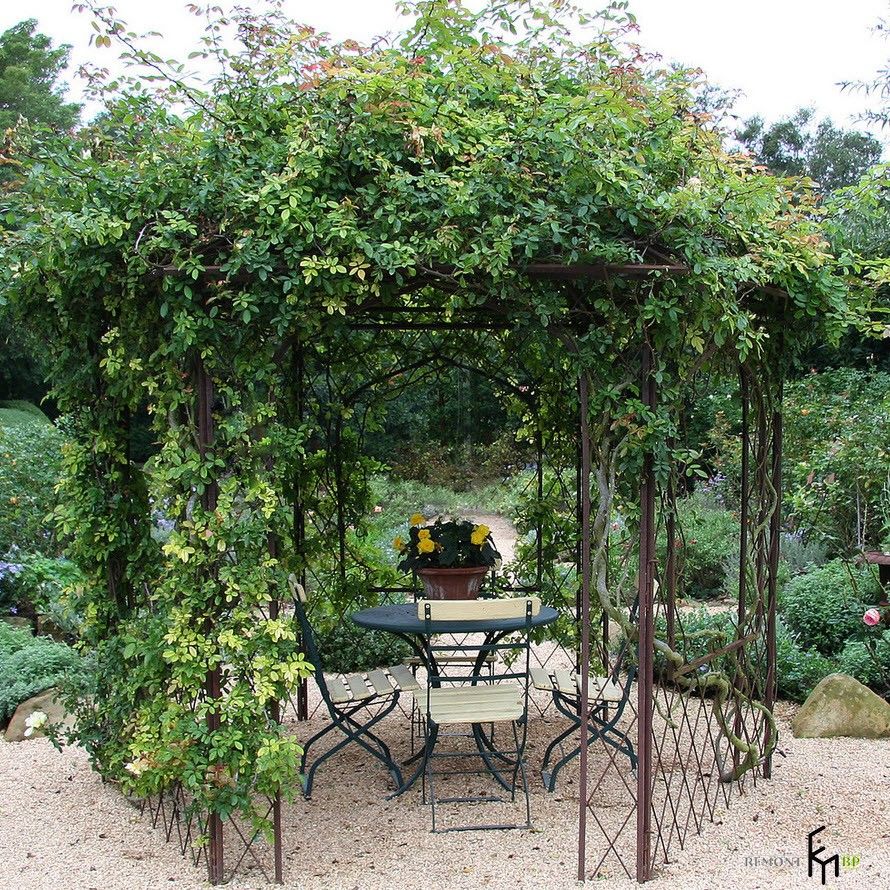 The so-called "living" pergolas are created with the help of steel or metal-plastic construction, near which vine plants are planted, which can later create the effect of green walls.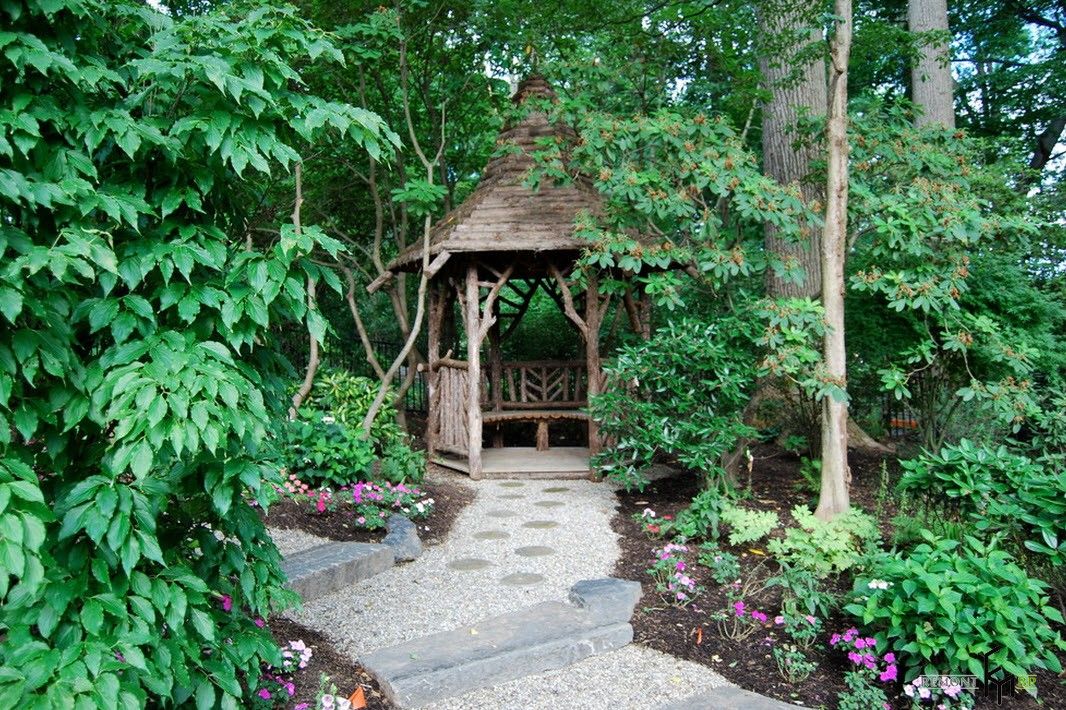 Small arbors in the eco- or rustic style are used, as a rule, in large gardens, spacious private plots with the effect of neglected landscape design. Often such structures are performed from tree branches, sometimes untreated ones. Their shape and appearance often create the image of a forest house or hut.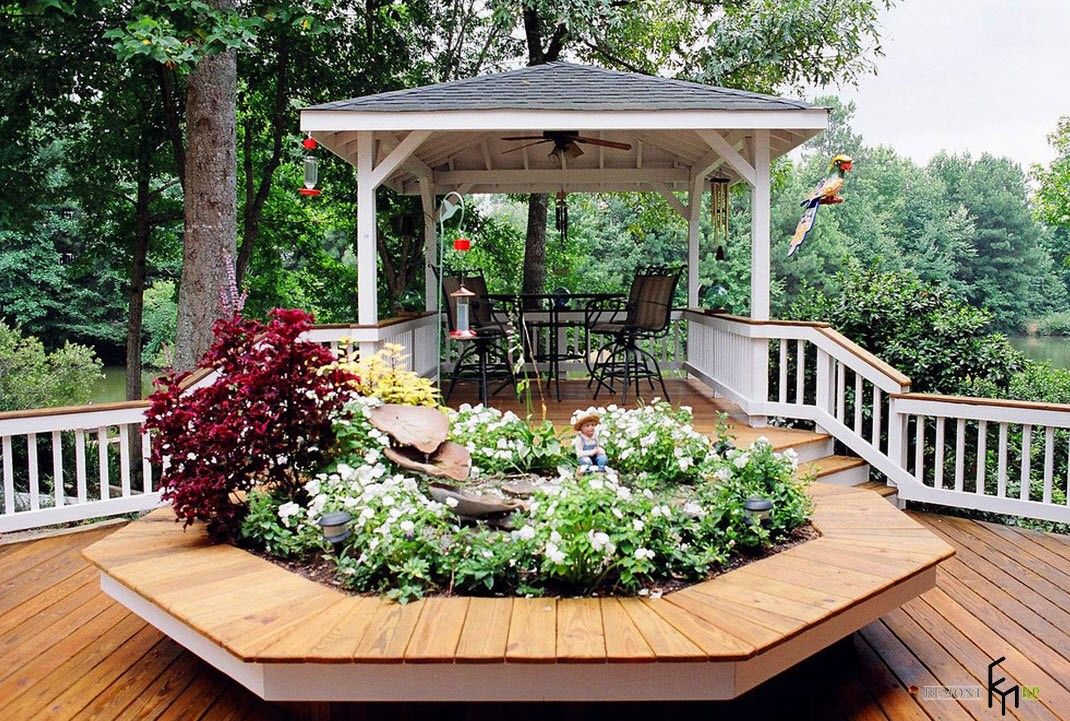 This modest gazebo of square shape looks great in an alliance with a flower bed "trimmed" with seats.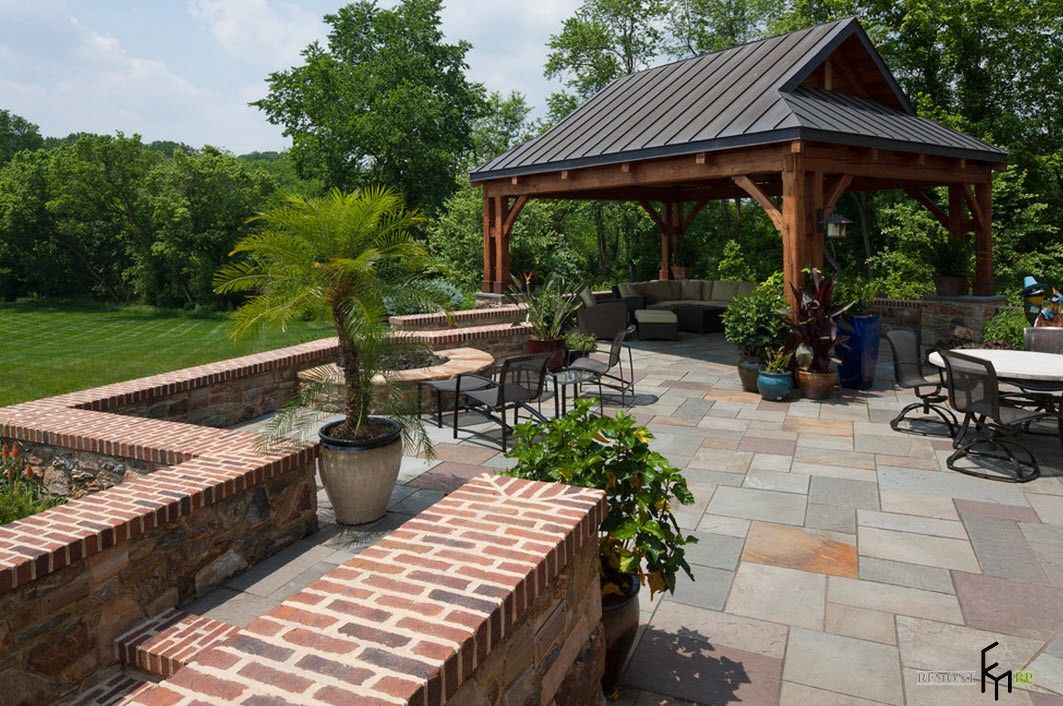 In the realm of stone decoration, the wooden sections of this gazebo look very organic. A comfortable soft corner creates a truly comfortable place to relax.
Using wooden racks to create gazebo structures is a good way to not only give the structure airiness but also stay within the budget. This is a very economical way of using wood.
Pavilions in Oriental Style
East in the style of gazebos is manifested mainly in the design of the roofs, as well as quirky ornaments and oriental elements of the decor.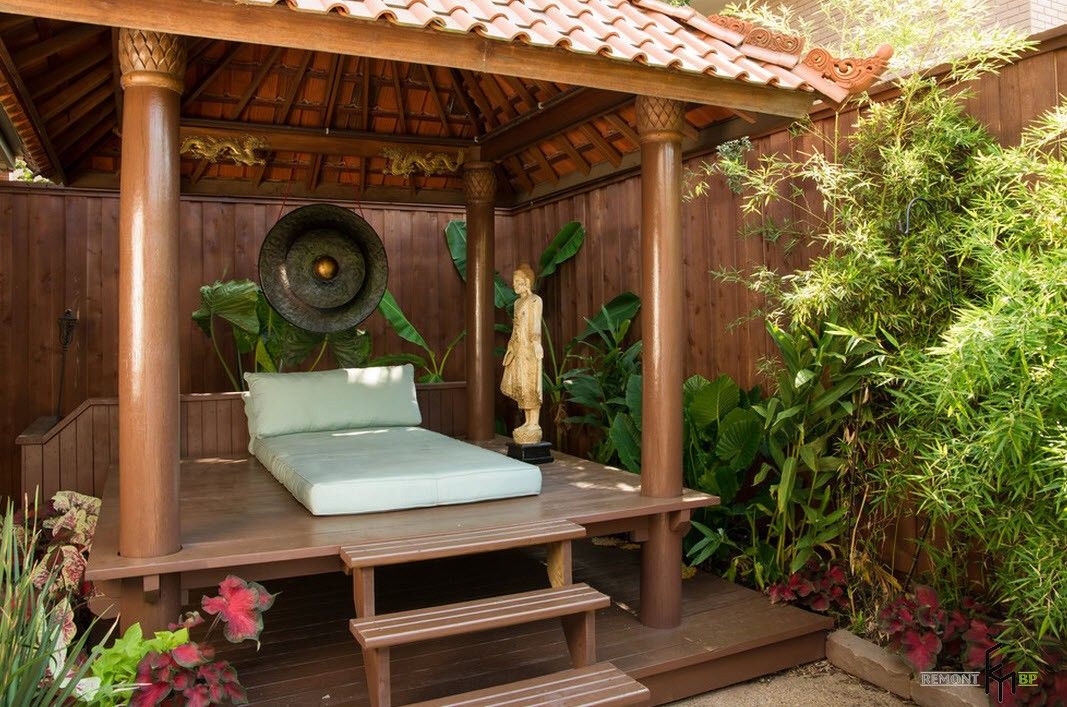 Eastern culture is not only a delicate matter but also an incredibly beautiful one when it comes to examples of architecture and ways to organize landscape design.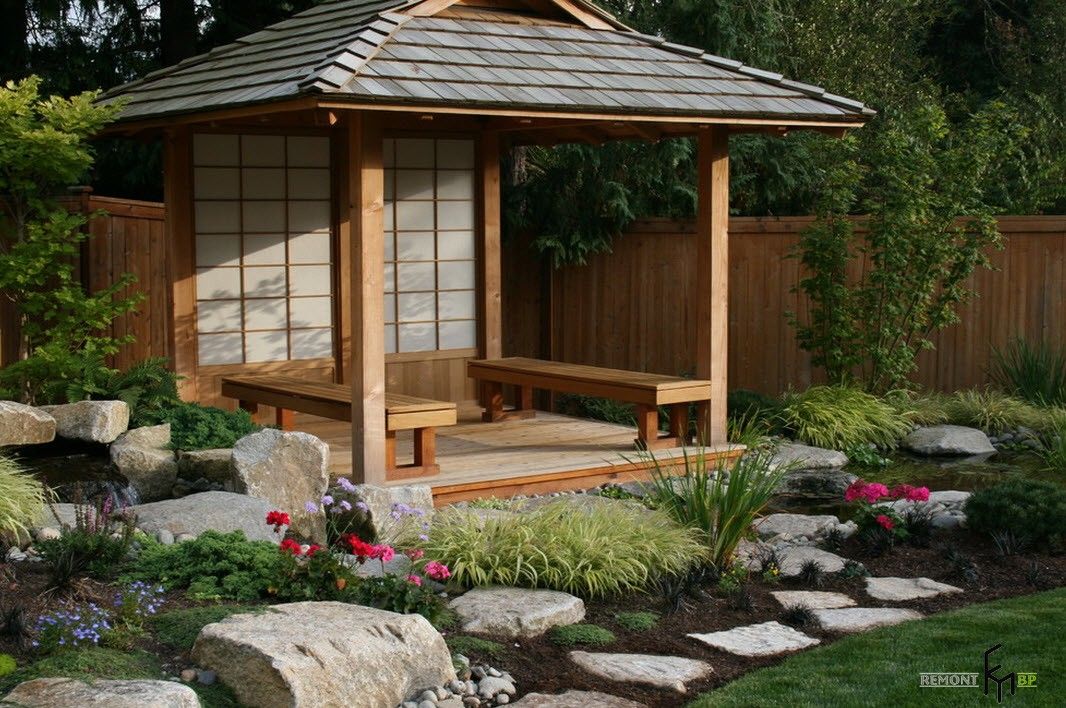 Simplicity, pacification, clarity of shapes and lines are the basis of the concept of oriental garden structures.
Calm pastel shades of the design and its finishes are diluted with bright spots of textiles and upholstery of outdoor furniture.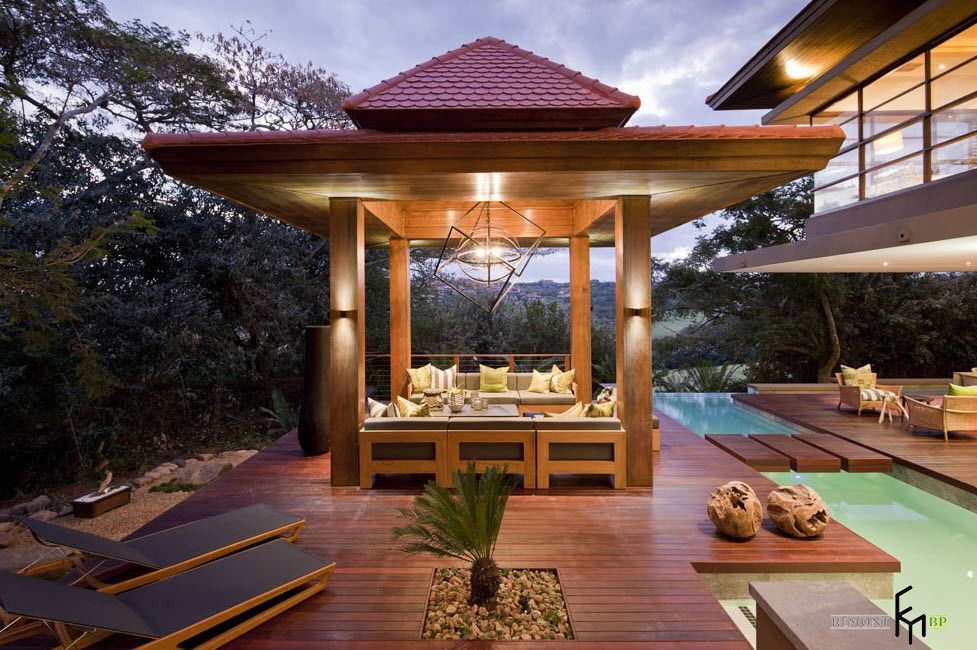 An unusual pendant lamp brings the element of futurism into the overall eastern stylistics of the design. And wall lighting creates a cozy atmosphere of home rest in a luxurious environment.
Gazebo in the Form of the Bungalow
It is enough to equip a spacious straw-roof pavilion with a soft corner with many pillows and the atmosphere of Hawaiian rest is guaranteed to you. Here are some examples of luxurious summer constructions in the stylistic direction of the bungalow.
Pavilions in the Form of Covered Canopies
Sometimes even such a simple form of organizing a gazebo can become a real pearl of landscape design. The use of different materials, shapes and colors allows creating many variants of this simple design.
A luxurious resting place under a sheltered canopy can be equipped both on the private plot and on the roof of a large building.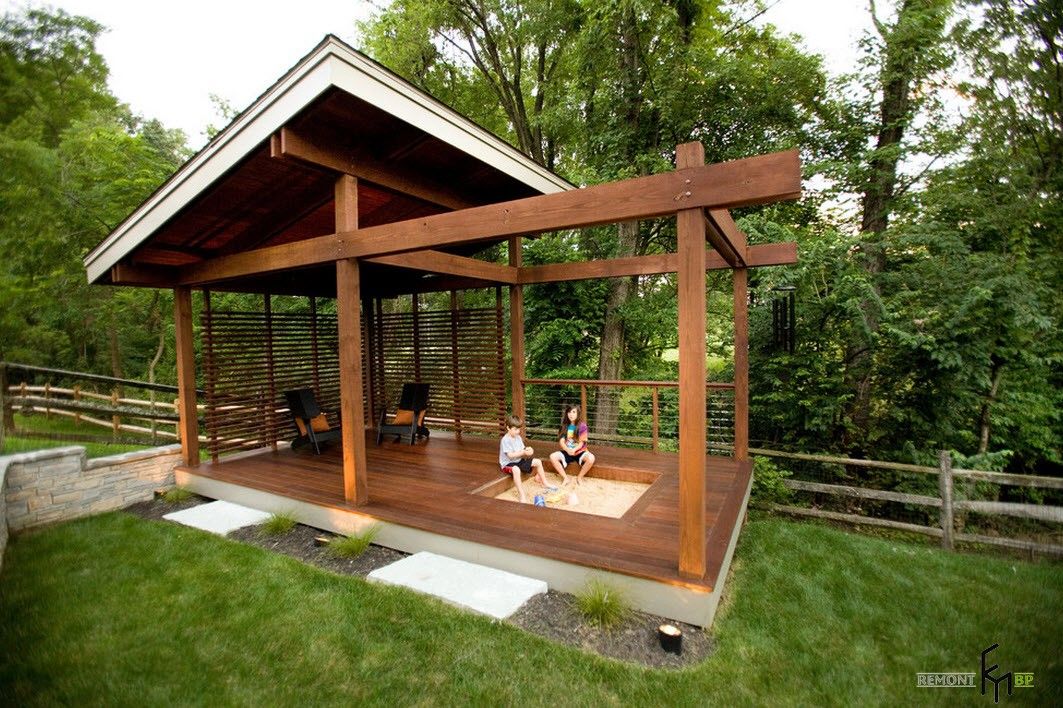 The original design of the gazebo-shed with a built-in sandbox is an excellent option for homeowners with children.
Grill Gazebo: Some more Details to Consider
Today, a gazebo with a barbecue is more than just a place for kebab cooking. Many of us want to have in it almost the same amenities that we are used to in the house. In addition to the barbecue, gazebos can include smokers, rotisseries, roasters, and stoves. Of the variety of options that exist, we will choose our own – the practical one, thinking about what we will use most often and how adapted it is to our needs. Often a small gazebo, which has only the bare essentials, is much more cozy and functional than a grand gazebo, stuffed with all sorts of gadgets.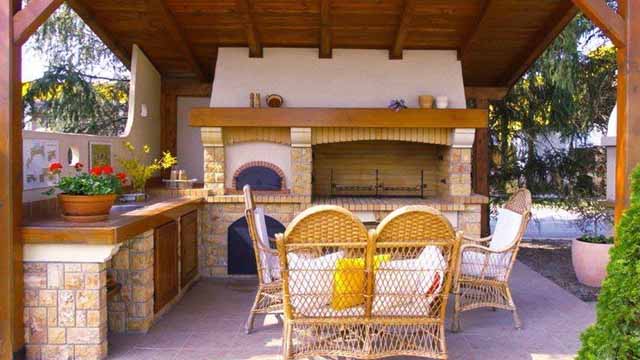 Add a Cooking Area Next to the Gazebo with Barbecue
If you have a small pergola with a charcoal grill, add a table and sink to it – it will turn your pergola into a real summer kitchen. For the table, do not forget to provide a well-cleaned tabletop and a small shelf for frequently used kitchen utensils. If possible, add a refrigerator to the gazebo – it will be convenient for storing meat, and beverages.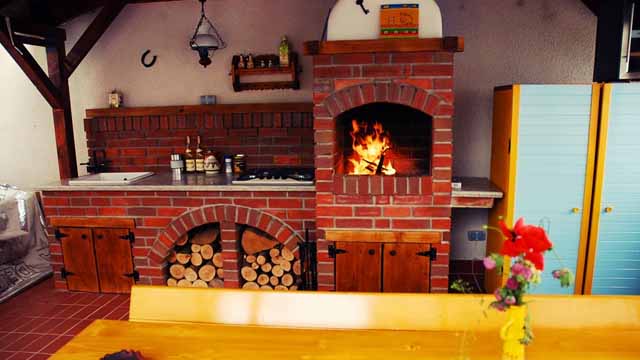 Make Practical Use of the Grill Gazebo Space
A dining table with benches is a traditional solution for the dining area of a pergola with a barbecue. But, if you need to save space, make these benches slide under the table, so you have more space for cooking.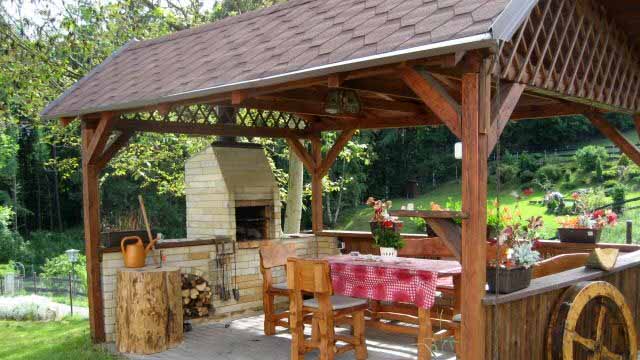 Cleanliness
In terms of materials used, the entire gazebo should be durable, serve well outdoors and be easy to clean. That means rot-treated wood, stone, and metal.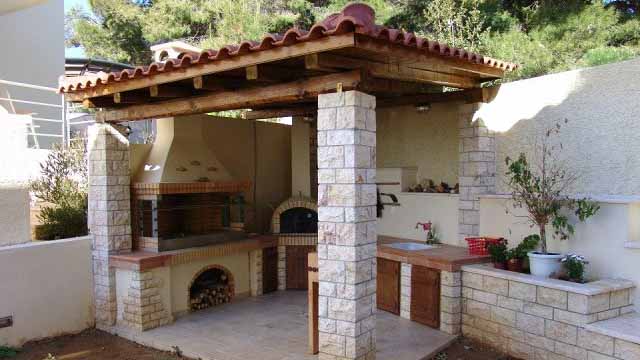 Don't forget the Cookout
There's nothing worse than cooking for the whole company and hearing only explosions of laughter behind you. Cooking and seating areas should flow one into the other, on the one hand isolating guests from the hot area and on the other giving the cook the opportunity to be the center of the party. The best way to do this is to have a high bar counter elevated on the other edge of the cooking area. After all, watching the chef grill meat for you is a great start to any feast.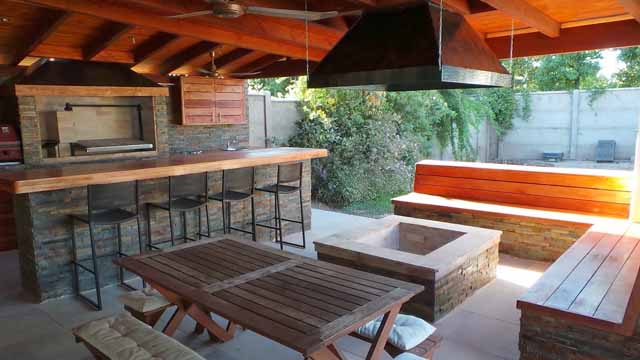 Keep Your Gazebo Warm
In cool weather, you can use special PVC curtains in the gazebo to keep warm and protected from the wind. If getting such curtains seems to you an unnecessary luxury, you can make them yourself. You will need to buy PVC film, cut it to the size of the openings of the gazebo, edging with durable fabric, and put eyelets at the edges. With the cord through the eyelets, you can fasten the curtain in the gazebo.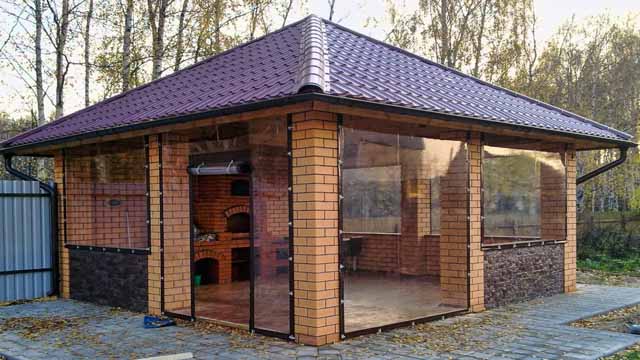 Use additional heat sources in the gazebo – for example, infrared lamps, always a good idea. They can be placed near areas of maximum functionality – the dining or cooking area.
If your grill is near the gazebo, make a canopy over it
If your grill does not have a hood, it should not be placed in the gazebo, but you can place it next to the gazebo. Make an awning over the grill for the cook so that a sudden downpour will not interfere with his work.

Add an Outdoor Hearth
By equipping an outdoor hearth next to or on the edge of the gazebo, you can cook in it and get an extra cooking surface. So, on the main brazier, you cook meat, and on the hearth, you put a grill and cook vegetables. And everything is cooked at your place at the same time.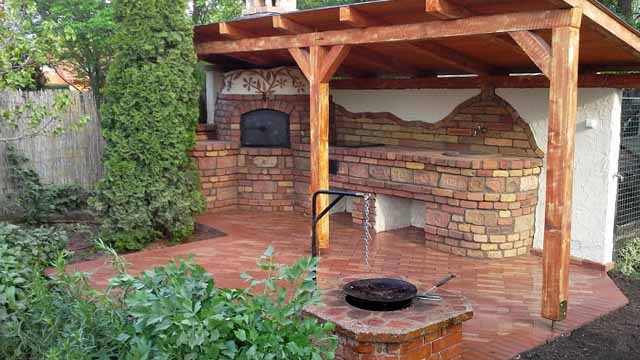 Add a Seating area Next to the Gazebo
This can be as simple as a paved area next to the gazebo, as well as an additional canopy included in the structure of the gazebo or simply an umbrella over the table outside.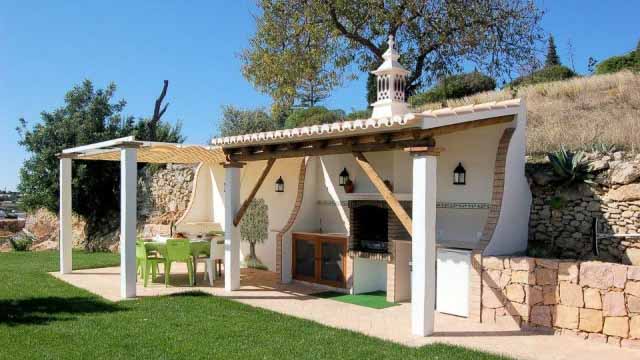 We really hope that this quite large article was just a bit of help in choosing the design and arrangement of your garden buildings for rest. Also, it would be great, if you are inspired to remodel your gazebo in a brand new way.