There are a lot of types of wooden sheathing in the house. It can be wooden planks, breadboarding, wainscoting, and other options. But what the difference between these wall coatings and why wainscoting is the most popular for bathrooms? We should answer these questions and review some of the most noteworthy examples of the bathroom with wainscoting design ideas in real-life interiors.
Classic Style Bathrooms with Wainscoting
First, let us define what is wainscoting not to refuse it with other terms in covering walls with wood. The common sense of the "wainscoting" is covering the wall with wooden sheets or planks in order to save it from water, pollution and to give a decorated view to the interior. The essential parts of the wainscoting are the top and bottom rails, wooden front sheets, and two side pieces (stiles).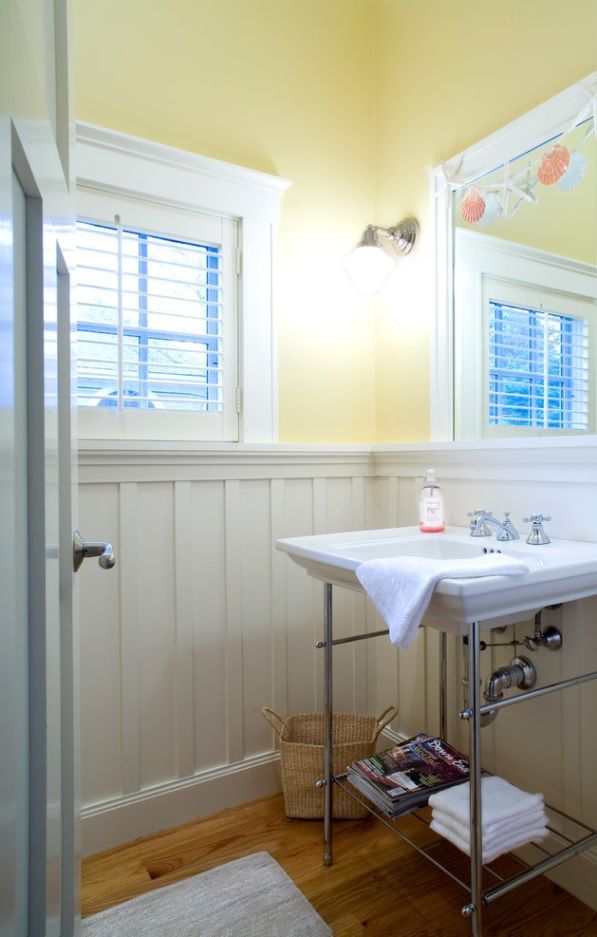 The beadboard the wooden sheets that can be used for wainscoting. They can be wooden, PVC or MDF made. So, it is a material type which helps on wainscoting the room. But it is not the only way to implement wainscoting. There are different types of this method like raised-panel wainscoting, flat-panel, board-and-batten, etc. They all differ only by the type of the plates which carry out the wall covering. We will not plunge deep into the nuances of each type of wainscoting. Instead, we better see the results of this design technique in real interiors.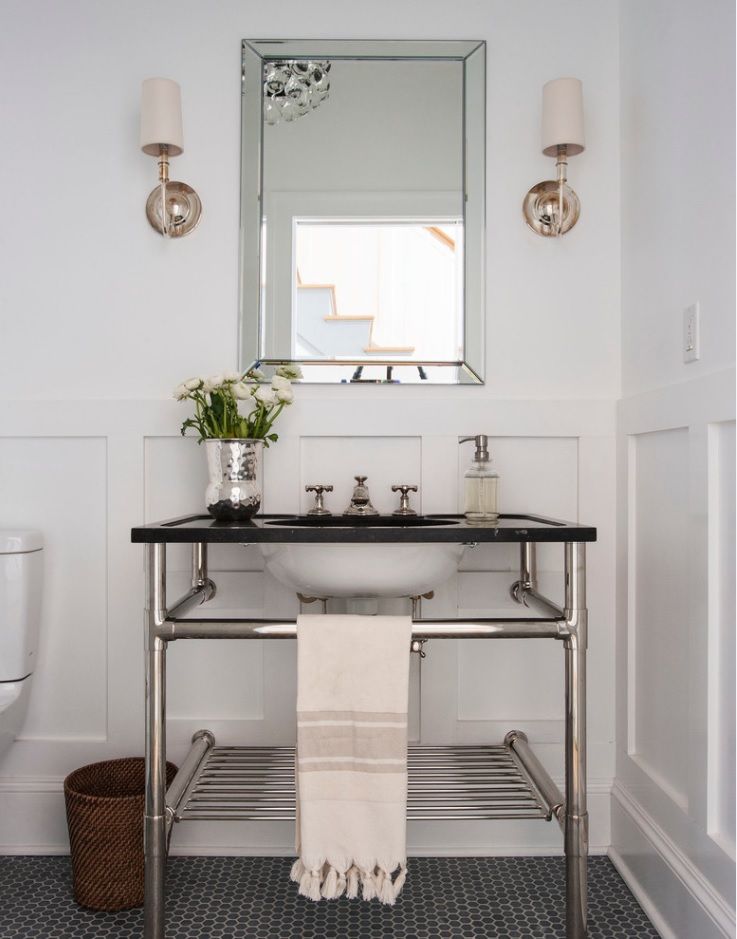 Nobody argues that the most acceptable interior design style for such coverage is Classic. American or English classic interiors look really organic with this type of sheathing. This is partially because the wainscoting is very ancient. It aesthetically formed in the XVII century as the covering for the bottom part of the wall. Recently, it can be rarely found in living rooms and bedrooms. But it is almost a must for bathrooms. Especially classic styled bathrooms in private houses.
Colorful Solutions for Bathroom
In order to revive the interior with wainscoting, the widespread solution is to take colored sheets. Indeed, it gives splendid effect. Also, it gives the possibility to choose the same color for the tiling of the shower or bathtub zone, make accents in this color. Or the wall may also be colorful, creating a set off. Such a technique will help you to not only make the bathroom joyful but also to emphasize some logical zones or elements in it.
Contemporary and Casual Bathroom with Wainscoting Design Ideas
But Classic is not the only way to apply the wainscoting. It is also a welcome guest in the bathrooms that are transitional to the Modern style. Of course, it is very unusual to see the wainscoting in the hi-tech or futuristic interiors. However, it becomes a succesful compliment to many interiors with a touch of Modernity.
As you can see, the wainscoting is up to combination with any finishing materials starting from the tile, wallpaper, paint, and ending the list with marble or stone surfaces.