Each owner of a private house wants to see the most interesting and attractive courtyards whose landscape design is not only pleasing to the eye but can also cause a touch of envy among neighbors. Now you can find many pictures of courtyards on the Internet that will amaze with their uniqueness and originality. It is best to pay attention to the courtyards, which are perfectly combined in style with the house and other buildings on the land. You can create beautiful landscaping of the courtyard on your own, embodying your fantasies or using the ready-made option from the net. In order to create a stylish and unique courtyard, bare desire is not enough because you need to take into account all the rules, nuances and subtleties of landscaping and zoning of space.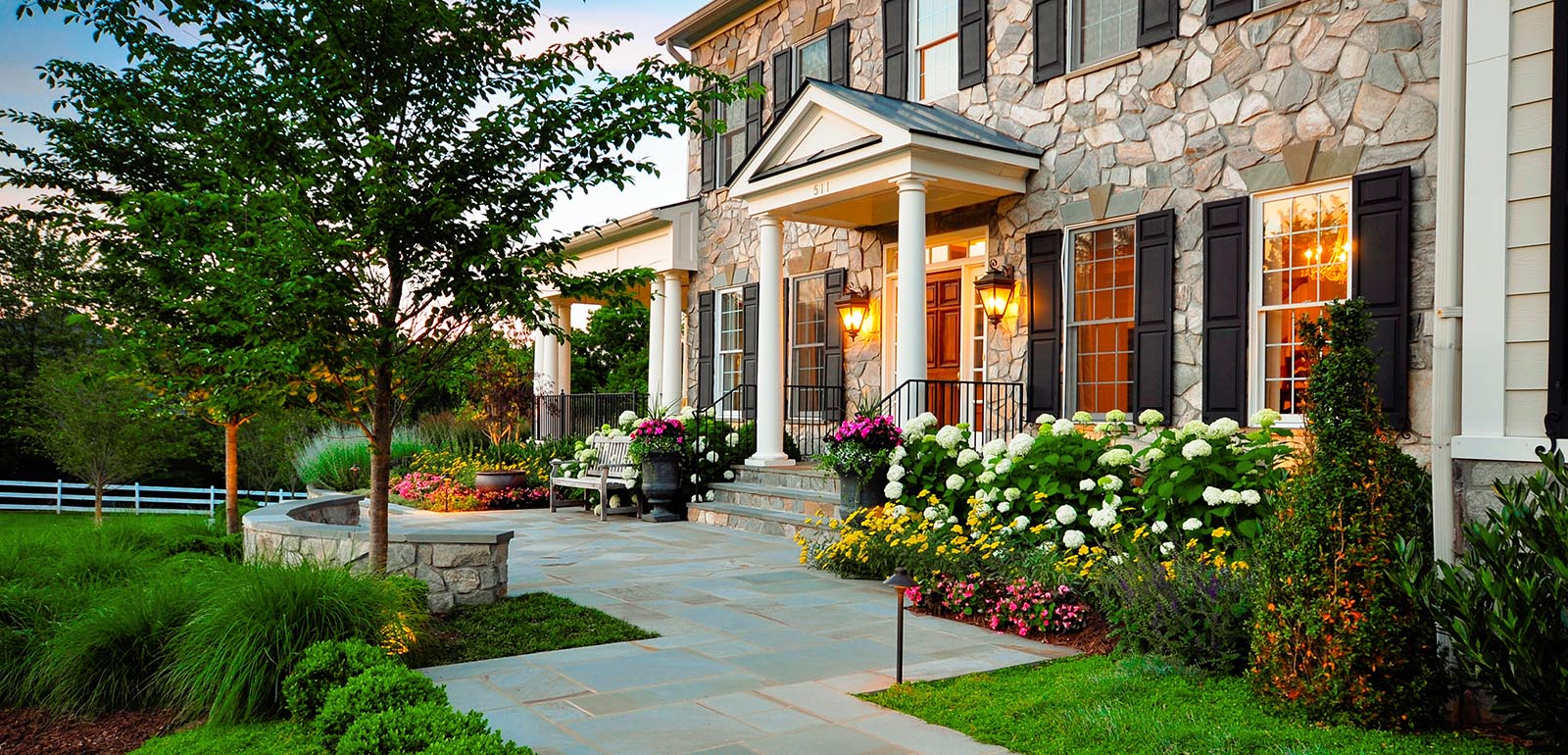 Space Zoning
When choosing the optimal style for the design of the yard, you need to implement zoning techniques. In order for the yard to be convenient in operation, it must have such zones and areas:
Special dividing paths.
Parking for cars of guests and relatives.
Corner for leisure (arbor or just a bench near the flowers).
Outbuilding (Shed or house for different things).
Flower beds.
Artificial pond.
Architectural works and forms.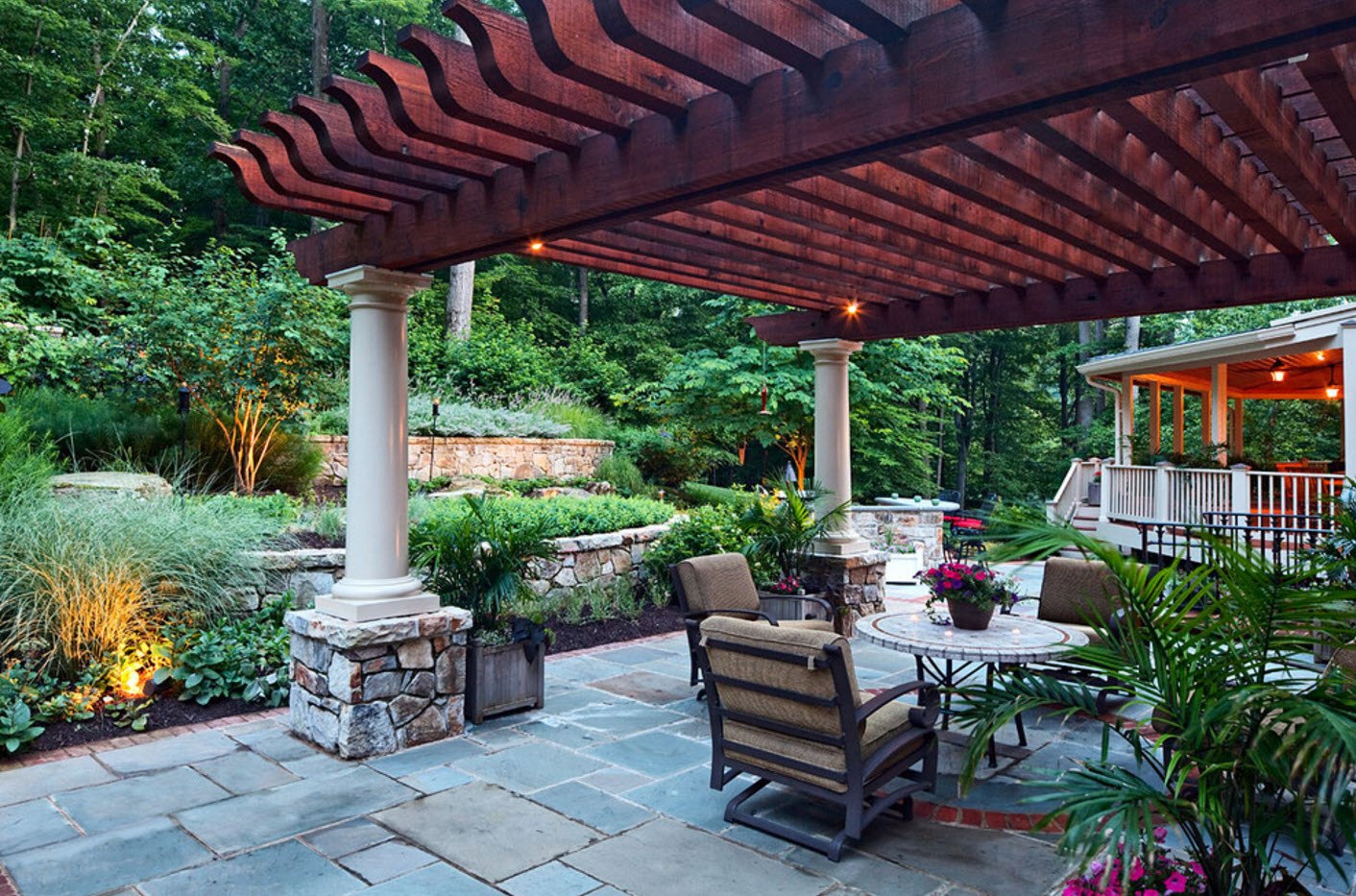 After working on each item on the list, you can create the perfect private courtyard. However, keep in mind that the number of zones can be increased. For example, if there are children in the house, then you need to take care of the presence of a children's playground. If the residents of the house are active people who love relaxation but do not want to travel far, then you can provide a place for barbecue, and a pool. For lovers of oriental style, a stylish Japanese garden will become an indispensable element of landscape design.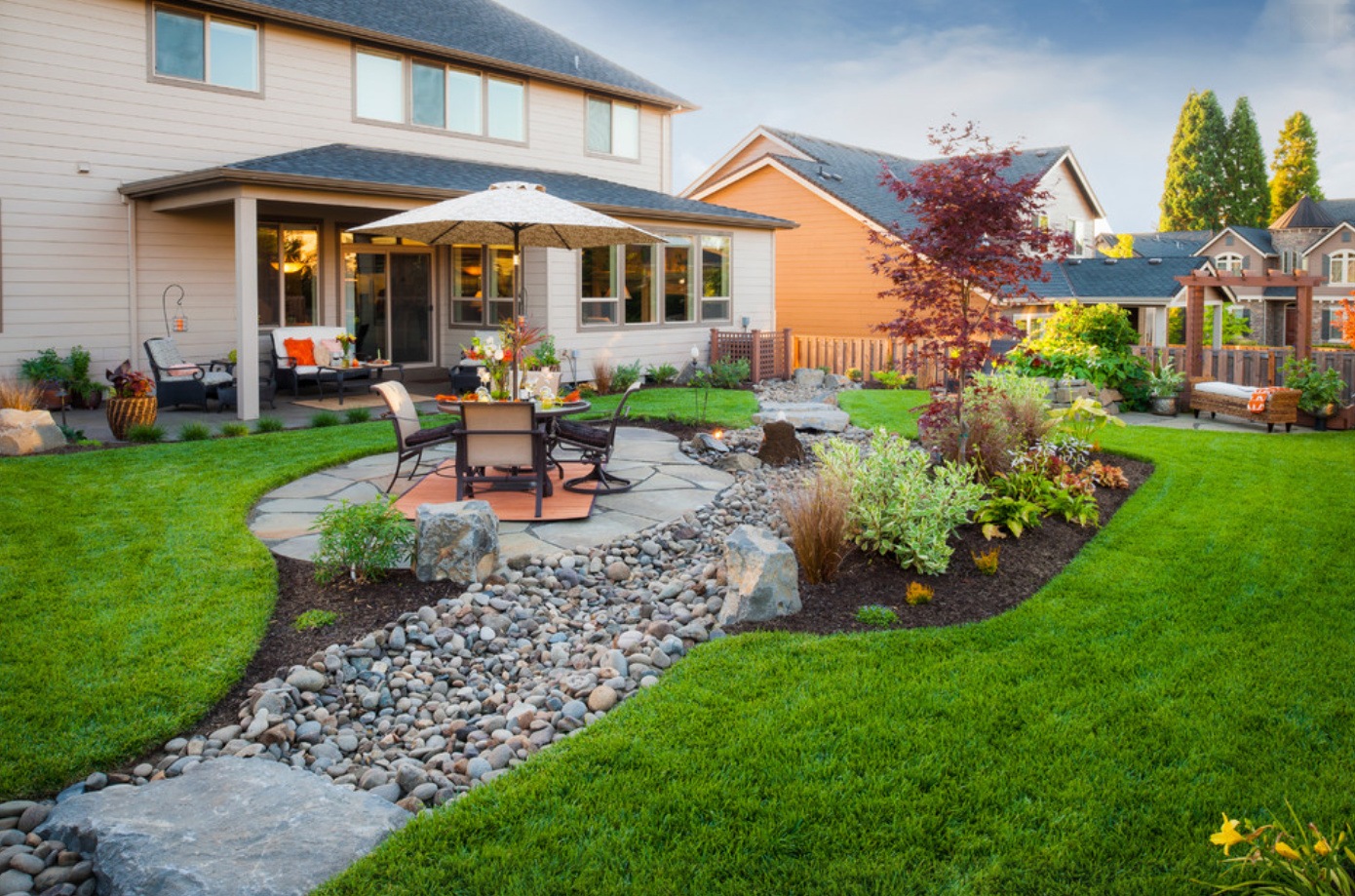 If the territory is small, you will have to combine some zones that can be transformed into each other or easily and quickly removed if necessary.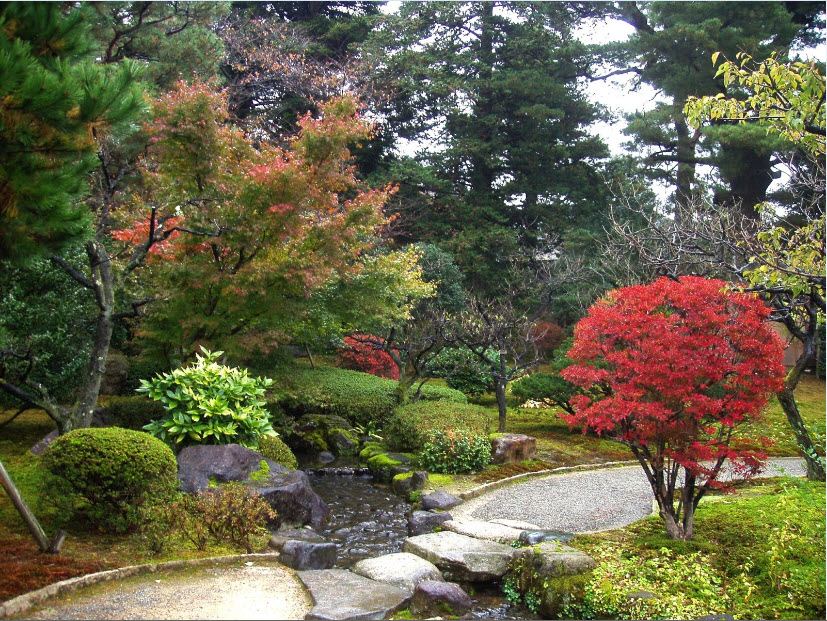 Decorative Division of Zones
For visual delimitation of the territory, it is best to use yard gardening. Also, in order to divide the yard into zones, you can use hedges, ornamental bushes or some interesting flowers. A playground or picnic area can be surrounded by a fence made of twigs and weaves. For a stylish design of transitions from one zone to another, it is better to use arches. And to make them look more impressive it is better to use curly flowers on them.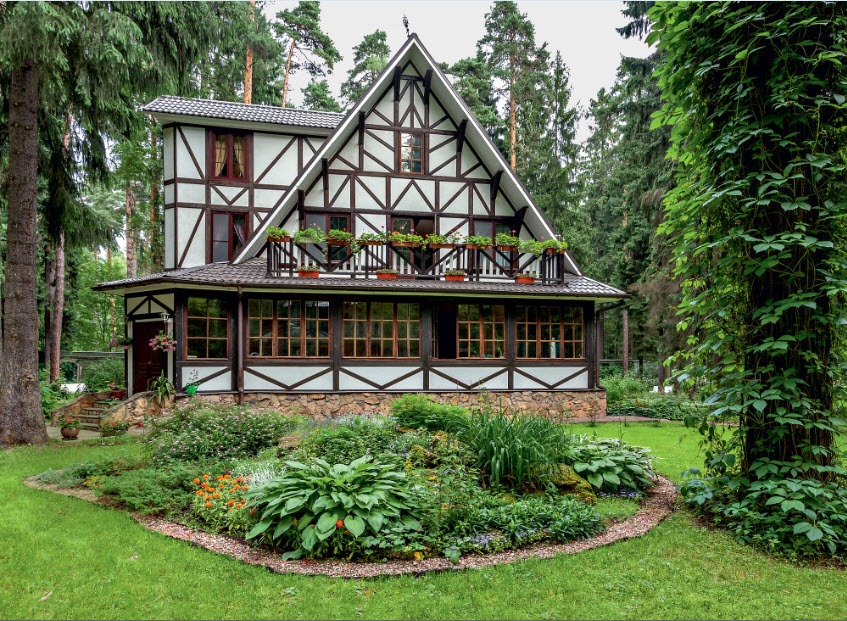 If there is a gazebo or terrace on the site, but if you are out of budget for them, then you can use the alternative in a form of the lightweight pergola and surround it with flowers. In open areas, you can use screens made of natural materials. Such elements always create a unique design, and it is better to make them manually. As a material, you can use bamboo mats, vine, and river shields. Such screens represent not only a decorative look but also help in zoning space, create a shadow and protect from the wind. In one of the far corners of the courtyard behind the bushes and flowers, you can place a small barn or hut, which will become complementing element of the landscape design, as well as a playing place for children.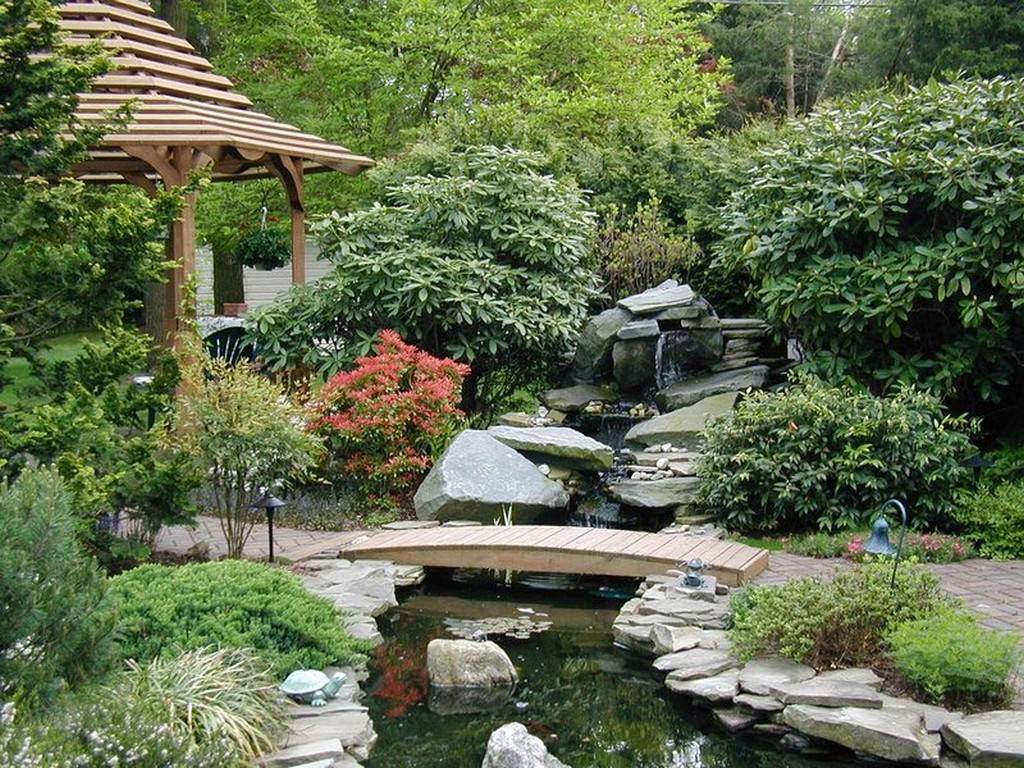 Paths and Areas
A parking space without special design looks boring and not very appealing. The same is right to separately located pathways leading from one building to another. Outwardly, it has a wretched appearance and can spoil the whole pleasant impression. In order to make the yard look much more interesting, it is better to use paths and platforms that are paved with different materials.
The materials to be considered are:
Granite
Concrete and wood slabs.
Paving stones.
A natural stone.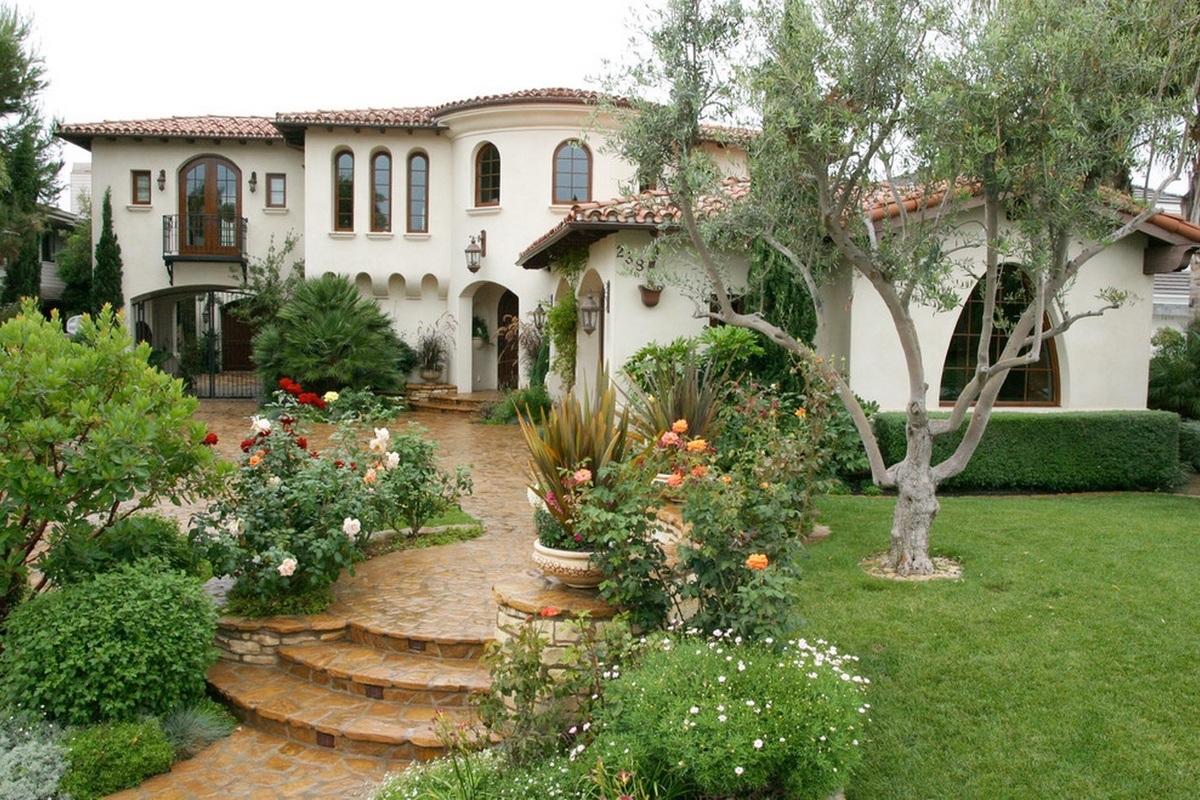 When laying a path, it is not necessary to place the material back to back. For example, between the plates, you can leave small gaps, and then fill them with sand or pebbles. Also, as an alternative, you can use garden grass and then plant small flowering plants here that will cover the slabs and give the impression that you are walking along the carpet. Among the plants, cloves and thyme are best suited for this. However, this is not important. The main thing is to use dwarf-sized plants.
The paths that are located as close as possible to the house should have a strict style, it is best to lay them out of pavers. If this option does not suit you, then you can use a brick (both white and red) or concrete. In other areas, for example, near a recreation area or closer to an artificial reservoir, a material with irregular shapes and different dimensions can be used. You can also not dwell on one specific material, but make a combination of them. When laying footpaths, the main thing is to focus on the style of the facade in such a way that everything is harmoniously combined with each other and creates a single picture.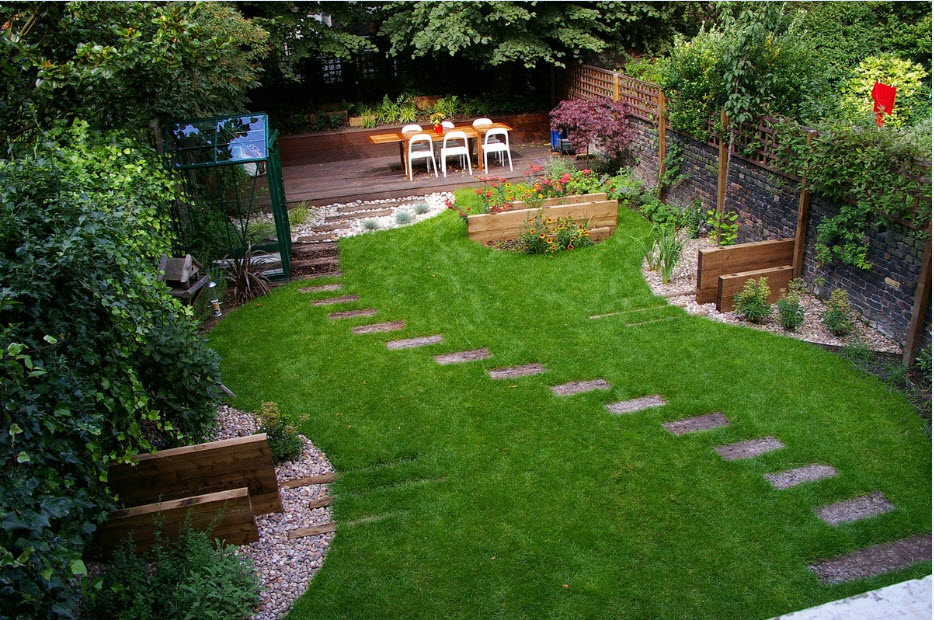 Greening the Courtyard of a Private House
After space has been delimited, and the paths and functional places are designated, landscaping should be done. During this process, you need to choose the correct location of the plants, while taking into account their size and flowering time. Initially, you need to place trees, large shrubs. These plants will be able to create a landmark, make places with a shadow that will be protected from the wind and other weather whims.
The most spectacular and original plants are best planted separately, thus focusing on them, and highlighting these elements from the gray mass. Under one of the large trees, you can put a small bench or a circular bench. An ordinary green lawn can be decorated with bright flowers or bushes. It is best to use juniper for a restrictive border.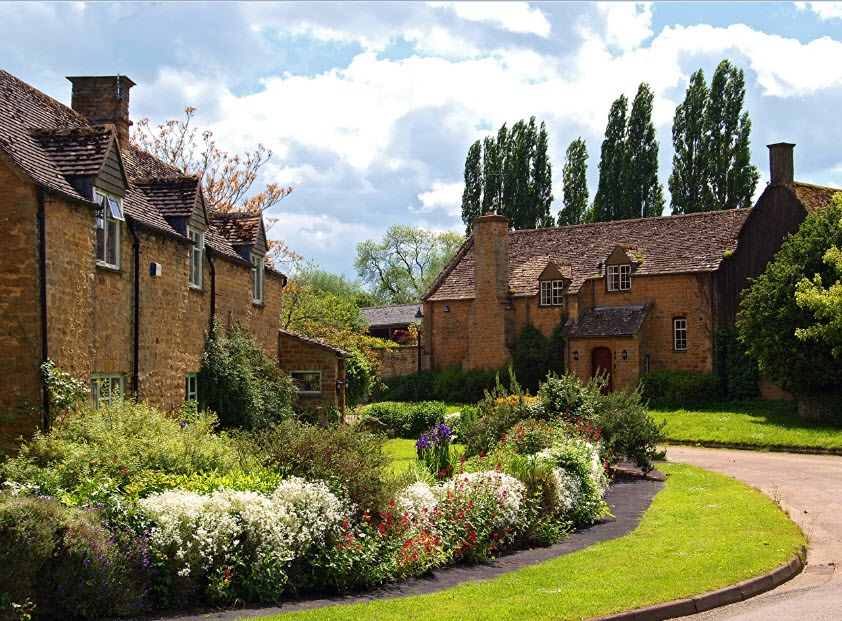 Often, flowers of bright colors are used for landscaping. You can create unique monophonic or multi-colored canvases, flower beds by using plant colonies. When planting flowers, you need to know their flowering period, in order to create a uniform picture, which can please look year-round. In order that the flower garden is not boring in winter, it can be diluted with conifers, which will attract attention in any weather.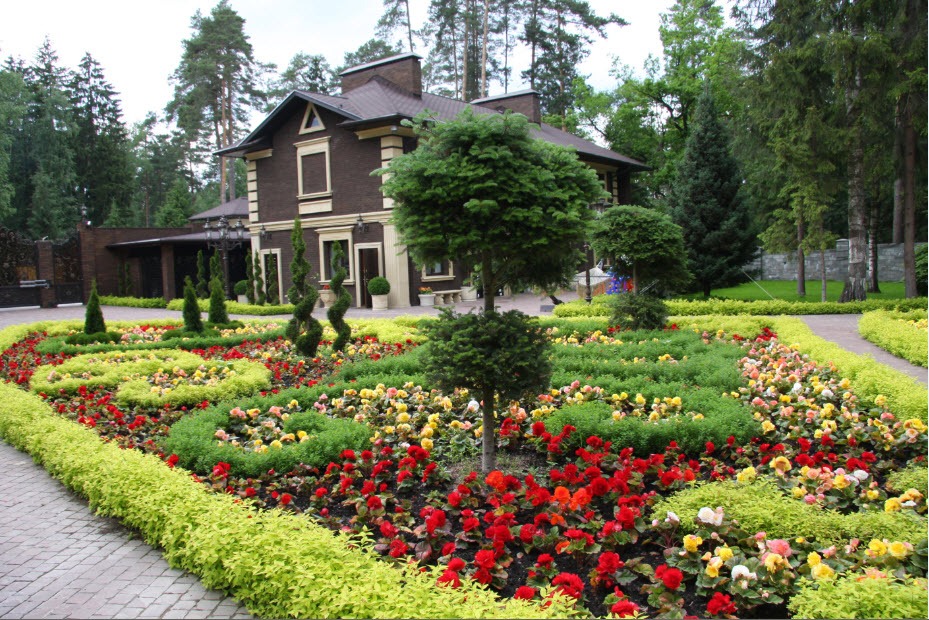 If you don't want to constantly mow the lawn, then you can arrange flowerpots with various plants in the yard. In winter, they will be removed to a warm room, and in the spring they will again be carried outside. By doing so, you can grow a heat-loving plant on your site: mandarine, lemon, cypress and so on. You can also decorate the flower bed with vegetable and berry crops. In the summer they will decorate the territory, and in the fall they will please their taste.
In the end, a practically finished private courtyard is decorated with decorative elements, sculptures, fountains and other tempting gizmos.