Dining hall is indispensable zone of any apartment or private house. Eating place is the organic location in any home as you can have the meal, as well as have conversations with your family members or guests. It became popular to locate dining hall wherever in the house lately. Former tradition of placing dining room near or in the kitchen gradually fades out. Modern apartments have more living space, not to mention of private houses. And no dining hall can do without furniture. Opting between materials, forms, color and functional load of the dining furniture can make huge difference. In this article, we are aiming to overview some of the most topical modern dining hall furniture for different apartment types depending of material of execution and interior design style.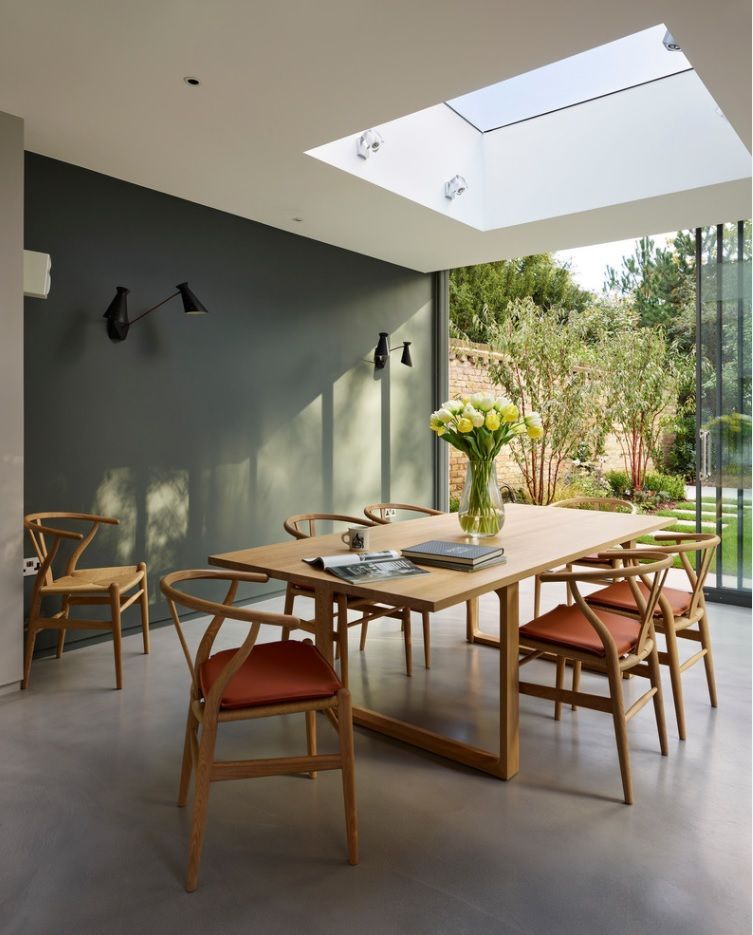 The majority of furniture types are known for centuries and we hardly be able to introduce some new piece of it. They are all the same tables, chairs, pouffs, stands, ottomans etc. But you can easily change the image of your dining hall only with furniture.
Wooden furniture. Everlasting Classic
Nobody will argue that wooden furniture is the most practical, usual and easthetically neutral at home, especially for kitchen and dining room. It will probably never go out of fashion. It is simple, durable, water resistant and eco friendly. Even in metal, plastic, glass or upholstered furniture, you will always find some part made of wood.
But the wooden furniture does not necessarily means boring classic and standard forms. The room can be revived with colorful furniture for dining, it can be of unusual shape or have individual design in every piece.
Below you can see what level of chic and nobility achieved by using raw natural timber for table manufacturing. Table and chairs as if creating individual composition inside the dining room.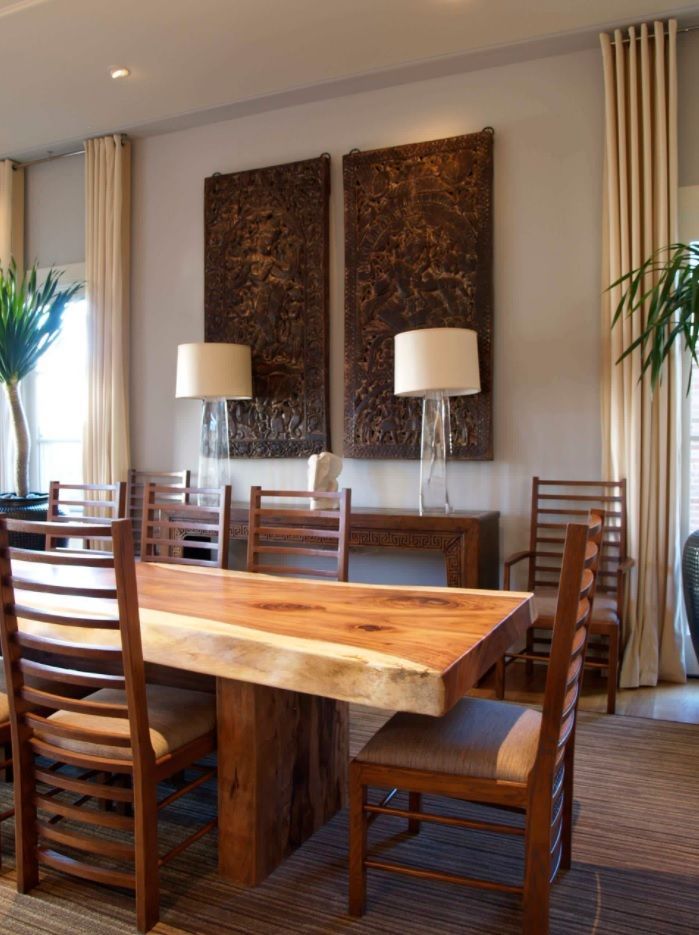 You can also combine styles and give any color or texture for the chairs just using the covers.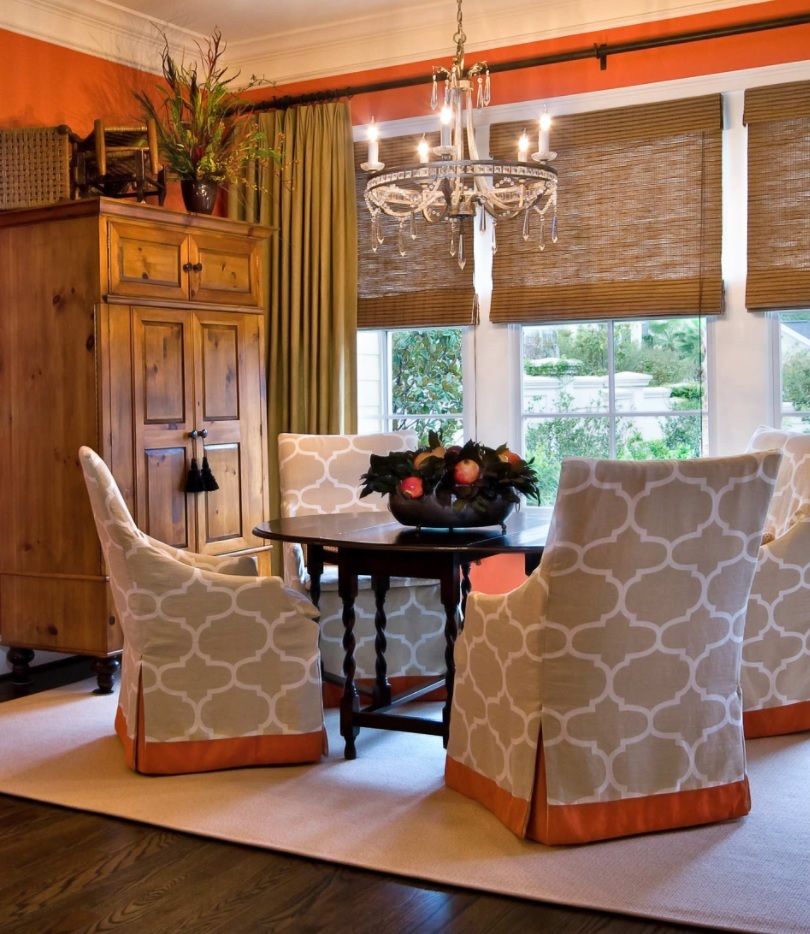 However, designers also like transitional forms, multifunctional items. It is when some piece of furniture is carrying two and more functions at once. Take a look at the photo below. Kitchen island also is a nice angular bench.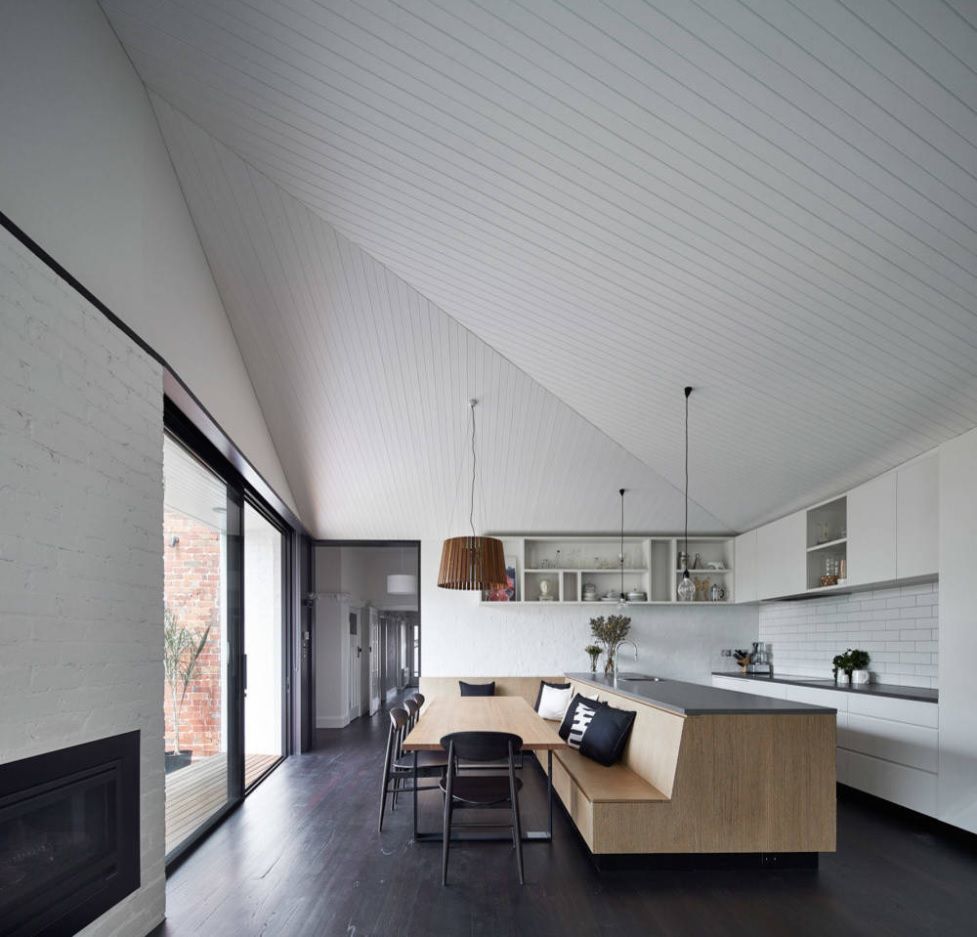 Metal, plastic, glass for dining hall
Modern materials are the way to save money. If natural wood has cinoaratively high price, then chairs with slight metal frame would be cheaper as well as even lighter. Metal furniture is also durable, can be painted again when scratched. The only drawback is probably not such pleasant touch and "cold" perception of the material. Thereby try to use it in warmly decorated rooms.
Plexiglass and plastic are the most trendy and technological materials which gain popularity. They can help you to create any modern design style within your dining hall: hi-tech, fusion, Pop art, futurism, and many others. In addition, these materials are durable and lightweight. They can also be colorful and appear in any shape.
Wicker Furniture also actual
Many people prefer wicker furniture for outdoor patio use. But it has proven to be nice practical material for indoor location as well. If you're a fan of lightweight natural good looking furniture, you should consider rattan or any other wicker furniture for your home. It can have any form and combines perfectly with upholstered top seats, pillows.