A dropped ceiling is one of the types of suspended ceilings. Basic elements of this ceiling are plates of aluminum or steel, so-called cassettes which sizes are 300 × 300, 600 × 600, 900 × 900 … mm. Mounting of such ceilings is carried out on the pre-prepared frame. Due to such properties as the aesthetic appearance, durability, moisture resistance, and environmentally friendliness this ceiling finishing is widely used both in industrial facilities and a residential area.
The application area of the ceiling is quite wide: offices, swimming pools, restaurants, or even the medical facilities and laboratories. It is most often used in the bathroom and the kitchen at living quarters, as the basic properties of the dropped (some people call it coffered but it's not quite right, we'll describe coffered ceiling in other articles) ceiling are moisture resistance, high fire safety, and hygiene.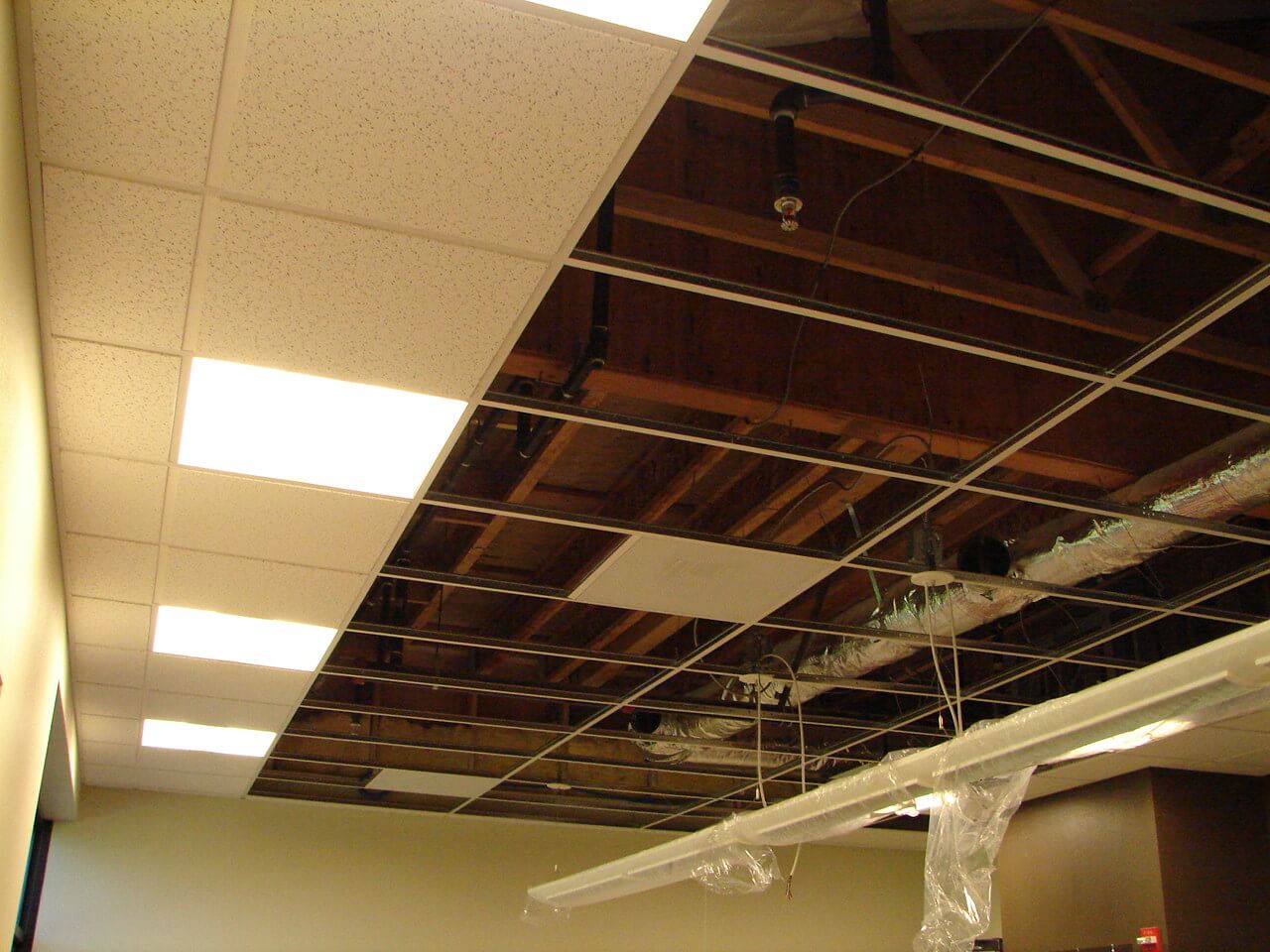 Cassettes can be made of aluminum or steel:
in the first case it is applied to the surface of the bimetal coating, as well as aluminum dropped ceilings exposed to chemical polishing, which bestow them shine and mirror tint. Material thickness is 0.32 to 0.4 mm;
in the second case, the metal dropped ceiling is made of galvanized steel. On the surface of the applied abrasion-resistant powder paint.
The finished state ceiling has the look of a suspension system, with fixed panels on the frame. Installation of suspended (dropped) ceiling is implemented by means of the main, lateral guides, adjustable suspensions, and wall corners.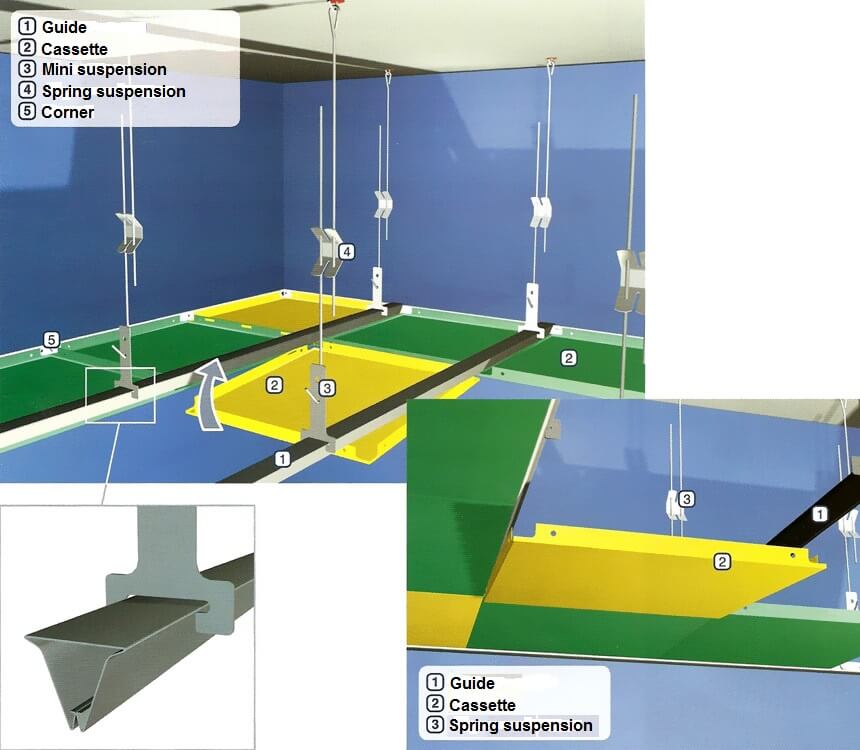 Advantages of suspended cassette (dropped) ceiling:
Installation easiness. Installation takes place quickly and without too much dirt and debris. Replacement of the damaged panel will not cause difficulties in the future.
Durability. Panels are not subject to rusting, fading, and are not afraid of temperature changes as the main material in the ceiling design is aluminum or galvanized steel. Such a ceiling will serve for more than one decade.
Hygiene. The panels do not accumulate dust and do not absorb moisture, such a surface is a hostile environment for mold. It is used in laboratories and medical institutions, not by chance. To care for the coffered ceiling, you will need only a damp cloth.
Moisture resistance. The panels are not subject to corrosion due to their zinc and bimetal coating. As already mentioned, they are ideal for the bathroom and kitchen.
Fire resistance. Dropped ceilings are also installed in the premises with high requirements for fire safety.
Ability to set different climate systems, as well as the variety of lighting fixtures.