Kitchen furniture set or fitted kitchen in British English are well known set of cupboards, pantry, storage and worktops that make the cooking process easier. To put it simply, it is the organizer at your kitchen. The most original variants of fitted kitchens allow seamless allocation of the appliances (such as refrigerator, washing and drying machines etc.) behind the facades of the furniture. Today we will review some of the most trendy to organize cooking area by using eloquent fitted kitchen designs with space saving techniques.


Classic kitchen stylistic is still actual
If you are adherent of the calming color scheme, restrained design and straight lines, you probably will tend to Classics at your kitchen. What advantages and particular features can it bring?
First of all, we want to show Classic style fits any space. It can be large studio room able to accommodate the island as a part of fitted kitchen. At the other hand, it can be small space in continuation of passage. It also can fit narrow galley kitchen layout.
Classic fitted kitchen can absorb modern elements and appliances. For example, classic white kitchen facades successfully combine and being emphasized by steel shining of extractor hood, fridge and tap. And we can see probably the only apparent distinction of classic facades. It is the fittings and framing of the cabinets. Classic cabinets have angular fittings, framing and maybe even carving. Modern fitted kitchen tends to modular construction with smooth facades. The form of fittings is usually minimalistic and flowing. The latest fitted kitchen come without handles at all and open by pressing the cabinet door.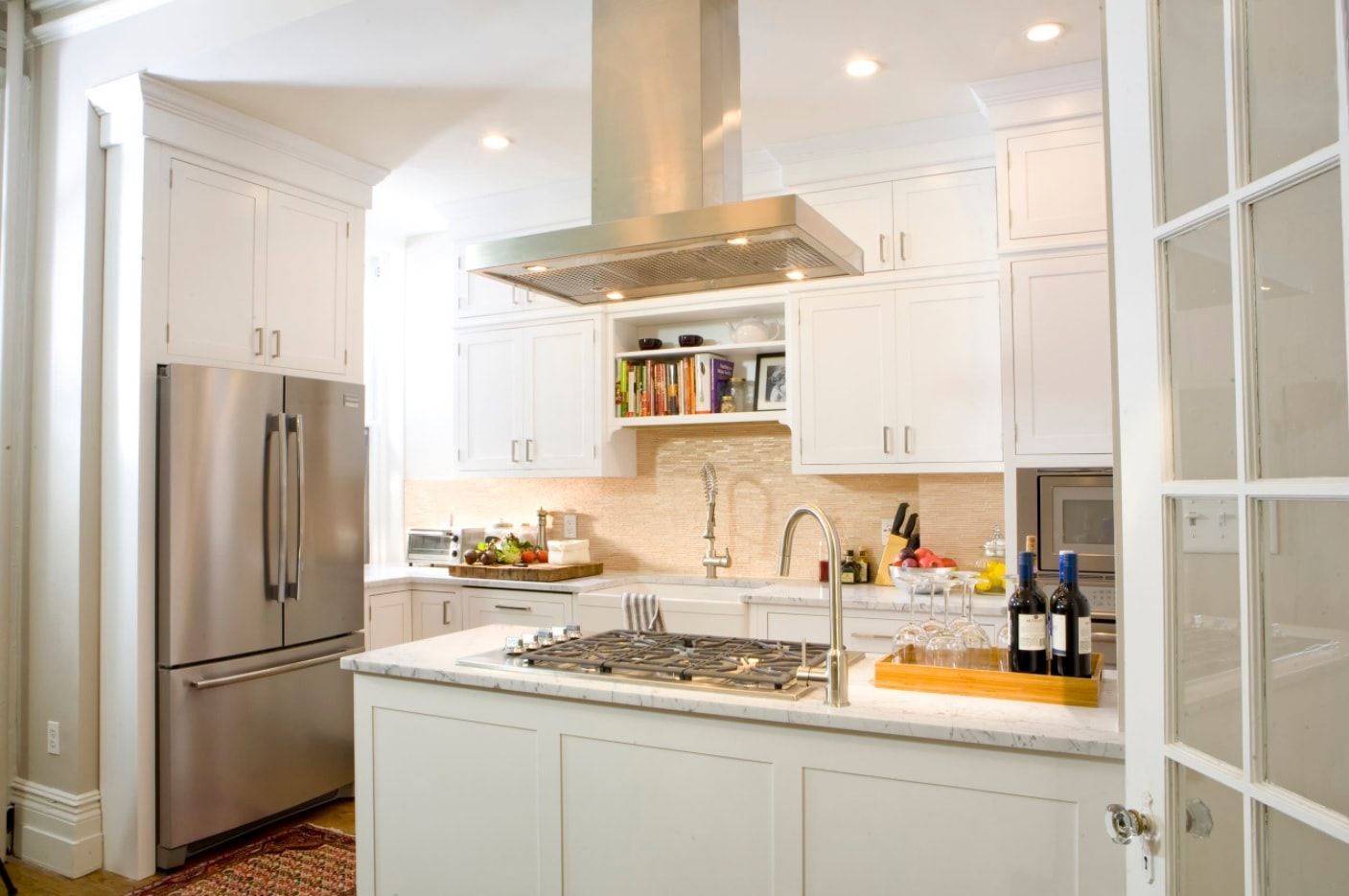 Vintage, Retro with touch of Loft style can be also attributed to Classics. Rough brickwork accent wall, the metro tiled opposite wall create unusual charm. Emphasized by wooden butcher block and black bottom tier of the fitted kitchen, it represents the masterpiece of design.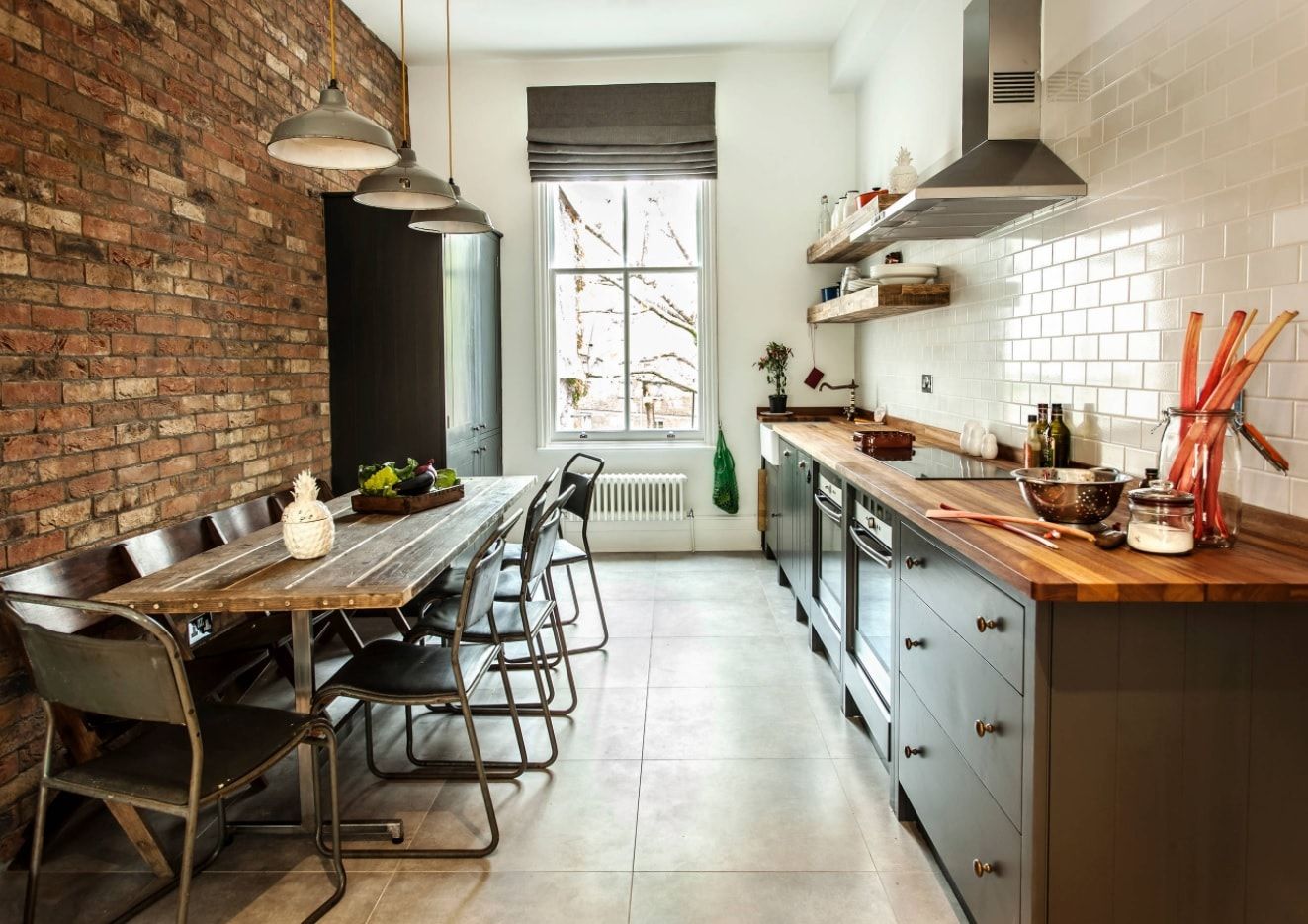 Eloquent fitted kitchen designs with space saving techniques for modern styled interior
The design examples of contemporary technocrati era are far more interesting. Here we can see the real freedom of fantasy. However, it is really hard to classify the precise style of some interiors. But it is not the main thing. The main thing is to turn your kitchen into really comfortable place to be. It should contain all necessary functional parts as well as be visually attractive. This will take your cooking experience to the highest level.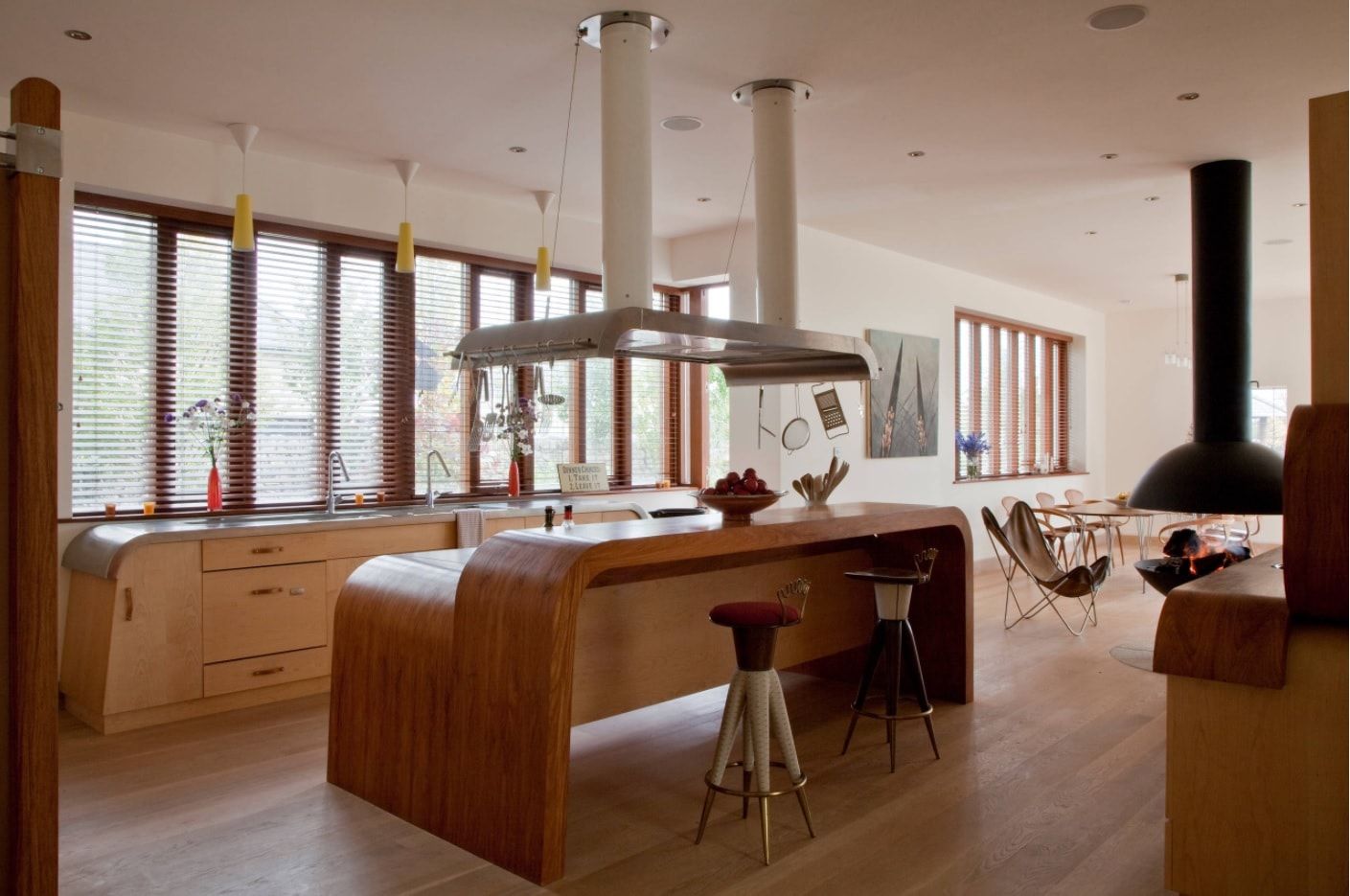 Fortunately, modern stylistic has a lot to say if we speak about small premises. The standard depth of fitted kitchen's bottom tier is about 60cm (~24″) which makes it possible to organize full-fledged kitchen even when the passage is no more than 1.8m (72″). Take a look how cute and functional design we can achieve at the small area. The tiny contrasting table at the corner for taking meals finishes the whole concept.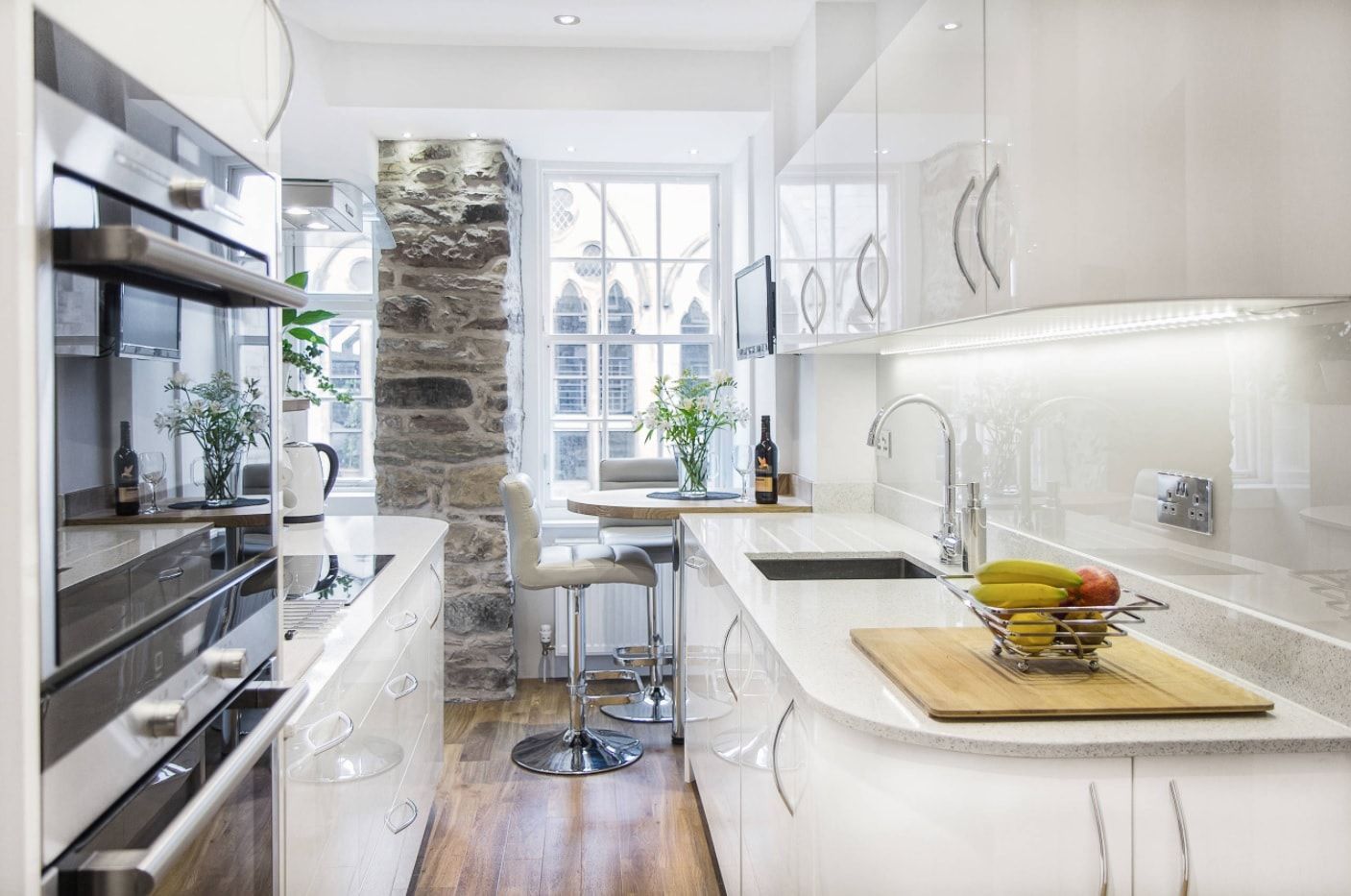 But the large kitchens also need skillful space management. This will allow them to look minimalistic and slim. If you have the ability to locate kitchen island, do it without a doubt. It will drastically increase the usability of the kitchen. Additionally, the fitted kitchen will allow you to store all the necessary things within closed cabinets, as well as to hide some of the appliances (refrigerator, microwave oven etc.)
Use the kitchen island to the full extend. It can take the hob and also be a part of storage system, accommodating a couple of folding cabinets.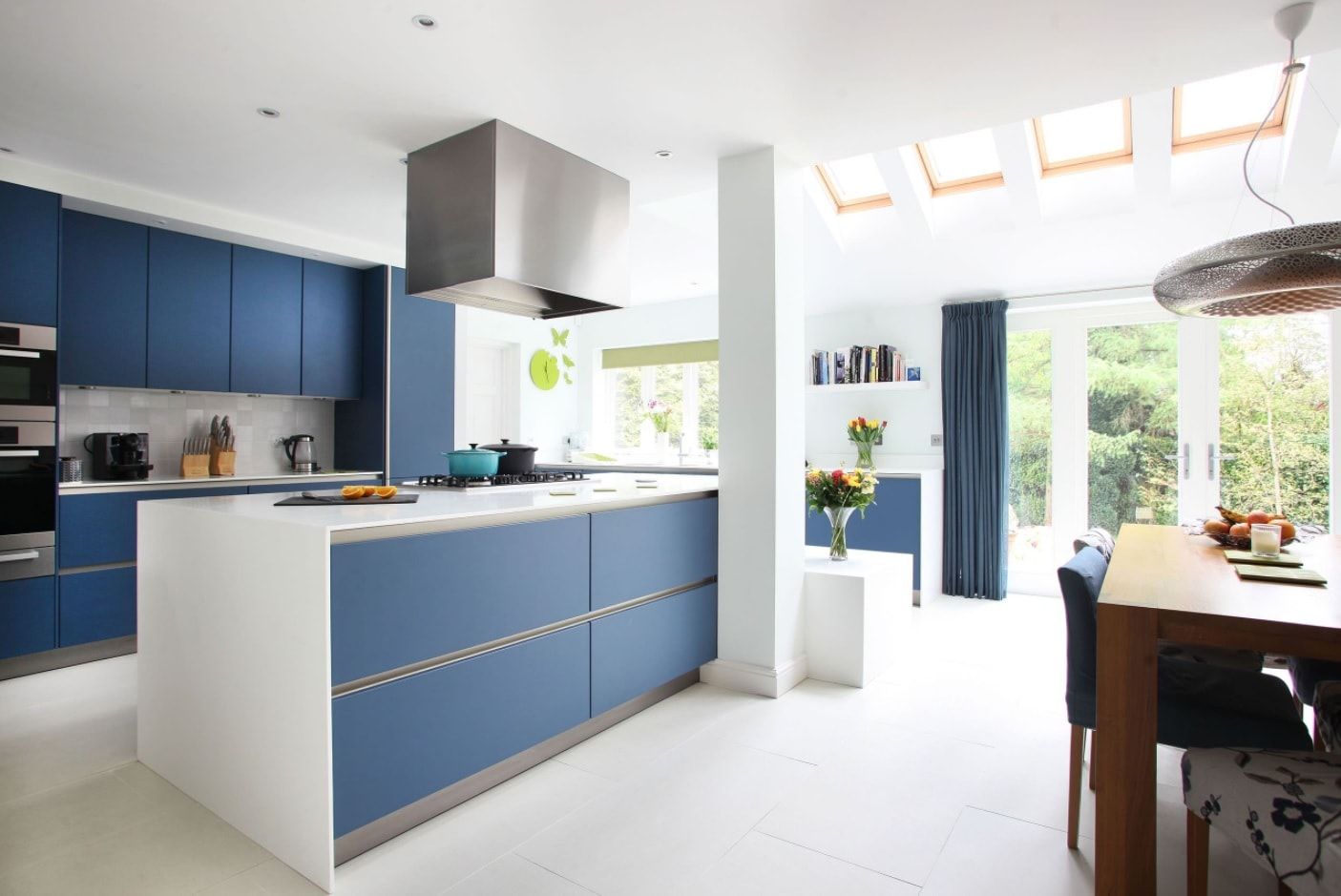 Ethnic styles can be taken to the separate category. They are beyond of time and geography by far. But the ethnic group is predominantly for large places. It is very difficult to maintain the aesthetical view, resemblance to the basic concept and still have enough of space.