Everyone likes to hold gatherings in the kitchen. And no matter who is invited to the family table, – relatives or friends and acquaintances. Sometimes the company is so great that you can be out of seats. In such cases, so as you should not have to go to the neighbors and beg them for an extra stool can get, folding chairs can help out in such situations. But this furniture can act not only in a role of functional unassuming elements of the environment. Let's consider folding chairs as a kitchen interior functional decoration in this article.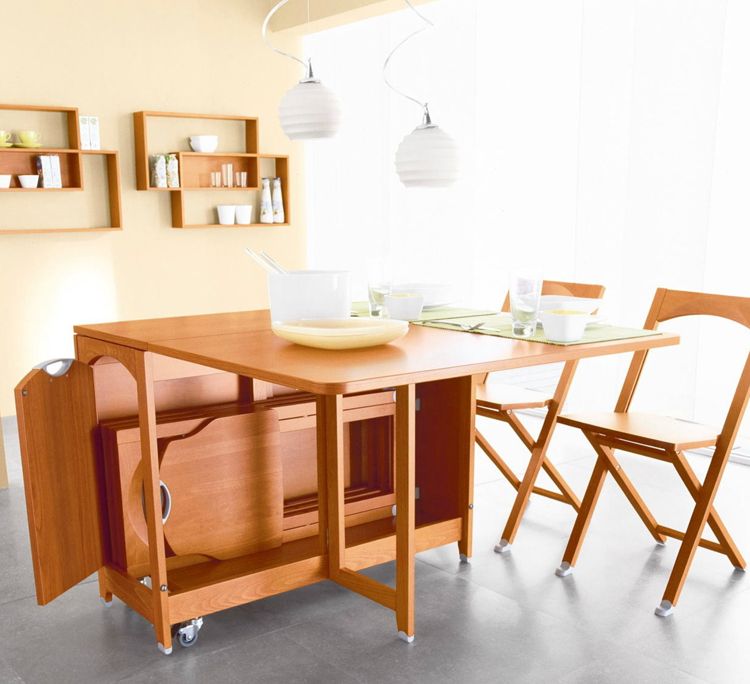 Folding chairs for the kitchen have a big plus: they are compact and do not take up much space. It is quite possible to allocate a place somewhere in a cupboard or pantry for such a utility. The most important thing when choosing folding chairs, you must understand what their advantages over the others.
The materials used in the manufacturing of folding chairs are quite diverse – plastic, wood or metal, which is considered the most durable. As a rule, it goes to the base of the chair. The back and seat are made of metal or plastic, which can be wrapped in leather or its imitation, as you wish.
When buying such chairs, their unfolding mechanism worth a closer look. It must not jam, unfolded chair should stand firmly on all legs and don`t sway from side to side. Inspect the chairs for damage and make sure that all segments of the metal frame are welded conscientiously.
Monstrans Folding chair.
Manufacturers of folding wooden chairs with back to the kitchen
You should Know !!!

Chinese manufacturers can please you with low price, it is fairly low. But buying such a chair you can be very disappointed then while using it, as its quality will limp. Another shortcoming of purchasing furniture from China, they do not have the ability to customize the order. Nobody will consider your preferences on the frame, color or trim, so you`ll get your chair as it is.
European manufacturer of folding chairs for the kitchen will please the buyer with quality, but the price will be considerably higher.
Domestic manufacturers can boast with much higher quality, but as Europeans, the prices for really nice pieces can bite.
It is not difficult to choose the right model of a folding bar stool for the kitchen nowadays. The market of these products is diverse enough, the assortment is constantly expanding. Even buyer with the most demanding taste can easily choose his favorite model.
Bar folding chairs as a kitchen interior functional decoration
Not to turn your kitchen into a warehouse of furniture, it is enough to make the correct calculations based on the following parameters:
650 mm – the minimum distance between the axes of chairs standing next to each other;
the number of seats is determined by dividing the length of the countertop to 650 mm.
If you still need more chairs than the obtained results of calculation, bar stools for the kitchen will be useful in such a case. They are convenient that their height can be adjusted and set for youк personal needs, their legs and backs are sliding and it is very convenient in use. When the chairs are no longer required, they can be simply removed to the niche.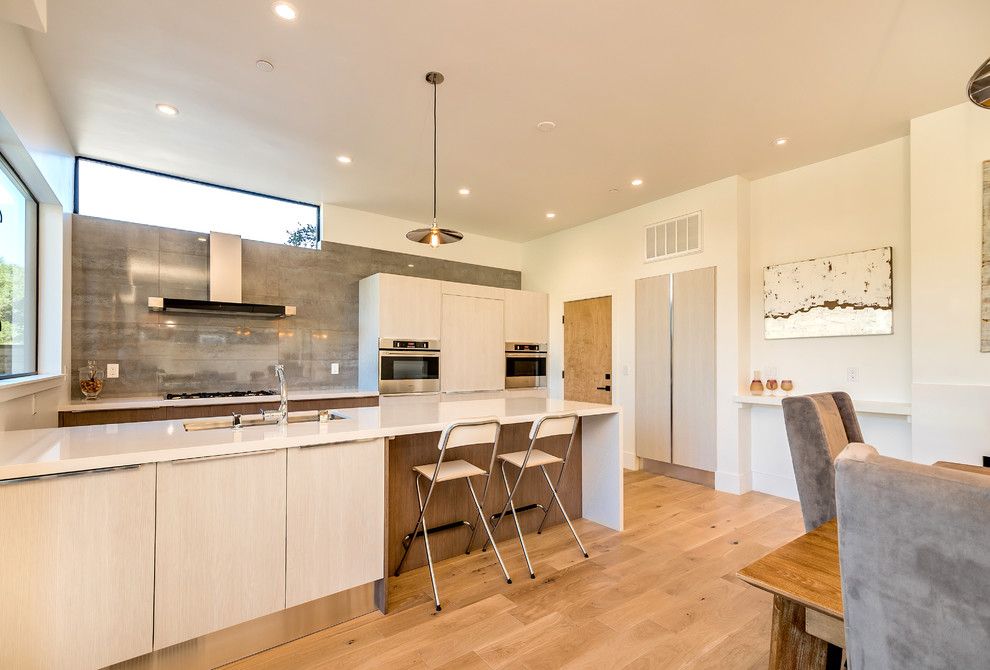 Folding kitchen chairs with back from IKEA
This is a real boon for small spaces. Even for a child can easily unfold such a chair. There is no need in special care for them, it is enough to wipe chairs with a damp cloth. In the department of garden furniture, you pick up the options that can be used not only in the garden area but also at home. Chairs for the kitchen in this section may seem strange in appearance due to the perforated seat. This is done for the case if outdoor recreation marred by the rain, the water will go safely through those holes and will not stay on the seats.
Ikea Folding stools photos in the interior
They can be safely used at the village summer house as well as in outdoor cafes or bars. Compact, with durable metal frames they will last long enough.
Prices
Price category of these chairs ranges from economy, where the cost is from $50 up to the more expensive. $100-120 will cost the purchase of conventional wooden bar stool, with a metal frame and polycarbonate seat. On the bar stools with upholstered seat price will range from $120 to $250, because their production requires genuine leather, chrome-plated steel. The seat would be soft and comfortable.
The products of IKEA are designed for a buyer with average incomes, so there are no too expensive collections. After all, not everyone can afford products from well-known designers, and with IKEA you can make a purchase that will please and bring pleasure for many year by acceptable price.
Folding chairs with back in the kitchen: the types and features
Design of folding chairs is convenient because it allows you to make them so flat that they will not take too much kitchen space but, on the contrary, will give beneficial save. The production of such models can be performed with a plastic, wood, particle board or metal.
Folding wooden chairs with backs before getting to the kitchen should always be processed with a special compound. If the product is made of wood, it must be impregnated with special resins and materials, to the external environment could not spoil the material, whether it be rain or a sharp drop of the temperature. Natural materials are always in fashion, unlike artificial. Chairs made of wood can be of dark and light colors that help them fit into any kitchen interior.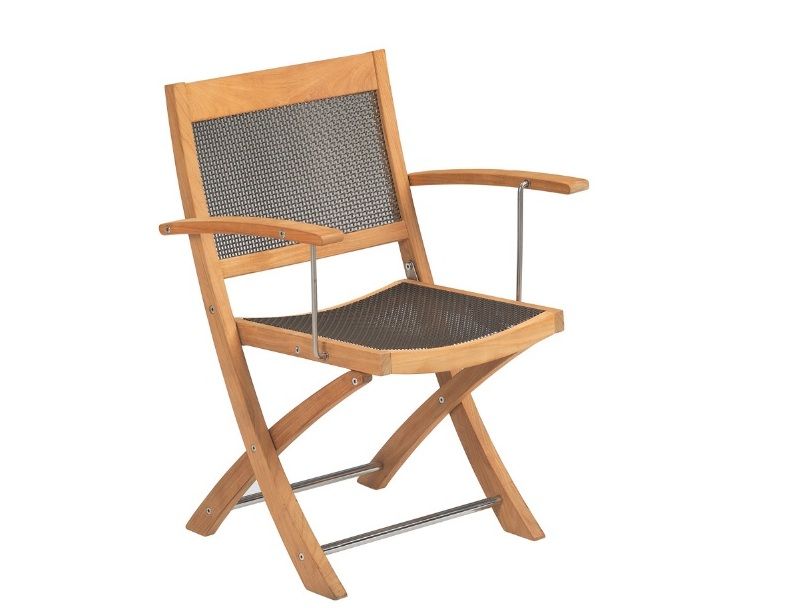 Chipboard is a cheaper material, the result of pressing wood chips. It is not as durable as wood, but to rather stable to external factors. The only thing that can spoil it is a direct effect of moisture.
Plastic is practical and easy to use. Light weight, unpretentious in the care, the color palette is very rich and intense.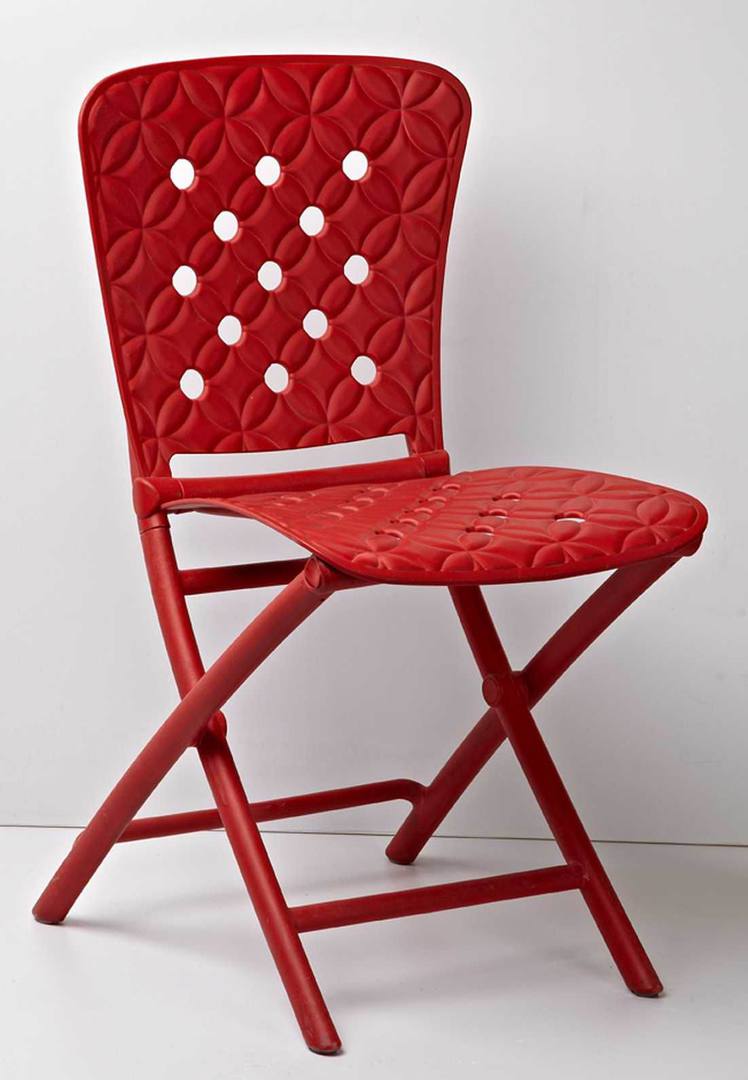 A good option would be folding chairs with soft seat and a metal frame. They are resistant, durable, they are not afraid load and it will not be difficult to fit them into any interior. They will also be in harmony with any style. These chairs will look great in composition with a glass or plastic table.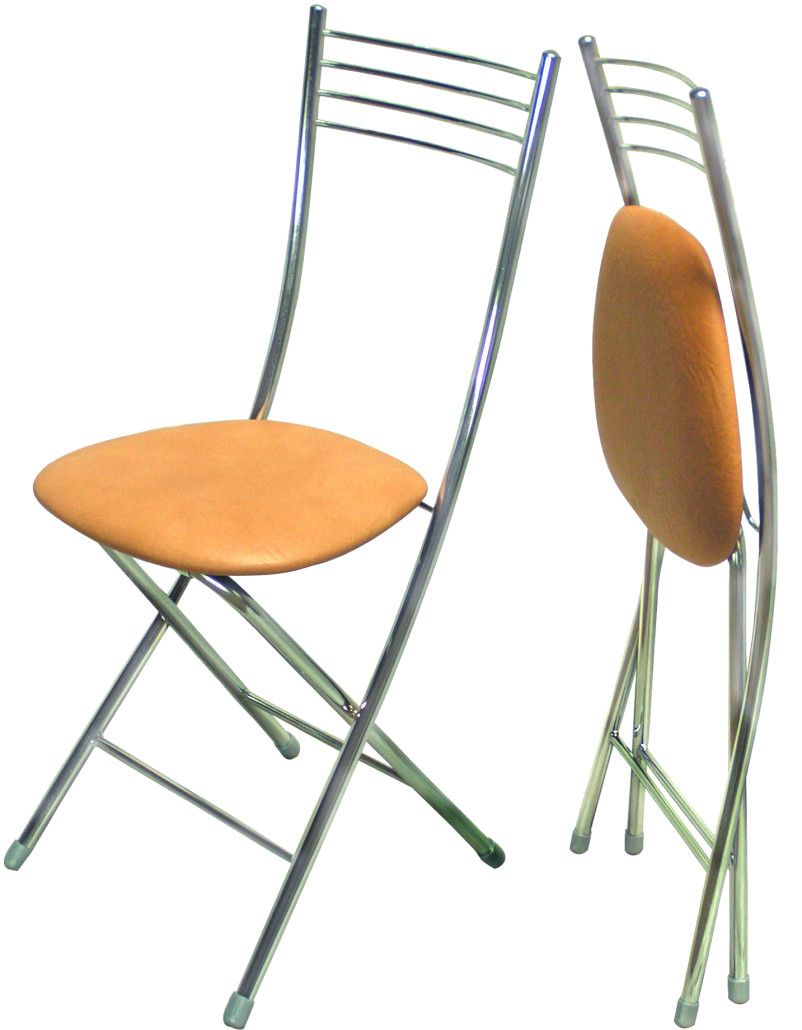 Lovers of classical style in the interior or the country style spirit would love chairs of woven rattan. These chairs are perfectly combined with a wicker table and with tables with wood or glass surface.
Advantages and disadvantages of folding chairs with back
Before you make a purchase of a folding chair for the kitchen, you must first become familiar with the proposed materials that participate in the production of this product. If you plan to use the chairs from time to time, then plastic is suitable. For long-term exploitation more durable construction is required.
Folding chairs have much more pros than minuses:
compactness which saves space;
large variety of shapes and materials;
Particular attention should be paid to the merits and demerits of a single material, in order not to regret in the future.
Metal chairs. As a rule, they have an aluminum frame and chrome finish. Strong, stable construction allows to withstand considerable weight. The seat can be both soft and hard plastic or padded with leatherette. Due to the nickel plating, they are not subject to rust. If you do not want to roll with a chair on the floor, you should pay attention to the presence of silicone pads on metal legs, – it is them are eliminating the effect of slip.
Plastic chairs. Undemanding in care, light and ergonomic. The surface of these chairs can easily deform when exposed to high temperatures. You can`t put something hot on a chair, it will immediately left the imprint, and the previous form would never longer return. The maximum load on a chair is in up to 100-120 kg. Folding system also leaves many questions. The service life of such chairs, it is unfortunately limited.
Wooden chairs. Durable, stable, environmentally friendly, will last for a long time, but on the condition that the entire surface was treated with a special compound. There is only one con of these chairs – their high cost.
How to choose folding chairs for the kitchen
If we already know what material is needed, remains only to determine the desired shape of the kitchen table. If countertop is round, then the chairs must be the same; for the rectangular shape – respectively angular.
When choosing a seat, you need to consider where is more convenient to sit: on a hard or soft. You can try to sit on one and on the other, to feel the difference. The fabric upholstery should be abandoned as it rapidly polluted, absorbs odors from cooking, and it is quite difficult to wash it.
Some models of folding chairs come with arms, but stout men will be uncomfortable to sit on these chairs.
Unfolding system also worth a closer look, to make sure it is durable and well fixed.
When choosing the color of the chairs, you should consider the interior of the kitchen as a whole. Colors should be in harmony with each other. In the kitchen made in wooden style, chairs with metal and plastic frame will not harmonize.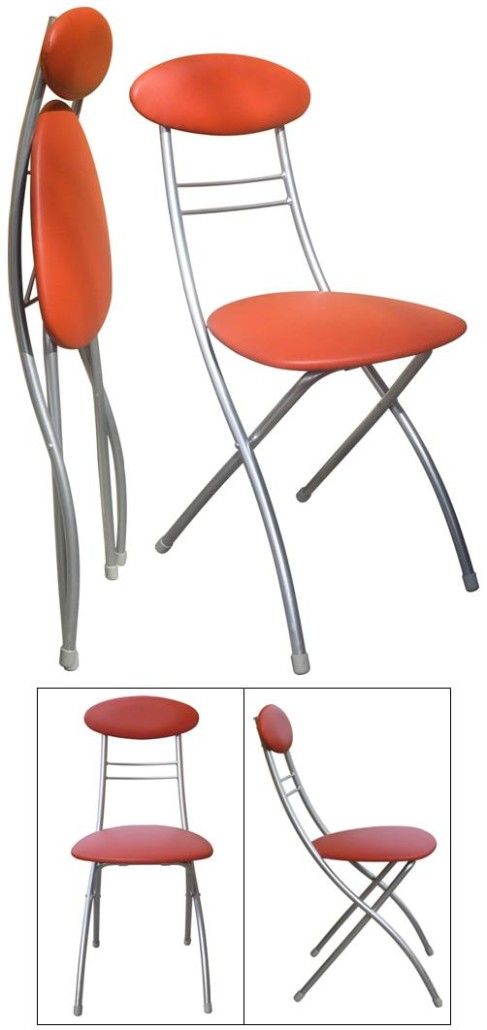 Note.

If you want your furniture to last you as long as possible do not economize on purchasing. If there is no such a problem and you will use chairs from time to time, you can opt for economical variant. Consider the storage space beforehand.
Chairs made of chipboard are used to dampen in cold and wet weather, so if your balcony or shed is not insulated, it is best not to store them there.