A huge number of people trim the walls of their apartments with ceramic tiles. This is especially true for the kitchen and bathroom. Why do homeowners choosing among mirror tiles ideas for modern interior design? Because ceramic tiles have a lot of win-win qualities. These qualities make it practical to use, convenient and simple. These same qualities are inherent and to mirror tiles. It has become a truly excellent acquisition for interior designers. Mirror tile is durable in use, resistant to chemicals, and waterproof. As for ceramic tiles, it is easy and simple to care for. Many people think that the mirror tiles are fragile. But there is a direct dependency between the quality of the glass that was used in the production of tiles. You can clarify this question by asking a seller in the shop when you select a tile for your home. But do not forget that when working with this material, you must be careful.
Contents:
Mirror tiles forms can be very different – triangular and square, rectangular and arched. Cover spraying can also be different: bronze, copper, or silver color. We can meet producers proposing not only to buy their tiles but also help in laying them on the wall surface in your apartment. If necessary, you can order mirror tiles the size you want, and even with any logo or design.
Mirror Tiles Ideas for Modern Interior Design. Where to Use?
Mirror tiles can coat not only the walls but also the ceiling. You can apply it fragmentally. For example, the face the wall with tiles between hanging cabinets and the tabletop in the kitchen. You'll get spectacular decor of this area with a well-groomed and neat appearance. You can use similar detergents as you do for the conventional mirrors to care for mirror tiles and their cleaning.
Antique Mirror Tiles
The antique mirror tiles can highlight the light or space of a room with a mirrored surface. It is best suited to kitchens, hallways, and corridors, as well as classic styled bathrooms.
Having such antique glass in a different place or room will get a different effect!
Put some antique mirror tiles in your kitchen to make it brighter, cleaner, and more composed.
A large antique mirror panel can also add depth to your hallway and make it appear much longer with a mirror.
Nice mirroring frames add elegance and artistry.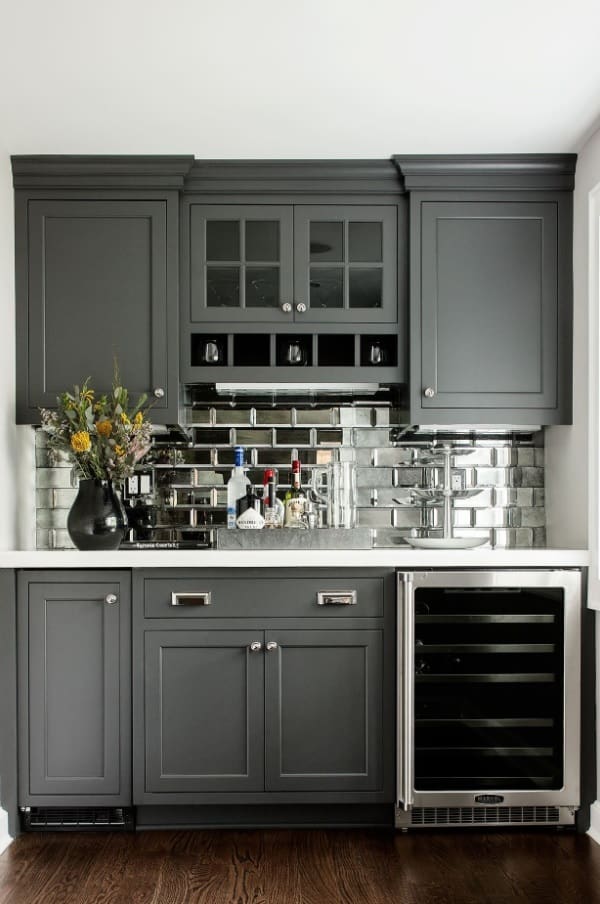 Laying of Mirror Tiles
Tile laying is not labor-intensive. The surface to be trimmed should be pre-aligned. For laying tiles on the mirror surface builders use silicone or liquid nails. The protective stretch film is removed from the tiles before the start of the lining. Next, it is necessary to avoid contact with abrasive materials. Such materials include sand, cement, etc. In order not to get chipped during installation, you must also avoid contact between the tile ends. If you need to cut it, you can do it with the help of an ordinary glass cutter.