Panoramic windows offer amazing views of the ocean. You can choose a modern style in bright colors and add a couple of highlights there. This is the path chosen by the owners of this beach house in California. They picked up blue-gray accessories with prints and voila – the wonderful interior is ready. In addition to the living room with panoramic windows, a favorite place of the owners is a fireplace at the backyard. It must be an incredible pleasure to sit here on warm evenings!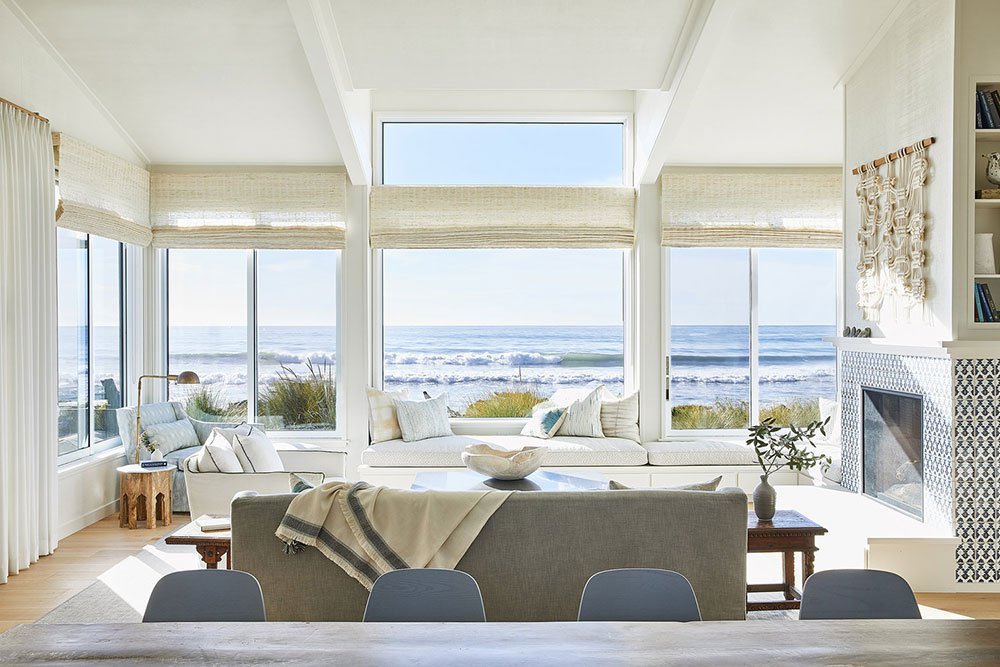 Absolutely stunning outside view to the Pacific Ocean relaxes and inspires at the same time. Moreover, it also defines the stylistic for the interior decoration. Touch of Marine style along with apparent closeness to classic American traditions makes the living environment fresh and attractive.
Bedrooms
The second most interesting premises in the house are bedrooms of course. In small master bedroom, calming atmosphere is in simple bed decor and picture of the headboard. As well as the straw shade of the chandelier which echoes with other decorative elements.
Personal things in the guest bedroom as well as decorative plates at the wall make the stay in the house really homey.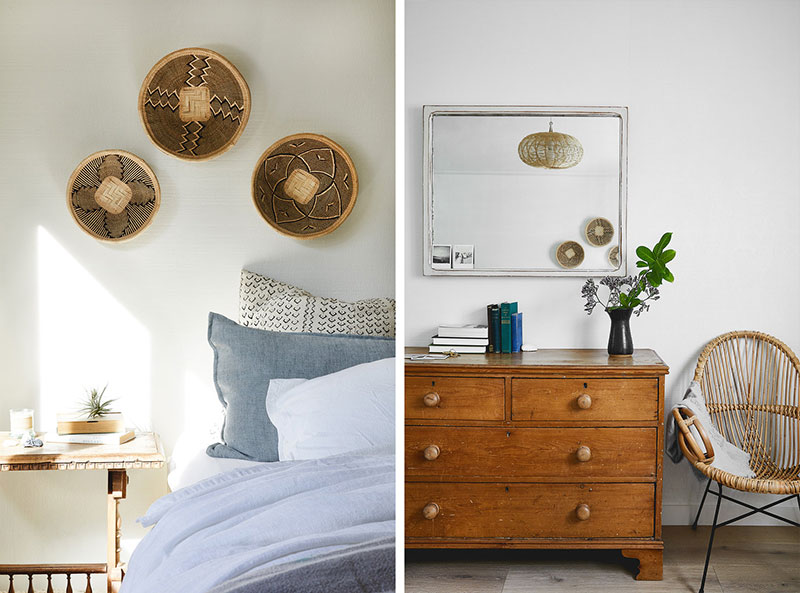 The nook right at the entrance to the dining room next to the mini-stairs masterfully turned into the sitting area with corner sofa.
Kitchen and Dining Room
Large area of the dining room is full of wooden trimming and elements. They are diluted by unusual bottle-looking lamps on long white cords. This provides nice lighting even at night, so the gatherings with friends should not be held at the daytime only. The kitchen zone located at of the recesses of the house has U-shaped form and all the necessary functionality. Moreover, it also has its individual island with lighting and storage. Refrigerator here are disguised as the cupboard to achieve original look.
The project is quite universal option for people with wide range of budget. It can serve as the summer house at the warm season. Crime statistics at the region is comparatively positive, so you can freely leave the house for 3-5 months without fear. Security services and adding some cameras and security alarm is not very money-consuming procedure.
You can also live here all year round. Mild climate, plenty of natural light and amazing view really worth it. As an additional option, you can rent this or similar beach house for week/month/season to enjoy your vacation with family or just try the benefits from living in the warm place.