Which sink to choose for the kitchen? How to Choose a kitchen sink to fit the interior? These questions faces everyone sooner or later. Why is it so important to know the answer to it? This whole article is devoted to answer.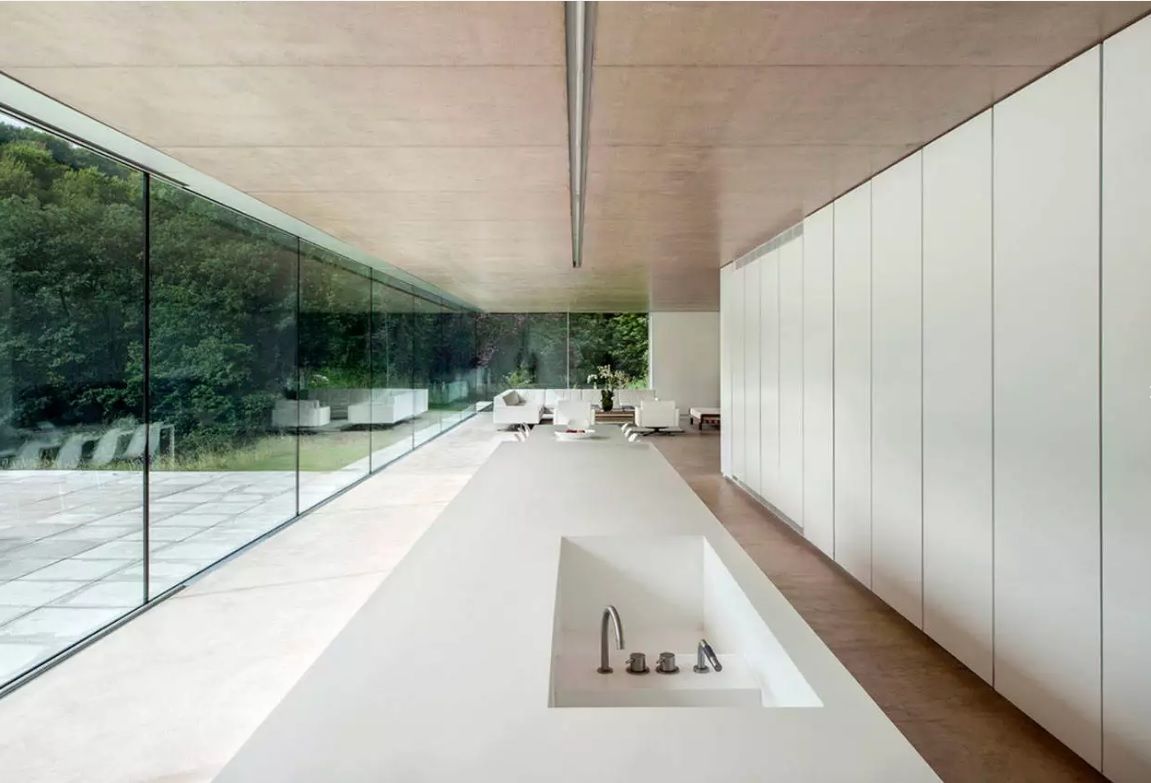 Why is it important to choose the right sink?
If we select a sink for dishes with all the features of your kitchen as well as its technical characteristics, it is possible to simplify the process and save time spent on daily washing of dirty dishes at least several times. As a maximum you can get start getting real pleasure from the view of kitchen utensils radiating cleanliness.
So, dishwasher or sink?
But what if you just buy a dishwasher, thus freeing yourself from the unpleasant hassle? Such a variant, of course, also can take place. But does the kitchen layout allow you to set this miracle of technology? And then, even buying a dishwasher, would you use only it? What if you just need to clean up a couple of cups? Here comes to the aid of the good old sink and faucet.
So you've decided to go in search for the kitchen sink. You may encounter some contingencies along that way. Oddly enough, but the huge assortment will be the first barrier to the unexperienced layman. The retailer stores offer a variety of models, the palette of colors and materials can really dazzle. And in order to help you make the right choice we propose to start to get acquainted with the most popular types of materials for kitchen sinks.
Stainless steel sinks
More about stainless sinks you can read in dedicated article on smalldesignideas.com
Glossy sinks
They can be decorated with a beautiful textured pattern or just have a shiny surface. It looks impressive and elegant, but "do not like" extra moisture and drops during the operation, as well as brackish water, which, if careless attitude to the care of the sink, will become a touch of limestone. And it is not easy to deal with it. To maintain a well-groomed appearance, it is necessary to wipe the surface with a dry cloth after each use.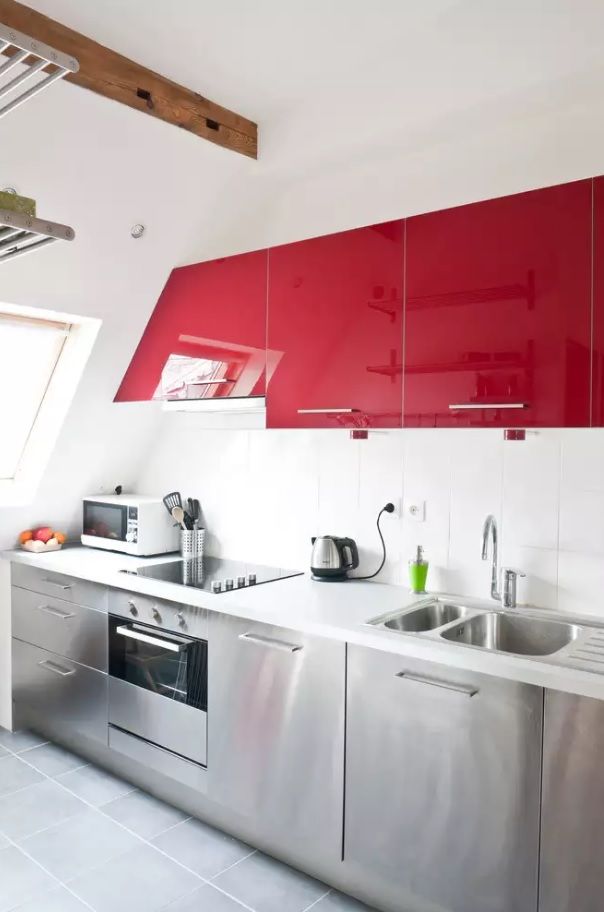 Matte Sinks
These sink too not without diversity and less difficult in care. Many experts agree that the kitchen sink stainless steel became the most functional and affordable means to facilitate housework.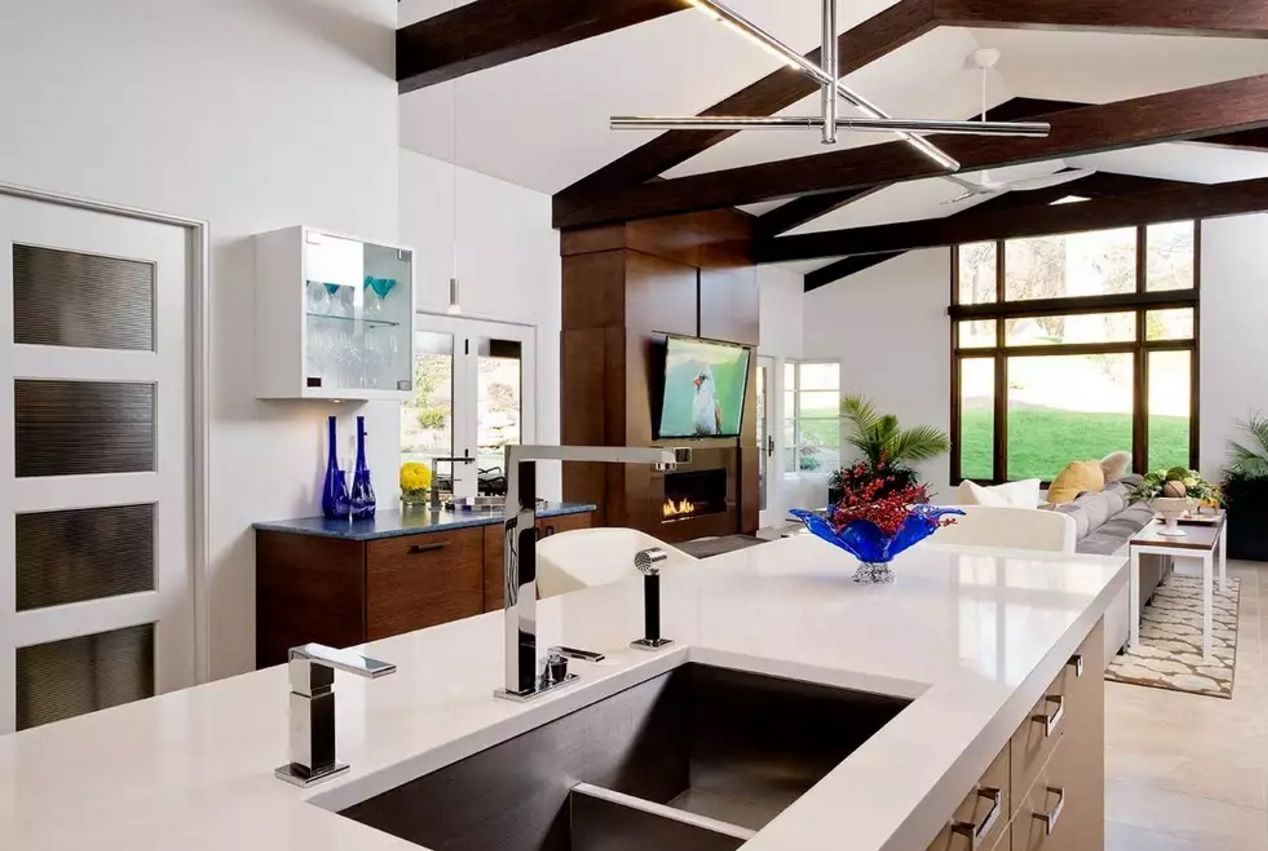 For those who decided to buy a sink of stainless steel for the kitchen, professionals recommend to check the authenticity of an object with a magnet. If the steel is real then no magnet can clung to it.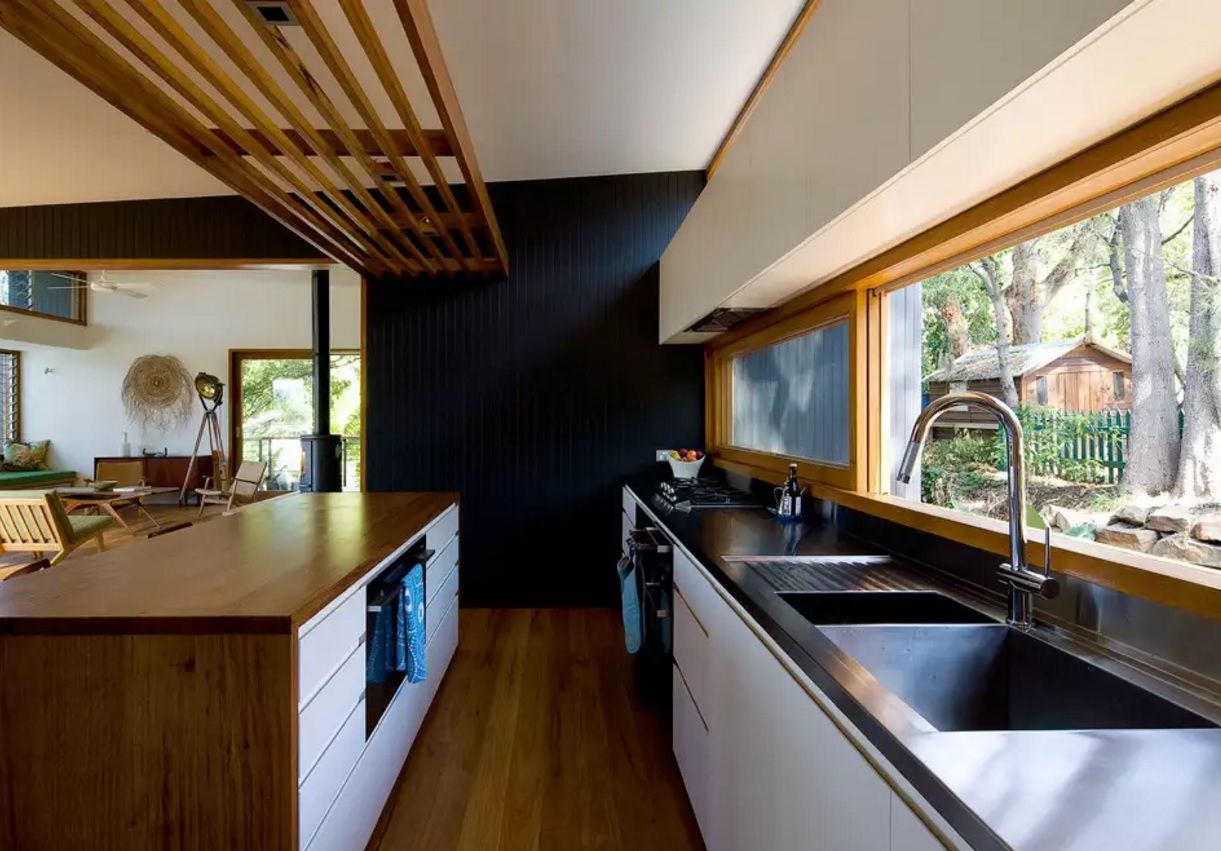 Sinks made of artificial stone
This sink type is a favorite one for classic style. Composite materials imitating natural stone are composed of quartz with adding granite chippings.
Most harmoniously sink made of artificial stone will look in the kitchen set with facades made of wood or wood imitation. Fans of country style, will also like this sink.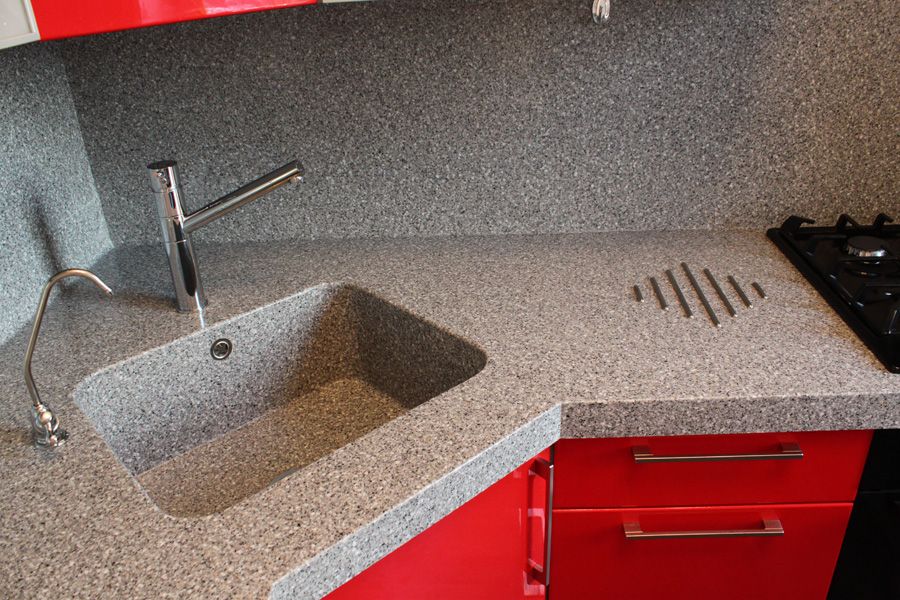 Sinks made of artificial stone and their advantages
You have to work hard to somehow brake a sink, with the exception of only rigid metal brushes which can scratch the surface.
Complete freedom in the choice of chemical agents on care.
The absence of sensitivity to temperature changes.
A wide range of colors.
A wide range of models and elegant design of sinks made of artificial stone, give luxury and charm to your kitchen.
Quiet, especially in comparison with stainless steel sinks.
Such kitchen washing capacities do not lose their color over time.
 Do not forget about the pitfalls
Firstly, it is worth noting that such washing as opposed to stainless steel easily absorb liquids, odors and food dyes because of their porous texture. And sometimes carelessly poured out tea can become a dark stain on your sink.
Secondly, the cost of even the simplest stone wash starts at around $300, and the custom designer's works can cost you a recreation in warm countries at all.
Sinks made of artificial stone Photo
 Which sink is better to choose for the kitchen: models of ceramic ware
Faience is mainly used for the manufacture of ceramic sinks. Also, sometimes you can find sinks made of porcelain. This material is denser and much more expensive then faience.
Of the advantages: high chemical resistance, elegant design.
Disadvantages include brittleness and impracticality.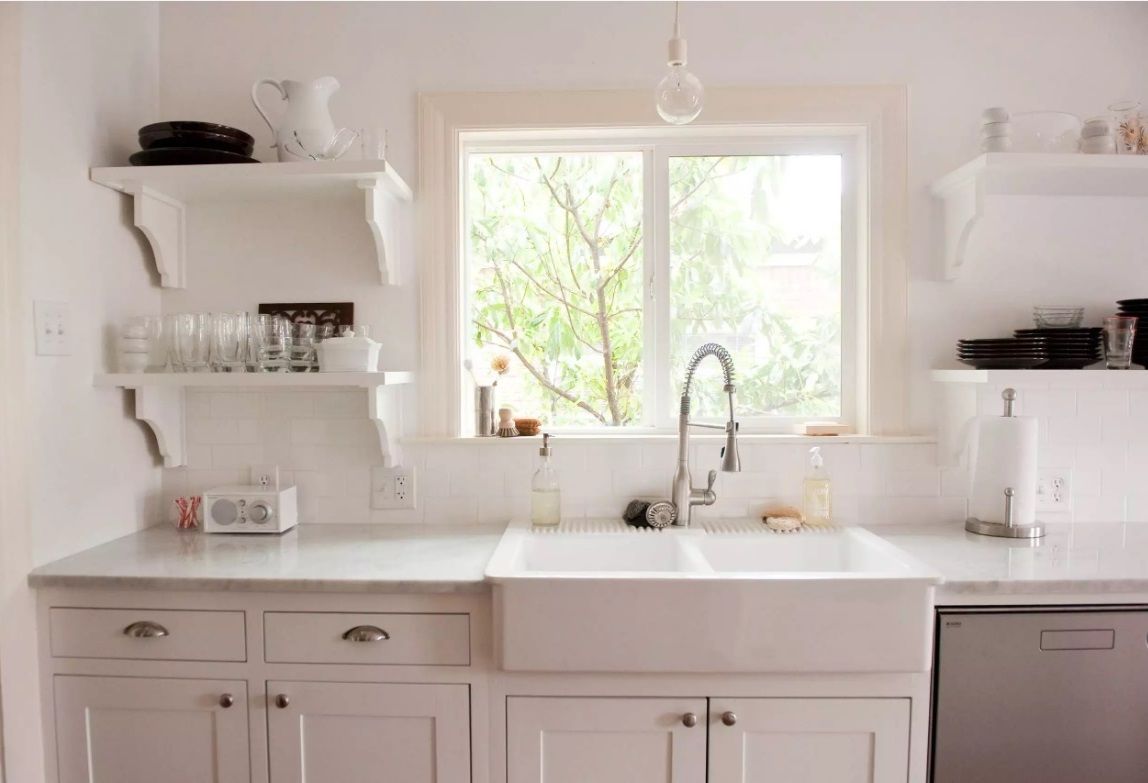 Enameled sink
With the latest technology we have something to say about such forgotten form of sinks as the enameled one. It is made of cast iron, steel or ceramics and then it is applied to the enamel.
The advantage of this shell can be regarded as a high resistance to corrosion. It does not change the shape during use and is easy to clean from pollution.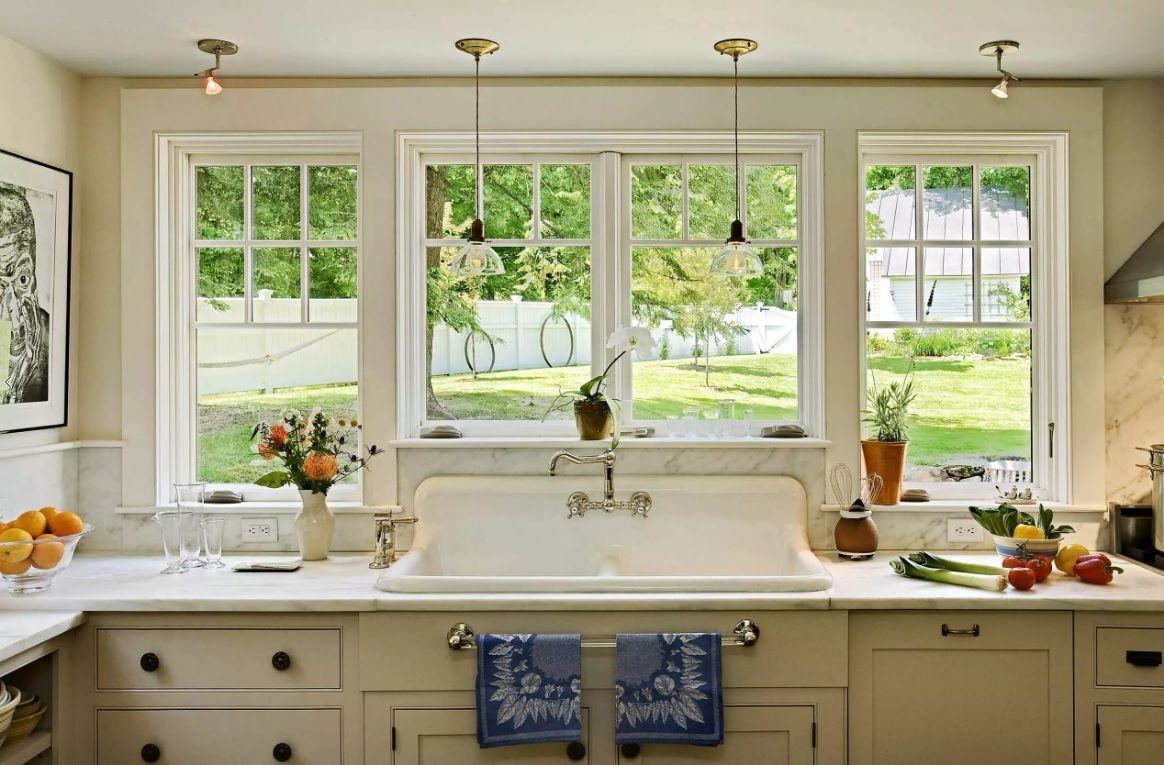 Many manufacturers, taking care of the health and hygiene of their customers, produce washing with additional antibacterial coating.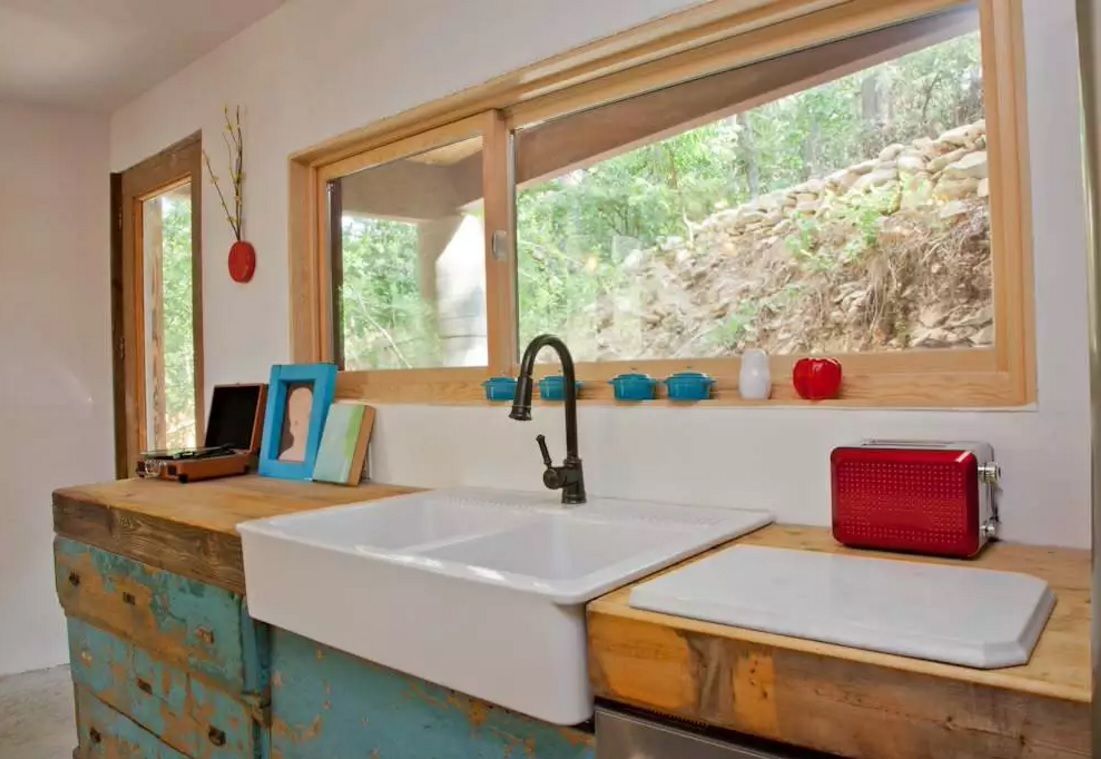 What sink is to buy for the kitchen: the optimal size and shape
So, we've just review the main materials from which sinks are made. Now it's time to find out what are the types of sinks there.
Generally, officially there are three main types of sinks (overhead, mortise, mounted under the table top sinks), but we often use only two of them in the home. Therefore, so as not to confuse you and overload with extra information we'll tell only about these main two.
Overhead sinks
The name speaks for itself. This type of sink as if "superimposed" on top of the table. It has wide application in the kitchen where tables stand separate from each other, and do not have a single-piece countertop.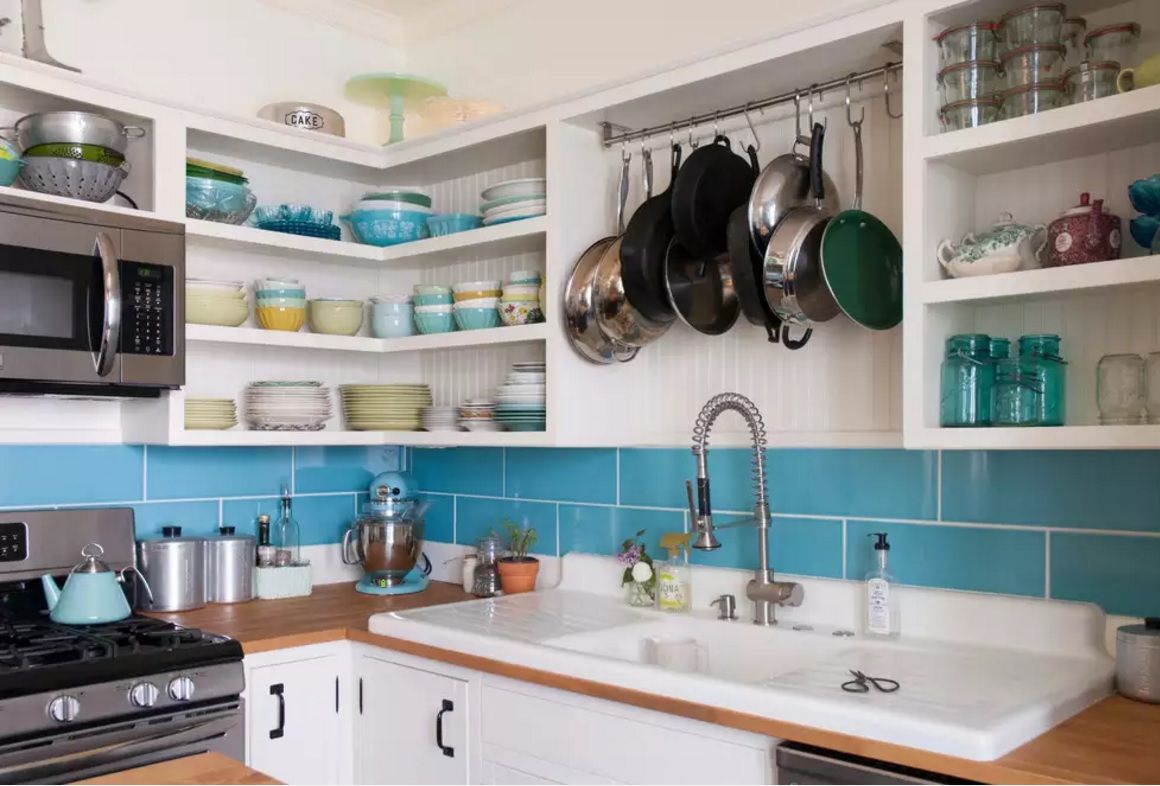 One of its main advantages is easiness of installation. Even an inexperienced master will be able to establish such a sink.
However, if you decide to put a sink next to the desk, keep in mind that the water will fall into the hole between the tables when washing dishes, as this type of washing capacity does not guarantee tightness.
Mortise sink
This sink builds in right into the countertop. The binding element between the sink and countertop is a sealant that protects the kitchen furniture from water through the cut-out circle. Such washing is also not cause difficulties when installing. It will successfully fit into any interior.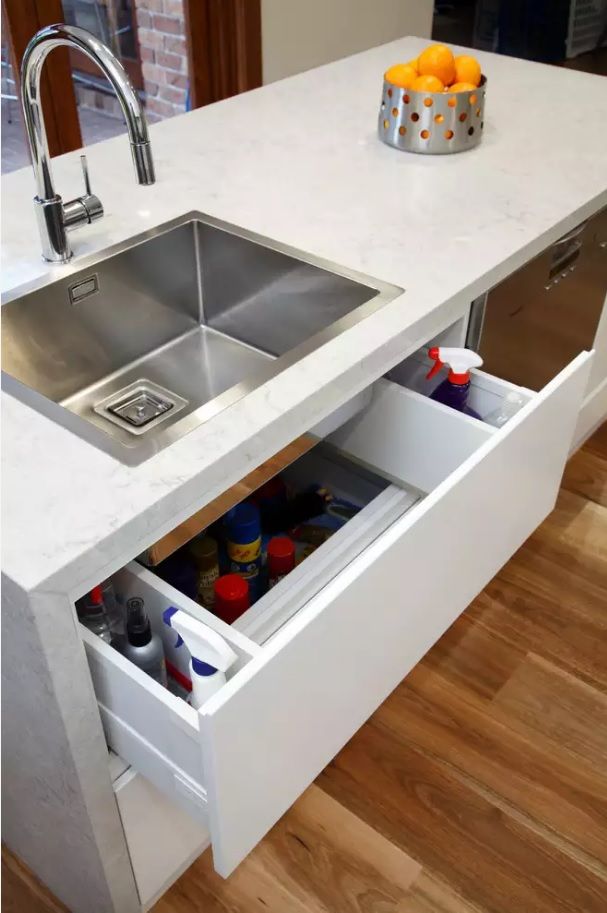 Well, the last but not least point. When choosing a kitchen sink, it is very important to determine its design forms. What will it be? How much space should be allocated for it in your kitchen set? What is the size of the wash is most suitable? All this is so individual that it is difficult to answer unequivocally.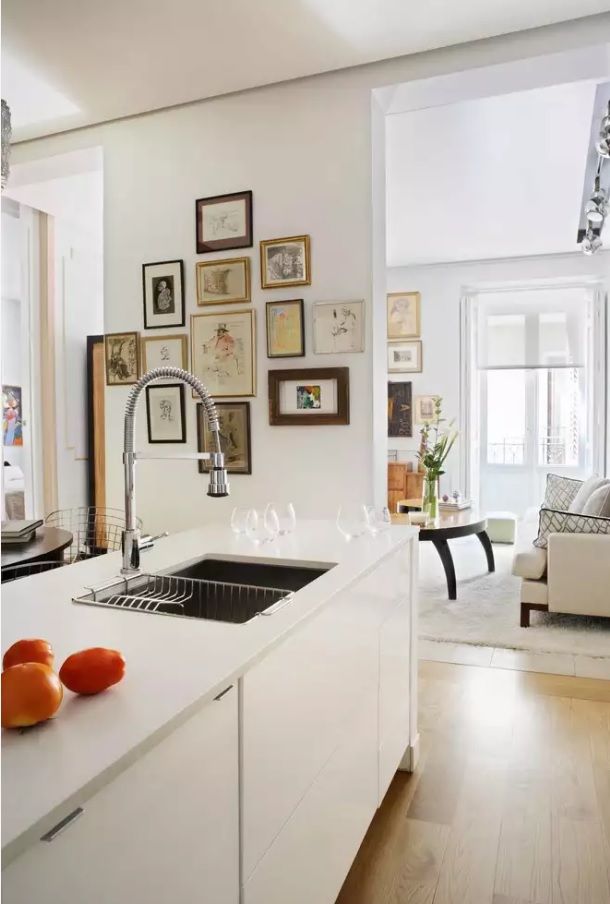 Square and rectangular washing
This is a classic of the genre. For the conservative people who prefer simple shapes these sinks are ideal. It is proved by centuries that these forms are very functional, despite the lower (compared with round sinks) capacity.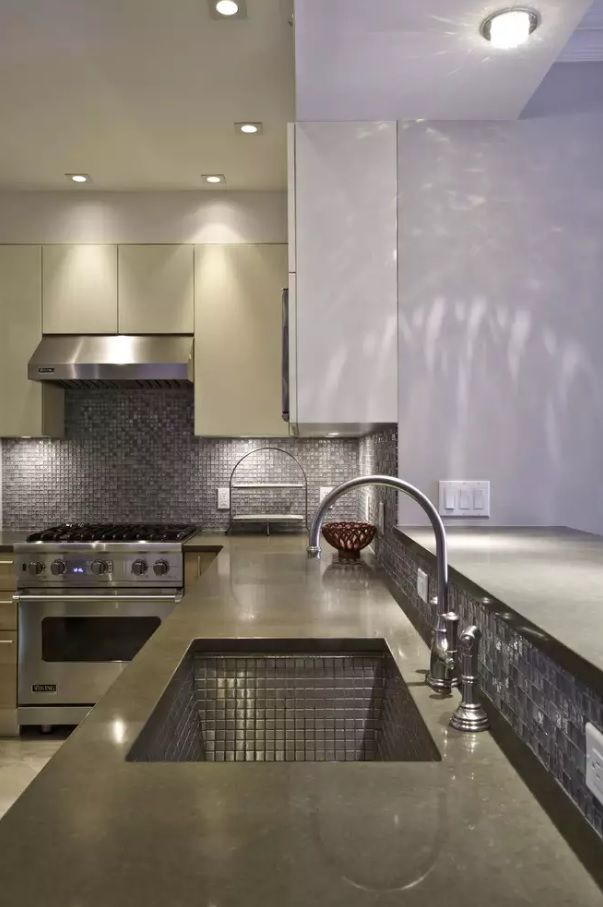 Round (oval) sinks
They are suitable for angular kitchen layout in which corner table of the set is presented in the form of a trapezoid. But do not neglect this form if your goal is to increase the space of the working surface. After all, as a rule, the volume of such sinks goes deep down.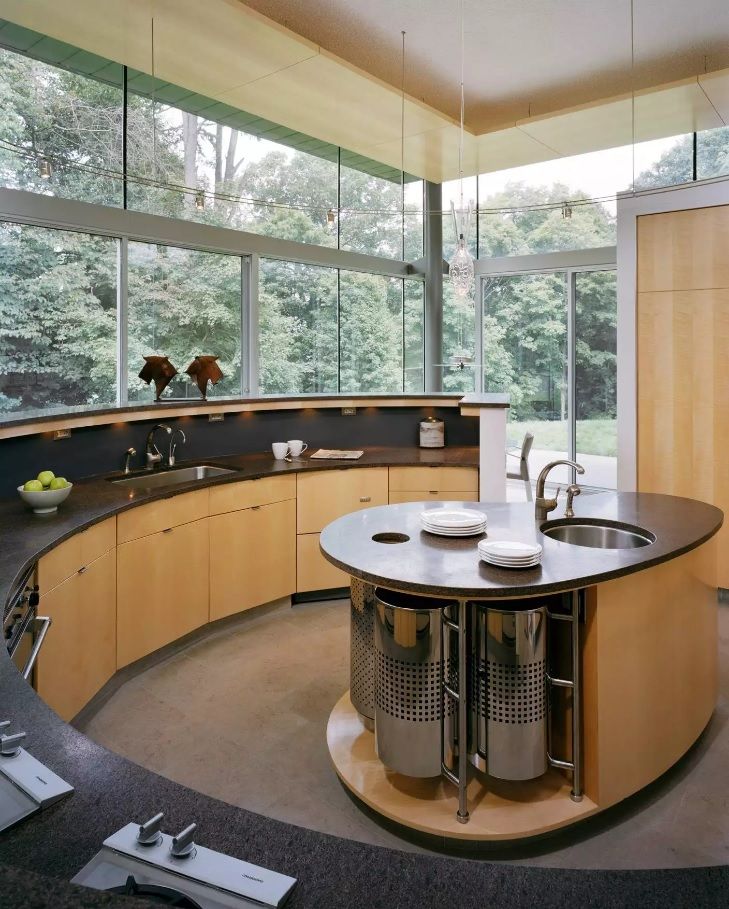 ! Important note.
It is better to choose such form of the sink in combination with high standing faucet (see photos). The thing is that round sinks are ideal for conventional round dishes, but the low faucet can significantly decrease the operable space and you will always hit the faucet when turning the dish in your hand. It can harm your kitchenware not to mention it is extremely annoying.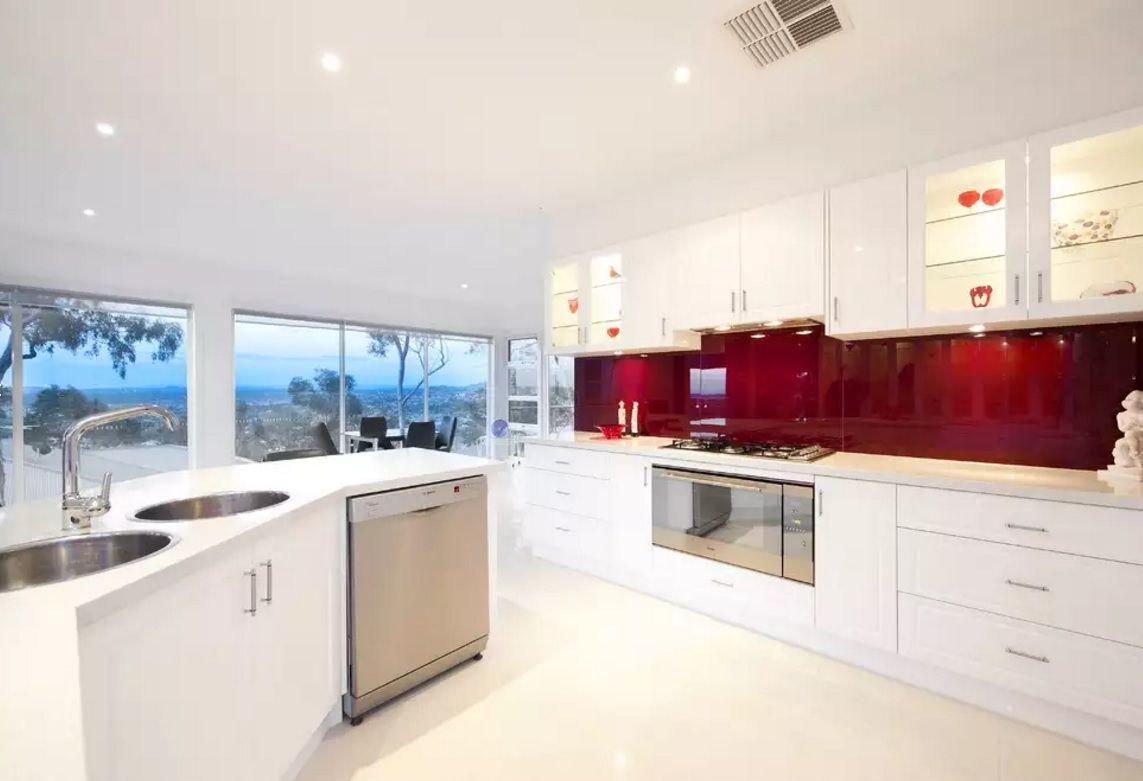 Sink with two bowls
They are very convenient to use. Experts recommend paying attention to the sink with two bowls. With this cleaning can safely combine the two tasks at once. Is not it wonderful? You can wash the dishes both as clean the vegetables without dirtying the tabletop and without taking extra space.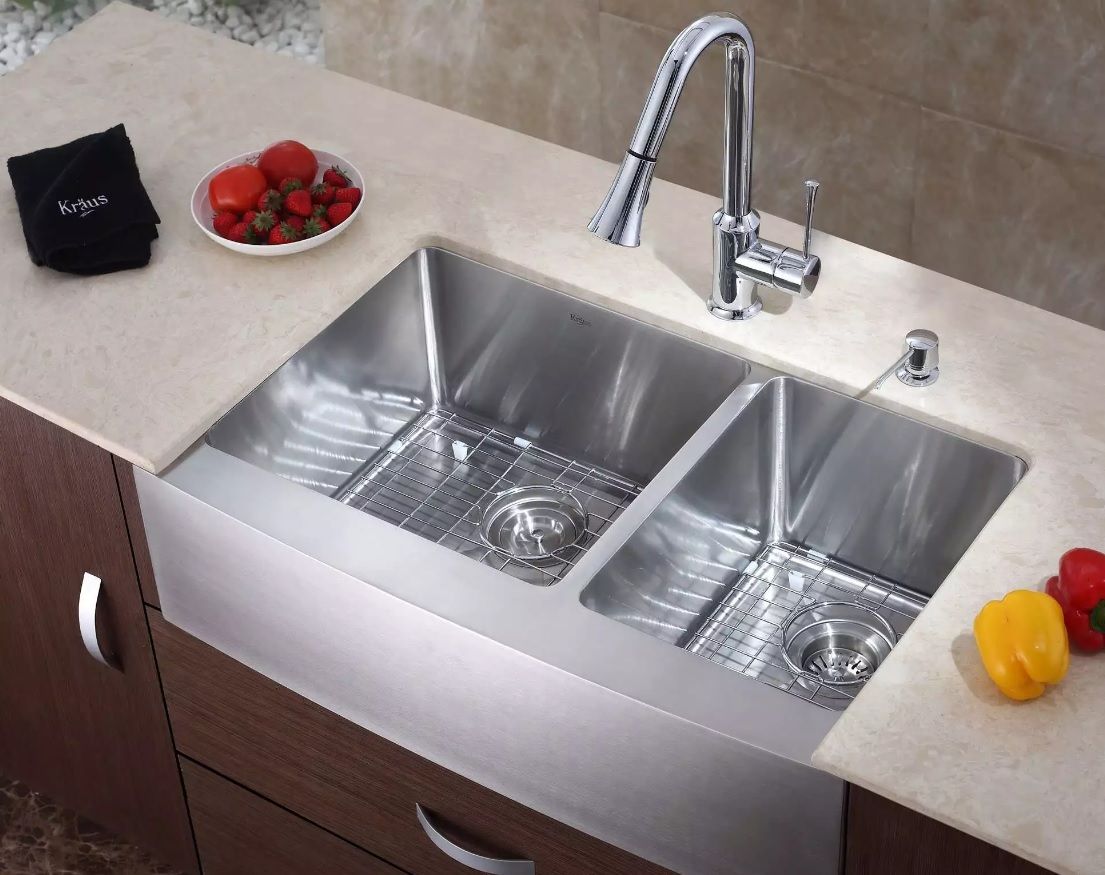 When choosing a sink, its size is also important. The most optimal depth for washing, about 18 cm (7,5")
Also pay attention to the sink with the so-called "wings" – it can be one or two wings – they will be useful to you when you need to defrost meat, fish or vegetables, and will be useful as a stand under hot dish.
Sink makes better to buy
it is not recommended to buy a sink in markets and small stores for cheap. Usually, they sell poor quality and uncertified products in such places. Should we give priority to cheap and little-known manufacturer? After all, as you know, avaricious pays twice.
To not buy a pig in a poke, it is better to look for sink in large retail networks, rather than in small businesses.
Sink firms suitable for a modest budget: HAMA, Alveus, JustSinks. A bit expensive, but higher in quality is Blanco, Teka. By the way, the latter firm can be purchased also by people who are not experiencing financial difficulties, since the brand produces kitchen sinks with a fairly wide price range.
But for lovers of luxury experts recommend pay attention to the following manufacturers: Shock, Elleci, etc.
What kind of sink is best to buy? Ceramic, granite or stainless steel?
When choosing the kitchen sink it is necessary to clearly understand what you expect from it. If you pick up a sink for a specific interior, classical for example, you should pay attention to granite or ceramic models.
If the kitchen is decorated in a modern minimalist style, it is perfectly suited by stainless steel sinks. Most manufacturers equip these shells with a special sticker making washing silent.
Perforated washing (with a pattern on the surface) will be more unpretentious in care. It will be sufficient to wipe it with a soft detergent after use and it will serve you for a long time.
Perhaps this kind of sinks is the most reliable and practical. Besides, the prices for stainless steel models are quite affordable for any budget.
If you do decide to get a shiny sink stainless steel, prepare to take care of it carefully, because water will leave a white raid and stains on it. It is not necessary to wash such a sink with iron coarse brushes as they will leave scratches on the surface.
Lovers of gloss and originality would be interested in designer's products from Omoikiri, Blanco, Alveus.
If you are in doubt as proposed by the seller of the goods, then look at the long-known manufacturers of sinks, proven in the market, such as: Franke, Schock, Teka.
Be aware and sure; do not succumb to the entreaties of the seller if you are not sure about the quality of the product. Better to be prepared in advance and read online reviews of people who have already bought a sink of one or another producer.