It turns out that installing and even manufacturing the granite countertop DIY at home is not so complicated. If you want to shave off some budget from the kitchen renovation or just try yourself in producing of some items for future interior by yourself, you definitely should dig into the subject. And if we suppose that you already have your granite countertop made to fit your needs, you can proceed to its installation. So, how to install granite countertops? Cute kitchen design photos of real interiors with such counters and step-by-step instruction can inspire homeowners for venture of manual installing the natural stone top to the new atmosphere.
Be sure to attach the thin details of the stone countertop, so that they do not break during installation. Put the stone slab on the kitchen furniture by removing the clamps as needed. Check whether the entire plane is supported by a stone countertop on the base.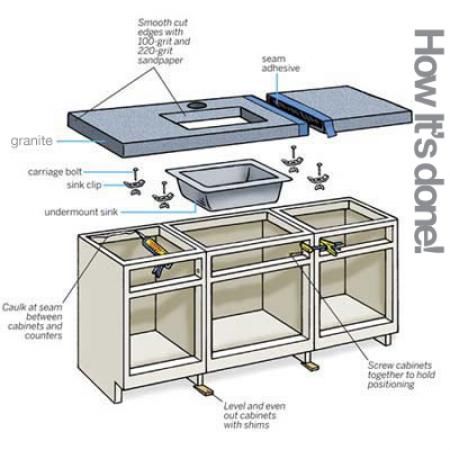 Granite countertops installing process
Preparing the contiguity with the wall.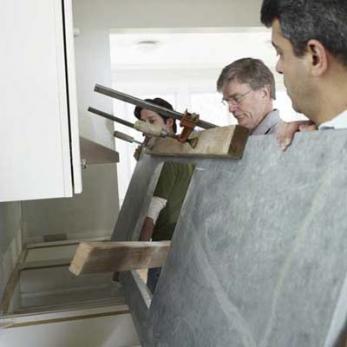 With the help of a hammer and a chisel, you can make a small groove into which the stone countertop moves. After plastering, the joint of the stone slab with the wall will be ideal.
We process the seams of the stone countertop.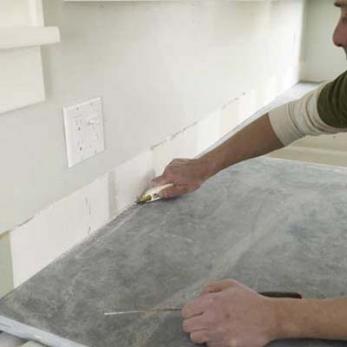 After the installation of the table top is finished, for the seams were perfect they should be filled with a sealer.
Following the manufacturer's instructions, mix the filler with two parts of the hardener. Use a putty knife, spread the edges on both slabs, filling in pre-made slits. It needs to be done very quickly, as the filler freezes within 3-8 minutes.
Grind the seams
After the hardener has hardened (10-20 minutes), you can begin polishing the weld.
After this operation, the seam should not be noticeable to the touch, but, first of all, not visible by eye.
It's time to fix the sink.
Under the sink edge, apply a small amount of sealants and attach to the installed stone countertop. For ease of installation and for a more snug fit, you can additionally press the sink to the counter using scabbard and crossbar. Surplus sealant need to be removed immediately .
Mounting the sink to the stone countertop.
In the prepared slots, fix the fastening elements and fix the sink with their help.
But do not overtighten as this can damage the stone.
Almost finished the installation of a stone countertop.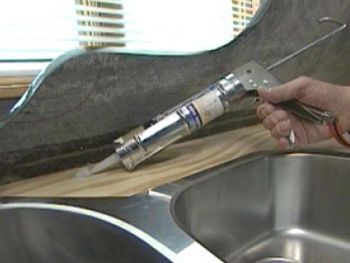 Pass through joints under the stone counter top with sealant.
Installation of the stone countertop is finished. Wipe the table top with a color amplifier. This will make it slightly brighter and protect from stains.
Photo collection of installed granite countertops in modern kitchens
The result of the work can be very pleasant for all family members for many years to come. Granite countertop is almost ideal choice for any style of interior.