Everything has to be thought out in every detail in the apartment, including the interior of the kitchen. Despite many people prefer all sorts of snacks on the go, wealthy people prefer to eat at a restaurant, the kitchen remains the main object of the apartments. Well, if you're lucky enough to own a large kitchen, or rather a large room, which you decide to equip both the kitchen/dining room, the design of its interior will require specific knowledge and skills. The comfort and harmony should reign at the kitchen. The hostess should not feel discomfort during cooking. Creativity loves the convenience, beauty and harmony in all things. However, ingestion must be accompanied by a similar atmosphere. You`ll agree that the poor interior of the kitchen, its bad design, is unlikely cause the urge to say, "Bon appetite to everyone!"
So what do you need for an interior of modern large kitchen combined with dining room, how should it look, to evoke a sense of peace every time, and not just after a meal?
In the ordinary notion of people from time immemorial till now kitchen is a place for cooking and eating, it means two in one: a kitchen and dining area. This approach to the interior remains relevant today.
But if you love the cookery, you can not do without a large kitchen. Herewith, it is necessary to separate it from residential premises. Agree, that the smell of food preparation is not always the smell of the finished dish. Strong odor from the kitchen is not necessary, say, in the living room or bedroom. So, which ways of zoning are popular today?
Specialists about zoning of the large kitchen
Most often, large kitchen, where people like to cook and cook often, are separated from the rest of the living area with paneled or glass doors. Incidentally, this is one of the basic requirements of fire safety. That`s why the kitchen zoning should be approached not only in terms of comfort and beauty.
Psychologists say that a large area of the joint space, in our case this is the kitchen and dining room, have to be divided into certain areas, legible too. Otherwise, the interior of this room, its design, will start to put pressure on the psyche of the owner. For normal psychological comfort, you need to divide the space into zones, that's how people like it to be. Especially while performing work. Therefore, the kitchen should be allocated in a separate zone. How can we perform zoning large kitchen and dining room it`s you to choose:
Zoning by means lighting. The work of the lamps in the kitchen should be much more intense than in the rest of the room. Meal-zone can be distinguished light, but it should already be a different type of lighting. Sometimes, only one lamp. The light should be soft.
Multi-tiered ceilings. They`ll clearly separate the kitchen area from the eating area (dining room). Especially it will look good in a large room where there is no possibility to perform zoning other way. Therefore, this method will give full freedom to your imagination. The number of options is almost infinite. This can be stucco, curtain systems. With different tiered ceiling you can always make a large kitchen unique.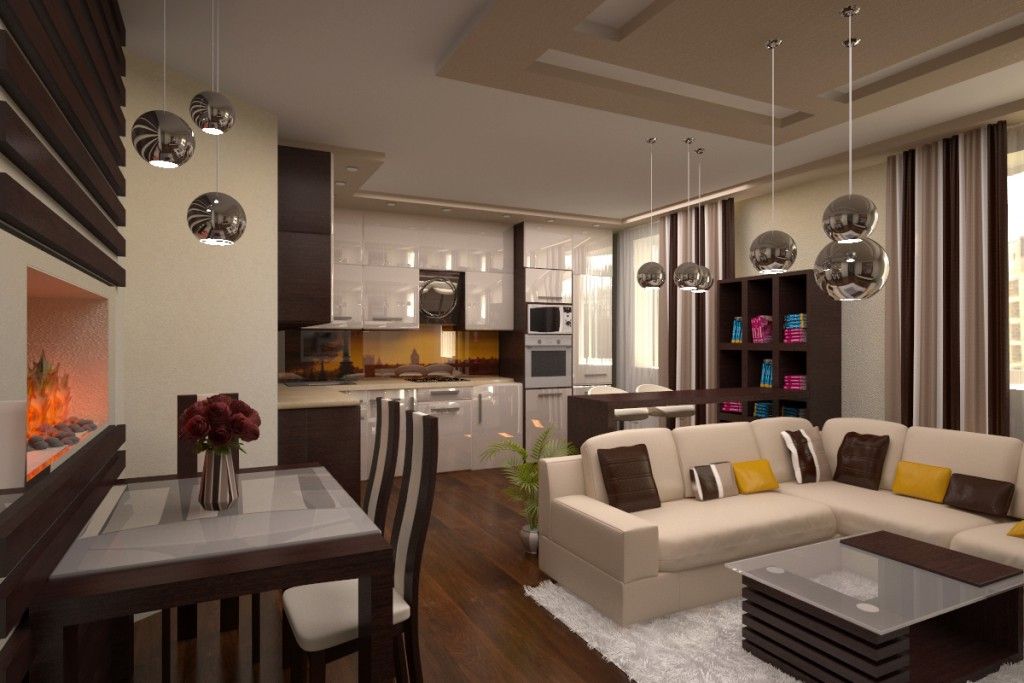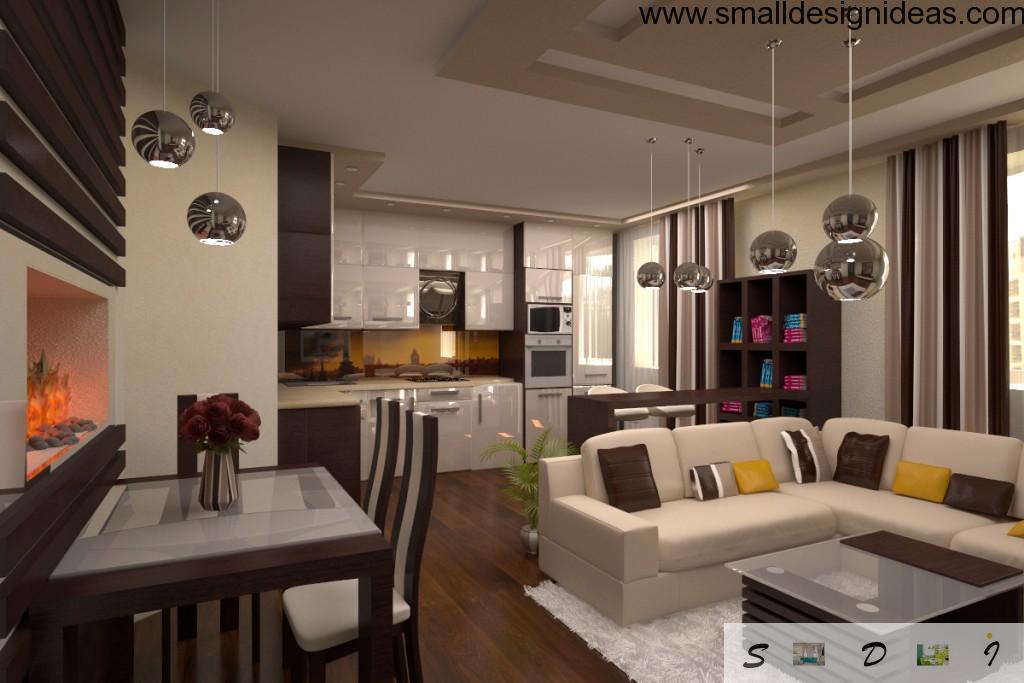 Using an appropriate floor design you can also perform zoning of the large kitchen-dining room. The most common and easiest way is to stain the floor for each zone in a different color. Somewhat more complicated zoning performed through different flooring material, for example, laminate and linoleum. Kitchen design with combine of ceramic tile floor in the cooking zone and parquet coating of dining zone looks perfect. Another great option is a combination of porcelain with the "engineering board". With these materials, kitchen floor are perfectly and permanently clean.
Furniture, set in a specific order, will create physically sensed border between the kitchen and dining room.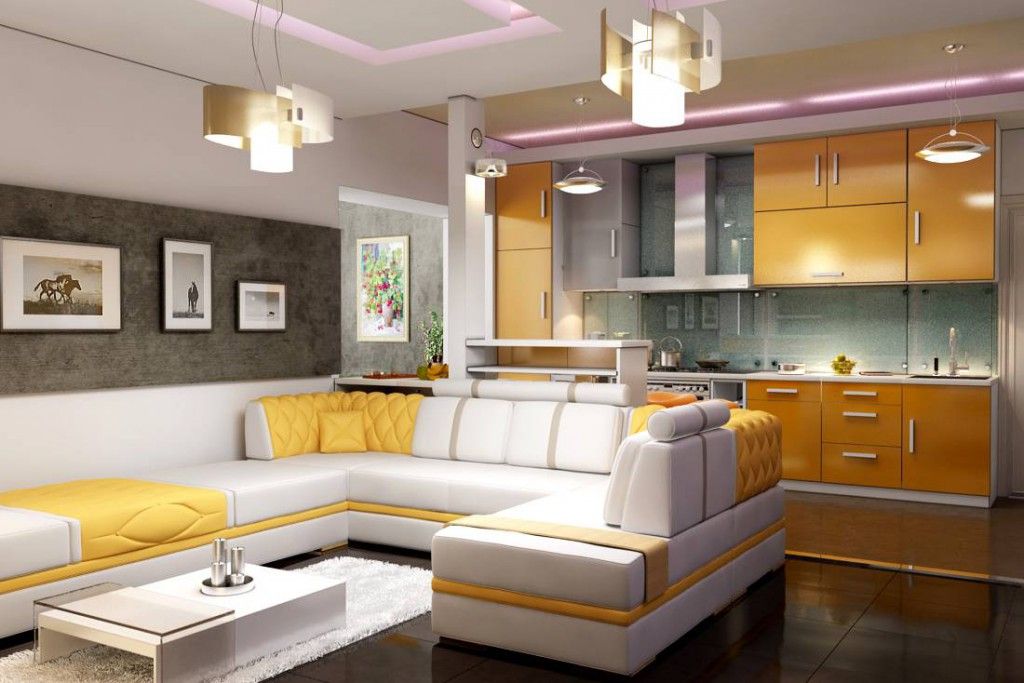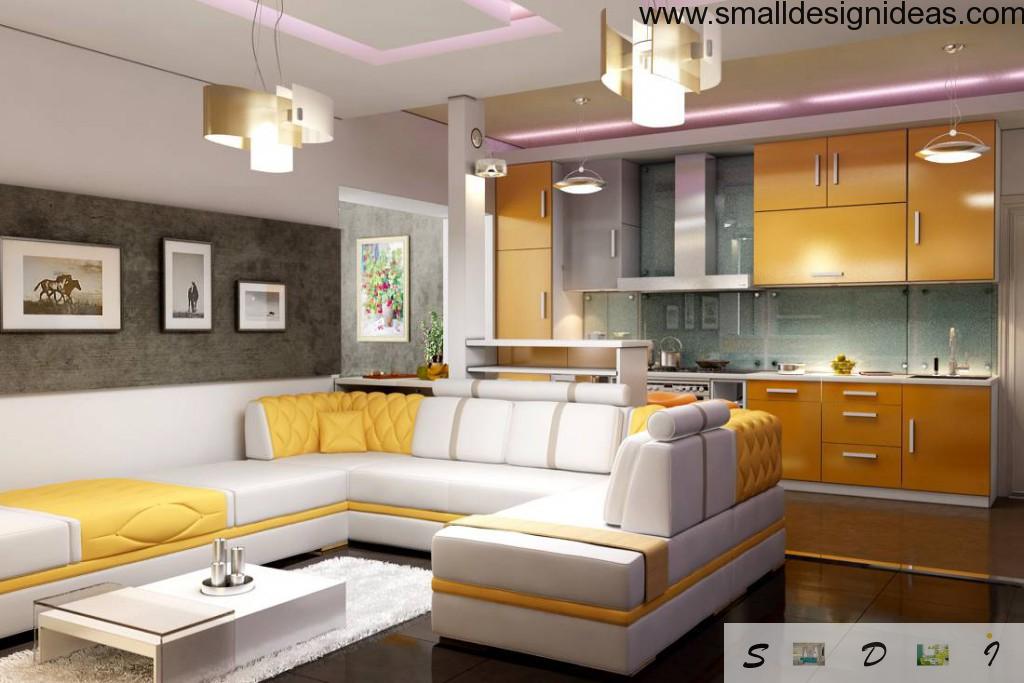 In large kitchen-dining room zoning not only the order of arrangement of furniture can help, but also the appearance, the color of this furniture. Soft white chairs visually will mark the boundary between the kitchen and dining room.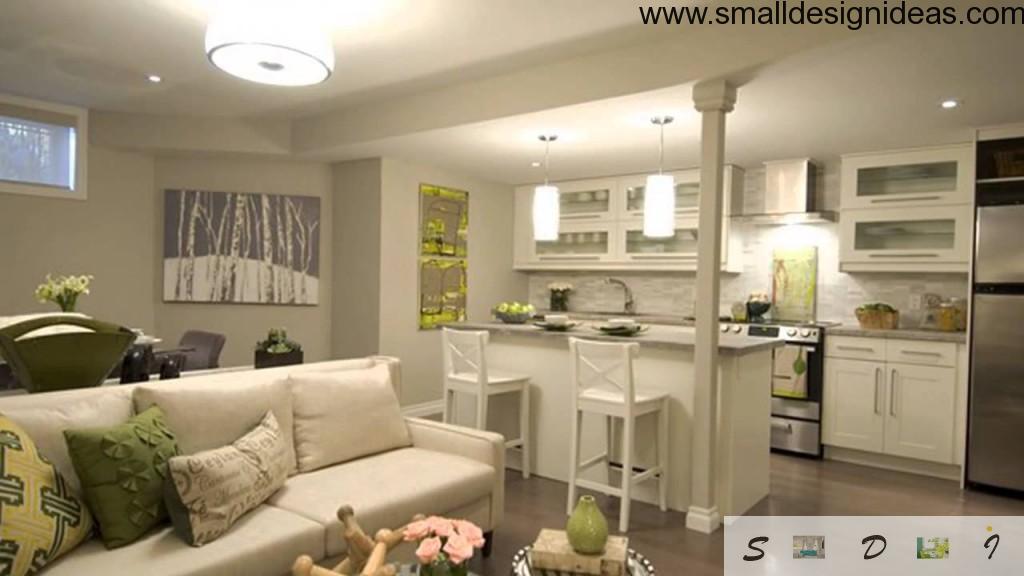 Dividing wall will perfectly highlight the kitchen area from the rest of the premises. This is probably the most preferred embodiment of the large kitchen zoning. It allows the hostess to be virtually isolated from prying eyes. Women certainly confirm the negative impact of stranger`s glance while cooking. Especially, if the dish is preparing for the first time. At the same time, to build a partition wall is not so difficult. It's enough to use foam block or wooden frame, covered with plasterboard.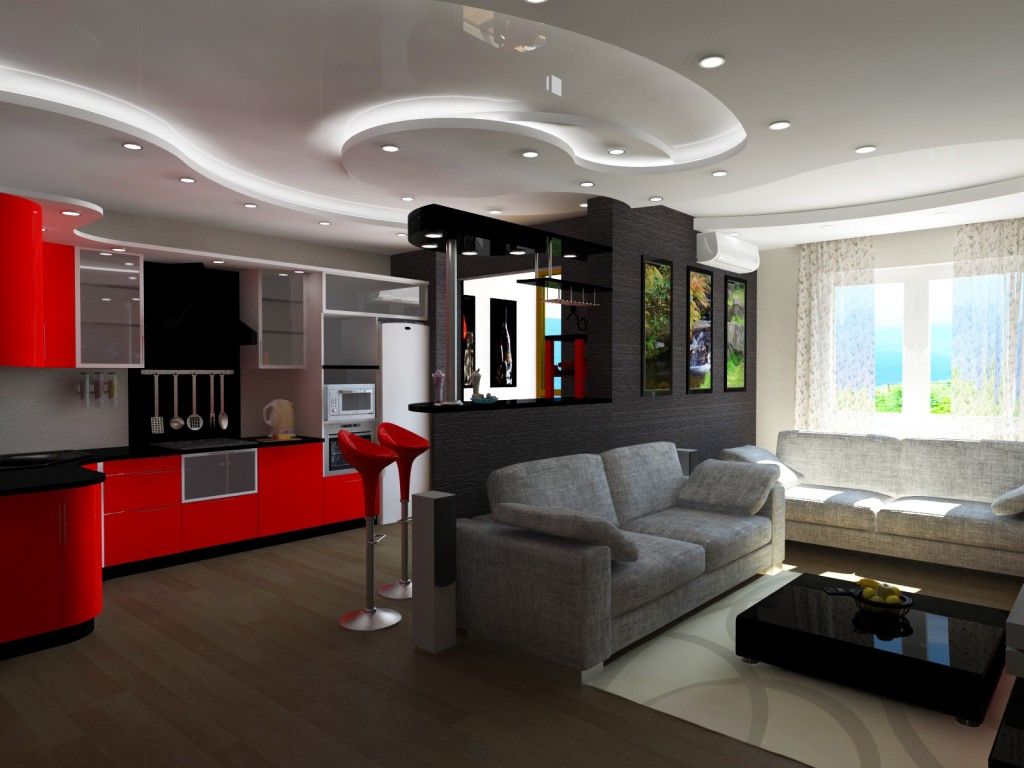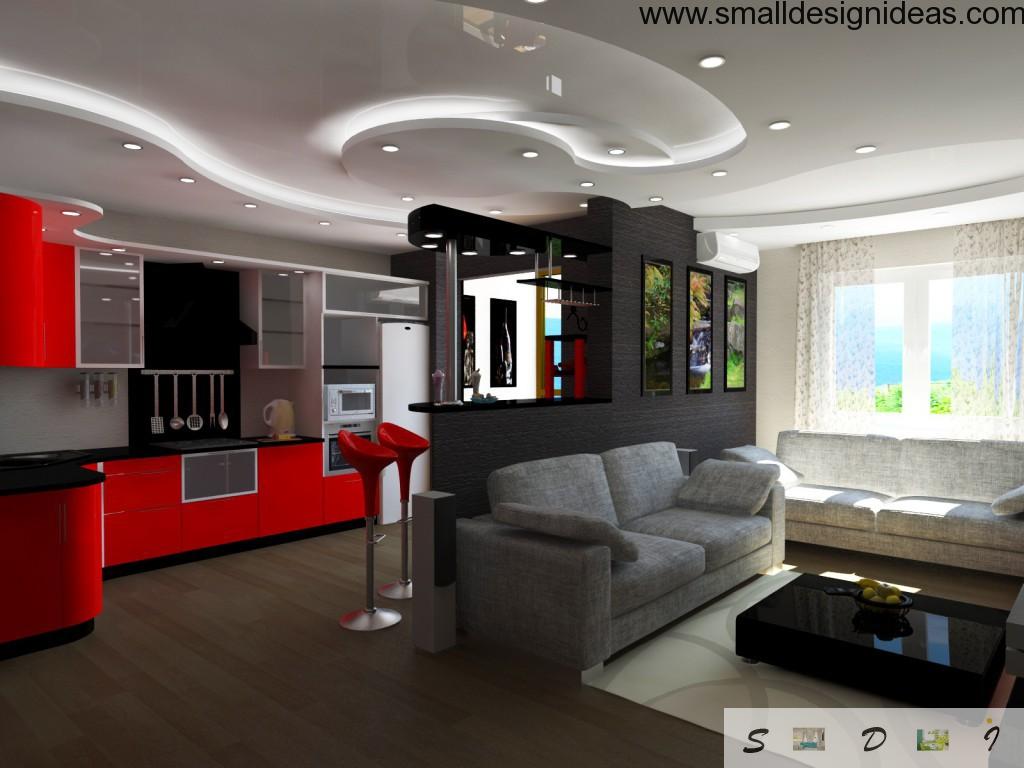 If you prefer to sit with friends at the bar with a cup of Brazilian coffee "Santos"  or a glass of German Doppelbock beer, in this case, you can perform zoning of your large kitchen with the help of this very bar. Nice and useful option.
Once you determine how zoning should be performed, you`ll wonder what`s next. And then it would be logical to think what style of interior to have in the kitchen and what to use: the materials, colors and furniture.
Interior style large kitchen
Kitchen in a minimalist style is for the connoisseur of clean free space and rationality. Thus, any limitation in the functionality of the kitchen is not observed, as well as the presence of kitchen appliances and devices. Clean and tidy.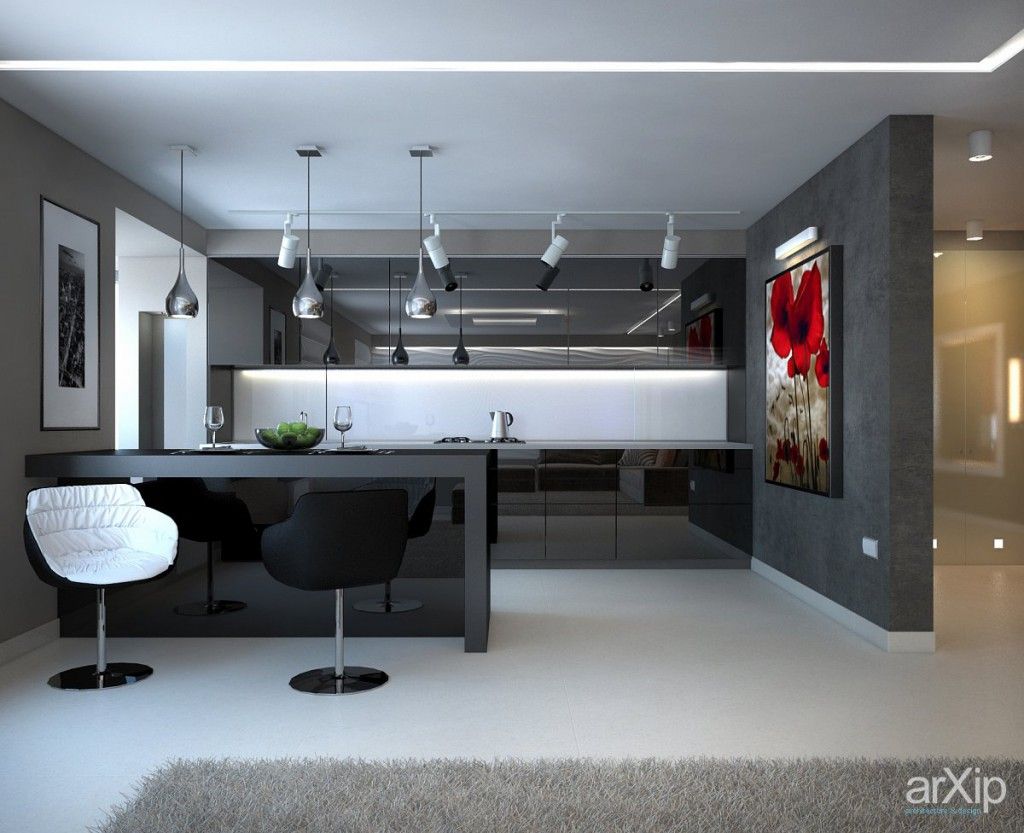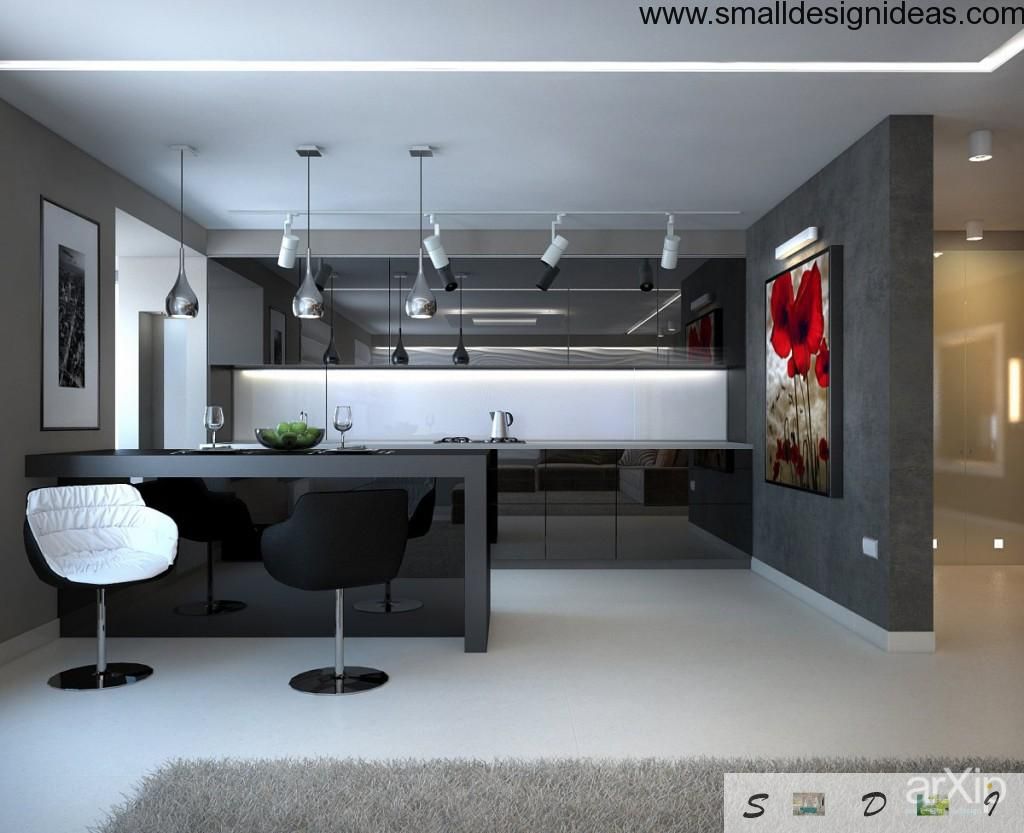 High-tech style in the interior of the kitchen stands out for its convenience without losing the functionality of the latter. Its design uses a high-tech materials, which makes equipment durable and wear-resistant. The style characterized by color limitations: two contrasting colors together are prohibited.
Country-style kitchen has a special warm atmosphere. No wonder, this style is also called "rustic". A distinctive feature of the rustic kitchen is its furniture made from natural wood of antique style, flaunting painted tableware, flowers, plants.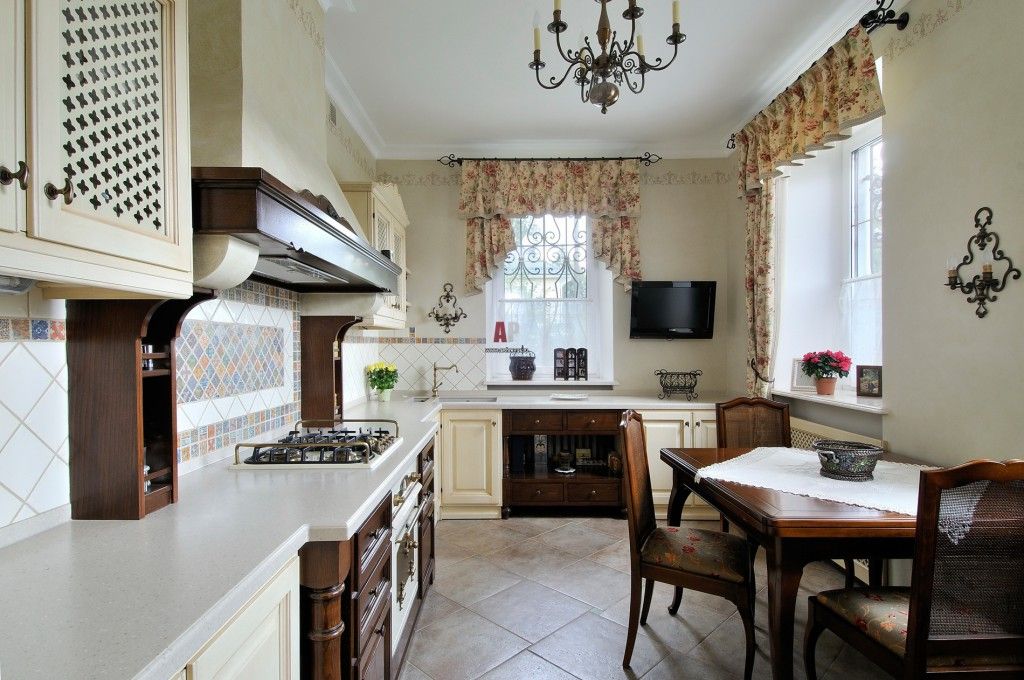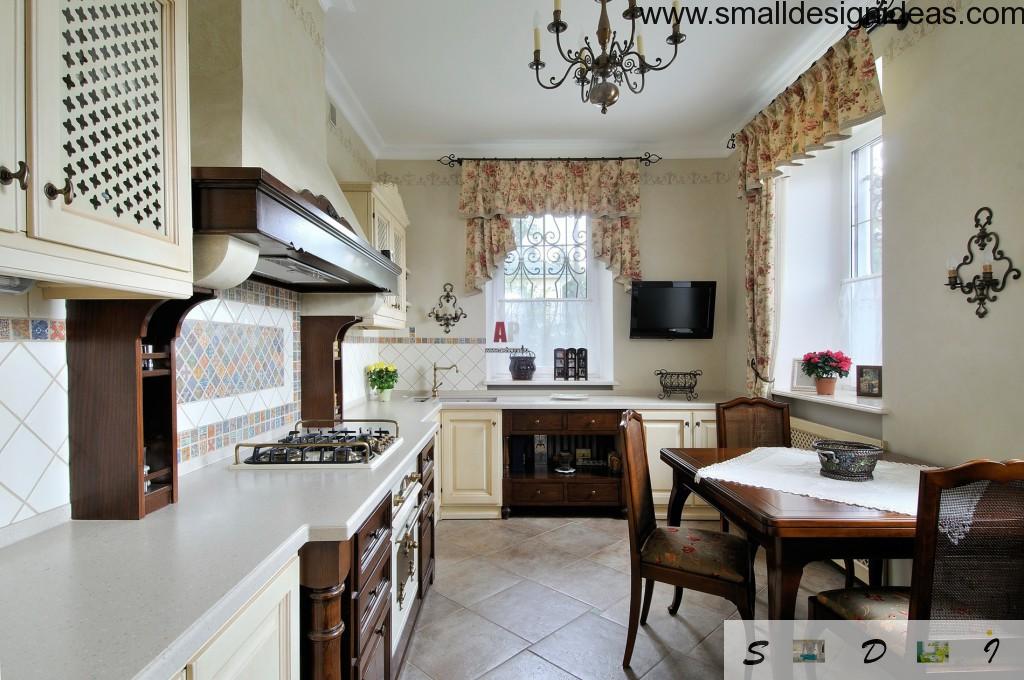 Materials
Today, a large kitchen with dining room is characterized by texture of wood. The production of furniture made of natural wood is expensive. Not every supporter of big kitchens will allow to spend his budget just on furniture. Although, despite the high cost of natural materials, there has been an increase in their popularity. These are wood, stone, marble and steel. Laminate and plastic slowly go into oblivion, though still common. As Russian proverb says: "Everything new is (actually) well-forgotten old".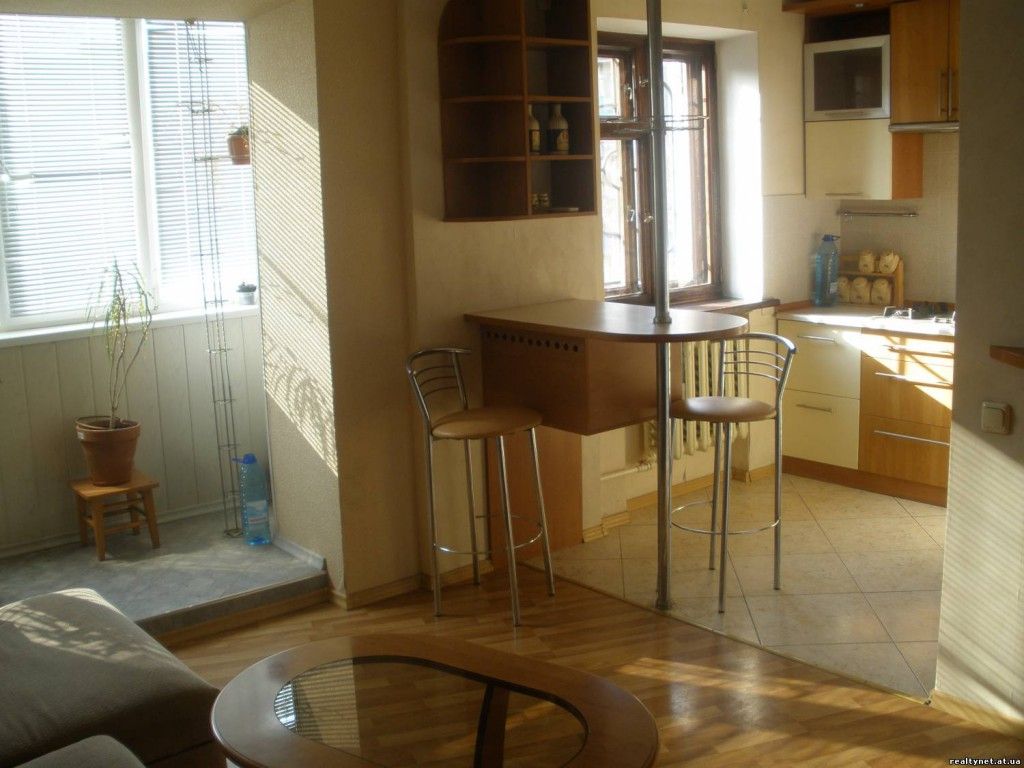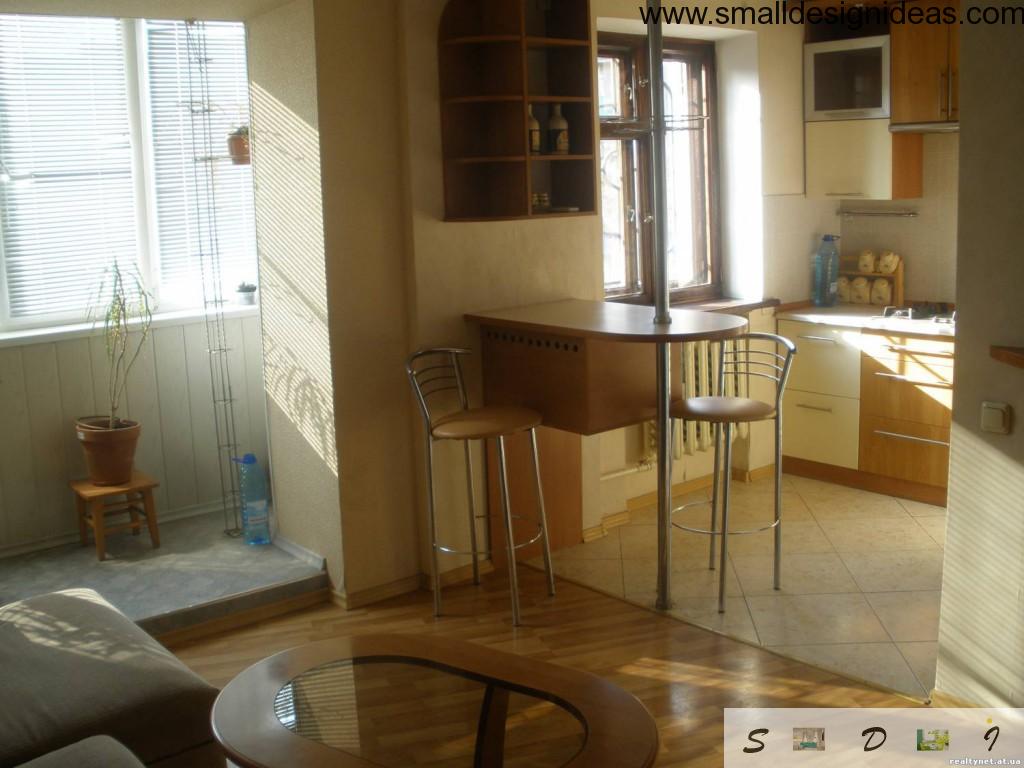 Color
It should be noted from the beginning that the white color will be good for any style of interior. It visually increases the space of the dining room. If you feel a lack of space – white kitchen will get rid you of this feeling.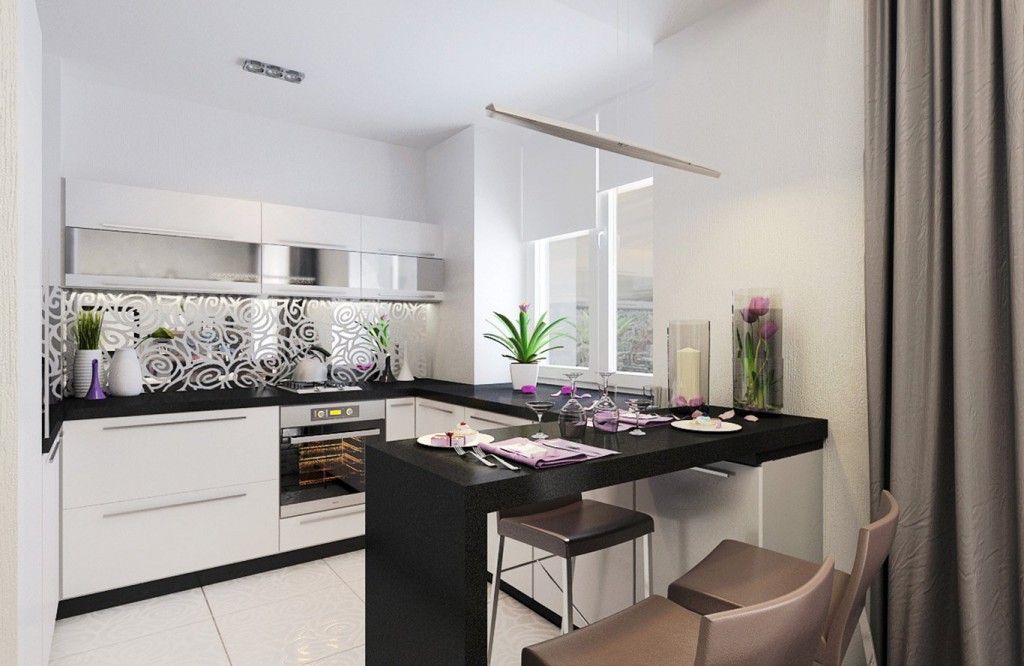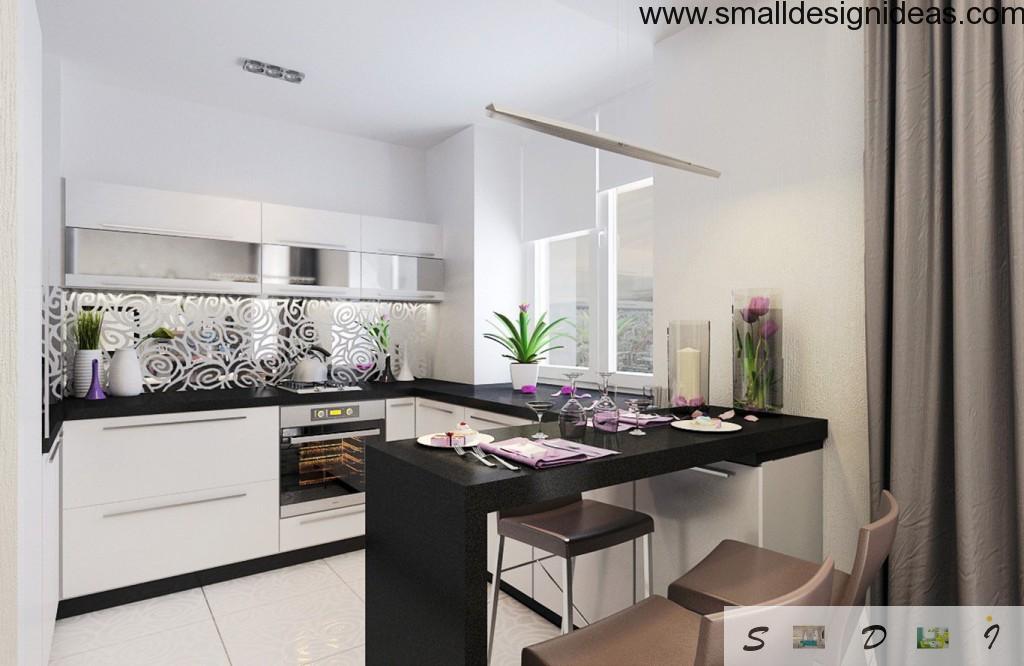 Experts do not recommend to use an excessive diversity of color in the dining room interior. The color scheme should be extremely simple. Warm colors well promote digestion and general tonus of the person: orange, coffee, cream.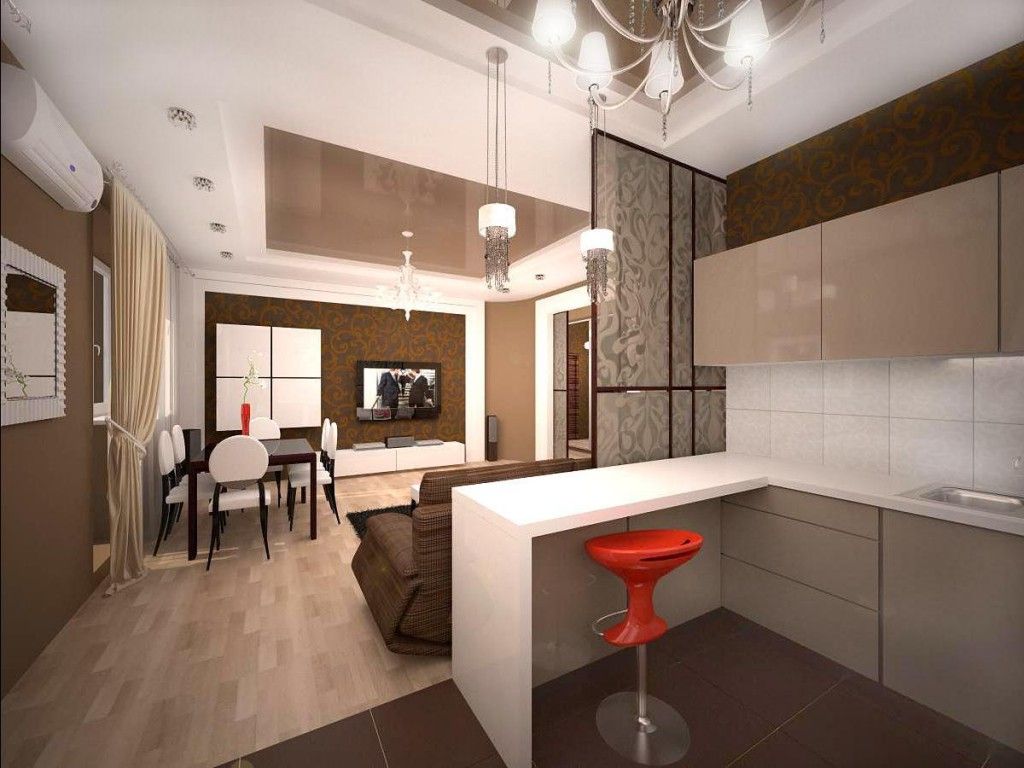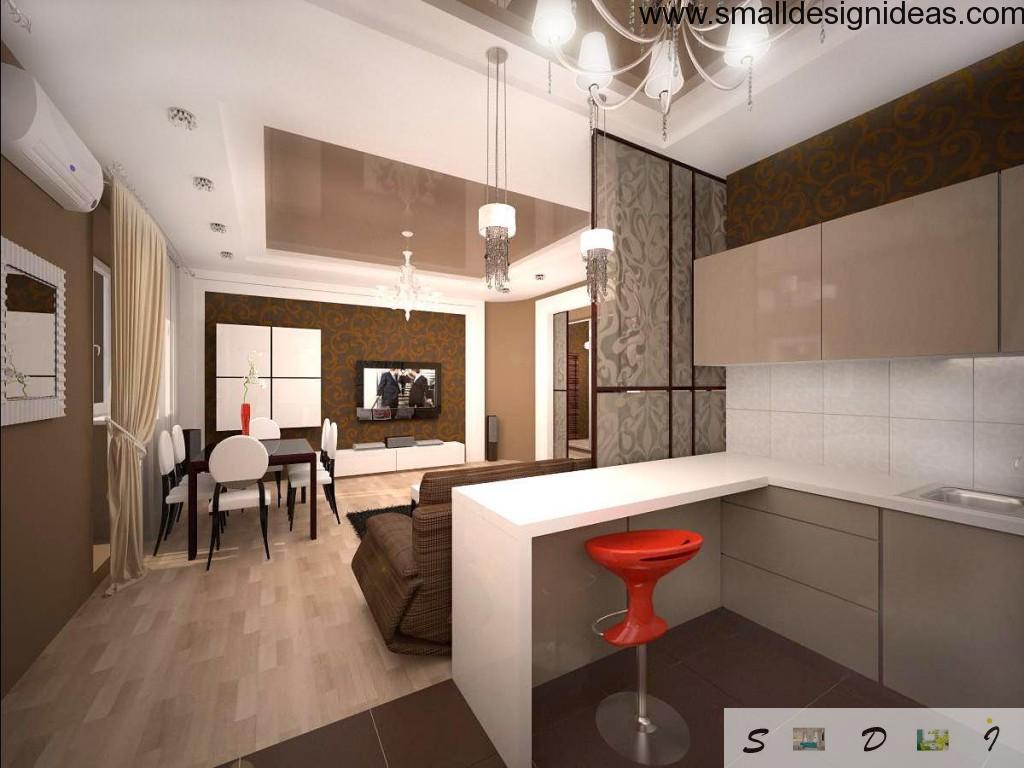 In conclusion, for the hesitating reader
Do not be afraid of the size of big kitchen combined with dining area. Even a large space can be transformed into a beautiful and cozy place that you can proudly present to your guests. Thinking about the big, do not forget about the small. For all kinds of standards, you can add something of your own ideas. This "own" can be expressed in the applied pattern with your own hands, varnishing of individual items, originally made by yourself kitchen utensils, old restored items. Kitchen is a holy place for a man. And as they say – a holy place is never empty. Large kitchen/dining-room must comply with this expression. Bon Appetite!