In the kitchen of medium and large sizes, you can not limit yourself to choosing only bright palette that is known to be visually expands the space. You can decide on a bright, contrasting combinations, enjoy using a favorite color in the decoration or furniture design of the kitchen. Use a colorful decor and unusual design solutions that in a small kitchenette would look simply inappropriate. Middle and large kitchen color schemes photo compilation is here for your better navigation in the most fashionable trends.


Whatever the size of the kitchen is, there will always be fans of the white color in the decoration and design of kitchen units. It is a color that never goes out of fashion, which is incredibly easy to combine with other colors and shades, decor, furniture and textiles. But be careful with the total use of white shades in the design of the kitchen. Apply contrasts to dilute snow-white idyll by other tones to avoid the image of the operating chamber.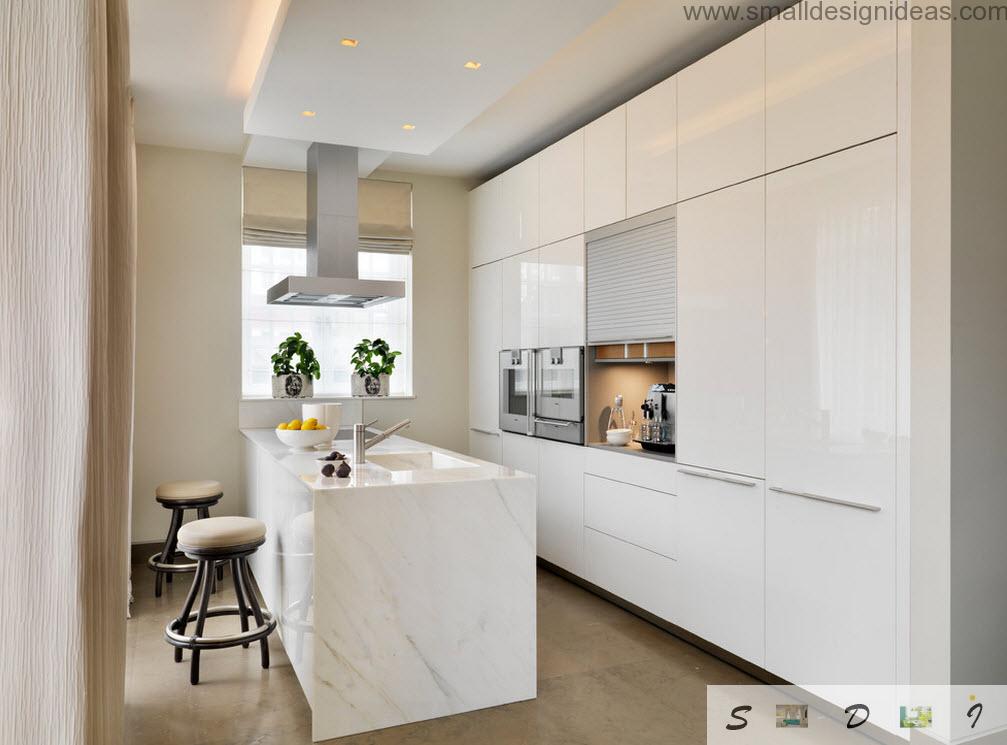 To diversify white palette of the kitchen facilities is most easy when you make a splashback – a bright tone ceramic tiles, mosaics and wall panels not only transform the space, but also create so much-needed focus to our view.
With white headset you can to issue a kitchen with contrast quite simple – just use countertops and appliances in black. As for trim, it is better to adhere to the pastel tones. For example, an intermediate tone between black and white – gray suits perfectly.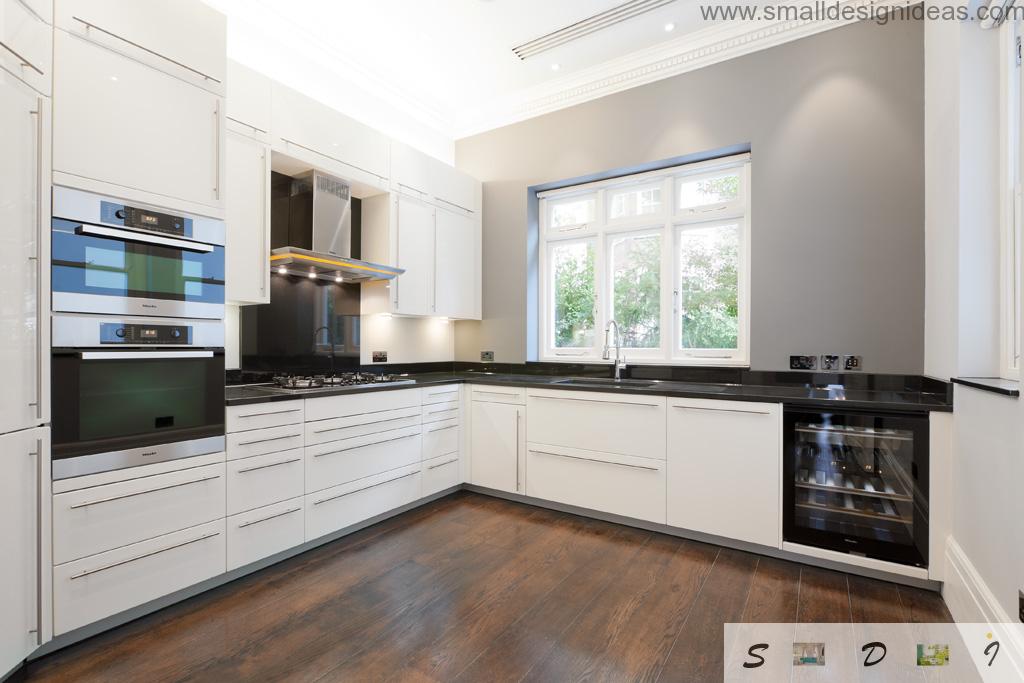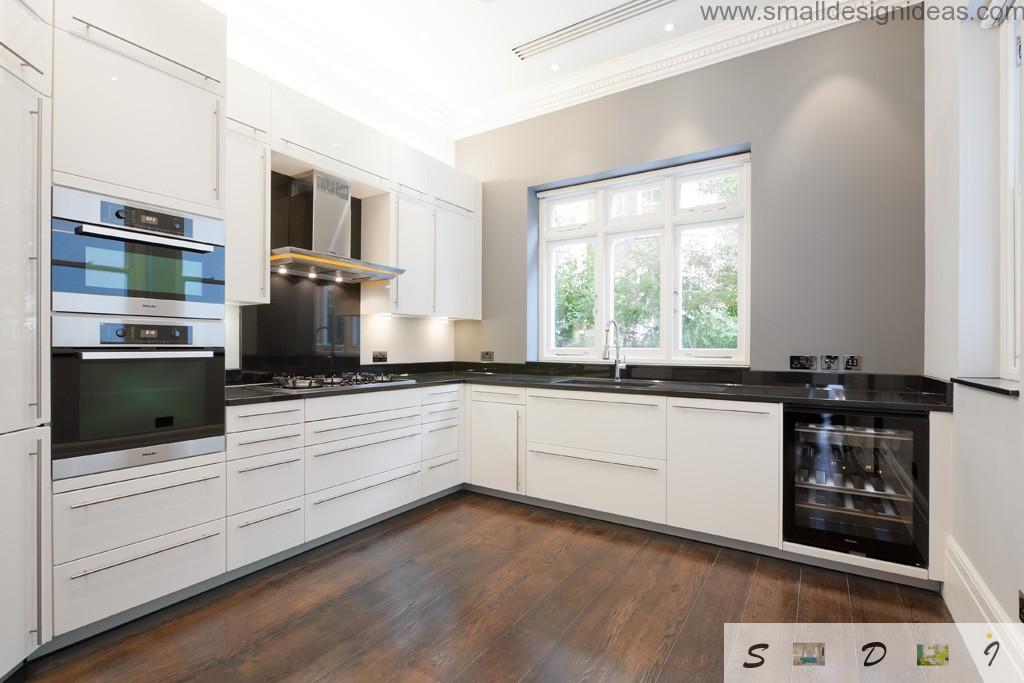 Another example of quite a contrasting combination is the use of light wood facade kitchen cabinets, countertops and black lampshades of hanging lamps and white tone for the walls, ceiling and kitchen island table top.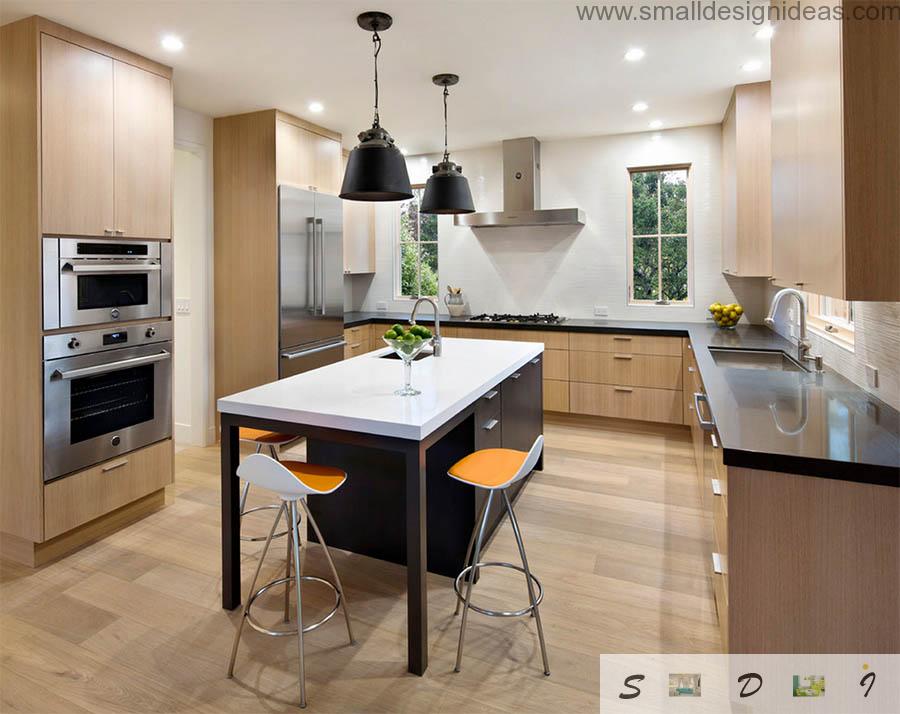 In the kitchen area with sufficient space you can afford a lot in terms of surface finish. For example, the simulation of brick or masonry, ceilings on two levels or floors with motley decoration. But if you decide on a very active image of the walls or the splashback, it is best for cabinet fronts to be plain and the similar in both planes.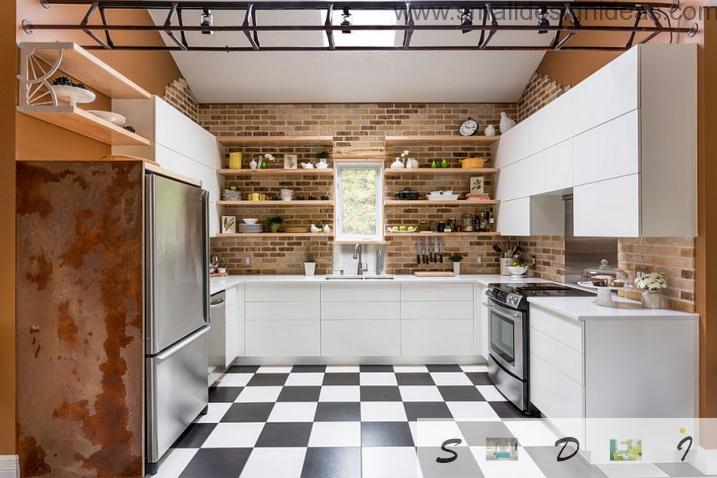 Gray color is not without reason considered the most neutral option for design of any room and the kitchen area is no exception. If you do not like white kitchen, and you are not ready for more bright color decisions yet, you feel free to use different shades of gray. They are perfectly combined with each other, with glossy stainless steel, wooden surfaces and snow-white finish. There will not be any surprises in this room, but also there would not any irritating eyes color contrasts or patches, It is plus to create a calm ambient in the kitchen space.
Dark gray kitchen fronts will look great with a colorful execution of the kitchen splashback. Add the presence of white walls and ceilings, crisp white tops execution to this design and you`ll get balanced, interesting concept. But it would be quite discreet, so as not to annoy with the diversity and brilliance.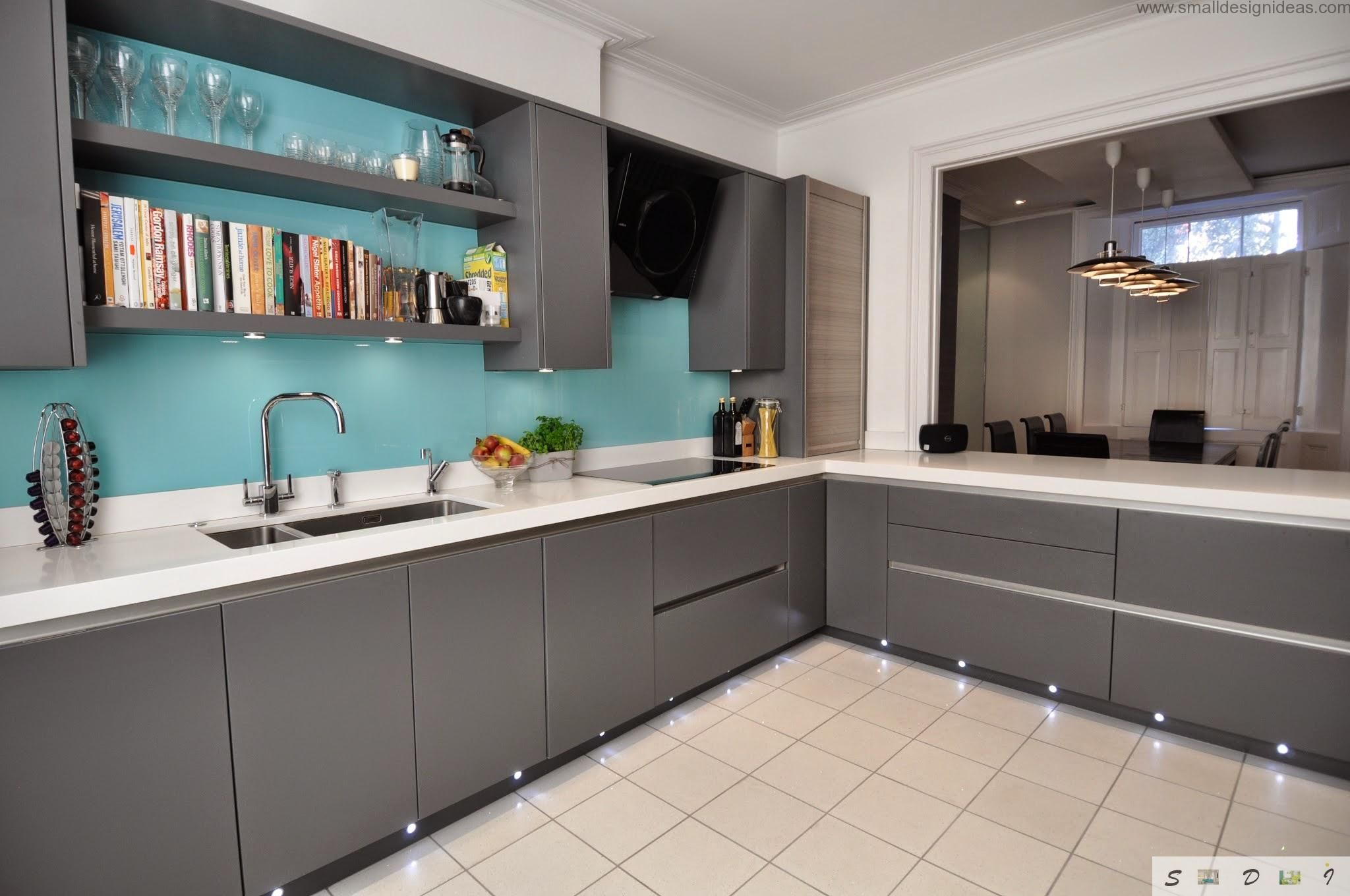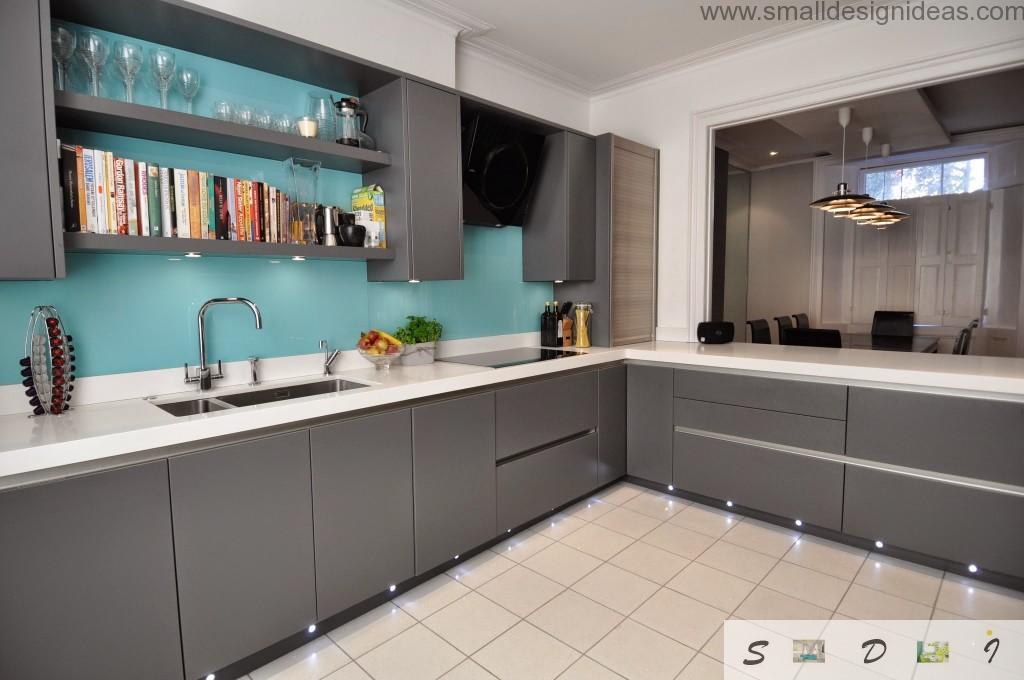 The color of natural wood will be always in trend. This is due to the natural warmth that the timber fills interior space, the status of the material, its environmental friendliness. Contrast, which natural wood tones create with glossy stainless steel, looks particularly bright, bringing cool tone in the design of kitchen space.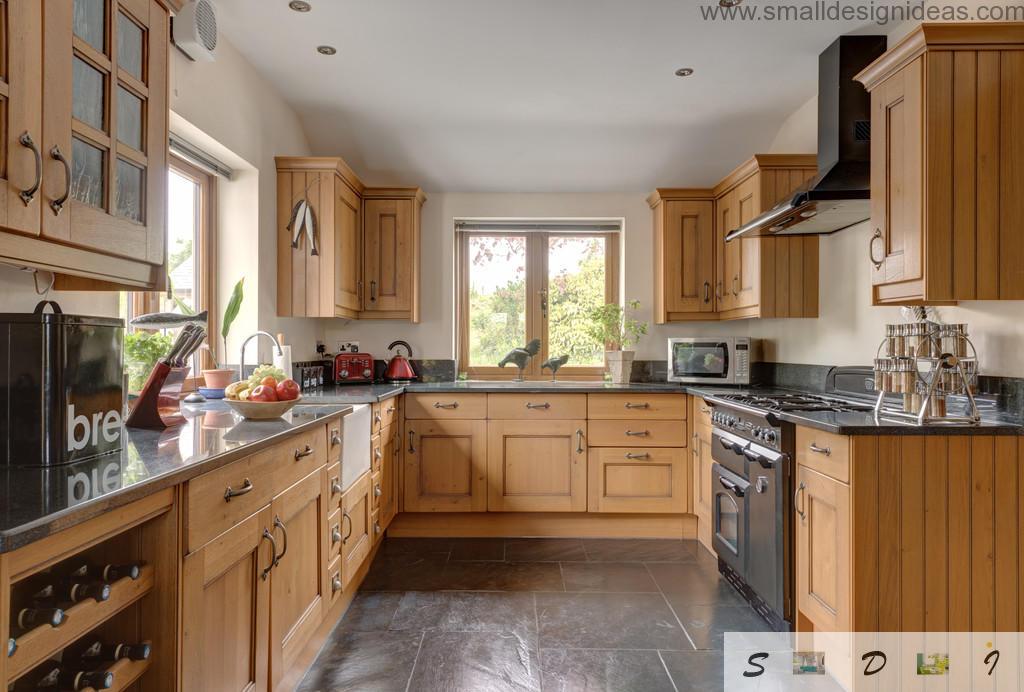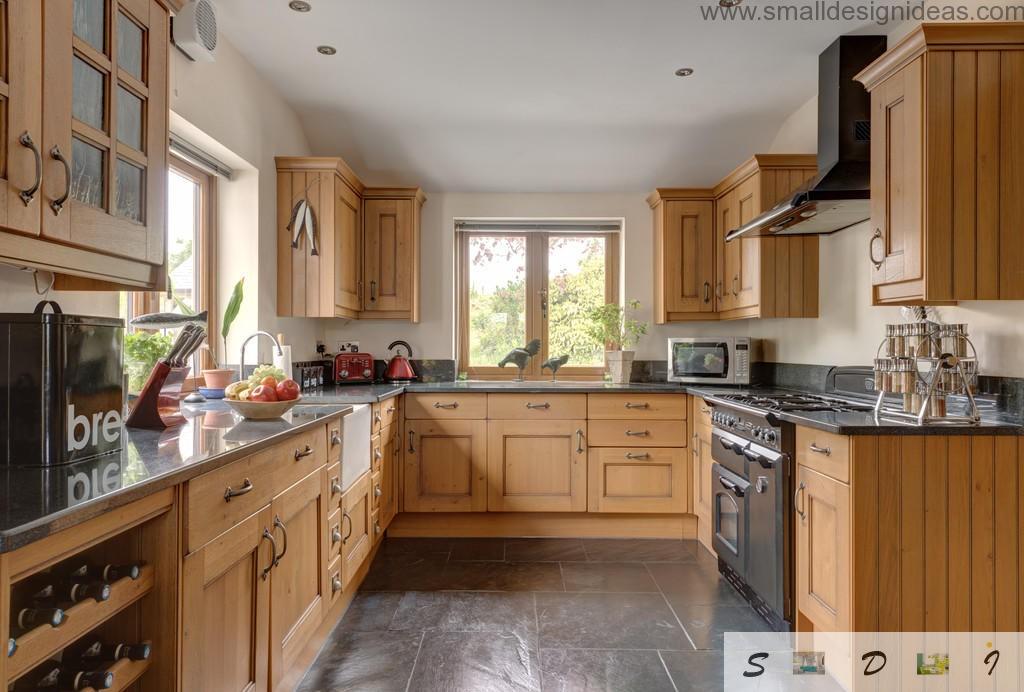 Unpainted wooden facades look great against a background of snow-white finish, especially with the use of table-tops of similar hue. In the room with enough square footage you can achieve maximum staffing storage and not be limited to the placement of kitchen utensils, and to keep on hand, for example, a collection of cookbooks or flaunt a nice tableware.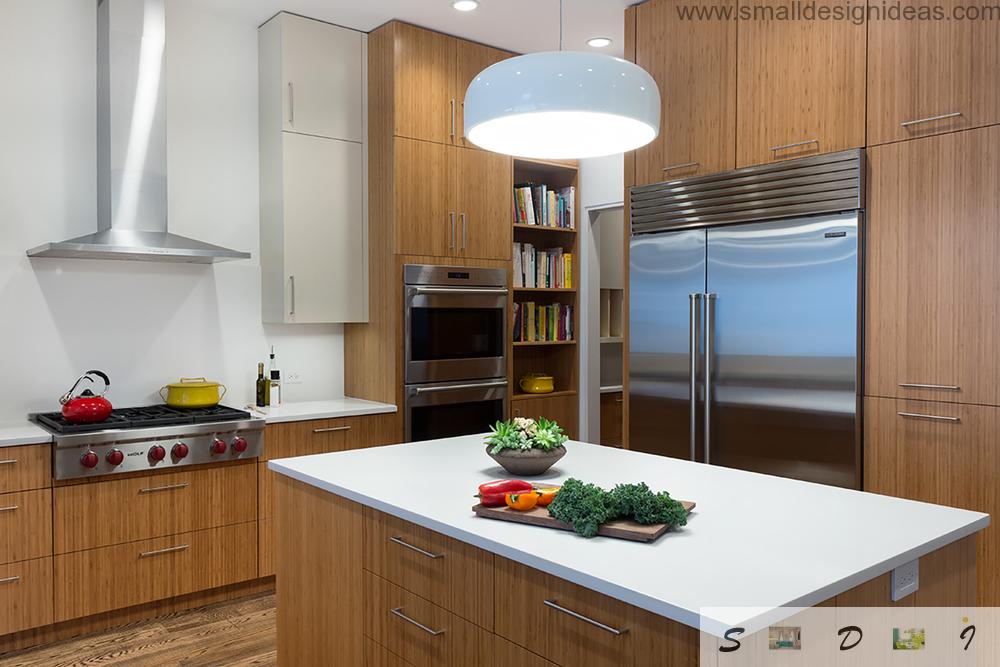 The white color of kitchen fronts combined with luxurious chocolate shades of the wood looks just amazingly. You can use a light blue, turquoise or mint for the decoration of the kitchen splashback, for example, to bring a freshness and coolness into the interior. Summarized design of your kitchen space will be actual for many years forth and will please you and your household with its appearance.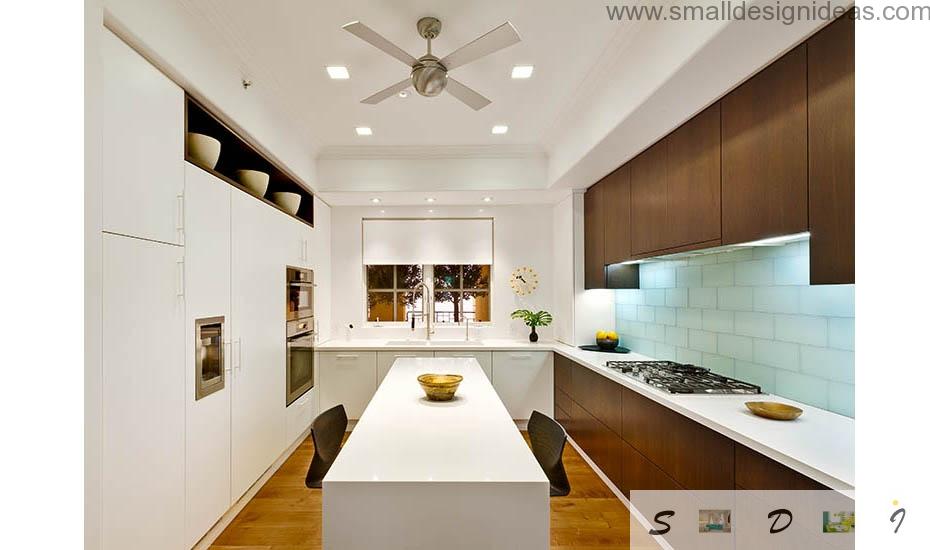 Coloristics specialists note that the choice of a darker shade for the execution of the lower tier of the kitchen cabinets provides a visual extension of the space, which is good even a spacious kitchen. White execution of top-tier storage systems allow to visually increase the height of the room.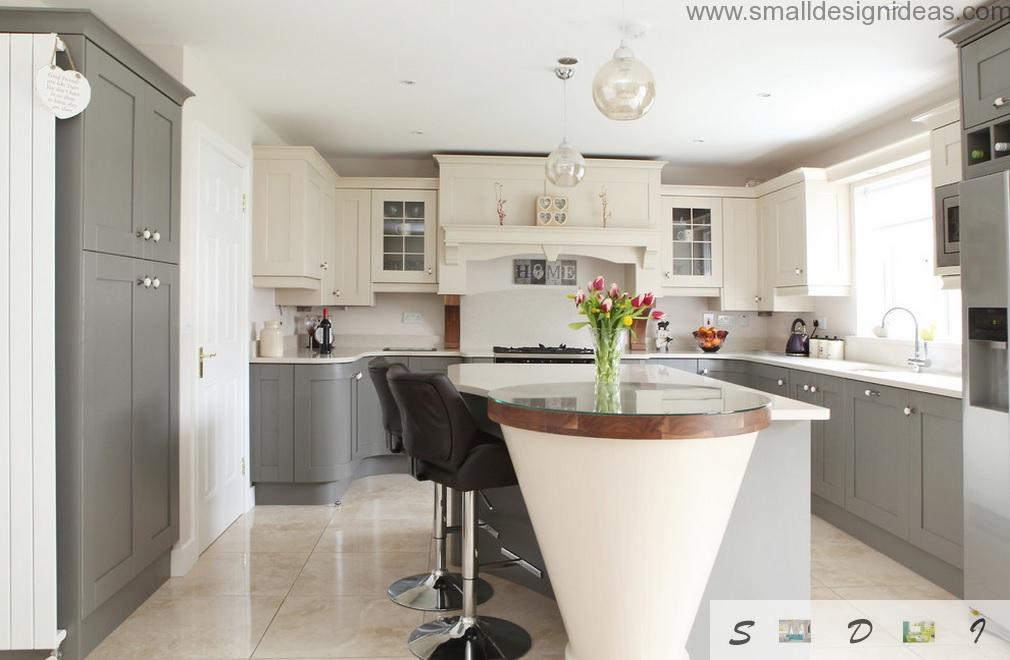 In a small and modest kitchen it would be difficult to imagine the use of dark colors, moreover in combination with stone masonry. But even in large spaces such finishing needs to be accompanied by bright, contrasting furniture facades.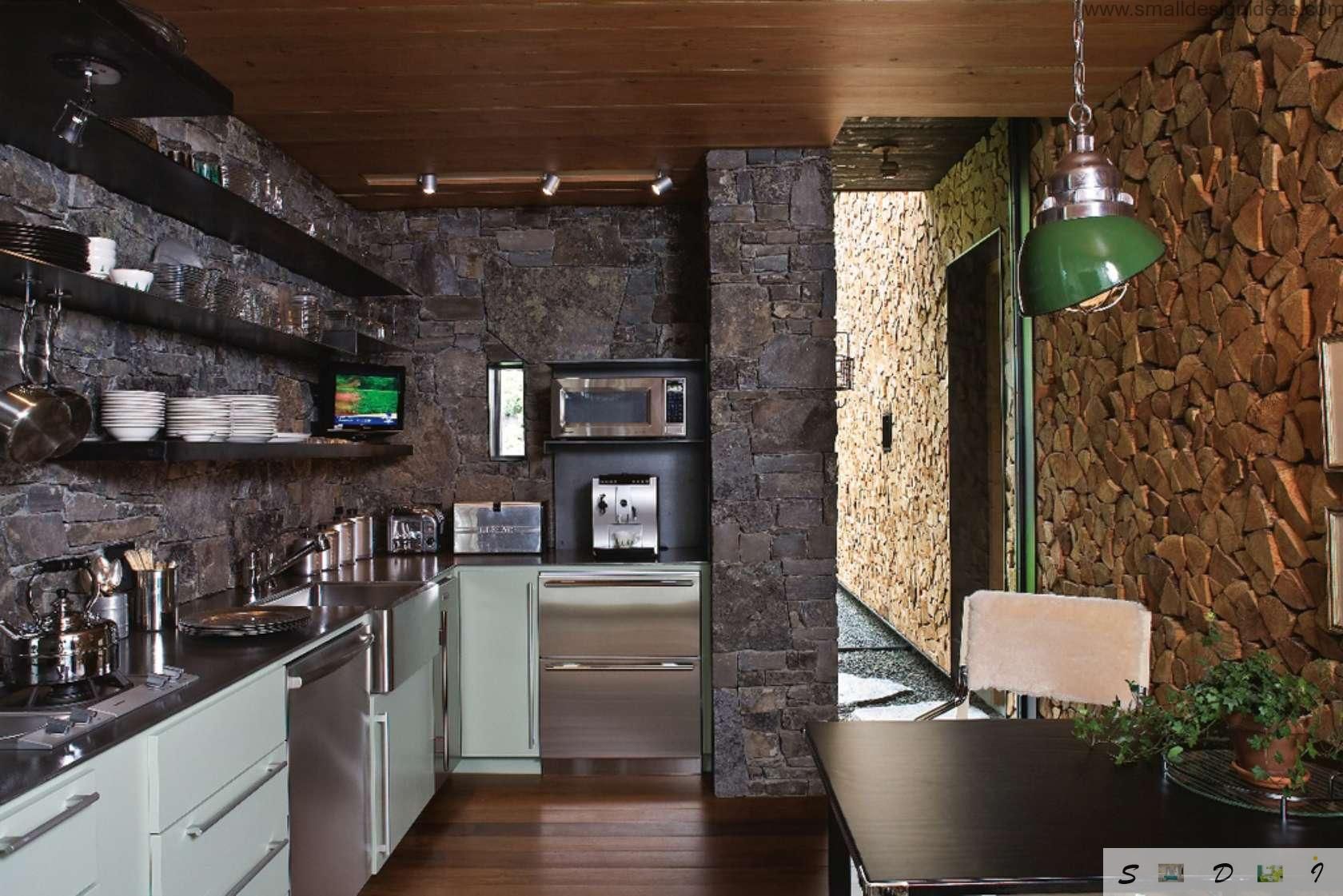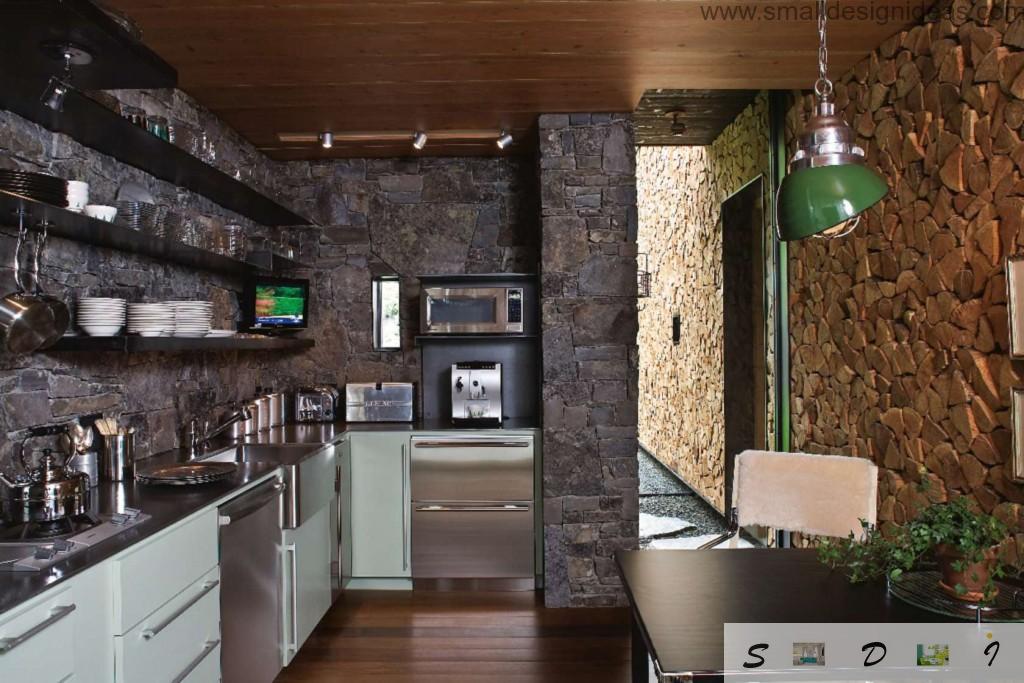 The possibility of using bright saturated colors for the kitchen units or its parts is an advantage of spacious kitchens. Currently, the free market has many models of kitchen appliances made in the retro style of very bright shades. They themselves can become a highlight of the interior, but in appropriate decoration will raise the mood of space to an unprecedented level, will create a unique and inimitable design of the room.