The Scandinavian styled kitchen is always spacious and clean. This is because light colors are used in this type of arrangement that can optically enlarge even the smallest interior. If you are interested in this, then be sure to find out what furniture, decorations, and appliances will look best in a Scandinavian kitchen.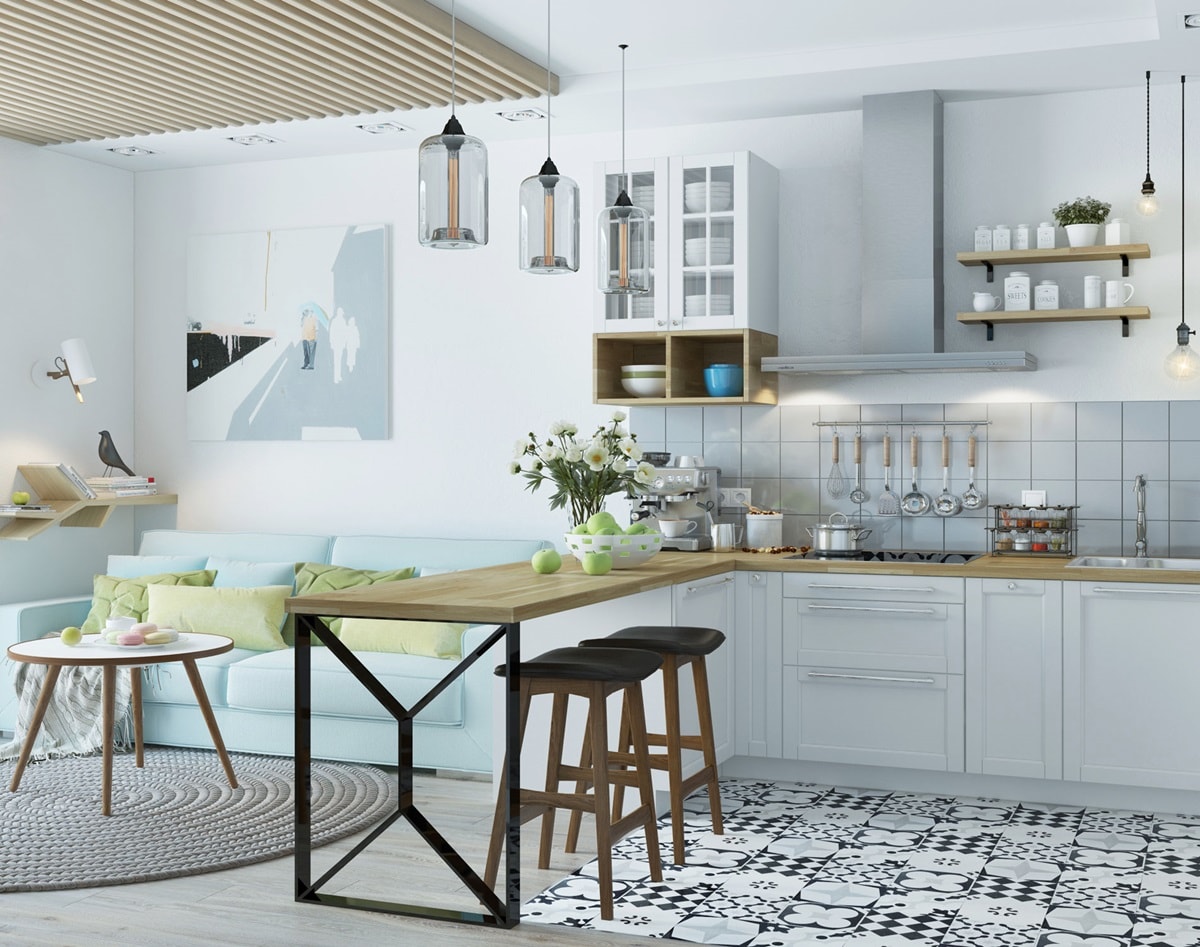 Content:
Bright, Simple and White – This is a Scandinavian Kitchen
Scandinavians love white, so the interiors in this design always have a lot of light. They captivate with their simplicity, freshness, and arrangement. Scandinavian style kitchens are known throughout the world. Without extra decorations, refined reliefs or exquisite details, they encourage you to cook in a light and pleasant atmosphere.
A Scandinavian style kitchen does not have to be large and spacious, but it should be bright and clean. The main color is white, and the part that warms the atmosphere up is wood. White color appears here not only as a color of the furniture but also as the coloring of floors and walls. In turn, wooden elements are most often used for countertops and open shelves. However, wood is always dosed in moderation so as not to interfere with the purity of the white.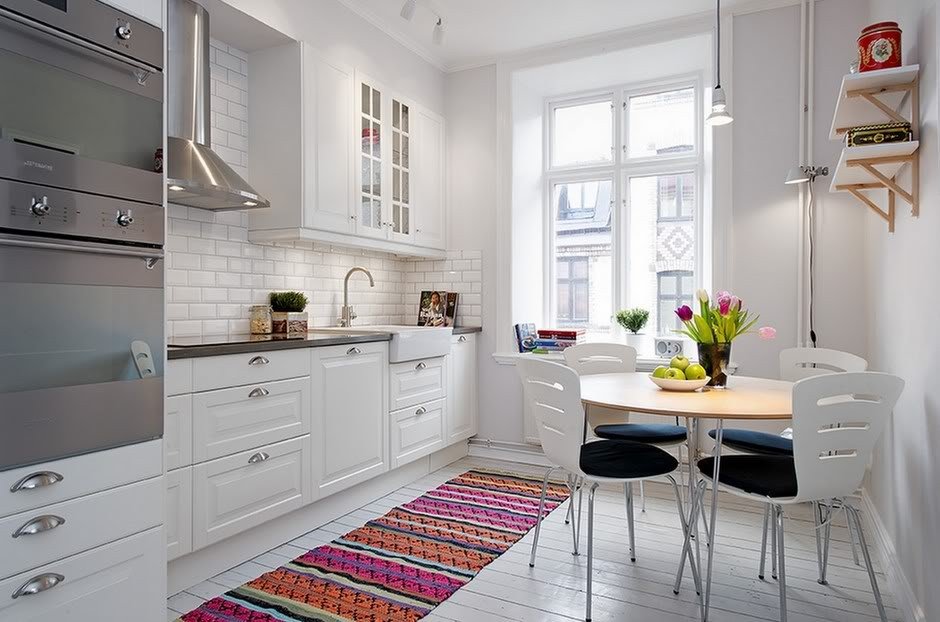 Scandinavian Style Kitchen: Furniture Photo
You should start with the furniture. Scandinavian kitchen is the place where functionality is most important. That is why the Scandinavian kitchens are simply furnished, but they contain all the necessary accessories. The facades of the cabinets are smooth or with small, simple frames, fairly white in color with the addition of natural wood.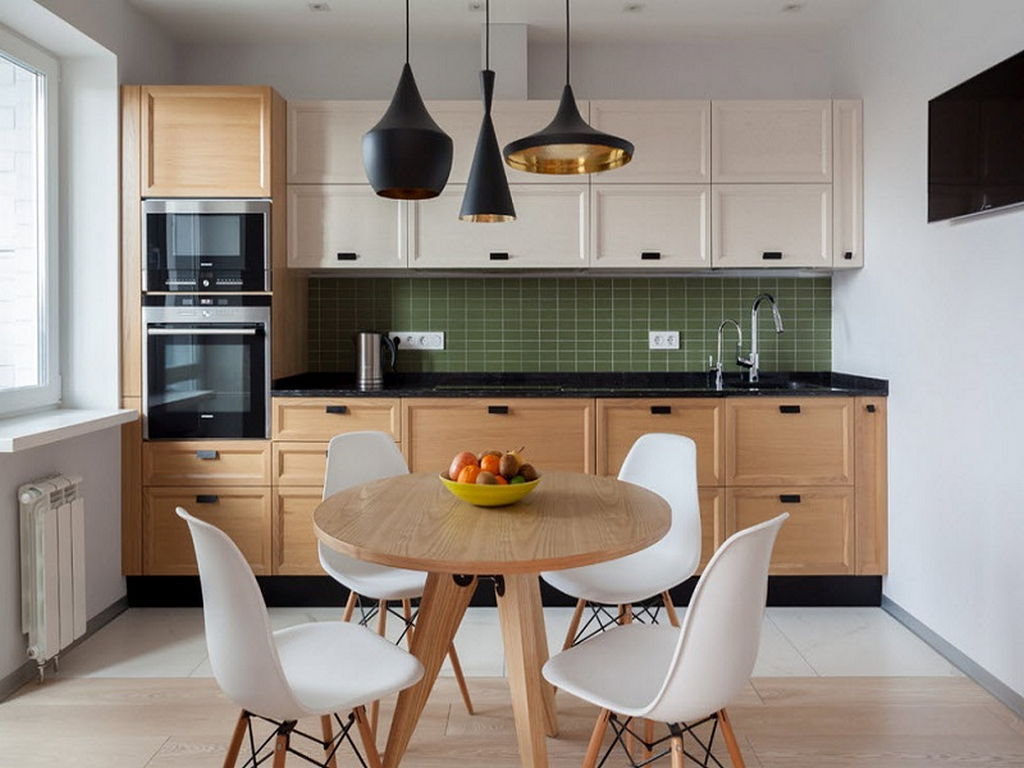 Countertop
Very often, a wooden countertop appears in the interior of a Scandinavian style kitchen, usually in lacquered version. It goes well with white cabinets, giving the kitchen an atmosphere of close contact with nature.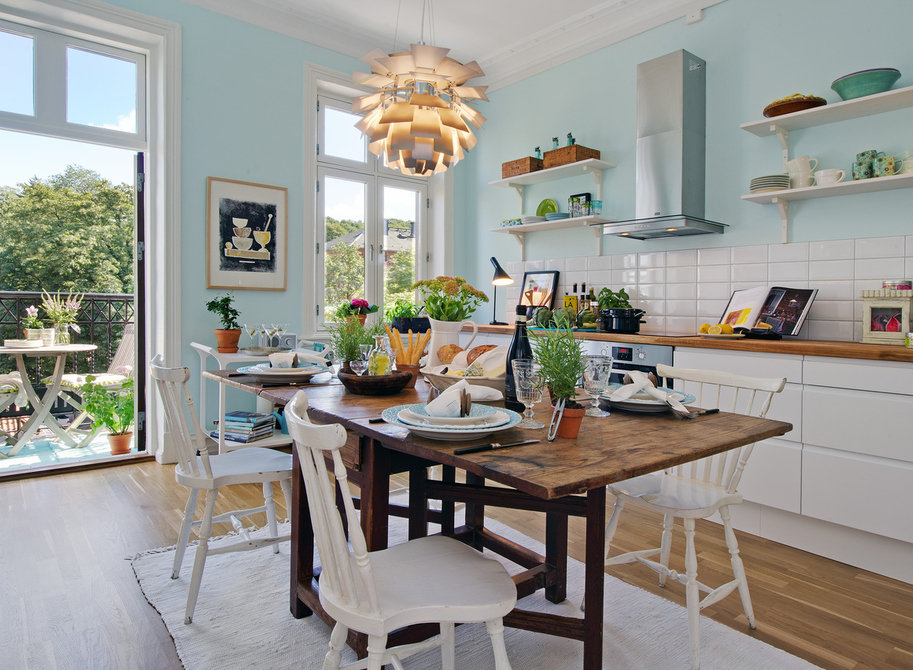 However, keep in mind that the stone is also used in the Scandinavian style, so nothing prevents the appearance of countertops of such decoration in the room. The interior in this arrangement will look more dignified and less comfortable, but certainly stylish.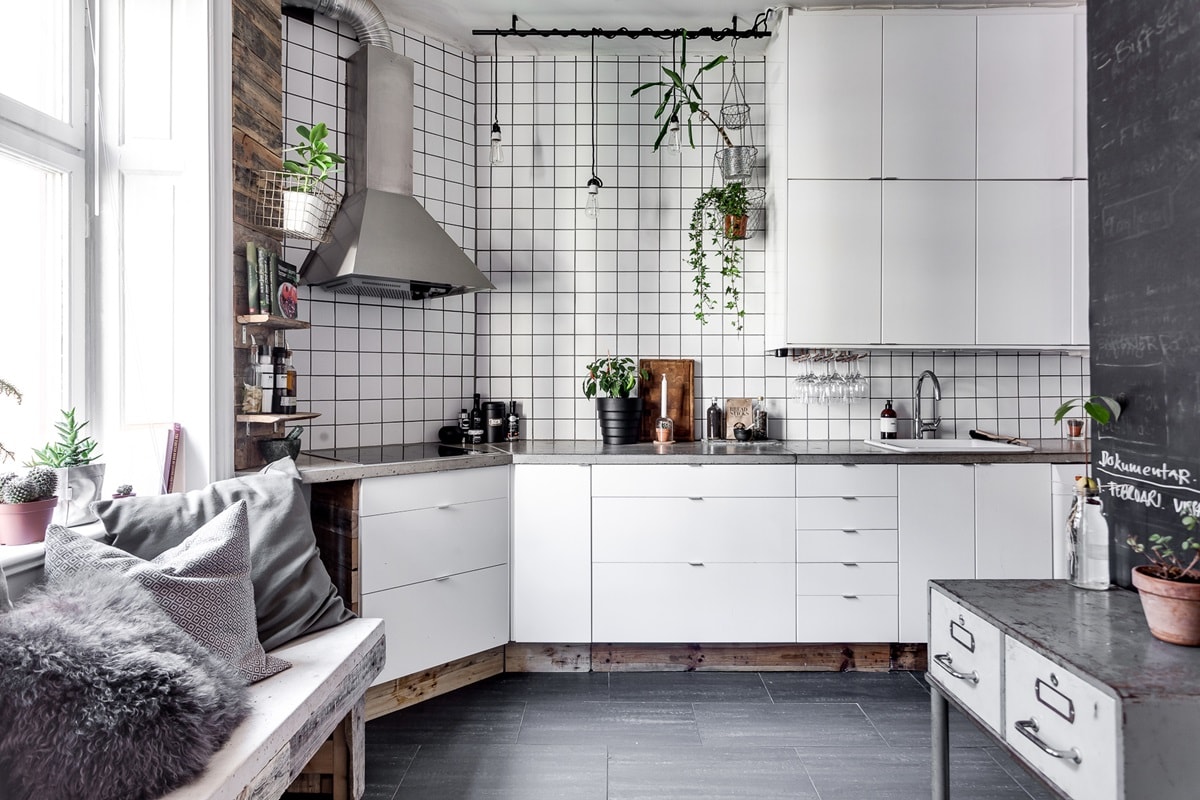 Cupboard
In the Scandinavian kitchen, the furniture will look good in both modern and traditional style. Therefore, nothing prevents you, except for cabinets along one or two walls, from installing a buffet. It can be a whole set or in the form of a hanging shelf.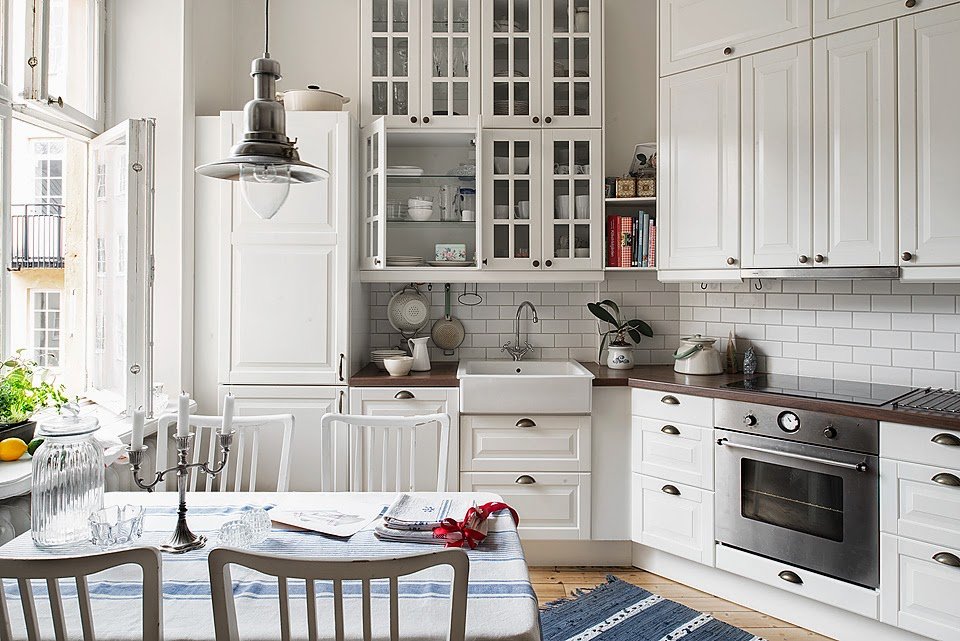 Shelves
Quite often in the Scandinavian style kitchens, you may notice hanging shelves. They can be fully opened, as well as take the form of additions on the side panel. Shelves are usually closed with a glass door, and often hooks are located under them to hung fabrics or kitchen utensils.
Open shelves made of wood look great. They are an undoubted decoration, but also fulfill their function of storage. Such shelves require care because the erratic placement of Scandinavian dishes, cans, and ceramics can turn into a mess, which, of course, will not be eye-pleasing. So if there are problems with maintaining order, then this arrangement is not for you.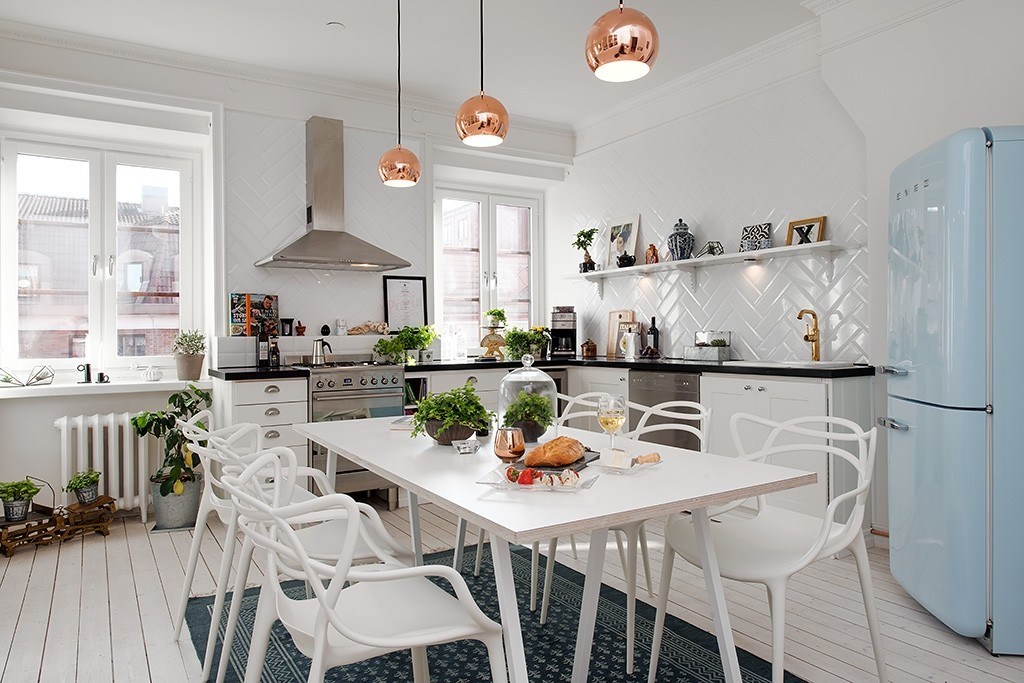 Scandinavian Style in the Interior of the Kitchen: which Decorations to Choose?
Decoration for the kitchen in the Scandinavian style can be distinguished by shape, color or pattern. That is why in such a room you will find various types of cans for bulk products, wicker baskets and flower pots with herbs. As you can see, even flowers in interiors decorated according to this style should play a different role other than just a decorative one.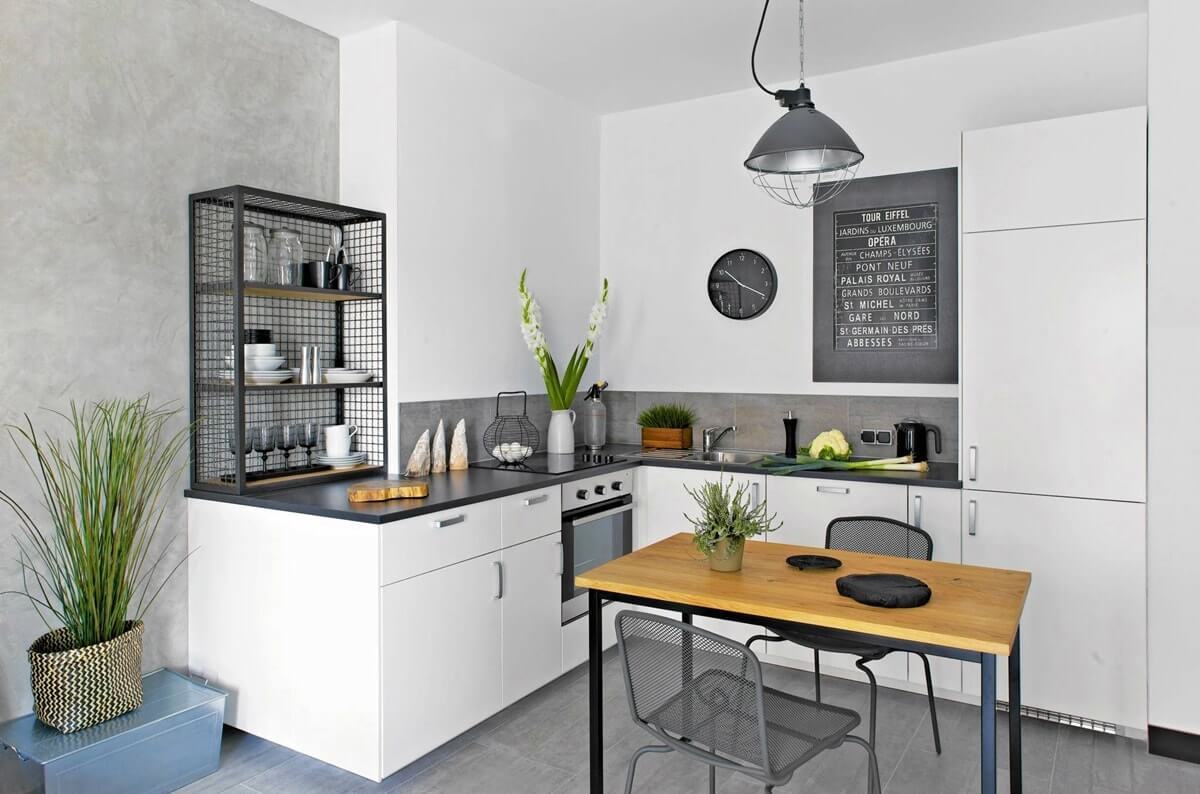 Kitchen decorations cannot be intrusive. Even the blinds that adorn the windows are very delicate and almost invisible. On the other hand, the lamps are more visible, as they are apparently decorative element. They are often suspended in several parts and have an intense color that sets them apart from the rest of the room.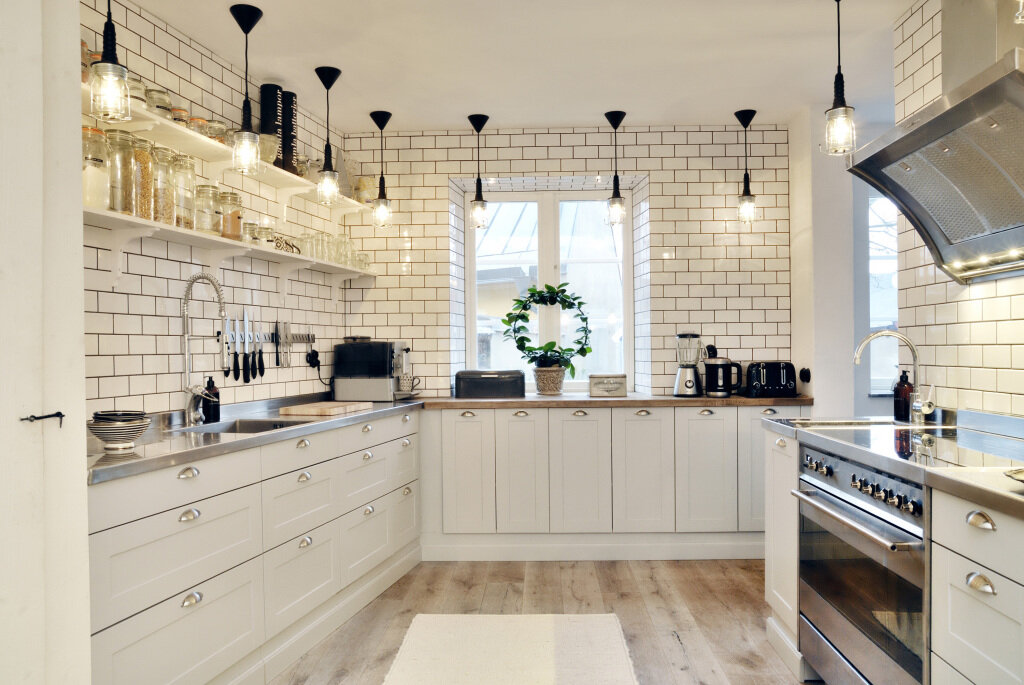 It is worth remembering that the key task of furniture in a Scandinavian kitchen is functionality, not appearance. It is in vain to look for home decoration whose sole task is decoration. This, however, does not mean that the Scandinavian style kitchen is devoid of any decorative elements.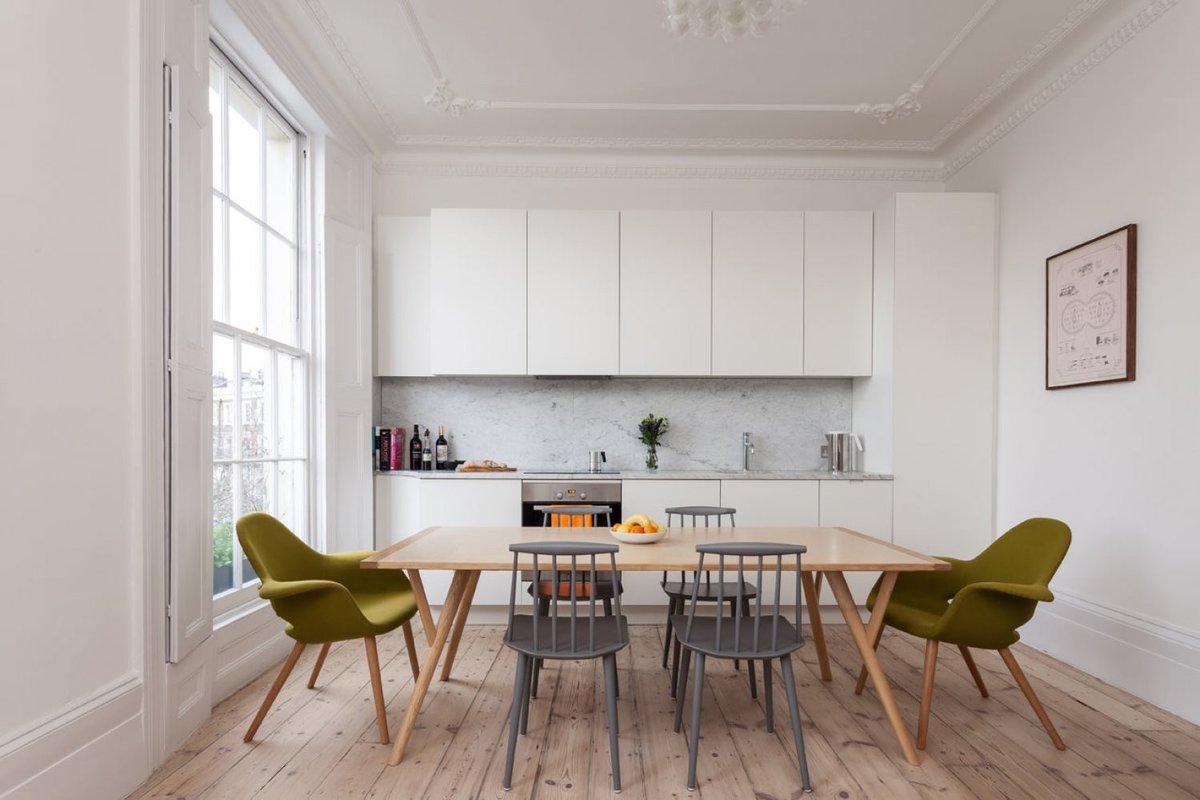 Scandinavian Style Kitchen: Interior Photos with Lighting Examples
Speaking about the decorations in the kitchen in the Scandinavian style, one cannot help but mention the lamp. Lighting, however, is not only decorative but, like everything in the Scandinavian style, also a functional part of the interior. Therefore, in the kitchens of this style, lamps appear in those places where good lighting is important. The work surface and the food table should be well lit.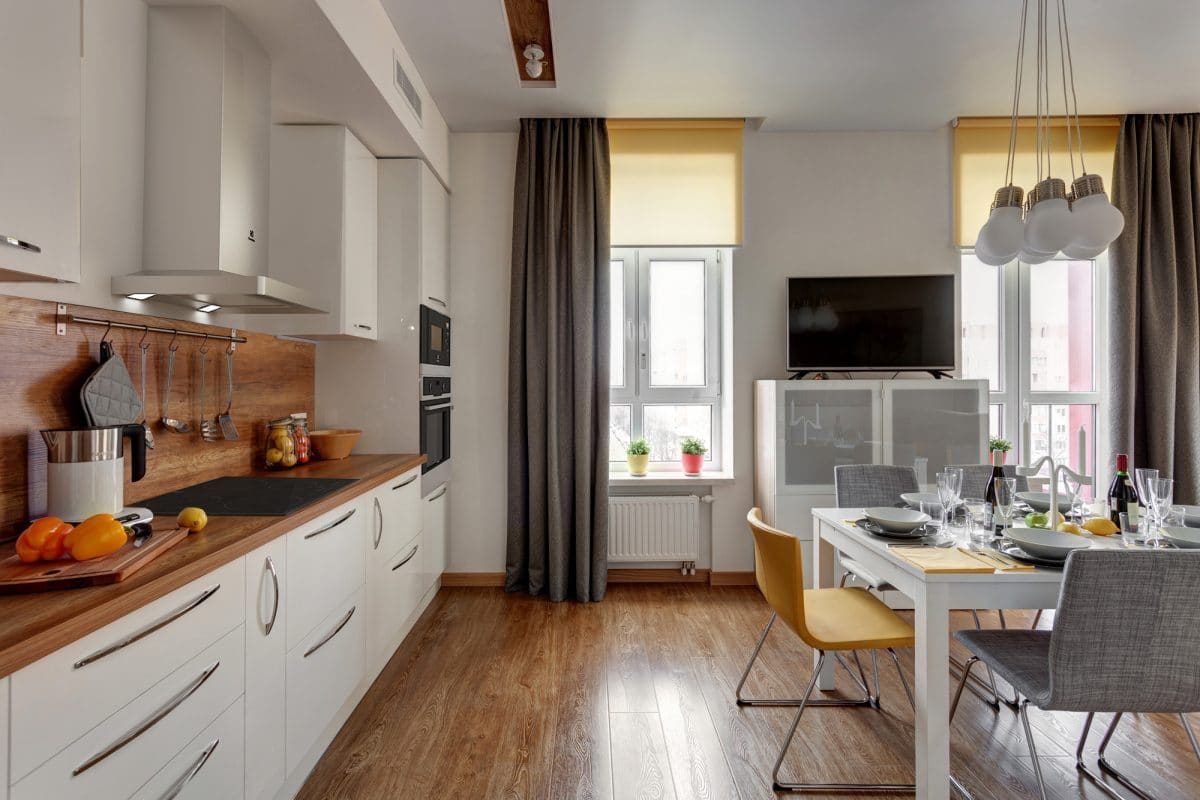 For lighting, fixtures hanging on long strings or chains are used, so that their light can be sent directly to the workspace. Metal lamps, with large shade, often white or black, predominate. From time to time, you can also find lamps of other colors, but these are more likely exceptions that confirm the rule. There are also sconces that make it possible to regulate the beam of light.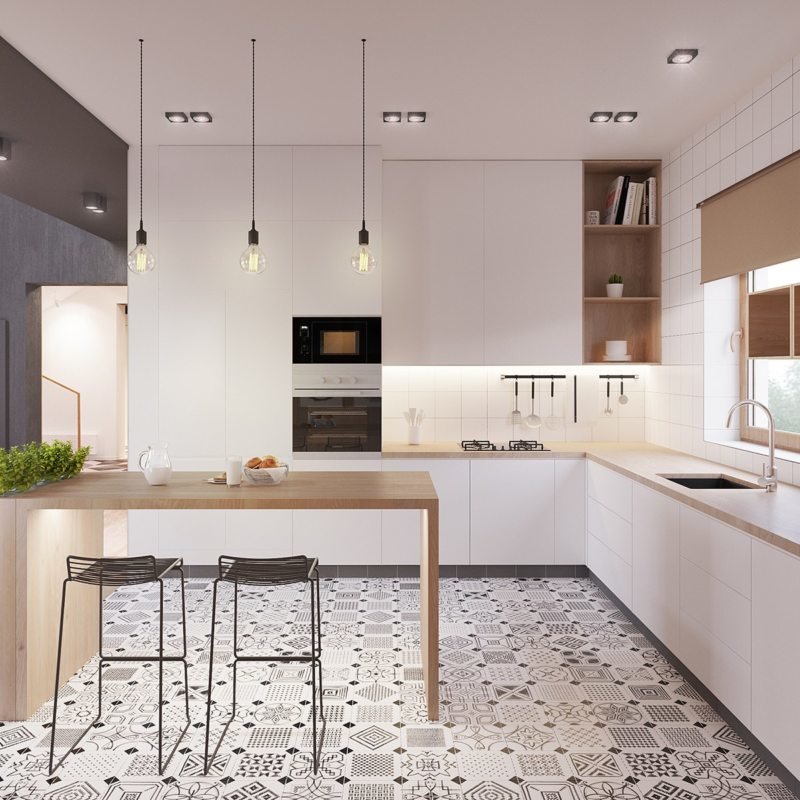 White Scandinavian Kitchen
The classic Scandinavian style looks beautiful. The classic combination of black and white, simple but not minimalist furniture and an unusual patterned wall above the kitchen counter make the composition a masterpiece. Lightness is added by white cabinets and soft lighting so that the interior does not seem too heavy. Everything is perfectly arranged.
Modern Scandinavian Style Kitchen Design
You can choose a more modern version of the Scandinavian style in the kitchen. There are open shelves, classic black and white colors, as well as metal and natural wood. And yet this interior is completely different from the classic one. It is much more modern, smooth lined and sloppy, although still completely Scandinavian. This is clear proof that the same materials used in different ways can give completely different results.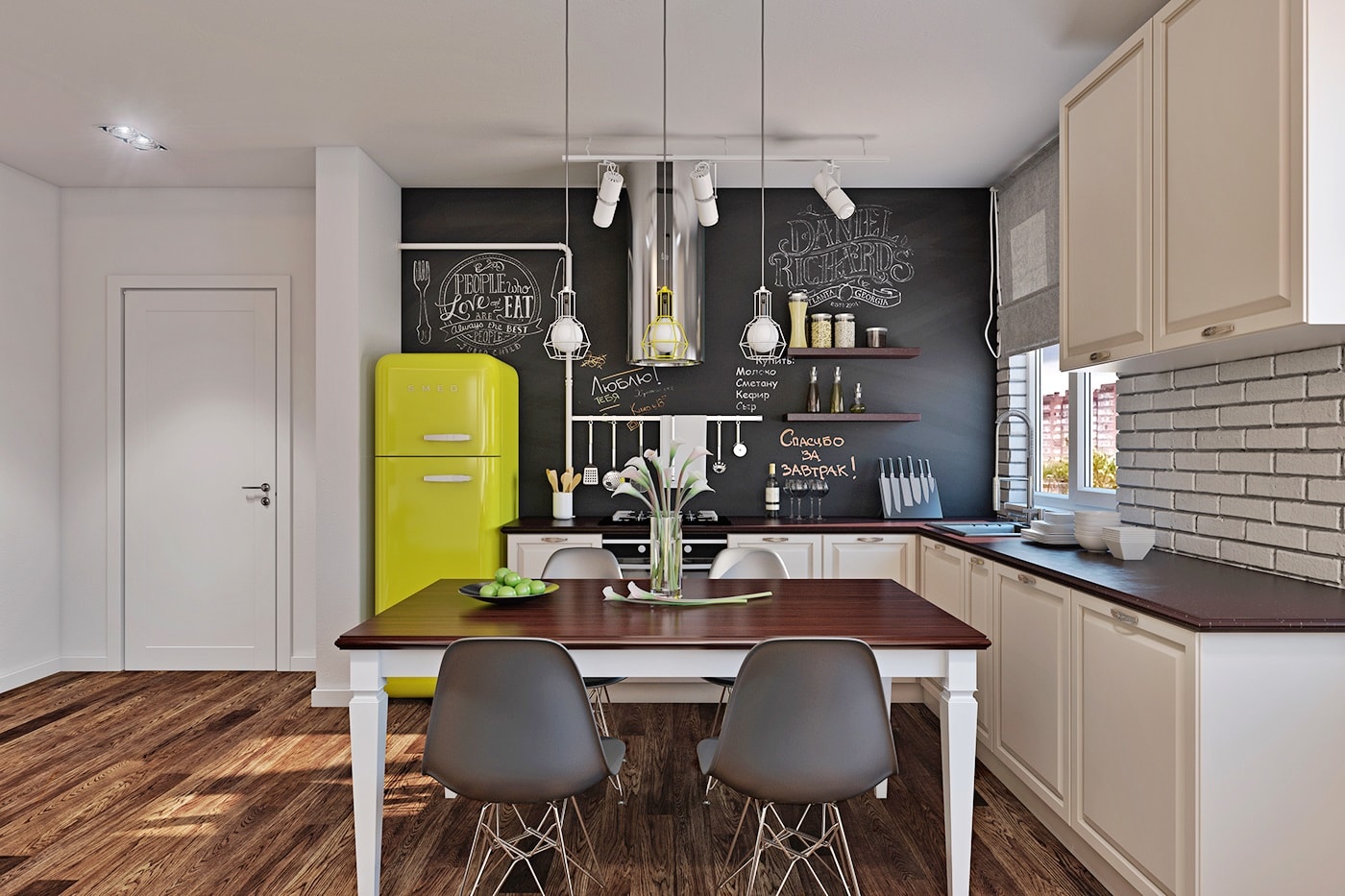 A photo gallery will help you familiarize yourself with interesting Scandinavian style kitchen options. Look for inspiration to create your dream kitchen.