The kitchen is without a doubt the most complex and functional room in any home. Different appliances, furniture, additional lighting, and systems are indispensable in this room. Here we come to not so easy task to combine all the indispensable elements in one often tight space. We can also admit that the number of those "indispensable" things is always growing. So, what should be hidden and what can we show? How to organize space with maximum effect? And at last, how to implement dream kitchen interior design? We will try to answer these and more additional questions in this article as modern homeowners would like to see their kitchen not only functional and comfortable but also a very attractive place.
Contents:
Furniture and Style
So, what furniture should be located in the dream kitchen? Last trends tell us it should be the furniture set. And there are plenty of options to be chosen. Somebody tends to a more conservative look and Classic design with the traditional allocation of furniture pieces. However, there is an increasing number of people tending to choose modern-looking modular furniture. It is all a matter of taste. But we should mention that even Classic designs contain many elements made of modern materials. In addition, we can trace the tendency to use modern flowing minimalistic lines instead of massive and carved facades.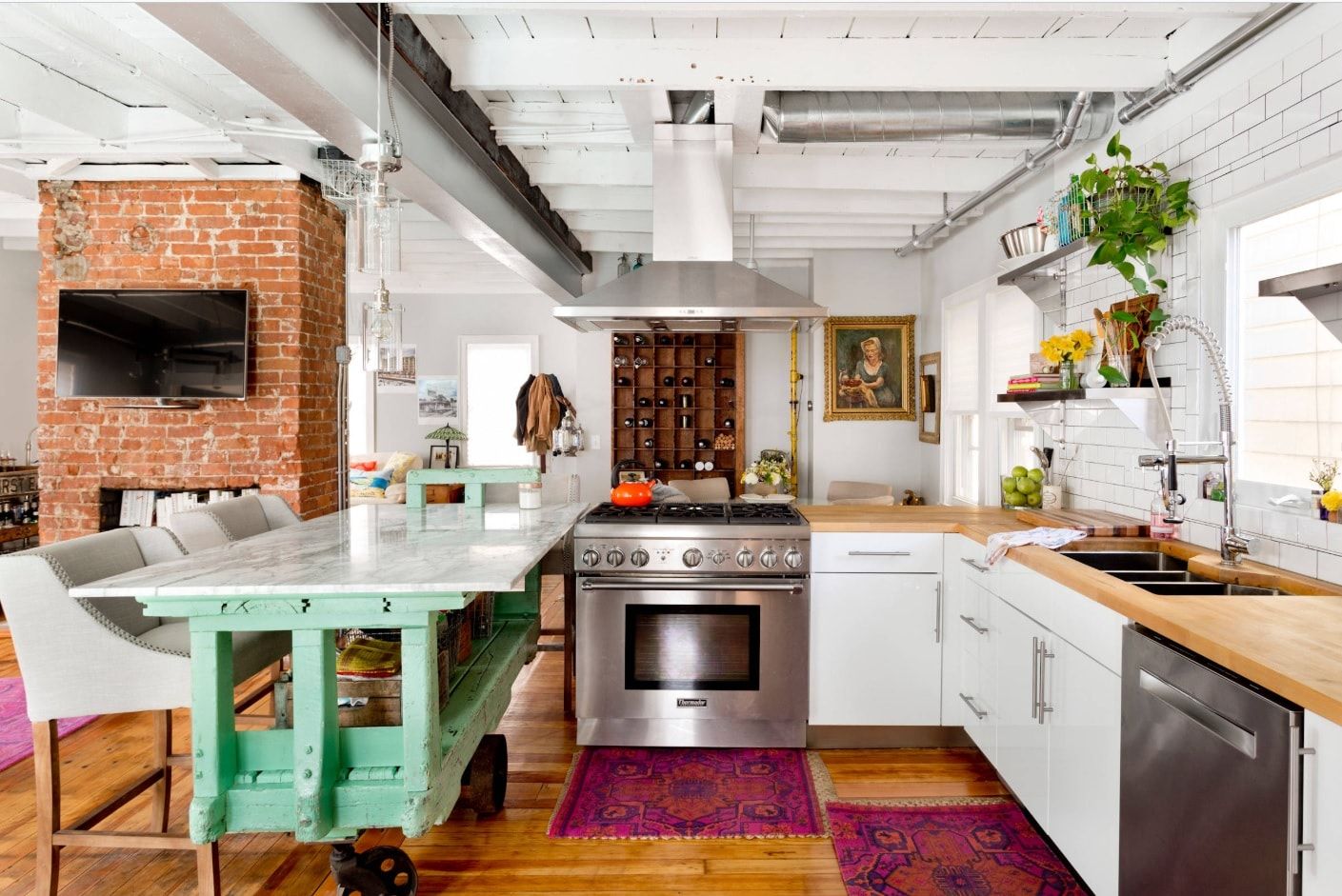 A mix of styles is the trend these days. Look at how exquisitely it may look the combination of vivid Loft style with modern furniture and materials.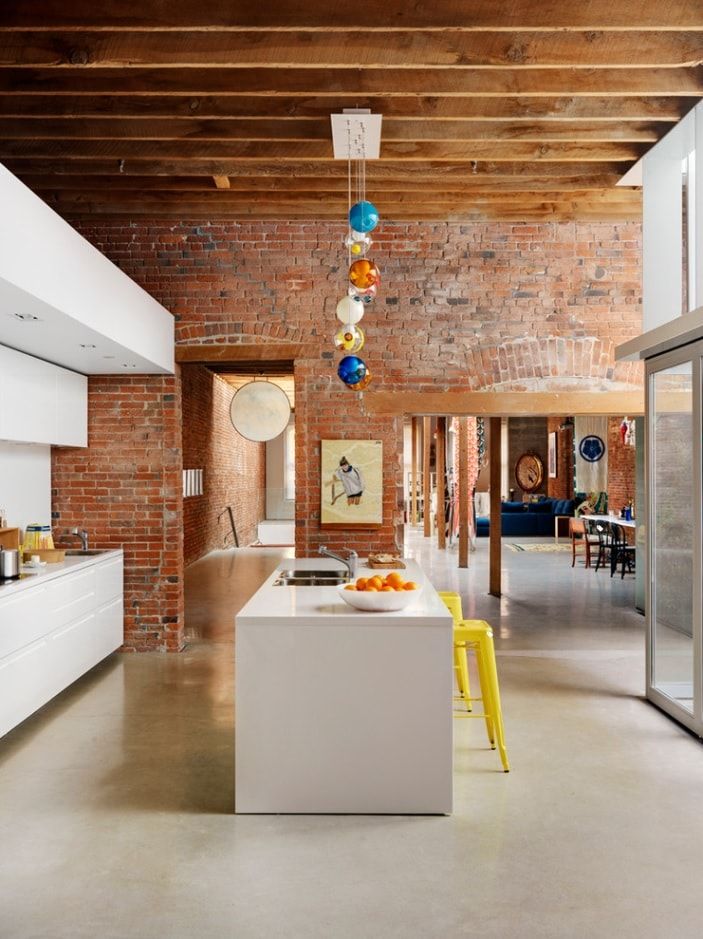 And here we can see the combination of light wooden facades with wooden butcher block countertop and modern lighting, smooth facades of the kitchen furniture.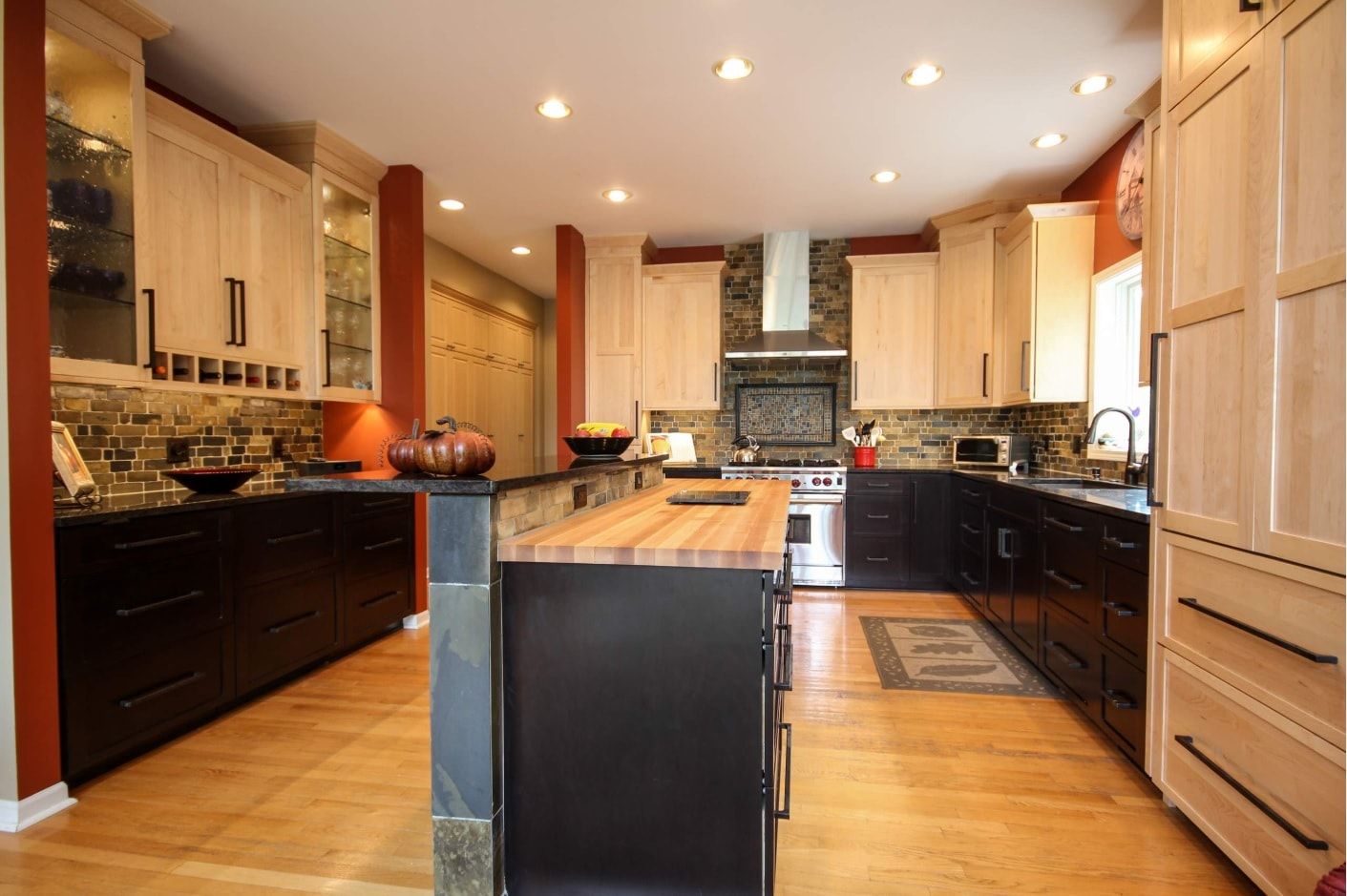 But the modern designed kitchens take the confident lead among the most successful and in-demand designs for most spectacular interiors.
Appliances
Any dream kitchen must be full of appliances that extend functionality. Of course, it doesn't mean that all gimmicks are sticking up from every corner. It should be a harmonious symbiosis between interior and modern technical devices. It is a successful design when the latter are fulfilling a successful interior atmosphere but not interfere with the stylistic concept of the room.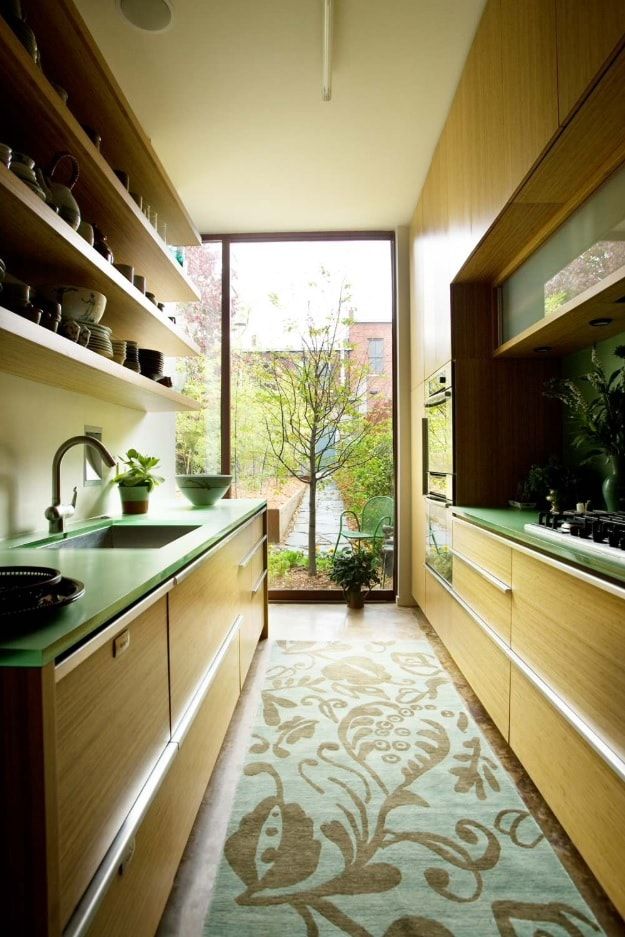 Some people prefer combining the kitchen with the laundry to take full advantage of the precious square feet of the area. But we have explored scrupulously such option in another article. But there are lots of unique and unrepeatable ideas for small kitchen space out there. Consider the combination of concrete countertop utilizing the windowsill and even the sleeper at the narrow galley.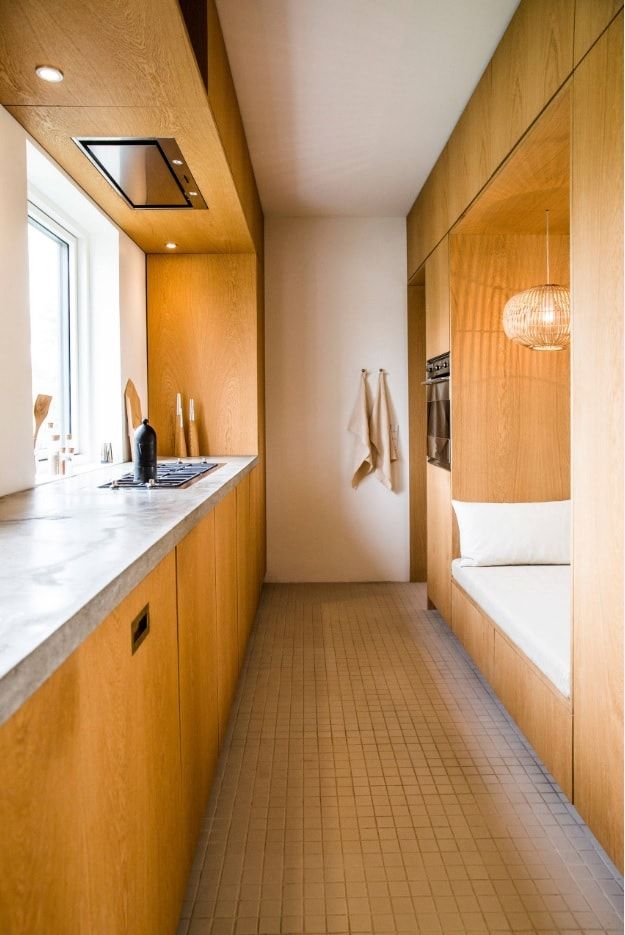 Modular even kitchen sets can hide the most of appliances (such as a refrigerator or microwave oven).
Modern style makes modern demands to the storage systems and organization of space. Take a look at quite an unusual approach of placing the shelf right on the lampstand. It turns into a comfortable place for mini-bar and storing cut glass for drinks. In addition, you make the lighting closer to the working area thus providing more light.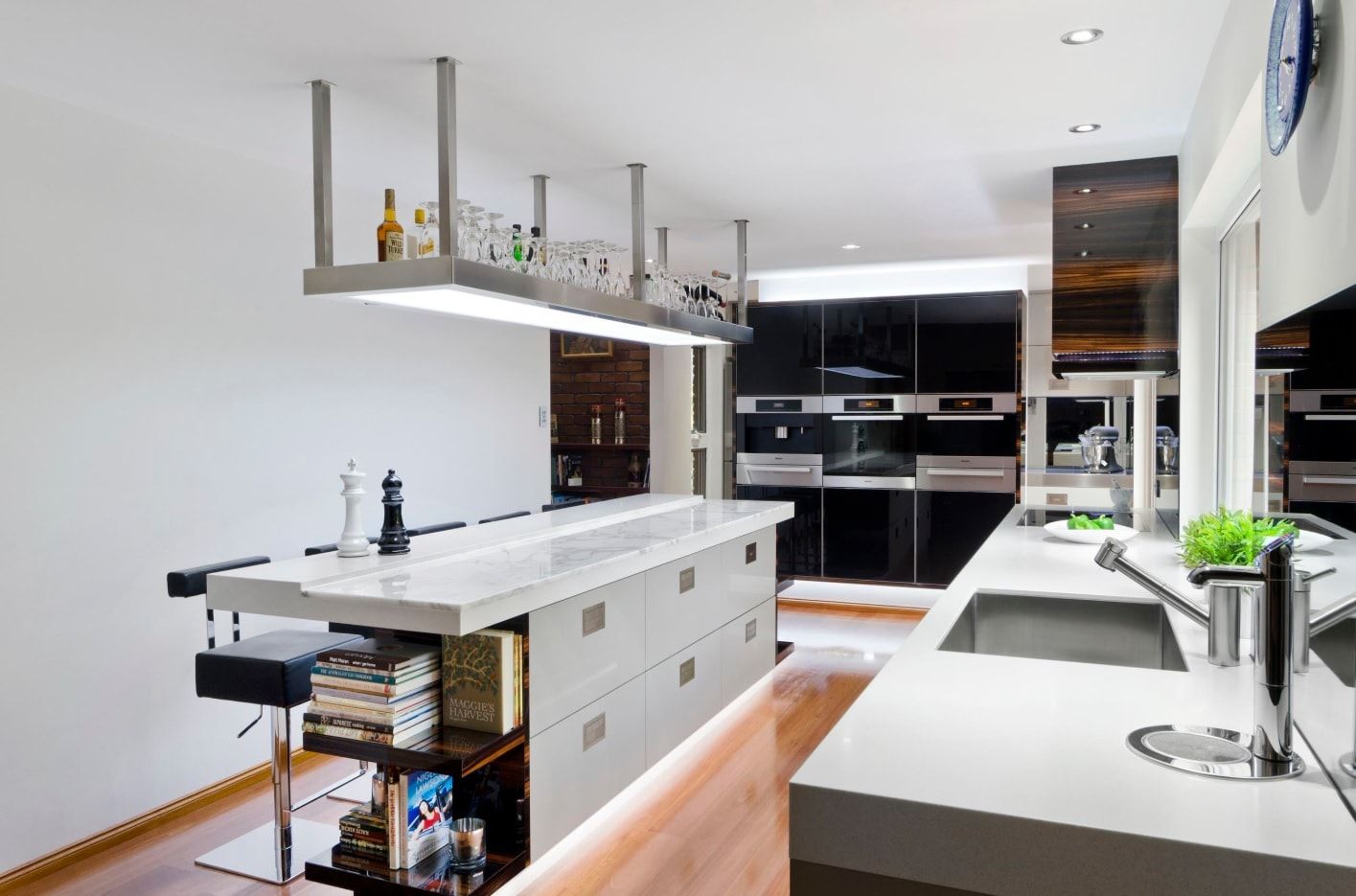 In larger spaces, you can afford even not so necessary but effective inclusions as aquarium and photo collection on the walls for decoration. Also, pay attention to the latest trend of hiding the extractor hood into the ceiling or furniture set.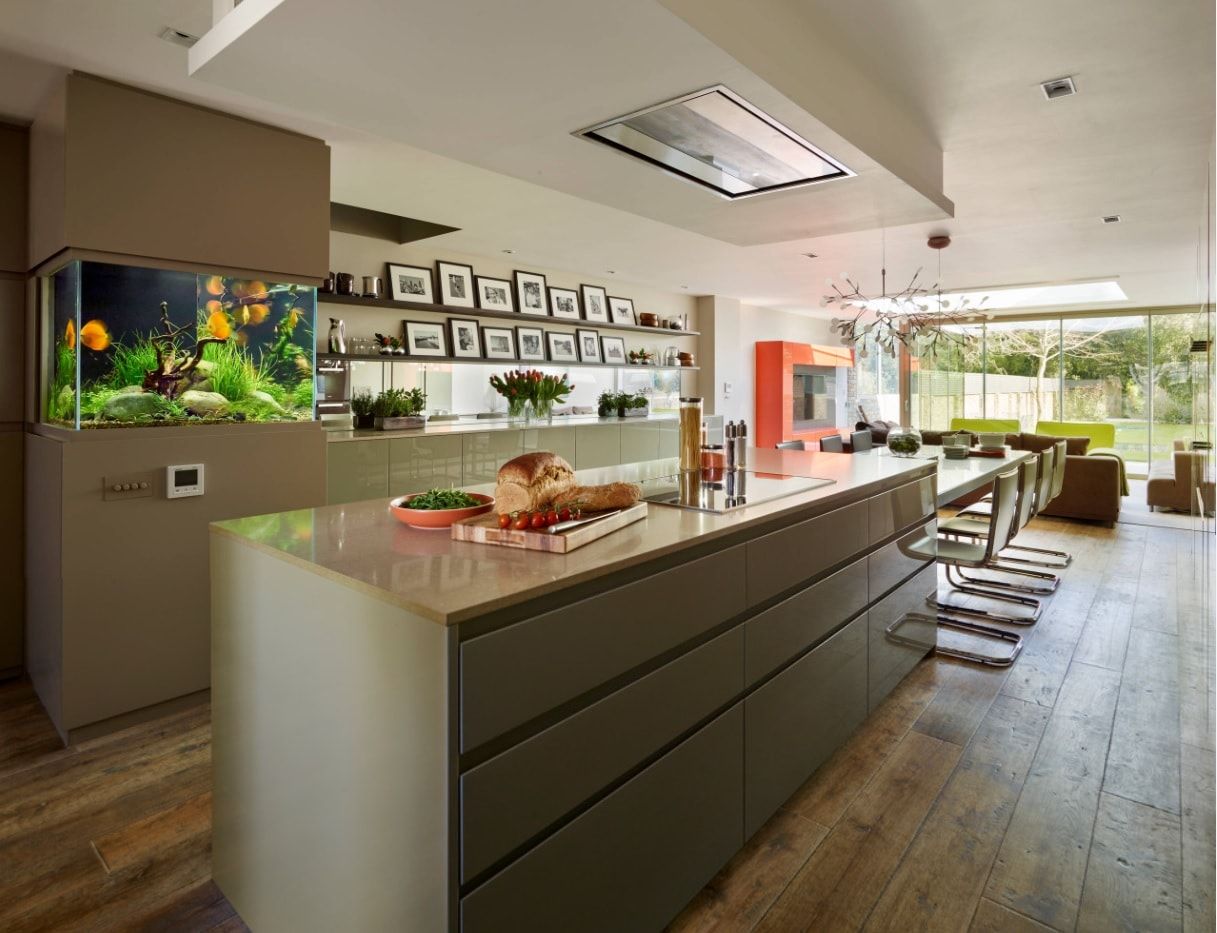 The extractor hood can be hidden not only in modern interiors. Classic and rural styles are also up to such an innovative approach in design.
Zoning and Color Scheme at Your Dream Kitchen
To highlight your own style in the kitchen of your dream, you can boldly combine the kitchen area with different functional spaces or come up to the decoration with colorful accents. As for the first design trick, we have already reviewed the possibility of combining a kitchen with a living room. Below you can see the stunning kitchen within the eco-styled sunroom.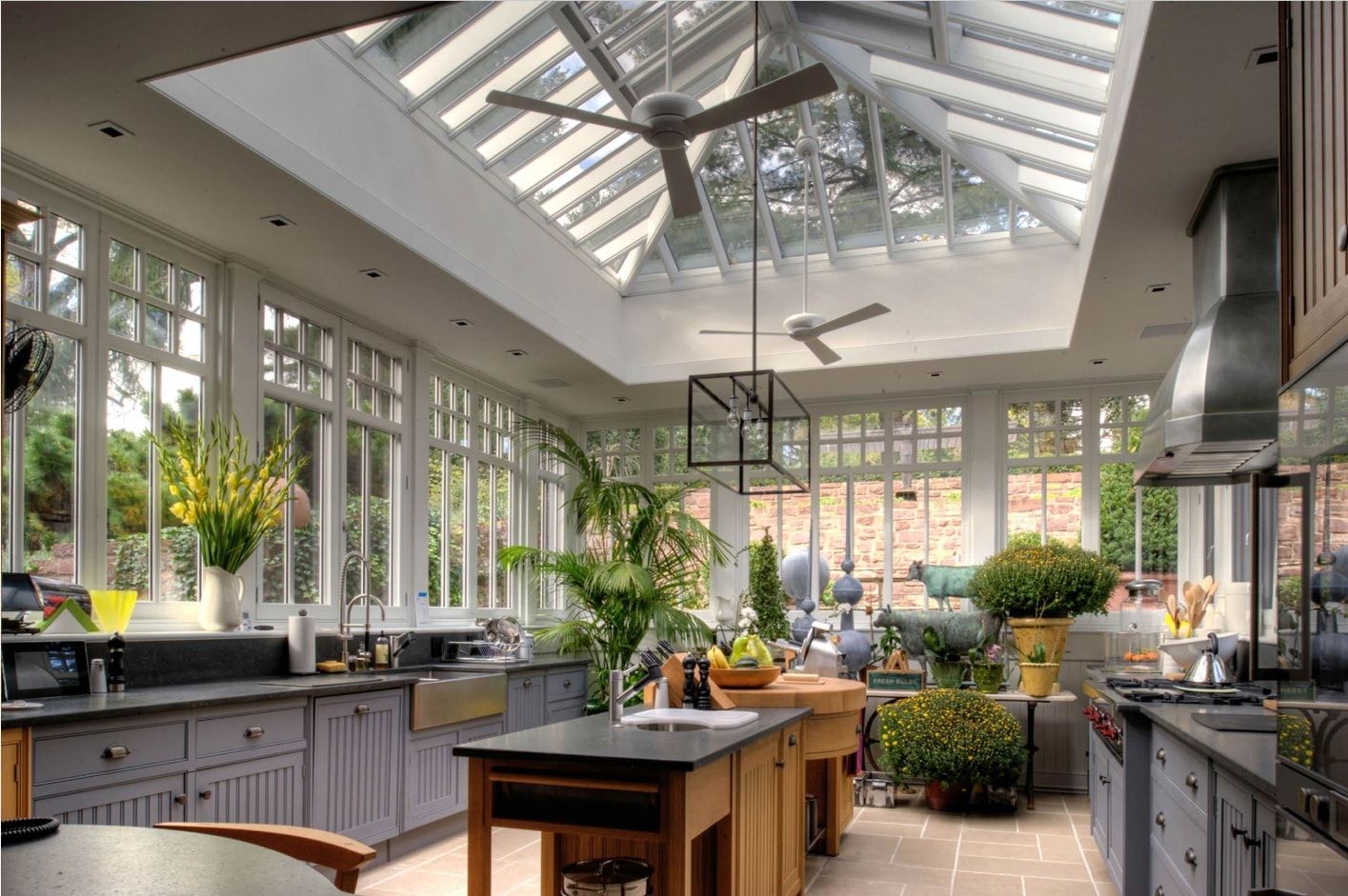 And speaking of colorful accents, you should choose the appropriate style. For example, Fusion, Art Deco, or Vintage styles or great for daring experiments.