Do you ever think about what TV set is for you? Is it a need or a habit? Maybe, someone remembers times when TV was an amazing thing, almost magic. Now it's something usual. Nowadays, telly isn't just a "box" broadcasting news. TV today is a real multifunctional device. You can not only watch TV shows but also you can browse photos from travels, visit virtual exhibitions and galleries around the world, go through the remote training. Of course, this is not a complete list of its opportunities. Its appearance is changed too. TV doesn't look like a box anymore. It is more like a full-fledged art object. Thereby, this device can be a focal point in the interior or just a stylish accent.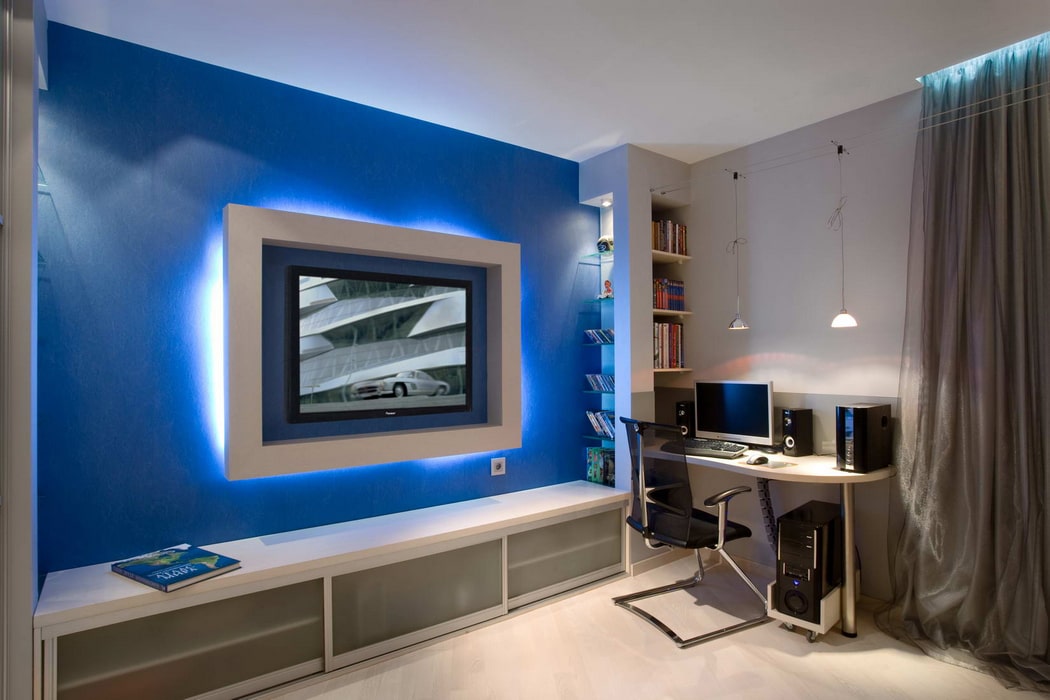 TV as a Picture
You should not choose anymore to hang a picture or to install a TV set. TV can easily replace a picture. Thanks to modern technology, your favorite reproduction will appear on the screen as you approach the screen. In this case, you will have the possibility to put any picture on your TV display depending on your mood. Also, pay attention to this black and golden coffee table. Due to its design, it can be easily divided into four tables, and everyone can sit comfortably in front of the display with some snacks. Interior design for TV wall mounting should be in any style, even in classic one: you can turn on a fireplace or some classic picture on it.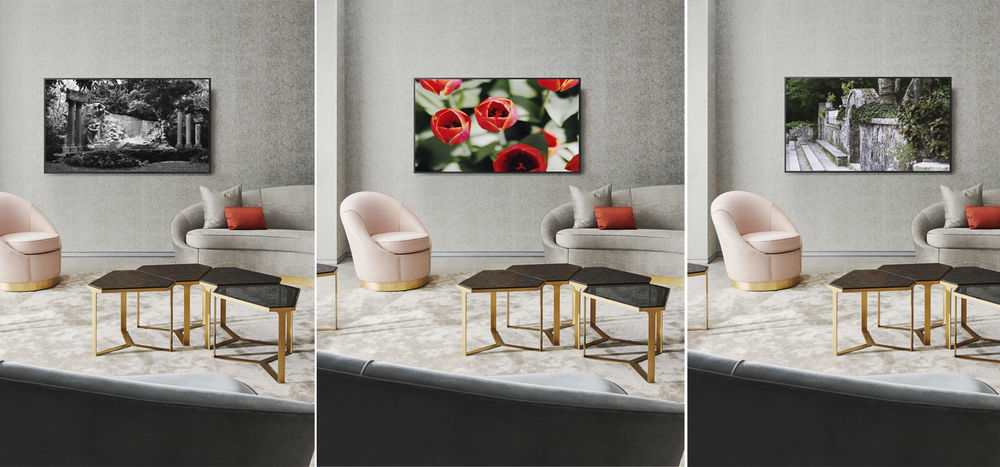 TV as an Art Object
If you install the TV on a stylish stand, hiding all the wires in it, then it can be considered as a real art object that can be an addition to the stylistic decision of space. Due to the "interior mode" of work, any image can be displayed on the screen: from the current author's screensavers to memorable photos. At the same time, the TV can look like a modern sculpture or an easel – it all depends on the stand on which it is located.
TV as a Multimedia Device
A modern TV is a part of your personal multimedia world. If you are not at all attracted to watching TV shows, you can always connect the TV to your smartphone and listen to your favorite music, audiobooks, and popular podcasts without being distracted from household chores. A thin rectangular shape of a modern flat-panel TVs suits perfectly to the marble and silver elements of the interior.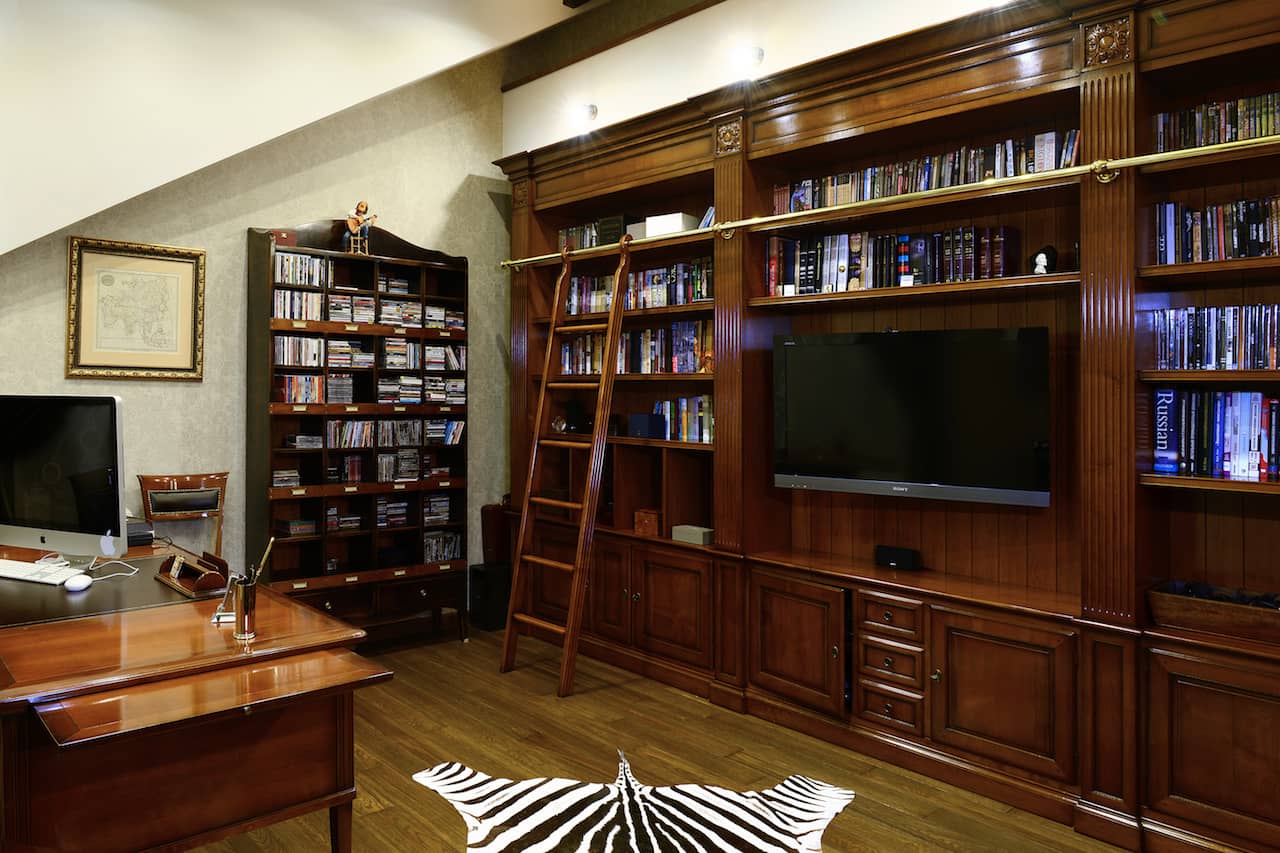 In the office, you can use the TV to view work projects, hold presentations, or turn on a video with an aquarium or surf to relax a bit. Nowadays, this device has so many functions that everyone can find something useful.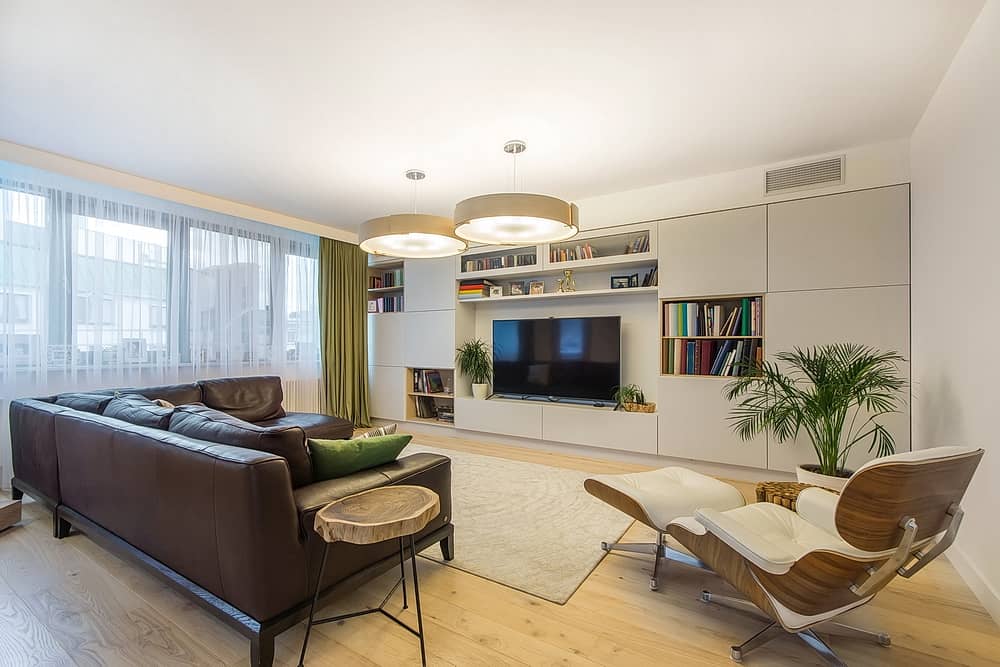 Of course, a large LCD TV will be a nice addition to the living room. You can share your sweet memories or watch some movies with your friends. Moreover, you will certainly have fun spending time with Sony's original PlayStation console. Leather soft sofa and armchair will help not to notice how time flies.
A TV set in your apartment can be a bad habit or a good one. It completely depends on you.