No matter how much time has passed, no matter how many new fashionable trends in architecture and interior appear, but the lovers of the classics will always be plenty. And there are many reasons for this. Classic interior design has an elegant appeal of luxurious look, harmoniously combined with all the necessary functional facilities. Classic house design, as all Classic is timeless and above of fashion, it is popular always and everywhere, so a lot of designers around the world will not cease to receive orders for decoration of houses and flats in a classical style.


Classic can be easily integrated into a room of any size and functional loading. You can apply this style to virtually all premises of your home. But it must be remembered that this canonical and noble style of the interior design is very expensive, requiring both financial and temporal resources. In the classic interior is impossible to lose the attention to one single detail, from the finishing materials to finishing textiles for cushions. But all the efforts and expenses will be rewarded. The interior in the style of Classic will delight you and your loved ones for many years, thanks to its timeless quality, unfading nobility and stunning beauty.
Classic style house decorating real example
We offer you a photo tour through the rooms of a real private housing, arranged in Classic style. We can say absolutely certain that many design solutions used in the design of this particular home can inspire many homeowners on arrangement of their own houses or apartments in the same style.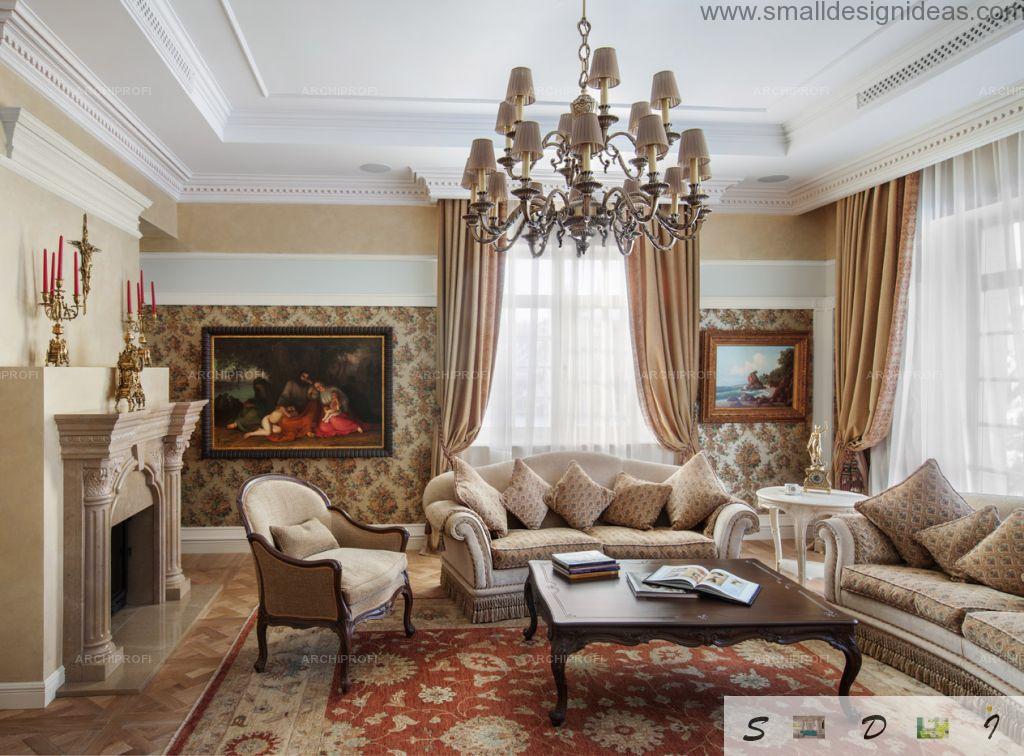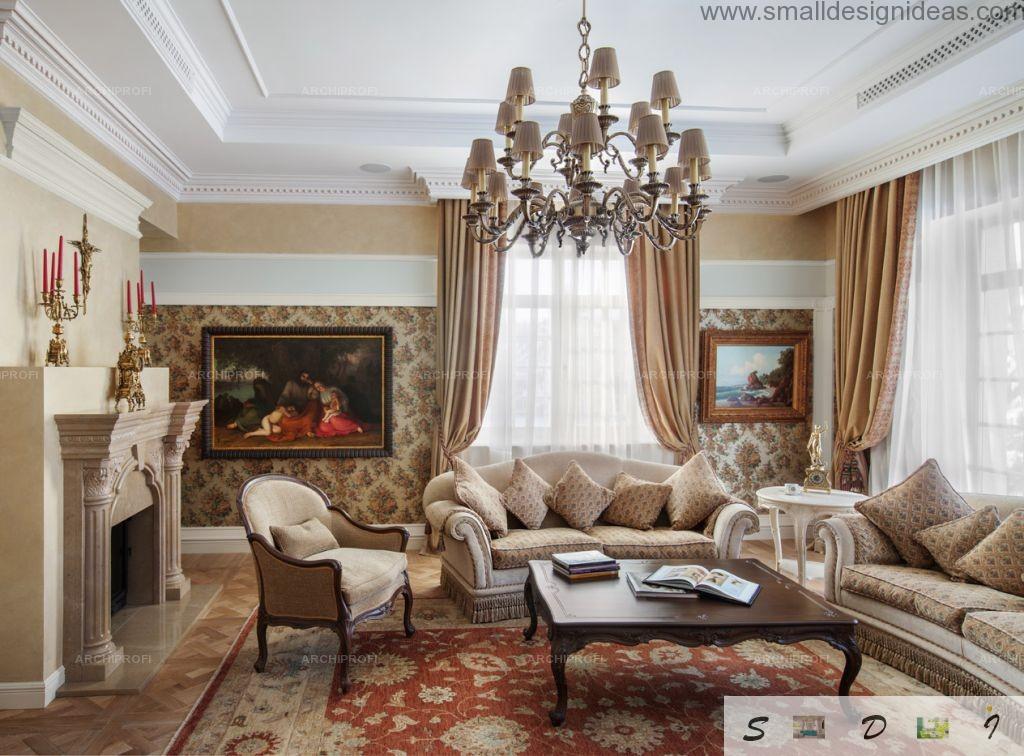 The entrance hall of the house is its hallmark. Any visitor begins to form a general impression of all households with this premise. And in this hall it becomes obvious that the residents of private estate are lovers of traditional furnishings, high-quality furniture made of natural materials, using of classical techniques in interior decoration.
Obviously, in the house with classic decor has to be a spacious living room, which will be the center of the house, its focal point and simply the most impressive room in terms of decoration. Perhaps all the tricks of the classical style in the design of surfaces, furniture and decoration of the space ways, are present in this luxury living. Here we can see as pastel colors in the decoration and upholstery, snow-white split-level ceiling with moldings, and corrugated moldings and baseboards, freezes at the walls, textile wallpaper with floral print, carved solid wood furniture so and a comfortable soft zone. And, of course, in a classic living room has to be a luxury fireplace (not necessary operable), decorated with a carved stone depicting the theme of ancient columns. Composition is crowned by elegant room for the whole family a beautiful chandelier with two rows of lamps.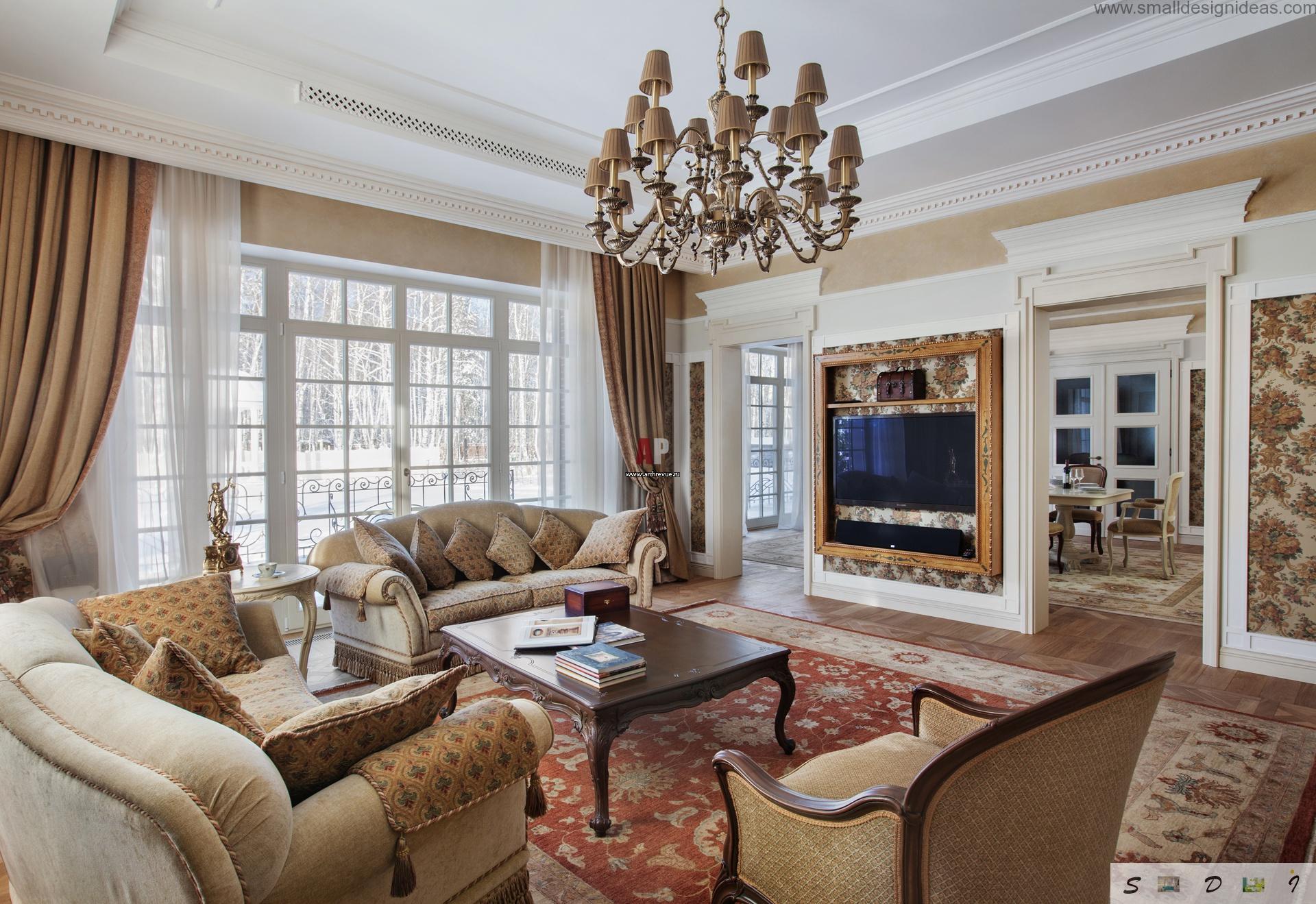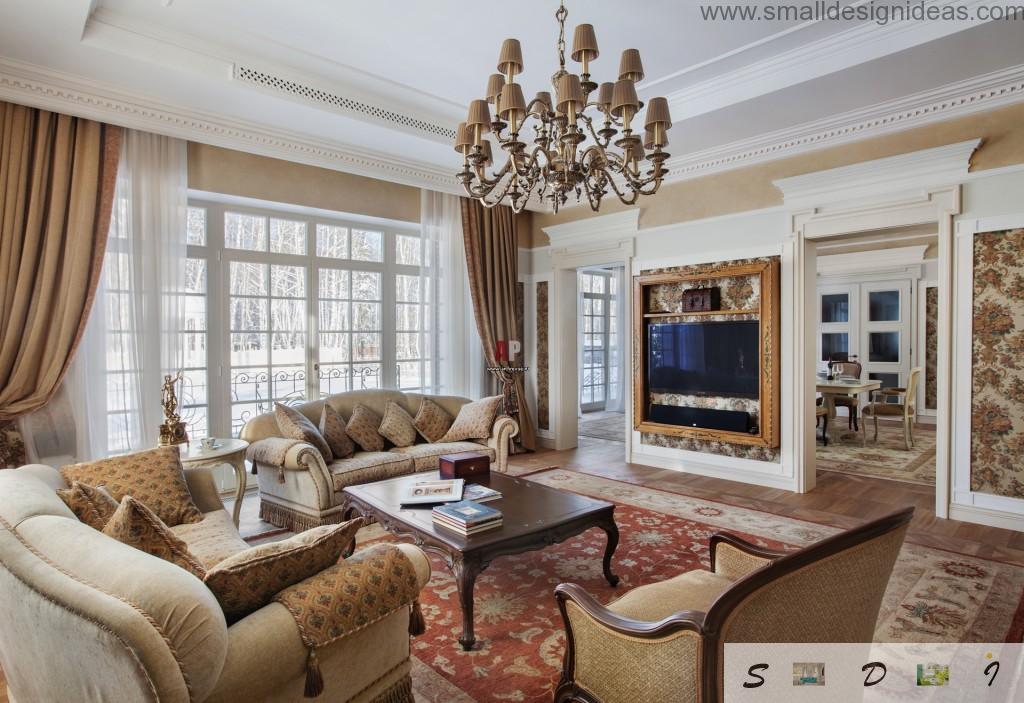 To blend well modern video equipment into such a classic atmosphere will help the carved frame in which TV and other devices ca be placed as pictures.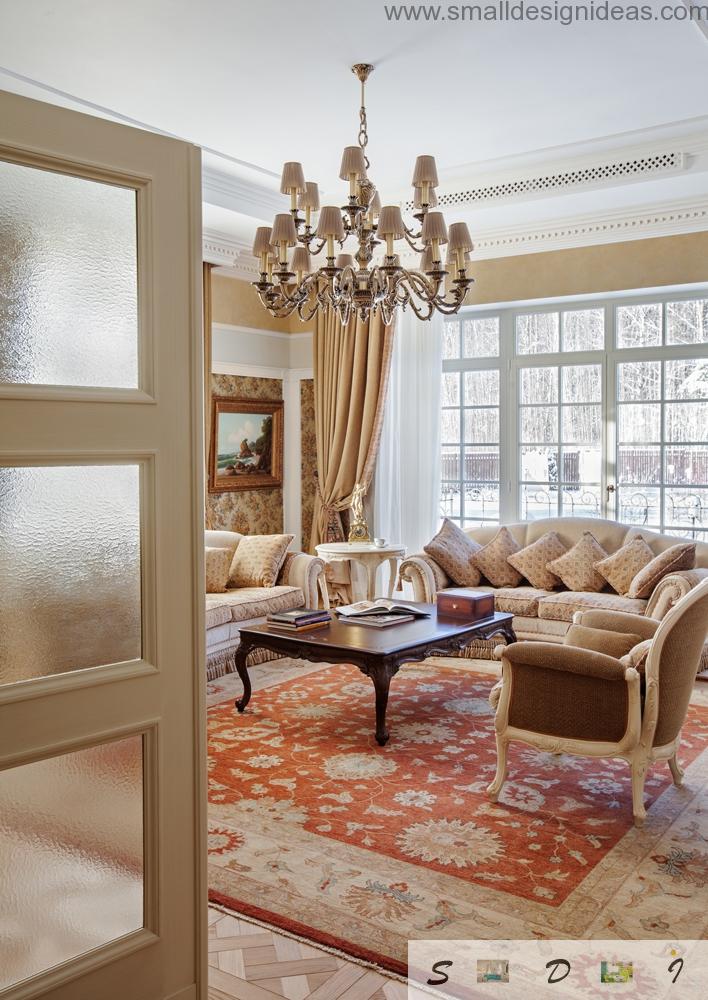 Natural colors, used in the design of the room, creating an incredibly cozy and homely atmosphere that you need in a room with pompous enough interior.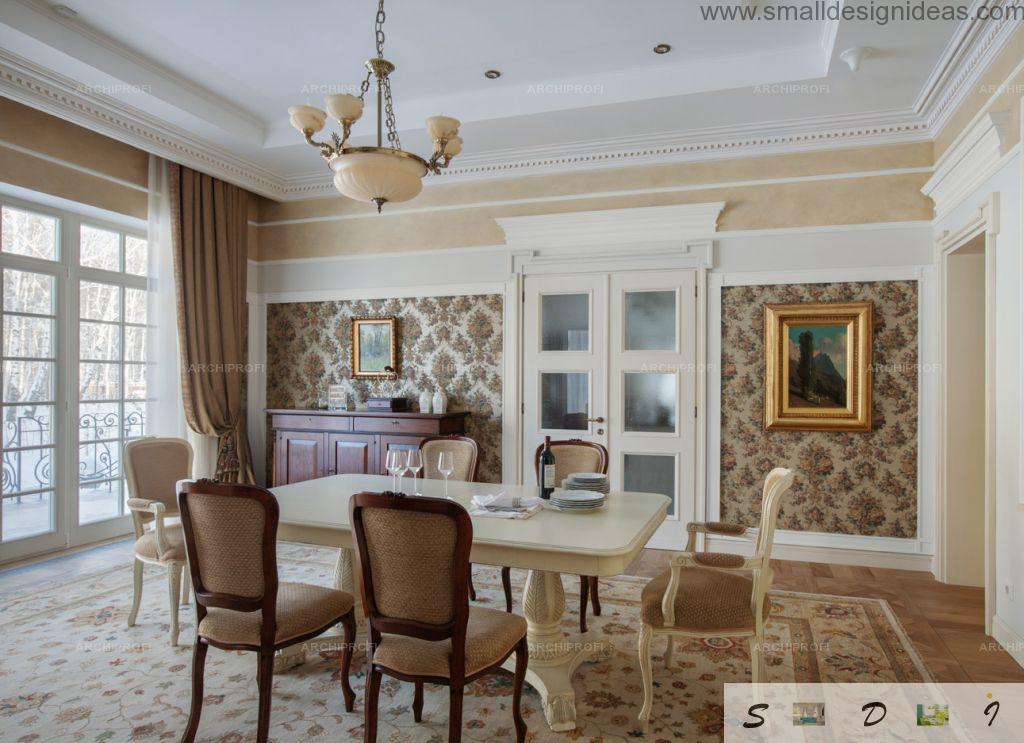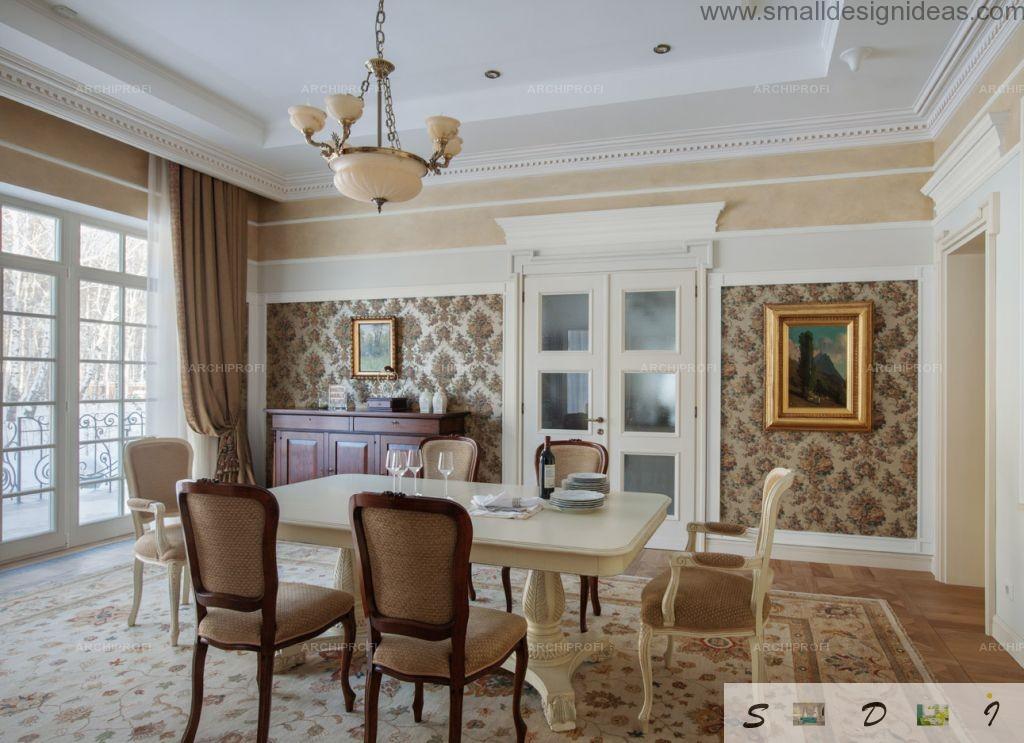 After the living room we find ourselves in as much spacious dining room. Decorating the room for meals is exactly the same to living room interior: the same light-beige tones, combined with white elements, parquet flooring and binding carpet with a pattern, even decorating the windows repeats way of designing the living room as an example of house decorating. The centerpiece of the dining room is certainly a dining group, made up of carved wooden table with a strong base and rounded countertops with classic chairs near it, made from different types of wood.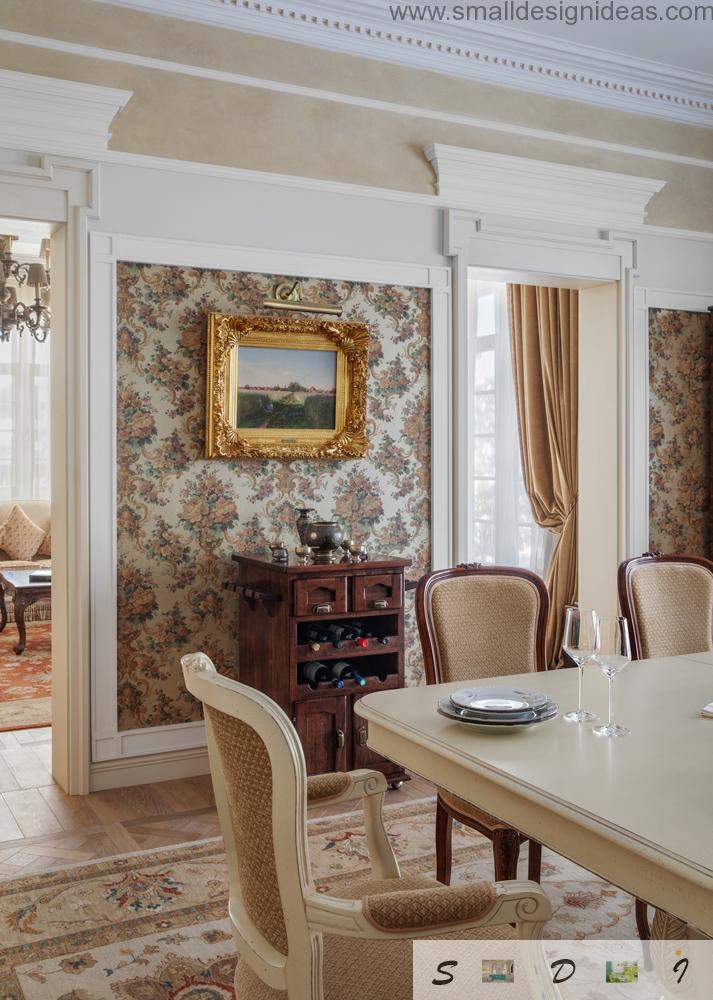 The original subject of furniture in the dining room has become a wine cabinet with a tasting area. It allows you to keep everything you need to taste your favorite beverage. His unusual retro-execution had to be very helpful in this traditional setting.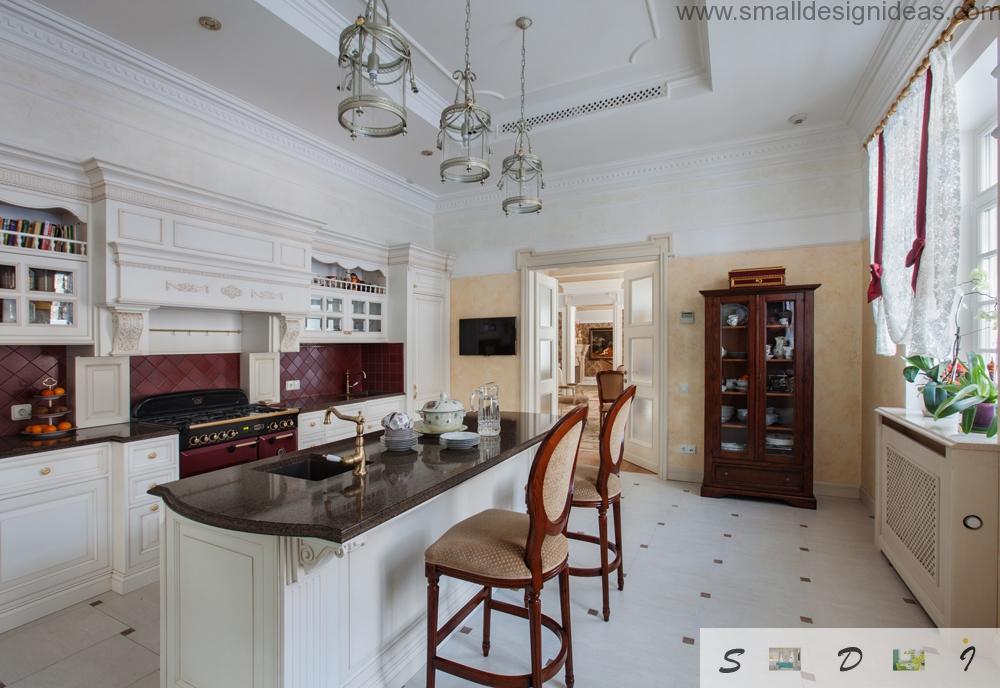 It is logical enough that from the dining room we can freely get to the kitchen area. Spacious room seems even bigger, thanks to the bright, almost snow-white, finish. Carved kitchen cabinets of lighter shade contrast with the deep tones of ripe cherries, which creates a trim of kitchen splashback. Designer was successful to find a retro style plate of the same color theme. There is nothing surprising in the fact that classical kitchen countertops are made of stone. There is nothing more traditional than a combination of two natural materials, stone and wood, in the bounds of classical kitchen. Forged pendant lamps made with streetlights imitation ends the elegant image of kitchen facilities.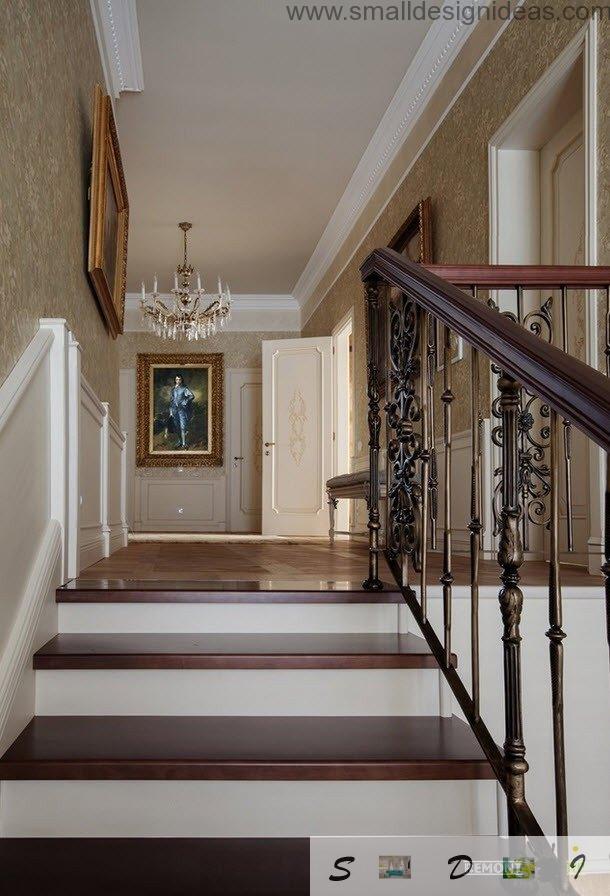 Using luxurious, comfortable and safe ladder we`re heading to the second floor. In terms of space design, modelers can not idle in the classic interior even in the corridors. The walls of the corridors and spaces near the stairs are location for the works of art, beautiful and luxurious wall lights mirrors in carved frame.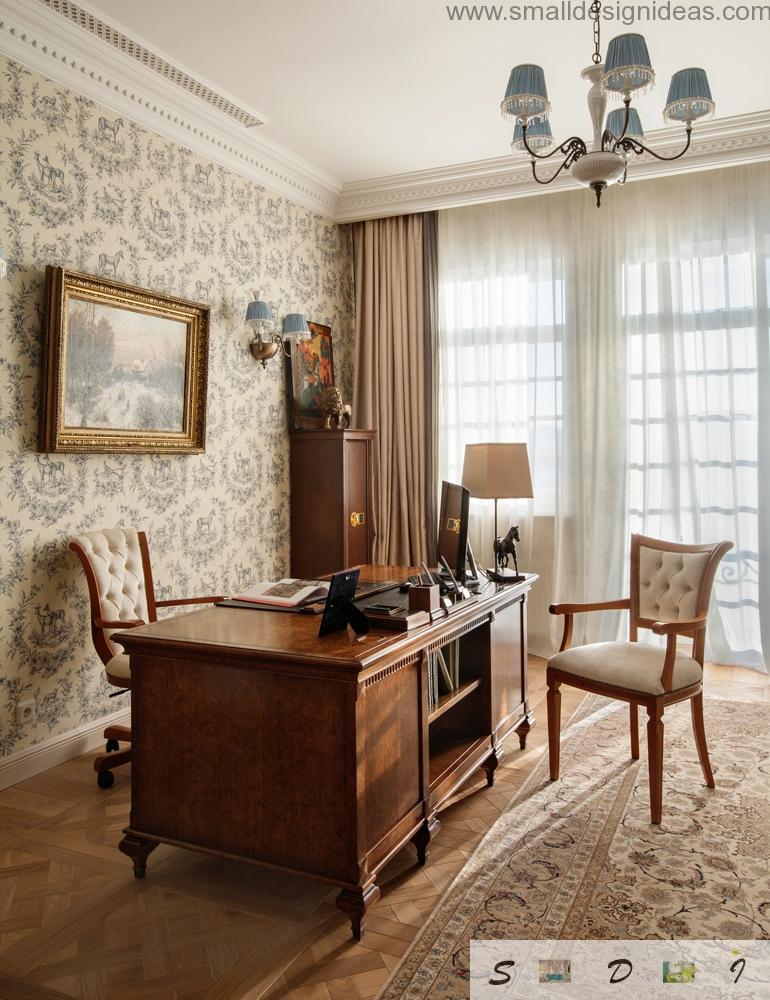 On the second floor there is a room, which is decorated according to all the canons of the classical genre. Necessary massive desk with drawers, which affects with its impressiveness and gives a special, business attitude throughout the room. The office must necessarily have the bookshelves, opened or glass, but so that the spine of the book were clearly visible. Any office, not only classical, requires a convenient and comfortable place to read. Armchair or sofa with a floor lamp or table lamp will be the ideal choice for book lovers.
The second floor of this private house also comprise the master bedroom too. This imposing premise, decorated in the best traditions of classic interiors, contains not only a king size bed, but a small boudoir – corner for reading and chatting. Despite the abundance of choices of fabrics, carpets, upholstery, their colors, patterns and ornaments, the room does not look clumsy, and all thanks to the harmonious combination of pastel, neutral shades with splashes of wood tones of natural material.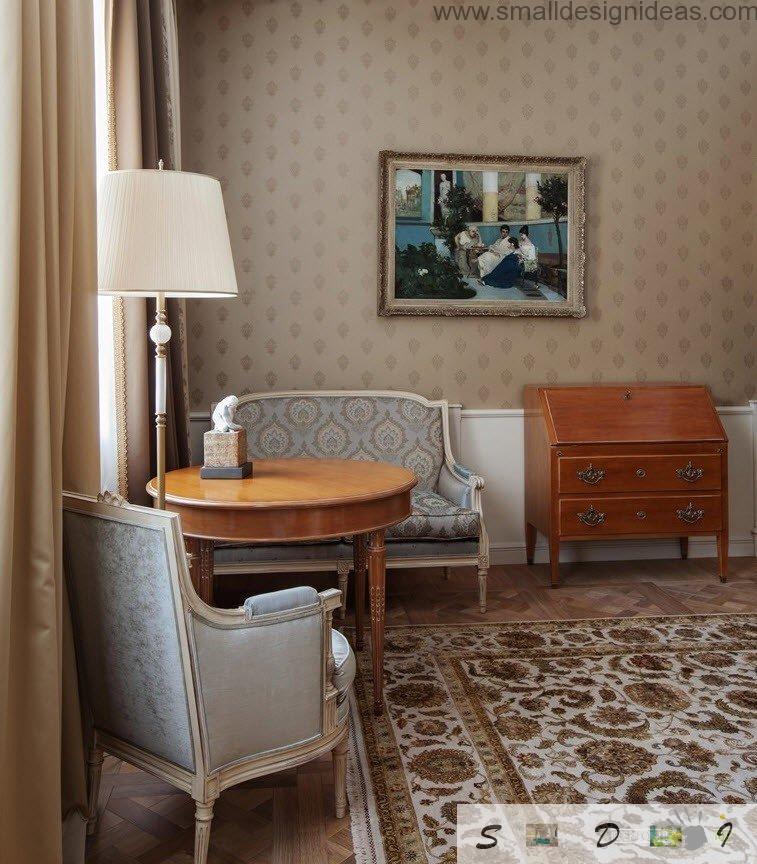 Textiles in a classical setting given special attention – the curtains, tulle or curtain, upholstery, cushions for sofas and chairs, even textile wallpapers – everything should be of the highest quality and to be in balance with the rest of the interior.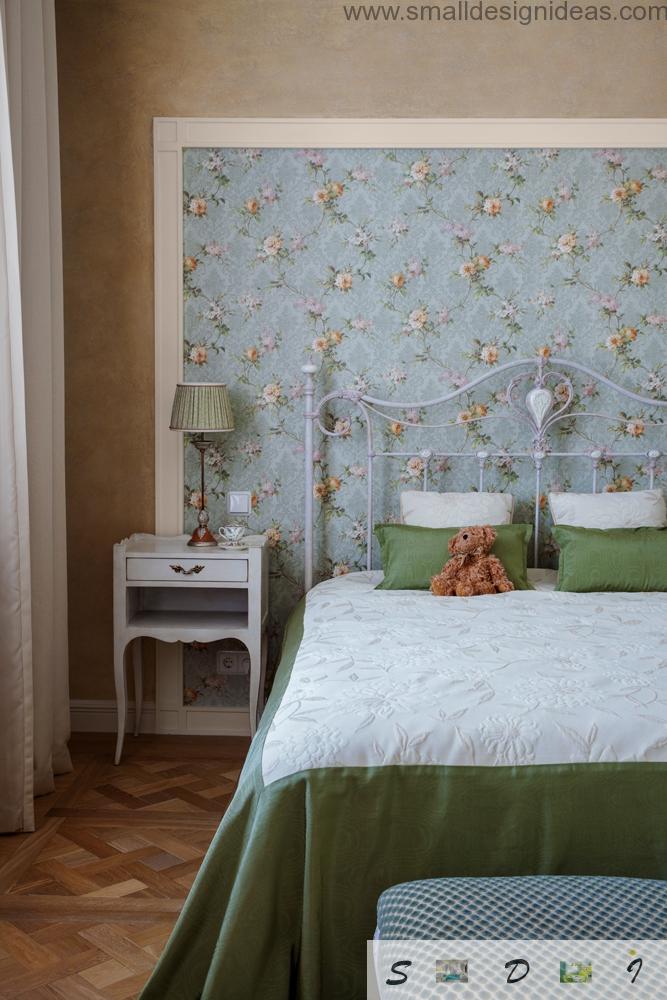 Another private rooms, located on the second floor. It`s a maiden bedroom. In the focus of attention here is bed with forged metal headboard, white painted. With textile wallpaper of different colors and white moldings space arrangement at the head of the bed is executed here.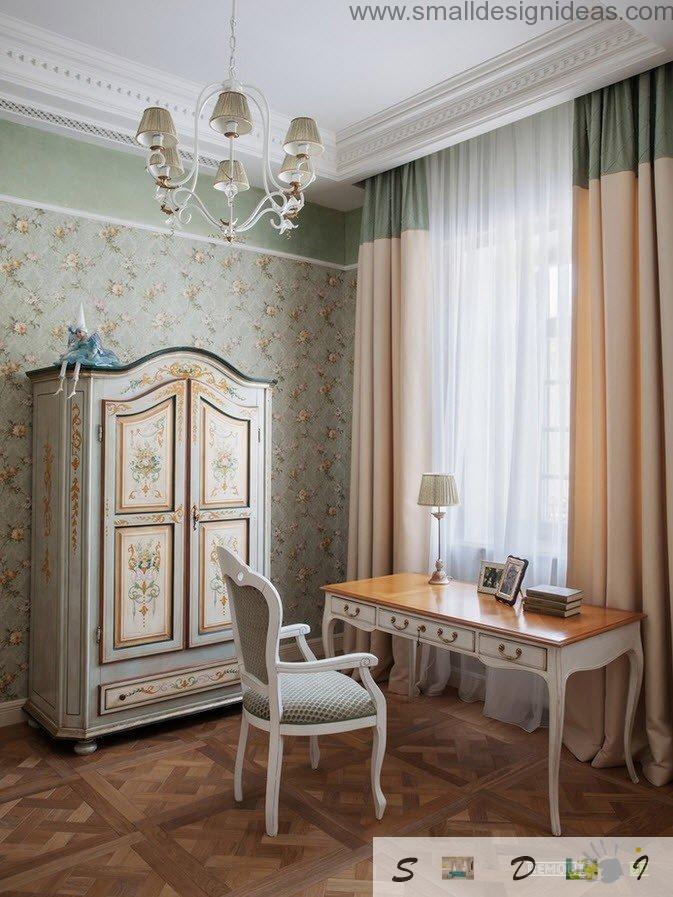 The decoration of the bedroom became the old closet, decorated in decoupage technique. Flower theme that is present in the decoration of the walls has found its reflection in the wardrobe doors. A light, bright furnishings and curved legs have completed the fresh image of classical bedrooms.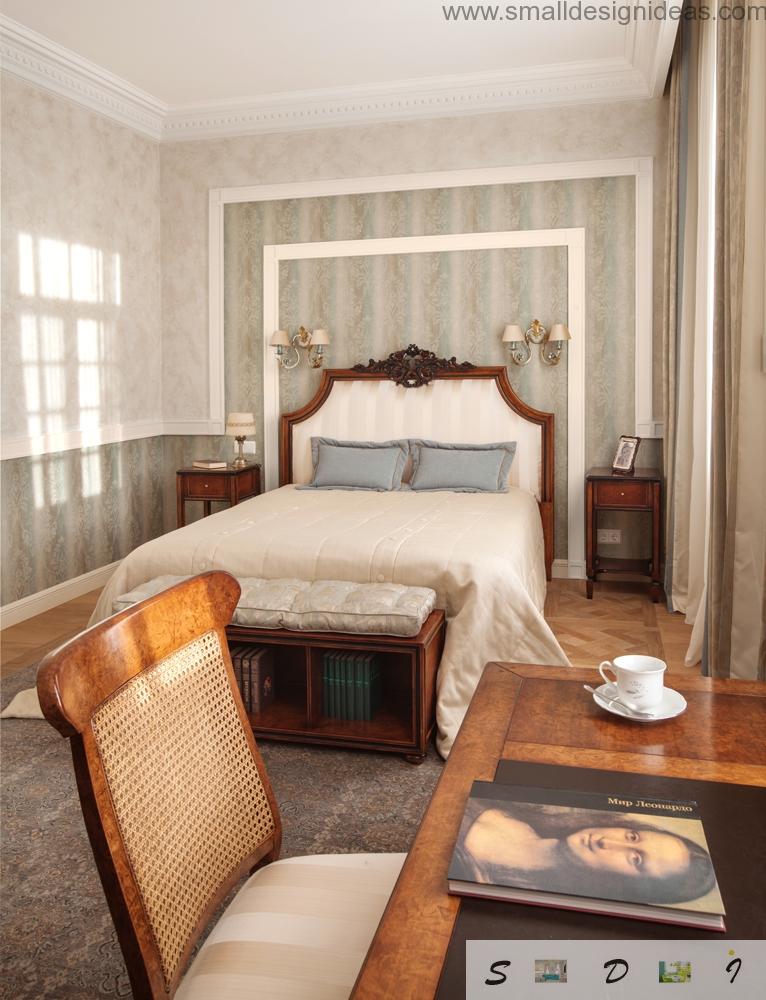 The guest bedroom in a classic style impresses with its elegance and simplicity. Calm color palette sets for rest and relaxation. Massive bed with a carved wooden frame and cushioned headboard promises a deep and restful sleep, and wall lamps allow to read a favorite book before bedtime.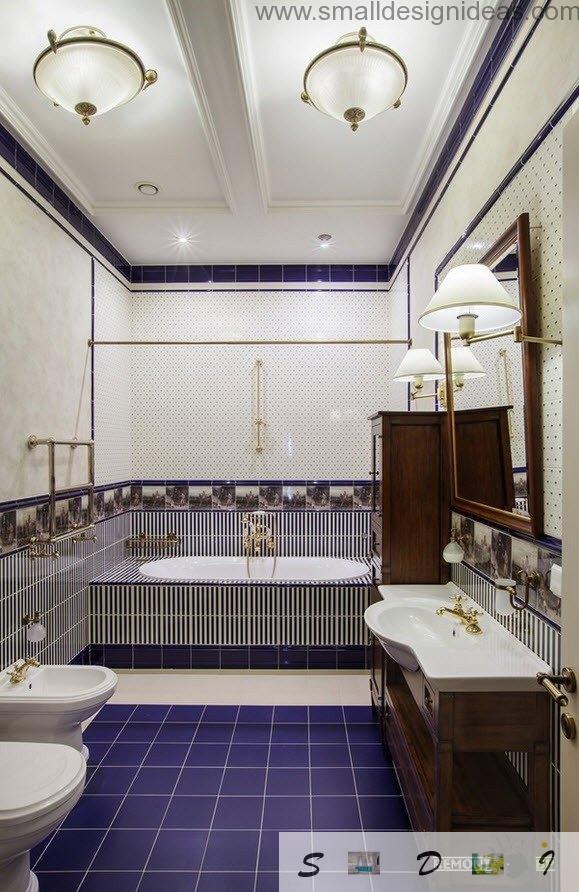 Next to the bedroom is located a bathroom, decorated in a fairly bright, contrasting colors. Facing with ceramic tiles with a contrasting mix of the white tone and color have created a unique atmosphere of ultramarine bathroom. Massive furniture made of dark wood species somewhat neutralizing the activity of finish and gives the room a static and stability of ancient pieces of furniture.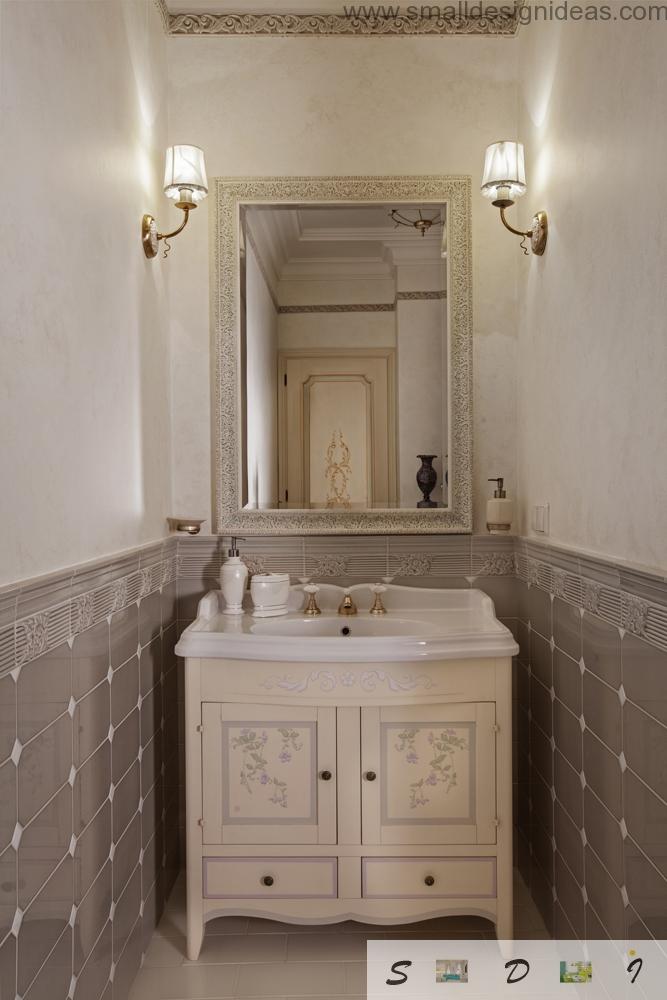 Even such a modest size room as the bathroom can not afford neutrality in finishing and furnishing. Neutrality is applicable only in the choice of colors, but the furniture is made in the old manner, mirror framed in carved, lacy frame, and we can discern gilding in the design of plumbing fixtures and accessories.