Are you looking for the right countertop for your new kitchen? Or maybe it's time to replace the worn-out one? Check out our tips and photo examples, choosing from hundreds of patterns and colors: wood, stone, and concrete. Are you preparing your dream kitchen design or would you like to change something in the current situation? If you are thinking about choosing a countertop, then the number of offers on the market is too large to easily select the right material and pattern. In the article below you will find answers to all the questions.
Content: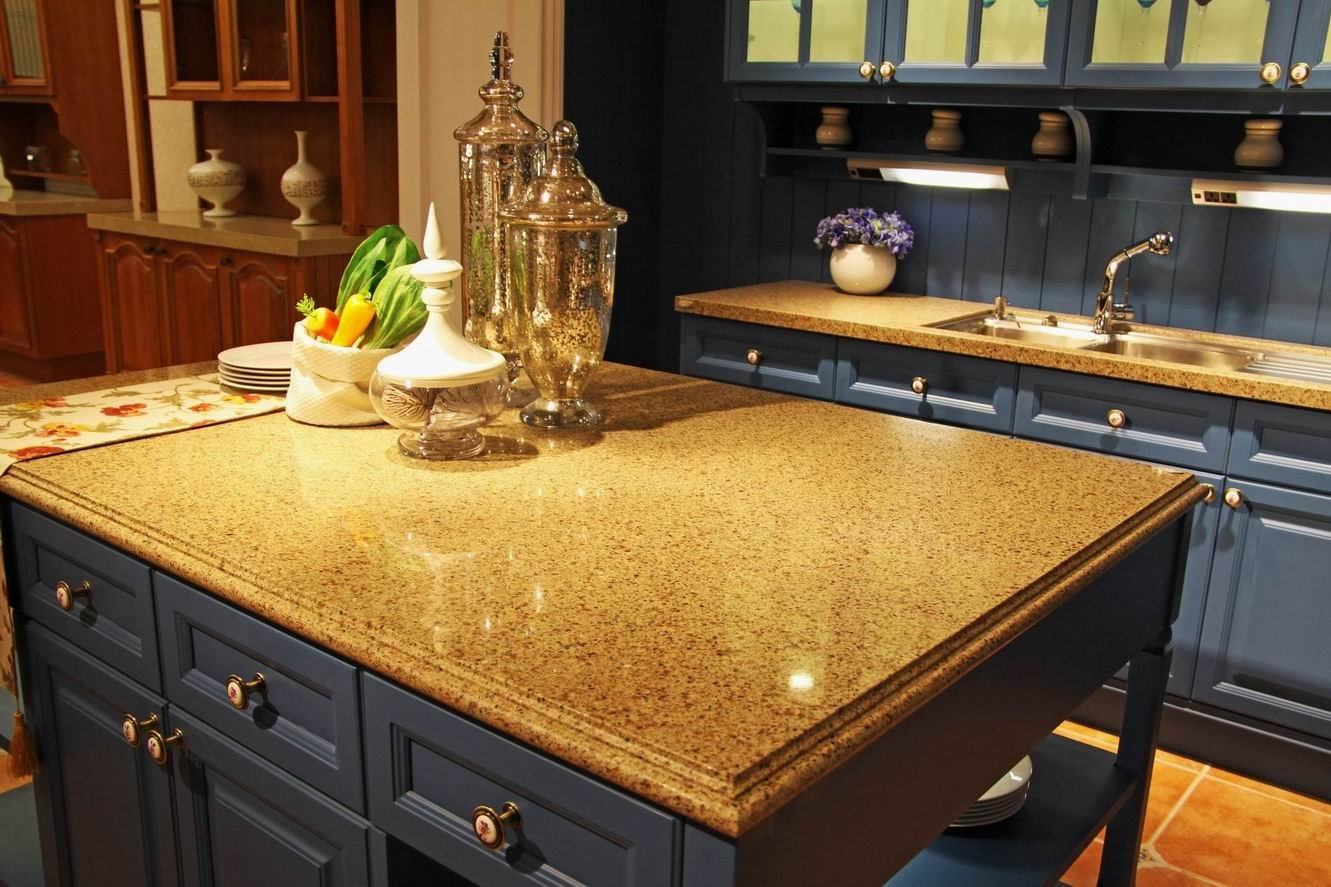 Kitchen Countertops: the Main Selection Criteria
The kitchen is a showcase at home. One of the important elements on it is the tabletop. It must not only be aesthetically pleasing and match the interior design, but also be extremely durable, resistant to damage, scratches, and stains. Every day the surface is exposed to spilling various liquids, wiping, cutting vegetables or meat, even to high temperatures, in the form of hot pots.
The countertop creates a work surface for preparing food, but it is also a place for the most important kitchen appliances, such as a sink or stovetop. In addition to its practical function, the countertop also plays a decorative role.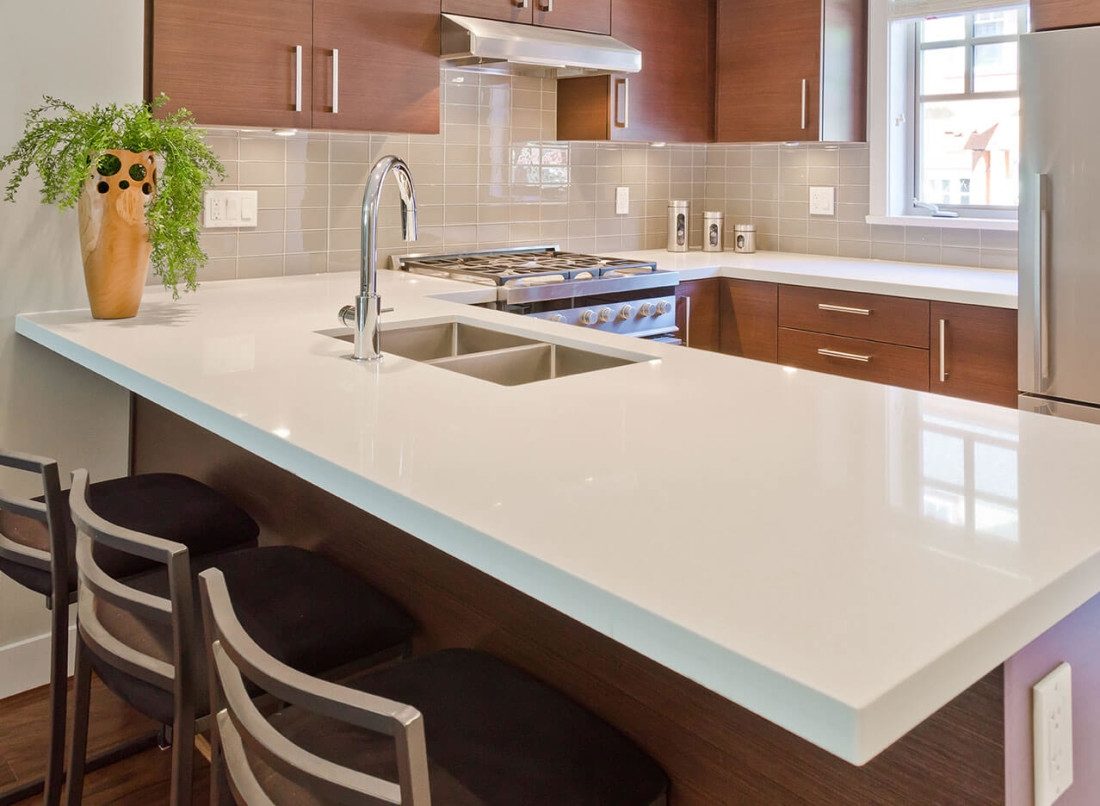 Several factors will influence the type of countertop you choose for your kitchen:
The look goes first. And not without the significance of the style of the kitchen and its colors, which most often determine the character of the countertop. When furnishing a kitchen interior, first of all, users choose cabinets, material for walls and floors, or kitchen equipment – a work surface should be adapted to the rest of the equipment.
Second, the frequency of use is an important factor. In a kitchen that is intended for a large family, the worktop should be highly resistant to all possible factors; and in a tea room, a less reliable option will probably work.
Choosing a kitchen countertop is a very important decision that must be made already at the design stage of this room due to the need to match colors and patterns to other decor elements. Depending on the budget provided, you can choose cheaper (laminated and wood) or more expensive (made of pudding-stone) models. Until recently, wood models in combination with white furniture dominated fashion, but the location depends on the taste of the household. The richness of the patterns of countertops and facades gives unlimited possibilities.
The assembly of the kitchen countertop is best to be carried out by a specialized team. Most often, this is included in the cost of installing a kitchen and includes making holes for appliances and the necessary connections between worktops. Using professional help will give you the confidence that the top has been installed as designed and properly prepared for use.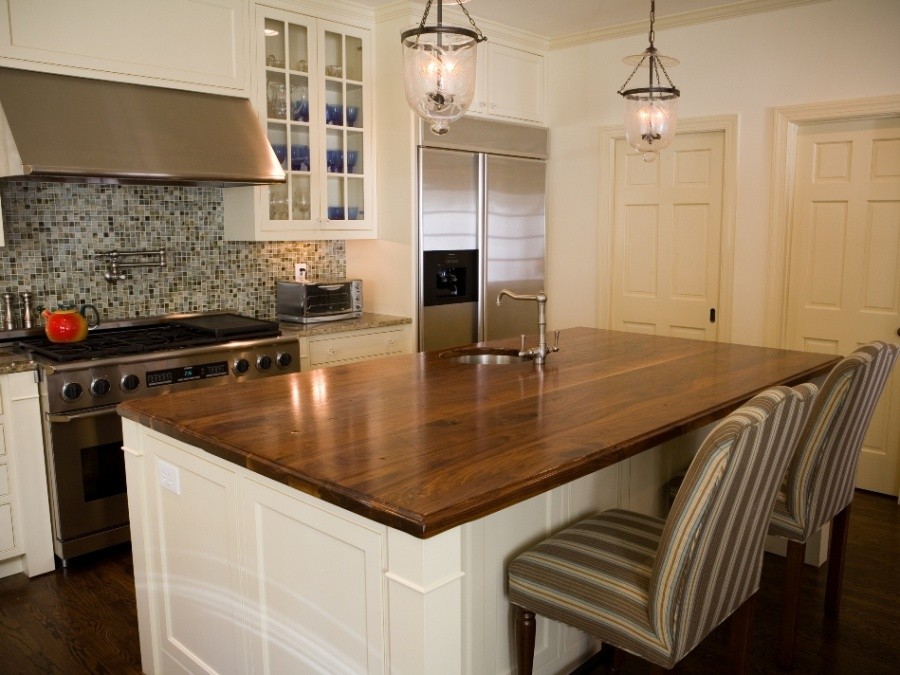 Kitchen countertops: Photos of Models from Different Materials of Manufacture
Currently, the market offers an endless number of countertops options, differing in material, color or texture. You can easily find your dream option, although sometimes you cannot avoid making difficult decisions. Looks or durability is more important? The choice belongs to every happy owner of a house or apartment.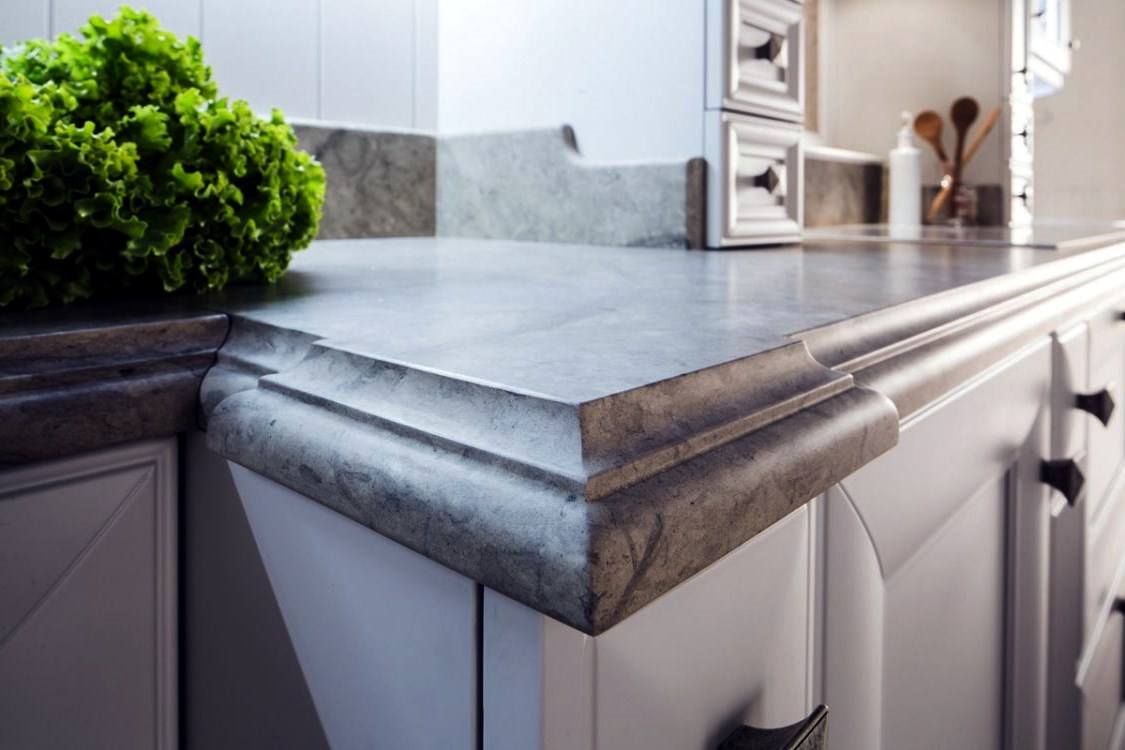 Laminated board kitchen worktops
It is still the most popular type of kitchen worktop and is experiencing a true renaissance. Its quality has increased significantly, so laminated board models can easily compete with more noble materials. Such tabletops are made of non-combustible chipboard, covered with a layer of a laminate of any color, both homogeneous and imitating stone, wood, or hardened steel, in matt, semi-gloss, or recently fashionable glossy versions.
Laminated board worktops from leading manufacturers are resistant to abrasion, impact, scratches, high temperatures (up to 180 C), staining, not susceptible to discoloration under the influence of sunlight and cigarettes. The edges of such slabs can be rounded on one or both sides, as well as finished with a profile. The wealth of designs and colors will surely attract potential lovers of this material. A laminate board imitating wood can be successfully used as a kitchen table.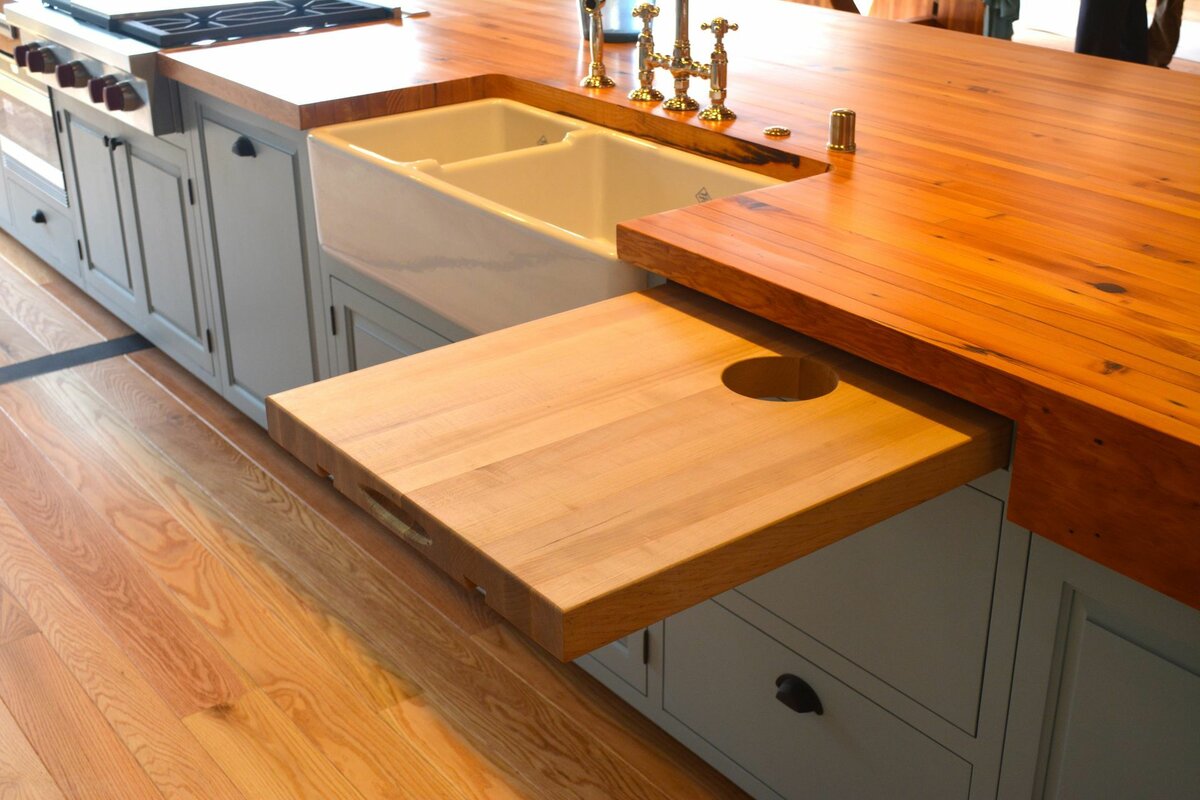 Composite Kitchen Countertops
This is a solid and reliable offer. The material is a mixture of 2/3 natural minerals combined with 1/3 acrylic resin and pigments. The tops are made of MDF boards, which are covered with a 10-16 mm thick composite layer. This material is thermoplastic, it can be of any shape, so you can easily get any shape, and no seams will be visible at the joints.
Composites are suitable for any kitchen because they come in a variety of colors – uniform, speckled, or with visible filler. The models are very durable, non-toxic, and resistant to UV radiation, temperature, humidity, spills, or damage. Once installed, the top is ready for sanding and periodically polishing to maintain a beautiful surface for up to 20 years.
Good, durable material is also followed by a high price, and this is the only disadvantage of composite countertops. The undoubted advantage of the composite is the ability to make a sink out of it and connect it to the work surface without visible edges. This solution provides a unique visual effect while maintaining a high degree of hygiene, which is very important in the kitchen.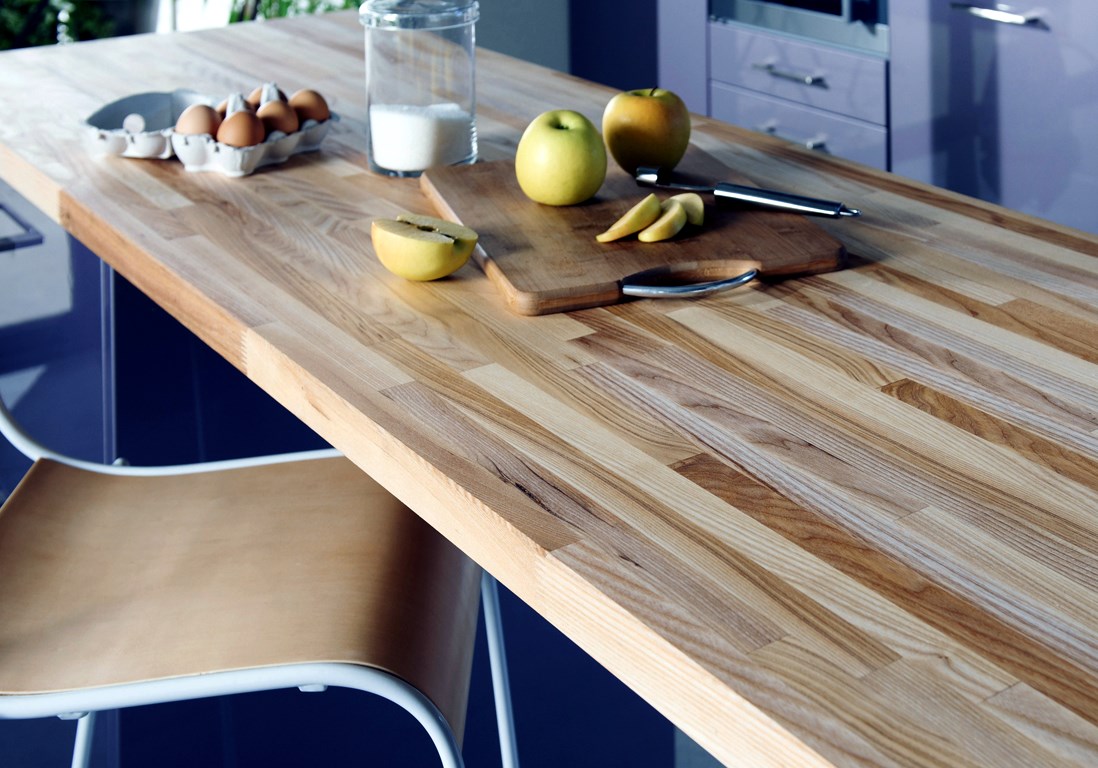 Stone kitchen countertops
First of all, natural stone is associated with luxury and elegance. Indeed, the choice of such a material is associated with higher costs, but the durability and quality will certainly beat the costs incurred. The choice of stone for countertops is very broad. You can consider different colors and patterns of the mineral since there are several hundred types of proposals on the market.
Stone countertops are custom-made. Mostly marble, granite, or travertine are used, however, each type of mineral has different properties such as hardness and water absorption.
Granite is one of the most resistant minerals and is therefore recommended for kitchen countertops. It is resistant to damage, food, chemicals, and moisture, and copes well with high temperatures. Marble behaves a little worse, but after systematic impregnation, it will conquer with its appearance.
The advantage of stone is a wide range of options for processing tabletop edges. You can choose from simple solutions using complex shapes. Consider granite, as it is a beautiful and elegant material that does not absorb moisture and stains, and is resistant to damage and heat.
Steel kitchen countertops
These kitchen countertops are an original solution in a minimalist, modern kitchen. Calm colors, uniform surface, practicality, and undeniable elegance are the main characteristics of stainless steel worktops.
The material is resistant to moisture, mechanical damage, temperature, or spilled red wine. Among these many advantages, there is one drawback – the steel must be wiped dry, because, unfortunately, any traces of water will be visible. Also, hard water drops will leave the stains of limestone.
Steel countertops are a great alternative for modern design aficionados, as well as for people who love innovative solutions and have a thick wallet. Most of the countertops are made of chipboard or fiberboard covered with a steel sheet with a thickness of about 1-3 mm. However, there are now new products that keep the surface thickness to a minimum.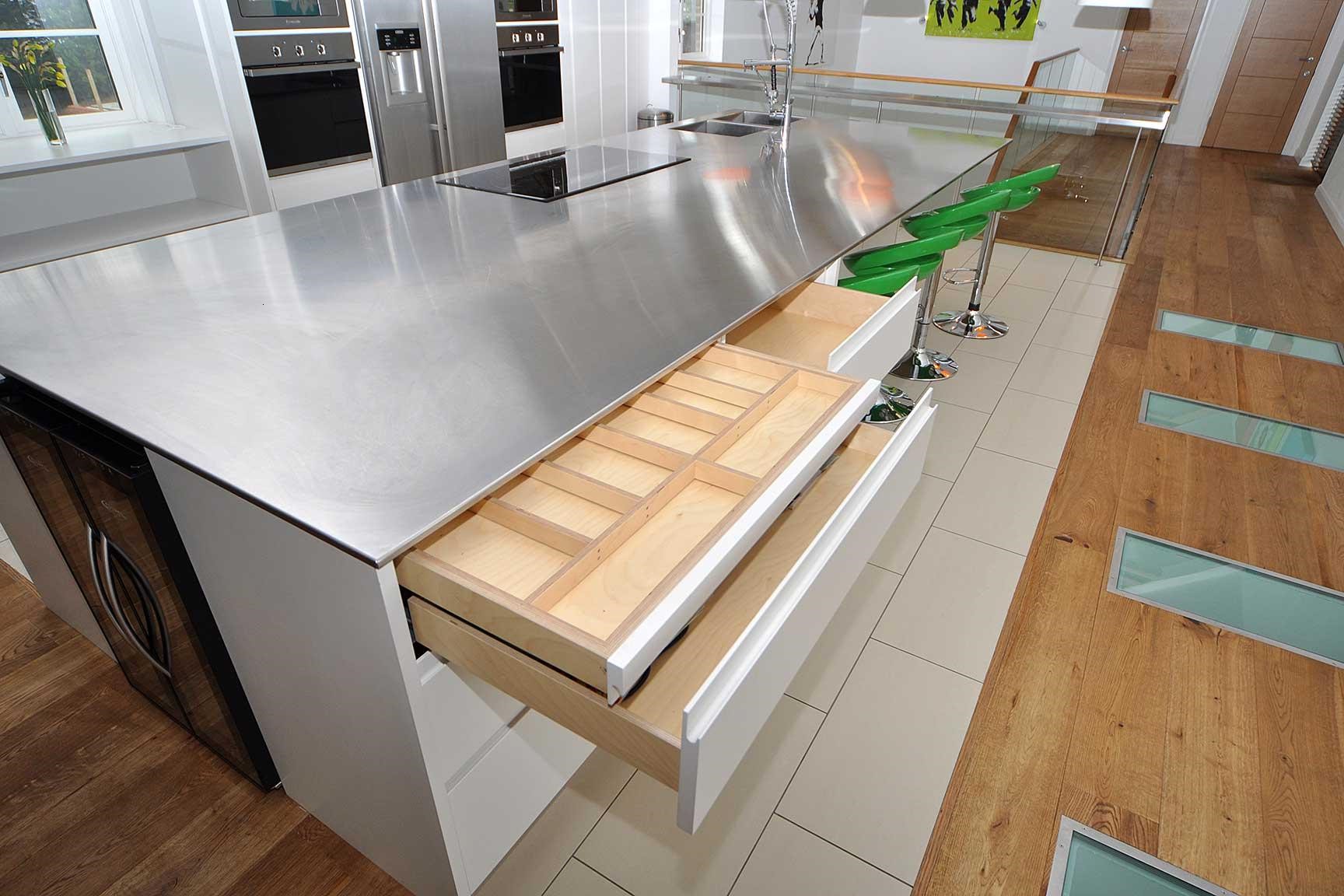 Glass countertops
This is another kitchen innovation. Tempered glass is used to furnish the forge, so the surface is very durable and won't break. Adhesive glass is also used, in which the two panels are separated by several layers of foil, ensuring the high safety of the material. Even a broken tabletop won't hurt a potential user. The thickness and length of the glass top have a very wide range, and in the case of tempered glass, the thickness starts from about 10 mm.
There are many options you can use in your kitchen, as glass can be tinted, matte, shiny, and even digitally printed with your favorite motif, look, or photograph.
All glass countertops, as well as stone ones, are custom made. This certainly adds to the cost, but having a separate item in the kitchen is worth the few inconveniences. Glass that can be used for tables or countertops is scratch-resistant, durable, and highly transparent.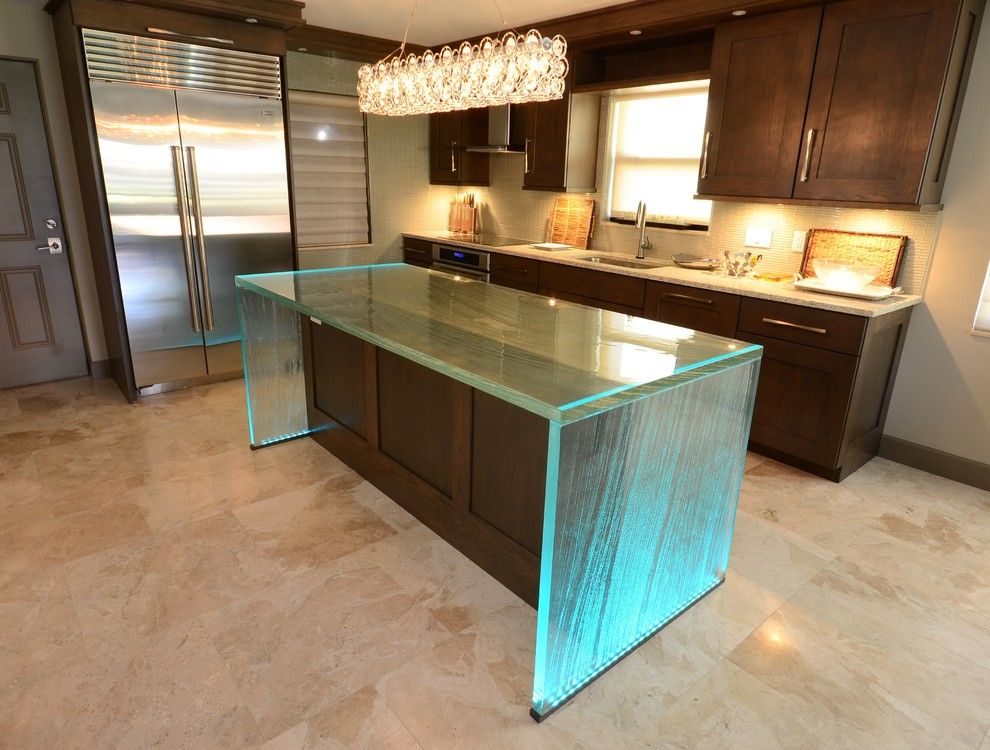 Wooden kitchen countertops
The wood is a timeless material that looks great in both modern and rustic kitchens. A wooden countertop will bring a little coziness, warmth, and connection with nature. But it will also require systematic maintenance because wood is prone to staining, scratches and has low resistance to high temperatures.
Spilled red wine must be wiped up immediately, slicing bread without a board is not possible, and placing hot pots will leave difficult-to-remove marks.
The type of wood from which the tabletop was made is significant. Designers recommended hardwoods such as oak, ash, and beech. However, more and more exotic species are used, which have a higher density, contain a large number of tannins, and, therefore, are much better in a humid environment, which will suffice in the kitchen.
The lover of wooden countertops will be faced with a choice of solid or glued wood. The former will have natural graininess and unevenness, but at the same time, they will tend to deform. Glued timber is much more durable, does not deform, does not crack, and retains its natural beauty and undeniable charm.
Kitchen Table with a Worktop
The table is the heart of the whole house. It is that place where people gather for dinner day after day. Of course, this piece of furniture has many other uses. Today you will find unique and designer contemporary tables. These tables deserve special attention as their appearance is very different from traditional models. Original, trendy, and contemporary kitchen tables with countertops give the room a completely different look. These models are ideal for the dining room, living room, and kitchen. Comfortable, durable, and made from high-quality materials, they will last for years.
Other Use for Countertops
Both laminated and wooden countertops can be used as work surfaces outside the kitchen as well. Cut to size and fitted with furniture legs, a wooden kitchen countertop can double as a dining table, coffee table, or desk. You can also use a laminated top instead of wood. Keep in mind, however, that in most of the available models one of the edges is rounded, so cut off the profiled side and finish it with a veneer to match the top color. To get an extra workspace in a small kitchen, you can select a piece of the worktop of the desired color and attach it to the wall using folding brackets. Often, other items of equipment and interior design, such as stairs and risers and internal window sills, are made from countertops.
Skirting Board for Kitchen Worktops and other Accessories
If you are choosing a laminated or wood countertop, then the accessories designed for it will also be useful. On sale, you will find specially profiled strips that allow you to mask the connections between worktops, that is, the kitchen skirting board. For selected countertops, you can also purchase color trims that seal the connection between the countertop and the wall. Wall panels, available in the same variations as laminate countertops, are also becoming more popular. The dimensions of such a board allow you to finish the entire surface of the wall between the cabinets.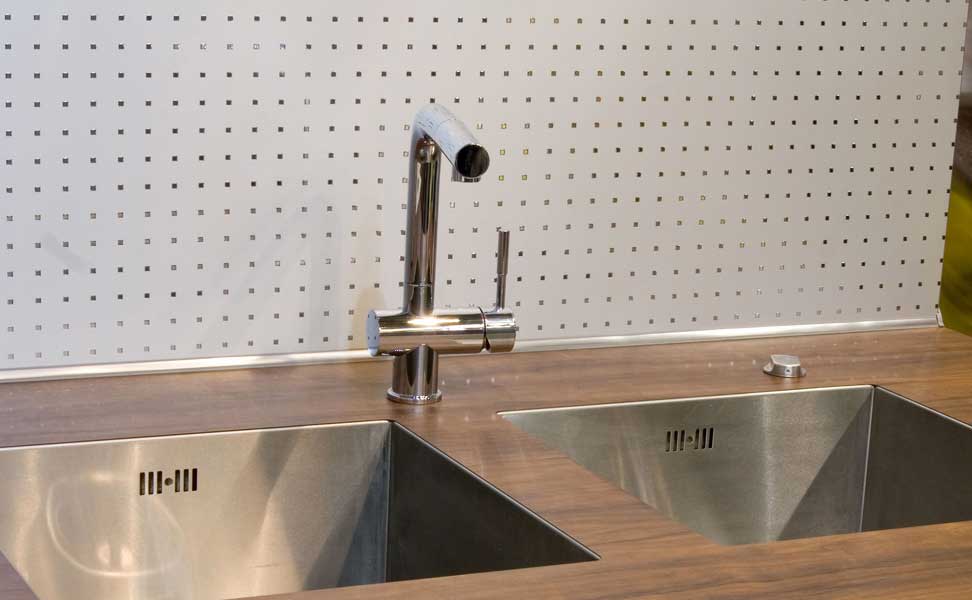 Kitchen Worktop Height
The parameters of the ergonomic tabletop are surprisingly very controversial. Although the correct height of the kitchen countertop has been studied and determined long ago, there is always someone who will say that other standards now prevail. The correct height is more than just centimeters. The working surface should be 10-15 cm below the arm bent at the elbow. This worktop height is most convenient for medium to heavy work in the kitchen. So these are the best tabletop parameters for the most common actions that are performed on it. To understand how this height was determined, think for a moment about what you usually do when preparing food? What is usually done on a kitchen countertop? Most often, preparation for cooking comes down to cutting all the ingredients. To make this operation convenient, it must meet two most important conditions:
Standing at the counter, you don't have to bend or slouch.
When cutting, you do not need to raise your entire arm, just move at the elbow.
Thus, by checking their position during work, the researchers determined the most ergonomic height of the kitchen countertop.
Kitchen Countertop Standard: What's The Comfortable Height For Your Height?
There are certain numbers in the known standards for tabletop heights:
for people up to 160 cm tall, the top should be at a height of about 86-88 cm;
for people with a height of about 170 cm – at a height of 91-94 cm and more.
There are other specific worktop heights that depend on the type of work in the kitchen. Therefore, if you work intensively in a cooking room or vice versa, check the correct height of the kitchen countertops.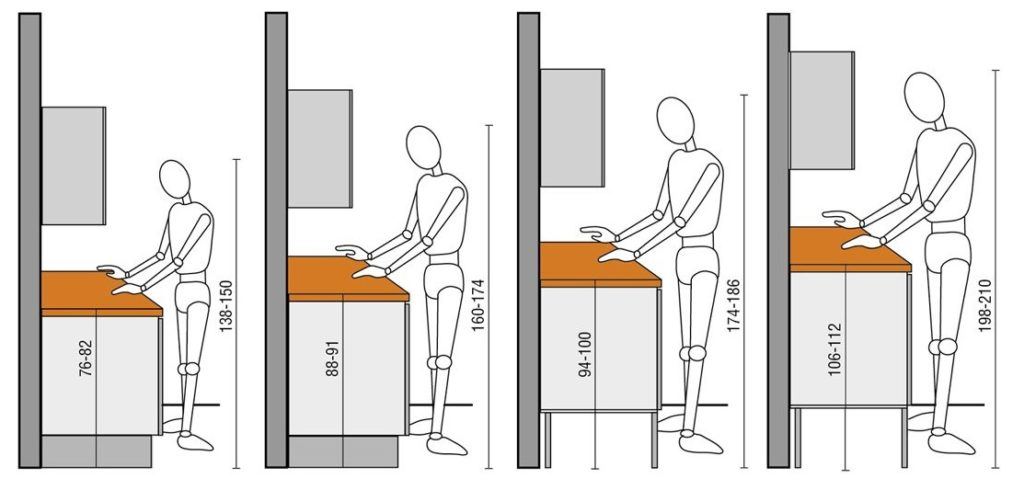 Kitchen Counter Height for Heavy Work
If you often knead dough in the kitchen, the attitude towards work changes significantly. For this type of operation, it is recommended that you reduce the height of the tabletop so that you can apply pressure to the tabletop with your whole body. The height of a kitchen countertop for heavy work is about 15-25 cm below the arm bent at the elbow. For strenuous kitchen work, it will be more convenient when you can bend over the countertop. This position allows you to work with your whole body, freeing your hands.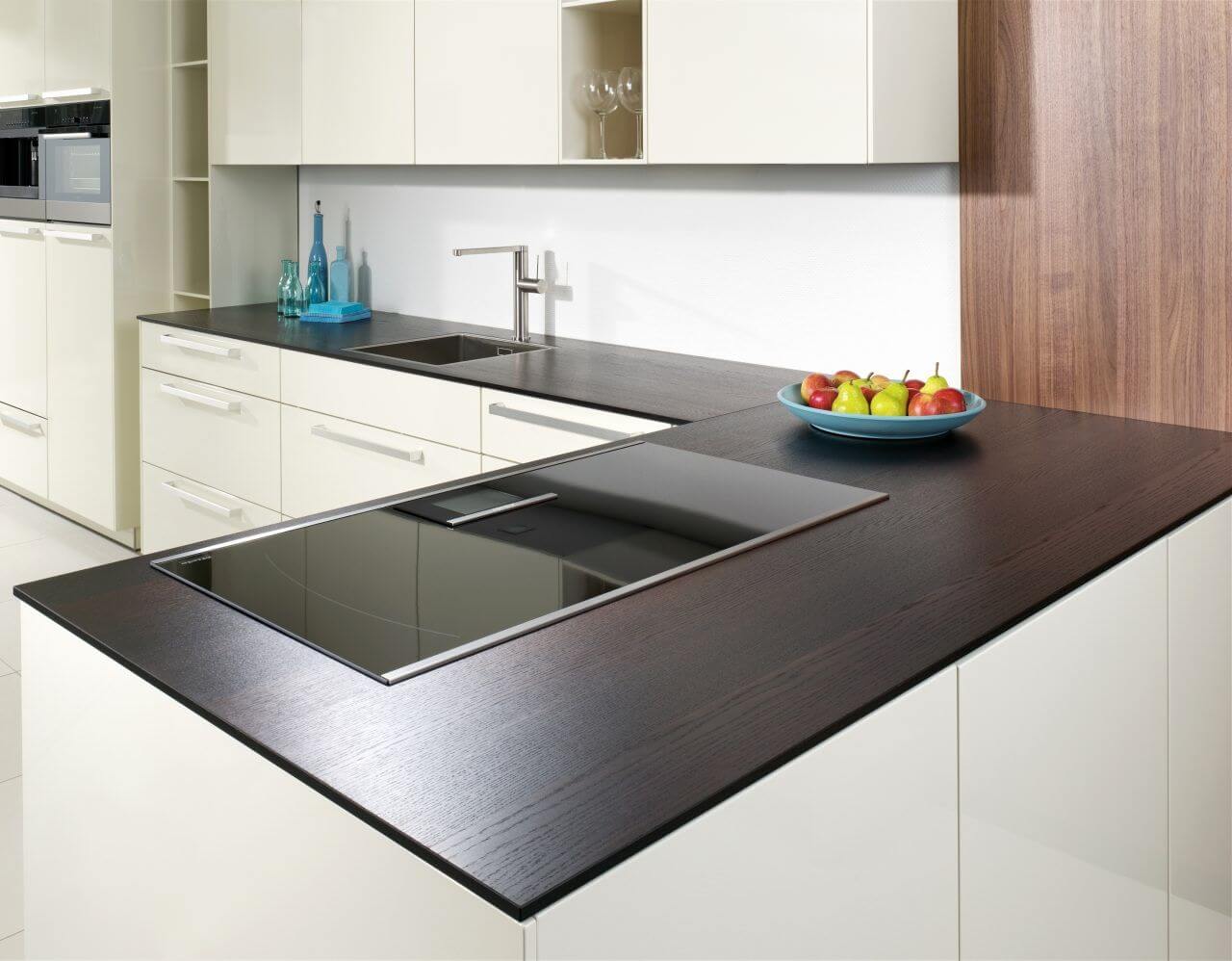 Kitchen Counter Height for Easy Work
For light work surfaces, the correct height should be set about 10 cm above normal standards. Therefore, if the height of the top is 90 cm, 100 cm is best for light work. This size of the countertop is in practice mainly used for food consumption. In a professional kitchen, you might be tempted to create a countertop like this where the plates are. However, this type of countertop is rare.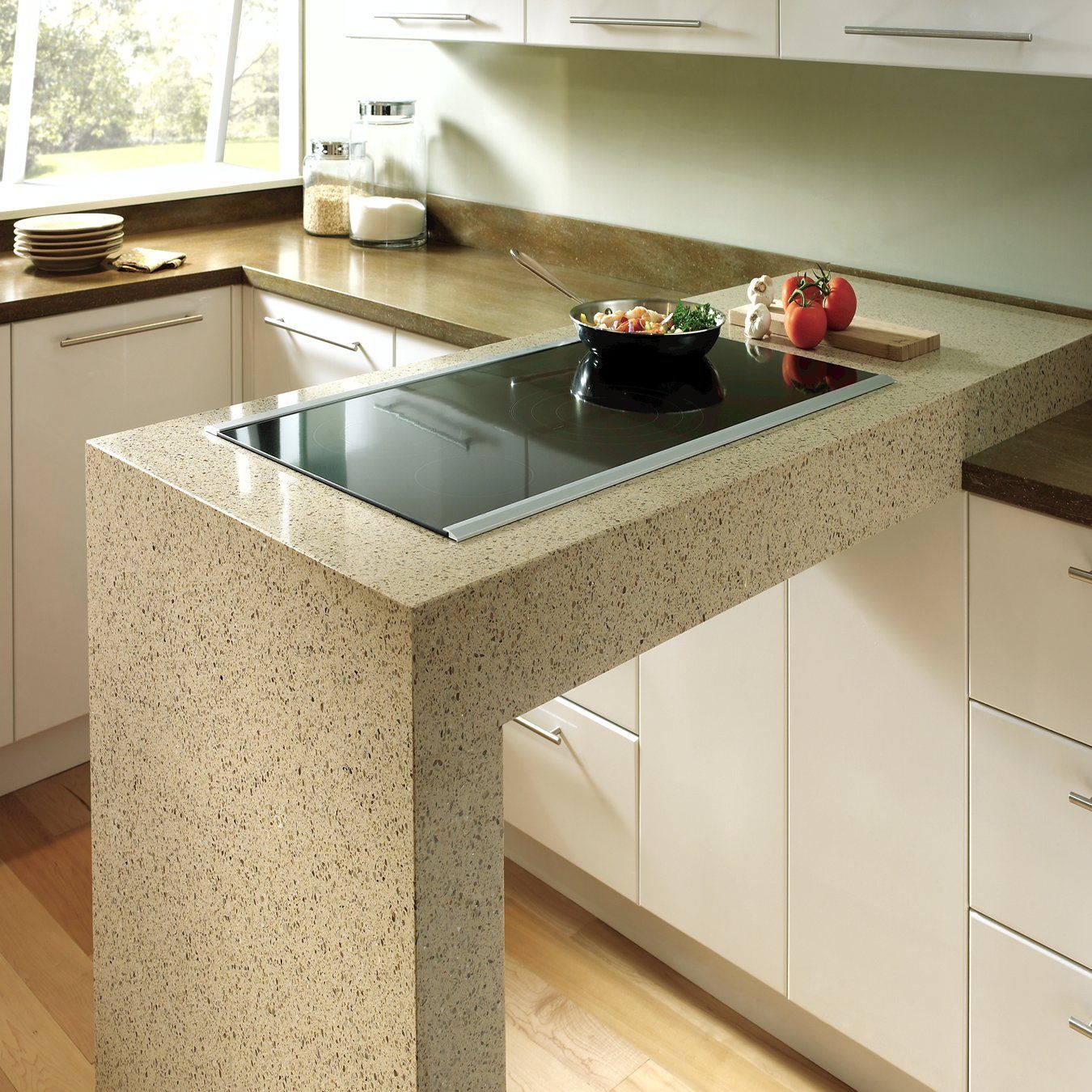 Height of Countertops on the Bar
Originally, this type of countertop was used for eating and drinking while maintaining a comfortable standing position. Currently, the height of the bar countertop is different, so you can choose the right chair for all options. The height of her kitchen is usually about 30 cm higher than that of a standard countertop, that is, in the range of 110-120 cm. But a comfortable position can only be taken when you are sitting on a suitable bar stool.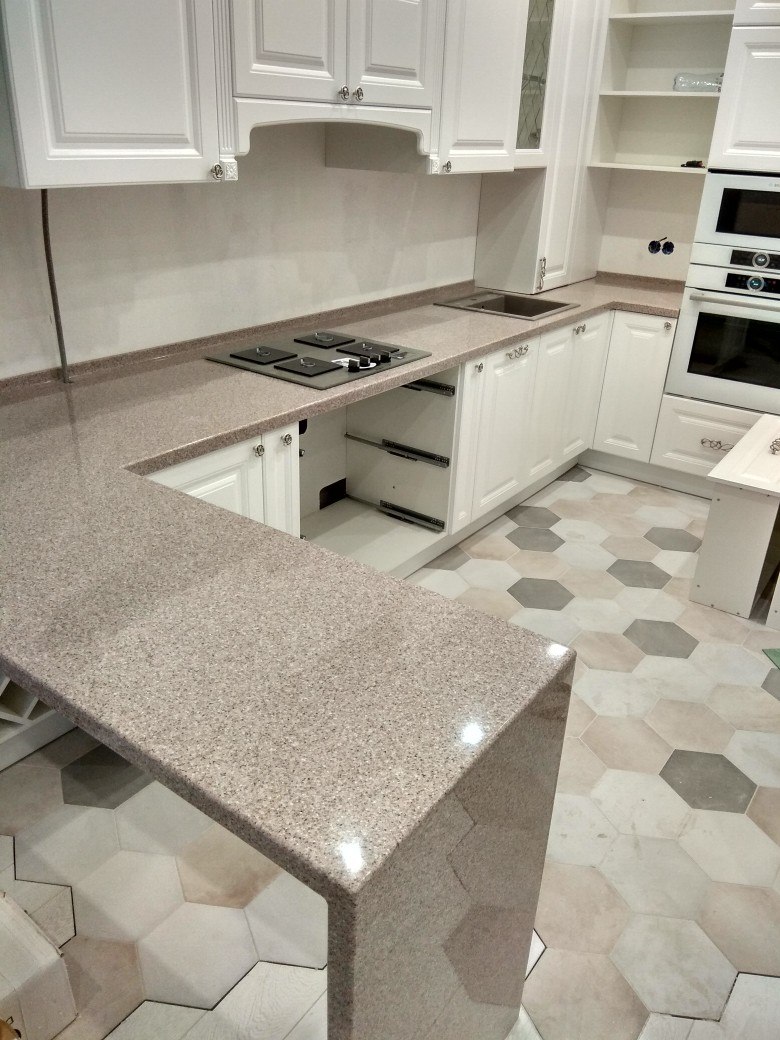 White Kitchen Countertops
The kitchen is the heart of the home. You can spend time preparing food, drinking coffee, and even enjoying your free time with a glass of wine. Therefore, it is important that the arrangement of the kitchen is conducive to both work and play. Kitchen furniture should be functional and spacious so that all the necessary accessories can be placed in it. Countertops are also an important element. They are considered one of the most exploited surfaces in the home, giving the kitchen character and completing the furniture composition. White kitchen countertops are extremely effective. They can be inserted into almost any interior. Thanks to their unusual color, they will become a design addition that will satisfy the tastes of even the most demanding people.
White kitchen countertops will work in any position.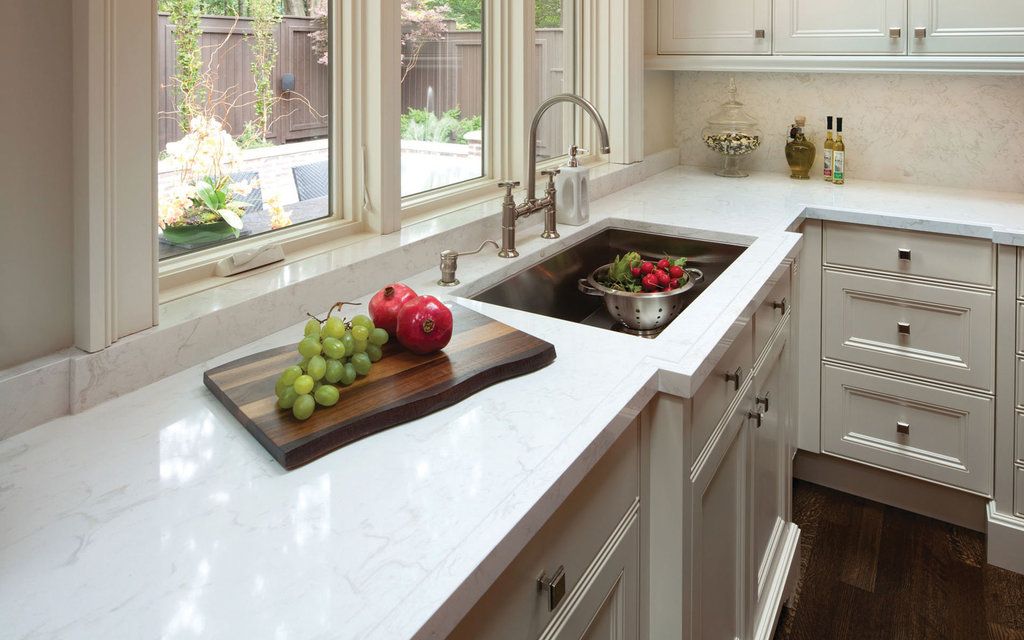 Benefits of choice
White kitchen countertops are great for every style. They look very impressive in the kitchen, where there is a dark floor or other elements because then an original contrast is created. A worktop that stands out in color from the cabinets will be more visible. You don't have to choose kitchen furniture and countertops from the same material. Some people fear the dirt will become more visible. That is not true! Regardless of the color, the dirt on the countertops and cabinets is always visible, so you should regularly take care of their cleanliness.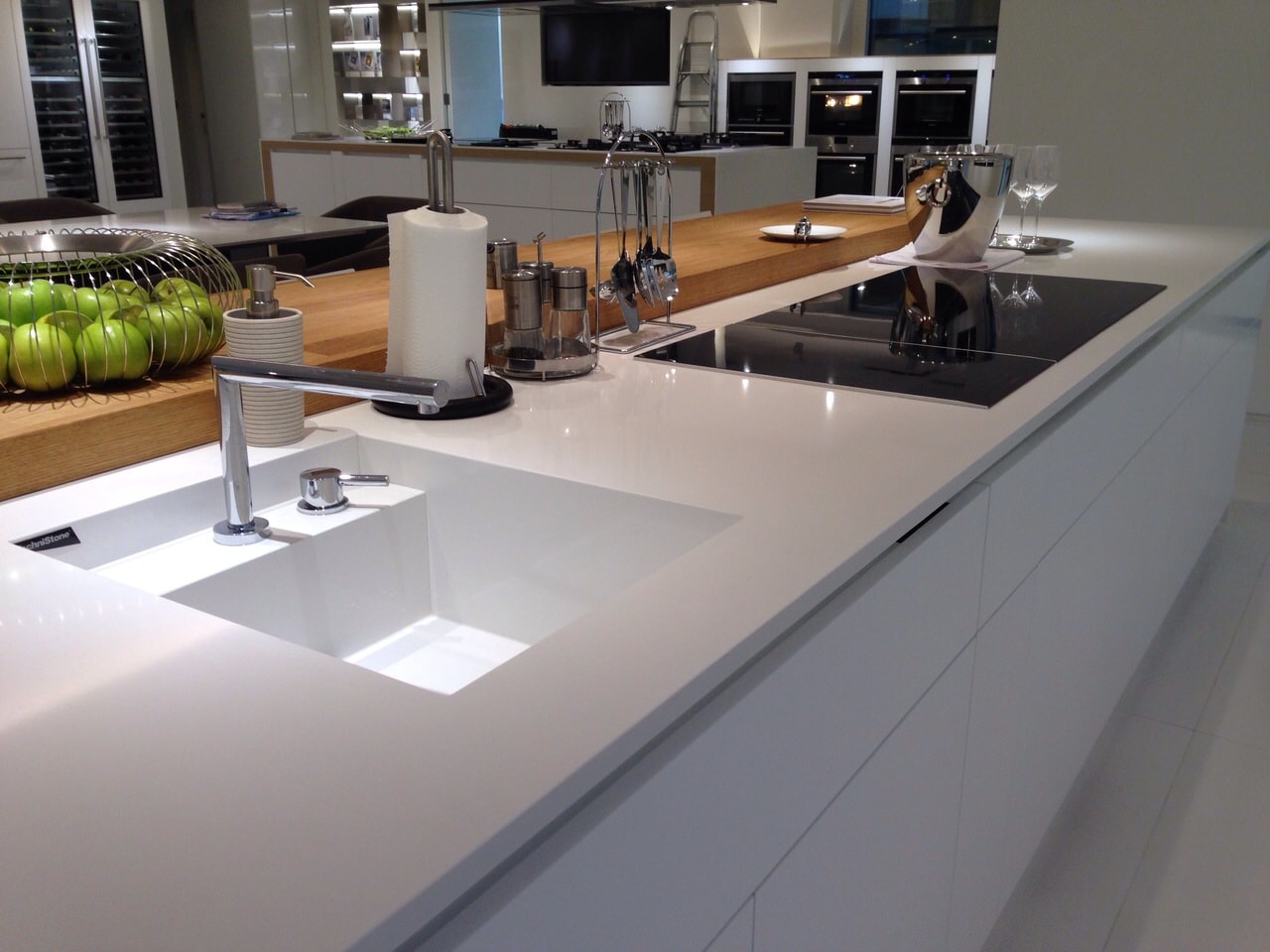 Designer White Kitchen Countertops
White kitchen countertops give the room a unique character. They are ideal for Scandinavian-style interiors dominated by white, gray, and black. In addition, white, wooden, rough countertops will fit into the Scandinavian rigor. In a Provencal style, white surfaces will perfectly match the cozy atmosphere of the interior and complement the wooden elements with their lightness. In lofts, these elements are beautifully combined with brick, raw accessories, and a modern touch. As you can see, they can be placed in any kitchen. They are elegant, modern, and timeless. Kitchen accessories on a white countertop create a striking contrast.
Cleanliness is the basis for the white top version. In this case, hygiene is extremely important because the meal is prepared on the countertop and often has direct contact with the food. It is worth cleaning these surfaces with natural, not chemical, detergents because they are safer for health. For countertops, pay attention to placing hot objects on them, such as pots or pans. Glass, granite, and stainless steel will handle high temperatures, but for other countertop options, you should purchase coasters to keep the crockery off the surface.
Kitchen Cabinet and Countertop
The kitchen is primarily a utility room. Aesthetics are an important element of a well-thought-out decorating process, but functionality is just as important, which determines how willingly you will use it. As a space for parties, the kitchen should be inviting, warm, and spacious, but also equipped with ample utensils, supplies, and spices. For this reason, a key element of interior design is kitchen base units, which are less frequently used than countertops but are equally important in the furniture hierarchy. Equipping the cooking area with sufficient quantities guarantees ease of use. Floor-standing cabinets with countertops and drawers provide kitchen users with the comfort and order they need in a key room at home.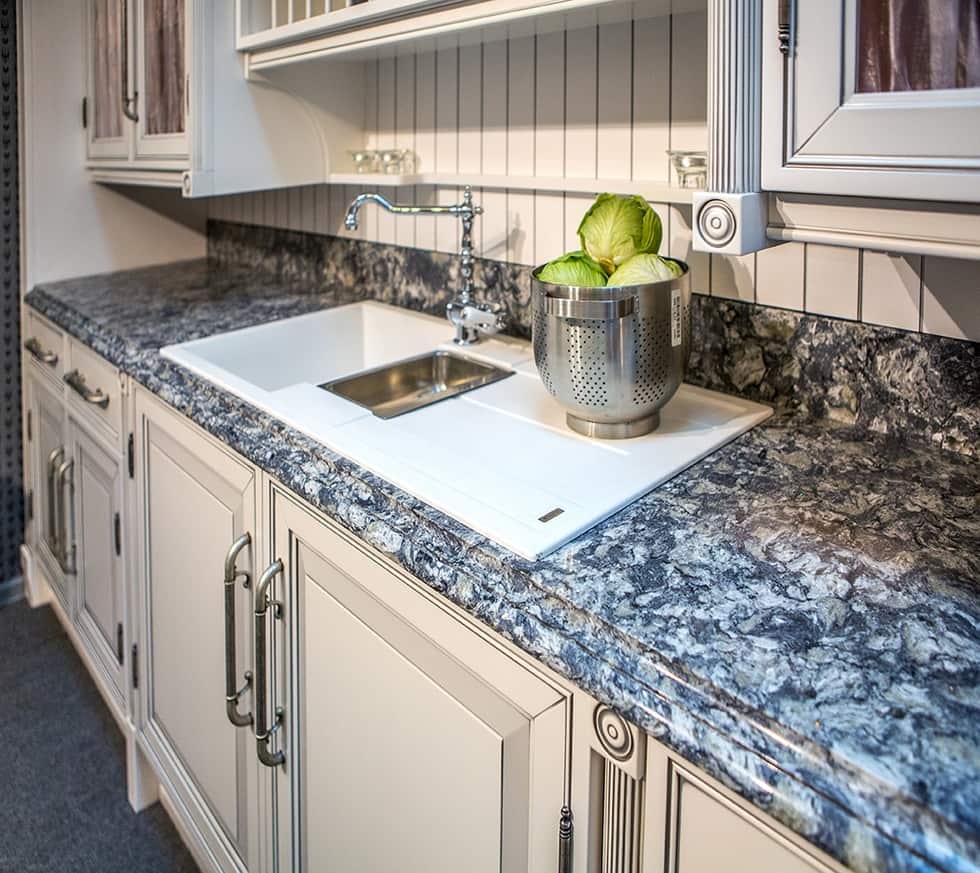 Kitchen cabinet 60 or 80 cm wide
While wall-mounted products are a significant convenience for small kitchen owners, a standing 60 or 80 cm kitchen cabinet with a worktop and drawers is considered an obvious décor no matter the size of the room. First of all, using this type of furniture is much easier. Floor-standing cabinets are usually much larger than hanging units, which means they can accommodate a large number of items inside, even when the kitchen is for a true culinary enthusiast. Especially in the case of a lower corner kitchen cabinet, make sure the dimensions are right for you before buying.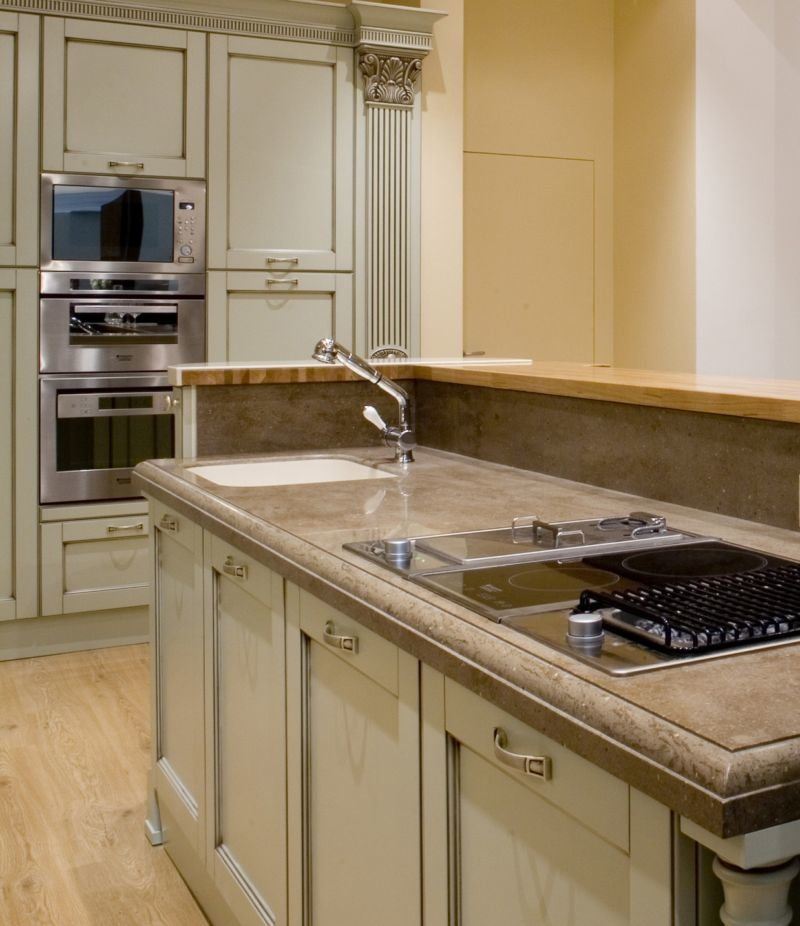 Kitchen cabinet with worktop and drawers
If you use a variety of tools and raw foods in the kitchen or just have a large family for which you often cook, then you probably know about the troubles associated with a lack of space. Well-chosen high-end kitchen cabinets can solve the problem of comfortable cooking forever. When setting up your kitchen, it is worth remembering the importance of any additional storage space and shelves that make it easier and more enjoyable to use. In this context, standing kitchen cabinets with worktops and 80 cm wide drawers are particularly useful, providing optimal separation of crockery and cutlery, helping to keep things tidy.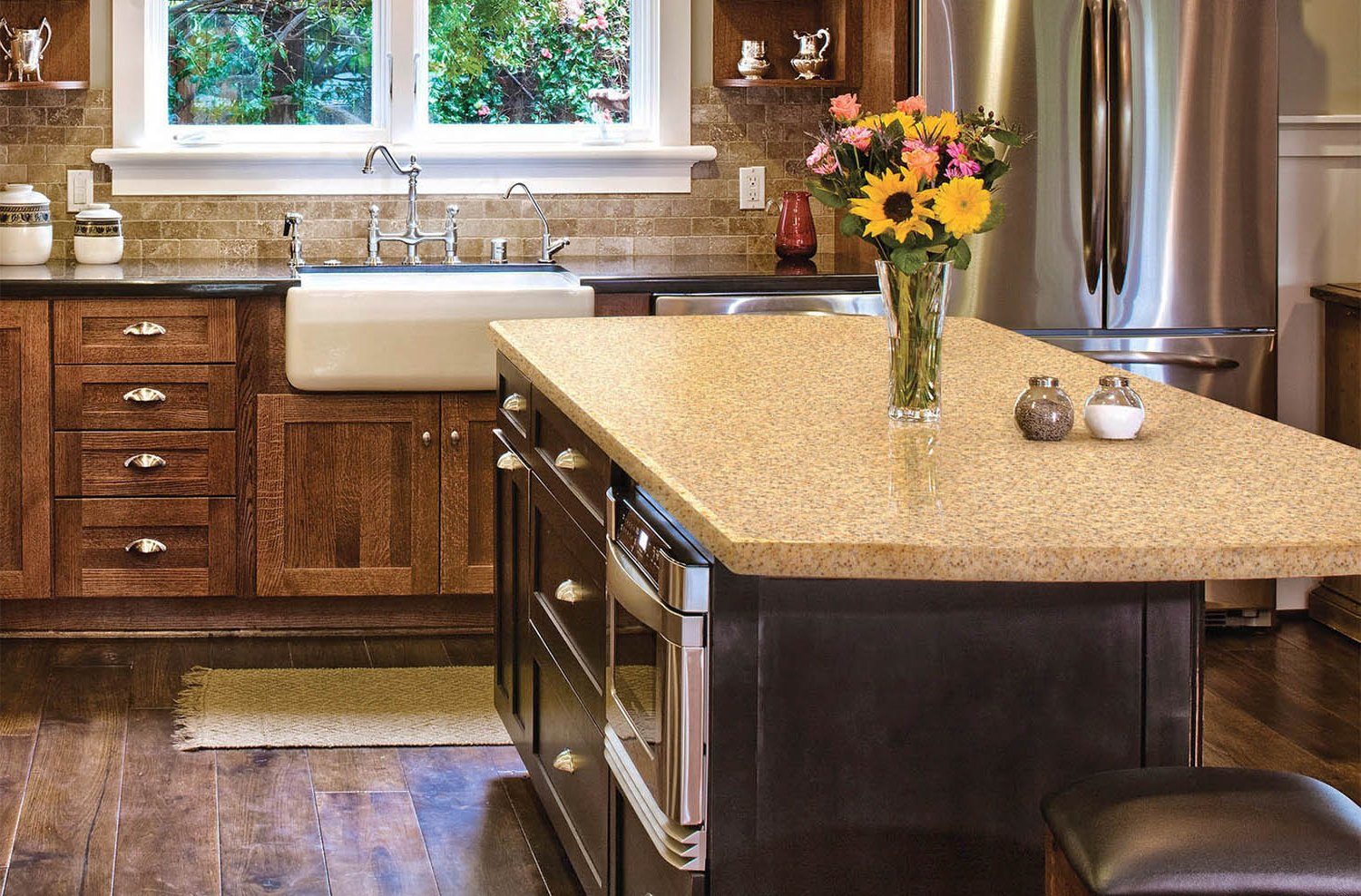 A cabinet with a countertop can be used as a cabinet for a refrigerator or other appliance needed in the kitchen. This will be appreciated by perfectionists who prefer the consistency of the materials used. A free-standing kitchen cabinet is a perfect place to place an elegant oven. Shelves can save space, and freestanding equipment takes up much more inches than can be spent on other high-bottomed kitchen cabinets.
A large number of additional nooks and compartments make kitchen management much easier. It's worth equipping yourself with furniture that allows you to effectively distribute individual items without provoking unnecessary clutter.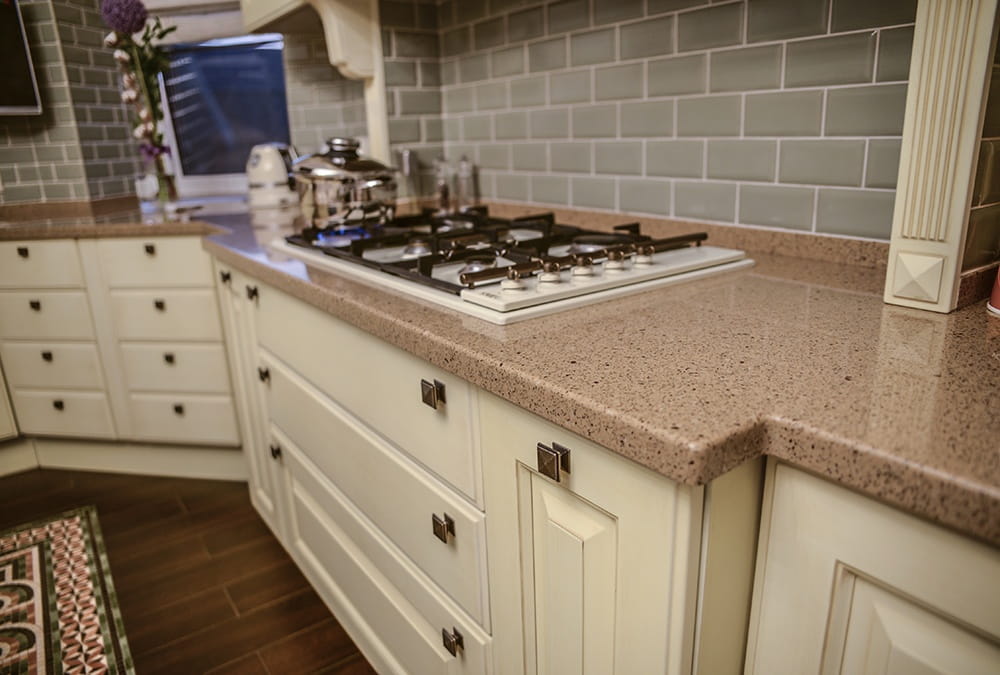 Kitchen Sinks in the Countertop
The choice of sinks refers not only to the material from which they are made but also to the installation method. Currently, the sink, recessed into the countertop, is very popular, which is distinguished primarily by its high aesthetics and practical use.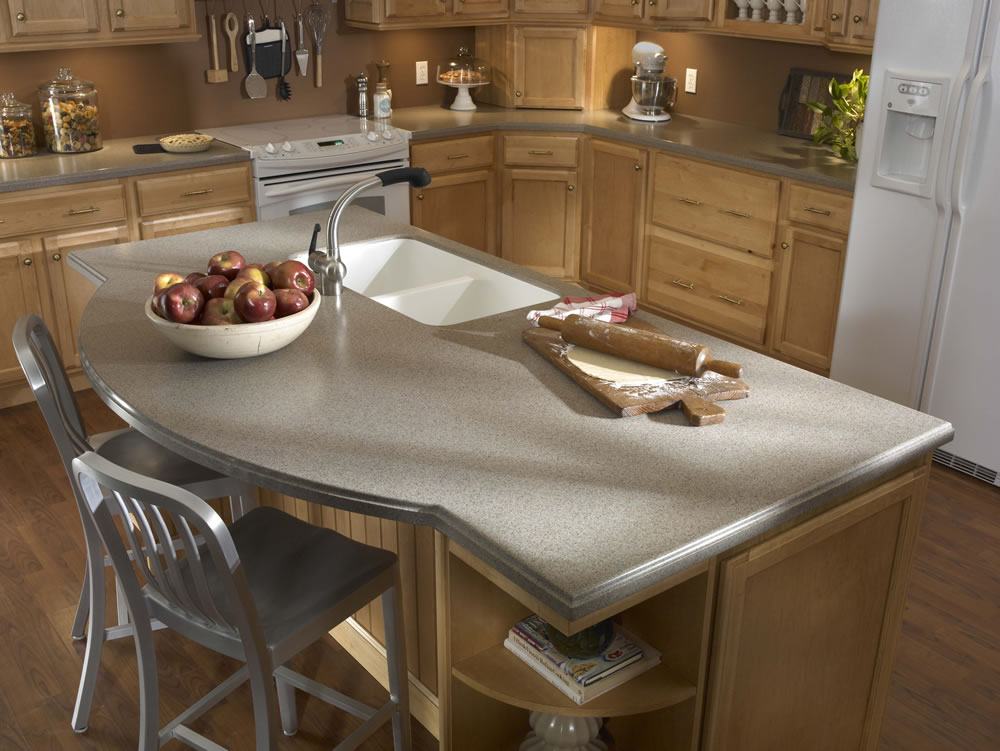 Sink installation can be done in several ways. One of them is to allow the sink to enter the countertop so that its edges are flush with the surface or slightly overlap it. It is worth noting that this is not the only type of sink that stands out in terms of the installation method:
A countertop washbasin is the easiest to install because you simply place it on the countertop. The edge protrudes strongly beyond the tabletop. The commonly used sink has an extra rear edge to protect the contact point of the countertop from the wall and splashing water. Unfortunately, aside from being easy to install, the countertop sink doesn't have much to offer. Aesthetics are often low. In addition, strongly protruding edges of the sink cause water and crumbs to accumulate in the gaps between the worktop and the sink.
Sink under the countertop – this installation method is characterized by the fact that its edge is hidden under the countertop. This kind of finish is very elegant but often is not practical. Due to the risk of moisture getting under the countertop, it is not recommended to combine this type of sink with wood and MDF countertops. Installing a waste sink requires a lot of experience. First of all, you must start by cutting a hole in the countertop that will perfectly match the dimensions of the sink. One way to secure your sink is to position it so that the edges protrude slightly above the countertop. There is no risk of water getting between the sink and the countertop because the empty spaces will be covered with sanitary silicone.
You can place the sink flush with the work surface. However, this method of fixing kitchen sinks is more complex than previous ones. The countertop after cutting out the shape of the shell must be milled.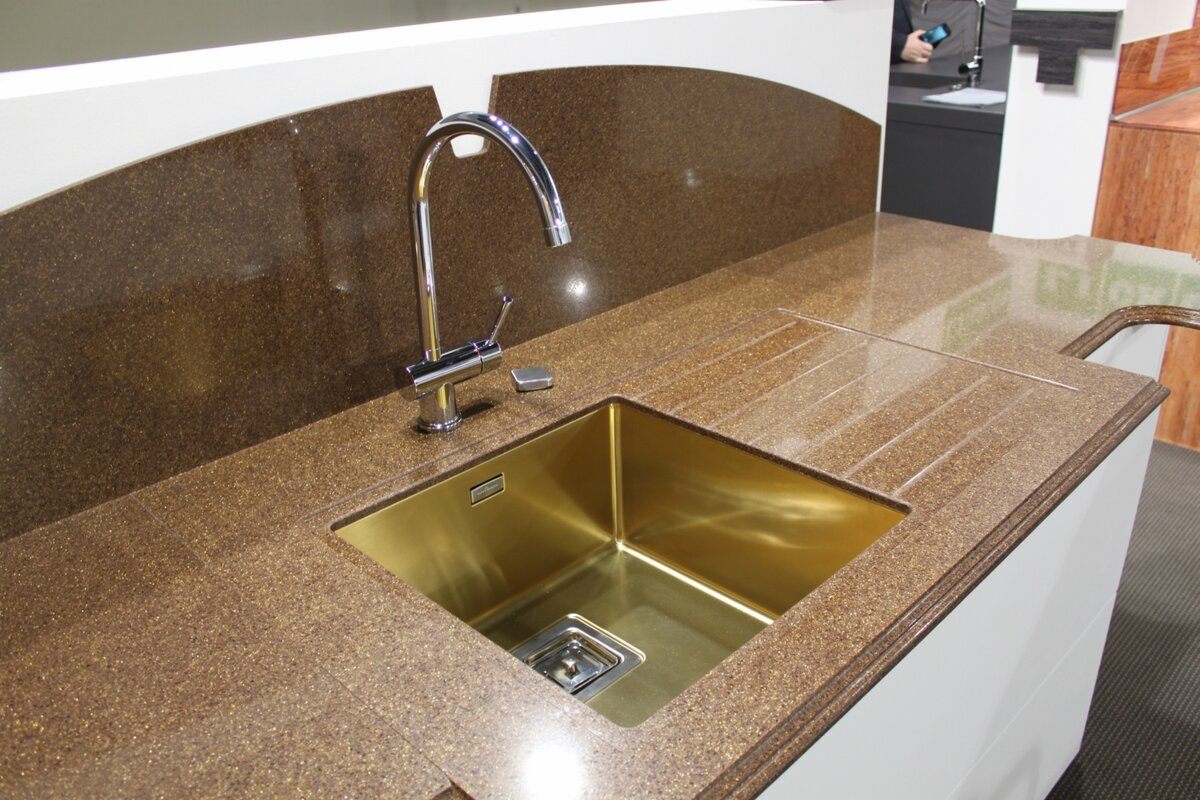 The choice of countertop and the options for its use are very diverse. You should choose the most suitable option for yourself in order to transform your kitchen and make it as functional as possible.