In many apartments, the living room is an extremely important space in which all family life takes place. Functional furniture for the room allows you to create a convenient place for hanging out, both in the afternoon and in the evening. Dressers, cabinets, shelves, TV tables, and coffee tables are cabinet furniture that allows you to optimally use the space, providing comfort during everyday life.
Content: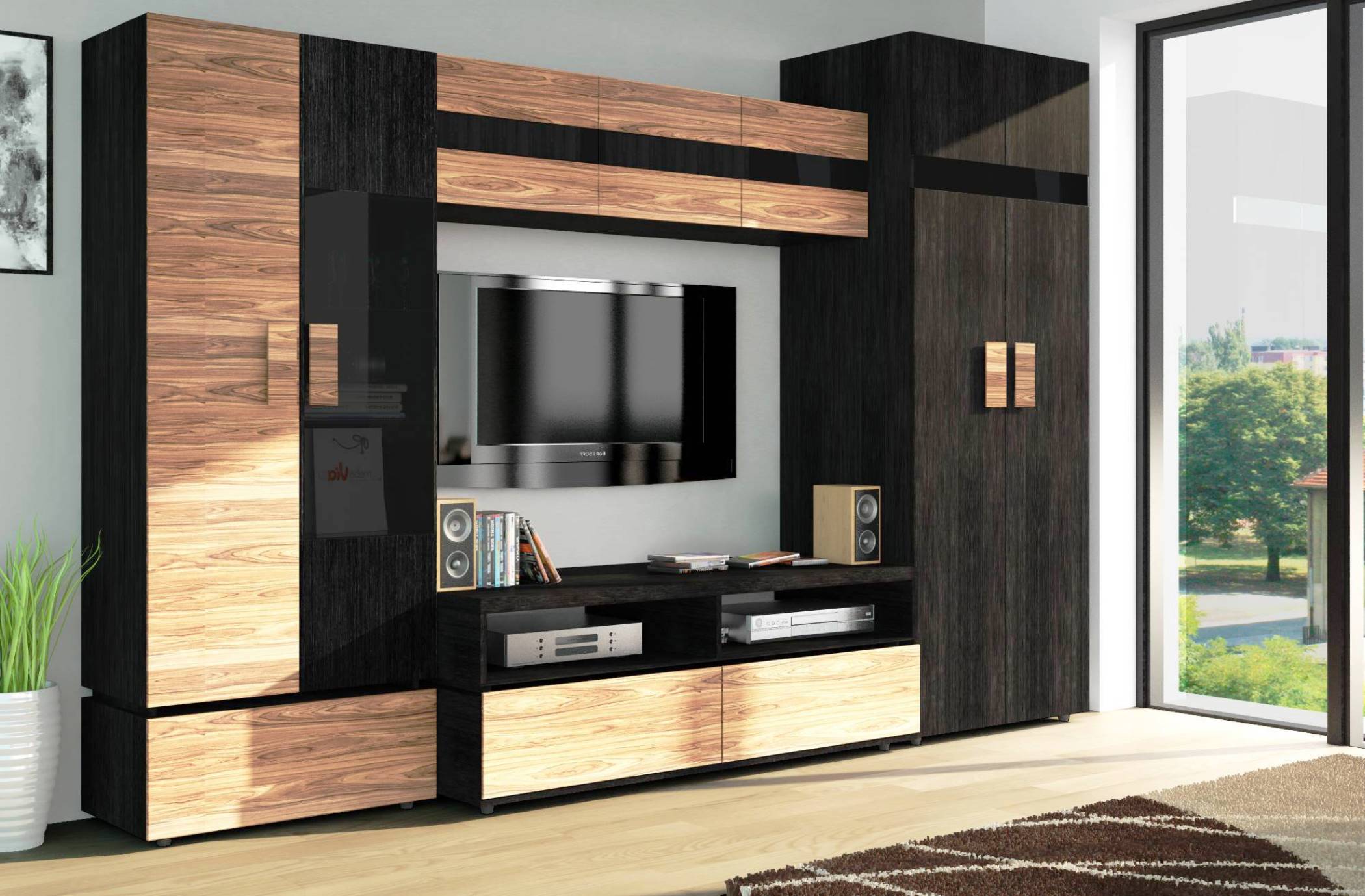 Beautiful Cabinet Furniture for the Living Room: Indispensable Furnishings
The offer of modern cabinet furniture includes integrated solutions. Furniture that falls into this category creates an aesthetic whole that will help to furnish you a room in a certain style. Each type of cabinet furniture is made with special care and using durable materials, so it will serve in the living room for many years without losing its attractiveness. You can choose furniture sets from the traditional lines, with classic shapes, as well as modern lines with a simple, minimalist design. The assortment includes products in interesting colors. There is a suitable offer for each decor. Original design, high durability, practical design: this is how we can describe modern cabinet furniture for the living room.
Facades are most often made of glossy material, which in combination with natural wood grain gives an extremely interesting effect. There are also many other available compositions that match any arrangement:
And thanks to modular cabinet furniture, you can create a unique, specially selected set that is ideal for the living room.
Modern Cabinet Furniture for the Living Room: Existing Types
The collections of modern cabinet furniture are corresponding to the needs of people who value individual solutions. Each piece of furniture is designed so that it is as spacious as possible, but at the same time takes up as little space as possible. Moreover, in each collection, you will find different types of furniture: from low TV cabinets to spacious cabinets. Thanks to such a great variety, you can choose furniture that suits even a small living room, providing enough space for all things.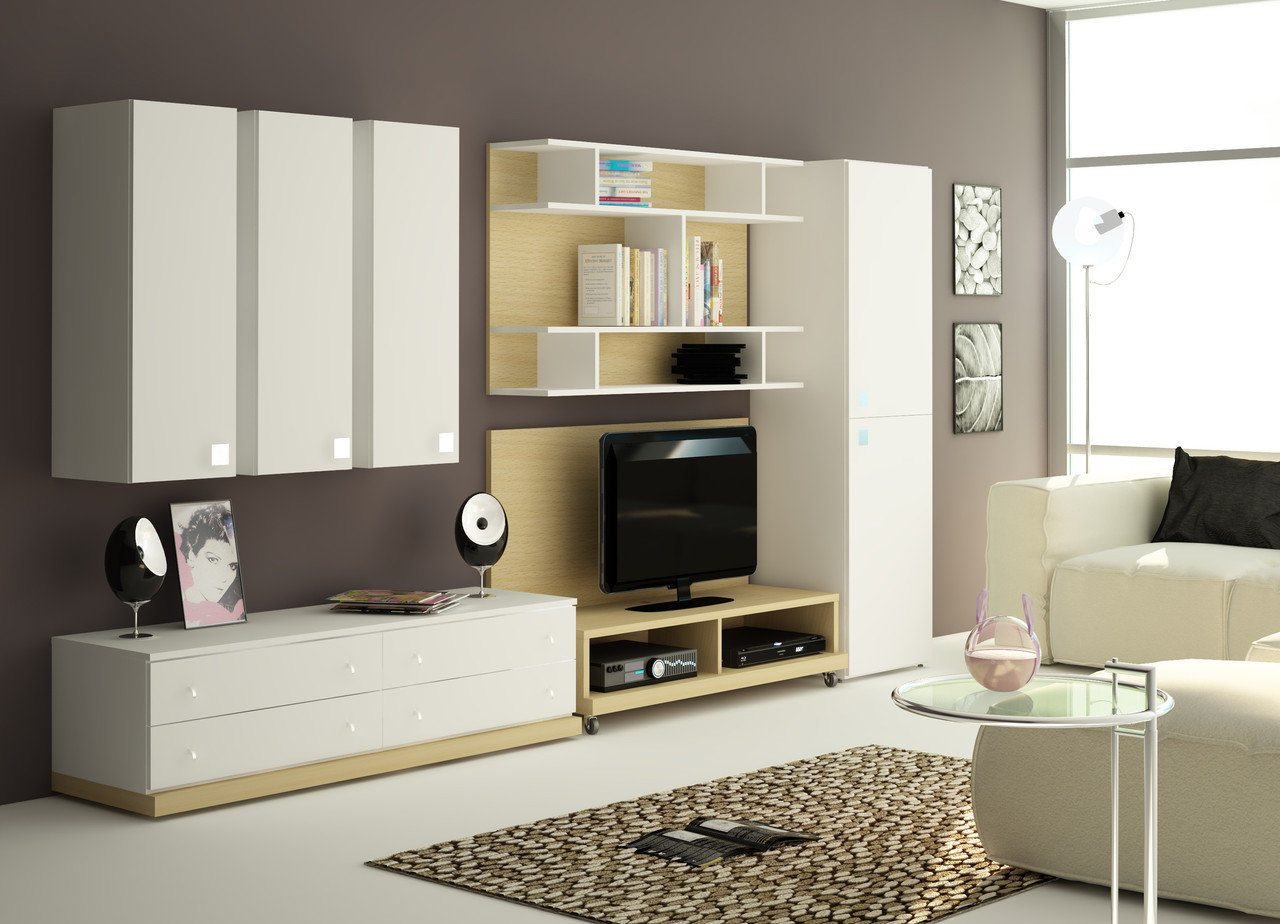 Cabinet furniture options:
TV stands are low tables that are designed to not only provide a solid base for large LCD TV but also serve as a place to store multimedia equipment, collection of discs or other accessories that you always want to have at hand. If you are a music lover, pay attention to the TV stands equipped with a special acoustic fabric that allows you to hide the speakers inside, while maintaining high-quality, clear sound.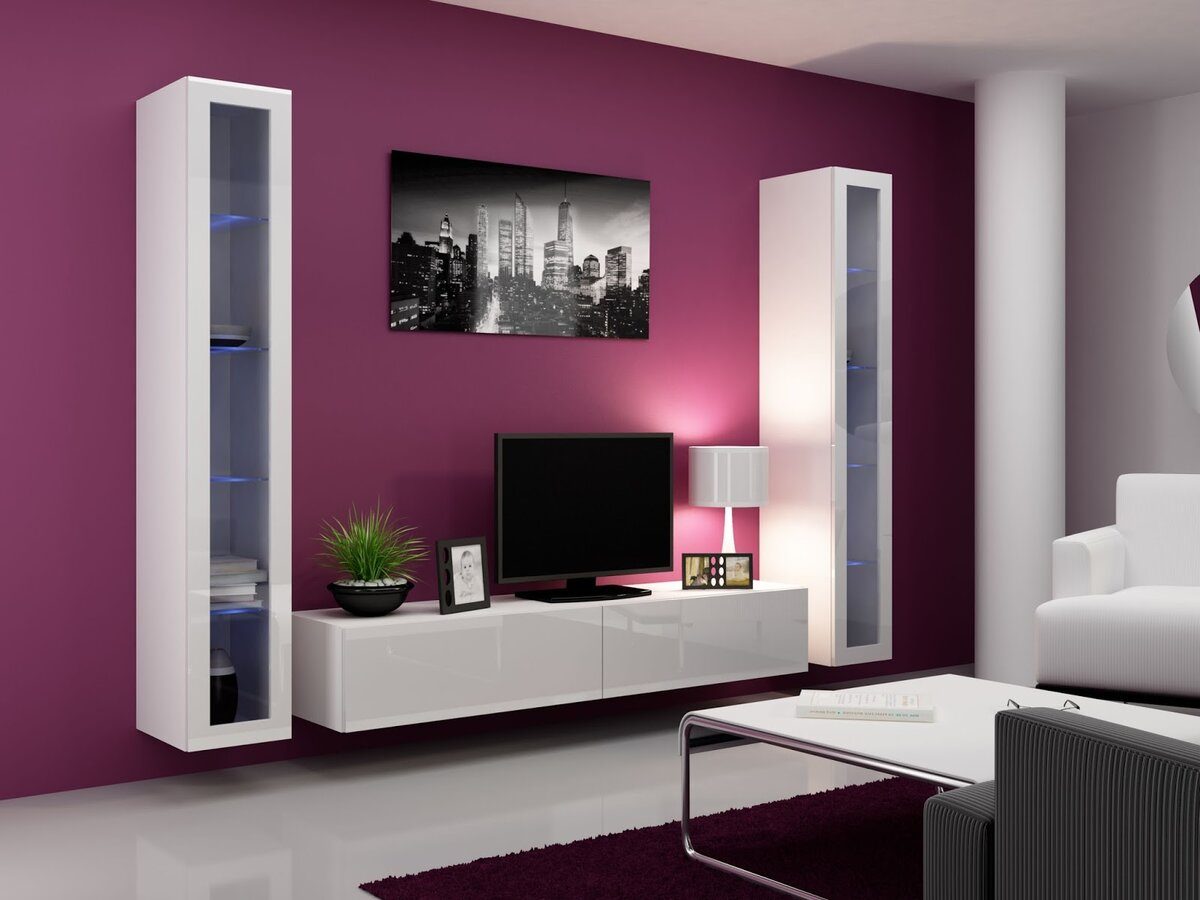 Hanging and standing buffets are very elegant furniture, which would be ideal not only for the living room. The glazed facades of the cabinets will bring a large dose of elegance and style to the interior, as well as allow you to display jewelry or other objects. For small rooms, designers recommend choosing hanging racks, so the location is not overloaded, and the interior does not seem cluttered and chaotic. When arranging a larger room, you can use two or more permanent cabinets, combine them with other furniture and diversify with interesting decorations.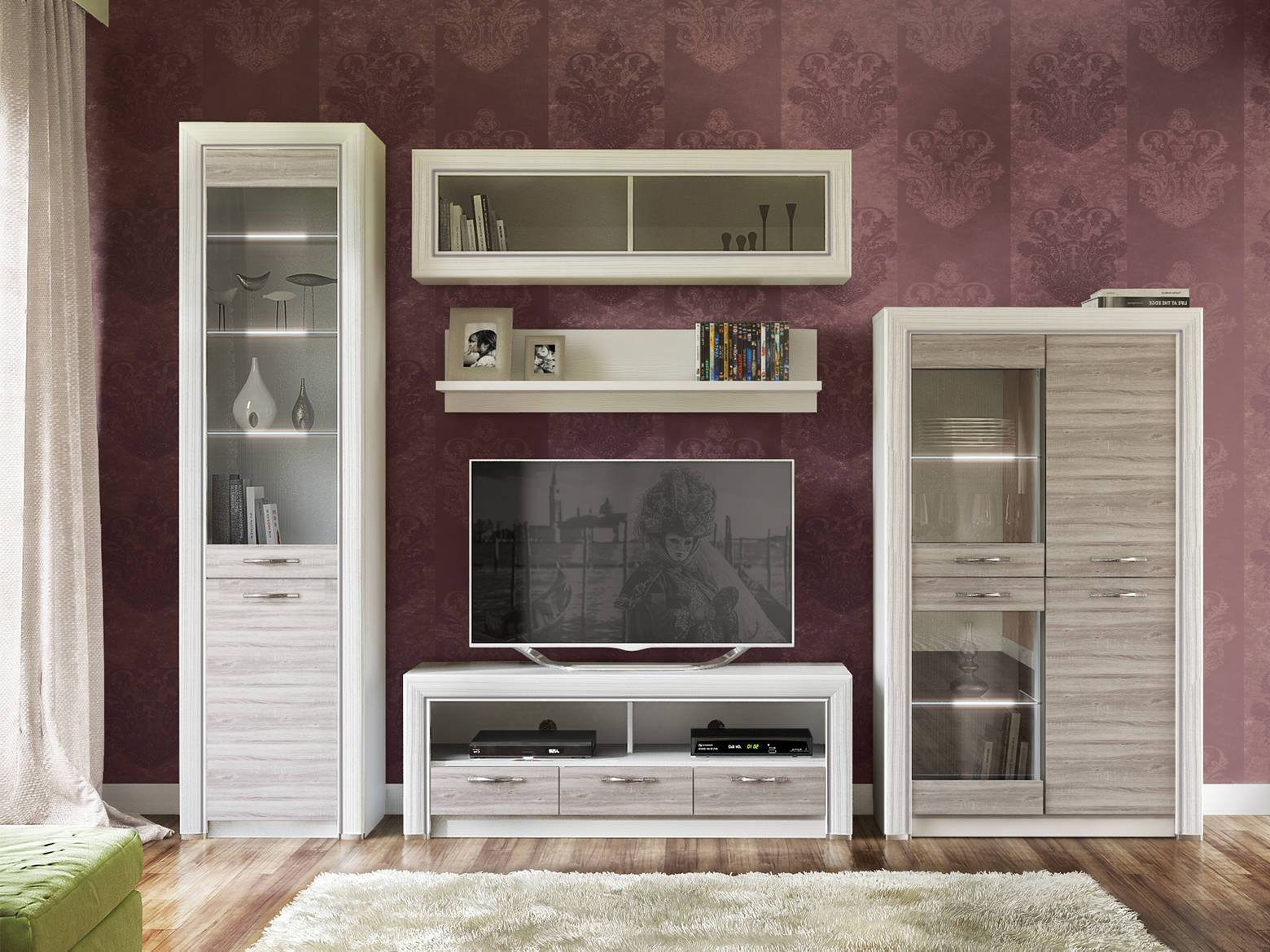 Wardrobes are spacious, but adjustable pieces of furniture that will hide many things. You can choose a cabinet with shelves or with a place for hangers.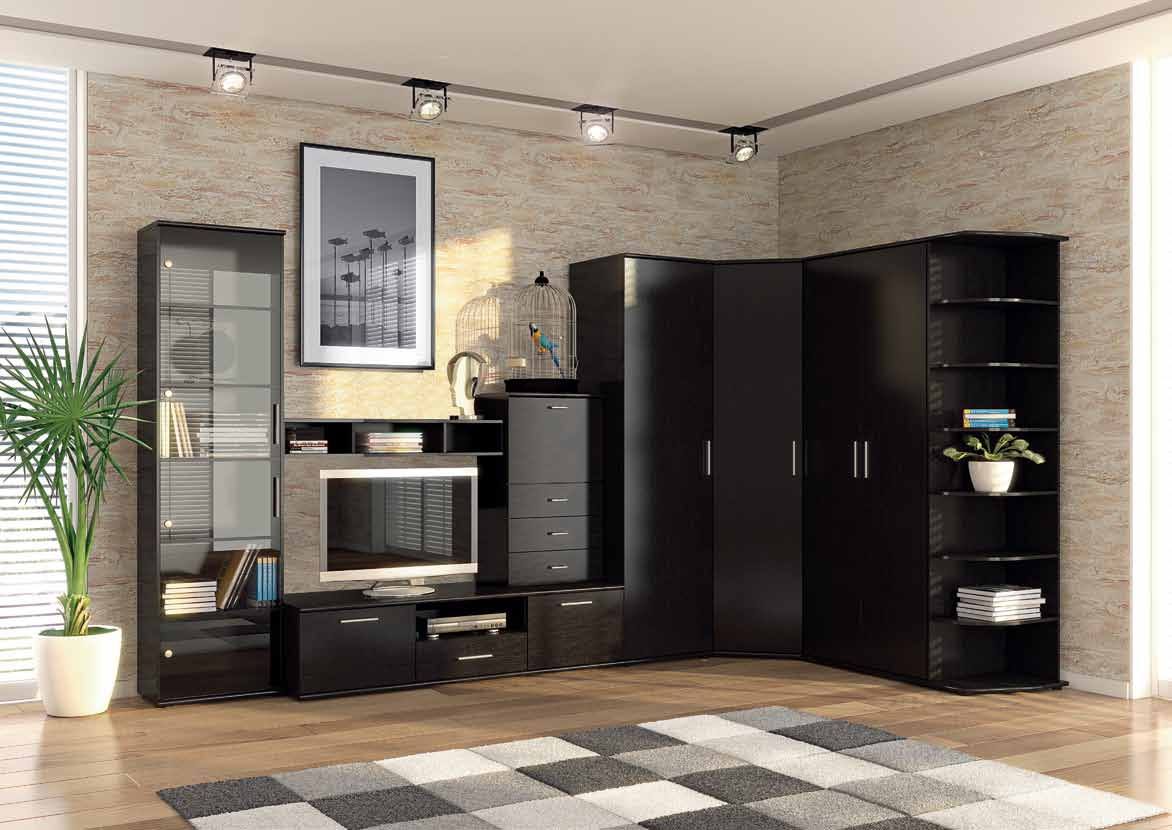 Dressers are timeless and versatile furniture that works almost anywhere. Equipped with cabinets (also with glazing) and drawers, with a spacious top, they can replace both storages for clothes, and TV tables.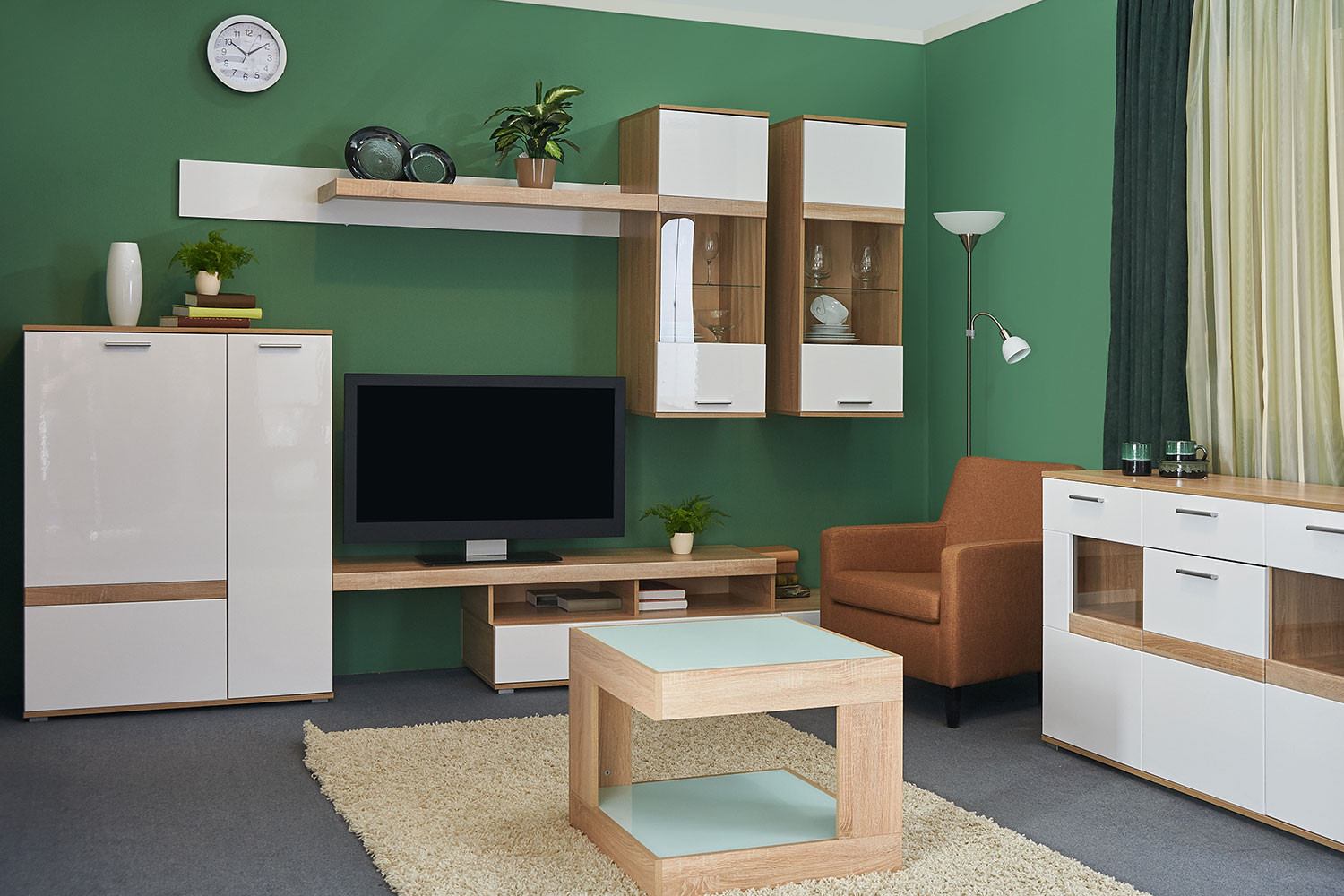 Shelves for books, flowers, and decorations. Elegant minimalistic shelves allow you to create a home bookcase and expose your favorite books. They perfectly complement each arrangement, being a way to decorate an empty wall in every room.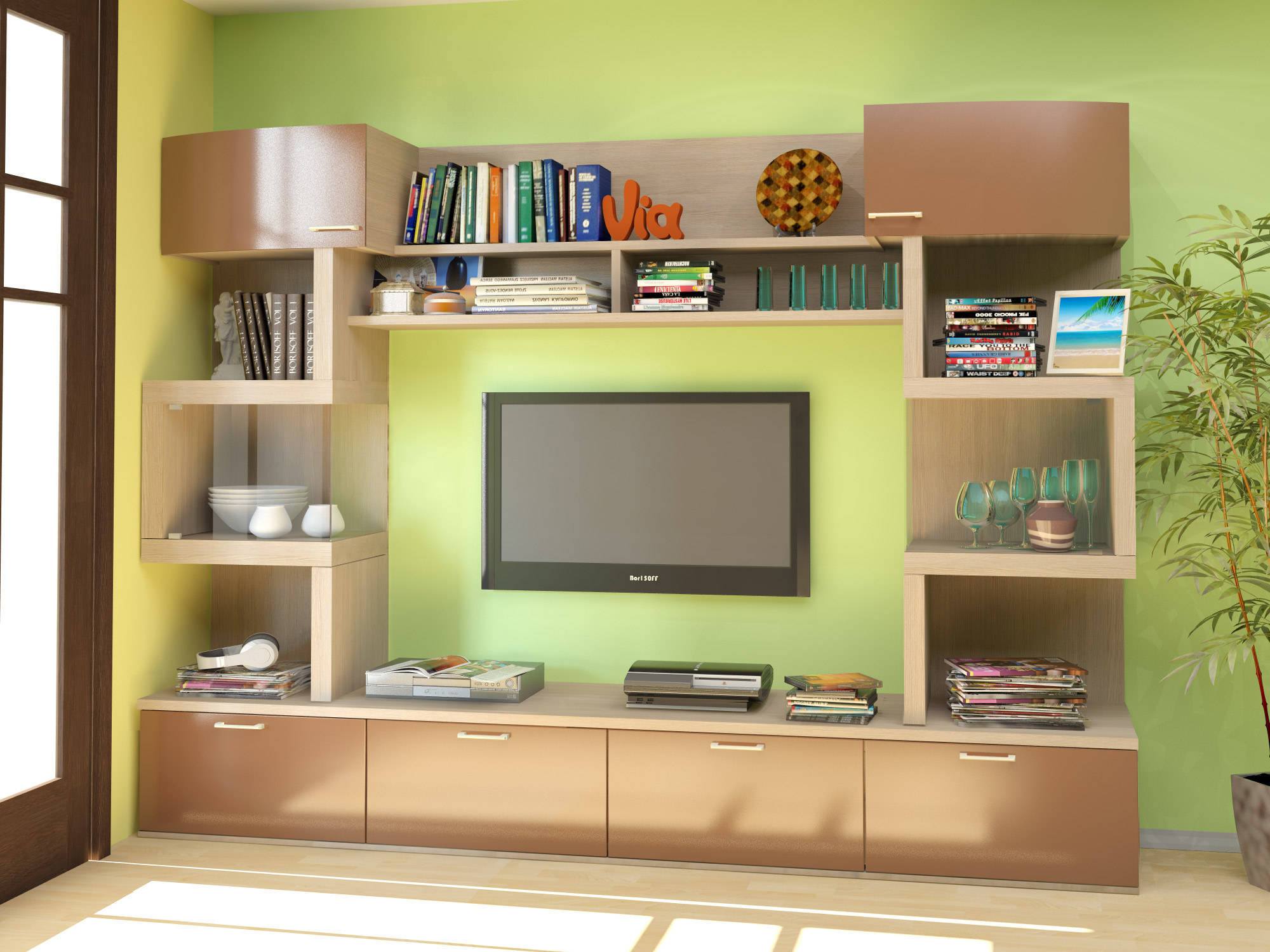 Cabinet furniture will facilitate the proper arrangement of rooms, combining an element of practicality and functionality with an original, interesting style that will look great for many years. Manufacturers today use high-quality, durable materials to create them. Such furniture will provide the necessary volume for storage and at the same time provide a convenient and safe placement of RTV equipment.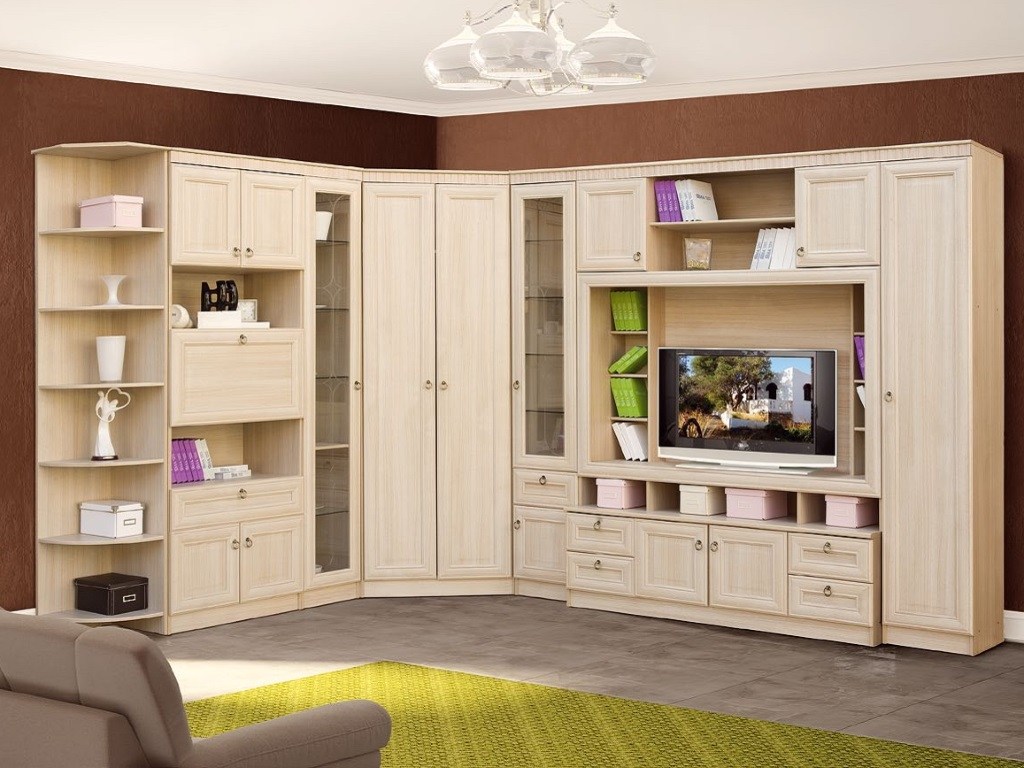 Cabinet Modular Furniture for the Living Room in Modern Models
Just a few years ago, the interior of the living room was most often decorated with classic furniture walls, that is, built-in wardrobes in a row. However, this decision is already a thing of the past, giving way to modular furniture. This is a modern way that has gained immense popularity, fully meeting the requirements of customers. Such furniture is especially good as a choice for living rooms.
High Functionality
Cabinet modular furniture has gained recognition among buyers for several reasons. One of them is functionality. Living room furniture is available both in sets and in individual bodies, which can be selected depending on the needs. If you have a small room, then you do not need to choose a complete set, which includes too many elements, since you can choose what you need separately. Sufficient equipment will be a TV stand, a coffee table, a chest of drawers and a hanging shelf. Choosing furniture in accordance with customer requirements facilitates the creation of a fully functional interior. This design creates the best conditions for relaxation and significantly increases the comfort of its use.
Cabinet Furniture in Different Styles
Today, there are traditional, wooden sets of cabinet furniture, as well as modern, which are characterized by simple geometric shapes. Proponents of romantic Provencal interiors will also find something for themselves. A wide range of colors, in which fashionable white and black always prevail, as well as many different types of finishes, from matte to glossy, ensures that everyone will find something for himself. Furniture for the living room allows you to decorate the interior in a single style, which greatly facilitates the entire process of arrangement.
Cabinet furniture for the living room pleases with its design. See for yourself by looking at the presented photo gallery.
Corner Furniture
Corner furniture is in no way inferior to ordinary furniture in functional and aesthetic qualities. Thanks to its shape, it saves space even in small rooms, while taking up space in the corner, which usually remains empty, not participating in the arrangement.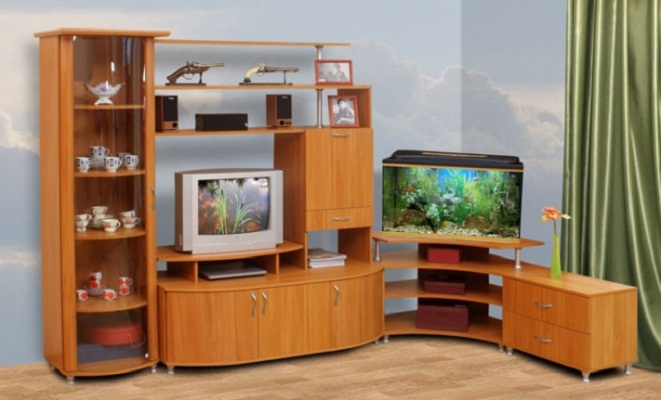 It has many advantages:
it can be used to mask various flaws at the joints of walls and flooring (torn wallpaper, damaged coating, uneven walls);
buying such furniture is especially beneficial for small spaces, as it frees up a lot of space;
the corner walls are very compact, but at the same time functional: they have many drawers and shelves, a place for a TV, so you don't have to buy a special cabinet for it;
such furniture usually has enough space to store various things, it is convenient to use.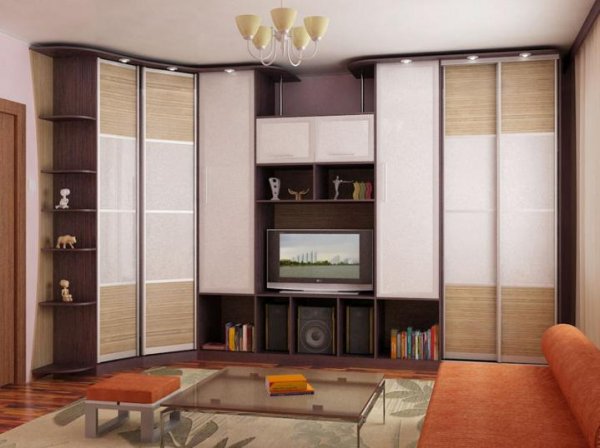 Corner structures are suitable not only for equipping small rooms. A large living room can also be furnished with such furniture. It will be possible to free up other rooms (such as the bedroom) by purchasing a corner wardrobe and installing it in the living room.
The only drawback of such models is the rather high cost due to the complexity of the design and laborious, expensive production.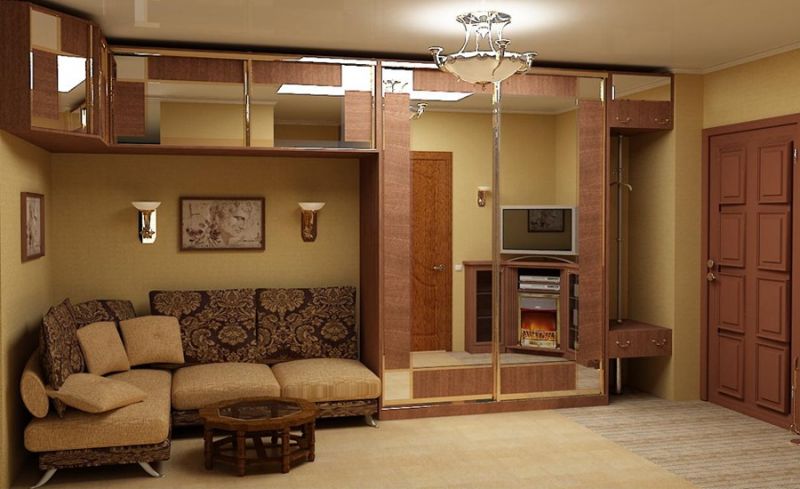 The corner wall is the most common model of cabinet furniture. There is usually a closet in the very corner of the room. If it is roomy enough and there is a lot of extra storage in the wall, it can be used as a wardrobe.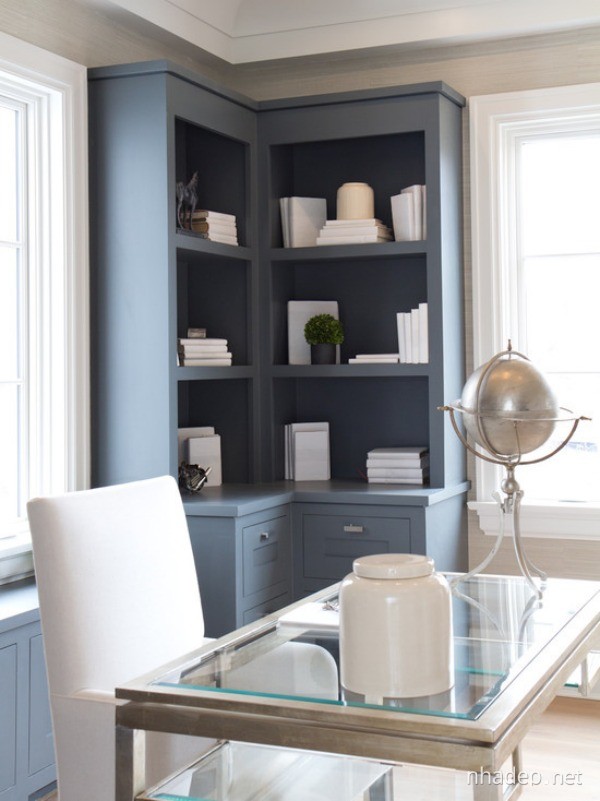 The set of cabinet furniture for the living room includes several different pieces of furniture that make up a single composition. They are made in a similar color scheme and the same style, so the interior of the room will look complete and harmonious.
The advantages of the cabinet furniture include the following qualities:
a wide range of models, designs and colors;
relatively low price due to the use of inexpensive materials in production;
compatibility with any style of room interior.