A person in love with the countries of the Mediterranean basin dreams of a typical kitchen for this region. Such a room should be modern and functionally equipped, and at the same time stylized for the interior, combining rustic and romantic features. Let's overview some of the most stunning examples of Mediterranean style kitchen interior design with photos and arrangement tips.
Content: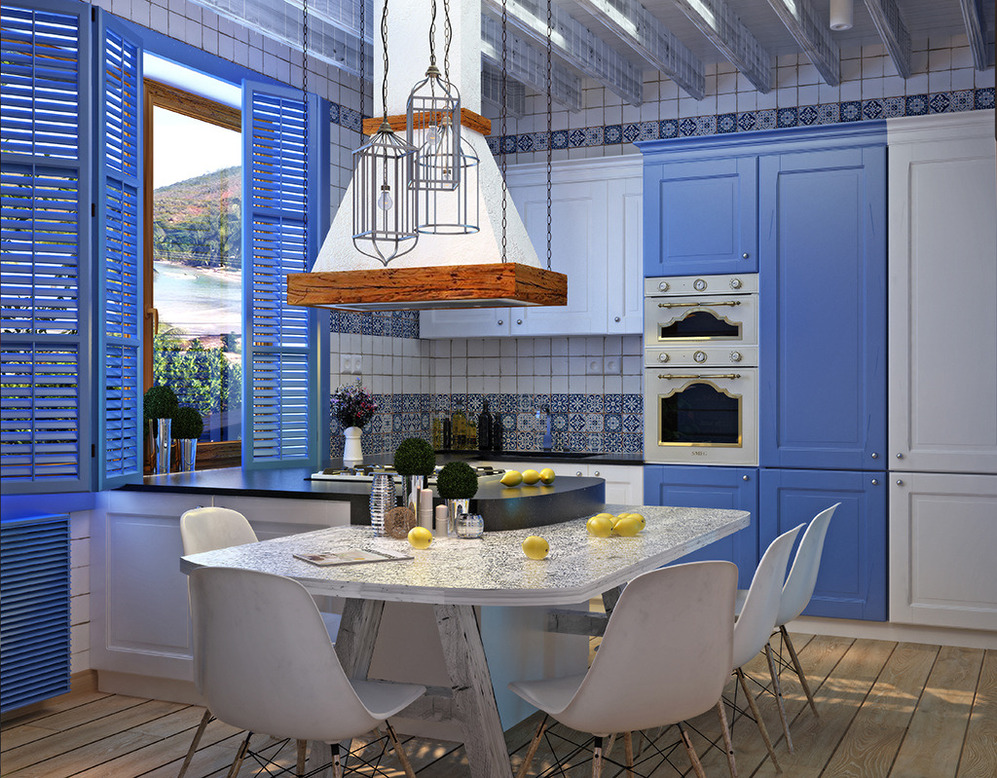 Mediterranean Style in the Interior of the Kitchen: Main Features
Contemporary Mediterranean-style kitchen blends tradition and modernity perfectly. This is a spacious room, a bit like a rustic kitchen. If you are a fan of modern furniture, nothing prevents you from combining these styles. The most important thing you should focus on is the combination of two colors, such as white and blue. Modern furniture is complemented by elements made of natural material, such as wood or clay, which is ideal as flower pots, sugar bowls, or other small things that allow you to rationally distribute the decor in the kitchen.
White and Blue are Inseparable Tones of the Decor of the Kitchen
In the Mediterranean-style kitchen, two colors prevail: white and cobalt blue. The combination of these colors immediately takes you to the sea, surrounded by rocky shores. The walls, as well as part of the furniture,  should be white, and accessories should be blue. Numerous nautical decorations, as well as columns that look like old buildings, will work just fine. An important element that distinguishes this style is materials. We must not forget that wood, stone, and marble are considered integral elements of this style.
Mediterranean Style Kitchen Design. Enjoy it All Year Round
The Mediterranean-style kitchen can be a great place to relax in your home, which will remind you of a great start to the day every morning. Drinking coffee in such a room will not only give you energy but also set you in a positive mood. Carefree moments spent in a Mediterranean-style kitchen are moments that you can enjoy and share with your loved ones. If you're afraid that you won't be able to arrange the room yourself, you can always count on photo examples from this article. The Mediterranean style is primarily natural materials.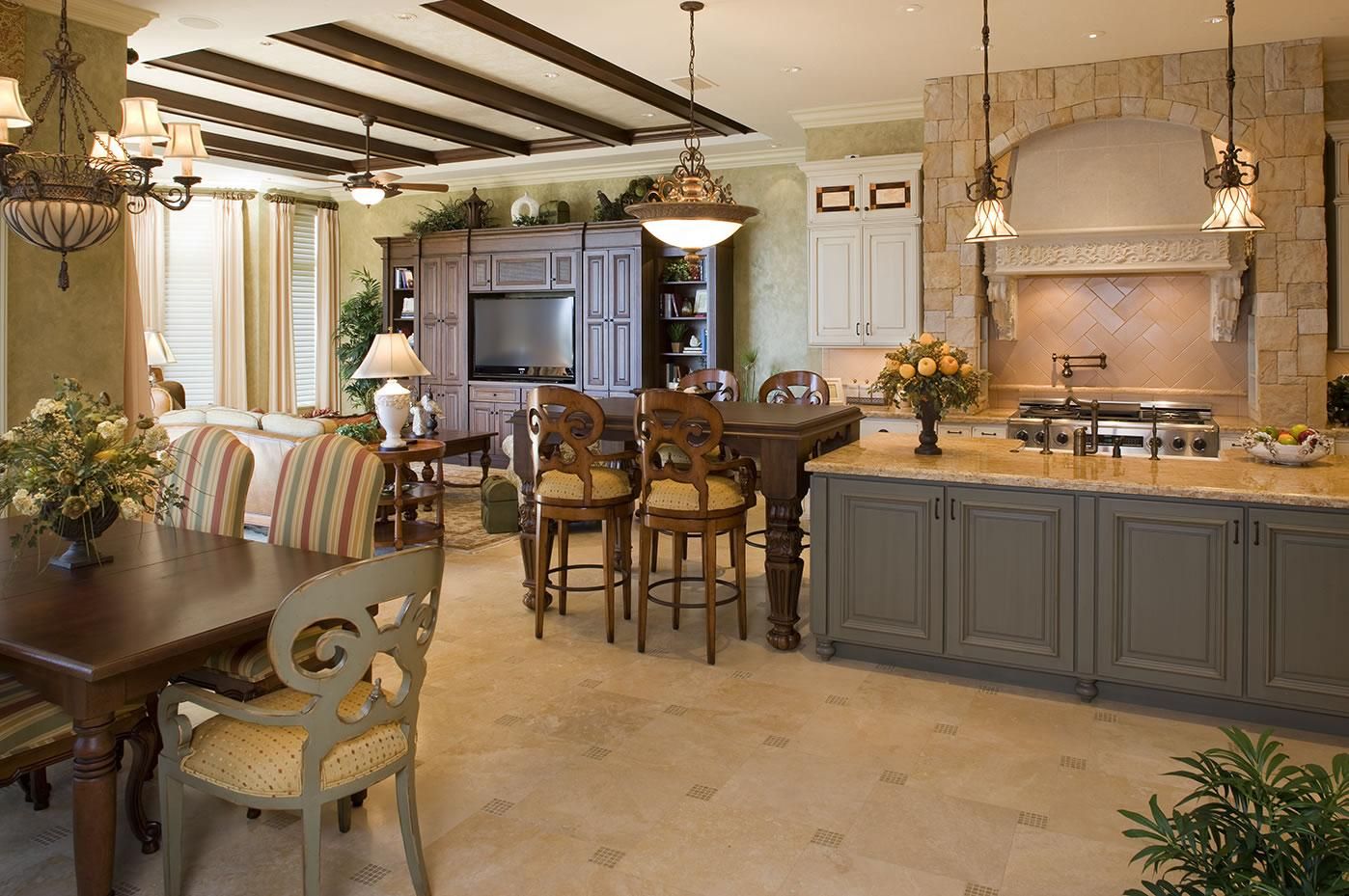 If your budget does not allow you to afford natural materials, there is also nothing to worry about. Today, only small decorative accessories are suitable for creating a Mediterranean style.
Currently, manufacturers are making increasingly high-quality substitutes, which, firstly, relate to natural materials and, secondly, do not differ from the original ones at first glance. Not only color is important, but also the texture and material of which they are made. Flowers and herbs not only enliven the interior but also give it a unique look. Given the above features, you can be sure that the kitchen will correspond to the style of the room where you have breakfast every day and spend free time with your family.
Small Mediterranean Style Kitchen
In a small Mediterranean-style kitchen, hanging cabinets and spotlights can look great. Well-equipped wardrobes and drawers will fit well on the floor. Here you can put kitchen utensils, small items, and utensils, create stylish storage for wine. Work surfaces can be tiled with unevenly cut travertine.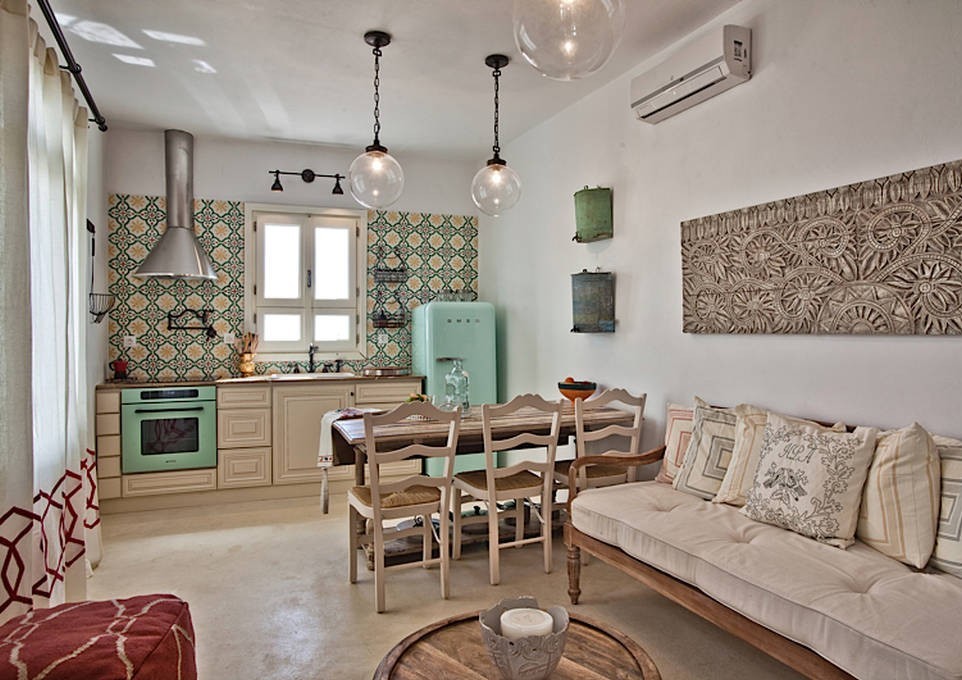 The exquisite design does not interfere with equipping the kitchen with the latest technology. Noteworthy is also the original floor, which due to the laminate or linoleum can be indistinguishable from genuine wood. In the more expensive version, you can lay the parquet. Mediterranean-style kitchens are not only about celebrating holidays, but it is also a tribute to beautiful and hidden simple forms, warm tones and harmony. The Mediterranean-style kitchen is primarily of raw natural materials combined with natural colors such as blue and green.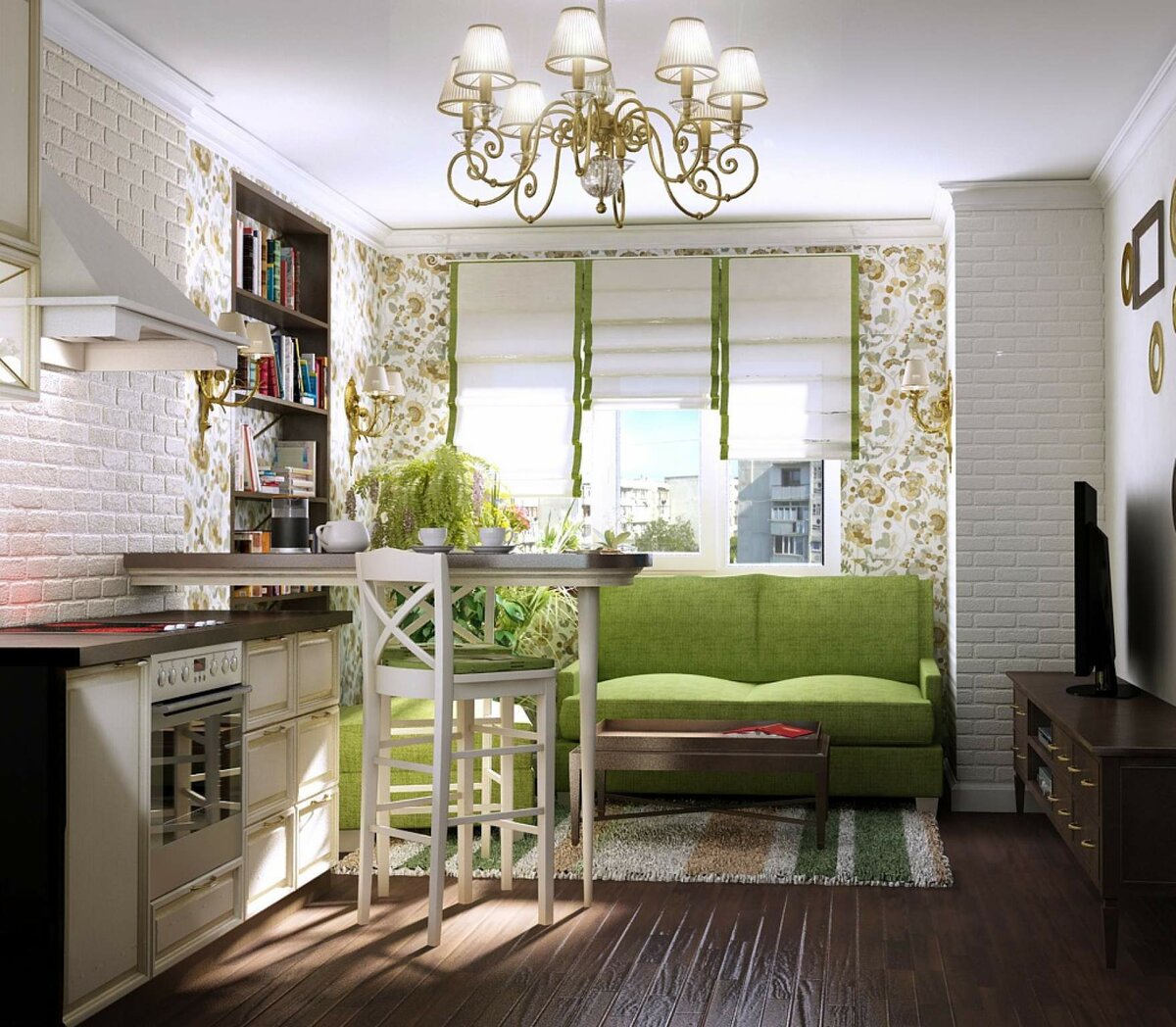 Table as an Integral Element of the Mediterranean Styled Kitchen
An important role in the Mediterranean kitchen is played by the table. It is here that the whole family gathers several times during the day with meals. Regarding accommodation options, the table should be large to accommodate all family members. This area is very important to pay special attention to when arranging the kitchen. Ceramic additions, such as tiles, should be an integral element of the interior. If possible during the design, try turning on the island, where you will prepare food.
Mediterranean Style Kitchen Accessories
All Mediterranean kitchens have a healthy approach to cooking. Elements, such as herbs and small flowers in pots, are perfectly combined. Not only do they look beautiful, but they also smell dried herbs, braids of pepper, and garlic. Decorative bottles with oil and fresh olives, stored in originally decorated clay pots, are also required. Do not be afraid of flowers, they are an integral element of this style. Clay or ceramics will look great on the windowsill. Avoid plastics that should not be associated with the Mediterranean style at all.
Mediterranean designed kitchen is associated primarily with peace, relaxation, and joy. In this kitchen, you relax and eat very good dishes, spend free time with loved ones, remember the holidays. The Mediterranean-style kitchen is original, it feels like a light breeze, and the ubiquitous blue color resembles a festive blue sky. This room is very warm and it feels primarily a family atmosphere here. Despite the original appearance, warm climate, such a kitchen is still quite a little popular. The reason is usually the lack of an idea to develop it in an original style, but you can always use photo ideas to create the kitchen of your dreams.