Contemporary in interiors is fashionable for many people and associated with a cold, rude and devoid of detail style. However, this is not a fallacy as the direction is full of possible décor options. They are very simplified, usually geometric, rather subtle but effective. For lovers of palace splendor, modern style will certainly be too poor, but the style is certainly appreciated by minimalists, sensitive to exquisite details, as well as fans of the classics. Modernity is timeless, as it is elegant. The style was born in the early twentieth century. So, what does a modern style kitchen look like?
Content: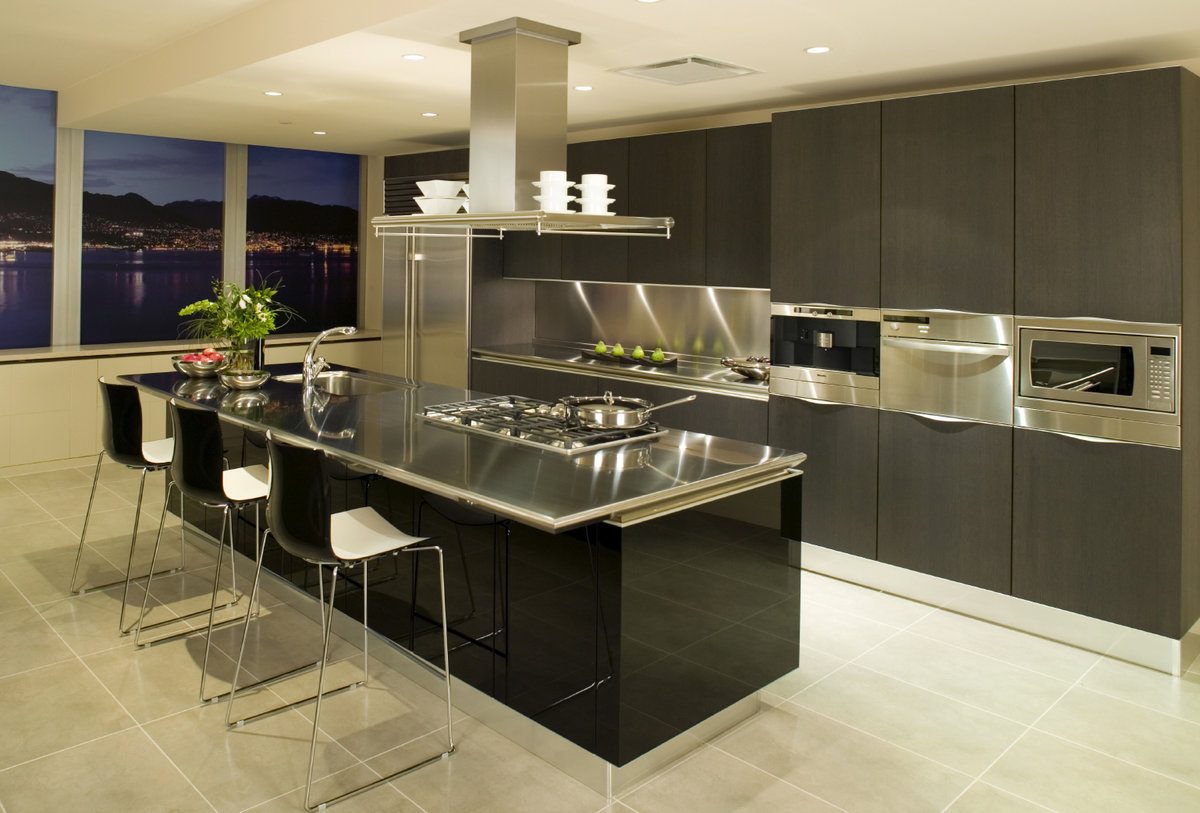 History of the Modern Style
The modernist style in interiors and architecture was born at the beginning of the 20th century, around 1918 and lasted until the 1970s. It suggested full separation from the historical Classic basis. Initially, Modern put functionality in the first place. This revolution in architecture and art was associated with all the necessary ideas that changed the world and life today, not only in the field of interior design.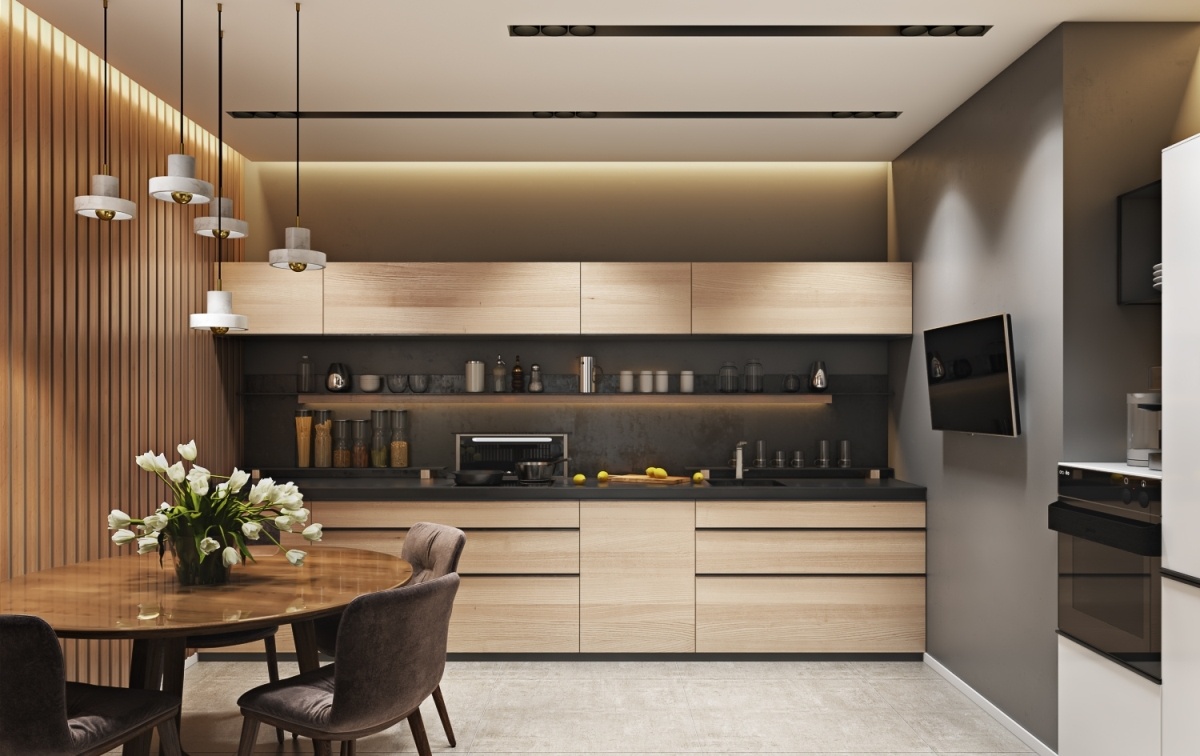 A lot of furniture which is readily used in modern interior design was developed during the modernism period. Interior designs still look very modern, and some of them even innovative, which proves their timelessness. Modernity in the interior of the kitchen, of course, will not go out of fashion quickly, and the correct location will highlight the most interesting accents.
Modernism was born in the first half of the last century but still strikes with a combination of minimalism and elegance. The modernist interiors are dominated by neutral colors, as well as steel, glass, and wood. The kitchen should have furniture with interesting geometric shapes and fabrics with monochrome patterns. However, it is enough to look at the presented photo gallery in order to perfectly organize the interior in this stylistic direction.
Modern Styled kitchen: Photos of Modern Interiors
To introduce Modernism to your home, you ought to stick to simple forms and focus on space. The interior should be based on neutral colors and materials, such as:
Colors are best preserved in mixed or pure shades of white and delicate gray, as well as in all-natural colors of the hardwood. It's easy to organize modernity in the interior if you use furniture made according to projects of past times. If you have the opportunity, be sure to use the original elements of modernism. Of course, in every house, there is a chair or a table of the last century. After a small restoration, they will bring to the kitchen a unique atmosphere of modernity. Such furniture can also be easily bought at auctions and in online stores.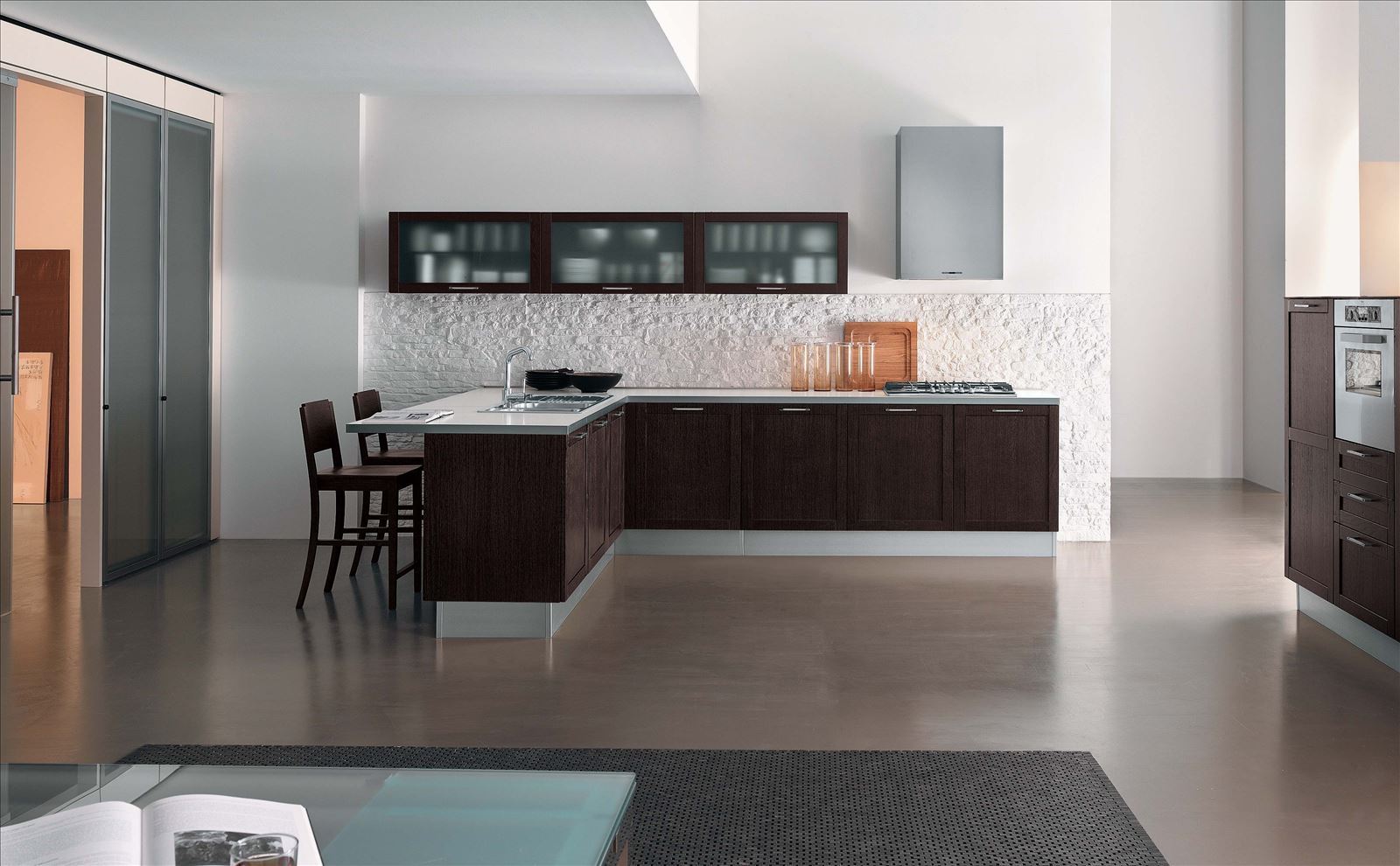 It is worth remembering not to overdo it with the amount of equipment. Modernism in the interiors is based on a large amount of free space. To complement the arrangement, it is worth choosing simple accessories made of metal, wood or glass in geometric forms based on straight lines and angles. Modernism in the interior, of course, will be an excellent choice for those who love timeless and always fashionable solutions.
Modern Kitchen Interior: How to Equip?
Features of a modern kitchen are, first of all, simplicity and functionality. The minimum number of additions and decorations makes the whole interior aesthetic and elegant. Moreover, harmonious space facilitates the preparation of dishes.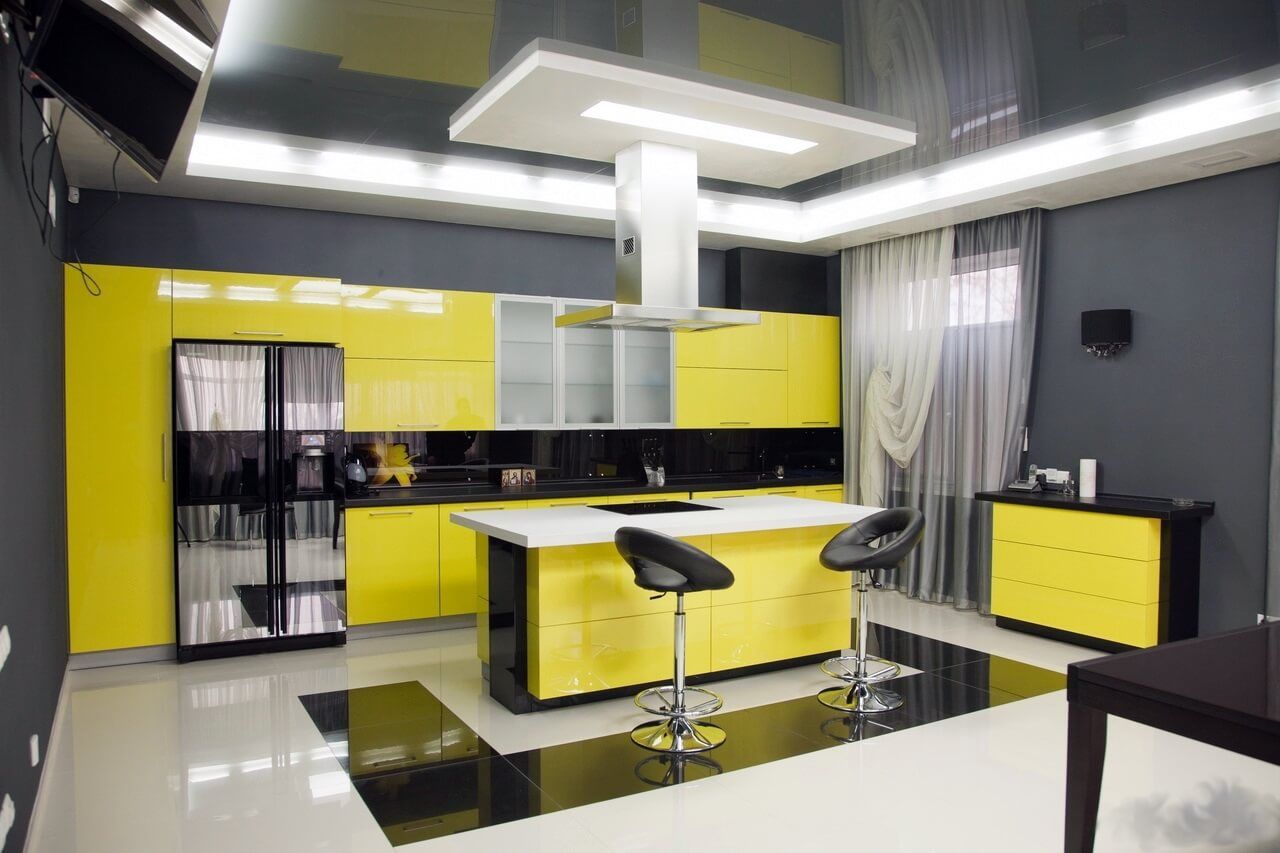 Modern style kitchens are often dominated by a single color. Brilliant white and graphite coatings reign. This does not mean, however, that you should be limited to monotonous fronts with a mirror-like sheen. For lovers of rich colors, interesting accessories in the form of yellow chairs, a turquoise lamp or other patterned elements will become irreplaceable. Remember that only imagination limits you. Modern additions and accessories in vibrant colors are always a responsible decision because you need to carefully consider the use of fronts in bold color combinations, for example, orange, light green or intense red.
People usually spend a lot of time in the kitchen, so this should be a convenient place for housework. A modern kitchen must be in order, so the interiors of drawers and cabinets should be equipped with dedicated storage systems. This facilitates cooking and maintaining order. In the Modernism styled kitchen, playing with light is important. Properly selected lighting will make smooth surfaces more emphasized, and the interior will become more comfortable. Kitchen windows are devoid of decorations, all kinds of curtains and drapes are in the past, but elegant and modern blinds dominate instead.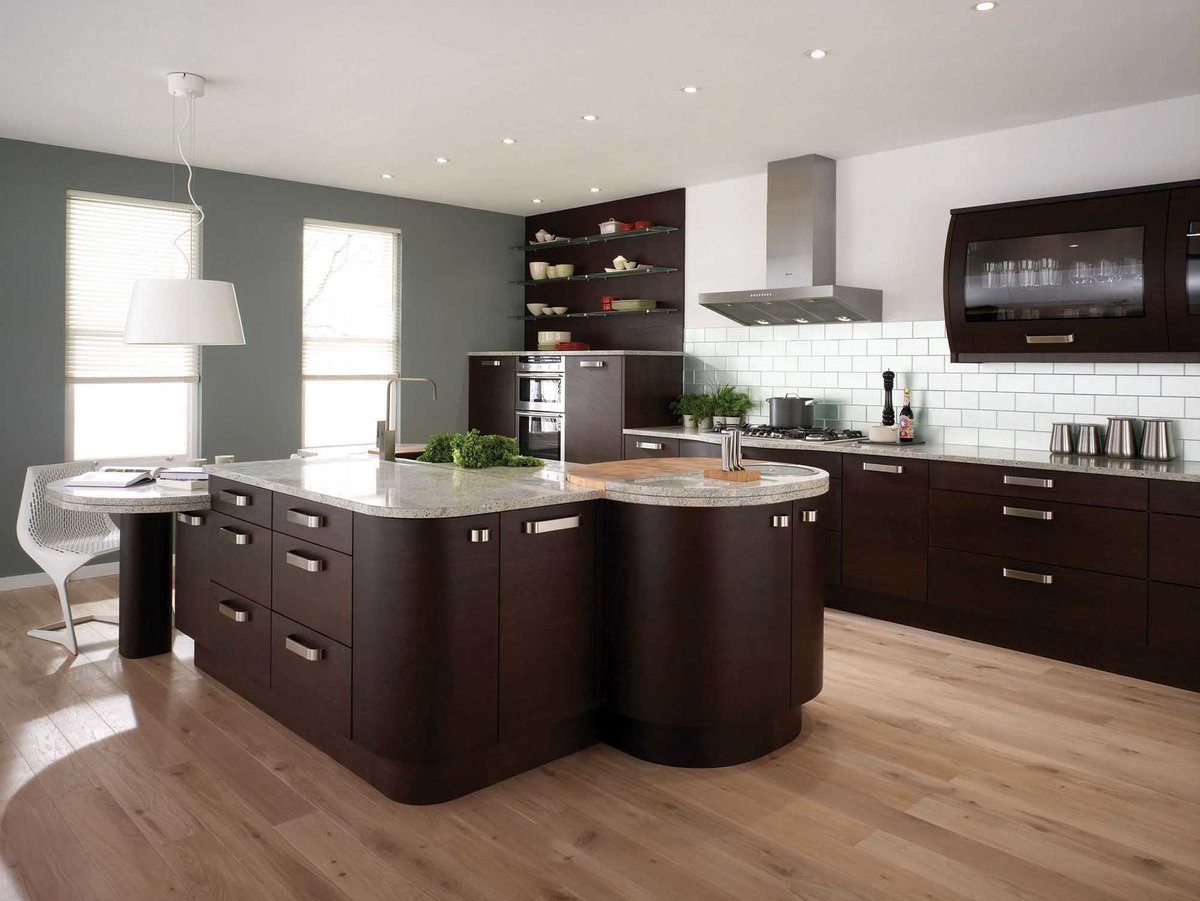 Furniture: Streamlined and Interesting Shape
Modern interior designers in the kitchen use straight lines, natural materials, including wood and metal, as well as open spaces – this is all that is needed to create an attractive space. They believe that the furniture should be very functional, so that the arranged space will be elegant, spacious and simple, without any interference and unnecessary items. Currently, many iconic modernist furniture designs have undergone up-to-date metamorphosis. If you want to create a Modernism interior, rely on furniture with intriguing and unusual shapes.
Textiles: Delicate Colors and Artistic Design
If, in the case of furniture design and its form, you should adhere to clear rules, then from the point of view of fabrics you can afford a little skill. The colors of the curtains, pillow covers or Roman blinds selected inside should be in harmony with each other. However, from the point of view of bright colors, you can afford a lot more imagination.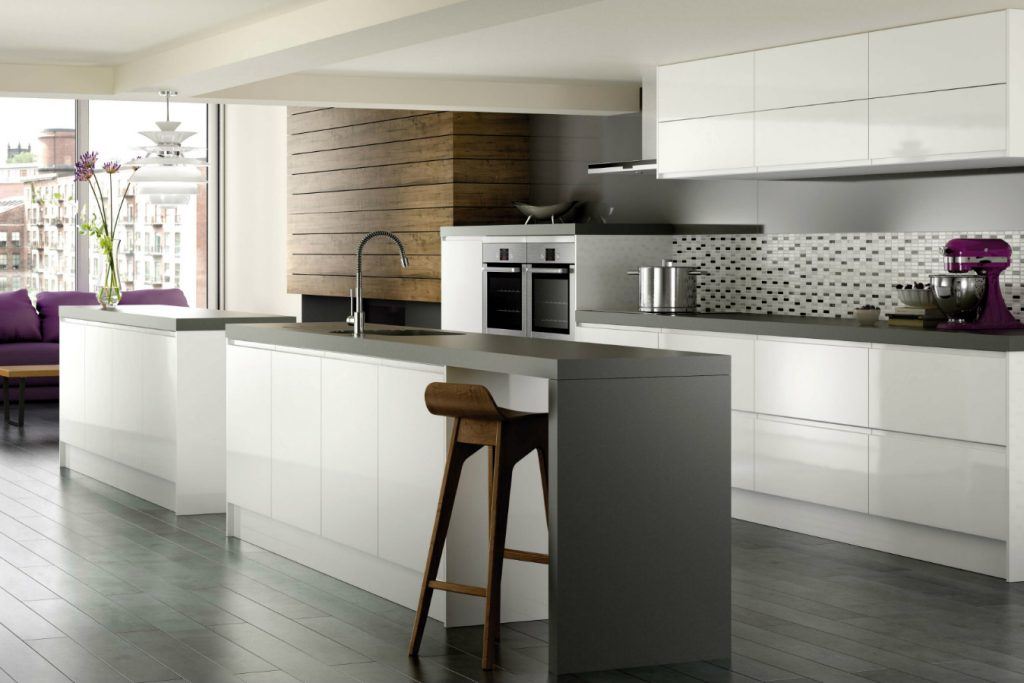 Lamps: the Light is hooded in an Intriguing Form
In a modernist interior, lighting aesthetics play a key role in creating the right mood. In this case, the interesting shape of the lamps is more important than their ability to highlight a given space. Lamps for the kitchen have the characteristics of modern design, that is, clear geometric shapes. Most often, large pendant chandeliers are located above the dining table.
Small Modern Kitchen with Designer Appliances
Mandatory elements of the modernist kitchen are modern appliances equipped with the latest technology. Modern household appliances are not only advanced but also appear as the real decoration of a small kitchen. An original solution can be an interesting coffee machine or food processor. Do not forget about the built-in ovens, dishwashers. Glossy surfaces blend well with matte finishes in the form of countertops and kitchen utensils. A small, elegant iron sink is perfect. The designer kitchen faucet blends harmoniously with modern design. It is worth remembering that in the modern kitchen, as in any other room, quality and functionality are important. Furniture and appliances are especially vulnerable to dirt and damage. Therefore, when choosing individual elements, it is best to focus on the highest possible quality.
Many of the Modernity styled interior elements are readily used in modern kitchens. Modernist furniture and accessories are still in high demand, making this style timeless. Therefore, properly planned kitchen interiors will delight and inspire both family members and guests for a long time.