Turquoise is a color of coolness and freshness. Like any other color, it can create an atmosphere of purity and even sterility. That's why designers like to use it in the interiors of bedrooms, especially in hot countries. But this is not all. Even such a subtle science as psychology has given turquoise color an uneasy function: a sensation of spiritual purity and balance. This color helps focus on thoughts, concentrate and improve mood. That's why it can and should be used to varying degrees in the interior of the bedroom. It all depends on the temperament and taste. So, let's overview the real examples of turquoise color in a modern bedroom interior to a more profound understanding of its use and relevance in your own home.
The famous doctrine of Feng shui also paid special attention to turquoise color. It positively affects a person, has a beneficial effect on the body, especially if combined with pastel tones. Representatives of oriental cultures assumed that it was a turquoise color that gives a person a feeling of love, heals from illnesses, inspires, gives strength and confidence.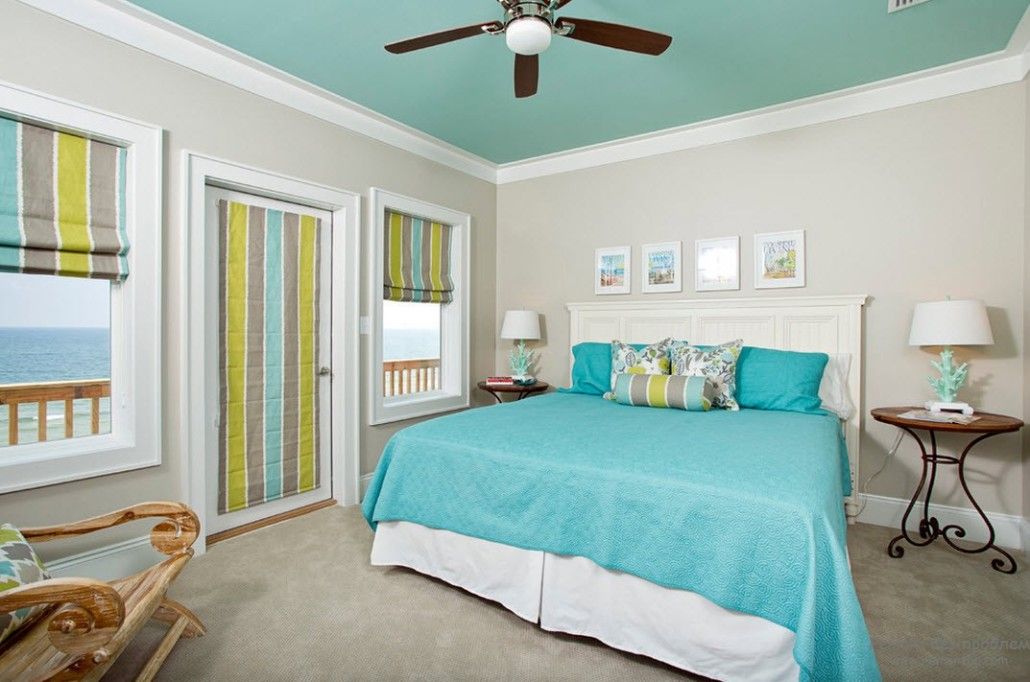 Turquoise Color is a Fashionable Trend in the Interior
Turquoise color finds more and more fans. More and more interior designs of bedrooms are filled with different accents of this refreshing color. Bold, bright, attractive, but at the same time, not vulgar – that's why turquoise can be safely recommended to everyone. The color fits in any style as well.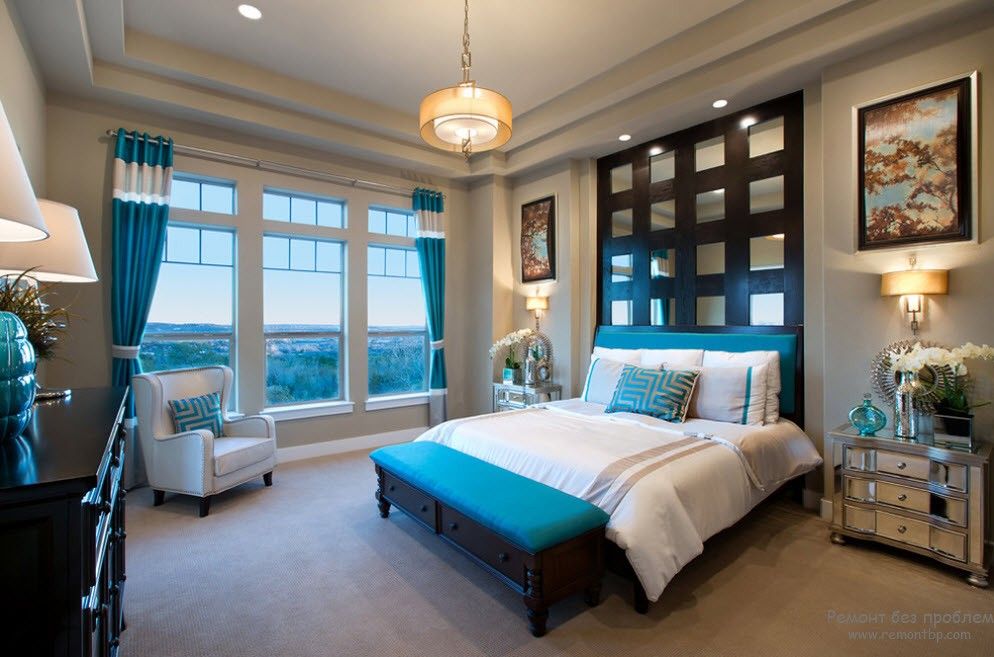 If you are not a supporter of sudden changes, turquoise color can find its manifestation in unobtrusive accessories, drawings on the walls. Also, it can be turquoise pillows, bedspreads.
The duet of the turquoise and white color is considered the most advantageous and suitable for bedrooms. Such an interior has a calming, relaxing effect, creates a sense of purity and harmony. This combination is most suitable for interiors in the style of high-tech and minimalism.
More luxurious looks a combination of turquoise with black, chocolate and coffee shades, but it is desirable to use white accents.
In addition, the turquoise color looks perfect even in the most unexpected stylistic decisions.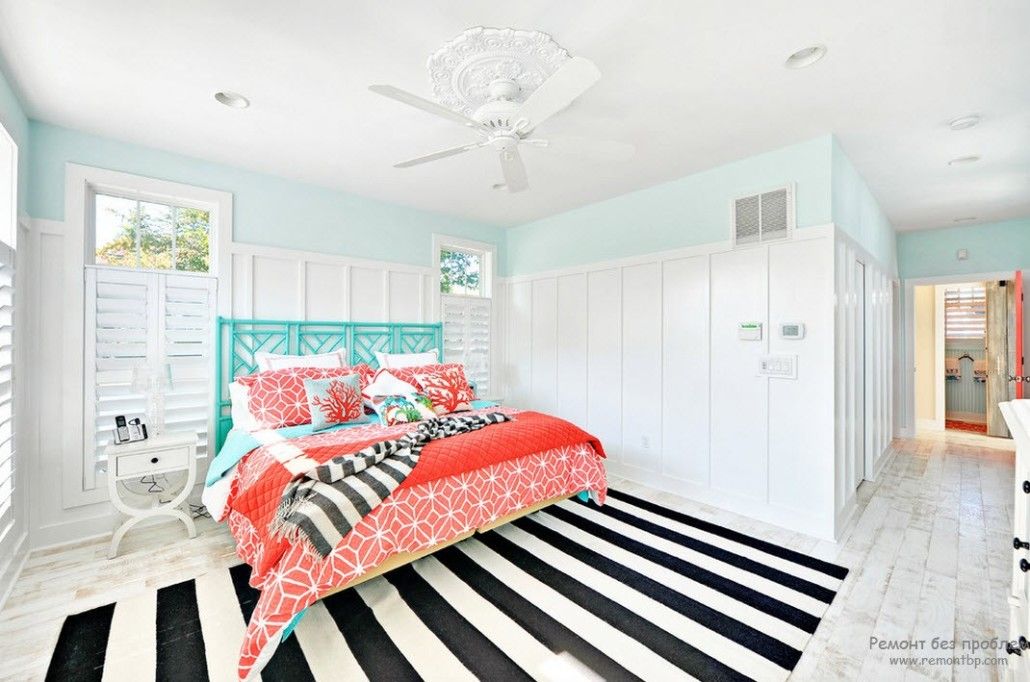 It means any "partner" can play up to the turquoise. It is more important to determine what mood the bedroom should set, what character its owner has?
Sea Surface in the Room
The color of the sea wave can easily create a sense of the proximity of the sea, the emotions associated with it. Even a small bedroom will become cozy, visually greater, if you correctly use the turquoise color and its shades. Often one of the walls of the bedroom becomes an object used to create a sea surface.
In this case, the ideal solution will be the use of white tulle, windows, skirting boards, doors.
Turquoise color in almost any combination gives a sense of luxury, comfort, harmony, and appeasement, where furniture, accessories, bedding and flooring help to achieve integrity in the design.
As you can see, turquoise color easily recreates the scent of the East, where turquoise is mined.
Furniture in the Turquoise Bedroom
The feeling of airiness, freshness, and lightness in a turquoise bedroom is easiest to maintain if you do not use bulky furniture, massive tables, and cabinets, heavy curtains.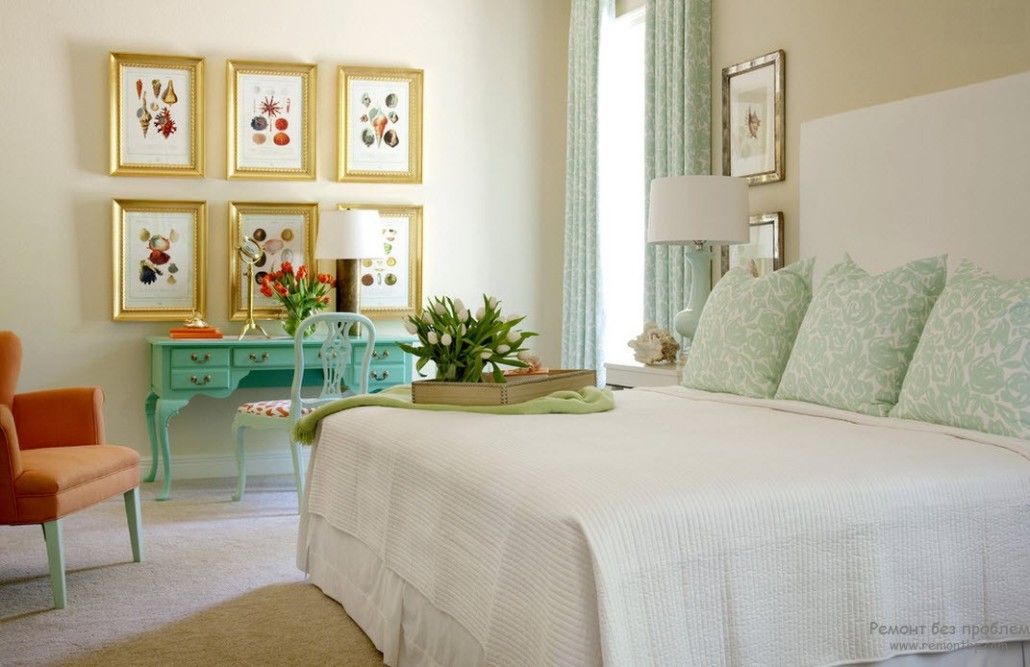 It is important to observe the balance. Do not go into extremes: turquoise should be either walls or furniture.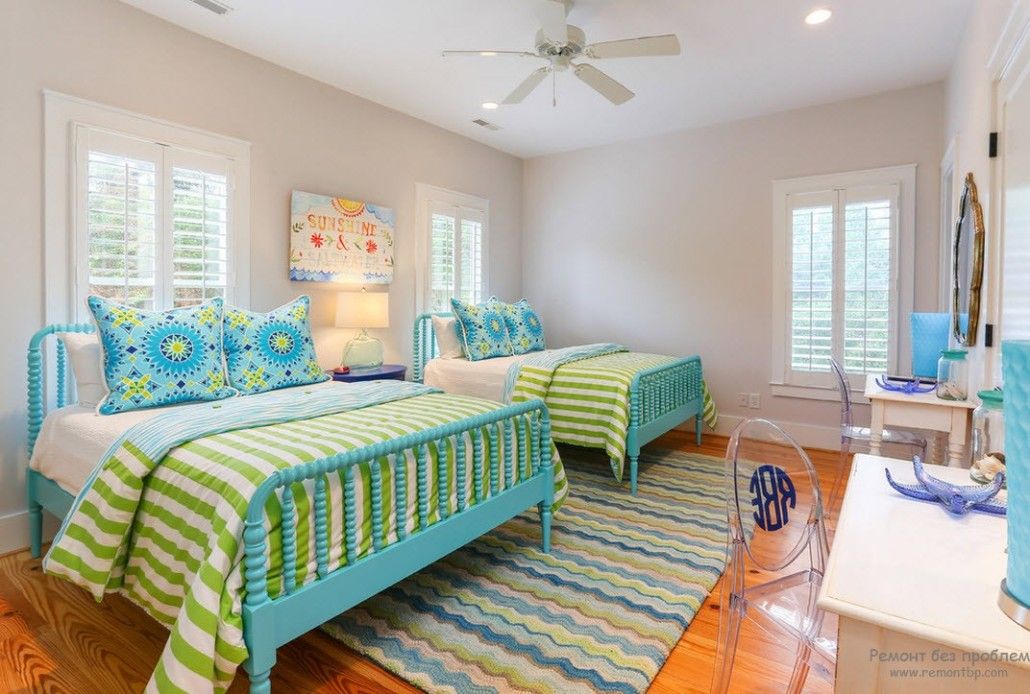 The combination of light walls with bright turquoise furniture upholstery became quite popular.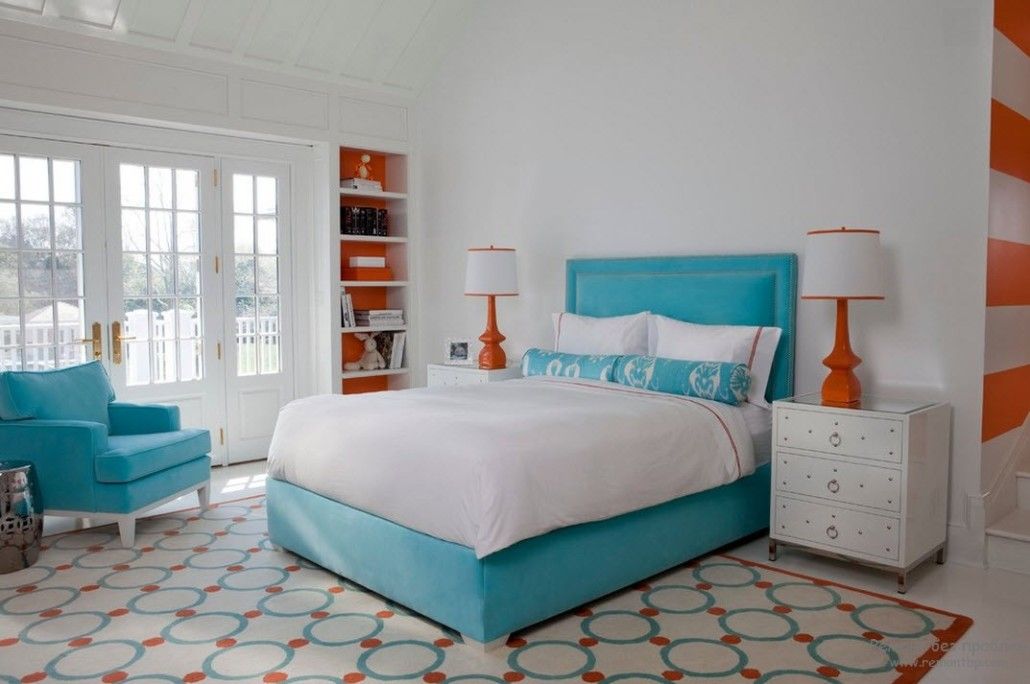 It is possible to change accents in places.
Turquoise Color in the Modern Bedroom Interior. Lighting
Turquoise is the warm and light color, so it is very important not to muffle it with excessive lighting. Ideally, if your bedroom is filled to the maximum with natural light and is completed with 1-2 lamps.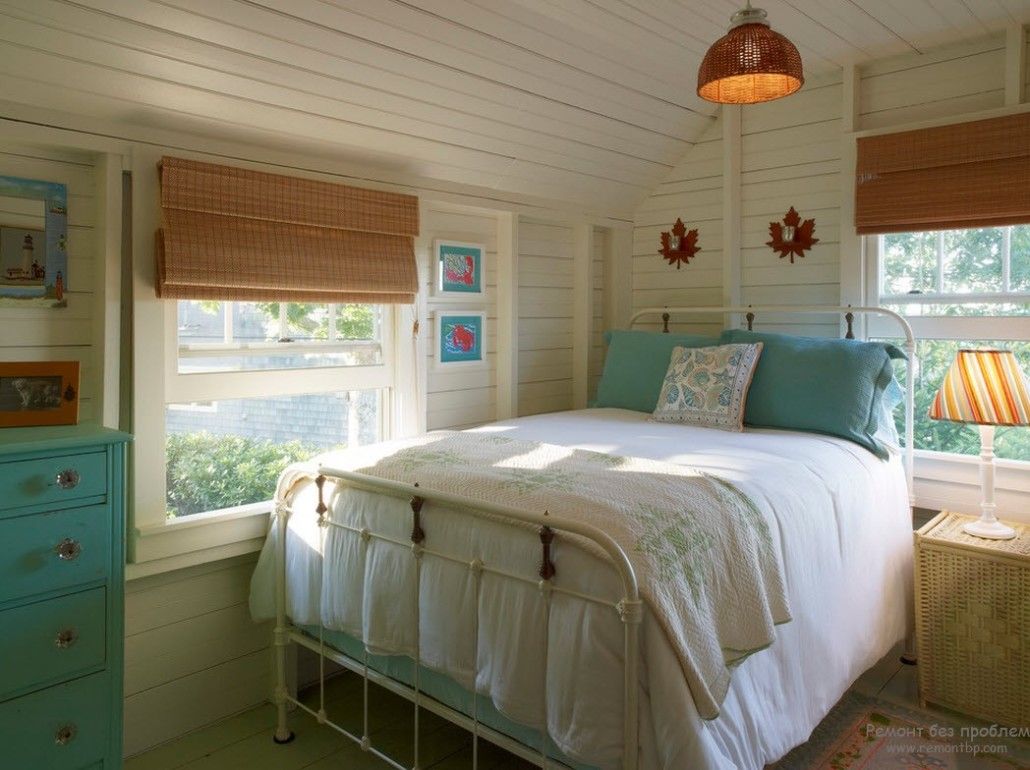 Who will Appreciate the Turquoise Bedroom?
The color in which there is no melancholy of blue and monotony of green will become a true gift for people who value calmness and non-ordinary decisions. It is ideal for workaholics as it has a relaxing effect, as well as for melancholy personalities due to its toning properties, the mood can completely change its "hue".
Turquoise color is an ideal solution for creative people. It develops imagination, gives new ideas. As a rule, it is the people of art who decide to combine the turquoise color with yellow, orange, raspberry and salad.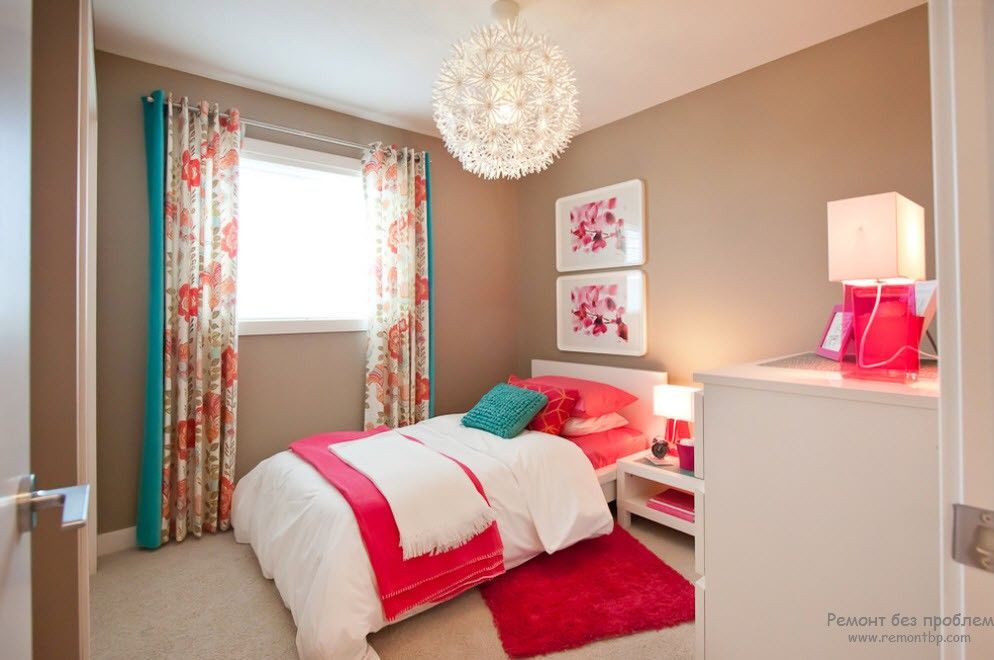 But even in this form it does not irritate the eye but gives a sense of harmony. The turquoise color is the color of successful, positive, energetic people. In addition, this color often becomes the main thing in the interior of children's bedrooms – in fact, it is a guaranteed positive, a relaxation and tranquility. Turquoise is sure to present a feeling of freshness, peace, and harmony – it is important only to use it in acceptable quantities, choose the appropriate supporting shades and place the right accents.
Let your bedroom always be filled with freshness and positive!