Everybody knows what an ensuite bathroom is. It is very convenient to have the bathroom zone and toilet all at once in the same space. Especially when it comes to humble spaces in studio apartments and condos. However, it is also right for large private houses. That is where a couple of guest bathrooms will turn your house into a comfortable place for many people. And we will try to highlight some of the popular tips and tricks for treating ensuite bathrooms as the way to organize space in your house or apartment in this article. Let's get into it!
Contents: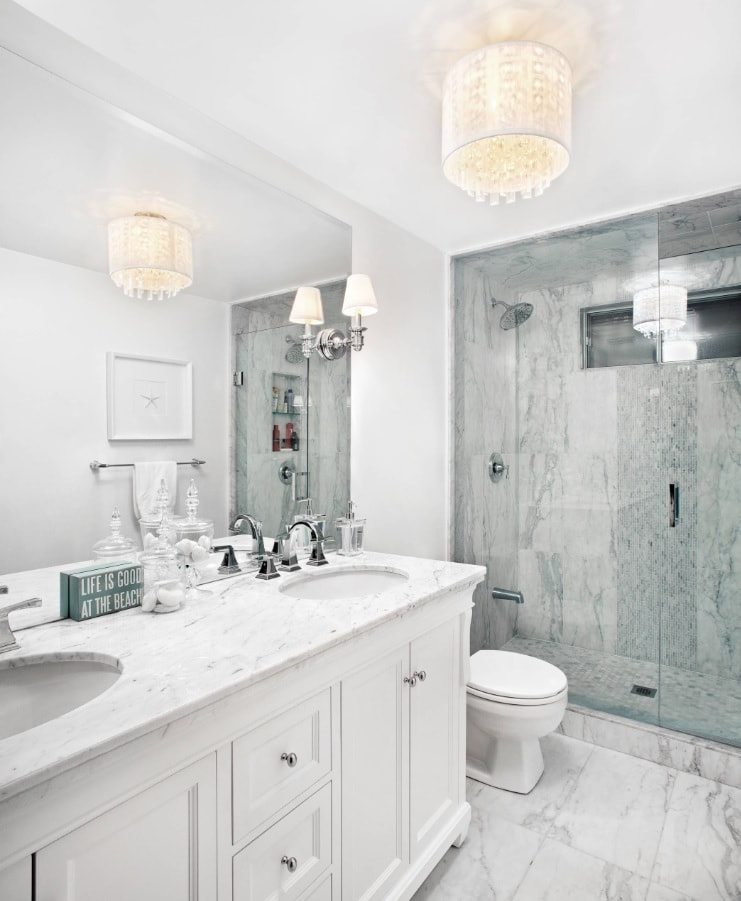 Color Palette for Small Ensuite Bathroom
First of all, let us consider the win-win color to make your ensuite bathroom look bigger. Aside from it, this color will tone you up in the morning and make your water procedures more effective. Of course, we are speaking about white color. It is neutral, soothes the psyche at the same time being the perfect backdrop for staying alone with your thoughts.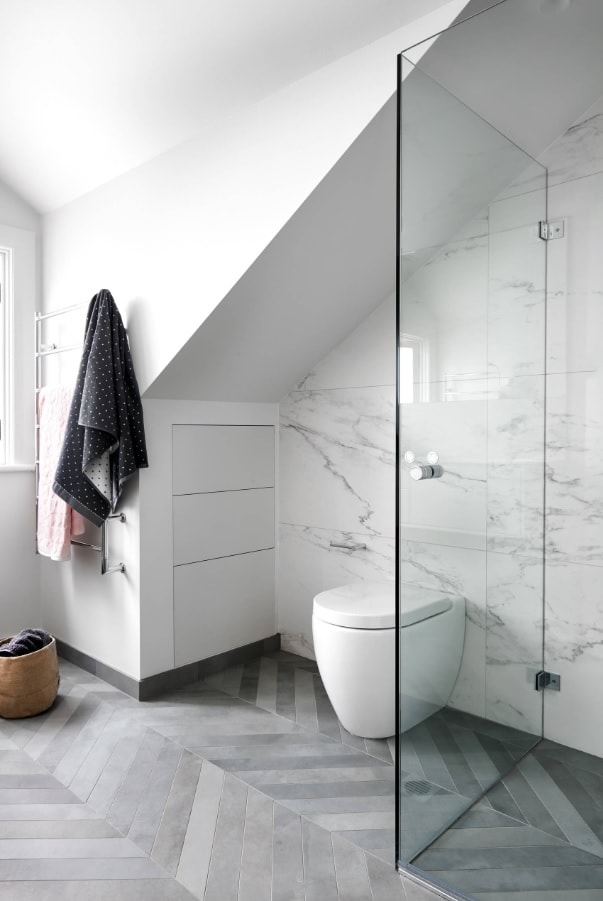 Along with it, white matches well with modern finishing materials, wall panels, and furniture. You can use white marble imitating tile and slabs for sinks, floor, and walls. So that anyone can finish any functional zone in the bathroom.
Gray and beige color themes can't remain unmentioned. This is another successful and widespread group of colors. Pastel tints of gray or beige and their combination can make your bathroom absolutely unique place. But you should keep in mind that it will require more artificial light. This is a great option to add some lighting fixtures or highlight different zones. Don't give up on such possibilities!
Ensuite Bathroom and Other Rooms
And what about combining a bathroom with other spaces? We usually deal with small spaces for a utilitarian purpose. This pushes us to find an exquisite way out of the situation. Because the bathroom should provide all the necessary functions and it should also be pleasant to stay in as well. So, if we want to combine the bathroom with other rooms, designers say that it is some right ground to touch.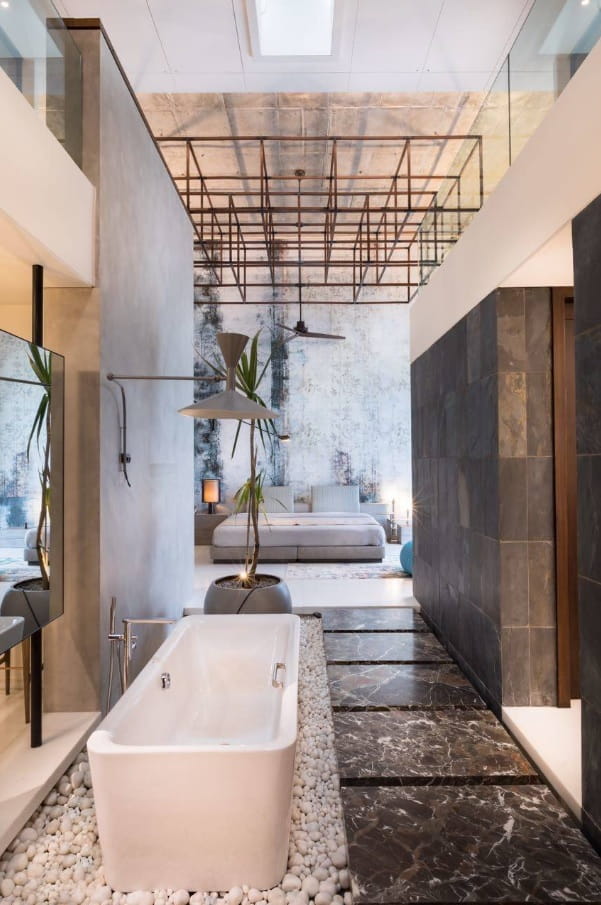 First of all, the bedroom is the most popular space to combine the bathroom with. We don't even mention this can be a guest bedroom where everything would be at hand. Primarily, it is correct for small condos and open space apartments where you should plan all the functional zones of your own. And that's where joining the ensuite bathroom to the sleeping zone can be the magic wand.
Style and Appearance
In addition to functionality, of course, we want our ensuite bathroom to be as visually appealing as possible. But there is no universal way or advice on what style will be better to stick the decoration of your bathroom too. Contrariwise, it can be almost any style you want. Of course, we will insist on referring to the professional designer in order to make up the plan of bathroom renovation as it is quite difficult to make on one's own. However, you can be inspired by a nice collection of real-life examples below in absolutely unexpected stylistic. Thus you will have solid grounds to speak more substantively
Even Pop Art style is more relevant for such a bathroom. If you are a fan of such a motley and effective style, it can be seamlessly organized even in a small area.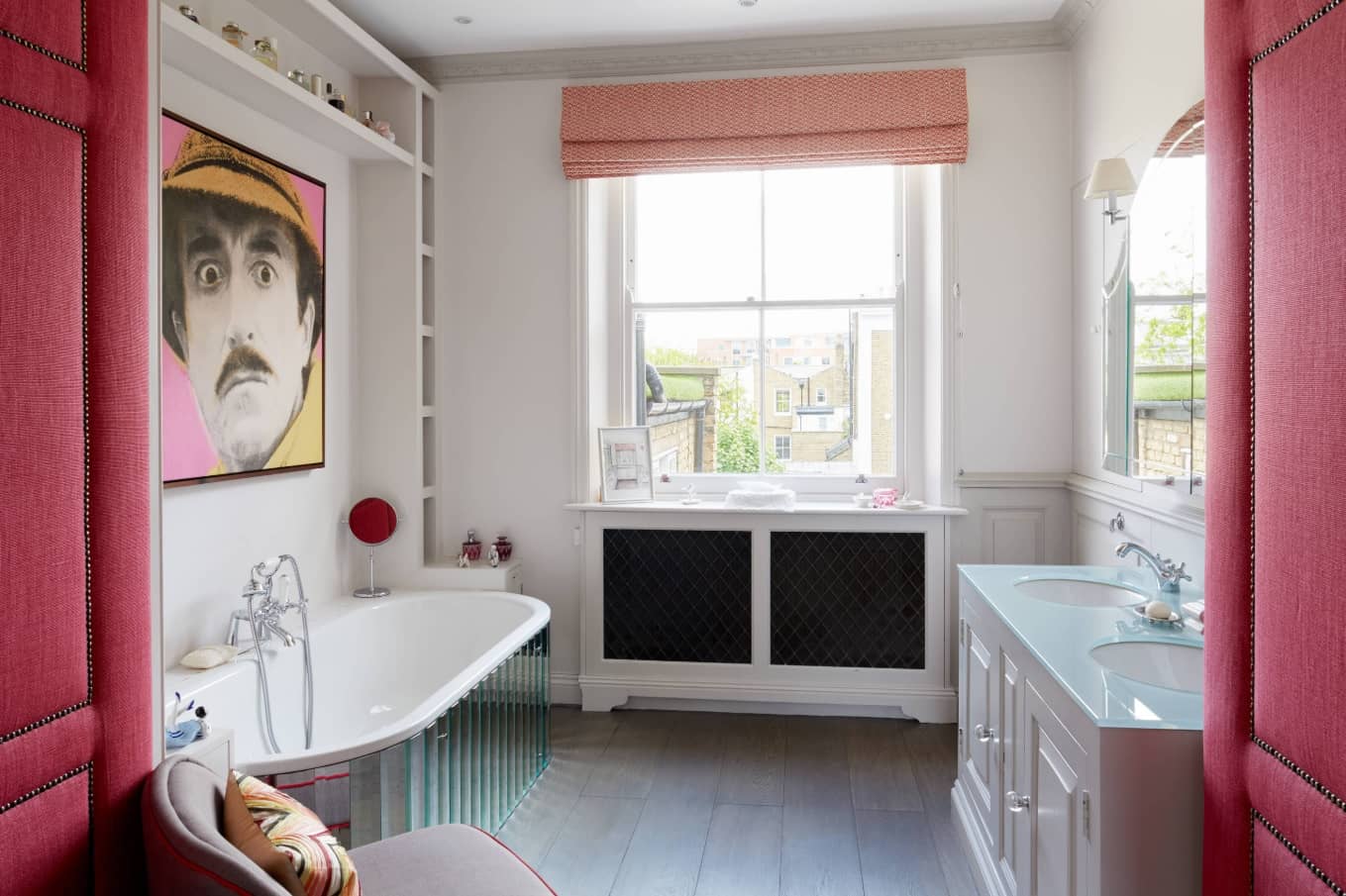 Ecodesign is also another magnetic option to make your ensuite bathroom shine with new edges. Just take a look at the bold and absolutely unique decision to make the translucent glass wall to the green zone.