Despite the fears that living room in gray would look quite dull and boring, many designers prove us the converse by using this tint in interior decoration. And the secret is to properly and skillfully pick up the necessary shades and then the most important thing in the house the room can be turned into a stylish and effective rest room. Moreover, the gray color itself is unusually universal and at times contributes to a combination of incongruous. For example, it perfectly allows using the furniture of other bright colors on its background. And indeed, it can perfectly emphasize other colors in the interior. In addition, gray is the color of practical people with high requirements for design. This article contains some of the most common usage of gray living room decor ideas. Particular elegance of the interior is much more closer and simplier than one can think.


What style corresponds to gray living room better?
Ideally, gray color is suitable for modern style living rooms. For example, it is relevant for Hi-tech, which is based on all shades of gray, as well as a general and a higher dark shade with contrasting bright accessories. Also, the gray interior of the living room can be successfully used in Art Nouveau, Art Deco, Loft or Urban styles.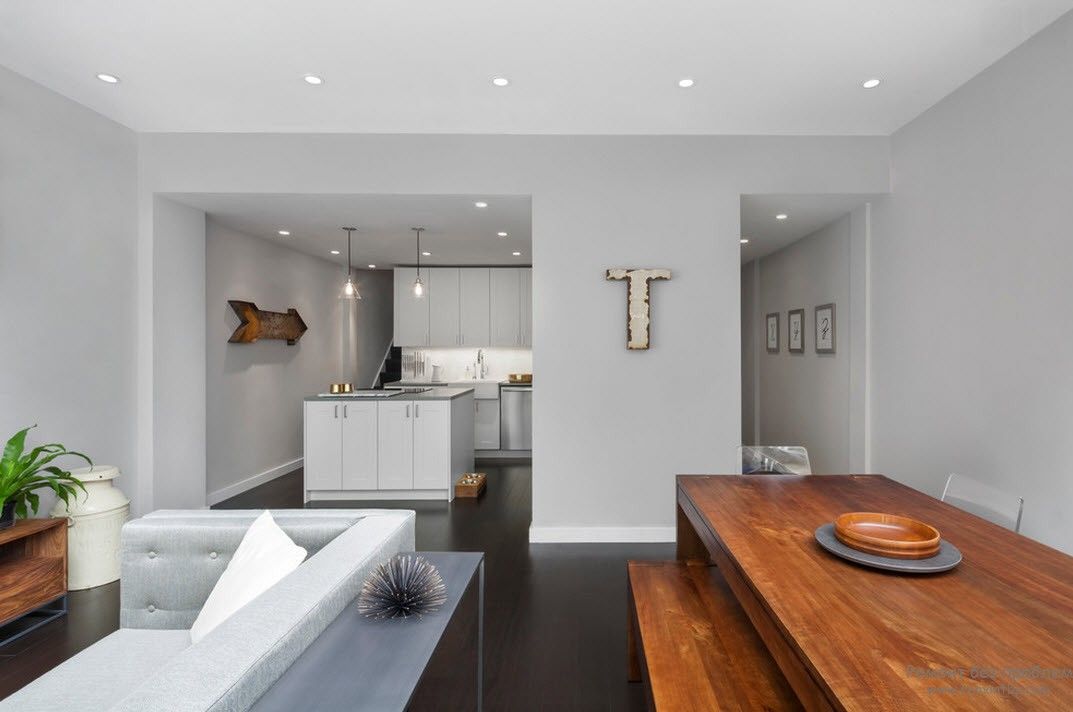 In the classics, a gray drawing room can be found much less often, although in ancient time representing styles gray color in the living is simply magnificent. For interior design, this color is used in most cases as the main background (walls, floor). An unusually effective combination is obtained if you use a dark graphite tone for finishing the floor and a light pearl for finishing the walls. Usually, such combination is used in Mediterranean utilitarian style with addition of complementary tones: white and brown. However, a good room illumination is necessary for such an interior, i.e. the living room windows should face south.
Which combinations are best to use
Gray color is neutral (color of asphalt, metal and concrete), it is perfectly combined with any other shades, with both dark and light colors. But the combination with bright colors (which it shades remarkably) looks most effective and advantageous. Besides, the combination in this case turns out to be less sharp, rather than with white color. If you combine gray with light hues, it is better to use warm colors, otherwise the interior can turn lifeless. In principle, gray is perfectly combined with red, brown, yellow and green, which can also be used as bright accessories.
And you can decorate the interior as a monochrome gray drawing room. This will give the room a special chic and elegance.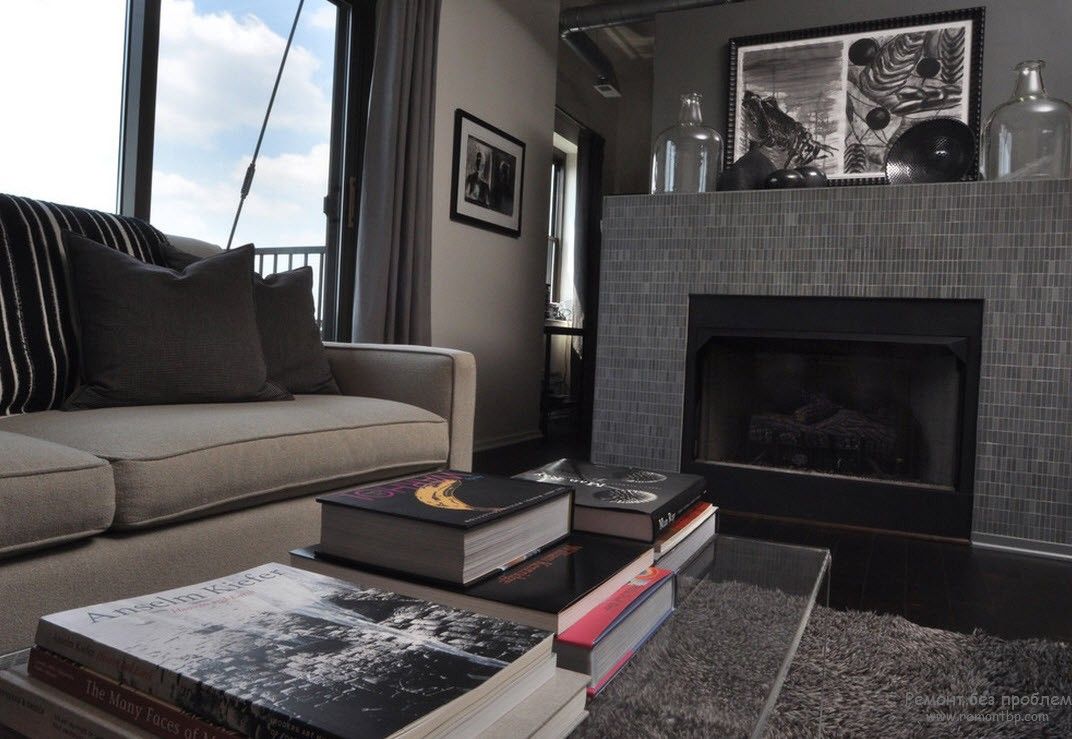 And if we talk about the classic version in terms of compatibility, then it's undeniable combination of gray and white. True, ideally it is better to use not snow-white, rather creamy white shade, which will best reveal an elegant gray color and will not play in contrast.
Interiors of living rooms where the gray color is combined with black also look very noble and stylish. No less impressive is the design, where all three colors are present in one place: gray, white and black.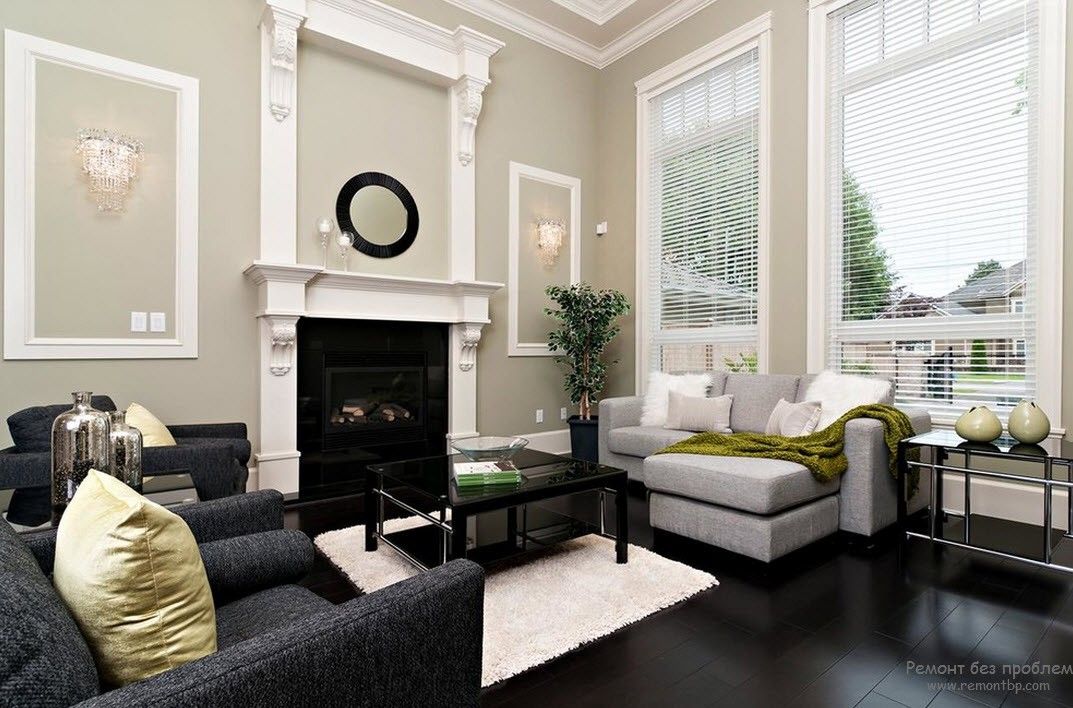 Gray color can also be applied in combination with blue or dark blue – it also turns out to be a fairly elegant combination.
And shade of gray will look just amazing with yellow color. Moreover, yellow will literally "sparkle" against the background of a gray. In this regard, it is not recommended to use a lot of this color in the interior, only small inclusions in the form of a separate lamp shade, curtain or even just a yellow strip. Otherwise the glow effect will simply be lost.
If you combine a gray shade with red, in this case red should also be dozed, because this is a complex pulsating combination. Red should also be introduced only as a color accent.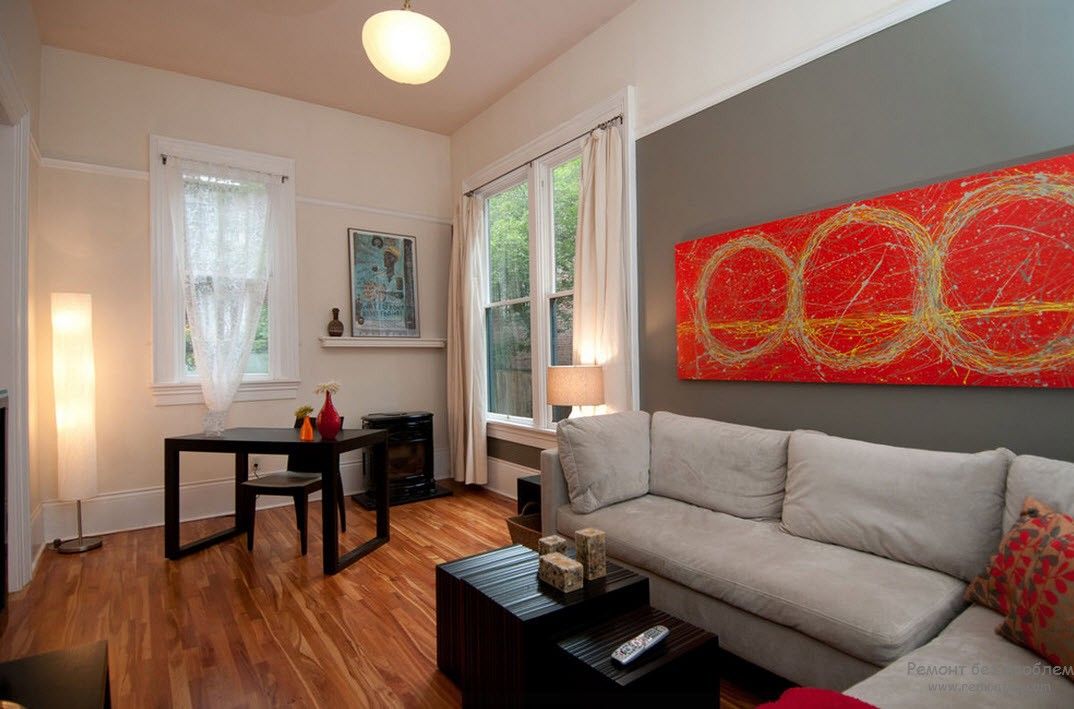 Gray-green combinations in the interior of the living room look much simpler than, for example, gray-yellow. Green color does not "burn" and does not contrast. But such a combination gives a good relax, calms nerves and slightly blows with pleasant coolness.
Effective combination is obtained if you use a cool gray color with warm beige. They create a wonderful background for other (both cold and hot) colors together.
Furniture in the gray living room
Concerning the color of furniture, it can be noted that it can also be gray, maybe white, black or with wooden tint and structure. By the way, there may be a bright tone, for example, red. One red chair will serve as a wonderful stylish accessory.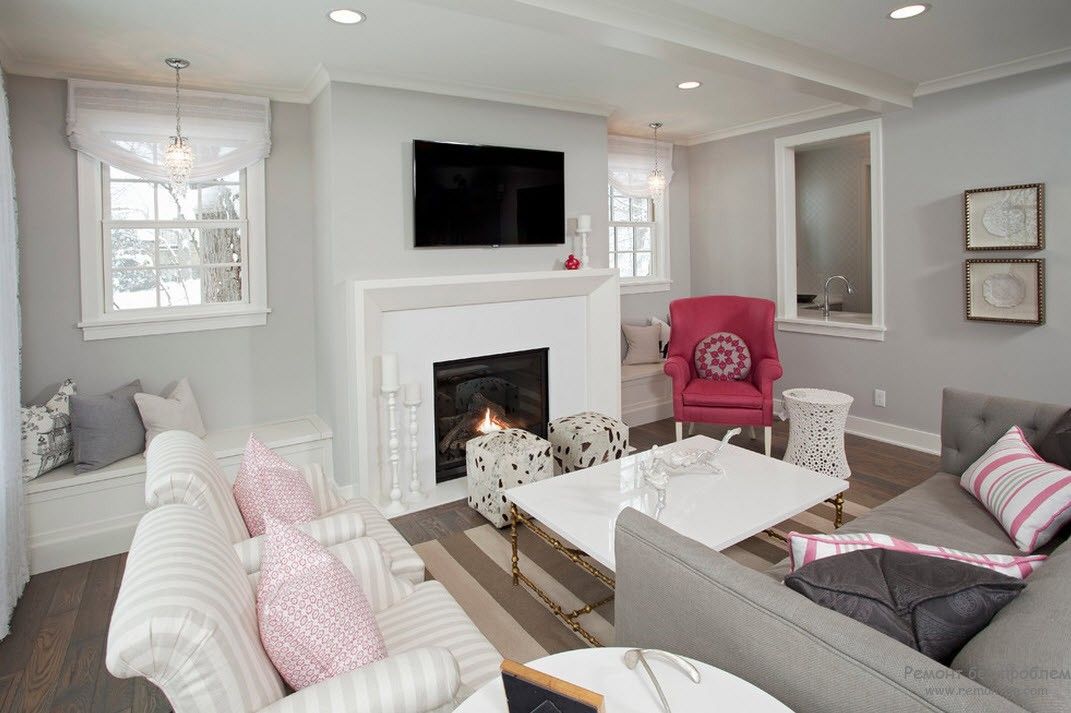 Or you can use one bright sofa in a neutral interior, which will immediately make the design of the living room much more spectacular. And you can support the color accent furniture and other interior details, for example, in any accessories.
Interior of the living room, in which the furniture has the darkest shade of gray paired with curtains of medium gray saturation (to give a special elegance) will have a very impressive look. We mean the upholstery should be completely without a picture. By the way, the great advantage of a gray sofa is that it will by no means look excessively cumbersome and massive, even if it has impressive dimensions. And if you still decorate it with cushions of gray color with different textures (matt and shiny), then the effect will be just stunning.