We spoke a lot about black color in the interior on the whole and particular elements, furniture (sofa or a dining set) and in different rooms (bathroom, dining room, etc.) And we already know that black almost never used alone, but its combinations with white are a massive option to add solidity to the interior. Black is an often guest in modern homes and its popularity increases despite the common opinion of its depressiveness. But of course, it is not added in pure, it is usually some tint of black. Moreover, in most rooms with proper lighting, it even adds moderation and nobility. So, we will get some more ideas on how to apply black accent wall living room decoration when remodeling your biggest room.
Content: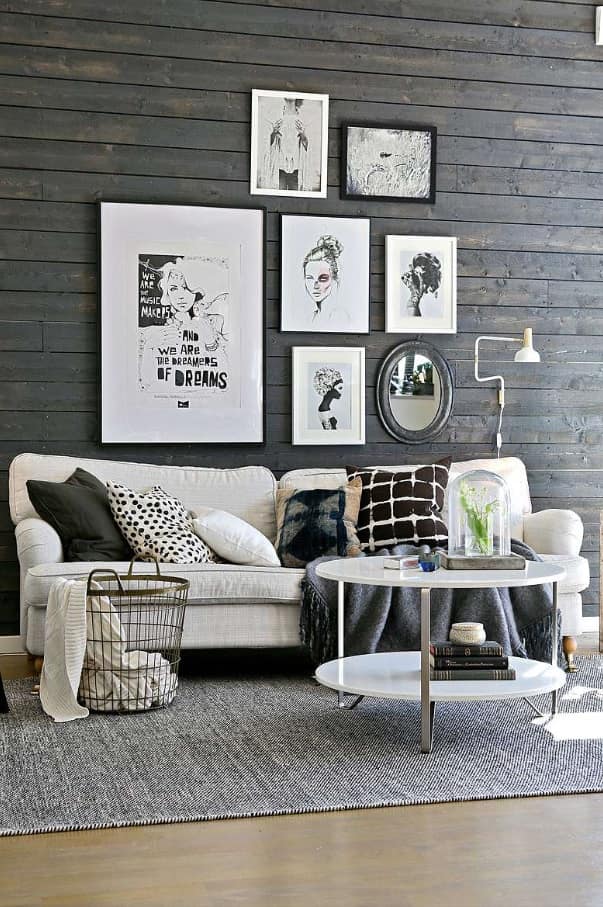 Why Black Wall?
The lounge room often needs a clear accent in order to set you and your friends in a festive mood or relaxation. This can be bright furniture, picture, an unusual coffee table or rug, a combination of colors or decorations, etc. But one of the most unobvious and at the same time effective options is to make the living room black and white by adding the black accent wall.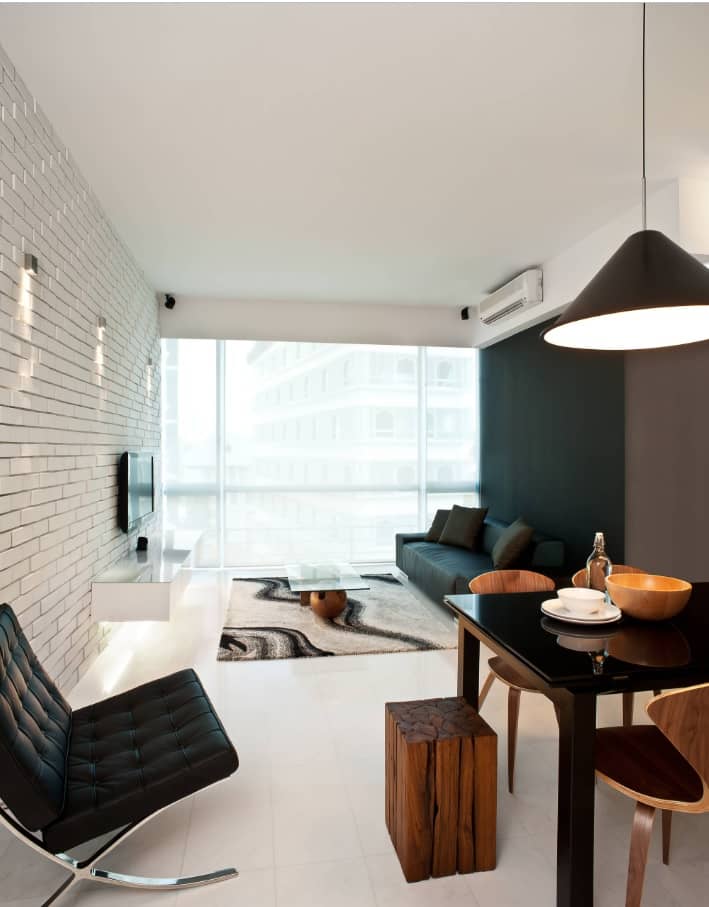 This decoration method is not new and has been used for a long time until today. However, the non-falling interest in this color combination speaks for itself. And the easiest way to introduce black into the interior is to make the accent black wall. It can be just one wall or even its fragment, or entire walls of the living room. You can add black to the room though: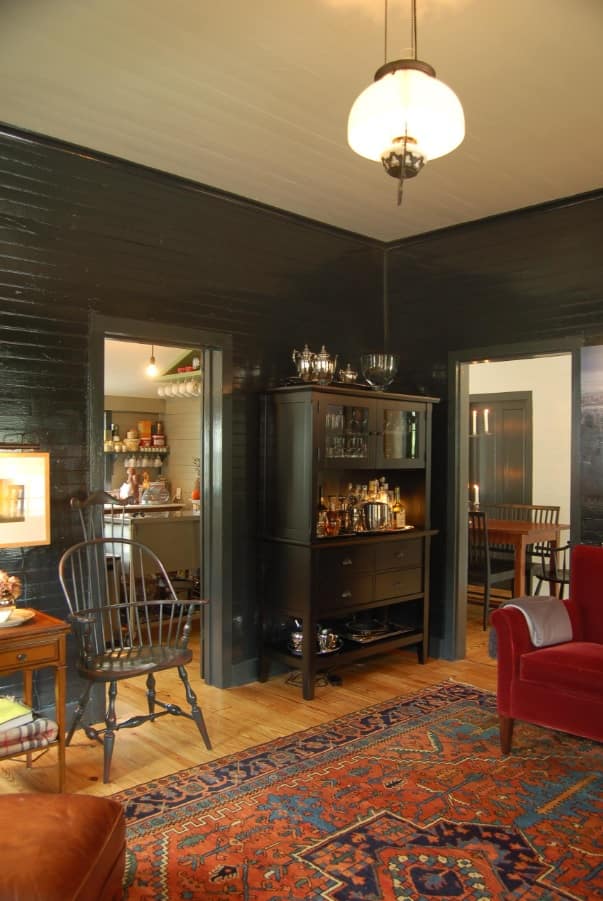 Classic Style Living Room with Black Wall
We will conditionally divide all the interiors into Classic and Modern. Both of the approaches have lots of fans and followers, so we will not try to denote the differences. Instead, we just can enjoy great examples of design masterpieces that can inspire us to repeat something similar in our own homes.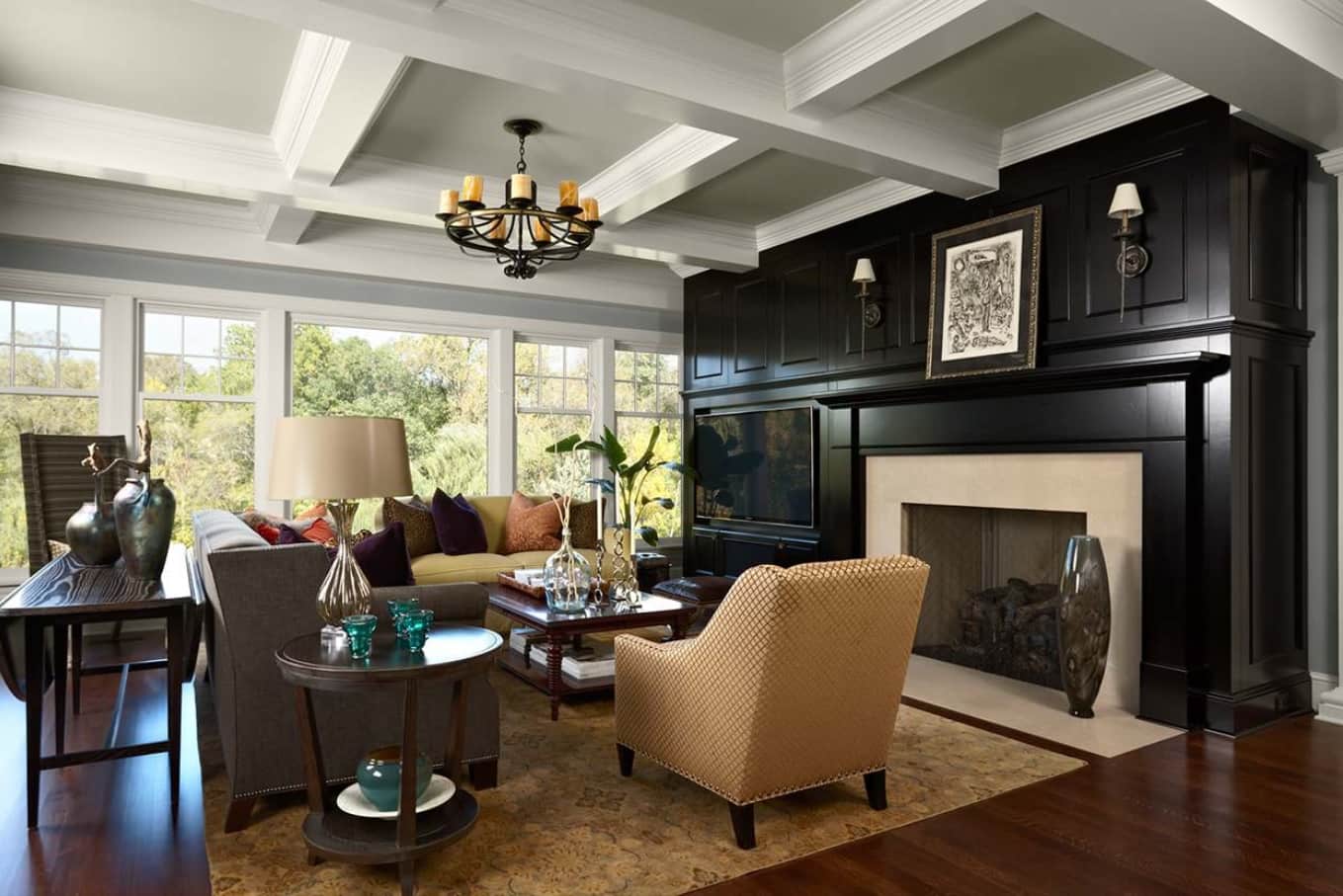 The accent wall should not be just an area colored in black. In many cases, it is a functional zone with the fireplace or TV, shelving, picture, or any other decorative element. Vintage-style designed rooms with the fireplace and bookshelf can boast of special charm.
To enforce the accentual effect of the black wall, it would be great to fill the room with extra brightness. Light warm colors would be a great addition to the black leitmotif. Moreover, they can play their own party in the whole ensemble of the interior. Green, red, yellow, and their tints will become a reasonable investment to the room in correct proportions.
Cold palette colors as blue shades also can revive the interior. But their addition should be controlled. We recommend adding blue tints with furniture or decorative elements that can be quickly removed are altered.
The black accent wall in the living room can be both solid or separate zone built up with wall panels or drywall. Both options look great in spacious negotiation rooms or libraries.
Gray and Black Living Room Ideas for Walls
In a gray-black room, you will enjoy the silence, protect yourself from stress and negativity, and be able to read and work quietly in the evenings. In addition, a minimalist living room in gray and black looks expensive.
Successful people give preference to these colors because they have already proved everything to the outside world and do not want unnecessary brightness, flashiness, contrived chic.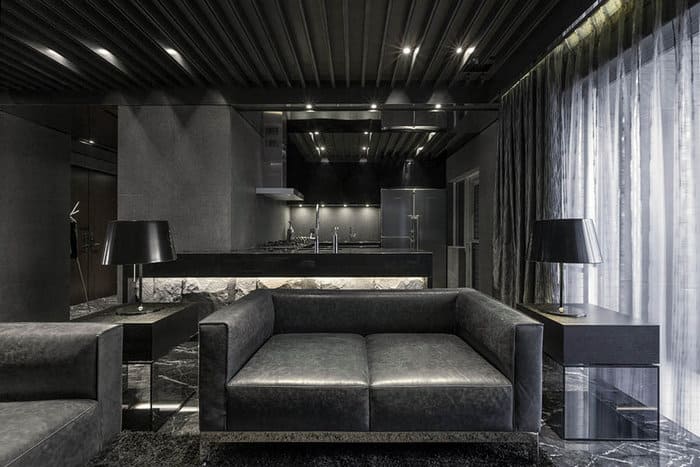 A big advantage of black and gray living room design is that it's long-lasting. Calm dark tones won't bore you a month after the renovation. And if the strictness of the dark palette will still bore you over time, add colored accents. Refreshing green and turquoise, warm yellow, fiery red – complement your interior with whatever you want.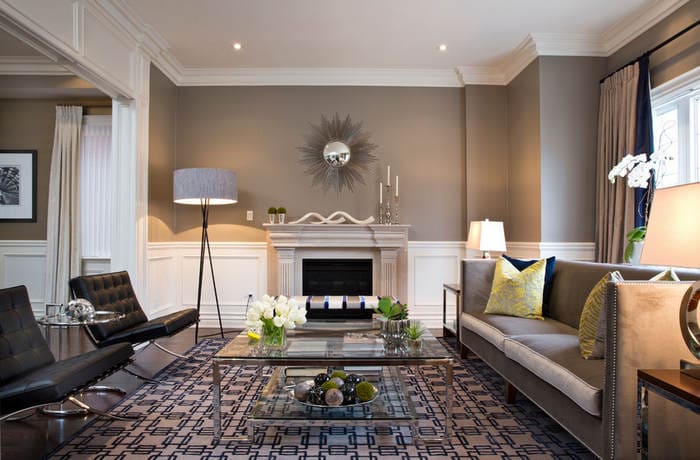 Still, psychologists say that the gray and black colors awaken sexuality. In such a neutral environment the senses are heightened because the colors do not attract attention to themselves and thus do not steal our precious energy.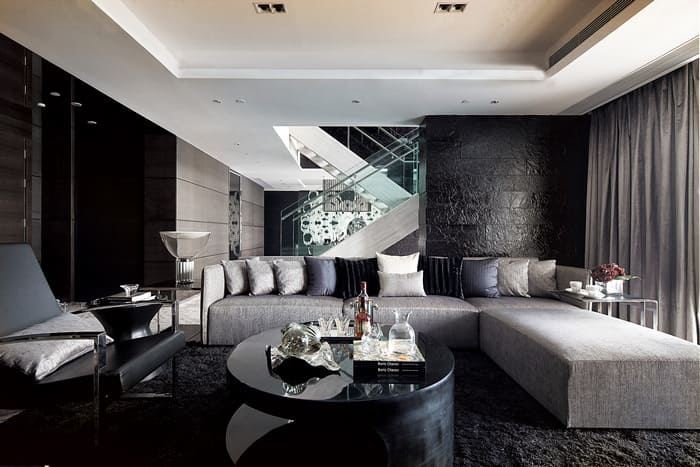 But despite all the advantages of the gray-black scale, many are afraid to work with it, because there is a great risk of getting not a cozy home, but a faceless concrete box, resembling an office. How to avoid this – we will show below.
What Proportion of Black and Gray Tones is Best For the Living Room?
Do not strive to have black and gray in half – there is no need for this. And according to some experts, this is even a mistake. It is better to mix them in 2:1 ratio, and what color will be in the main role – depends on the size of your living room and its illumination.
A small or poorly lit room on the north side of the house should be decorated mainly in gray, and it should be a light or moderate shade of gray. And it is desirable to use an additional neutral color – white. It is needed to ease the transitions between black and gray. White visually increases the space, adds freshness, coolness, and lightness.
Here are some examples of small living rooms in gray and black tones.
Don't like sterile white? Then take its alternative shade – for example, creamy. It's the same white, just with a subtle yellow undertone. Creamy will create a softer, quieter contrast to black and gray.
In a spacious or well-lit southern living room, black is acceptable as the dominant color. Black will make space a little smaller and absorb excess sunlight.
Large living rooms and combined kitchen-living rooms in black and gray are shown in the photo.
When selecting finishing materials, furniture and textiles, try to gather interesting combinations of textures: glossy and matte, smooth and rough. Multifacture will diversify your interior and make it more lively, dynamic.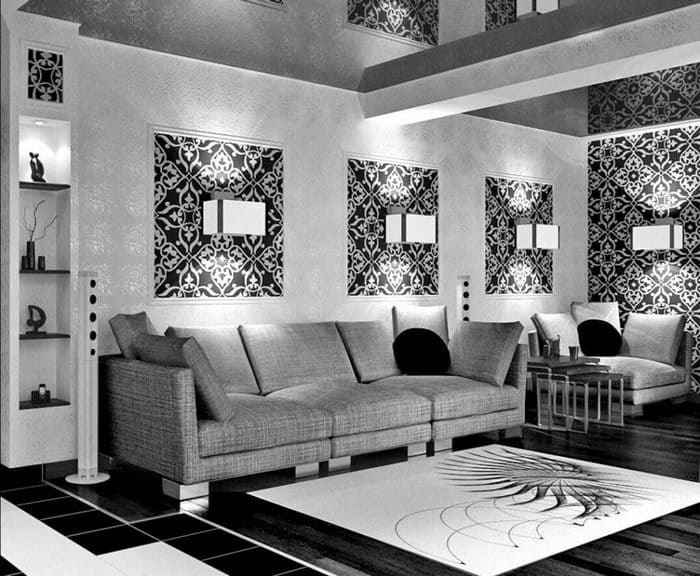 Modern Style Living Room with Black Wall Accent
Contrasting modern interiors are very popular. In addition, a high level of natural lighting in such rooms is a must. So, we can surely use black accents to underline this or another zone or a whole wall. The black will not look dull or flashy.
Do not Change Your Mind
This article is in no case a vindication of using black color at home. We just tried to show how relevant it might be in the modern living room. But, of course, the last word will be yours. And if you didn't plan to add black accents, you shouldn't. It is just one of the possible options that can be safely omitted. However, if you considered having the black accent wall in the living room, so we hope this collection of successful interiors is just another reason to cement your decision.