If you are looking for style and elegance for your bathroom, surely choose black. Perhaps the color is not very practical, but it is definitely a win-win choice for a modern interior. In the end, such a design can combine practicality and aesthetics.
Content: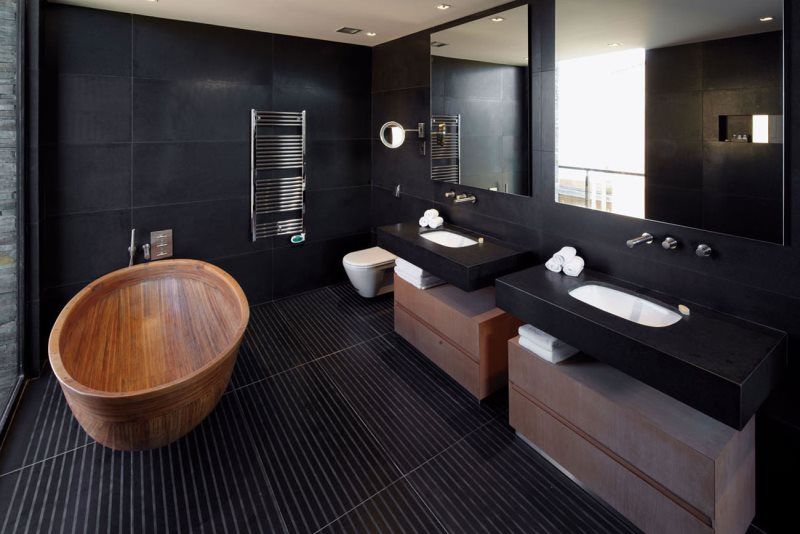 Bathroom Design – Black Versatility
Creating a composition for a bathroom based on black is a way to get a timeless interior, which will indicate the great taste of the owner of the house. Black and its tints are ideal for both small and large bathrooms, spas, saunas, swimming pools, wherever you want to create space for rest and relaxation. The dark color will give an intimate mood and a mysterious atmosphere. Remember that black walls and the floor will always win, but black ceramics is not a very good option. A tile in a color other than white can be a risky choice, but don't be afraid of bold and strong decisions, since black is always elegant.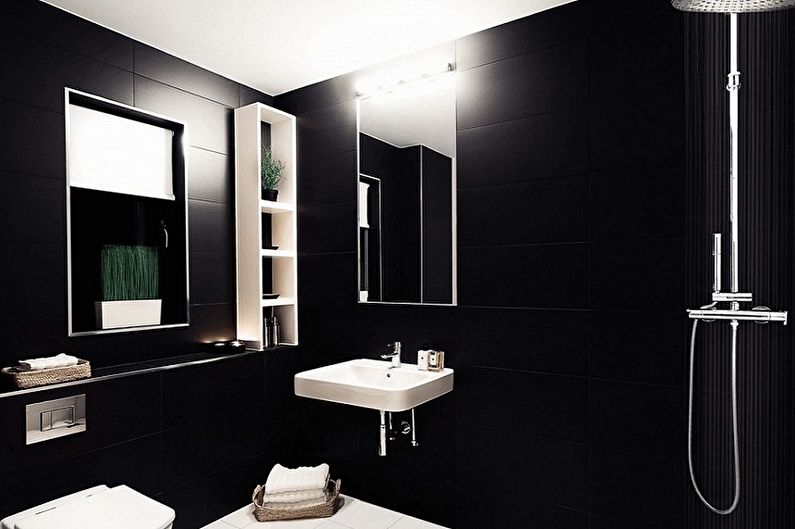 Lovers of well-designed interiors can choose black for their bathroom. This color will be suitable for many different styles:
Minimalism, where natural black stone such as slate is used, which will create large matte surfaces without ornaments;
glamor with a combination of black shiny tiles with white colorful additions and geometric patterns;
Baroque in full magnificence, combining black and gold.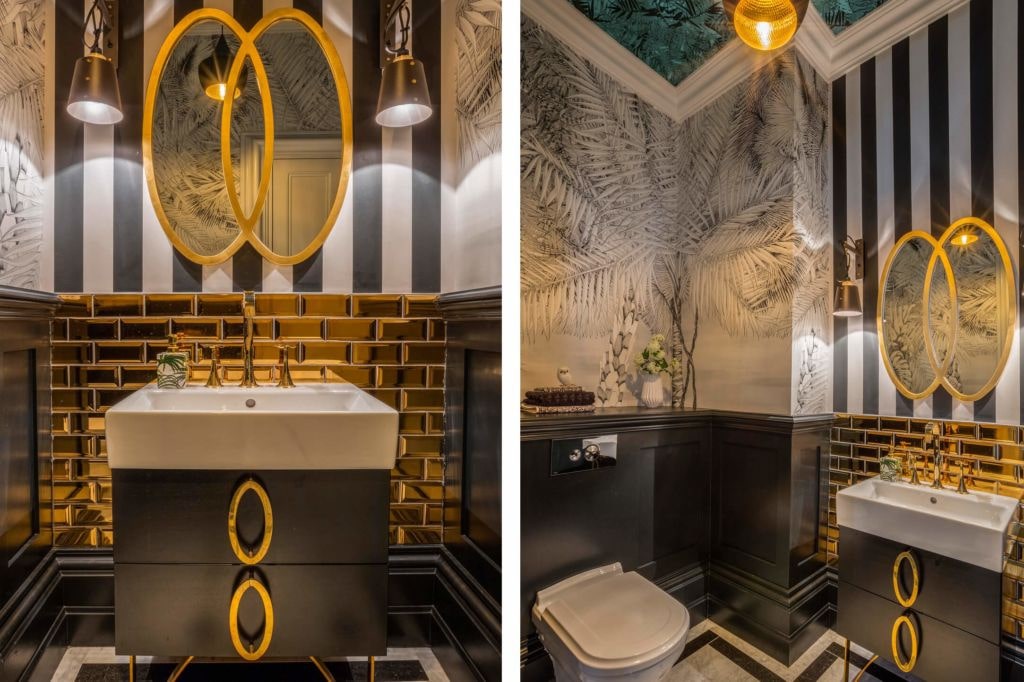 Bathroom in Black: Choice of Finishing Material
Have you decided on the black color in your bathroom? What materials to use when designing the interior?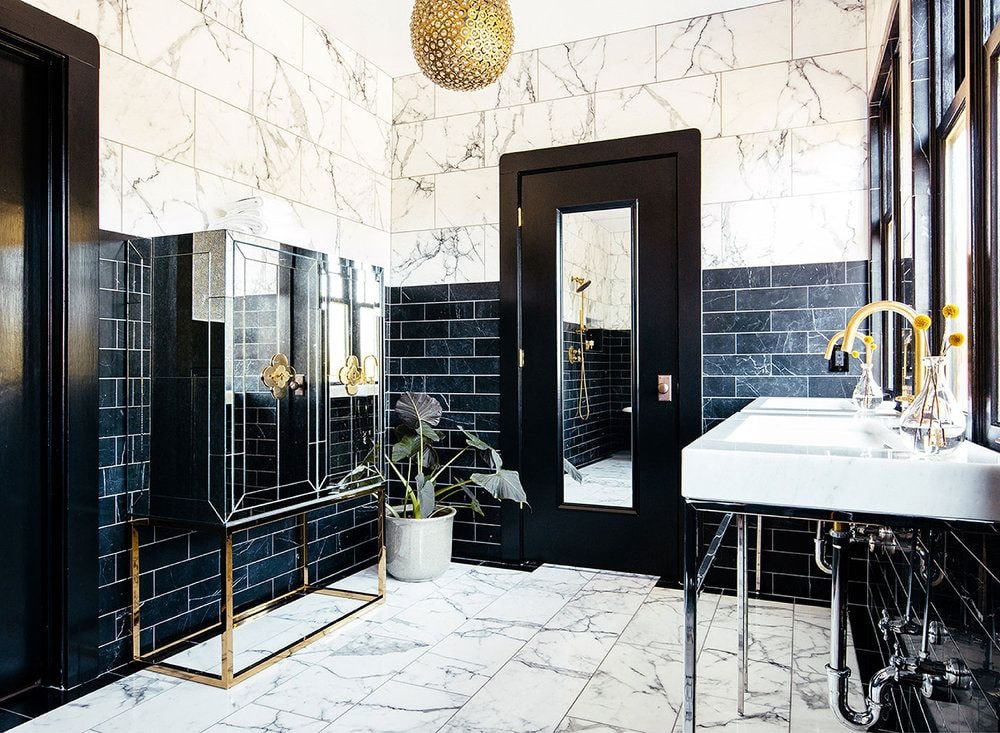 Black Ceramic Tiles
Black ceramic tiles make up the richest offer on the market of interior finishing materials. You can find it in any format: from small cubes to large format briquettes. The same is true with the finish and texture. The black shiny tile will reflect the light beautifully and thus illuminate the interior. These smooth, large formats will look like mirrors, and on a small and convex tile, you will get an interesting effect from the play of light. A material that imitates natural stone with a matte surface is quite demanding for a bathroom. Matte texture absorbs light. It is harder to keep clean. Use matte tiles on the walls, away from splashes of soap.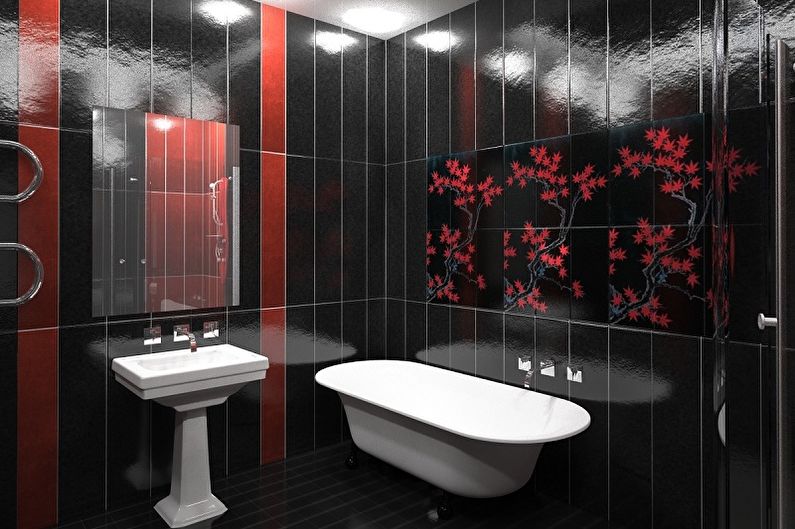 Black Stone
For elegant, stylish compositions, choose a shiny black granite slab. A large slab without splitting on the wall will add depth to the interior. Use black slate for austere bathrooms. Its format and texture will be the decoration and the internal climate.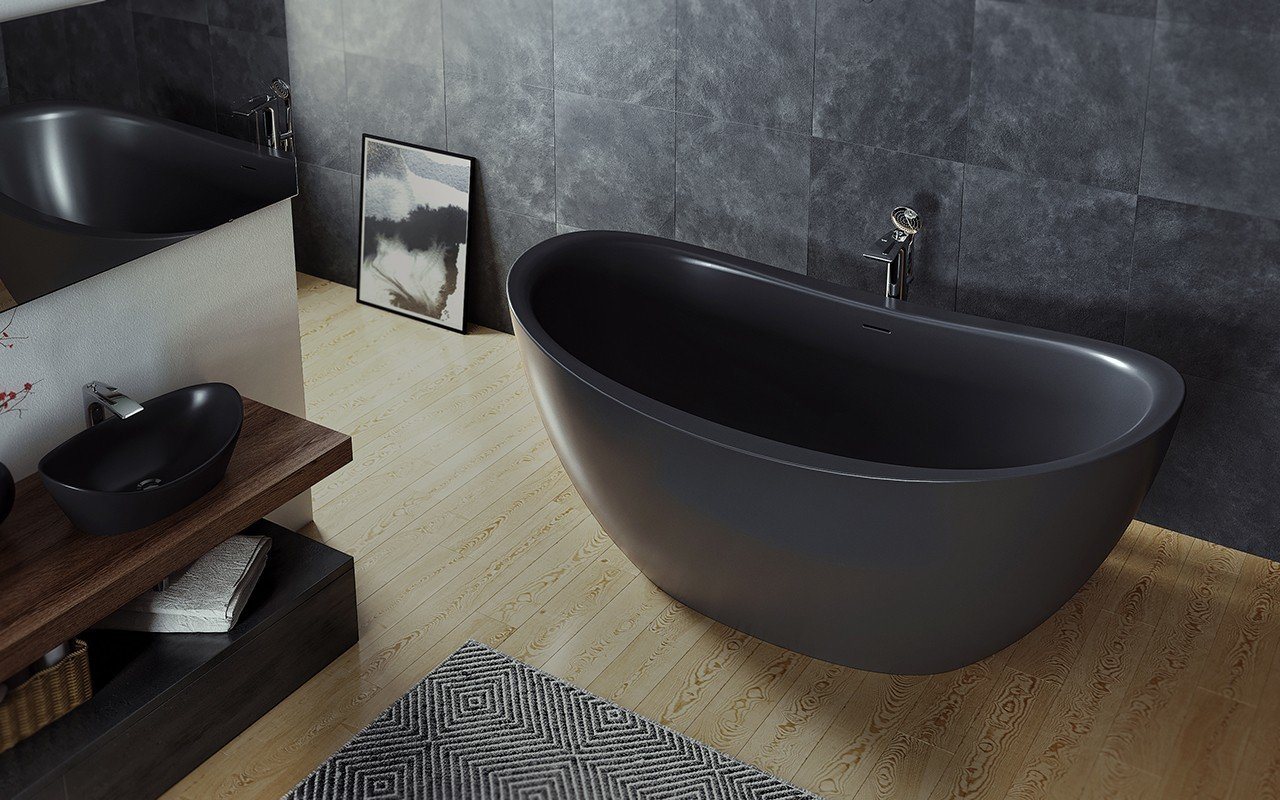 Quartz Tiles
Quartz tiles are popular in the market. It is a very durable material, rich in colors, made from natural raw materials such as shales, granite rocks, and ceramic pigments. Large format material (100x300cm) is usually dull colors. One or two plates can be enough to cover the entire wall of the bathroom. The use of dark color will create an avant-garde composition, and due to the strength of this material will be an excellent solution for many years.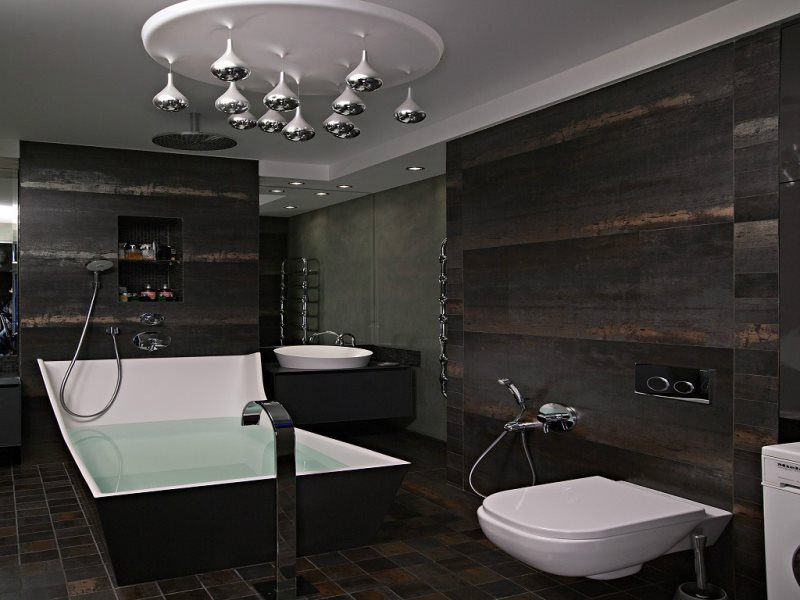 Black Glass
A glass screen is a very popular solution, especially used in the kitchen. It can also be applied to the walls of the bathroom. However, the most difficult part is when it comes to keeping the material clean (especially if the screen is black). Even if you place it on a fragment of the wall far from the source of splashing, the dust will be clearly visible on the black surface. The difficulty of care does not change the fact that black is a very effective material for wall decoration.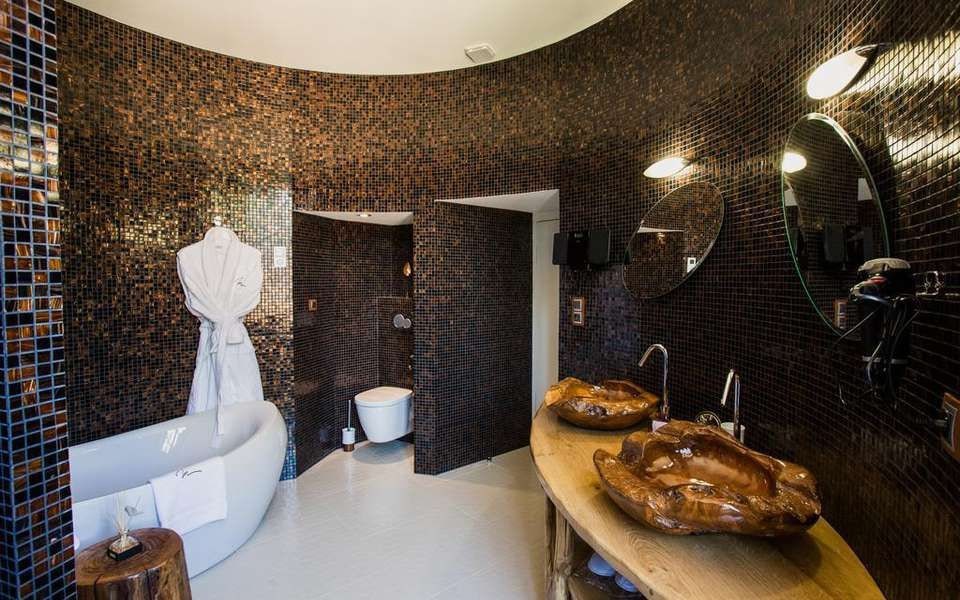 Rules for Harmonious Bath Arrangement in Black
Many people prefer creating their slightly black bathroom, and in addition to the dark walls and floor, they add many elements in other colors. Black glut can easily be overcome with softer materials.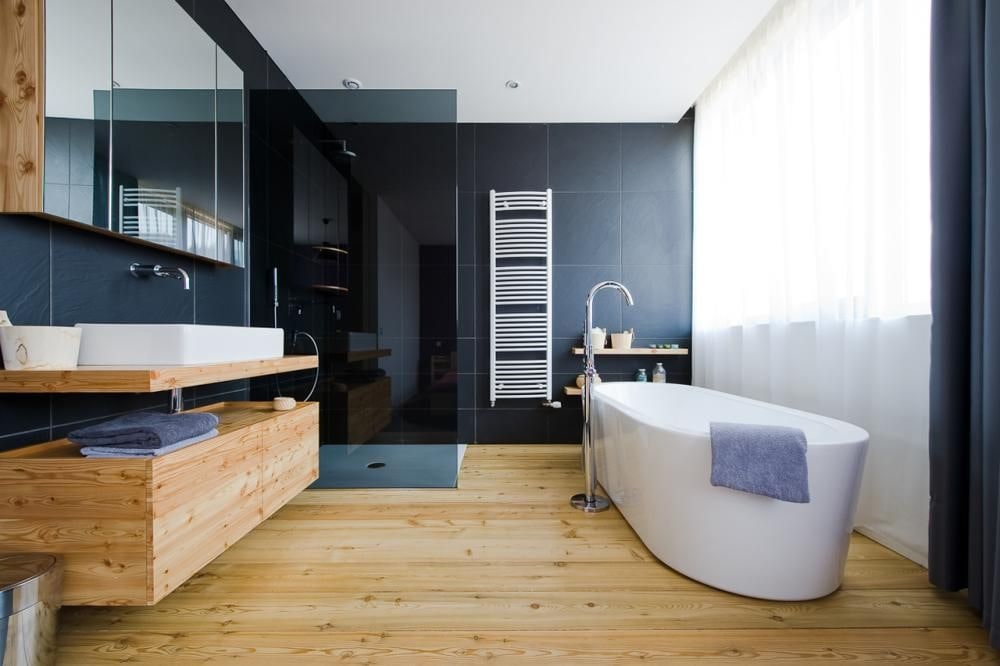 Preference should be given to veneered furniture in the bathroom, as wood warms up the interior. All shades of exotic wood and native oak will be perfectly combined with black.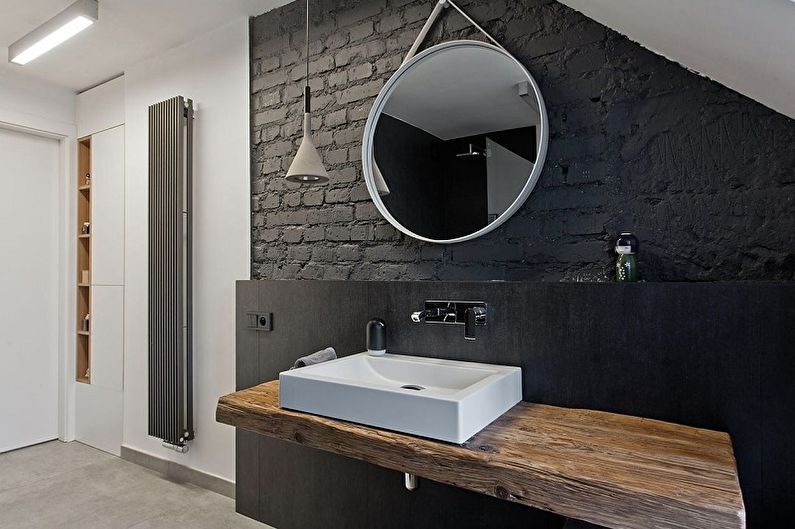 In every hygiene room, there are always large surfaces with white elements, such as sinks, toilet bowls, bidets, or bathtubs. They also affect the illumination of the room, and the black planes of the walls are the perfect backdrop for white glossy ceramics.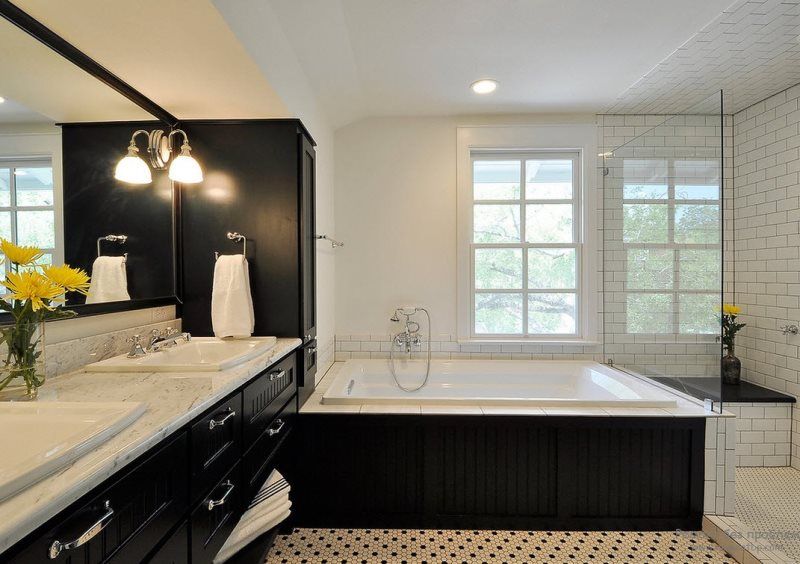 Supporters of graphic color combinations will receive a wide variety in the selection of accessories. Bright colors like yellow, red , or sapphire will go well with black.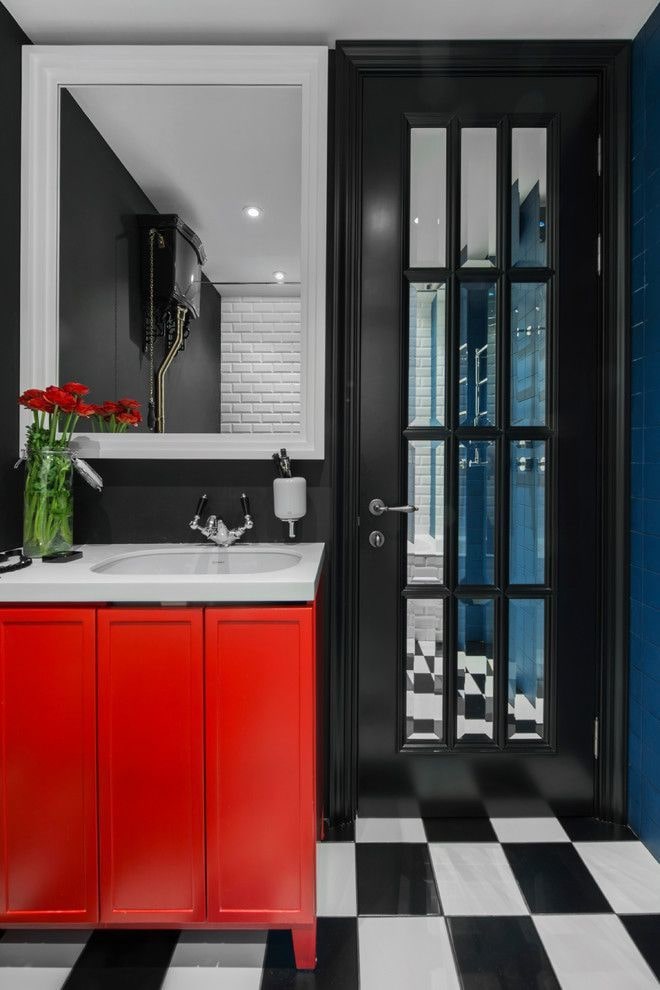 Choosing successful lighting is the most important thing for a black bathroom. Do not economize on points of light. The room should be soaked with a really large number of bright colors so that dark surfaces do not absorb all the lighting.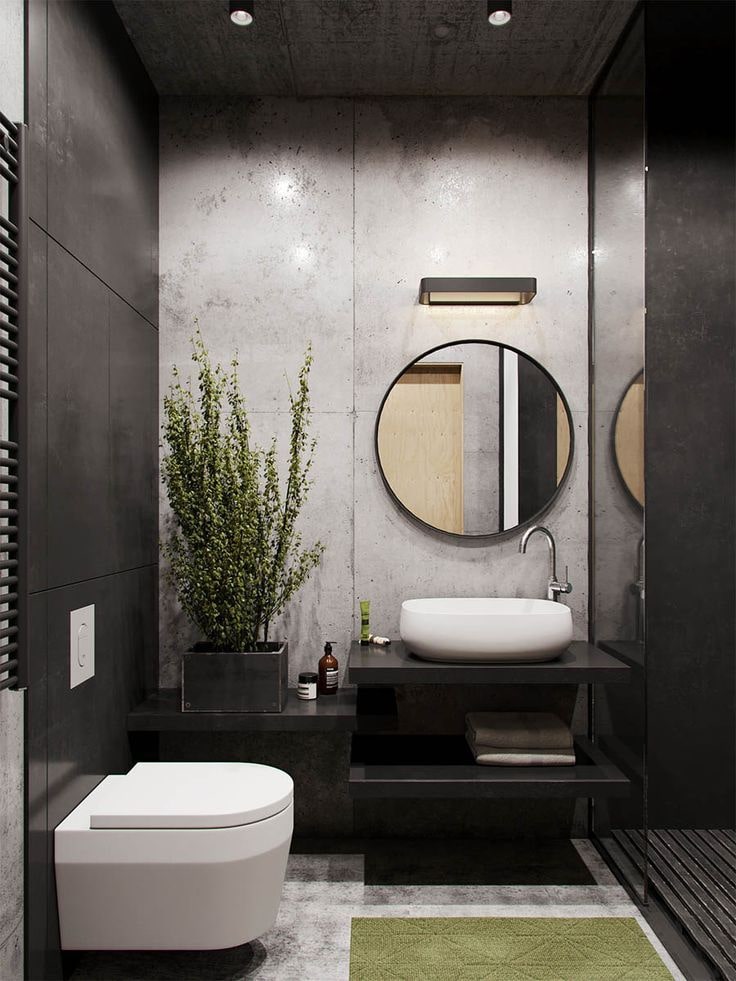 Black and White Bathroom
Black and white bathrooms are still very popular and entered the canon of interior design. Proper room equipment depends primarily on the size of the interior, the ratio of colors, lighting. All this must be carefully considered at the design stage.
The black and white arrangement of the bathroom creates a special atmosphere in the interior. The design is slightly ascetic, stylish, but with a touch of retro. The composition of colors in a black and white bathroom depends on the size and proportions of the room. Contrast is an elegant base, and the location of the room can only be properly decorated in these two colors. You can also add a third, optional color in the bathroom in small quantities. Thus, for example, you can optically warm the interior. The wood goes well with black and white. So, introduce this decor in the form of a tabletop under the sink, shelves for the bathroom, cabinet, or floor. Wood can be replaced with wood imitating tiles that can better cope with moisture.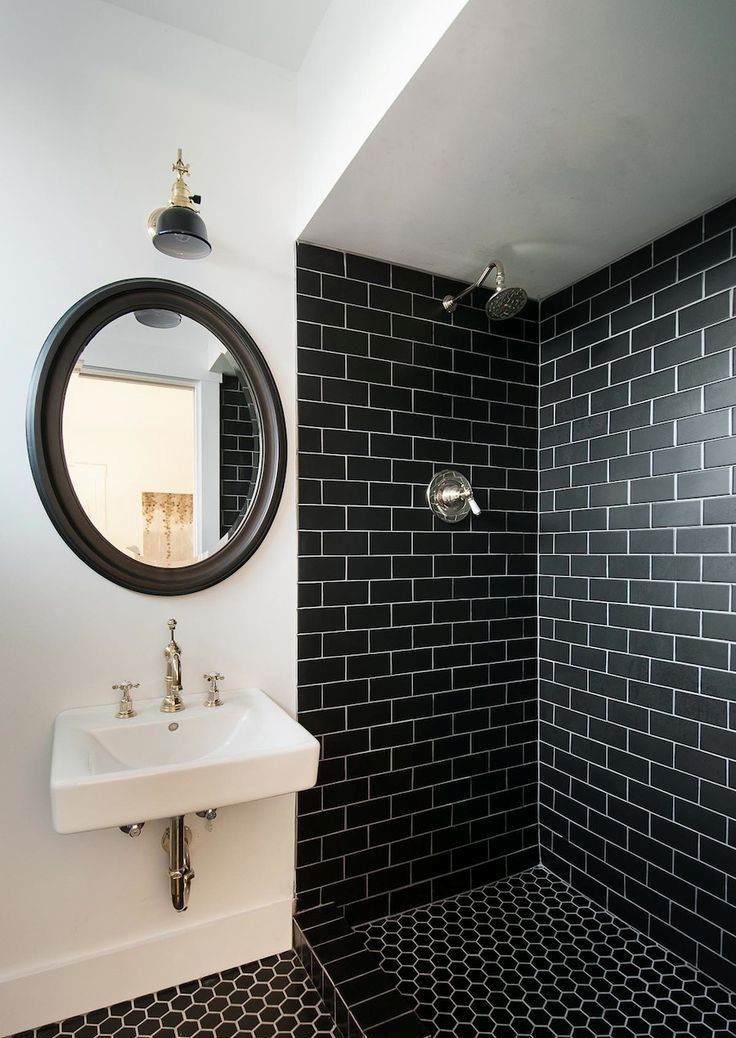 Bathroom in Black and White – Step by Step: Important Rules
The ratio of colors in a black and white bathroom depends largely on the size of the interior and lighting. A small space will look better with a predominance of white because this color optically enlarges the small interior. Black can be used to separate zones or to highlight decorative elements. Items of this color increasingly boldly penetrate into the interior, which is associated with the return of fashion in black and white. Black frames for furniture, mirrors, and lamps look great.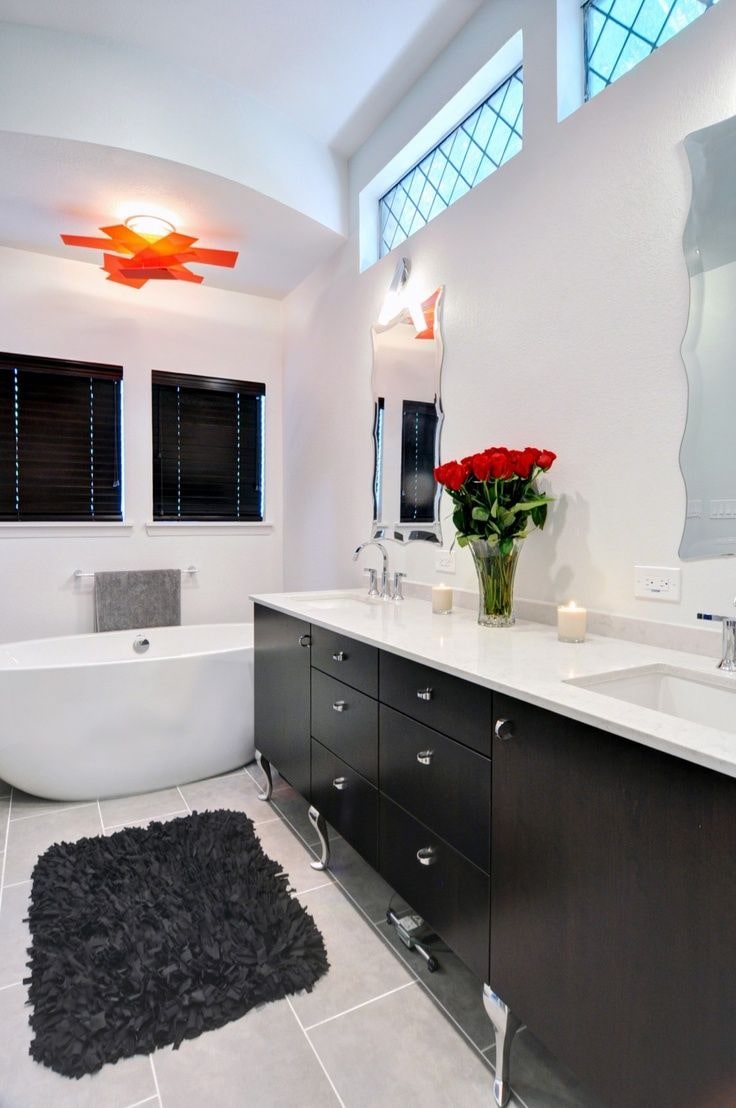 Modern Style in Black and White
In modern style, the emphasis is on large monochrome surfaces. Therefore, lovers of such decor, who dream of a black and white bathroom, should take this advice into account. How can it look like in real life? For example, all the walls are white, and the black tile is on the floor or a black bathtub is chosen. If in a black and white bathroom you choose the advantage of a dark color, remember about the good lighting and large mirrors that will visually enlarge the interior. Thus, the cool black color will become a cozy, eye-catching setting.
Retro Black and White Bathroom
The skillful combination of white and black can create a retro atmosphere in the bathroom, similar in style to the interiors of the 1920s. If you want to achieve this effect, first of all, try to have black and white tiles on the floor with a checkerboard motif. This is one of the distinctive features of the apartments in the old style. You can also choose square white tiles and black much smaller accents in the corners. It is worth playing around with a pattern of contrasting combinations. For example, when you put black and white on a bath or washbasin, you get a retro effect, but in a more interesting and dynamic form.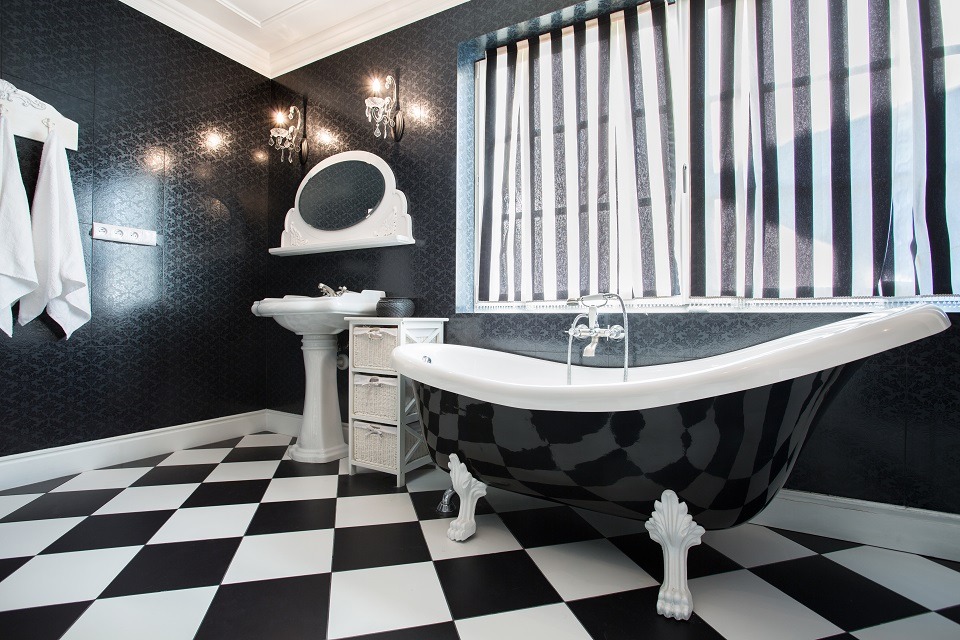 Good to know: retro style is best reflected in a cast-iron freestanding bathtub. It is perfect to paint such plumbing outside with black and with white in the middle. Thus, you get an elegant, expressive element – black and white and retro at the same time.
The black and white bathroom is a classic. The arrangement of the room in these two colors will never go out of fashion. With the right location, contrasting colors can decorate your home in almost any style.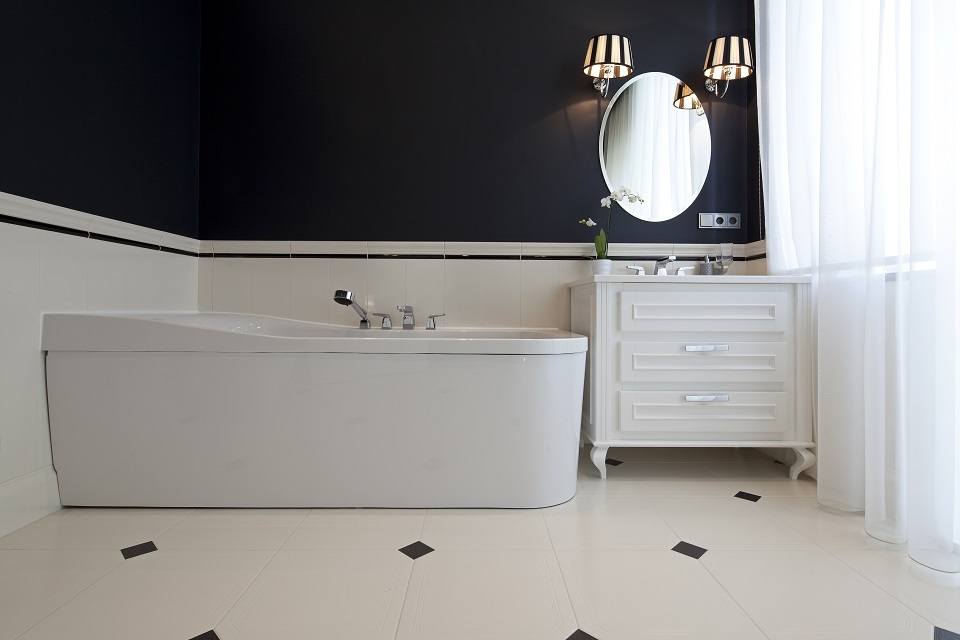 Black and White Bathroom – Small Room Design
The black and white bathroom is elegant and impressive. Taking care of the arrangement of the premises in such colors, it is worth remembering a few rules that will determine success. One of the colors should prevail, and the other should be its complement. If you use black and white in the bathroom equally, instead of harmony, there will be anxiety. When using a combination of patterns in a black and white bathroom, pay attention to the total area of ​​the room. The smaller the bathroom, – the smaller the accessories should be. In a very small black and white bathroom, shiny surfaces, mirrors, and numerous light sources will work, as they will make the black color not exhausting the interior. Consider some stylish black and white bathroom examples. Maybe one of them will ignite your imagination.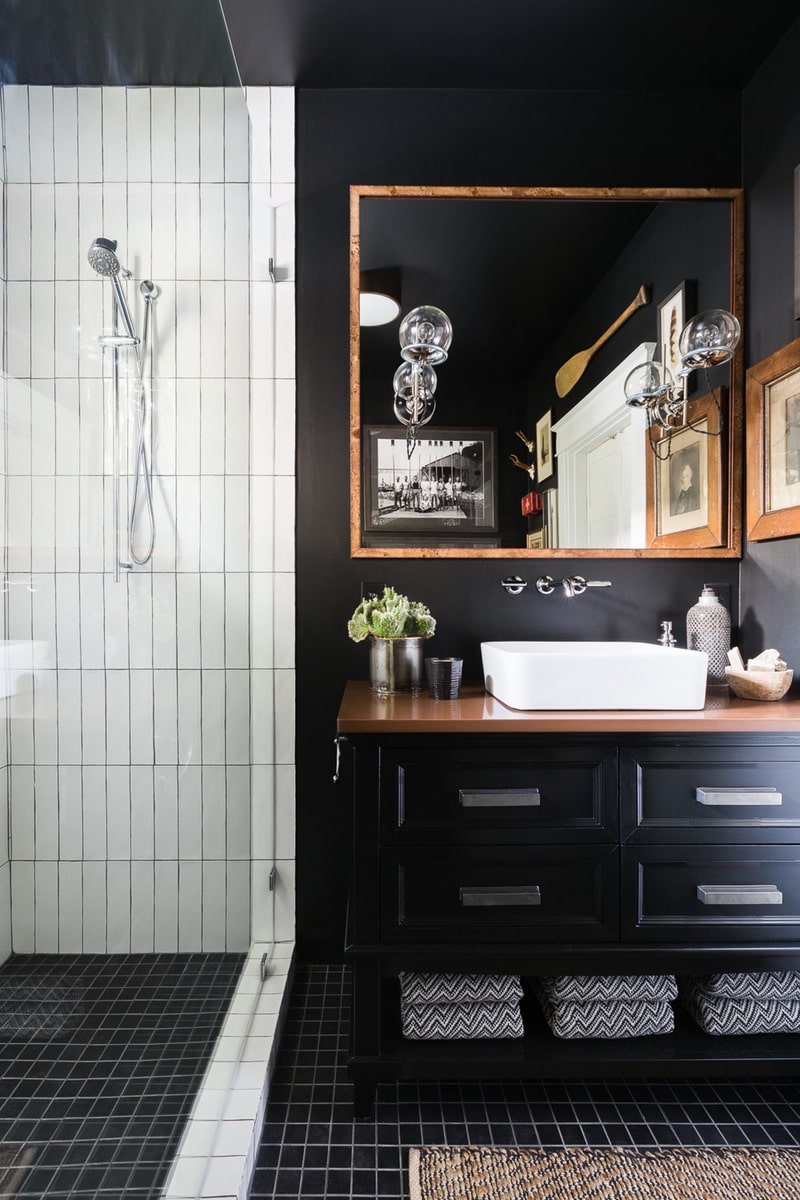 When planning a black and white bathroom, remember that a white and black background sharpens everything. That is why black tiles or paintings should ideally be stained. Bathroom ceramics, batteries, lighting fixtures, accessories should be of good quality and impressive design. They will decorate the black and white bathroom. The game of contrast in the arrangement of the bathroom opens up many possibilities. A room designed according to these colors can be called even exquisite. You can easily revive the black and white decor of the bathroom and even change the interior by adding accents of a different color.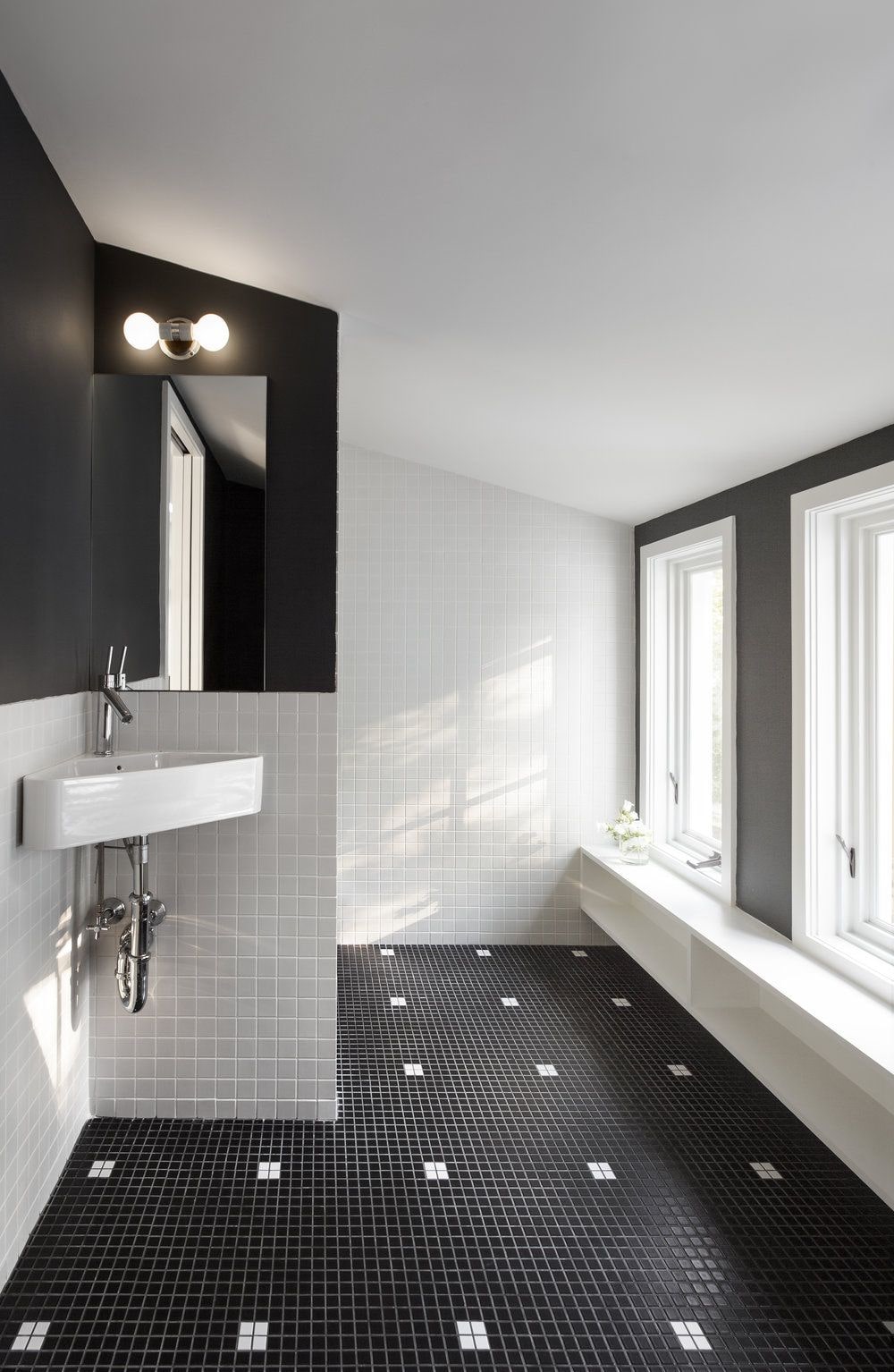 Bathroom in Black and White: Choice of Grout
Grout can be a decoration with black and white tiles in the bathroom. Black grout with white tile will create a grid effect. It can be coated with a solution that protects from dirt, moisture, and discoloration. If you prefer a homogeneous surface in the location of the bathroom, choose straightened tiles with edges polished to 0.2 mm, which applies with a minimum seam, then the problem of washing will be solved. The quickest way to clean a black and white tile in a bathroom is with a window cleaner, as the surface will look shiny and without streaks.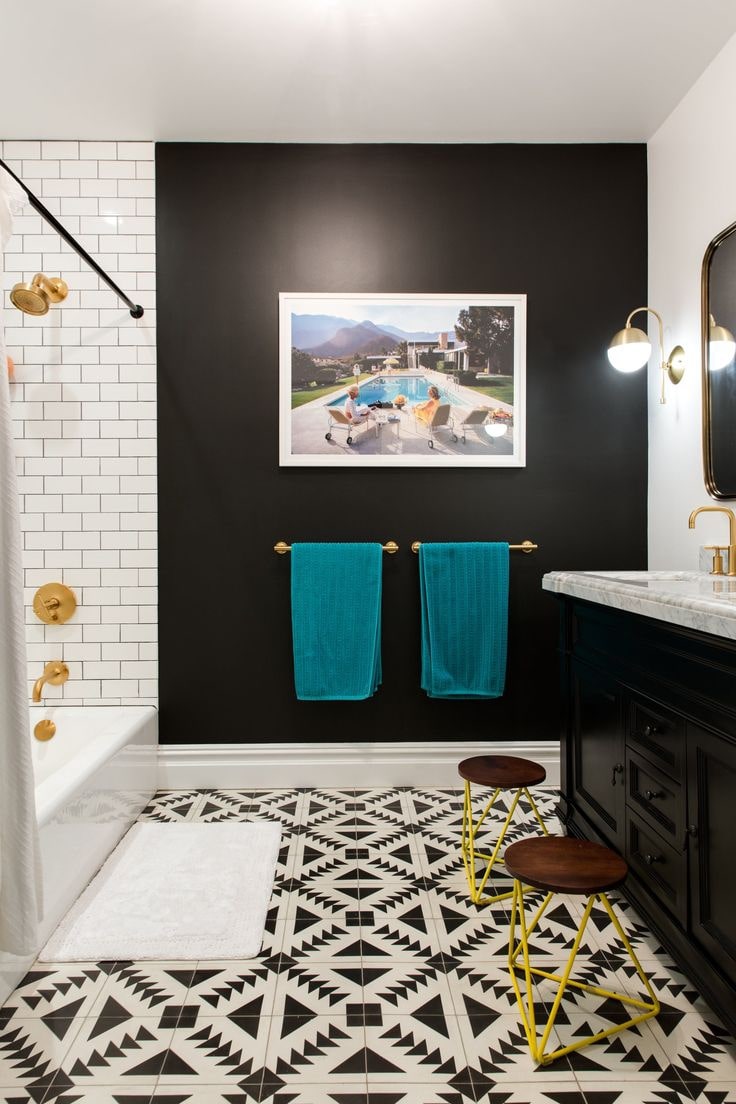 Black and White Bathrooms: a Quick Change of Decor
When planning to remodel your bathroom, take into account the decorative possibilities. For example, use paint: its matte black will become a fantastic background for shiny objects. Painting the bathroom is the quickest and cheapest way to change its location. Use moisture-resistant paint. Choose matte, semigloss, and glossy substances, as with them you can create an interesting arrangement. Tiles that eventually get bored can also be repainted. If you have a white bathroom, put black textiles, containers, cupboards racks, etc. into it. This is the cheapest way to equip a hygiene room. Mirrors are a great addition to a black and white bathroom. In a small space, you can hang them or put them on the wall above the bathroom or decorate the ceiling.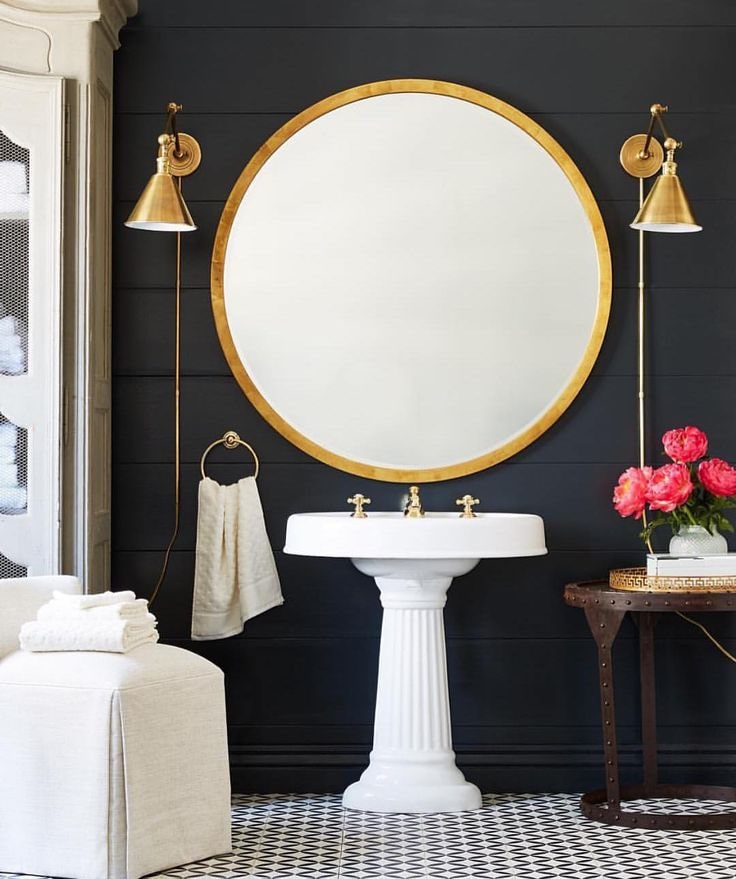 Black and Red Bathroom
A modern bathroom should be different from those that were in trend a few years ago. If you want the hygiene room to be bold, unusual, then you can use the most flashy colors and solutions in the design. Consider a modern, contrasting bathroom in vibrant shades of red with black.
Graphic Bathroom in Black and Red
An ambitious bathroom plan requires a good designer who is not afraid to break ordinary models in the interior of the room. Create an original space, equipped in non-standard colors, different from the popular and safe light colors, choosing the harmony of black and red. Add white to make the interior more tender.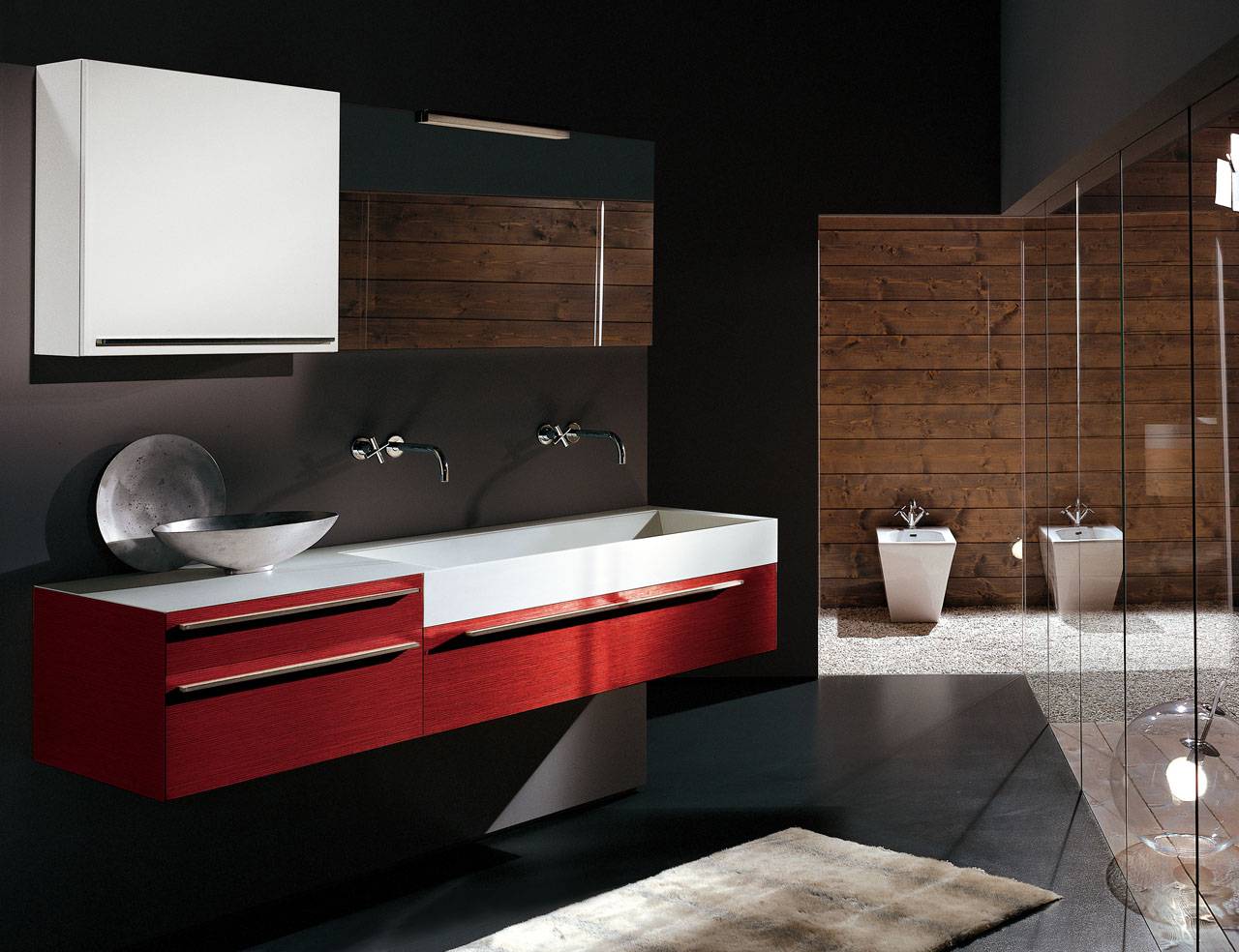 Bathroom Arrangement: Rich Colors
Thanks to a large dose of incoming light, the bathroom can be decorated in black. Wood can also be used to soften the interior and give a warm touch to the bathroom.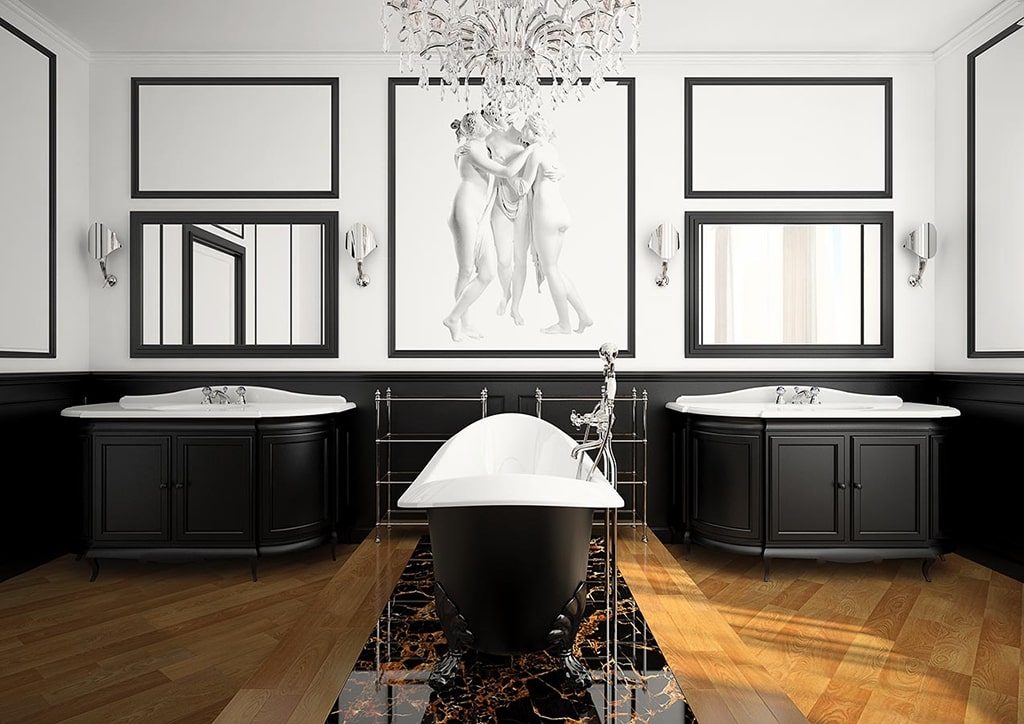 The modern bathroom may accommodate a shower with a rain shower, sink, and toilet, as well as large closets. Everything can be carried out without interfering with the existing layout of the walls. You can change the traditional radiator, located under the window to a wall-mounted towel warmer in the bathroom with an additional electric heater. The hygiene room should not be boring. Bet on the design of the walls. Surfaces can be faced with glossy black ceramic tiles. An interesting stylistic move in the design of the bathroom is a panel on the wall of a contrasting color.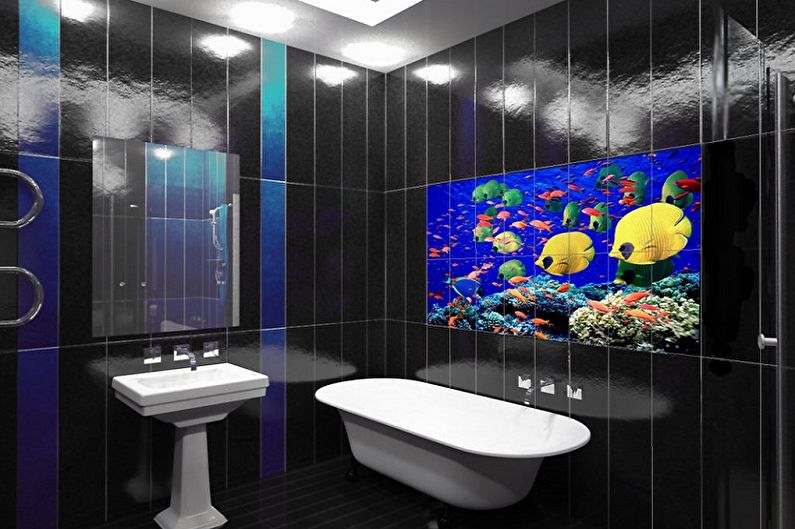 Black Plumbing in the Bathroom
Plumbing for the bathroom is commonly associated only with white color. However, more and more people prefer to say goodbye to the traditional patterns of decoration and finishing of the bathroom, wanting to give it an individual style and character. Choose black ceramics for the bathroom – an interesting idea, thanks to which the interior of the room can look elegant and original. Black bathroom plumbing is currently one of the most fashionable trends in interior design. A black sink or toilet is an element of the device that catches the eye. In addition, thanks to a combination of bright colors, you will get an interesting pleasing to the eye effect.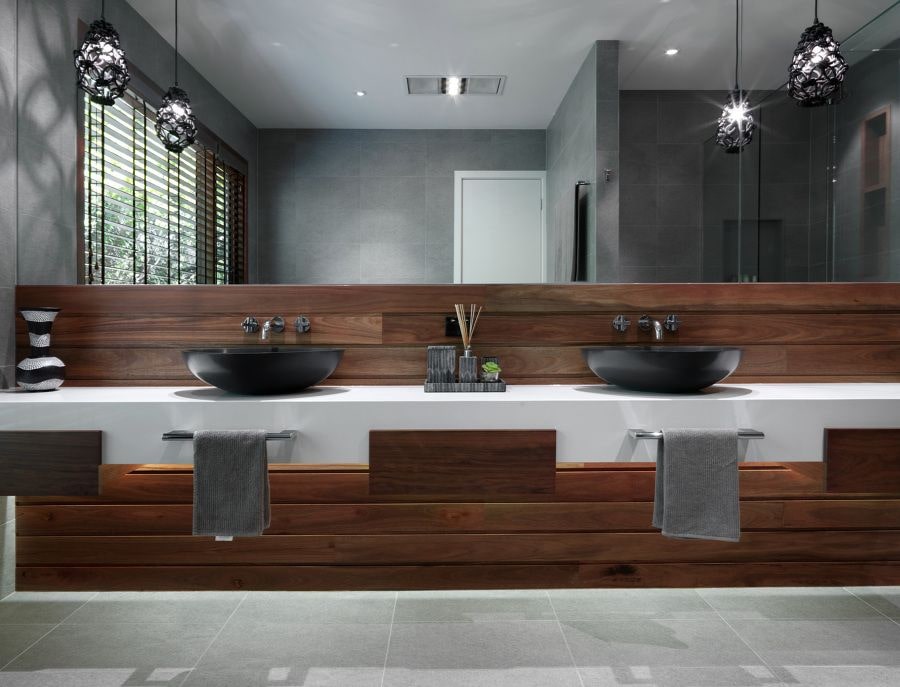 Today you can find several offers of black bathroom fixtures. You can purchase, among others, a washbasin, a bidet, and a toilet bowl in the shape of a ball. Unusual plumbing is also available in black, which makes it delicate in expression and at the same time attracts attention. Quite often, the order of color plumbing is available for an additional fee. Those who are looking for ceramics for the bathroom decorated with black color should pay attention to the offer of companies that sell custom-made baths, strictly in accordance with the design, sketch, idea, ensuring that a sink of any shape and size will appear in your home.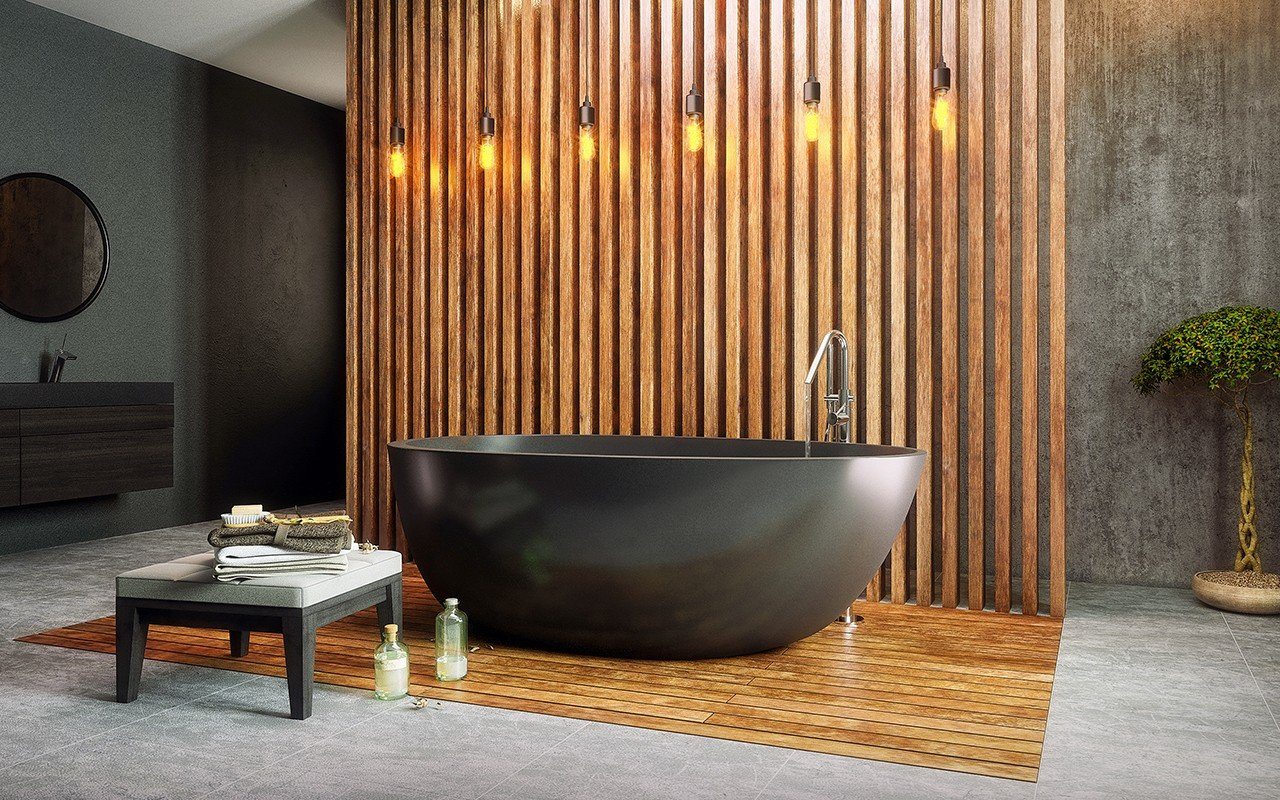 An interesting suggestion is the glass sinks. They are sold with a faucet mounted on top (with a ceramic valve), a glass shelf, a bung with a latch, a chrome-plated siphon, all the assembly, and connecting elements, and, depending on the model, a stainless steel and glass stand or shelf on which to install plumbing fixtures. The black color instantly catches the eye, so the bathroom gets a unique, luxurious character. Many unique offers of sanitary ceramics in black can be found in offers for bathrooms from leading Italian manufacturers: Effepi, Daniel, Kellertaps, Bianchi, Hego, Vitruvit, Althea, DAS Radiatori, Brandoni, IBB Bonomi.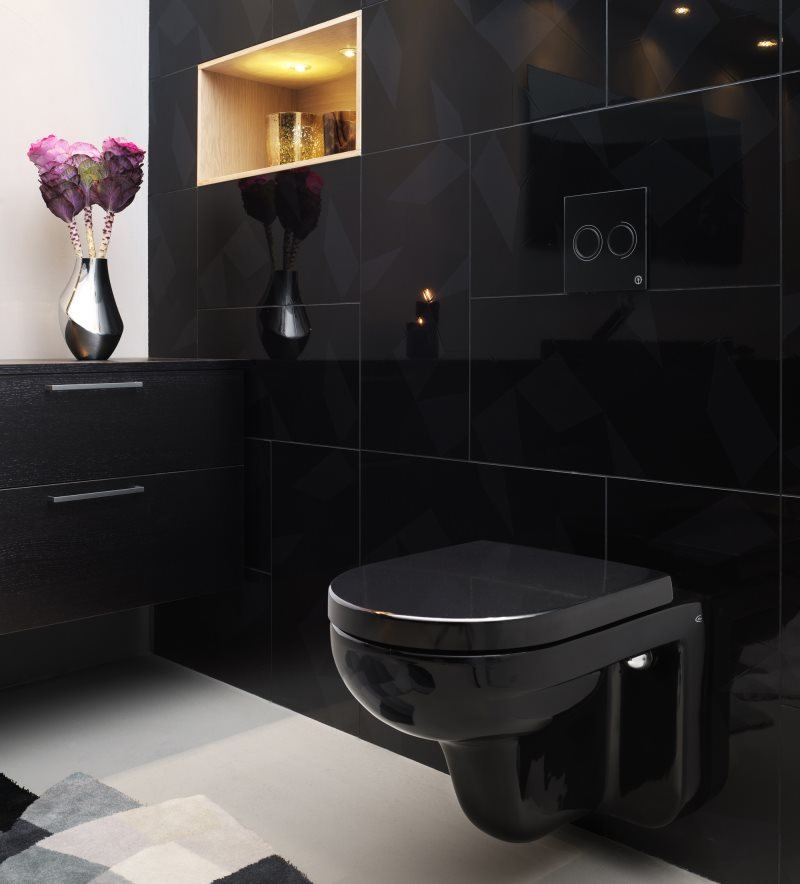 Black Sink in the Bathroom
An interesting proposal that will add the original character of the bathroom design is the sink on a round pedestal with various options. An additional element by which an attractive appearance is formed is the possibility of illuminating the base from the bottom. An intriguing and at the same time elegant accent of the interior of the bathroom is a black toilet bowl. Exquisite black ceramics and designer lines break down traditional solutions in plumbing design.
A black and white sink is a great offer for almost any bathroom. Works well in both modern and classic styles. By placing the sink in this color, you can add an element to the interior of your bathroom that bestows its elegance and style.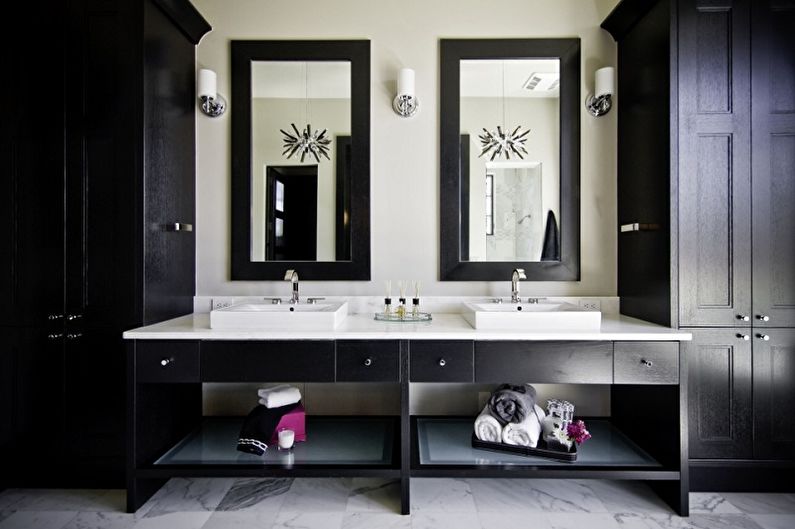 Black Bathtub
Black is not only the most elegant and versatile color when it comes to choosing a wardrobe. Bathroom fixtures for a bathroom can also be black, completely different from those in traditional hygiene rooms. Here are some of the most interesting offerings of black bathing tubs from different manufacturers.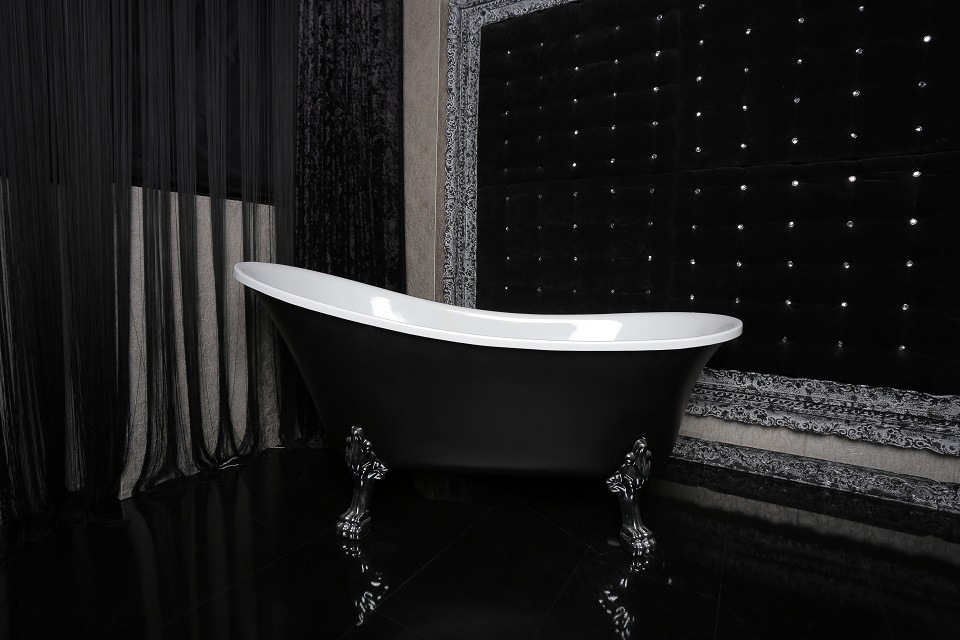 Black – Classic, and Custom
Recently, dark-colored bathrooms have become fashionable. The black color is still the choice of some people, who primarily seek to organize refined style, originality, and a chic look of the interior. Although it is obvious that this trend has been gaining popularity for several years, there are certainly not as many fans as rooms in gray and beige. Black plumbing has a strong and distinct character. Perhaps not everyone wants his oasis of relaxation, namely the bathroom, to have this style, but black furniture in the bathroom can look really beautiful and be an element that organizes the visual order of the interior. A black washbasin or toilet bowl immediately catches the eye, and if black ceramics are combined with light-colored décor, the bathroom takes on a harmonious but catchy look.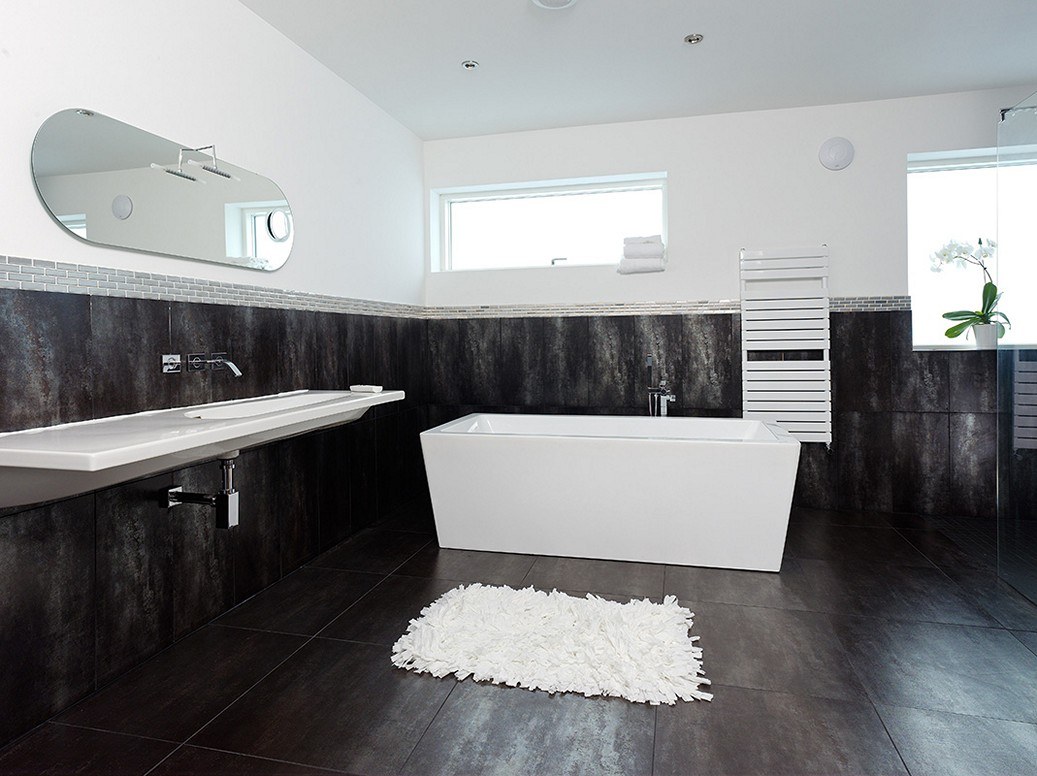 It should also be noted that black is one of the last year's most fashionable colors among plumbing designers. If you want to equip a bathroom in accordance with the latest trends, plumbing of this color will be a hit. The offer of manufacturers can satisfy both lovers of classics and those who are looking for unusual shapes for their bathroom. You can find a classic blackened washbasin, toilets, and a bidet in the shape of a sphere. The black and white collection is more subtle, its forms emphasize the predilection for minimalism. Versatile and at the same time extremely beautiful and elegant model is a black and white washbasin, which will undoubtedly fit into various compositions. If you are looking for unusual black ceramics, you should familiarize yourself with the Luxum offer. The company implements individual orders for sinks of any form.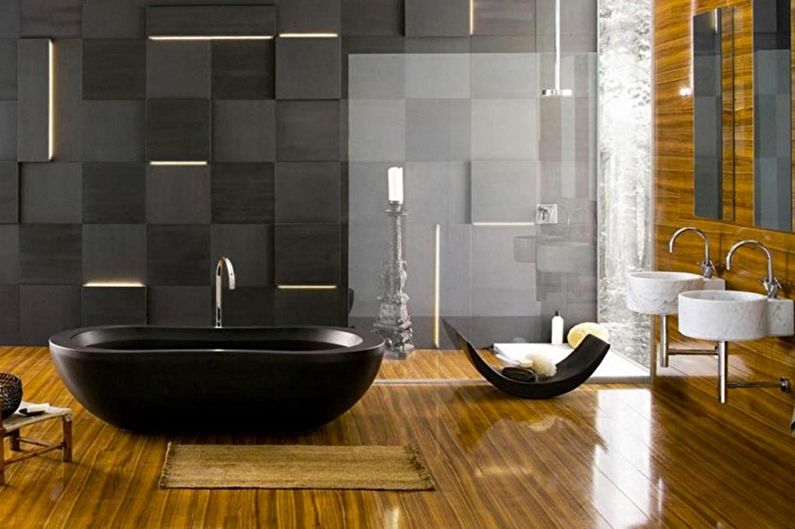 Black Bathroom Furniture
Black is one of the most versatile colors, regardless of whether it is about interior design or fashion. Every woman in the closet has the necessary items for the wardrobe of this color, which are suitable for any occasion, and will certainly confirm that the classic black dress is the best choice for important outlets. The eternal elegance of black is great for interior design. Its undeniable advantage is versatility since black can be combined with almost every color. For those who appreciate casual elegance in any interior, black bathroom furniture is a perfect choice.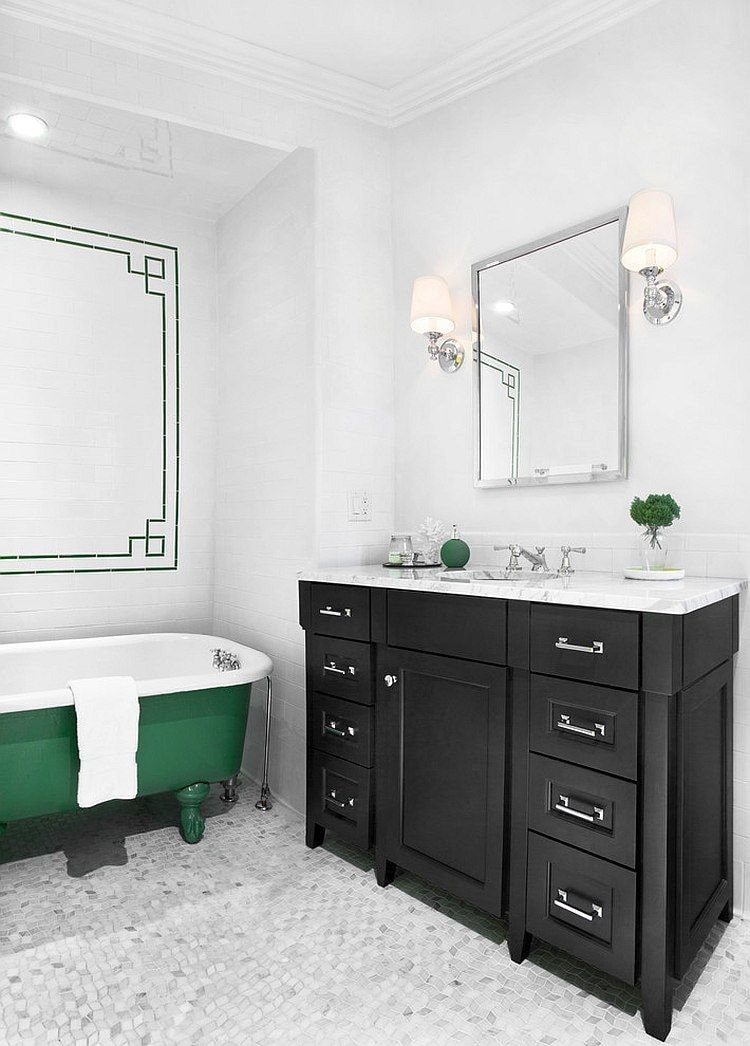 Black Bathroom Furniture: What to Choose?
The choice of furniture depends not only on the size of the room. In the planning of the space, regardless of the chosen style, it is necessary to adhere to the principle "the less, the better." Black bathroom furniture will emphasize the minimalist style of the interior. You can also choose a washbasin in black. However, lovers of testing new cosmetics and home spas will probably come in handy with additional cabinets.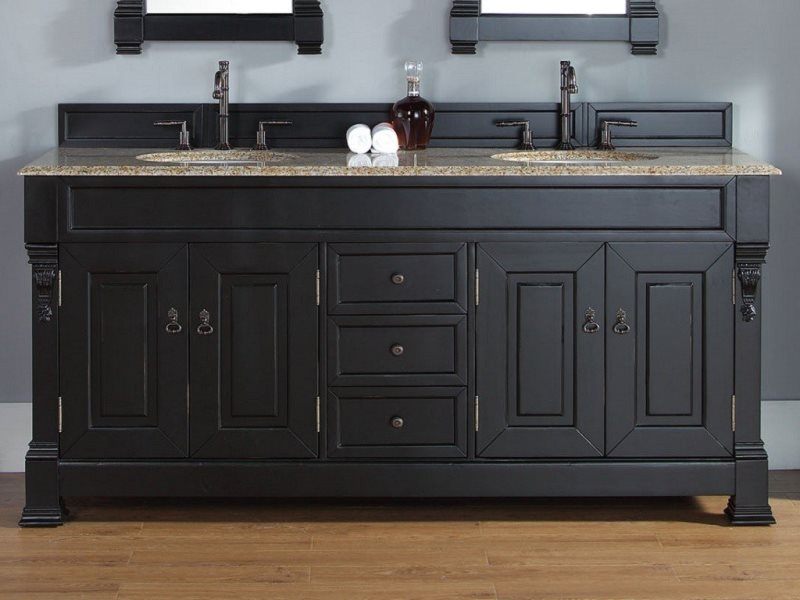 Black gloss bathroom furniture is particularly elegant furniture, giving the room a sparkling and elegant look. Glass is resistant to moisture and other damage, which is especially important for structures in the bathroom. Blackwood furniture is a more classic solution. Some may argue that wooden structures will be quickly destroyed, but this is not the case. Thanks to varnishing or special care, they will serve as decoration. Lacquered black bathroom furniture made of wood will make the interior fashionable and timeless. Black metal bathroom furniture should be made of stainless steel. Thanks to this you can enjoy it for many years. This is the perfect choice for lovers of modern styling.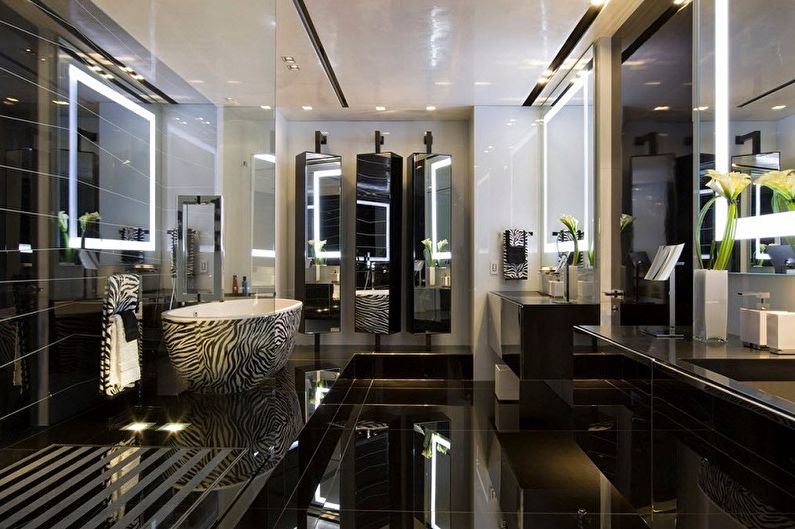 Black Bathroom Furniture in a Different Style
Black bathroom furniture in industrial style (steel furniture) will perfectly fit into this design lined with gray tile or red brick.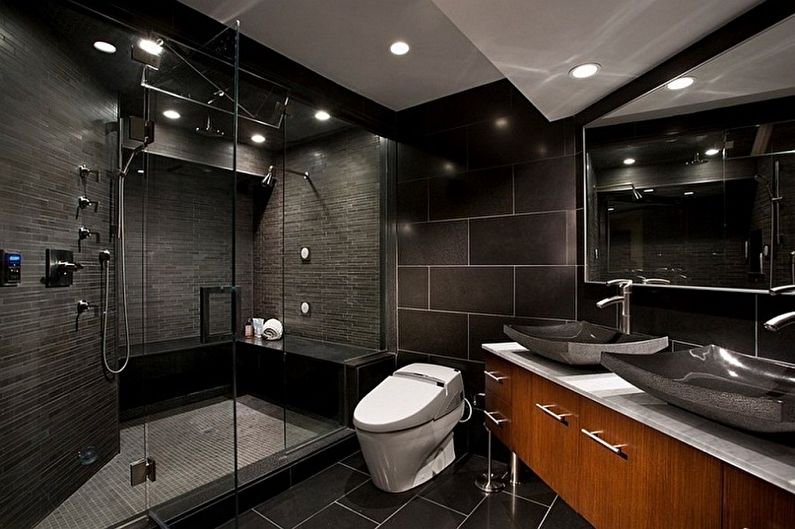 A glamorous modern look will be complemented by large, well-lit mirrors and minimalist cabinets.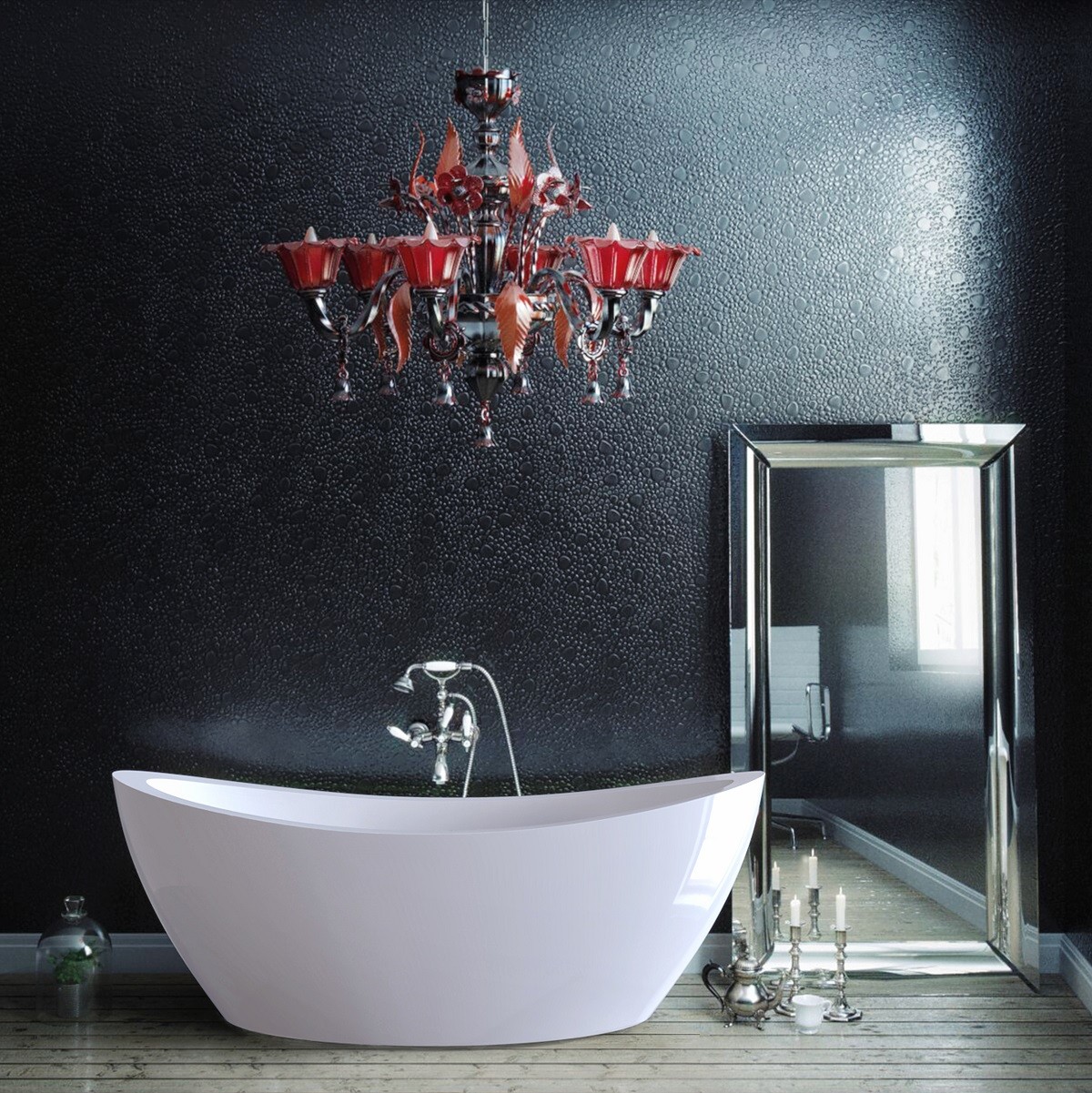 If you do not want the interior to look too monotonous, it should be complemented with such accessories as a soft mat for the bathroom in purple tones, dark blue towels, and elegant wicker cosmetic baskets.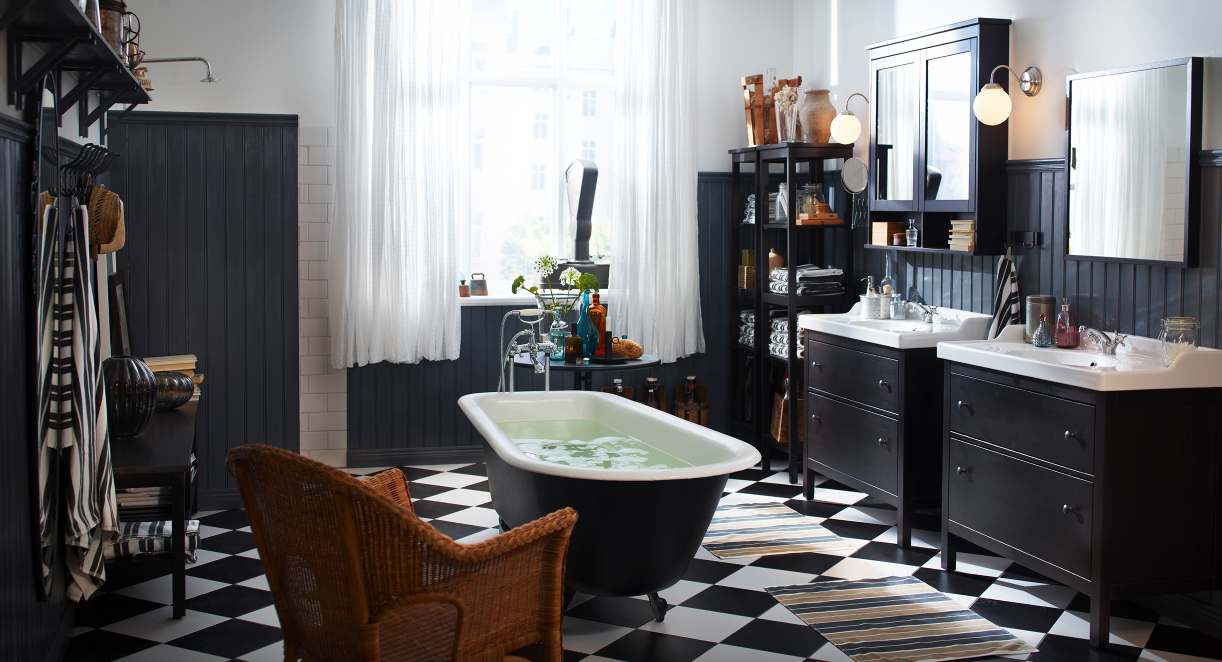 Black bathroom furniture in retro style: a black wooden cabinet with drawers and a mirror will fit perfectly into a room of old times. Black bathroom furniture made of glass against the background of a lighter tile will also be interesting.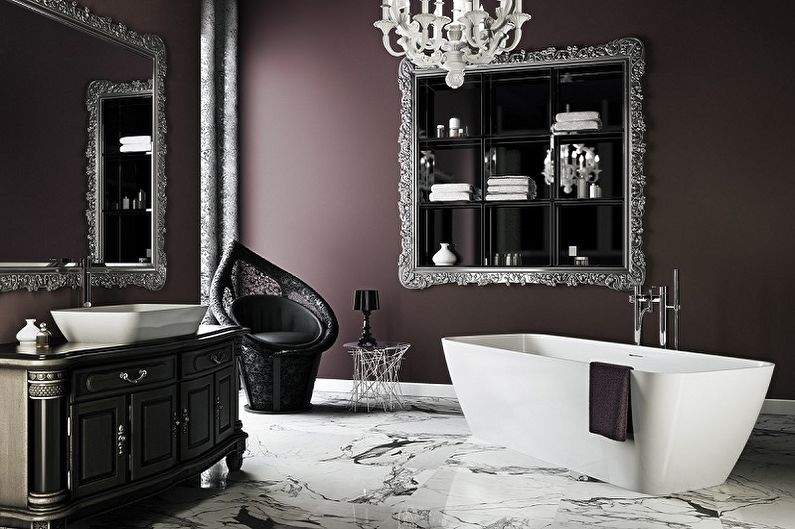 Black bathroom: aesthetics for gourmets which has an exquisite, truly beautiful modern design. People are often afraid to furnish a home in this elegant color, as they expect constant dust, which is especially visible on such surfaces. However, modern manufacturers of black bathroom furniture have taken great care of the comfort of the users and maintain such surfaces in perfect cleanliness so that each of us can enjoy the unique beauty of the bathroom.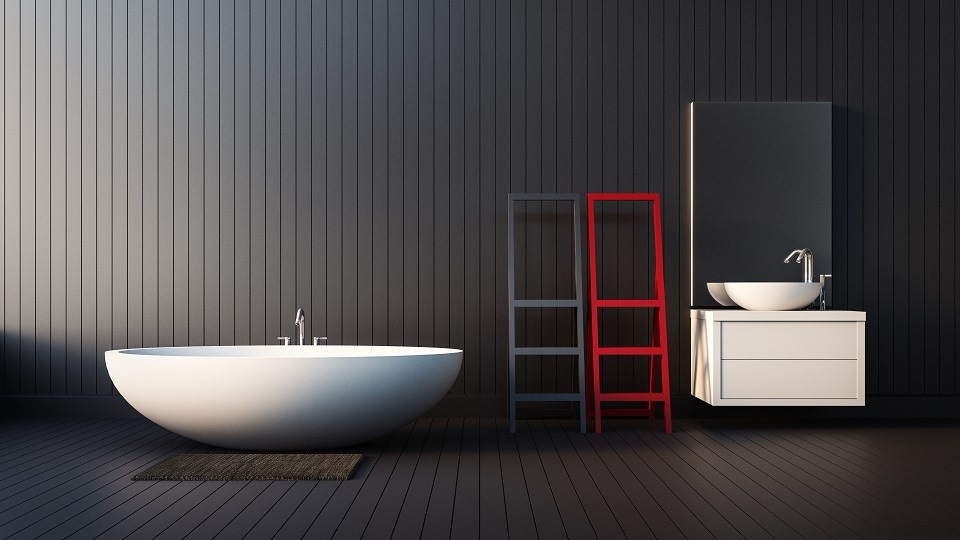 Consider a black bathroom for your apartment or house. Choose bold decisions that will highlight your understanding and vision of the beautiful. Do not be afraid to experiment. The photo gallery of this article will allow you to choose the most suitable bathroom interior for yourself.