Unusual and non-standard things always attract humankind. It is because we are magnetized by everything creative and at times even garish. We like outrageous celebrities and don't pay attention that they often lack simple etiquette. We like expressionistic pictures only because the guide says they're brilliant, though often looking unpresentable. Nevertheless, these things all have in common some flight of fantasy, symmetry, and logic of forms and lines. All this long introduction is called up to describe the emotions that the following design style evokes. Steampunk is for those who like pure creativity, cartoon reality and is agree to sacrifice some part of functionality and comfort for the sake of striking design. We've decided not to review the style in the separated article. So, we will overview the most daring modern steampunk house interior photo examples that can surprise even the tempted hearts of design lovers.
Contents:
Steampunk in the Kitchen
The kitchen is probably the coziest place for designing it to the canons of Steampunk. Just take a look at the black dome of an extractor hood and segmental ancient oven with figured forging. The same dark with plenty of metal decoration we can apply to other elements. Dark carved wooden furniture facades and sides of the island look retro. The barstools near the island with forged legs strongly complement the overall concept.
Metal inlays in gold color for the decoration of furniture facades can really shock the consciousness of the unprepared person. But the overall perception of such a kitchen's image is holistic and successful.
Red metal seats of bar stools along with the massive countertop of the table on the brutal metal stand of pipes and industrial lamps create the atmosphere of Gothic sublimity in a modern way.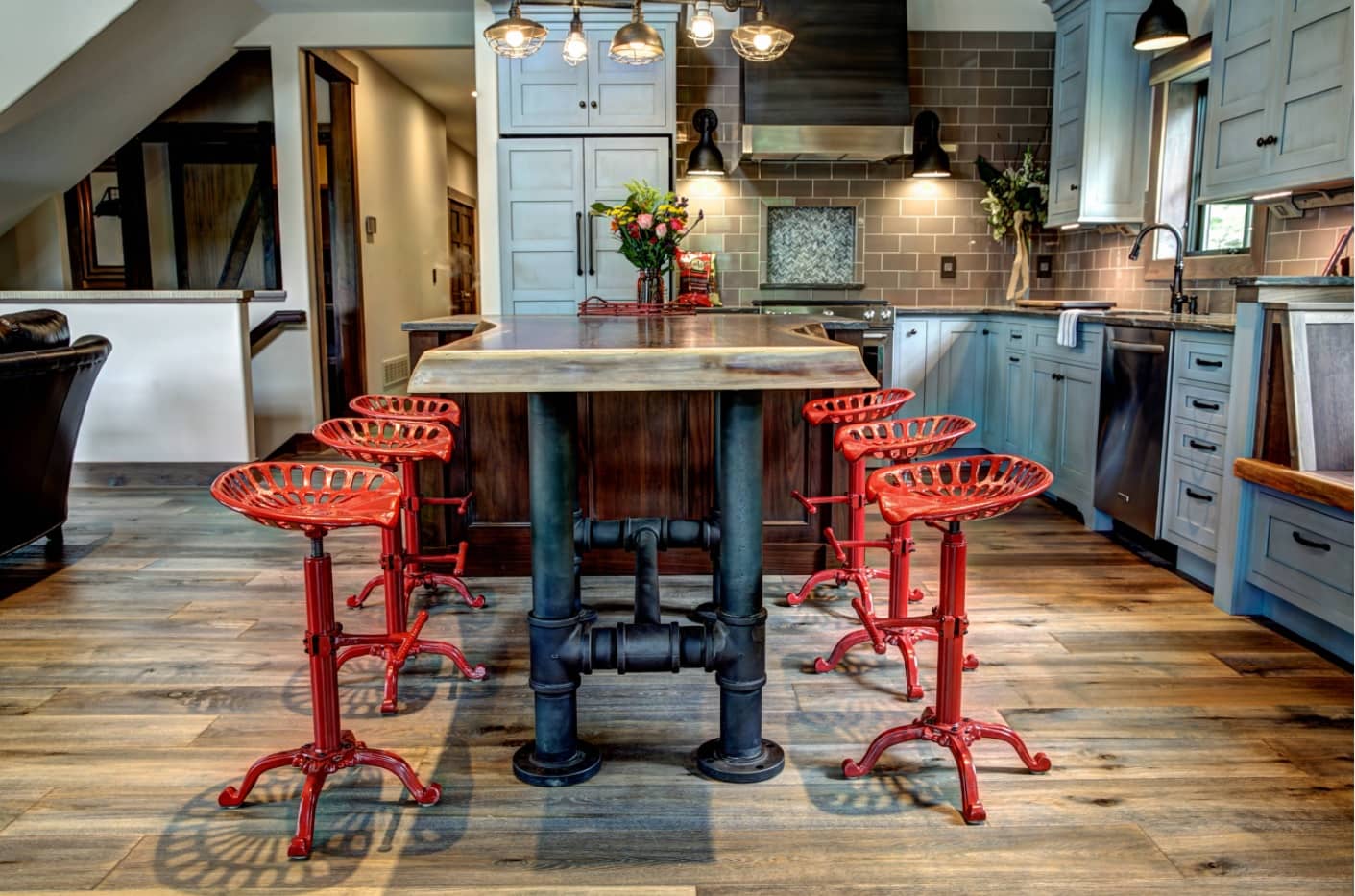 Ancient luminescent lamps with massive spirals and simply designed lampshades are an intrinsic trait of the style.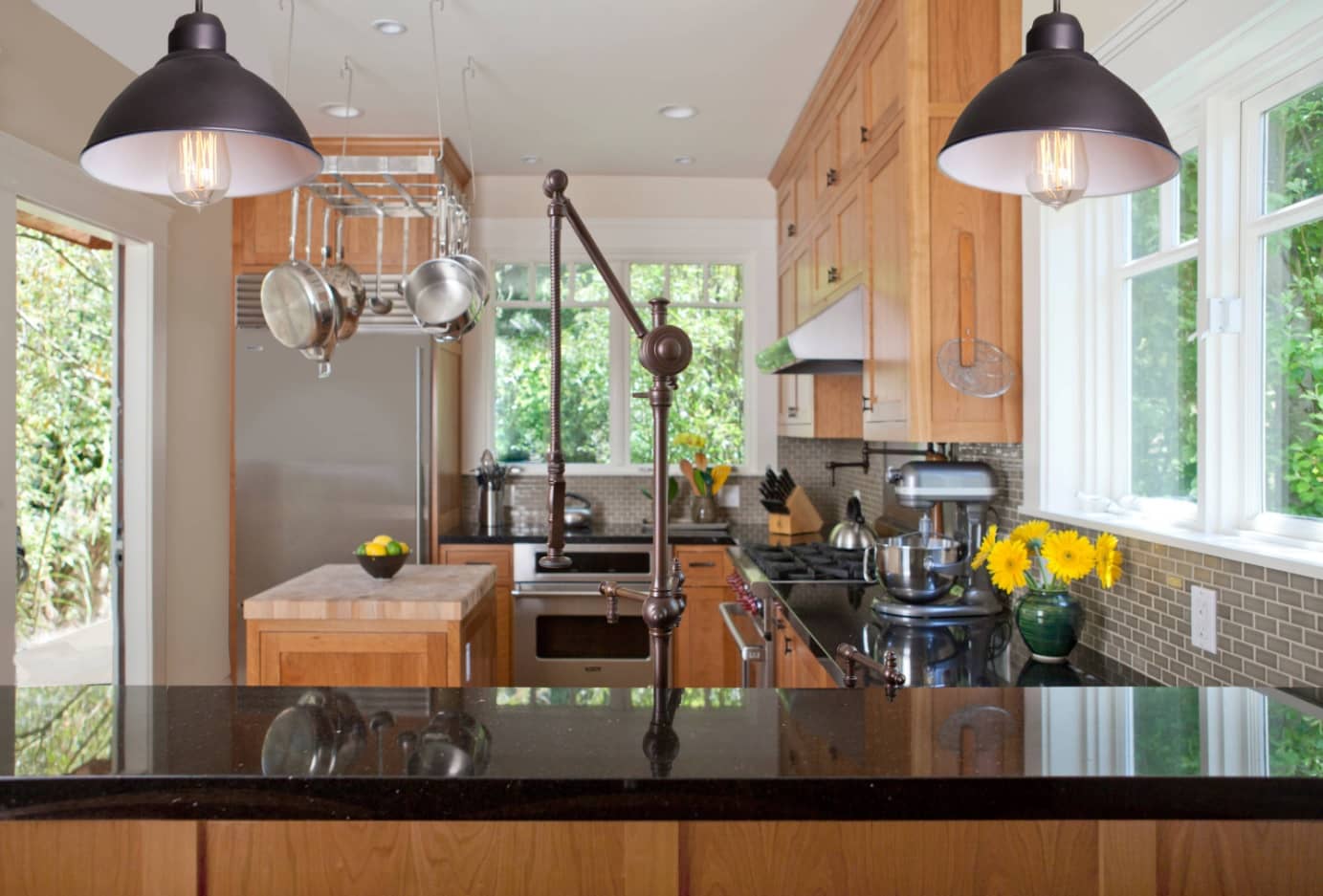 Steampunk Living Room Interior
We began our review of the Steampunk on the condition that it should be private houses' interiors because this style requires scale. It is almost impossible to arrange such an atmosphere in a small apartment. Just take a look at those big armchairs with metal chrome frame. Not every house can accommodate such a living zone around the small concrete stationary coffee table.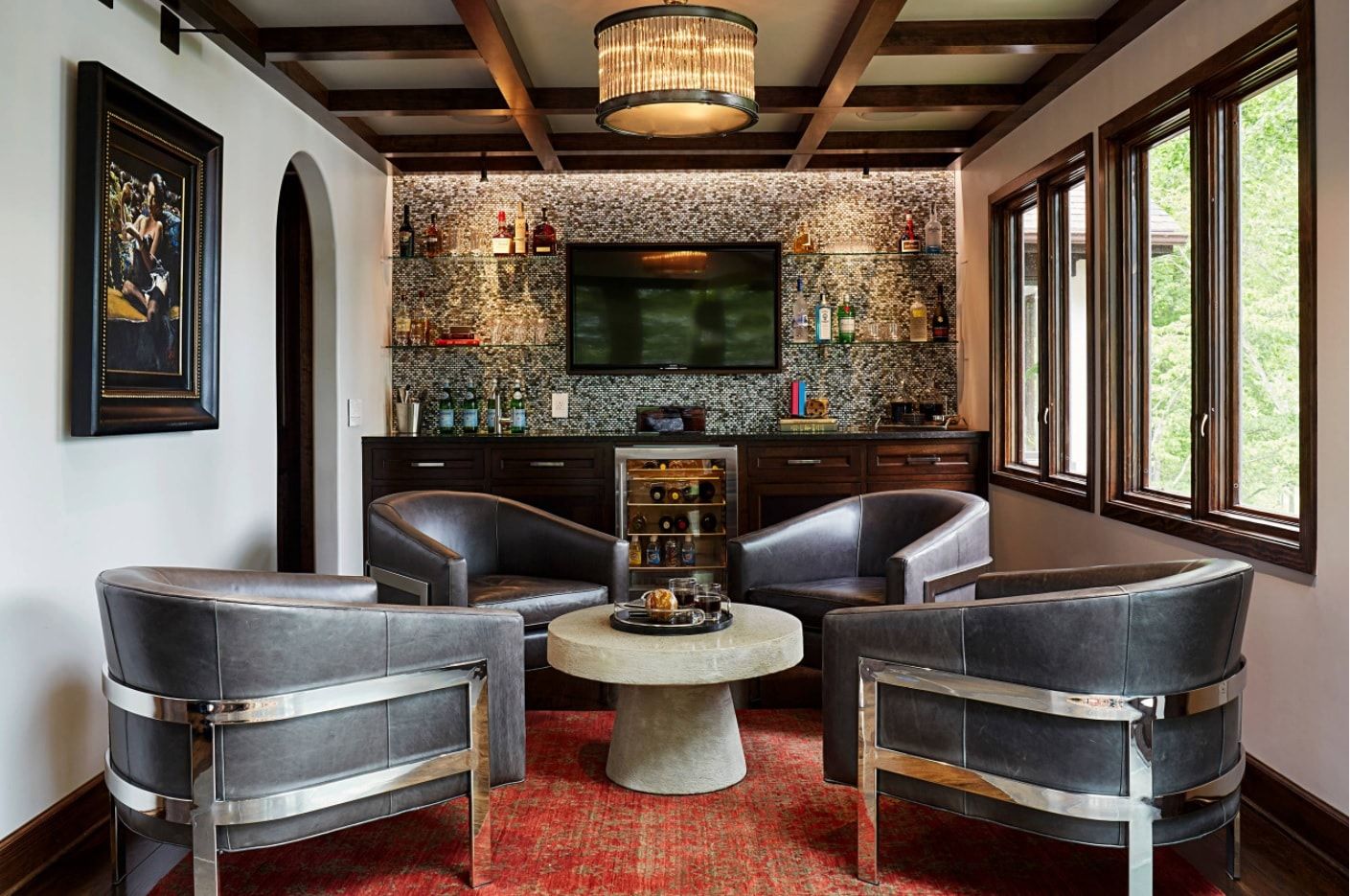 The figured lighting system of ancient water pipes and the large bulbs in it can turn any modern casual interior into a Steampunk one.
Steampunk Bathroom. Is that Real?
An unusual and very ambiguous decision to decorate your bathroom is to make it look with a touch of this mystical style. The twisted forms of black pipe construction in the form of heated towel rail add an apparent accent to space. Of course, it must be diluted with normal worldly things to look in harmony with the interior, not an alien part. Otherwise, it brings grim feelings.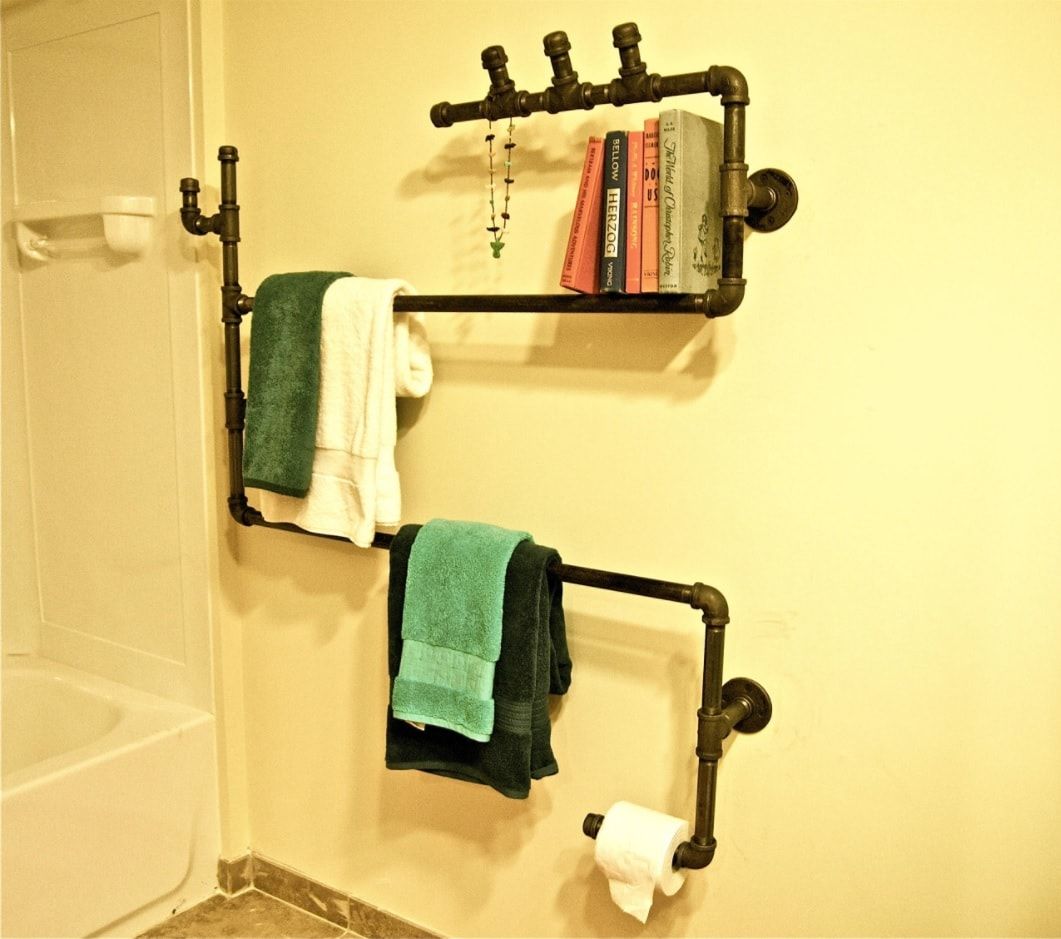 There are bathrooms that can be a place for filming horror movies like "Saw" and not being the room to go every evening. But everyone has its representation of aesthetics.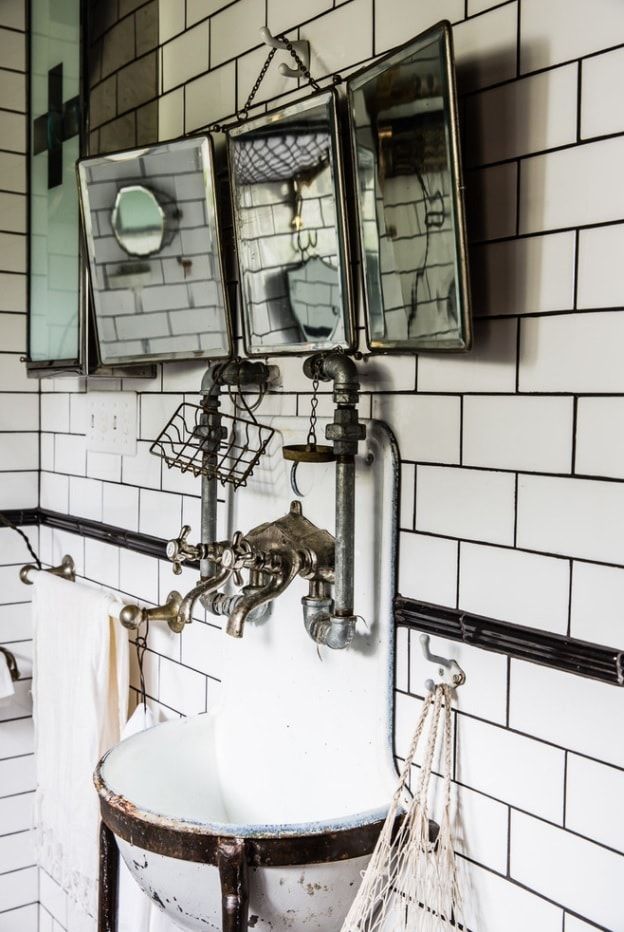 Steampunk Bedroom
The usual modern styled bedroom in white can turn into a loft and Steampunk decorated room juts by adding some elements. The pipes in form of gas balloons that imitate creative radiators can drastically change the perception of the premise.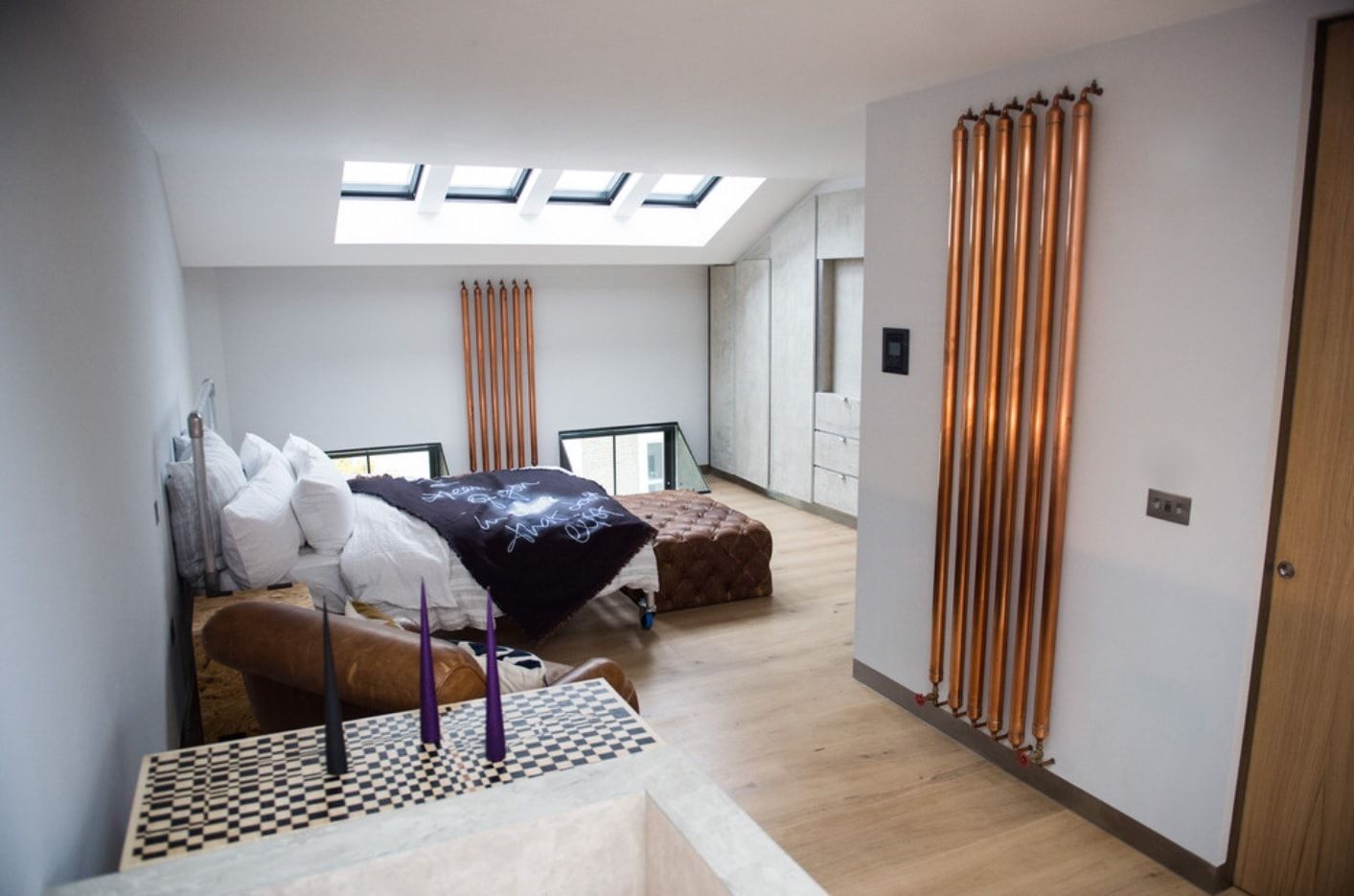 Home Office in Steampunk
The place where you can express yourself to the full is the home office or workshop. Here you can collect some of the most vintage and rare collectibles, experiment with the finishing and design ideas. Nobody can stop you or correct your plaты as it is your private place. Be daring and any place can be arranged to meet your needs and reflecting your designing aesthetics.