When choosing a private house design, you need to pay attention to several elements. The most important decision is to decide in which interior you will feel better and, therefore, most comfortable. The house should be a personal refuge, a place where you gladly return after a hard day. You should arrange the internal space in such a way as to satisfy your preferences and needs, not forgetting about practicality and convenience. After all, the house is not a museum, so you can never make up for comfort with beauty. Choose the style of the interior of the house in which all family members will feel good.
Content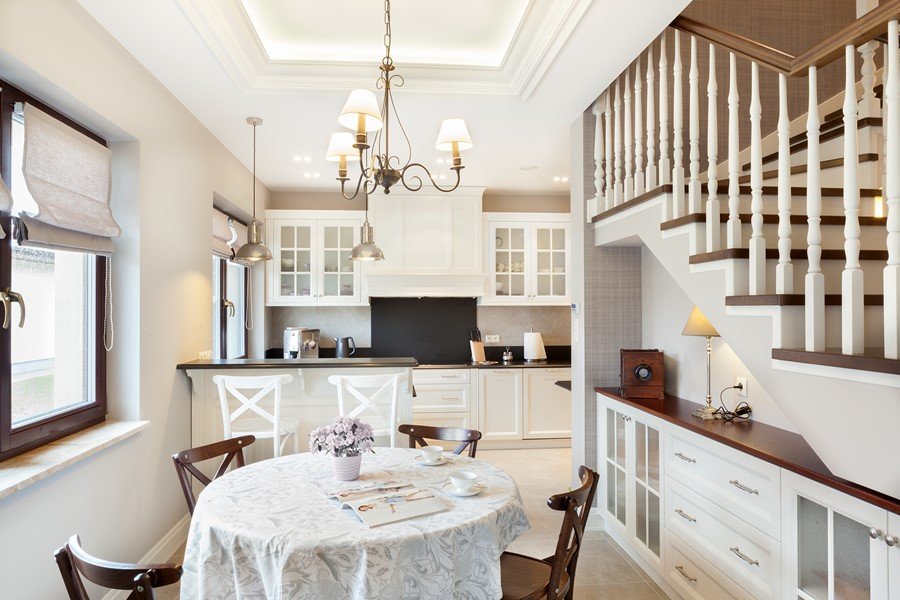 Provence Style
Provencal style in the interior is still popular. It certainly will not get boring quickly. In combination with the sun, the smell of lavender and the climate of vacation on the French Riviera, Provence style gives the interior of a country house a feeling of freedom and relaxation in which you can feel happy. For most it seems that Provencal interiors are as white and bright as Scandinavian snow. This is not quite true.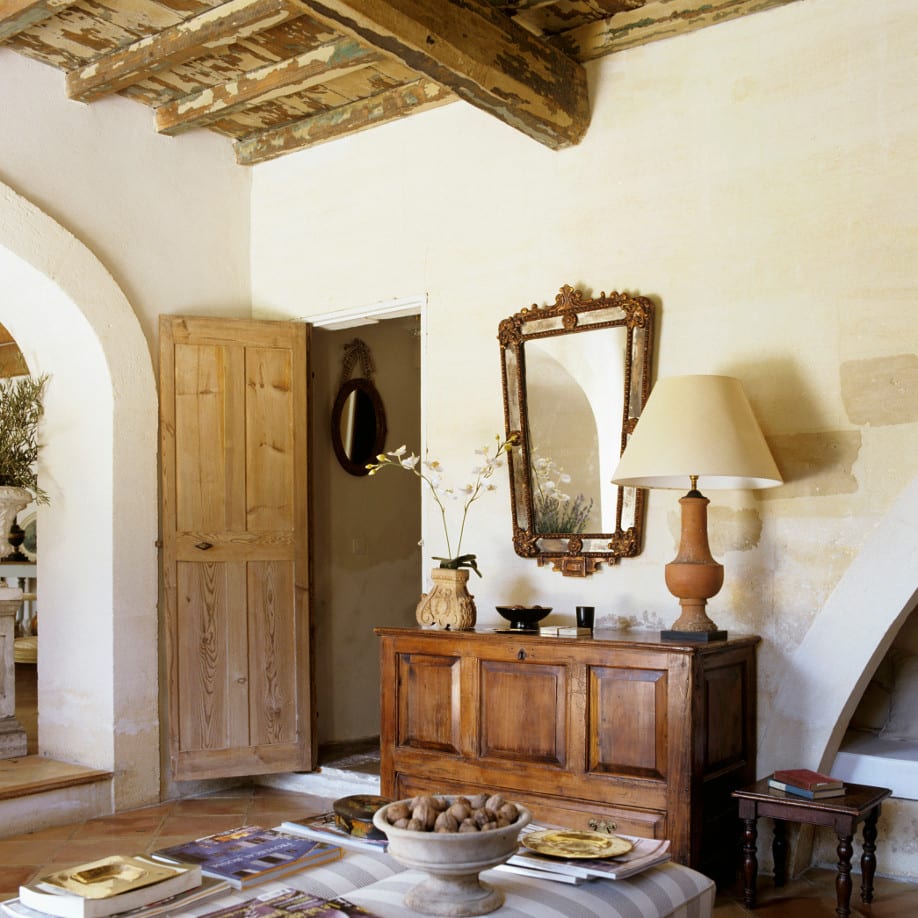 What Characterizes Provencal style?
Willing to imagine the style of Provence in your own interior, you must remember that this design requires sufficient space and a lot of light. Otherwise the design will not look so impressive. In many aspects, it resembles rustic style, as both relate to the climate of the farm and home heat. The interiors in the Provencal style are dominated by natural bright colors characteristic of this region:
Provence style is characterized by the preservation of light color, which will undoubtedly increase the optically small interior and give it freshness. You can complete the decor through the use of several additives, appropriate dishes and textiles.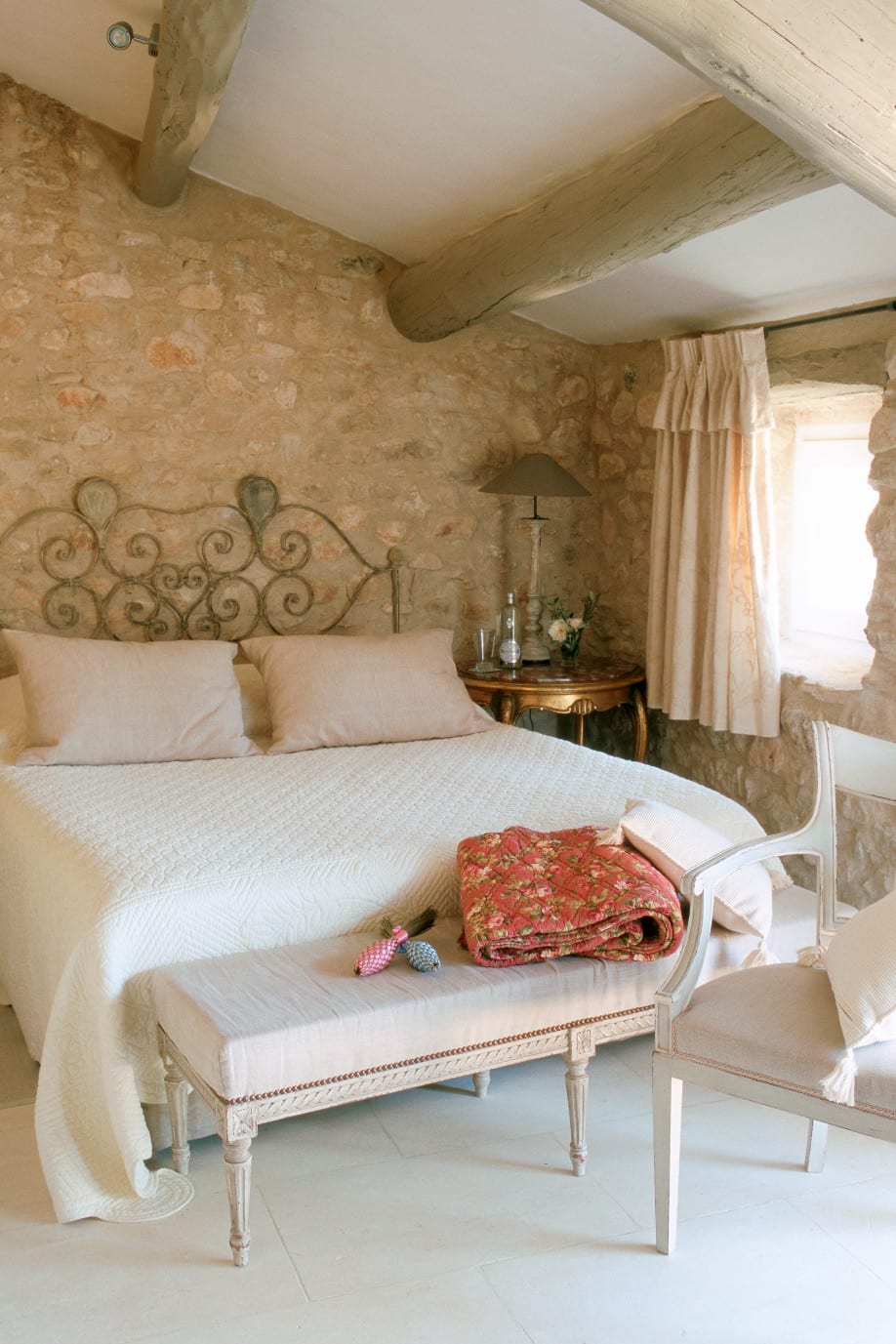 Features of Provence Style in the Interior of a Country House
As the name suggests, the style originates from the Provence region in southern France. Furniture in this design has a limited but very characteristic pattern, sometimes with themes relating to nature. Decorate the house with plants found in the Provence region, such as olive branches, lavender, wildflowers or vines.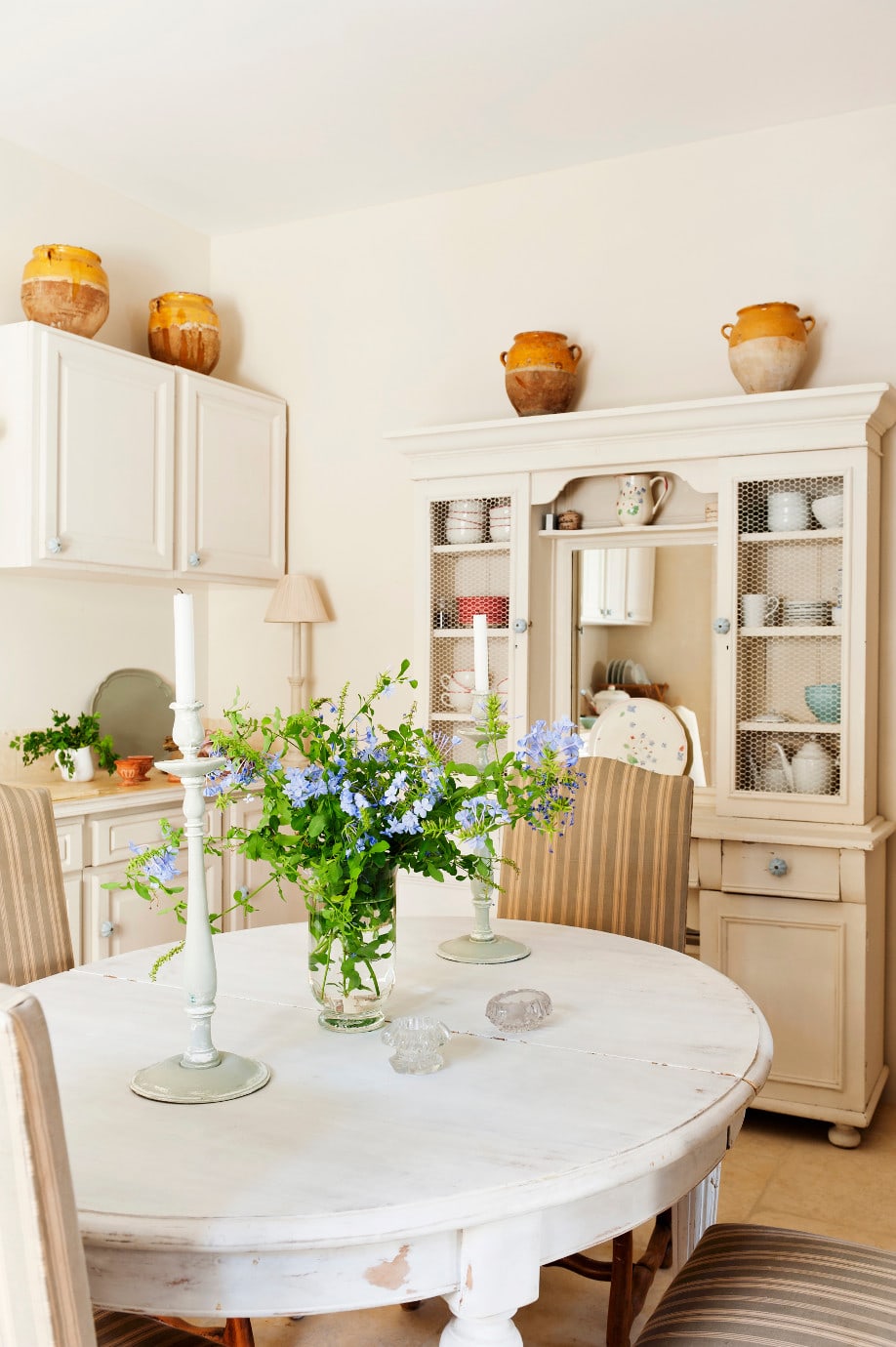 The furniture is usually wooden, made of natural material or whitewashed, sometimes painted with pastel, warm colors. Supplements that are commonly found are made from:
clay;
ceramics;
metal;
glass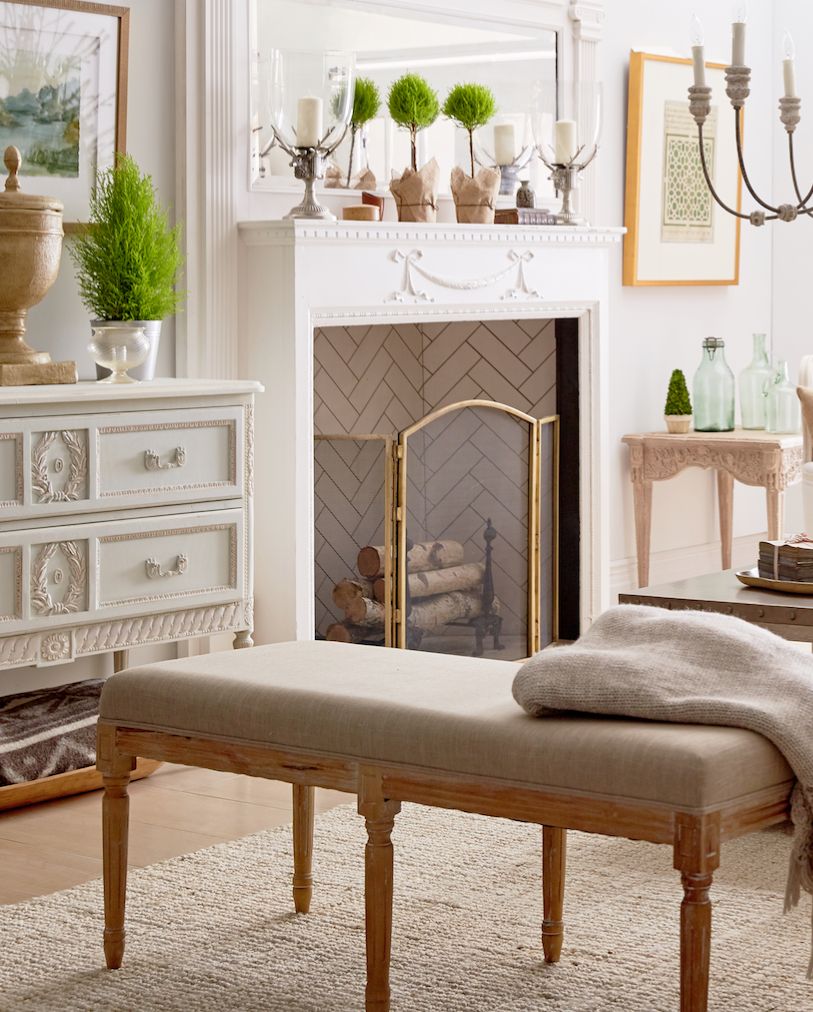 Covers for pillows, tablecloths, napkins and other textiles should be made of cotton or linen, with a thick and high-quality weave. All materials used in Provencal style are natural, that is, they should be of natural origin.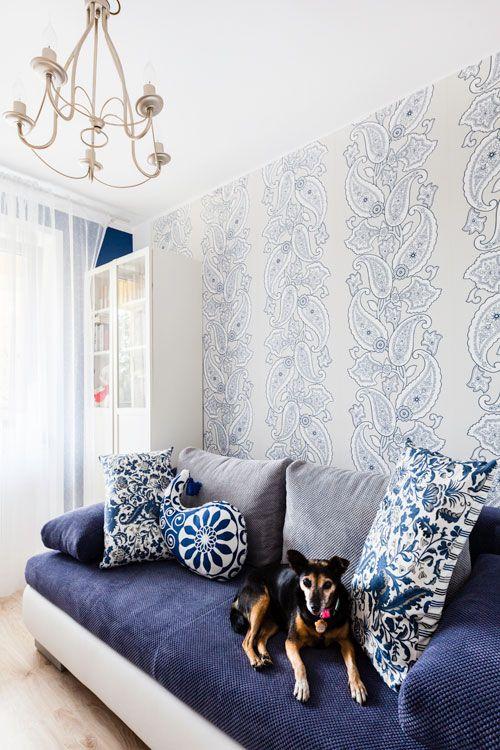 Provence Style Furniture – Naturalness above all
Provence is usually famous for white when it comes to color. Naturalness and tradition are most important in the topic of materials. Furniture made from natural materials, such as wood, zinc and stone slabs, is very characteristic of Provence. Arrange the room with large chests or cabinets. Thanks to them, the house will create the impression that the interior has been used for several generations.
Interior Accessories
When you find the perfect Provence style living room and kitchen furniture, it's time for accessories, without which you cannot create the true climate of southern France. Of course, these are typical additions that are clearly related to Provence. The main role, regardless of everything, should be played by lavender – a symbol of this region, recognized throughout the world, present in every home and being one of the main export goods. Therefore, you should install a lot of jewelry inspired by lavender in your house: starting from fragrant fresh-and-dry bouquets of this flower to fragrant lavender candles and other decorative knick-knacks.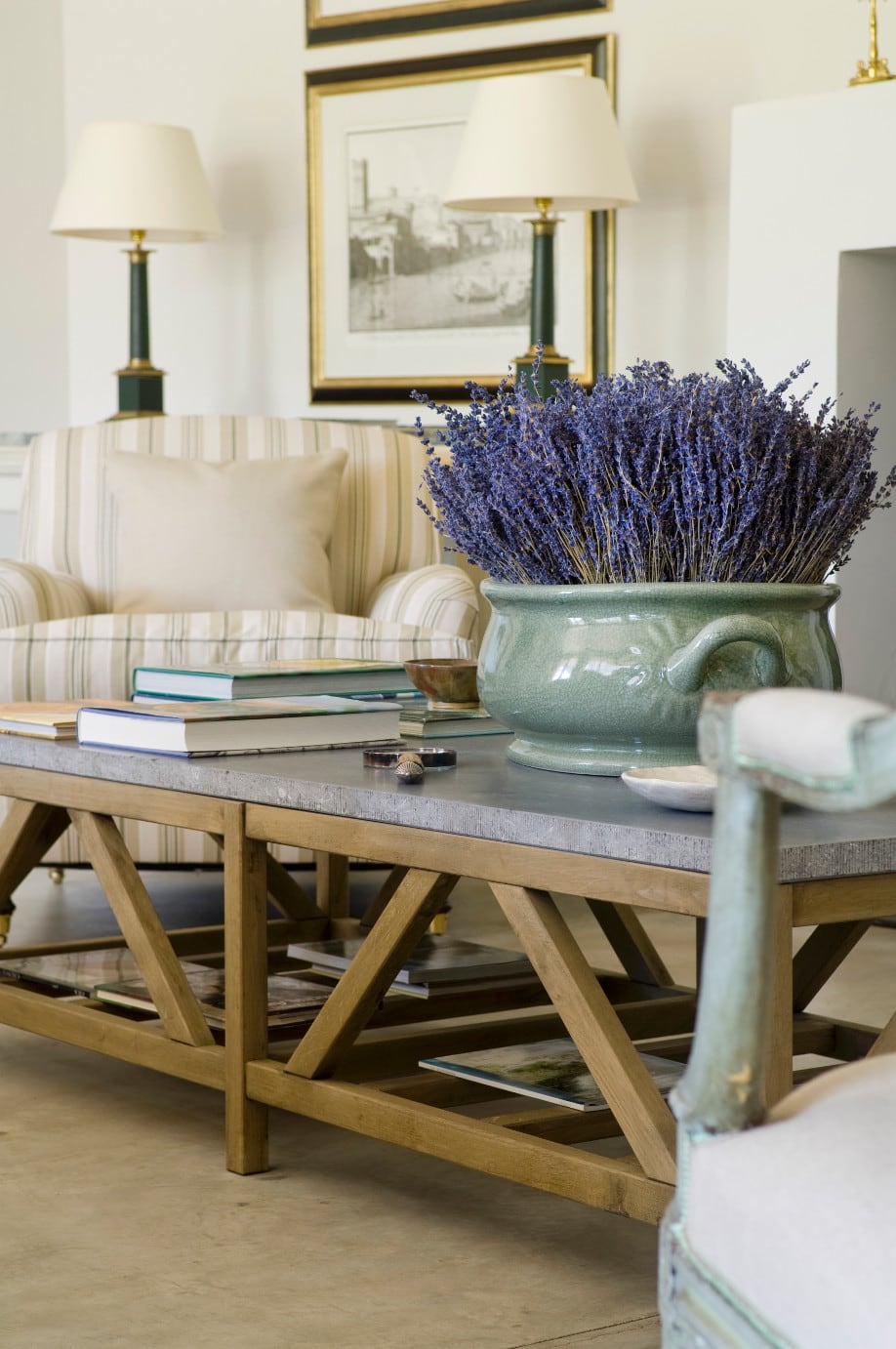 It is interesting! Any accessories, such as porcelain or watercolor paintings, are more than welcome in the Provencal style. It can be said that, as in the case of village arrangements, the effect of a controlled "artistic disorder," that is, a collection of numerous small artifacts, is desirable. Therefore, if you like decorative trifles, you'll love the Provence style at a glance to create the perfect interior for a country house.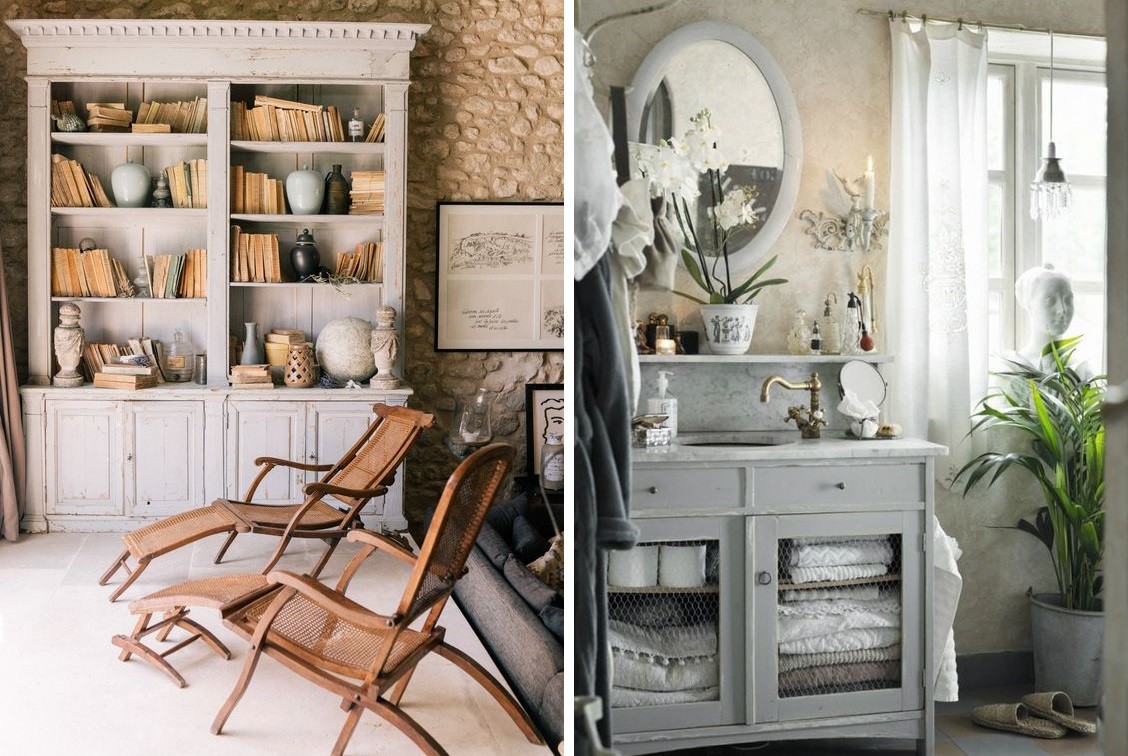 Chalet Style
The traditional Swiss chalet style or Alpine interior design originated in houses in the south-east of France and has since expanded to fill modern country estates. Warm and welcoming style of the interior contrasts perfectly with the cool and icy landscape of the outdoor.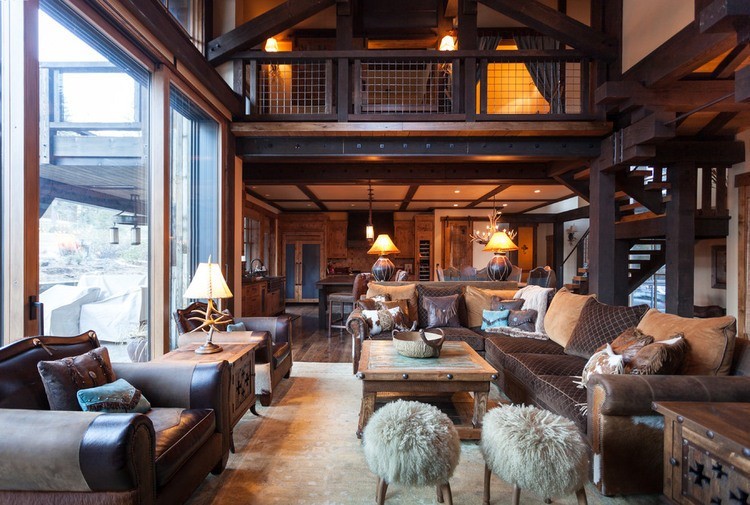 Chalet styled interiors feast the beauty of nature, the simplicity of traditional craftsmanship and design. The ideal design of the rooms in the design of the chalet will have a stylish balance of natural or painted wood, lined stone or brick for the interior, which is characterized by rich colors and comfort.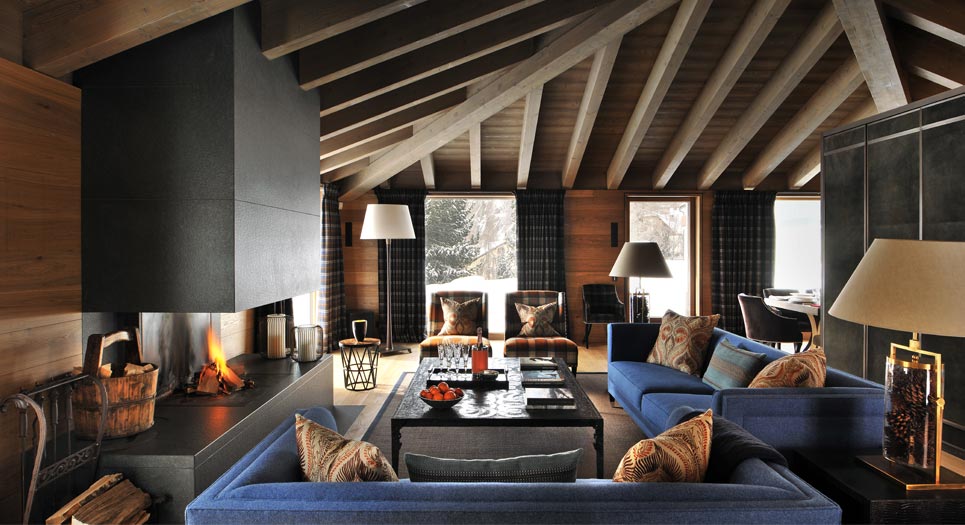 It is interesting! This style can be easily achieved in modern homes, and although your local region (probably) does not allow you to enjoy stunning views of the Alps, you can recreate the cozy and relaxed feeling of a classic chalet in a country estate, providing a perfect oasis for those who like to feel closer to nature.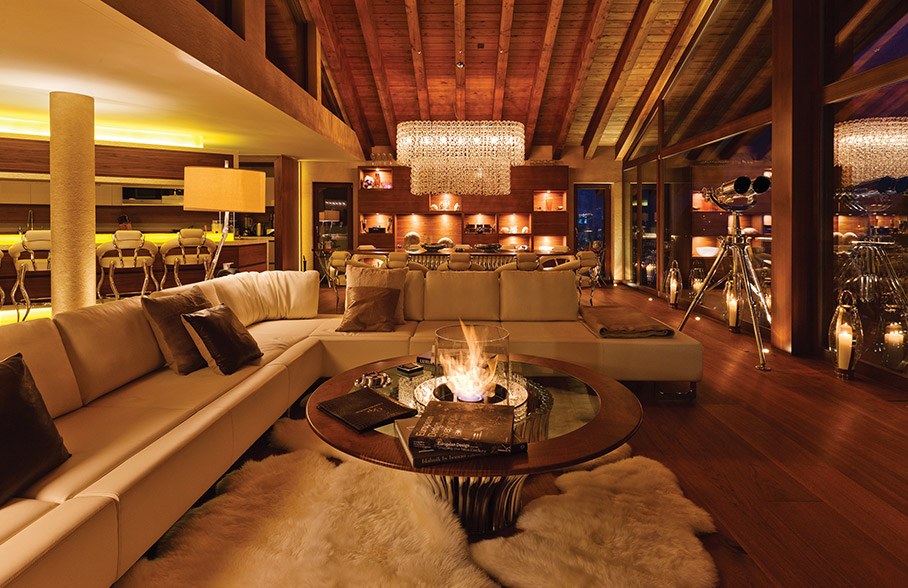 Prevailing Colors
Natural color palettes play a key role in creating luxurious and cozy alpine interior space. Muted earth tones, such as gold, beige and coffee, create a warm but bright shade in small rooms, and pure white can be used for a smoother and more modern Scandinavian mood. The color can be diluted with twilight cold shades of purple and blue or saturated red, burgundy and green, which create a classic autumn palette.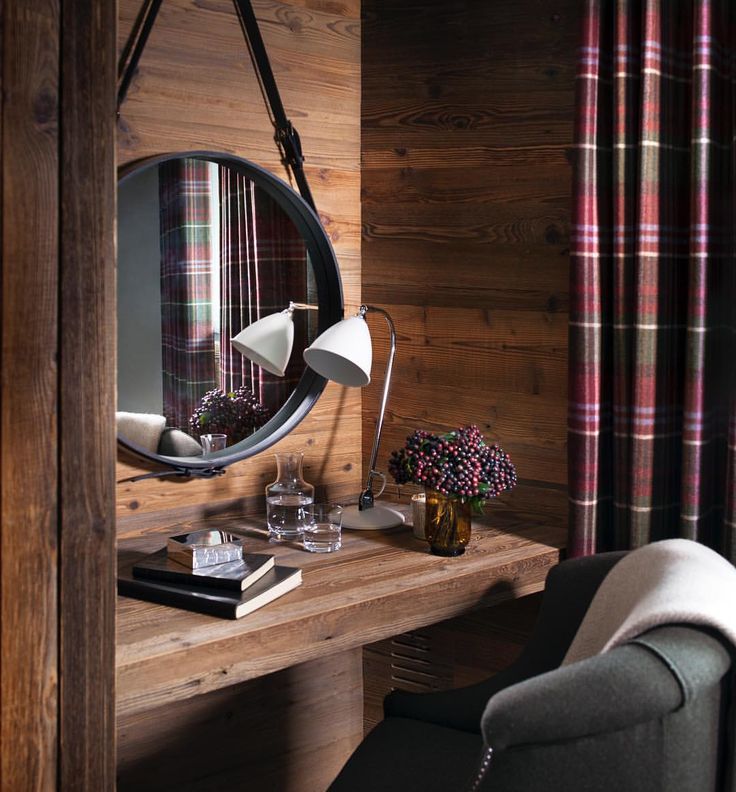 Fireplace is the Core of a Chalet Style Country House
No chalet style home is complete without a stunning and functional fireplace to add luxury and relaxation to living space away from the cold of the outside space. Classic chalet fireplaces should be carved from traditional wood such as oak or birch, and also placed inside a rustic stone wall for durable but stylish finishes. Open fire will give your interior a beautiful and fascinating look, but modern bio fireplaces with their diversity will also work.
Home Textiles Characteristic of Chalet Style
Soft suede, skins and furs look amazing when decorating beds, sofas or window sills. And light natural wool and alpine or Scottish prints look great on curtains or pillows. Choose gray, white, cream or red colors, and also combine these colors with each other for additional detail and comfort.
Tip! When choosing fabrics for your interior, basic functions should be focused on natural materials, as well as on traditional color palettes that complement the earthy tones of your home.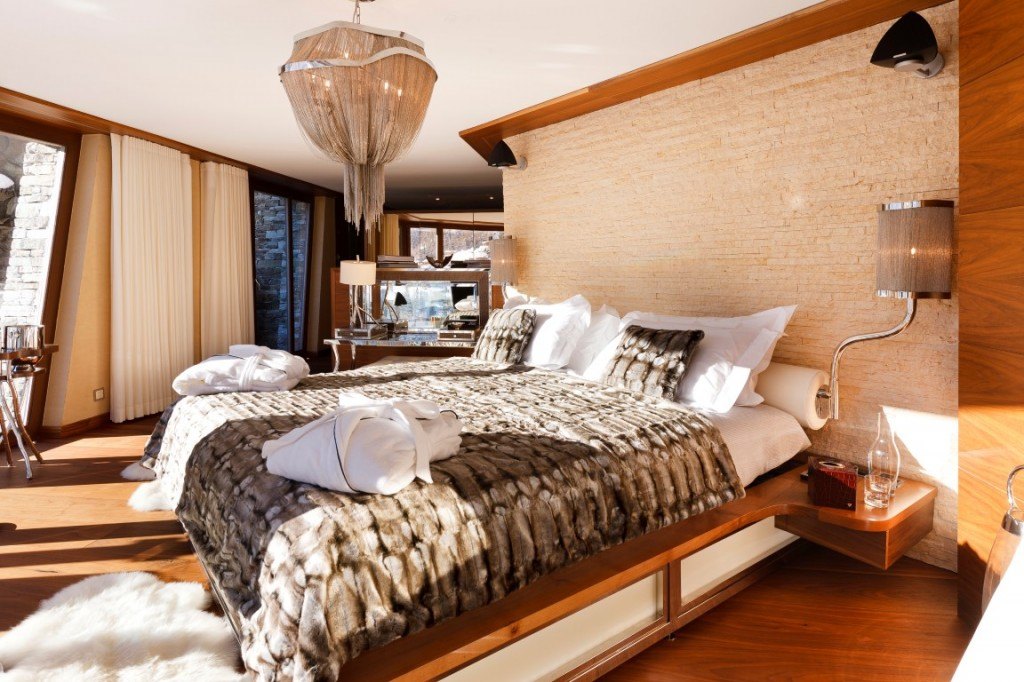 Furnishing of Alpine Chalet Interior
When it comes to furnishing for the alpine interior, wood dominates here! A rich golden oak will look great among the warm background of your interior space and can be matched with open beams, facing the walls or the floor with stone for universal tone and style.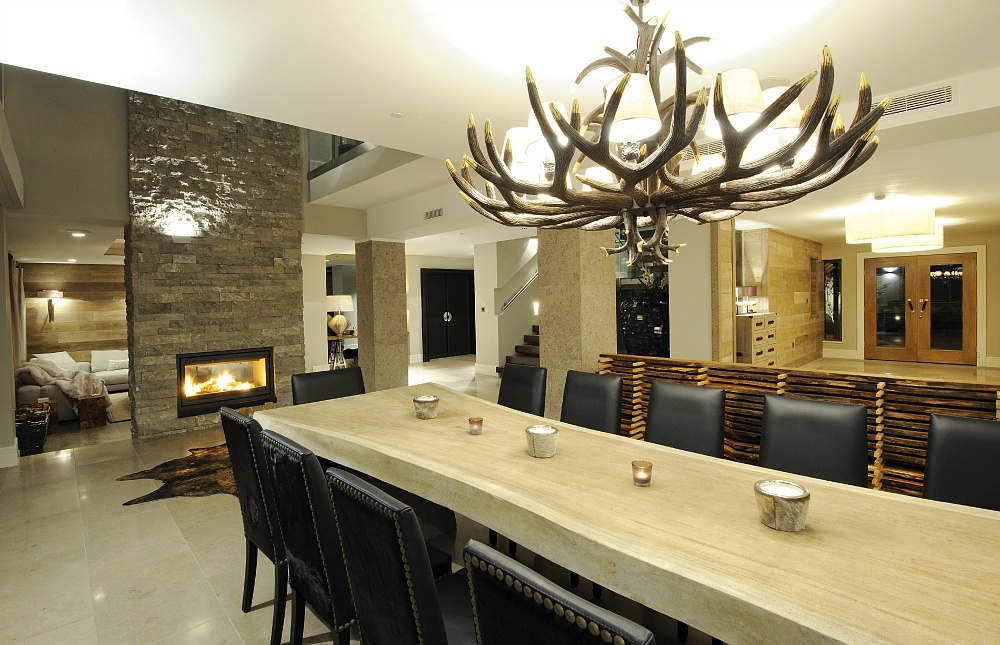 If you prefer a more modern interior, then choose pale wood, such as maple, alder and ash to light up the furniture that gives Scandinavian notes to the interior of your chalet styled home. Choose large and attractive items:
coffee table;
chest of drawers;
dinner table;
cupboard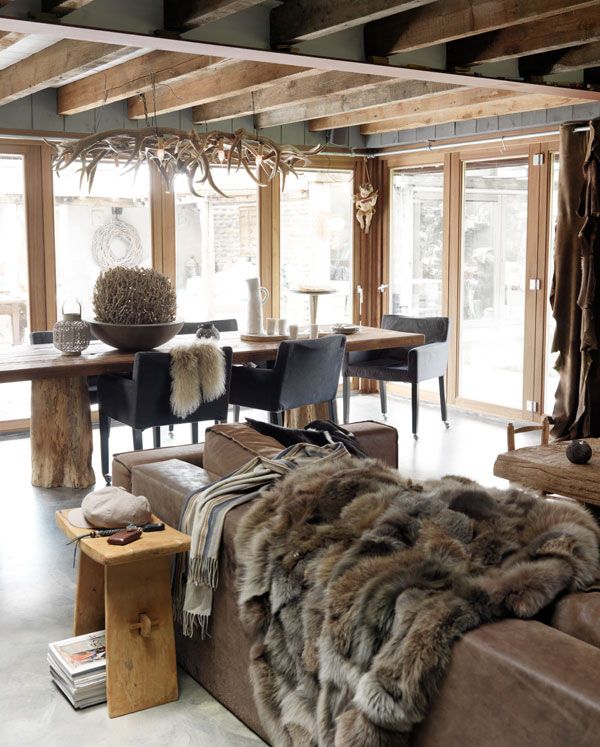 Tip! Choose furniture in rich type of wood to create a luxurious and attractive interior space that provides rich look in the comfort of your own home.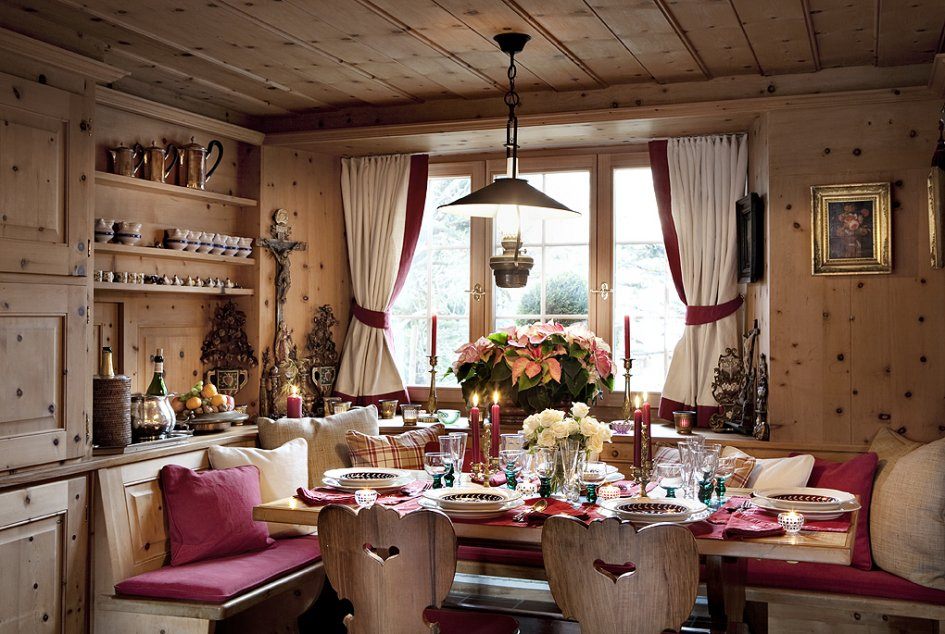 Scandinavian Style
Although Scandinavia is associated with the cold, the interiors decorated in this northern style are comfortable and warm. They are a kind of opposition to the lack of sun and cool outside, so they are bright and very comfortable. Cold white walls and furniture are warmed by wooden elements, numerous fabrics (pillows, bedspreads, carpets) and drops of bright color that appear in the decorations. Scandinavian interiors for country houses are loved for convenience and functionality. They are characterized by:
simple forms;
natural materials;
practical solutions.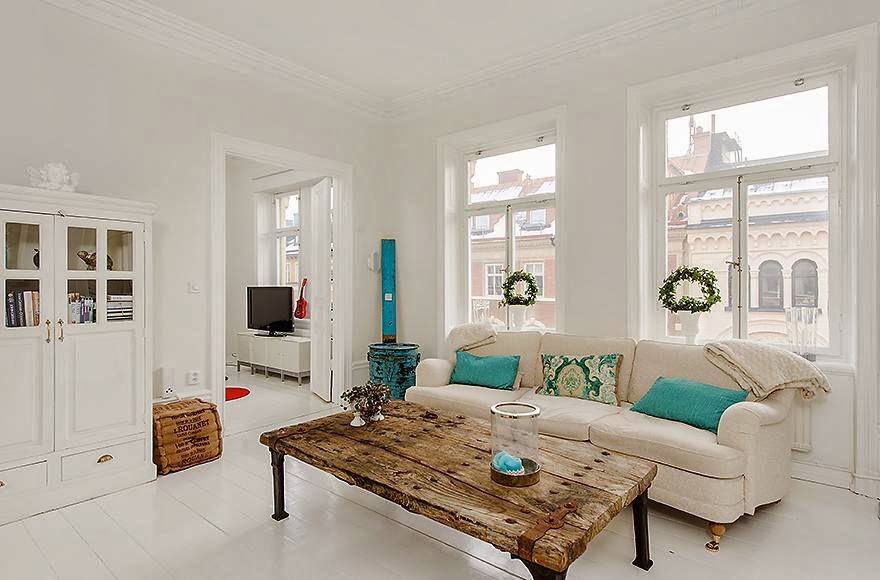 Interesting! Moreover, Scandinavian style interiors can be arranged with a small amount of money, combining tradition and modernity.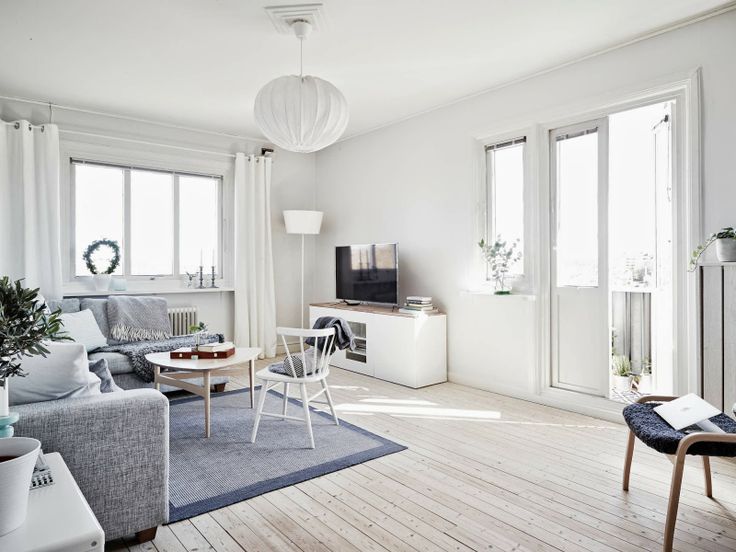 Features of typical Scandinavian style
Light colors. They must compensate the lack of natural light. White color is dominating. Also shades of gray and beige are welcome. Brighter colors and black are among accessories. Sometimes you can see blue, but this is the color of the additions. If there is brickwork inside, it is bleached. Supplements are used, but they are modest – pillows or blankets of linen, wool or cotton decorate any interior. Pillowcases can be of same color or decorated with stripes, circles or other delicate patterns. Candlesticks, photo frames and vases are simple in shape. They can have contrasting colors: red, blue or orange.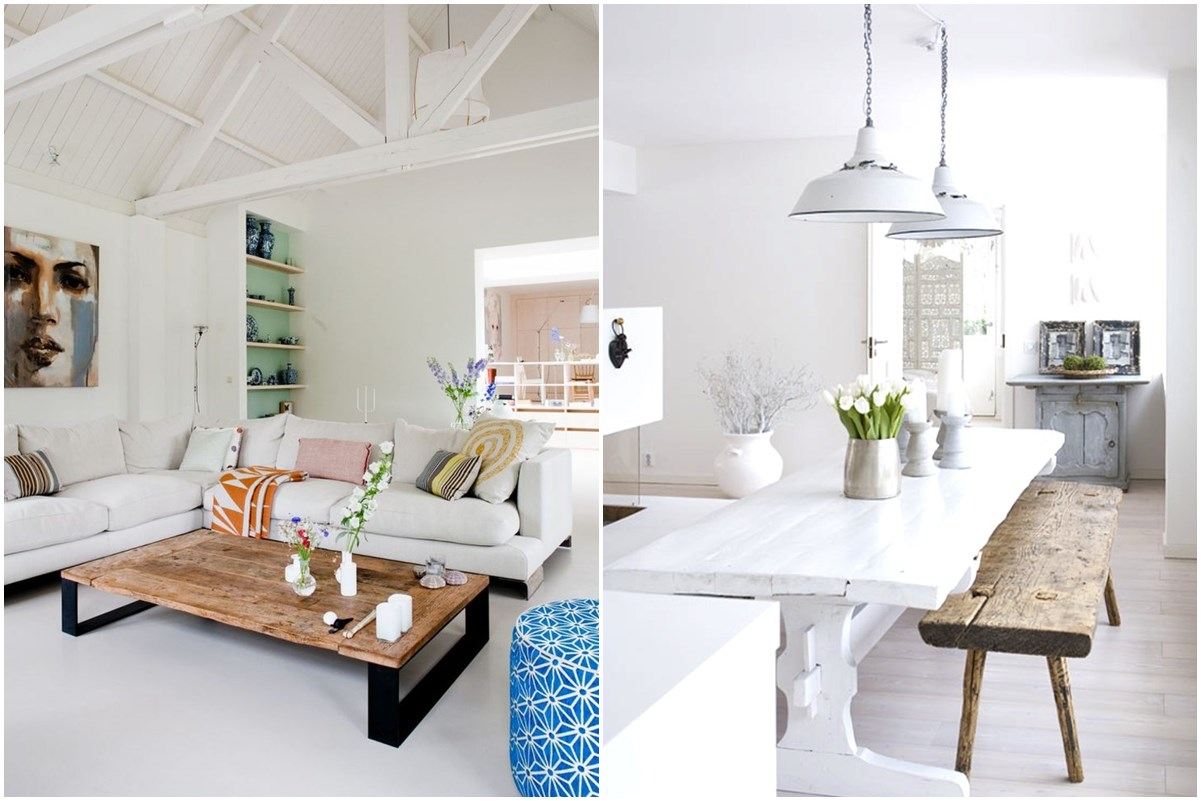 Natural materials. Wood is the leader, usually light or bleached models, sometimes painted in other colors. Ceramics, glass and metal are also considered very popular additions. When it comes to fabrics, cotton, wool and linen are most commonly used.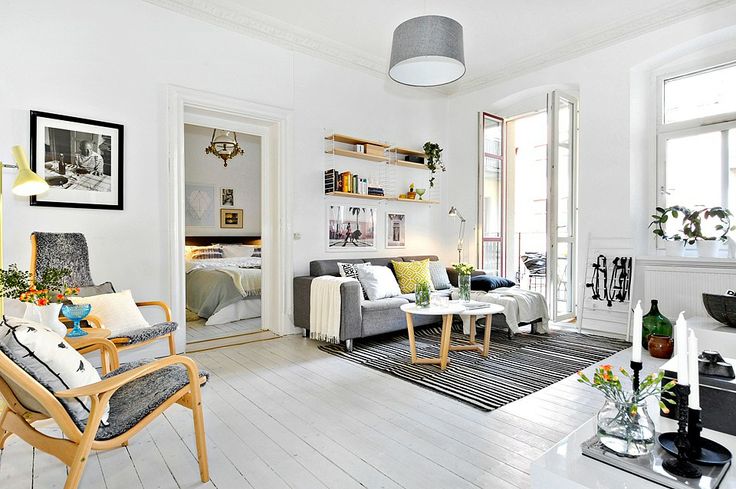 Ergonomic shape. Furniture designed for recreation, such as sofas, armchairs and chairs, is, above all, a guarantee of comfort. Therefore, the models are soft and properly delineated. Most often they differ in streamlined and rounded shapes.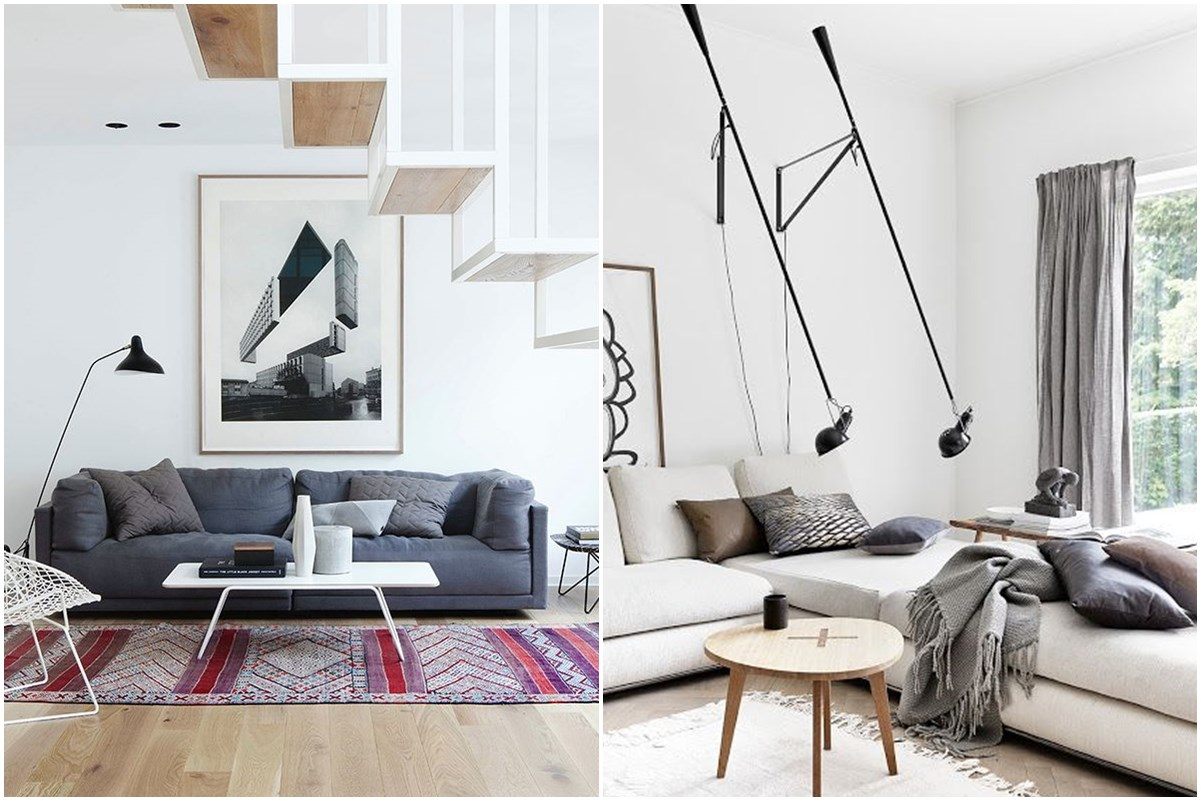 Expressive accessories. Scandinavian style loves botanical motifs. Plants are often represented in pots with a simplified geometric shape. Black and white graphics can be appropriately decoration for walls and textiles.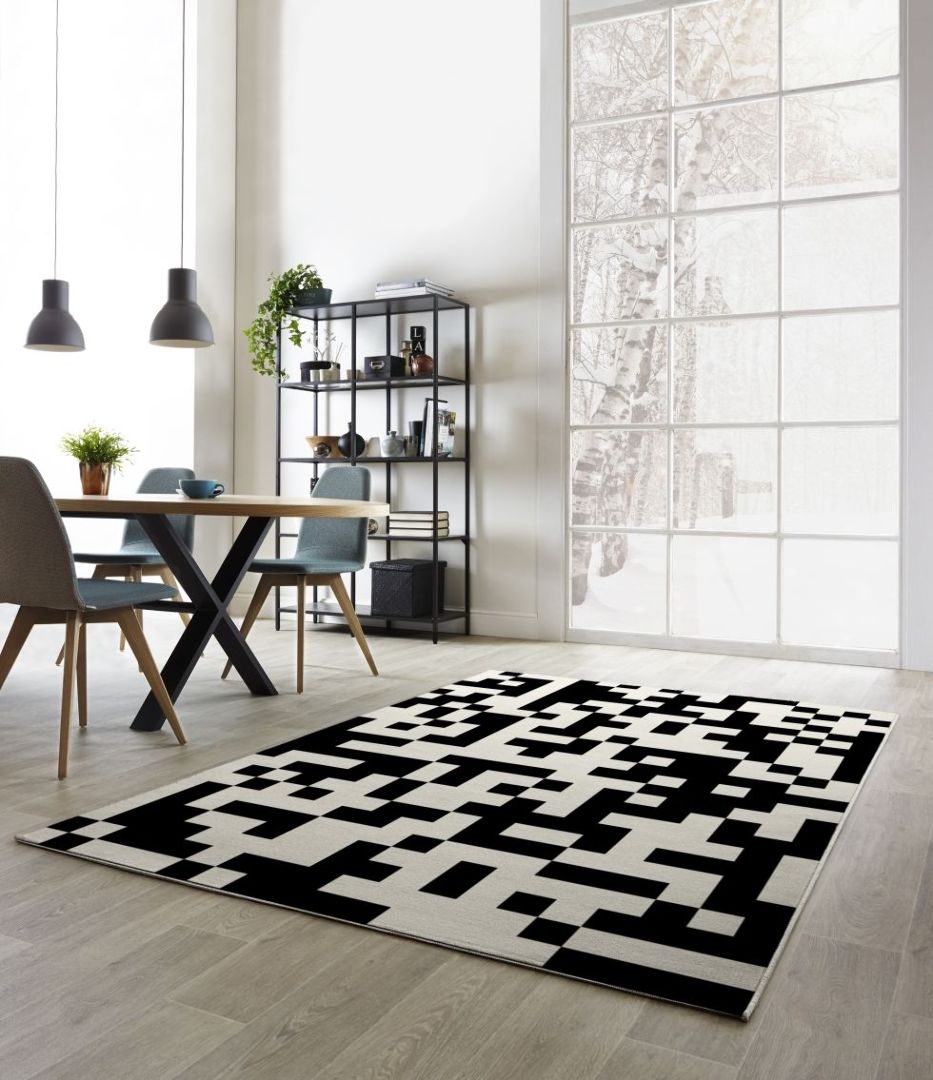 How to Decorate the Kitchen in the Scandinavian Style?
First of all, there should be a wooden table located in the middle of the room, a table top, a wardrobe and small accessories such as cutting boards, spoons, containers, flower boxes, etc. The floor and furniture can be left in a rough finish or painted white. Scandinavian kitchen also welcomes brick walls or rectangular tiles on the wall above the work surface. Illumination will be in the form of pendant or wall lamps in metal frames, which can also be found in the Industrial interior.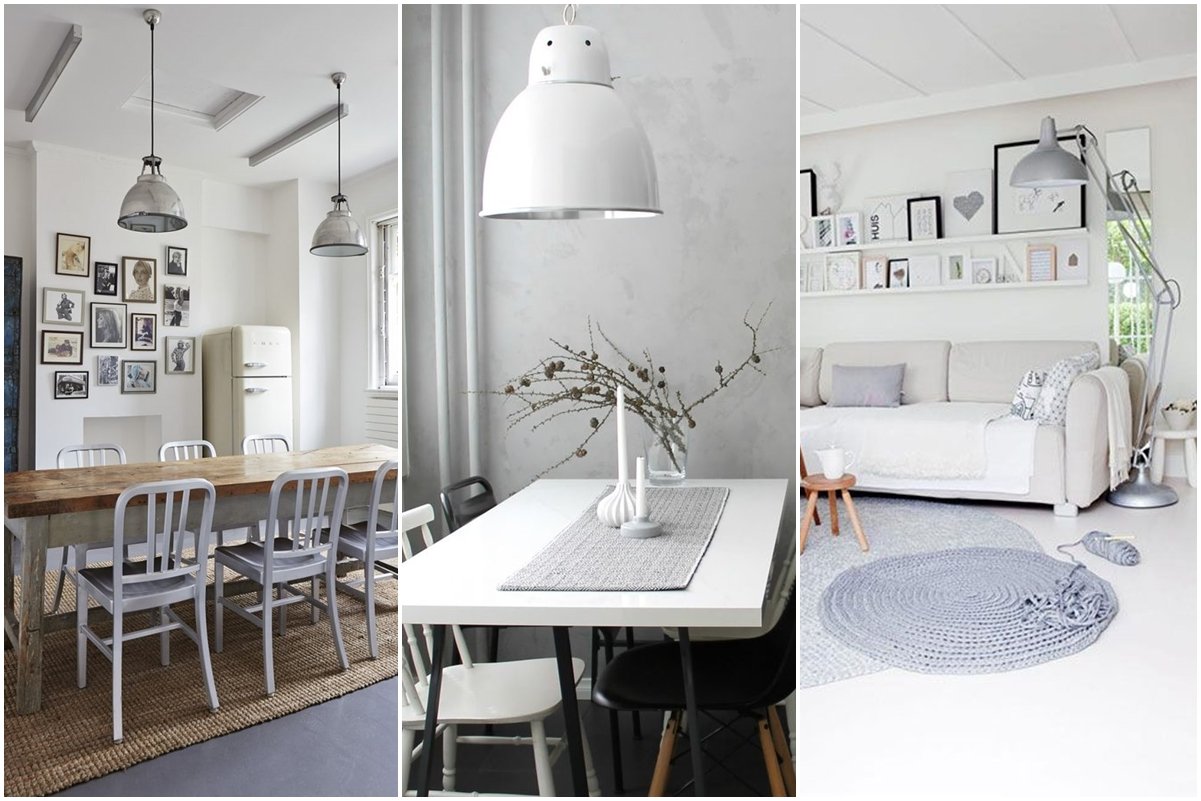 How to Decorate the Living Room and Bedroom in the Scandinavian Style?
Is a large amount of white color favorable for recreation? It may seem that such devices are cold and sterile, but the Scandinavian style involves the use of a large number of textiles, thanks to which the living room and bedroom become a cozy oasis. On the floor you can place a fur rug on which it will be nice to put your feet, and on the sofas and beds to scatter pillows in natural patterns. Do you have lightly damaged wooden furniture? Now this is a great opportunity to use it. Do not renovate it; do not paint it either but simply leave the currents its condition. Do not forget about living plants which should be placed not only on window sills or dressers, but also directly on the floor, preferably in white pots.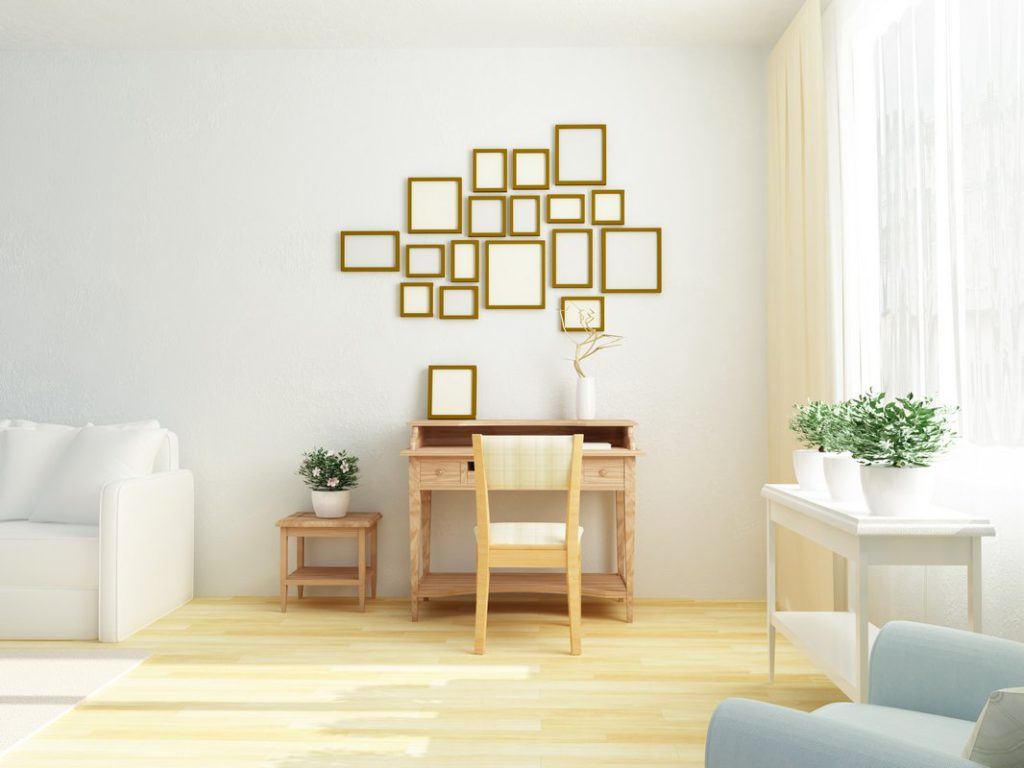 Scandinavian style is elegant and clean. This design is ideal for houses with large windows and terraces. A wall of whitened brick in the living room will look beautiful. In the children's rooms, bunk beds are a great solution. In such interiors, you can use niches and sloping walls. Properly located and fairly spacious closets in the bedroom allow you to hide everything you need. In the kitchen you can place wooden chairs painted in white, gray, yellow, blue or red. Accessories with the motive of a horse or deer, characteristic of this style, are applicable. But these are optional elements.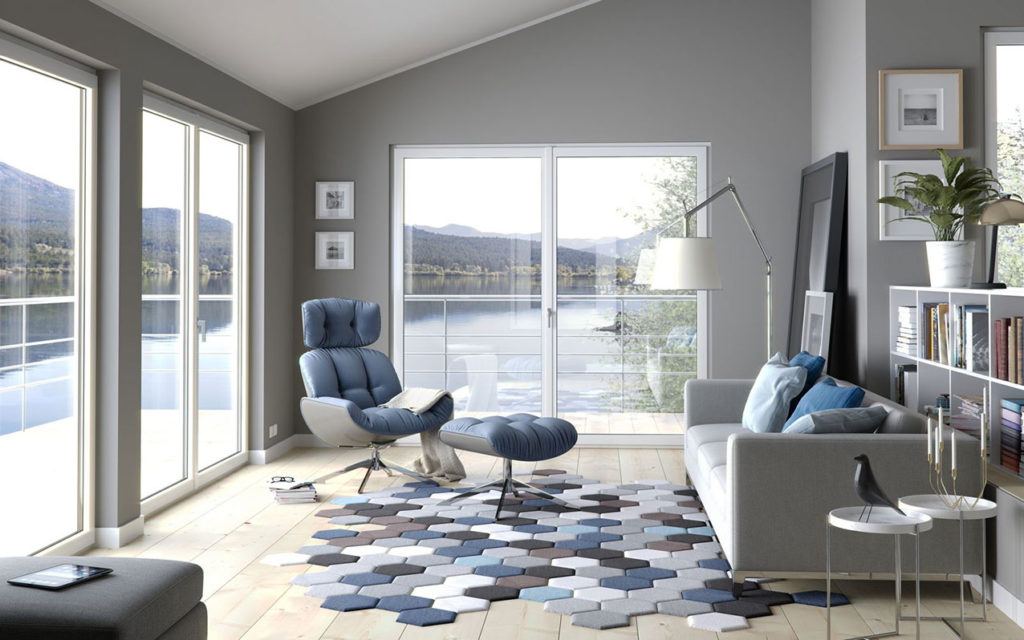 Country Style
Simplicity and conciseness can be the most stylish. If you do not believe, it is worth look closer to the style of country for the interior design of a country house. This type of room design will appeal to those who implicitly want to escape forever from the city to the farm.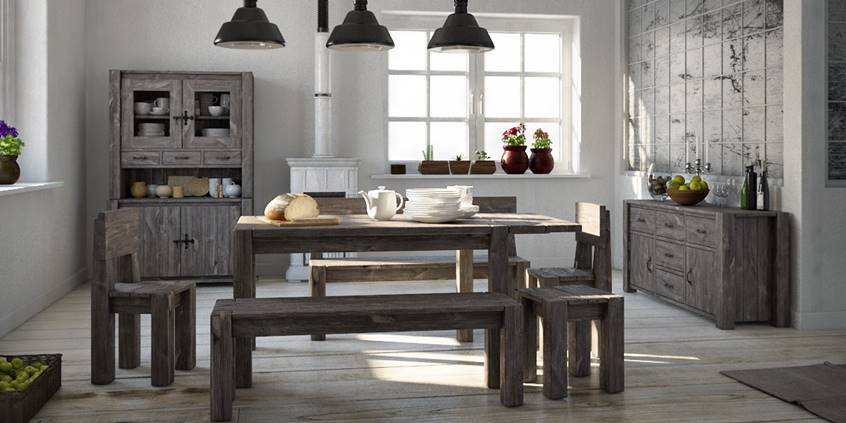 As the name implies, country style is a reference to the Wild West style that prevailed in the nineteenth and twentieth century in the United States of America. Modern country style furnishings should not look old-fashioned. On the contrary, they can be very elegant. In recent years, country style fits into the popular ecological style. Here there are materials of nature, such as:
a natural stone;
brick;
ceramics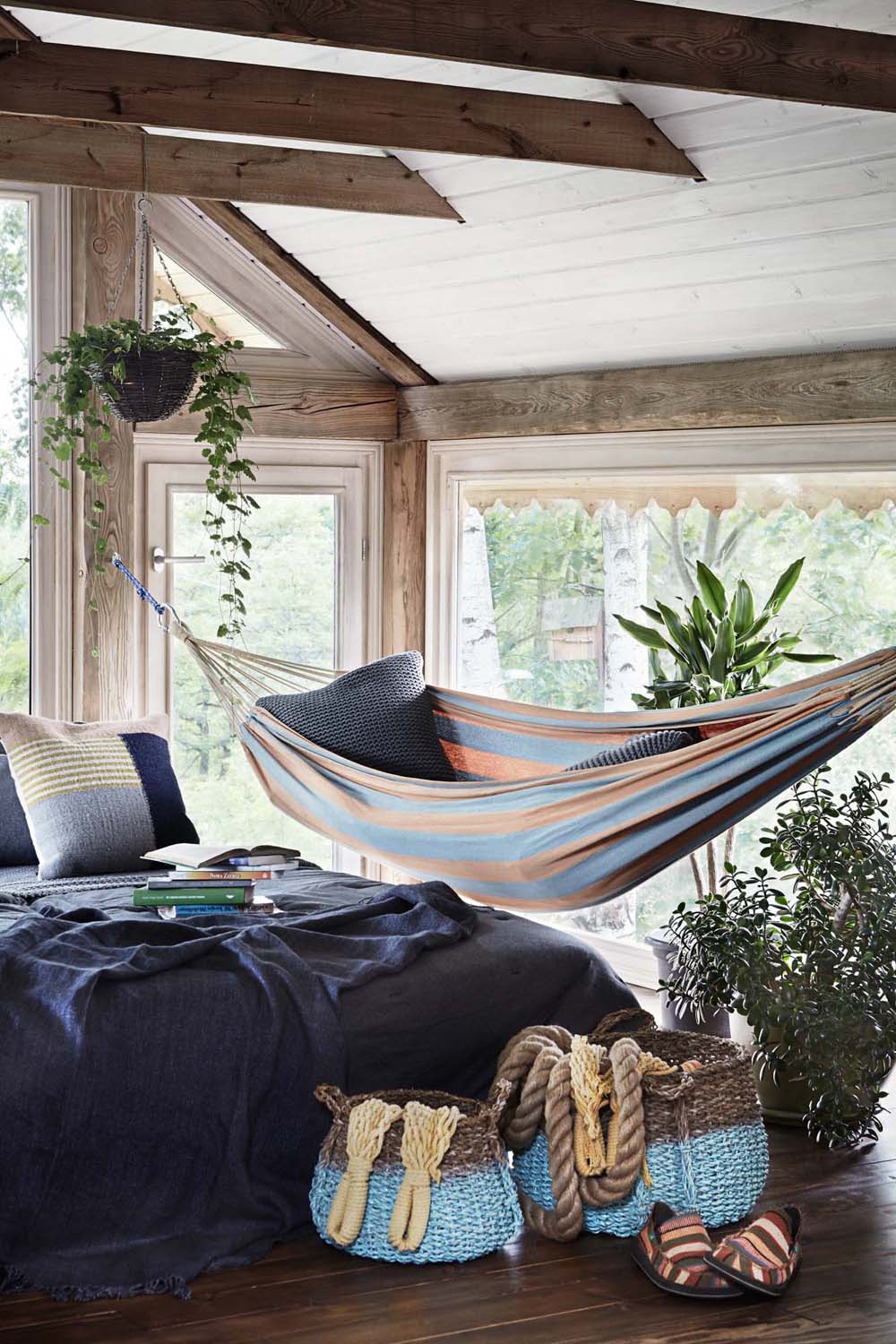 You'll rarely meet metal elements, but if they are, you should choose traditional models, for example, forging. There are almost no plastic and chrome elements.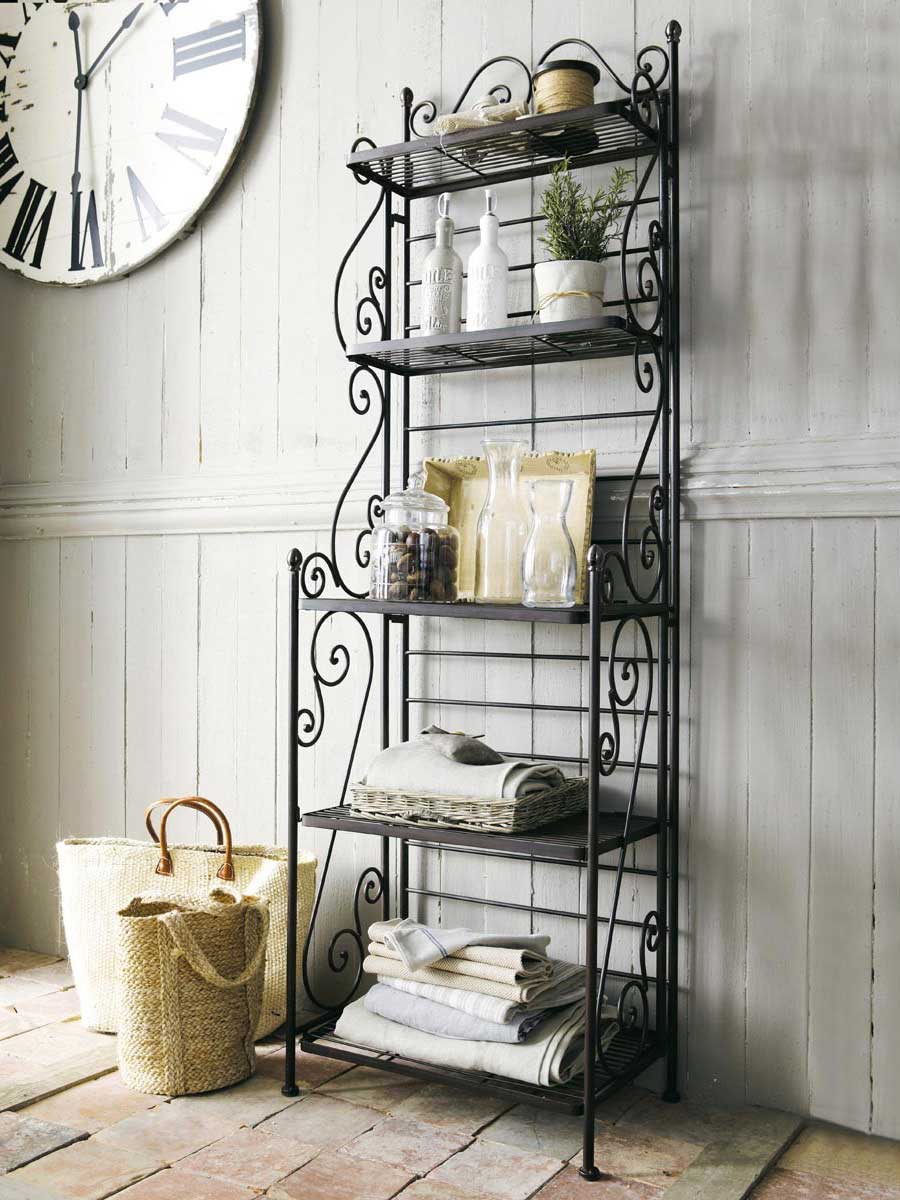 Choice of Color and Furniture in Country Style
As for the color scheme, it should be as natural as possible. Yellow, green, pink and blue, the colors of spring flowers will work fine. The natural shade of the wood perfectly matches this style. Embroidered and knitted items are welcome, as well as patterns such as, for example, a cage, stripes, polka dots and flowers.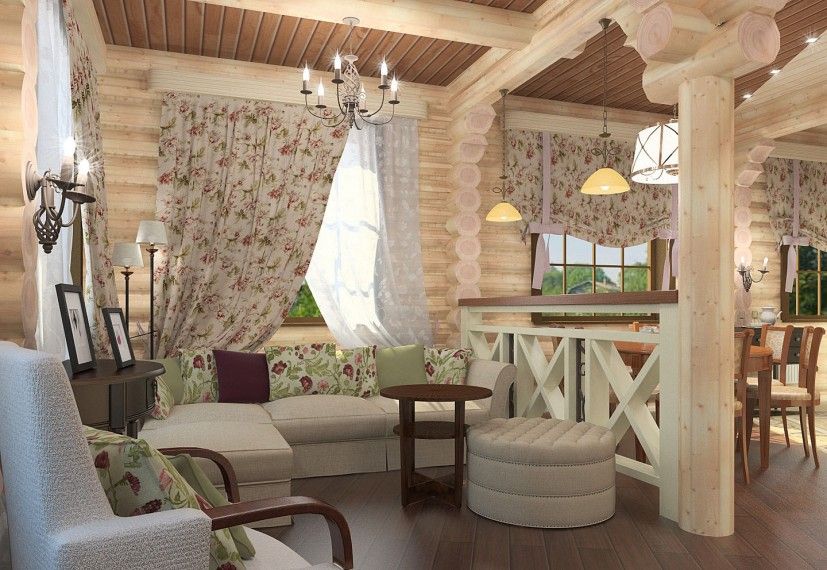 When decorating an interior in the style of country, you should choose wood furniture or wicker objects. Forged items will also be well composed. The fireplace is an integral element of such an arrangement.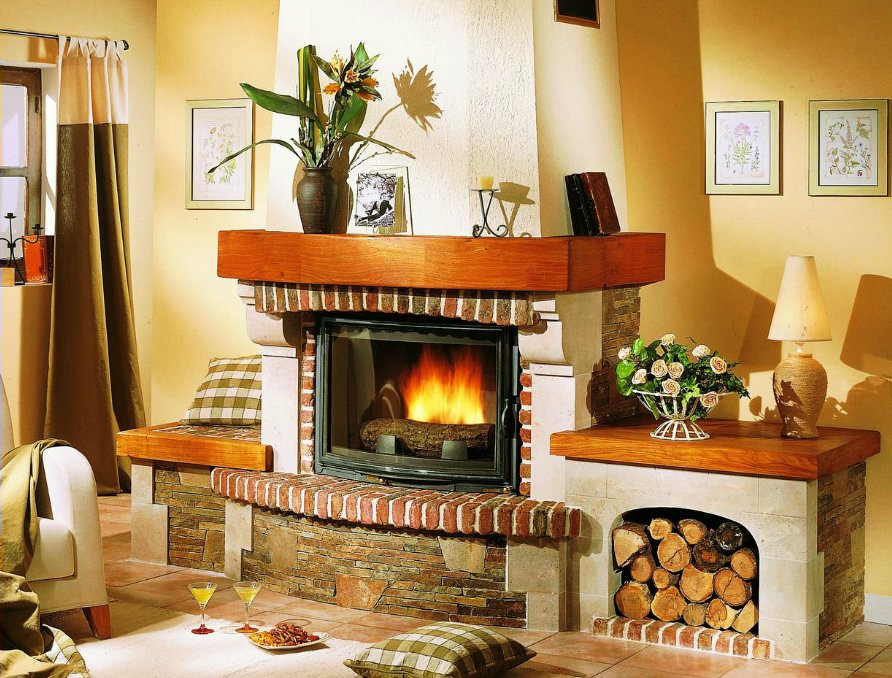 Wood accents are absolutely necessary in the style of a country house. Feel free to choose furniture with rough work surfaces and elements that were not specially processed. Old wooden products are also very welcome: warn out floors and windows in frayed frames are a great idea! In addition, you can easily achieve interesting accents from rattan and weaving.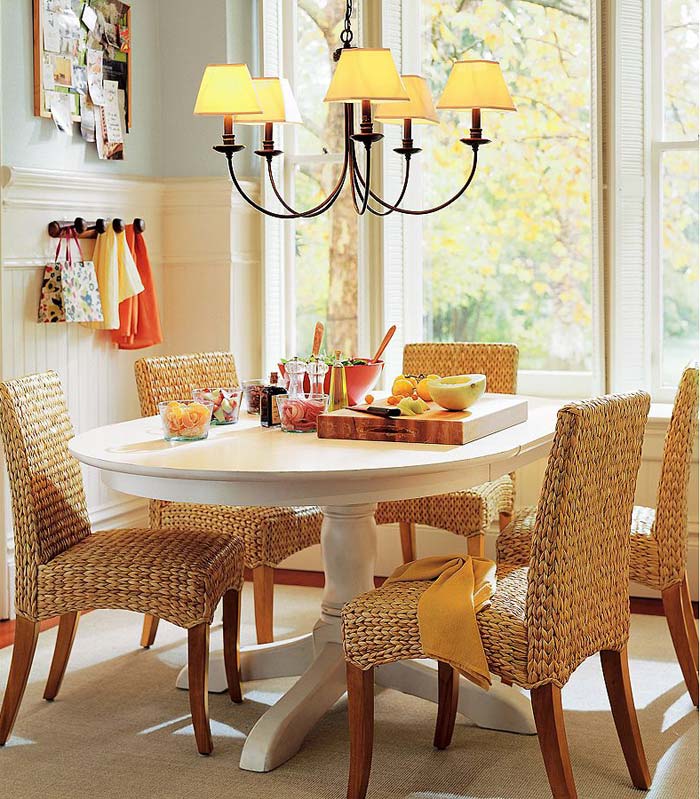 Tip! If the house has accumulated a few old things that do not seem to combine with each other, then for country style they will be perfect. Here, retro things will find their "second life". For example, a porcelain plate or a great-grandmother's jug is the most appropriate style decor.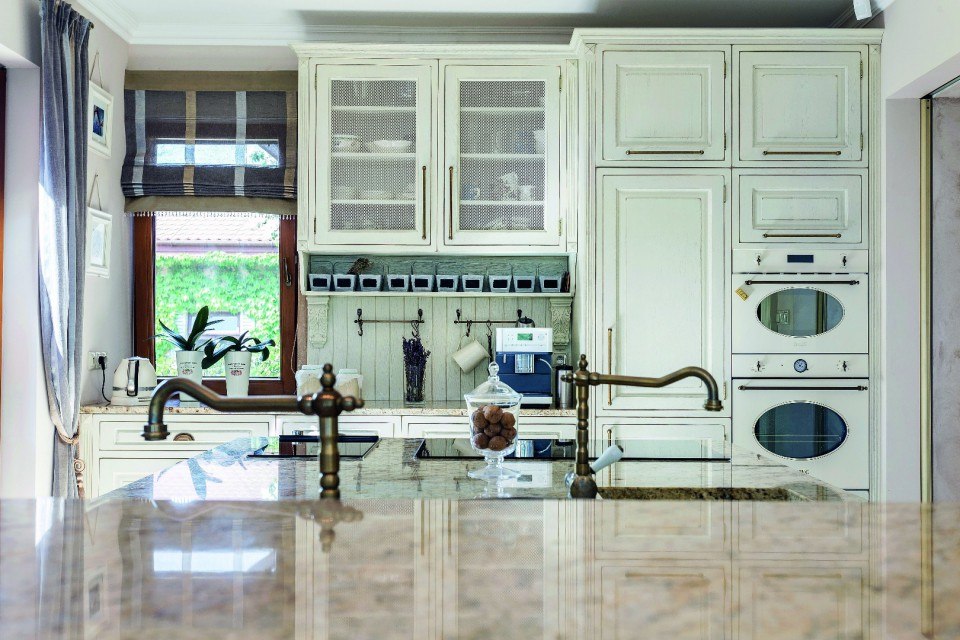 Country Style Living Room
Simplicity and natural materials should be present in the living room in a rustic style. Wood can be a leading element, so it is worth to place wooden floors, furniture and even wall panels. In addition, you can put wool blankets, linen tablecloths and leather mats. Plaid or checkered curtains, as well as lace will look good. Fireplace that brings warm, friendly notes to the interior is a great idea.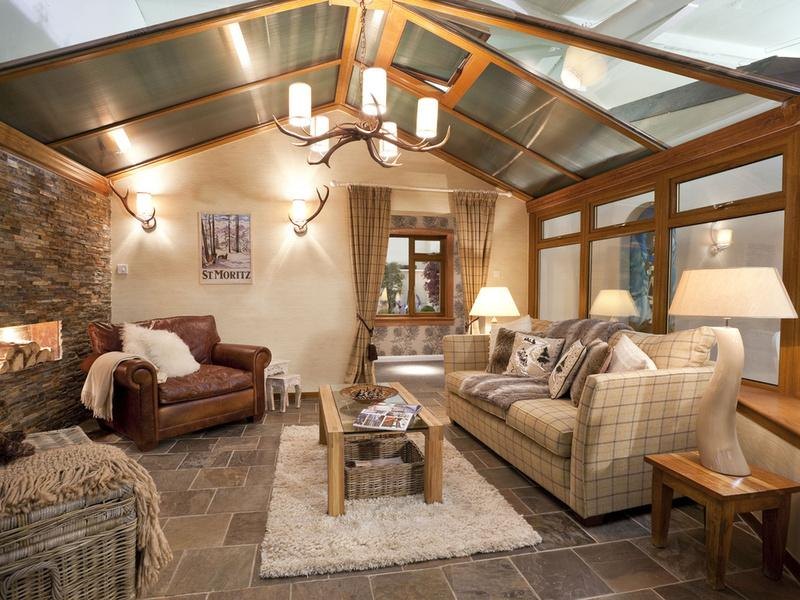 Rustic Bedroom
The bedroom in a rustic style is an interior filled with warmth, harmony and minimalism. You can easily opt out of designer furniture and rich jewelry. Wood and a neutral color palette (white, beige, gray) should dominate. In addition, the furniture should be decorated with regional patterns in the folk style. Add a chest with iron fittings or bedside tables made from raw wood.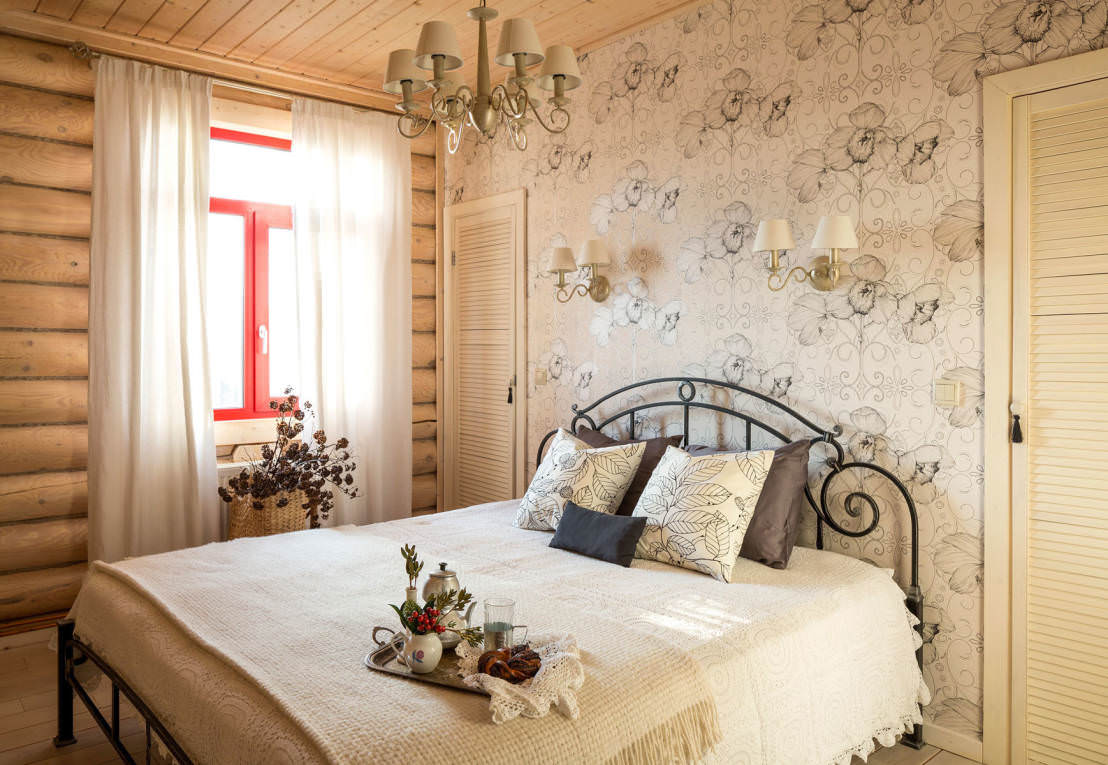 Country Style Kitchen
Country style kitchen is the heart of the house. Large table surrounded by wooden chairs should be in the center. Furniture can be characterized by charming, idyllic simplicity. Dishes with folk motifs, enameled jugs, wildflowers and lace fabric or frills are welcome. Place charming tapestry carpets on the floor, and decorate the windows with an openwork curtain. Herbs (thyme, mint or basil) should be on the kitchen window sill. Remember though, you should not palce the plants in plastic pots, but rather in old cups, tea jugs or aluminum buckets.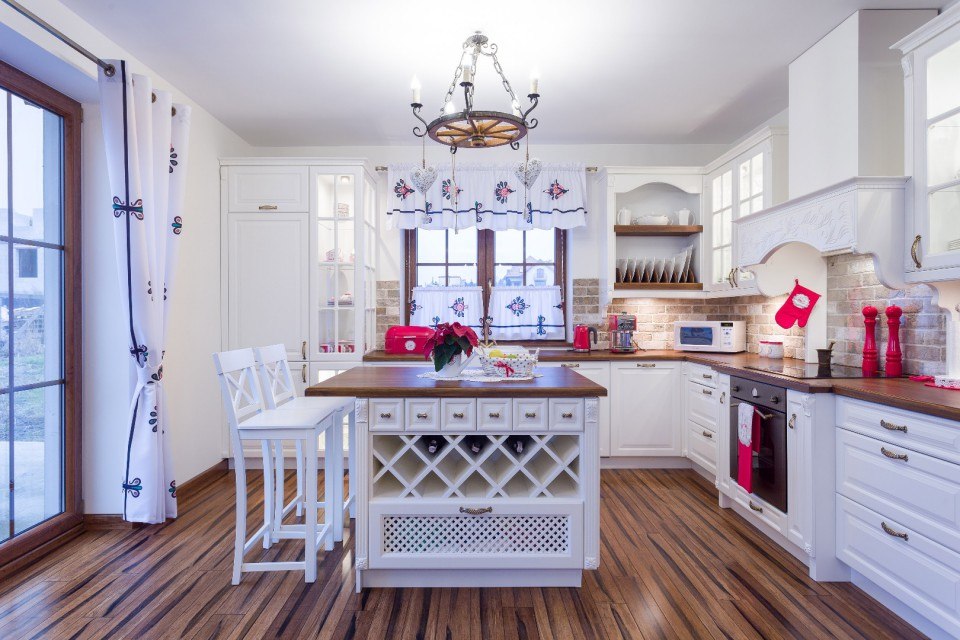 Modern Style
Modern interiors of houses are characterized by the space, light and simplicity. Such design of country houses requires constant discipline when choosing furniture and accessories.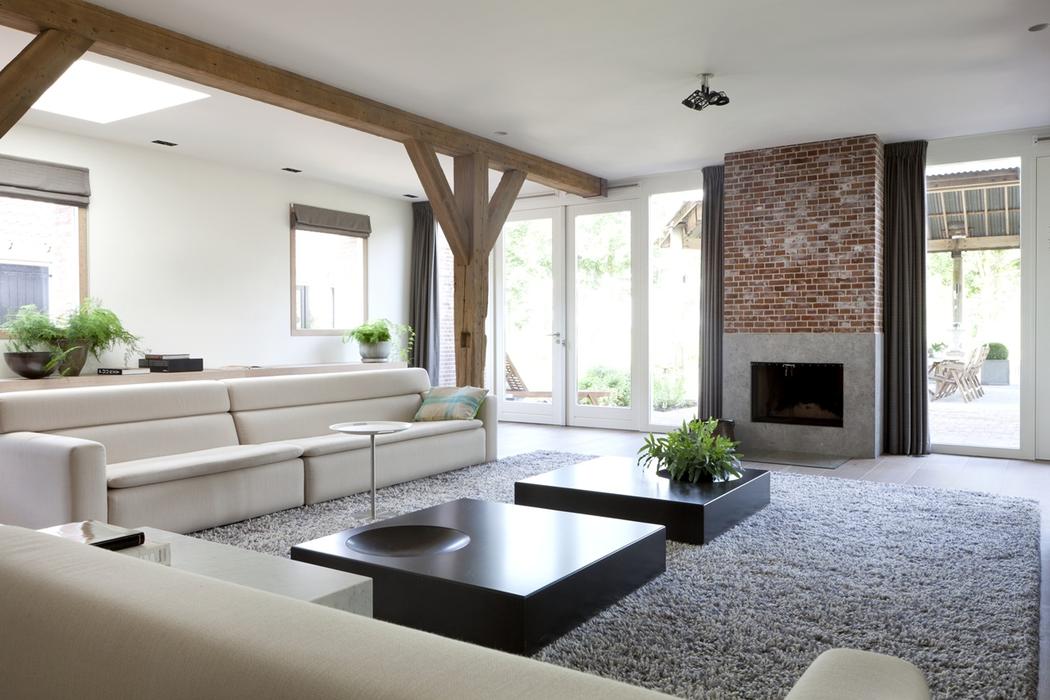 Modern Interiors: What is Fashionable?
What elements are fashionable in modern interiors? Steel, glass or stone, as well as wood – these materials are used with pleasure in modern design. In modern spaces you will increasingly encounter brick or concrete walls and floors, seemingly reserved for industrial style.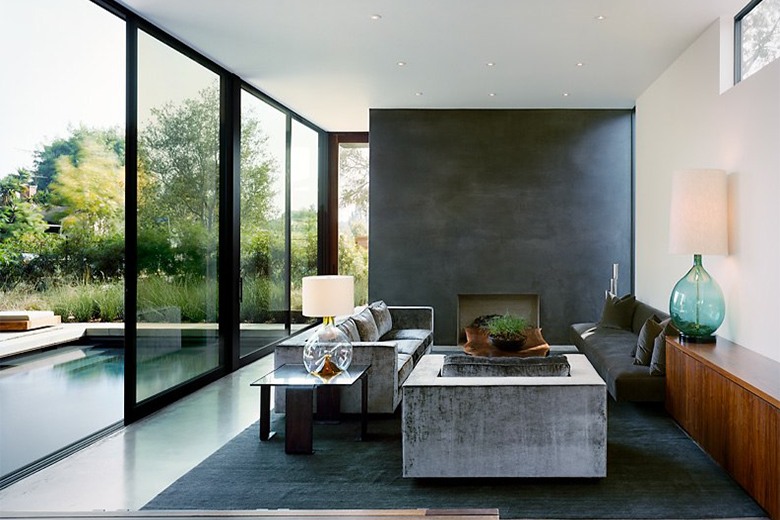 Modern homes are monochrome interiors. Colors are used with moderation and balance. Pure white is considered basic. It is increasingly intertwined with timeless gray or classic black. You must remember that modern style does not mean a complete rejection of bright color. The interior can be enlivened with stronger palette additions, which will give the space a unique character, but taking taste and balance into account.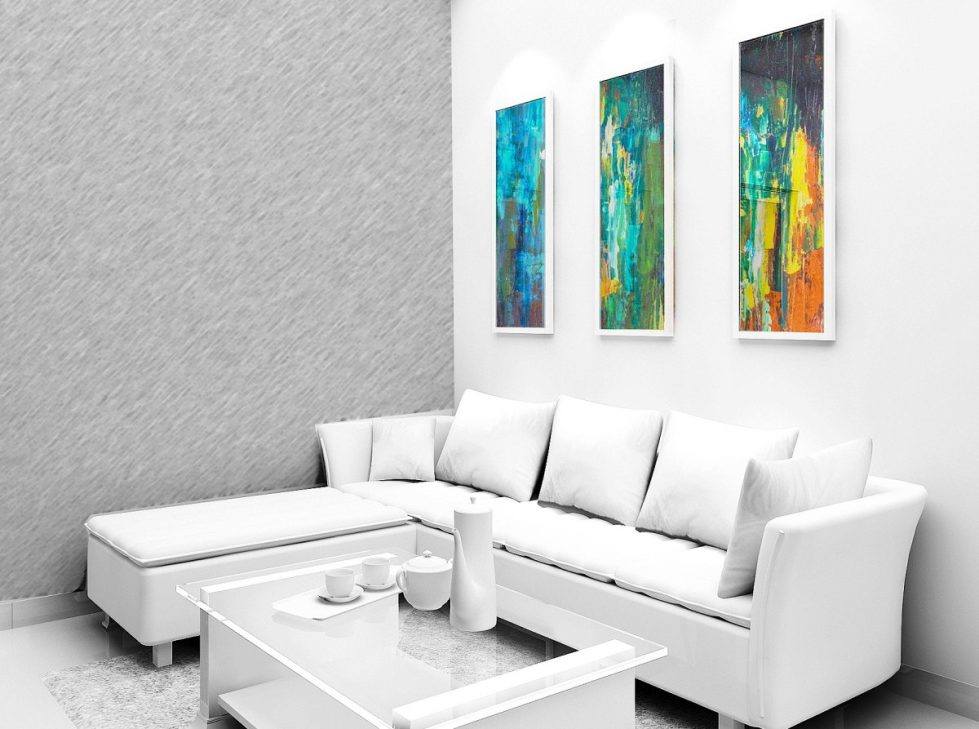 Convenient and Thoughtful Styling
Modern interiors of houses are a space and, therefore, a meeting area. It is worth taking care that the room intended for communication was as comfortable as possible. For example, the living room is a showcase of the house, so arrange this space attractively. The room should be provided with good modern lighting and innovative finishing materials.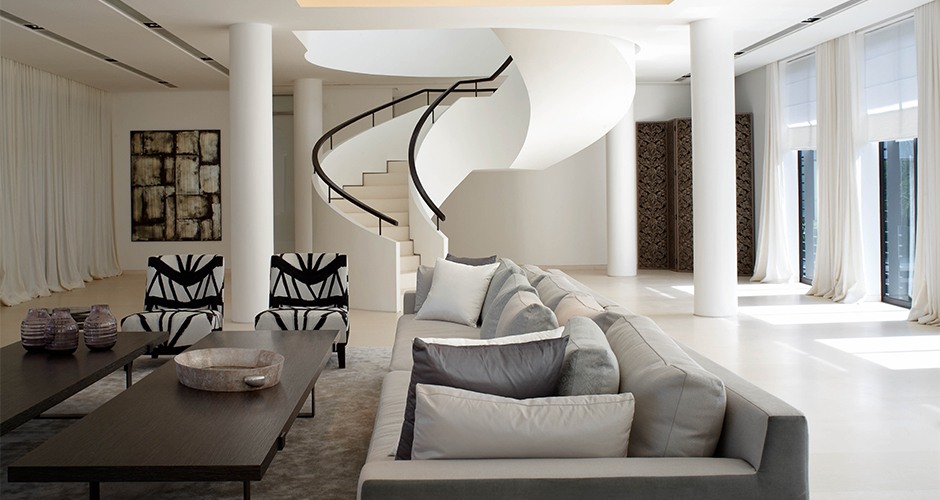 Large Windows in a Unique Interior Design
Large windows are a unique advantage of modern home interiors. Do not treat them with curtains to decorate the room with outside landscape. Juicy spring greens or white snow in winter are harmoniously combined with the trendy gray-beige colors of modern home interiors. Do not miss the opportunity to put a dining table next to a large window overlooking the terrace. Sometimes it seems that the garden enters the house! And who does not like the window in the bathroom? Bathing in the bathroom, located under the roof window overlooking the starry night sky, certainly will not leave anyone indifferent.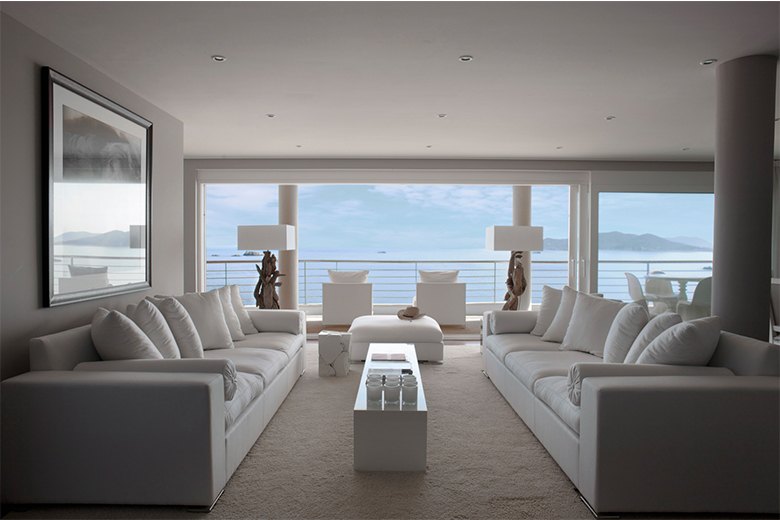 Architectural Details Emphasizing Contemporary Home Interiors
The modern interiors of the houses are refined with such details as fireplaces and libraries. Fireplace cabinets emphasize the height of the interior. Their body is finished with a uniform stone or steel.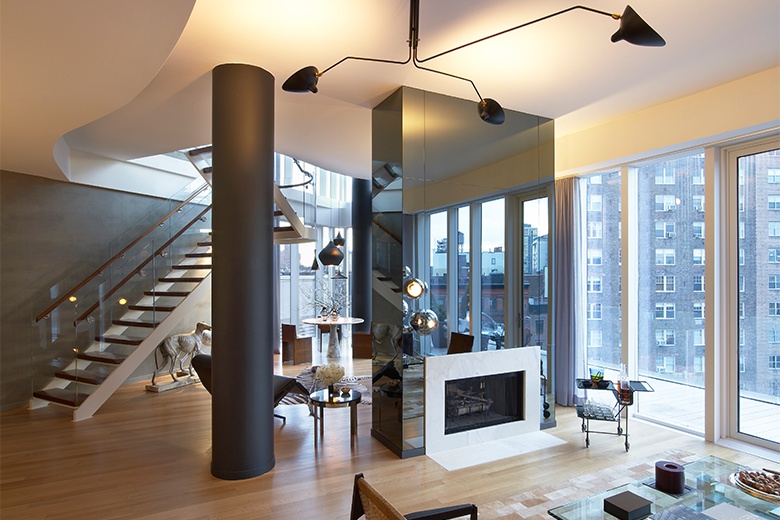 Another architectural detail that is often found in modern house interiors is the mezzanine with a glass balustrade. On the mezzanine, you can organize a convenient place to work or an impressive library where you can quietly read books.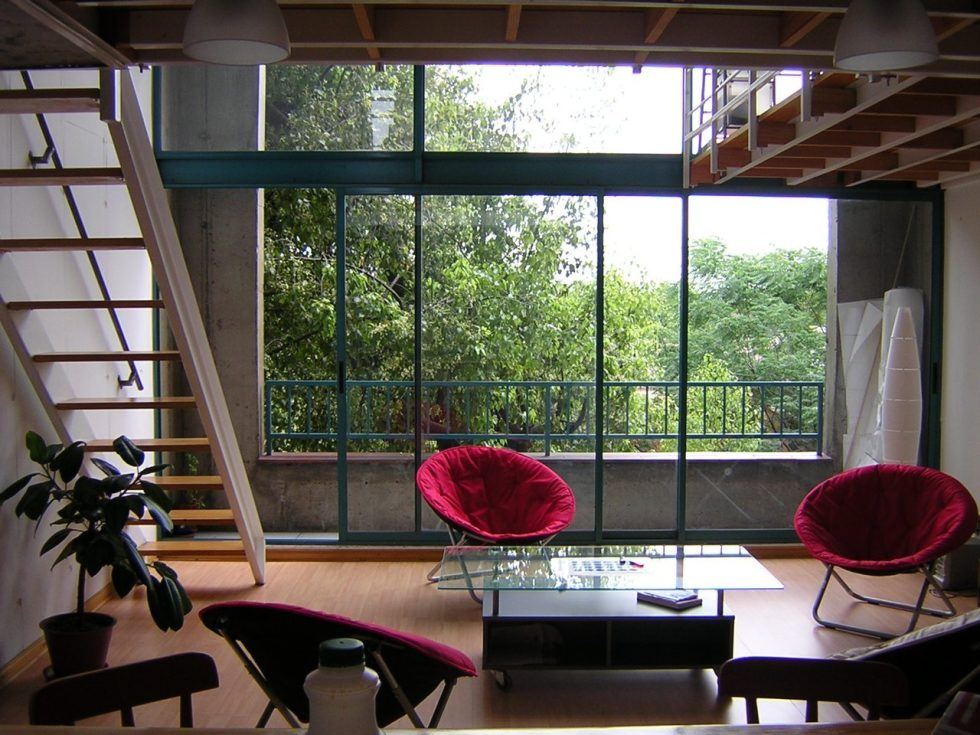 Additional interior design will be properly selected lighting. With it, you can freely create space, masking its weaknesses and emphasizing the benefits. General lighting is absolutely necessary. The space of individual zones can also be emphasized using side lights. Note that modern interiors, which seem cool and sterile, can be cozy with the help of properly used lighting.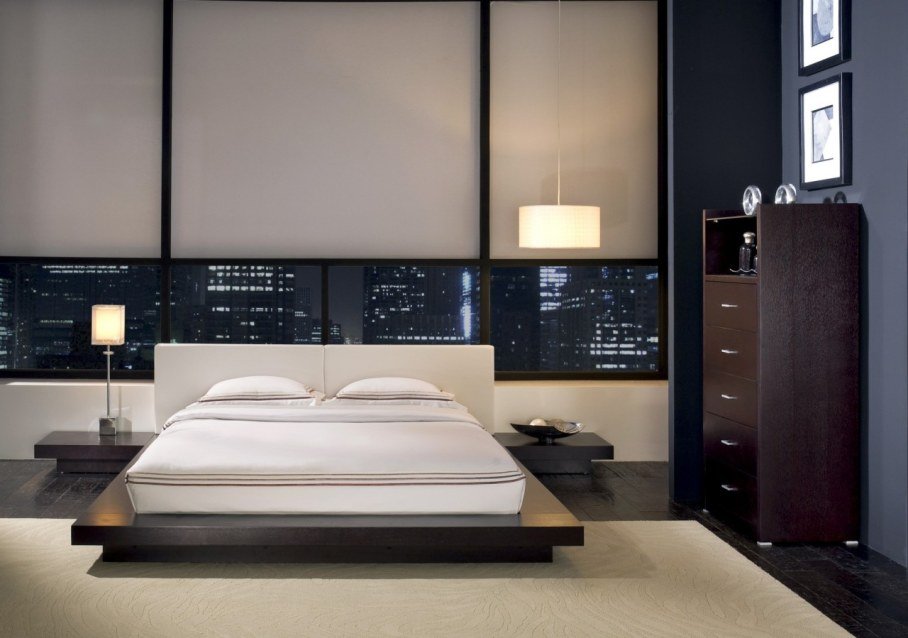 Accessories in the Form of Relevant Additions
When you design a modern interior of homes, pay attention to accessories. They have simple shapes that do not stand out with too many designs, colors, and decorative finishes. Houses are complemented by geometric decorations. Sharp angles on the surface of vases, bowls, mugs and even lamps are preferred.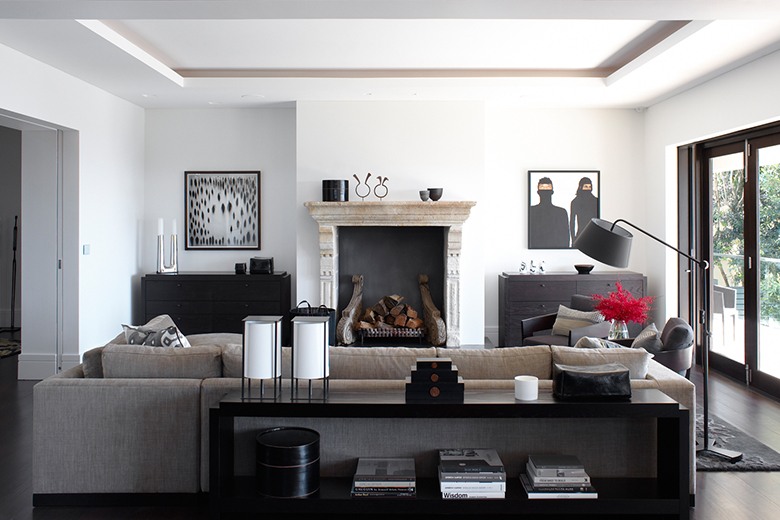 An interesting idea is posters and avant-garde graphics on the walls. Among the accessories designed for modern interiors, there are magnificent objects made of aluminum, glass or plastic. They are characterized by simplicity, sometimes grotesque dimension and severity.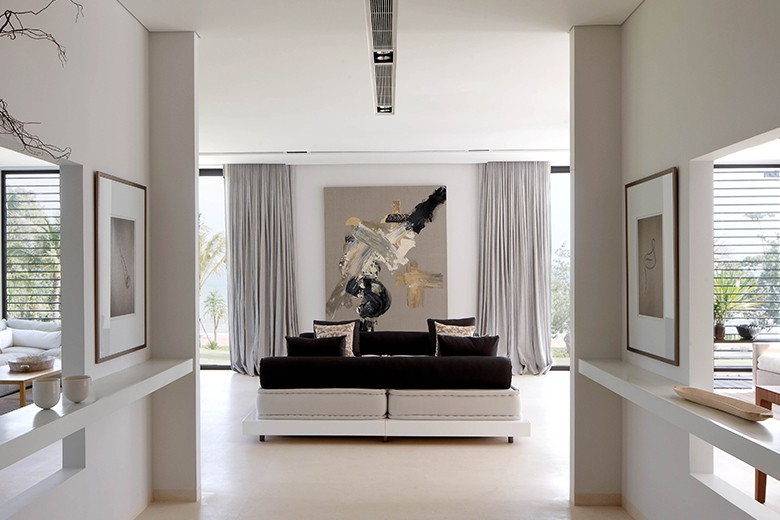 Classic Style
The classic style in the interior allows you to get closer to the royal design of the old eras. The classic form in combination with modern materials and forms creates a timeless composition that looks wonderful. Learn what rules should be followed when organizing a classic interior!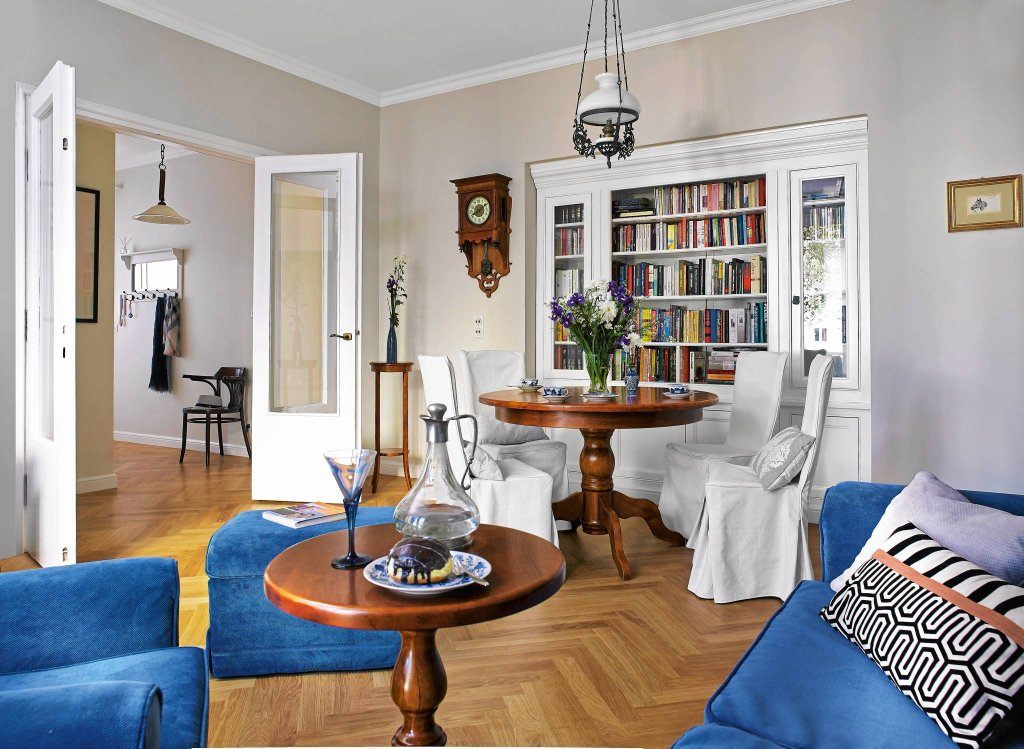 Interiors, decorated in a classic style, never cease to be fashionable. The universal and eternal character makes them chosen. Classic is increasingly combined with modernity, creating eclectic interiors with a unique character. Traditional forms of furniture in combination with modern additions, which are characterized by simplicity, allow you to keep lightness in the room, creating a consistent and harmonious arrangement.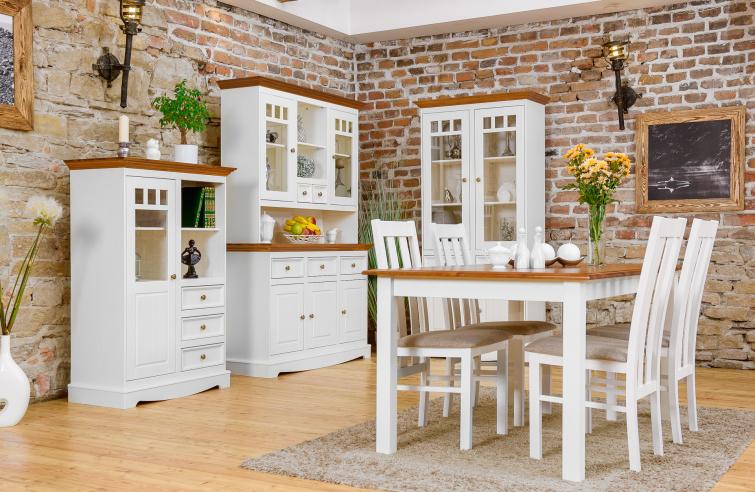 Characteristics of the Classic Style
What is characteristic of this style? First of all, this is carefully selected materials, as well as elegant design and stylish forms. Looking at this interior design, everyone has the impression that the creation of the interior took many hours. There is no room for lack of coherence and chaos, so the whole should create harmony, including lighting and decoration.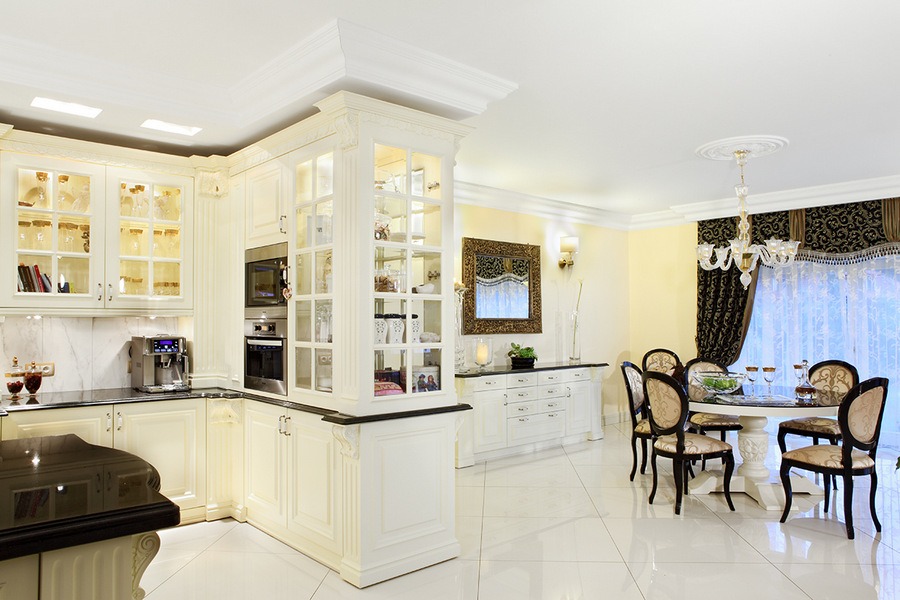 There are concerns that the classic style is too serious and hard. Do not be afraid, because well-chosen individual elements make the interiors stylish and elegant. In the rooms decorated in classic style, the colors used are also important. In this design, you can find many accents in green. This coloring soothes and gives the interior elegance.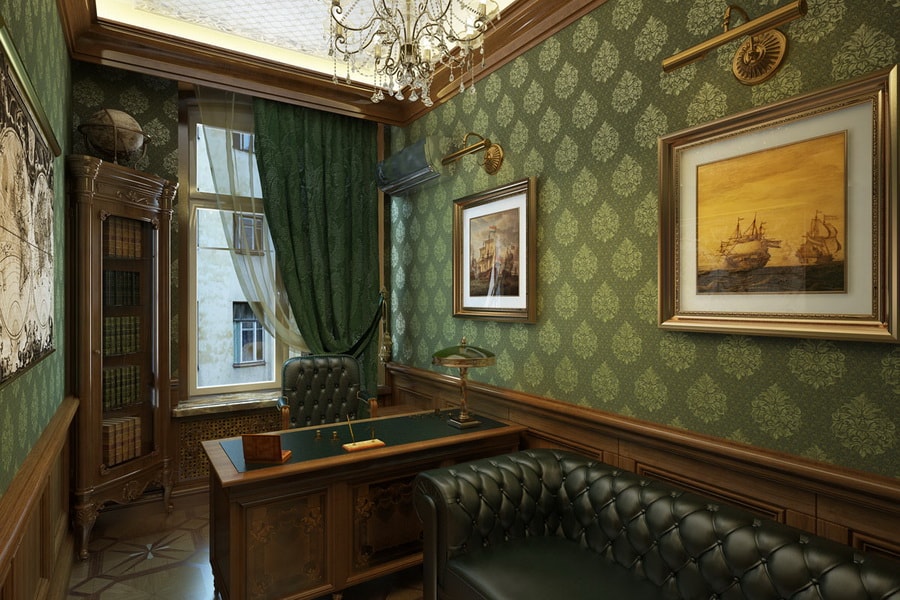 Stylish Interiors: Color for Rooms in Classic Style
Color in the interior has two important functions. Classic-style compositions are usually white, brown and gray. However, rich colors often appear alongside muted tones. Royal red gives the room a decisive character, green introduces harmony, and purple inspires. The most popular color used in classic arrangements is different shades of beige. They are often intertwined with bronze, honey or mustard, illuminating the interior and giving it English refined character.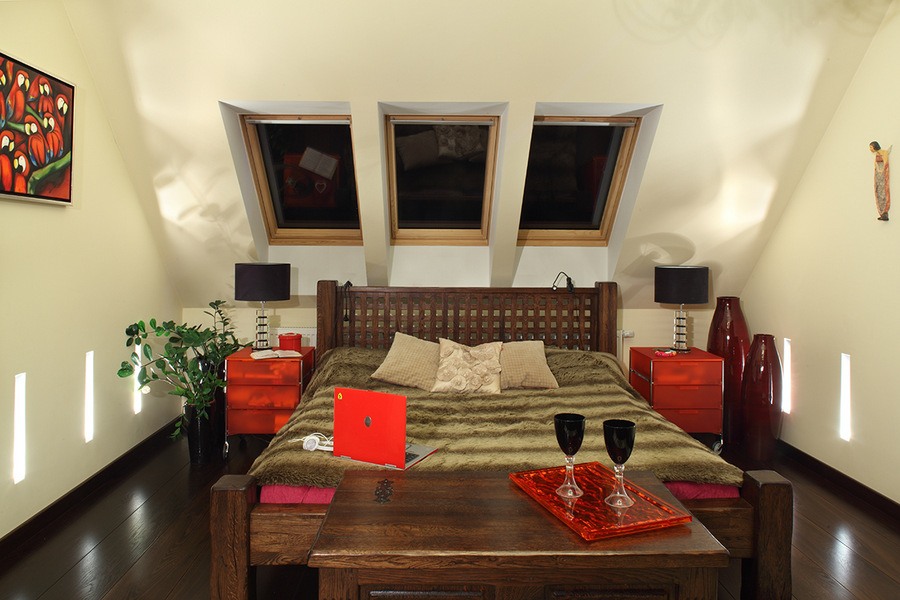 What Furniture and Accessories to Choose for a Classic Style?
Furniture plays an important role in the design in a classic style. It often determines the final appearance of the living room, kitchen or bedroom. In addition to the simple forms of furniture, there should be chaise lounges or dressers in the style of Louis. An important element of the composition is filling with accessories. Most often there are mirrors or paintings in ornate frames, table lamps, and decorative pillows.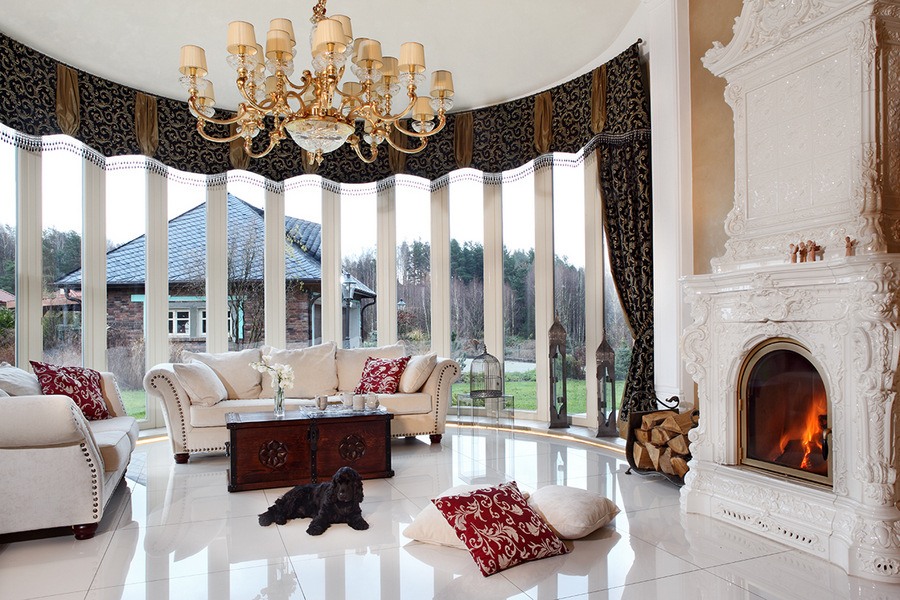 The Fireplace is an Important Element
In classic interiors, you can often find a fireplace. In addition, you should pay attention to its location. It should be located in the center of the living room or bedroom, creating a coherent whole with wall color and furniture.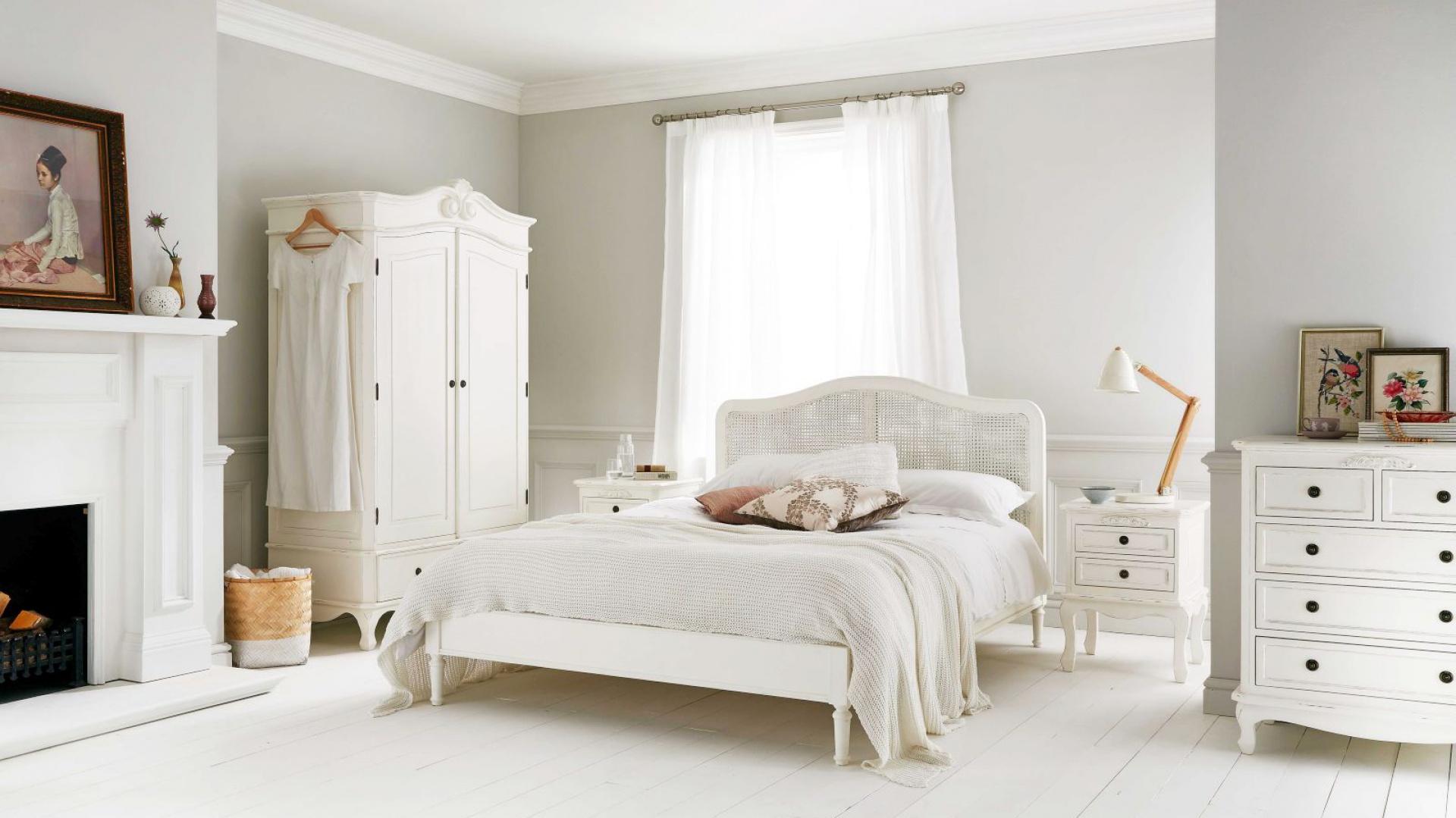 Economy Interiors
Even if you do not have significant budget for arranging a country house, then there are still many opportunities that will allow you to create a stylish, attractive interior for yourself with a small budget.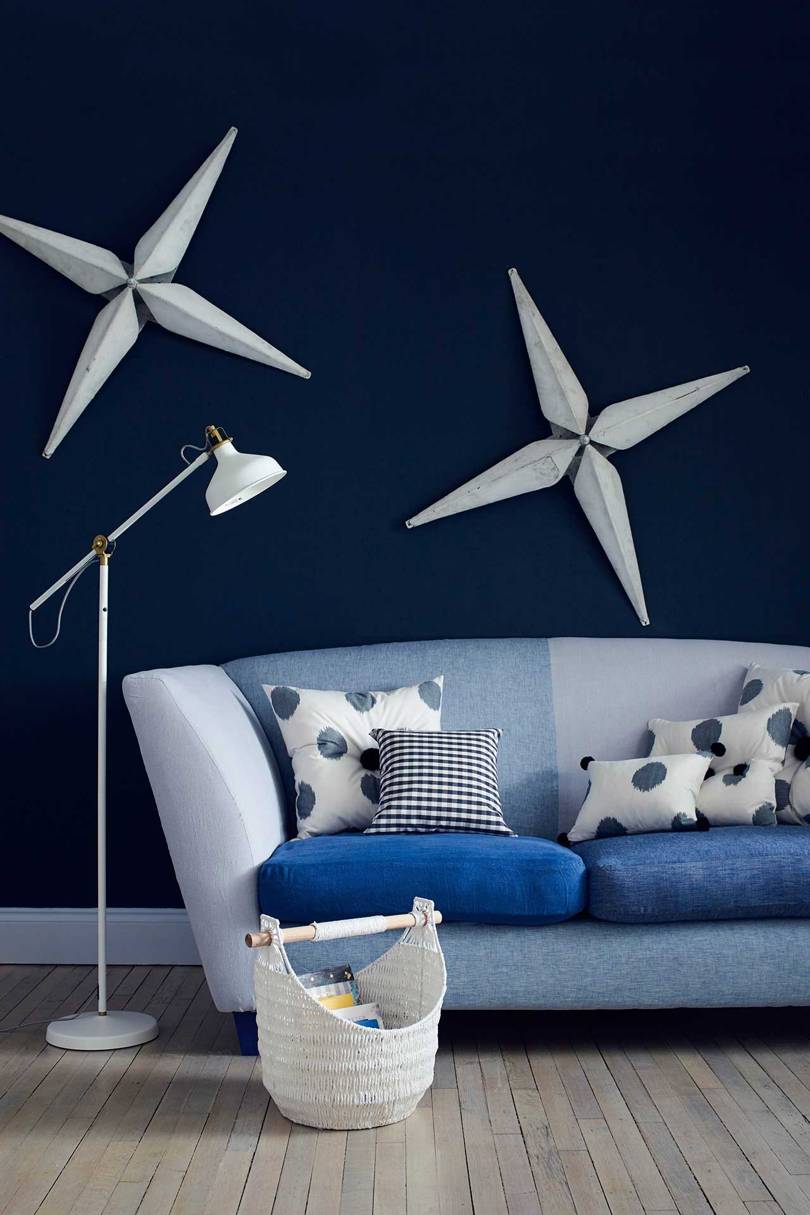 Get Rid of Obscure Items
Before you start worrying about what you can and cannot afford to buy in the interior of a country house, think about what you should get rid of. Damaged or worn items can make your house look unclean, especially if they do not carry any practical load.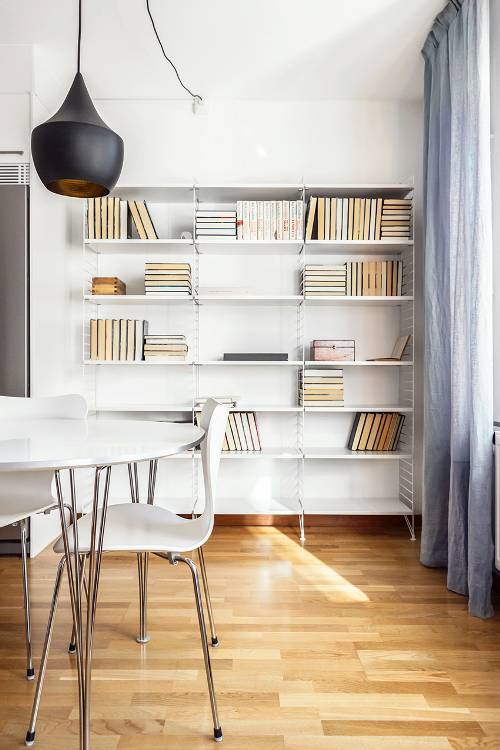 Neutral Color Range
White color looks perfect under any circumstances. Buy the right amount of paint or whitewash to refresh the walls of the house. To dilute boredom, add some bright objects to the interior, such as furniture, textiles or decorations, which you can do with your own hands.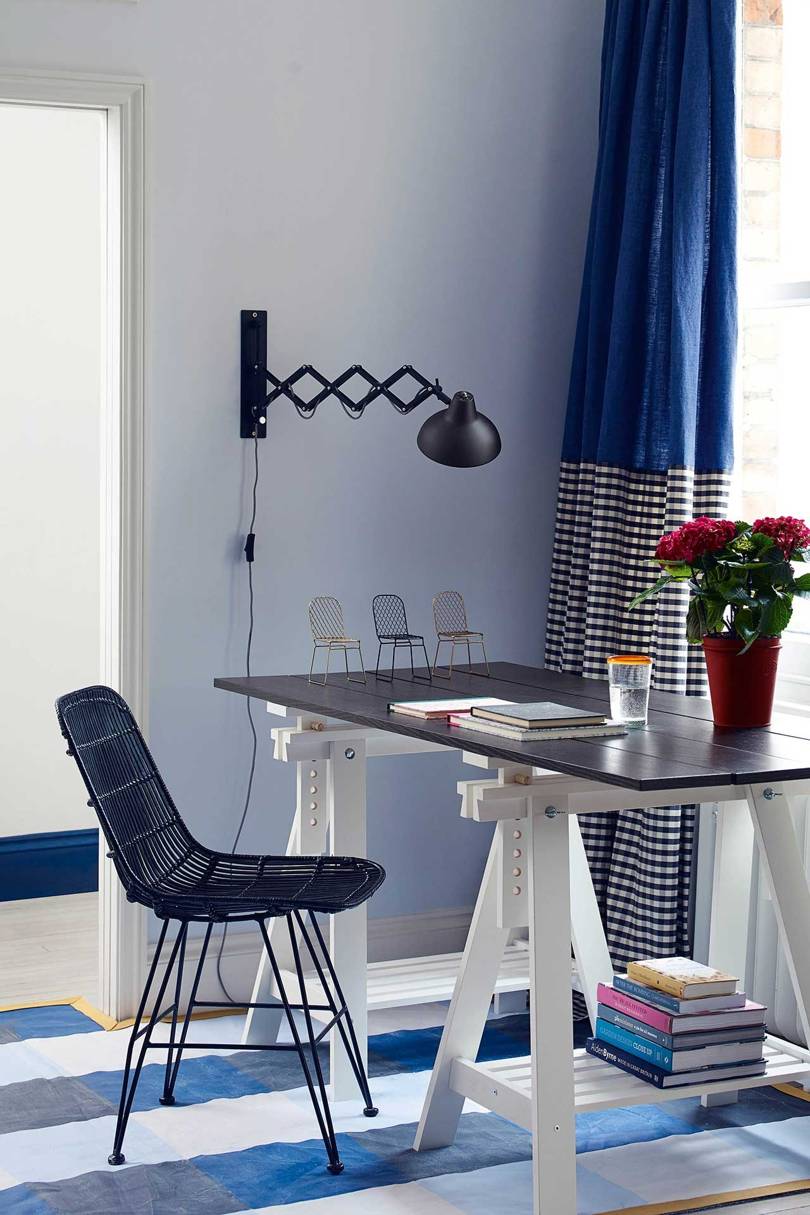 Creating Your own Furniture Can Bring You Big Savings
It would seem that wooden pallets used for transportation have only one application. Meanwhile, they are great for transformations. From wooden pallets you can create exclusive furniture that will cost you a pittance. For example, do not miss the opportunity to build: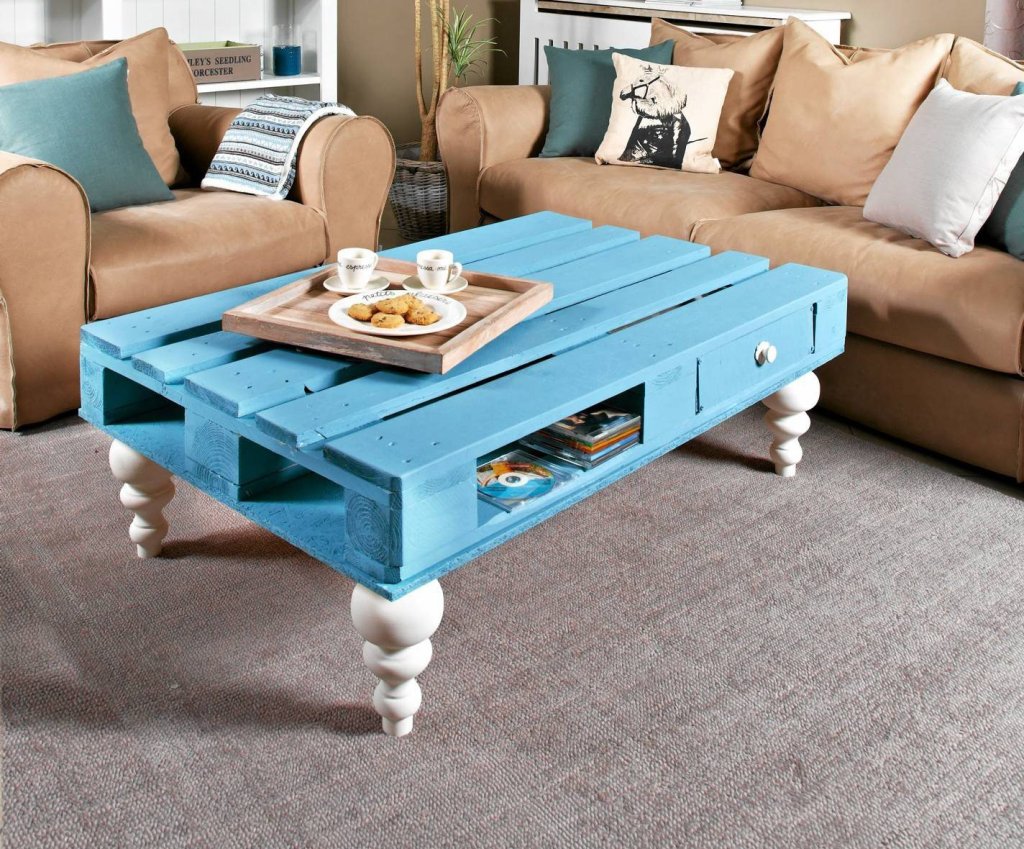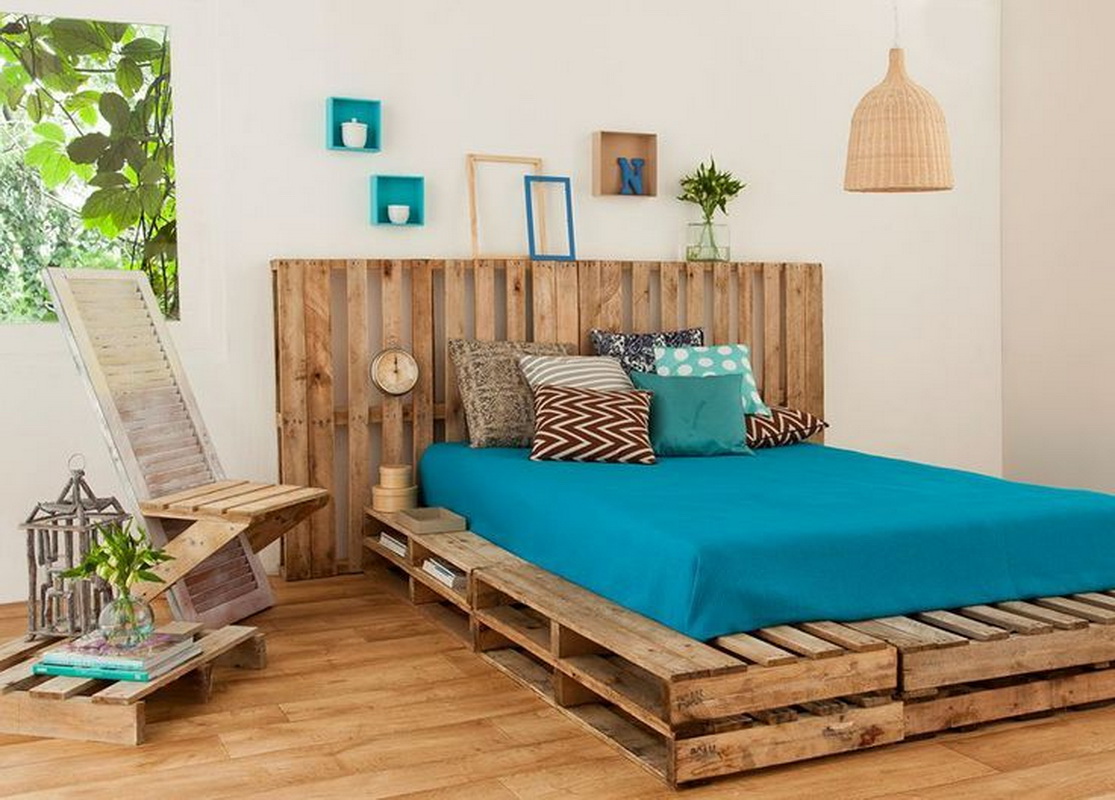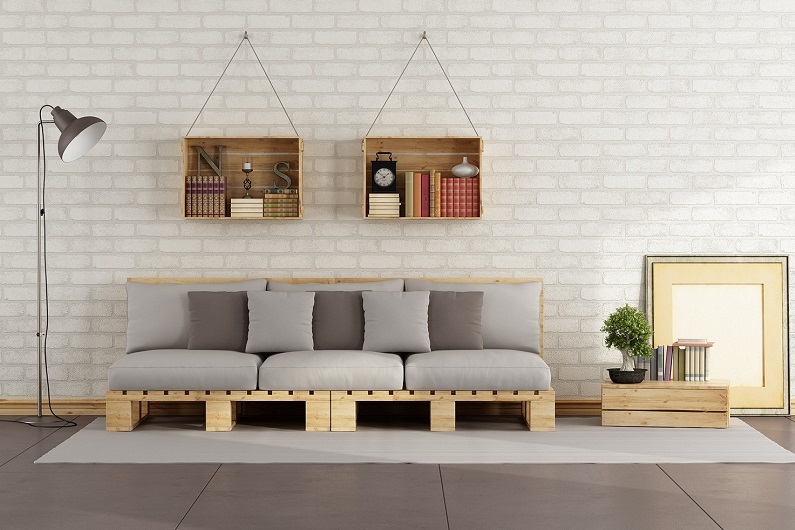 Textiles will Add Significant Comfort to the Interior
Bright pillow cases on pillows or new curtains will well transform the space of the room. Turn on your fantasy. After all, a new piece of furniture can be created from fabrics that have been in the closet for a long time. Give them a "second wind", sewing a curtain, bedspread, tablecloth, etc.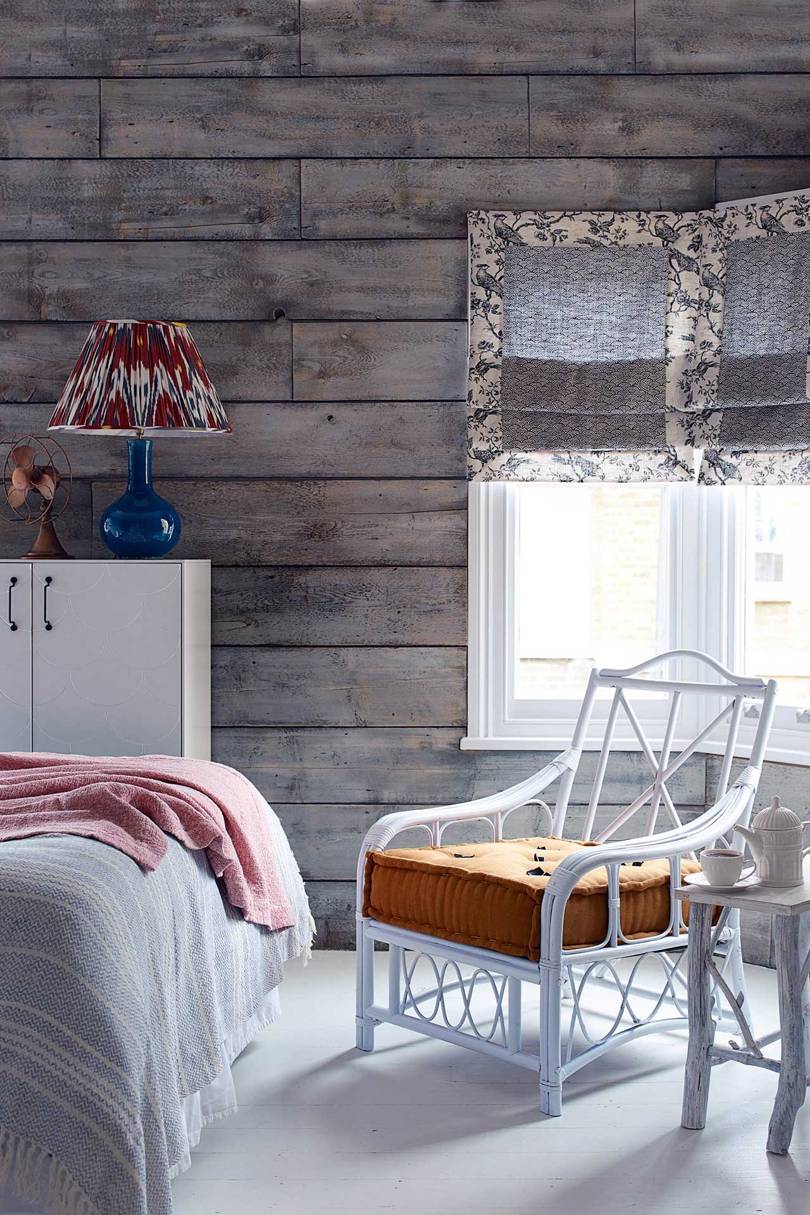 Bright Accents on the Wall
To improve the interior of the room it is not necessary to go to the store and buy a new expensive thing. You can purchase a small piece of colored wallpaper and paste over part of the wall with it. For example, do it above the sofa, creating a beautiful picture. Today, abstractions are fashionable. Why don`t you draw a picture with your own hands on the example of paintings of modern art.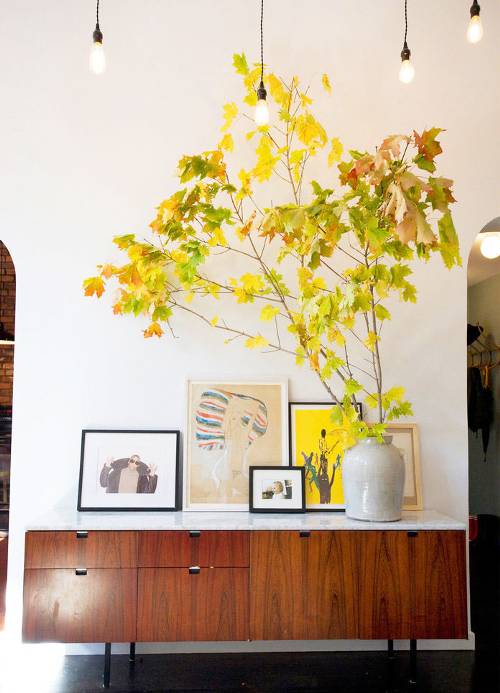 Fireplace
Fireplace is one of the most decorative elements of the living room. In addition to the decorative function, it can also warm the room on cool evenings. There are many fireplaces, but you have to choose the one that fits the style of the interior. Try to have a heating or decorative piece of furniture blend in harmoniously with the space of the room.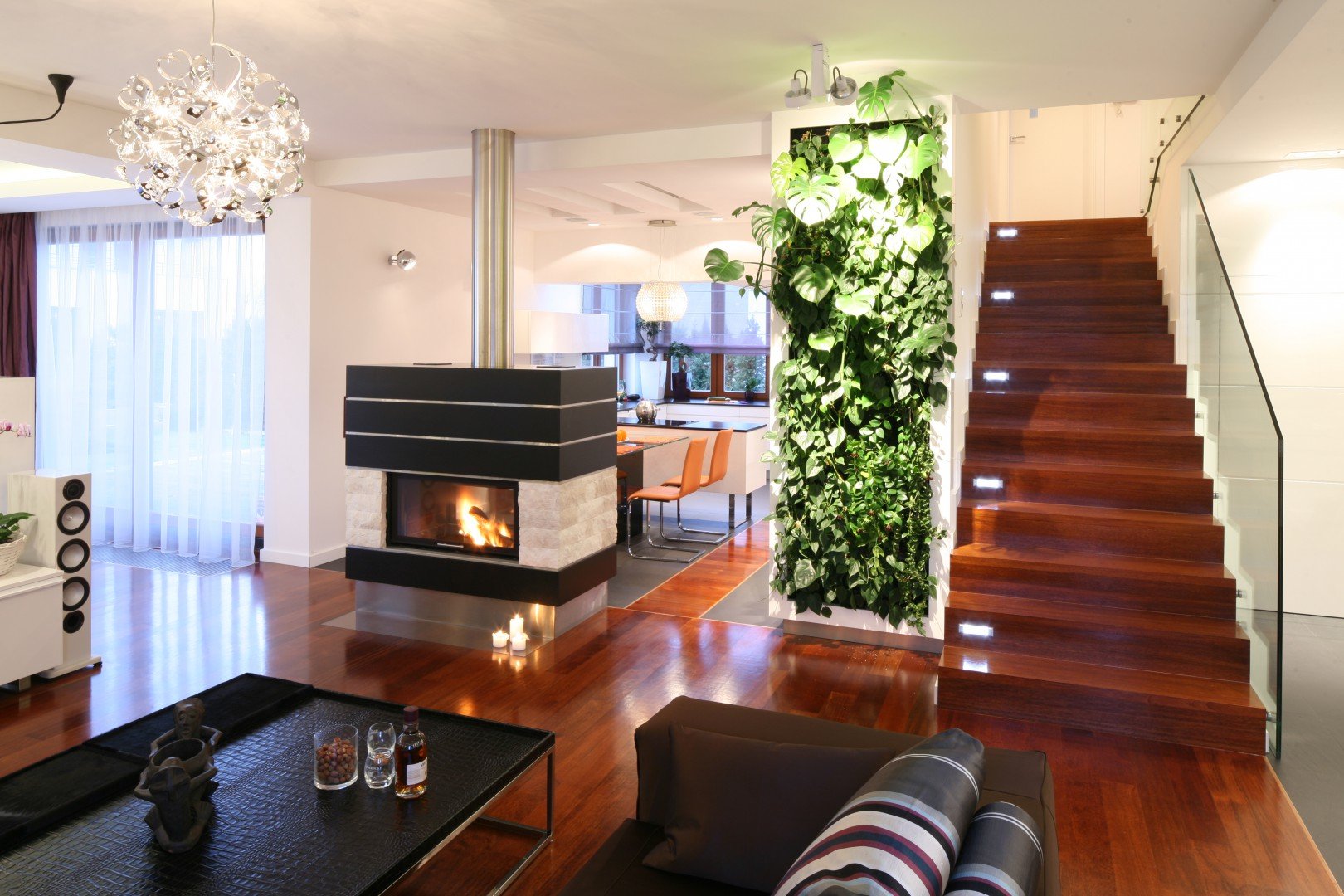 Modern Fireplaces
Modern fireplace inserts often have a minimalist form. In interior design, they look good in a simple shell, without decorative details, for example, from smooth stone slabs or in a plastered and painted frame.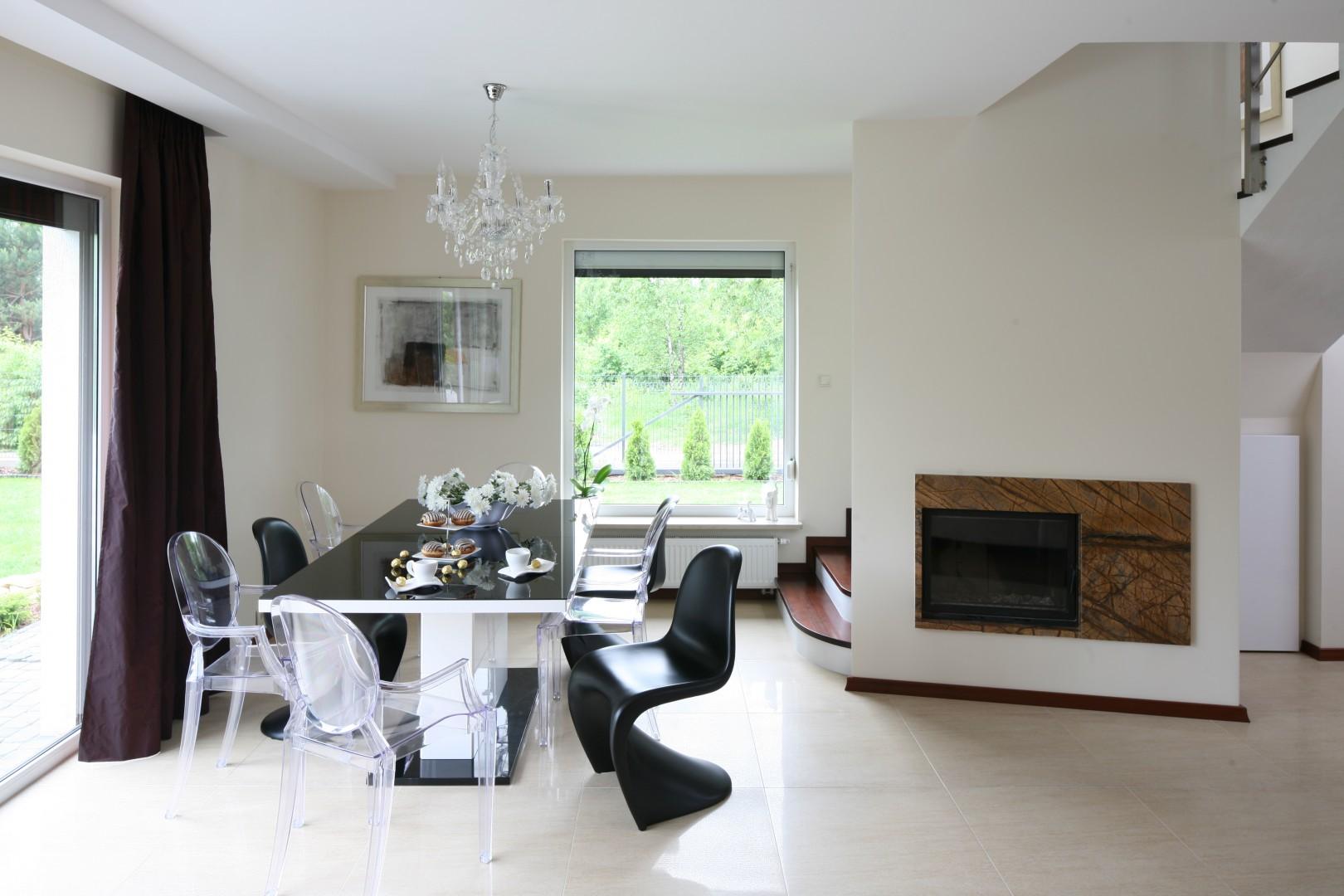 Traditional and Rustic Fireplace
A traditional fireplace should have a brick or stone body with a characteristic horizontal bar at the top. The classic fireplace is decorated with a portal with a cornice and grooved pilasters made of natural hard stones, such as marble or granite.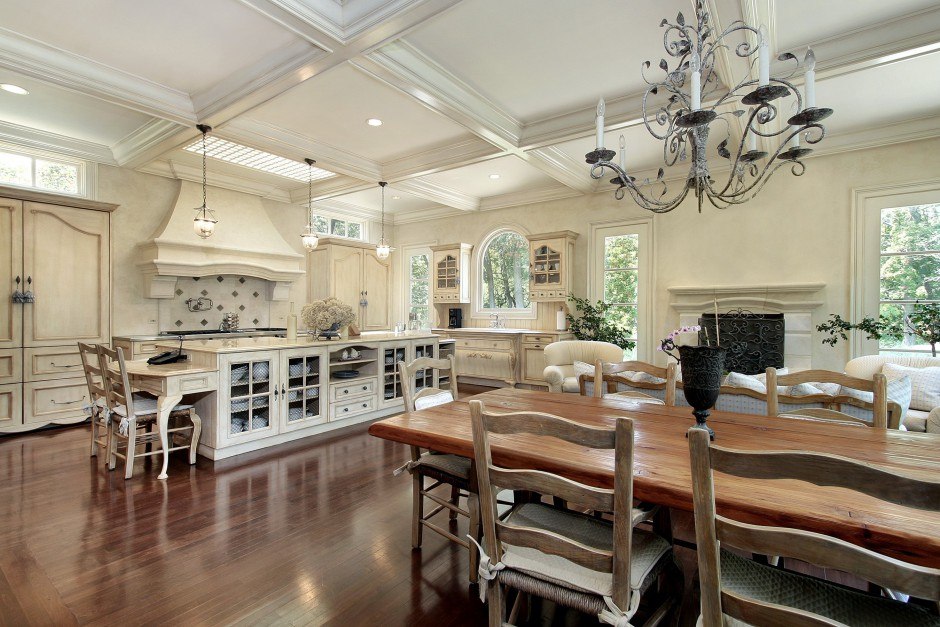 Tip! Regardless of the style of the fireplace, its choice should be determined by the size of the room considering it as much as possible, so as not to dominate it if it is too large.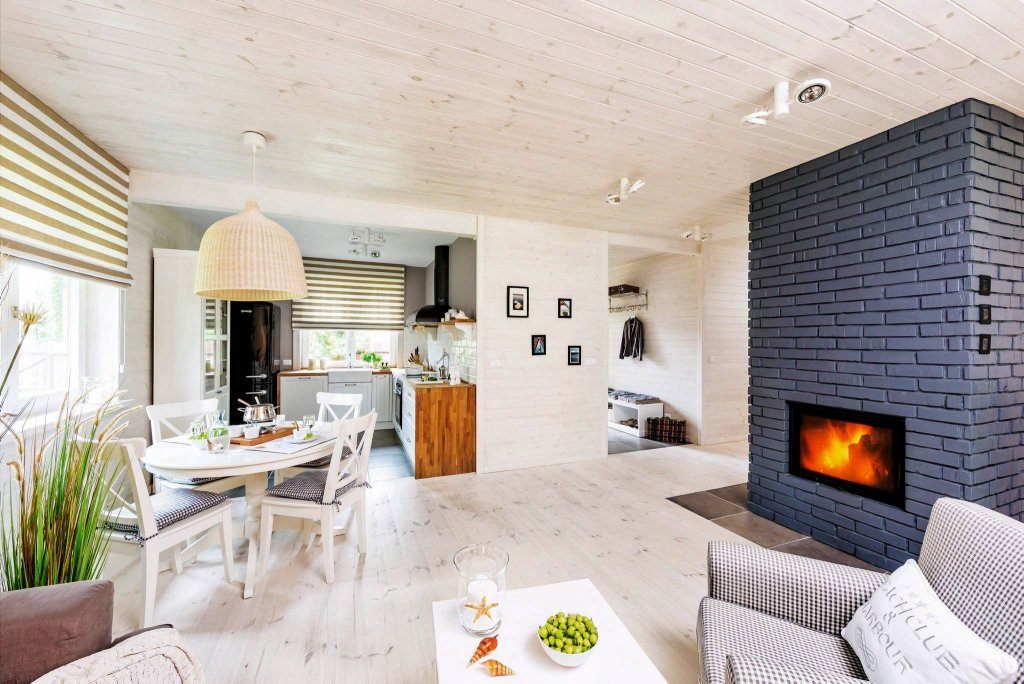 Wooden Interior of a Country House
Decorating a country house made of wood is one of the greatest pleasures. Wooden houses are often associated with the environment and a healthy microclimate. This interior welcomes country style, eco and chalets.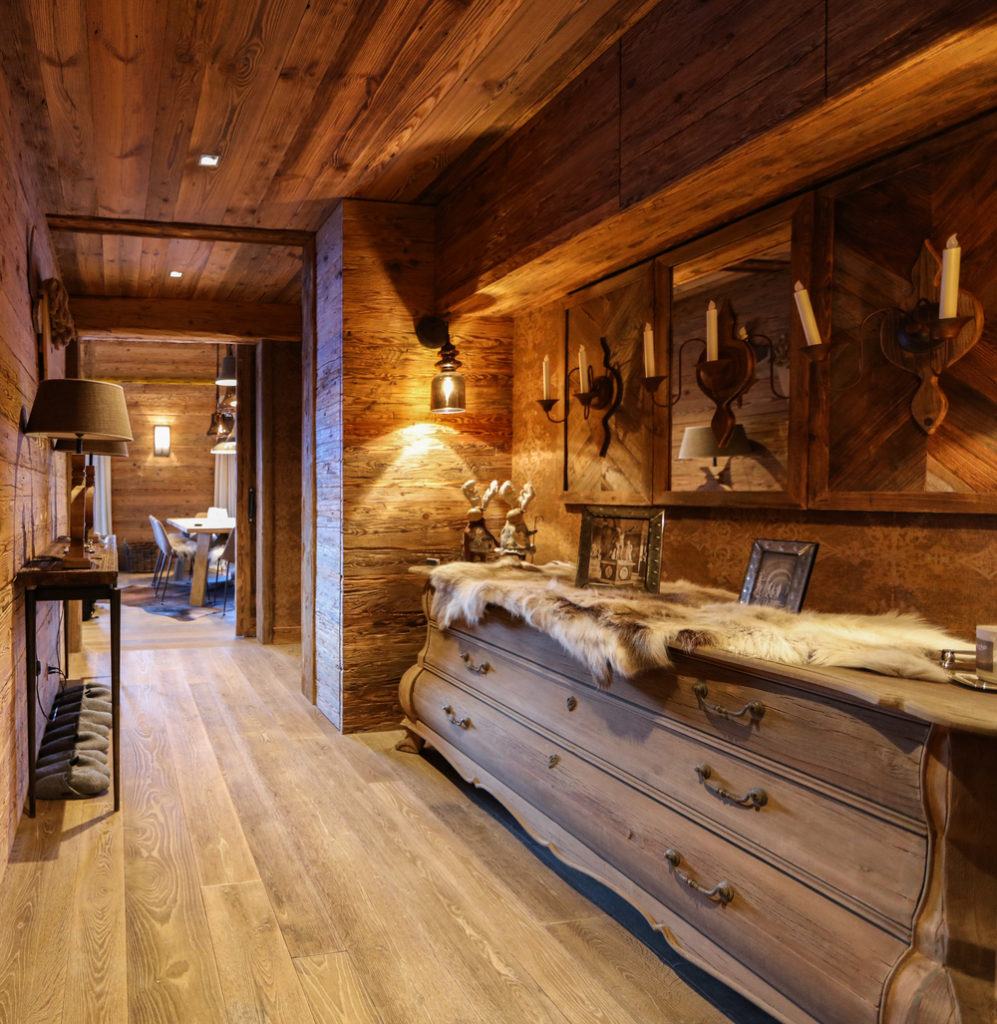 Quite often, the wooden interior of a country house has the natural elements of a structure's carcass, such as, for example, pillars, supporting beams or other ceiling details. Properly integrated and adapted to the style of the interior, they can add charm to the modern design further organizing the space.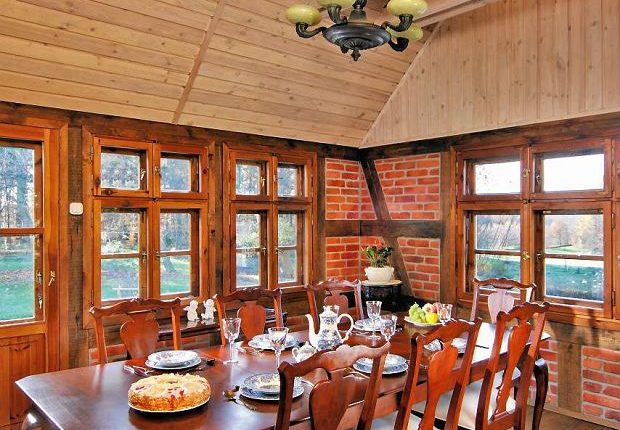 The wooden interior gives the houses a special character. Some "clumsiness" of individual objects or finishing materials, such as hand-painted chest, antique clock or samovar, can be observed. Natural materials work very well in this type of interior:
clear-grained wood;
tile;
stone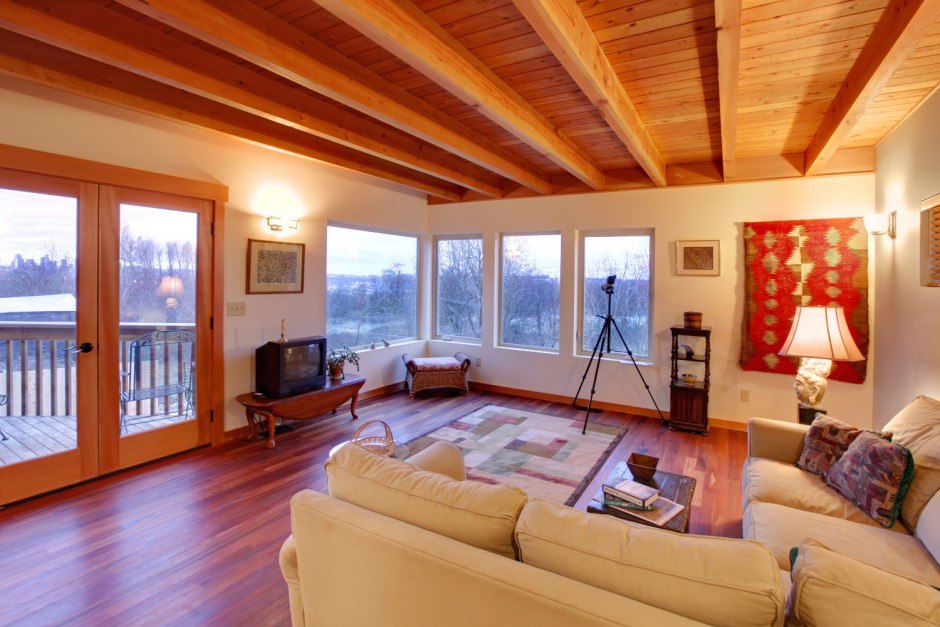 Log houses have a particular climate, although their autonomous structure can cause many problems. It seems that such interiors do not create restrictions, but you can see that they are rarely decorated in a modern style, often choosing rustic decorations.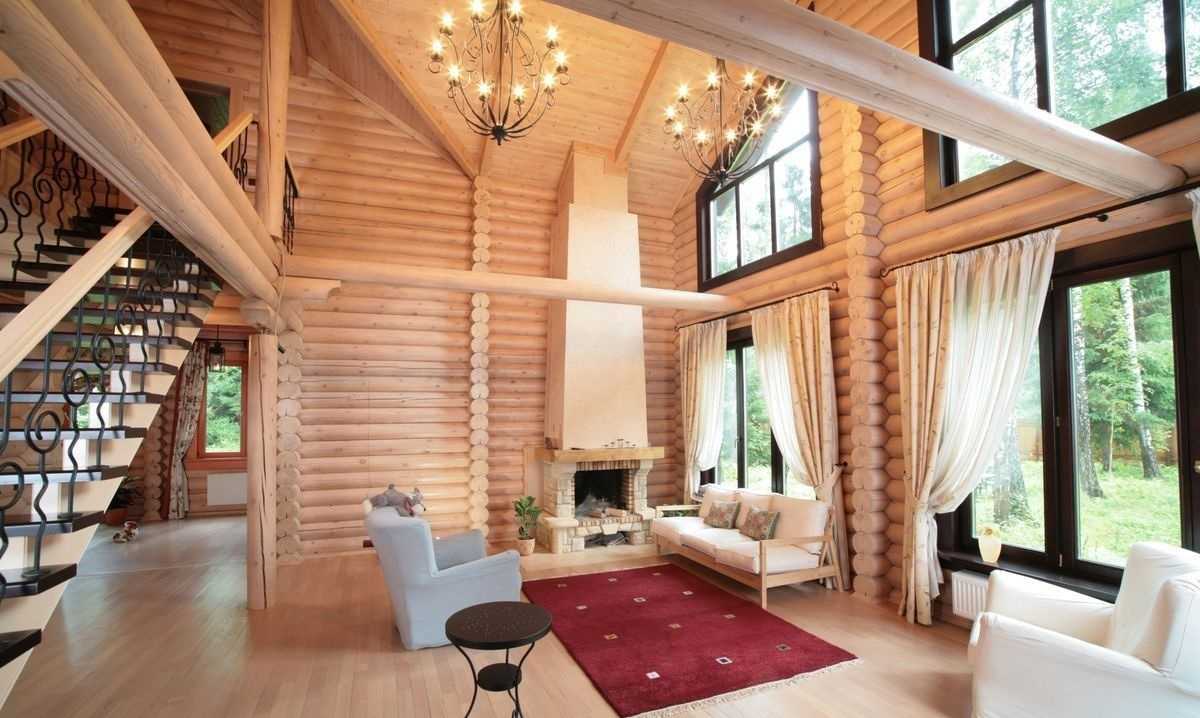 To give a bit of lightness to heavy log walls, it is good to combine them with fragments trimmed with plasterboard, introducing smooth plastering walls. However, it is the wood that must give character and clarity to this interior.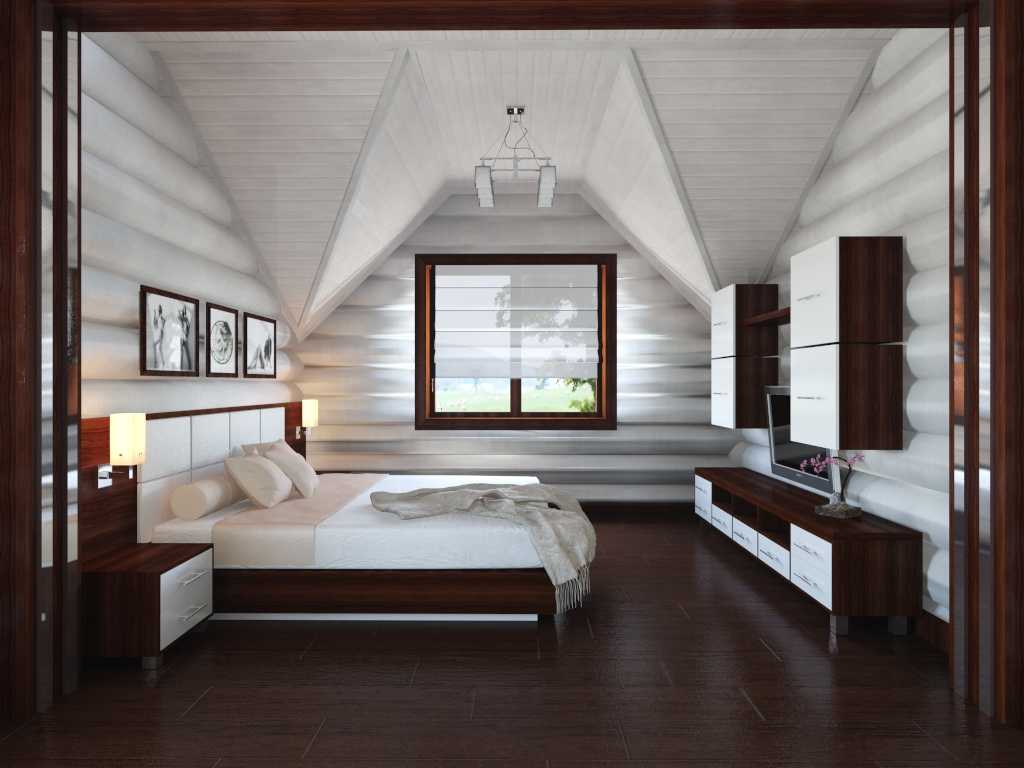 Finally, you can decorate a wooden house in an ecological style using white furniture, which, thanks to its shape, will emphasize the structure of natural walls. Thus, you will also illuminate the interior and give it a little lightness and space. Natural materials corresponding to this type of interior include stone, linen, cotton, and bright natural colors such as beige, white, or green.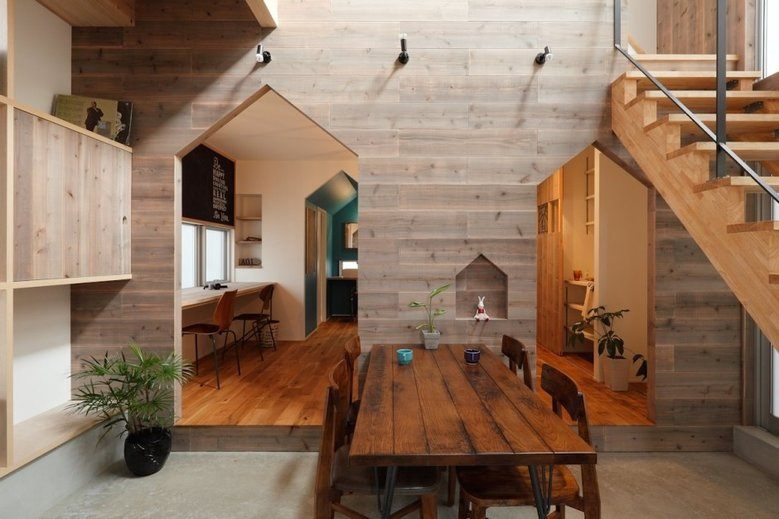 The interiors of a country house are endless options that you can apply to your home. The photo gallery will help to make a choice.